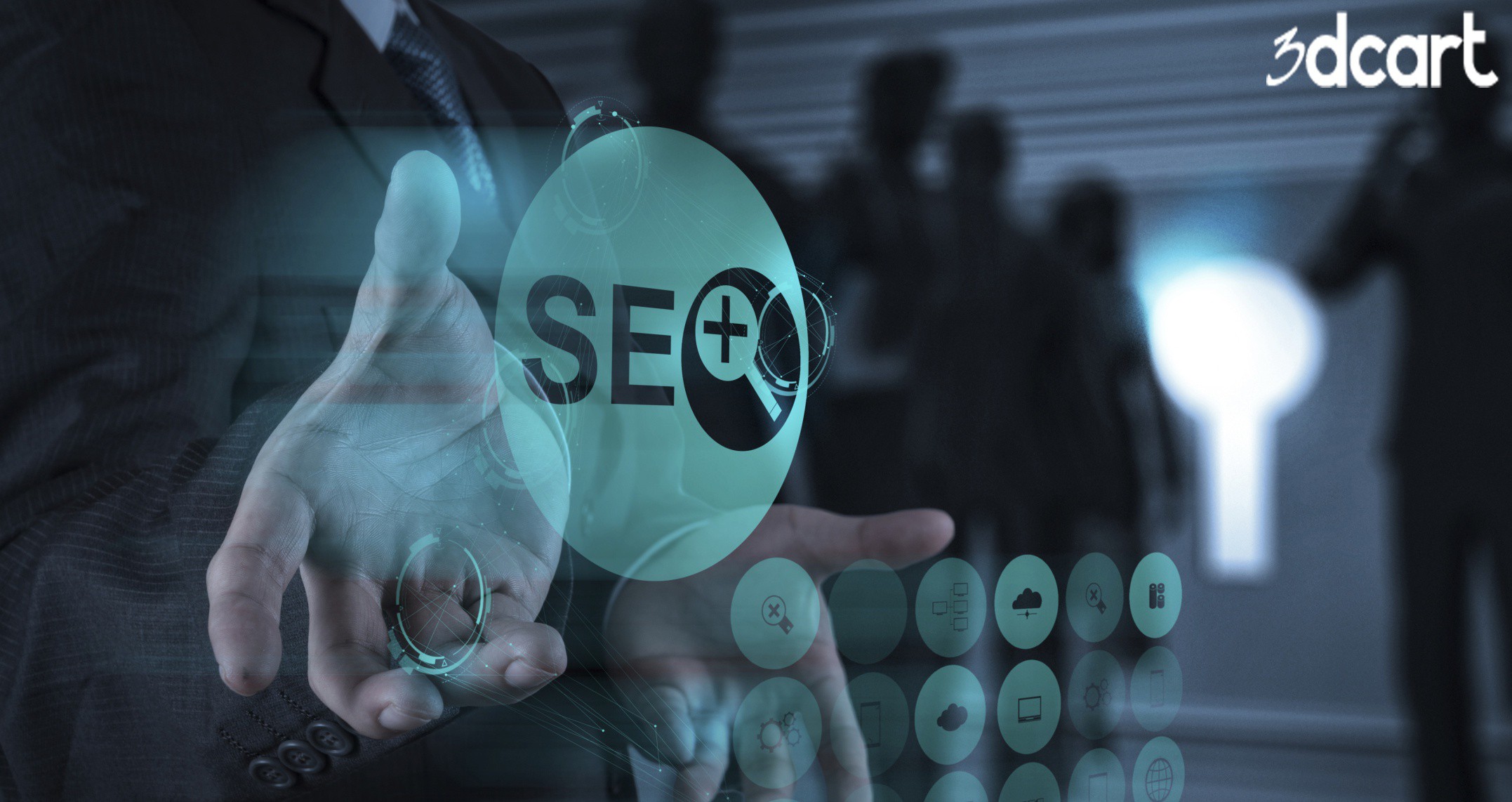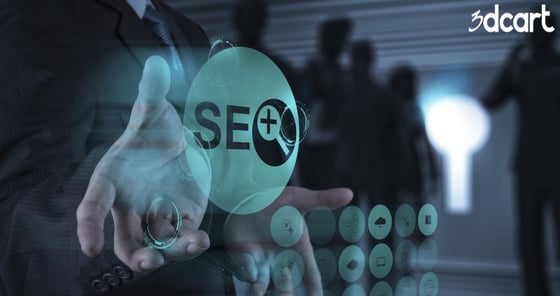 In the battle for Search Engine Results Pages (SERPs), a new rivalry is brewing. Entity search, with all its relational complexities in one corner and product-listing ads in the other.
Google is finally getting closer to understanding the intent with which each person is searching, and that is having a direct effect on how customers reach their ecommerce destinations. Amit Singhal, senior vice president and software engineer at Google, said the search giant was "building a huge, in-house understanding of what an entity is -- and a repository of what entities are in the world -- and what should you know about those entities." This was more than a year ago during the first public appearance of entity search.
Today it looks like entity search is pretty close to where it wants it to be. Take a look at this search for "Nikes" below. This head term, although broader than the ideal ecommerce term, is surely targeted by online retailers selling a variety of Nike shoes. But instead of PLAs (Product Listing Ads), we see an entity-based graph about Nike, the company.
Knowledge Search vs. Ecommerce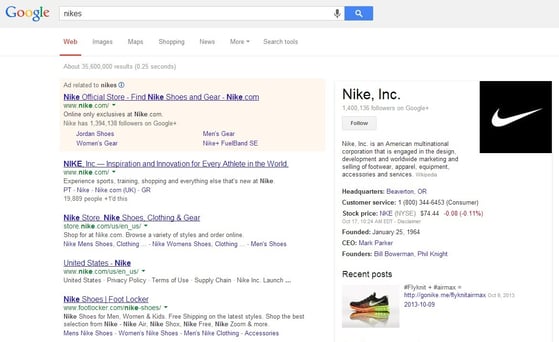 Getting more specific, the search term "Adidas Samba" yields a completely different SERP style. Because Google identifies the term as a product and not an entity, PLAs occupy very valuable real estate above the fold of the SERP.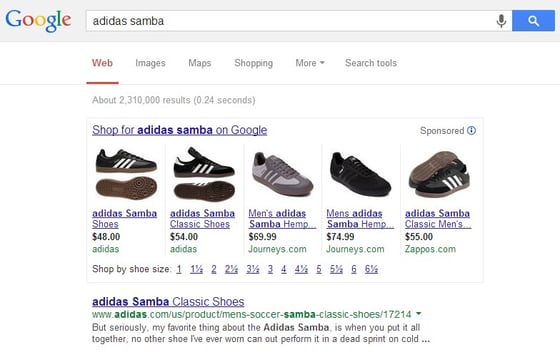 A broad search for "Nine West," however, yields a totally different type of SERP as Google understands that a Nine West search refers to an entity that has shops near my location. And because it's not targeted enough to produce product results, Google instead presents stores in this area, as well as a Google Map, and some company knowledge graph info.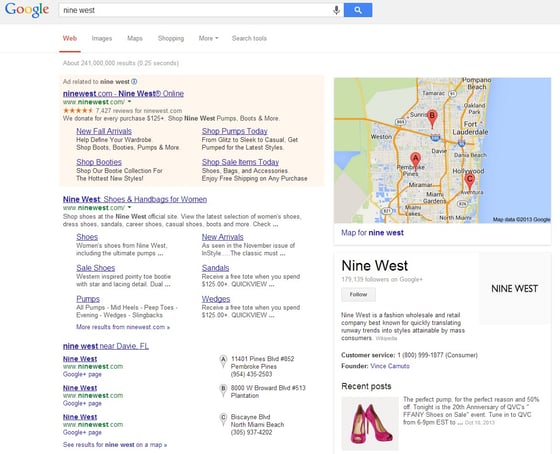 But if we narrow that search down with just one targeted ecommerce term added to it, "Stilettos," Google understands that we are now looking for a particular type of product.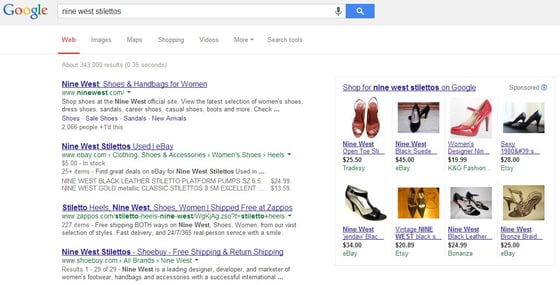 The SERP is now chock-full of PLAs, and by now you should start to see a trend. When Google thinks the search is informational, we get knowledge graphs and location information. When it identifies the search as a product, PLAs rule the land. But what happens when Google can't make up its virtual mind? We get a hybrid. In the example below, Google can't tell if we're searching for Jeffrey Campbell shoes or Jeffrey Campbell the water polo player. In this case, it provides a small knowledge graph as well as PLAs.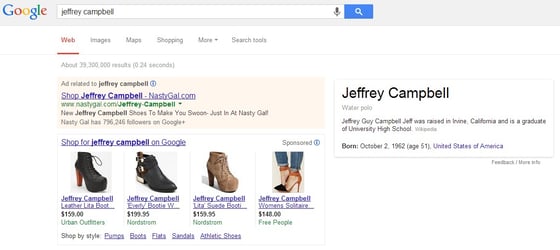 This leads me to believe that, as ecommerce merchants, the knowledge graph should only interrupt our search results in the broadest of searches. It also confirms that we should continue to target longtail terms that are narrowed and specific to our products. In addition, it lends even more credence to the ecommerce value of PLAs. Google, the highly intelligent entity and business that it is, will always jump at the chance when presented with the opportunity to make money. PLAs take up a lot of real estate, and that doesn't only benefit Google.
PLAs are especially useful in capturing searches for people at the end of the sales funnel and filtering out searchers still deciding. That means better conversions on the clicks you do get. Because PLAs show a searchers ecommerce-specific search returns (i.e. product image and product price), plus it leads searchers right into product pages where they can make purchases.
PLAs are the ultimate in click-capturing for ecommerce. They also help reduce bounce rates since the searchers who ignore PLAs altogether instead click on text results that are likely to be in the research stage of the sales funnel.
Two Roads Diverged in a Google Search
In SEO, we often hear how Google makes the lives of ecommerce merchants harder. With the rise of PLAs and the fork in the road being created between product and entity search, we are witnessing an atonement of sorts (albeit self-serving). With entity and product listing ads, Google is paving a path for the travel of ecommerce search separate from informational search.