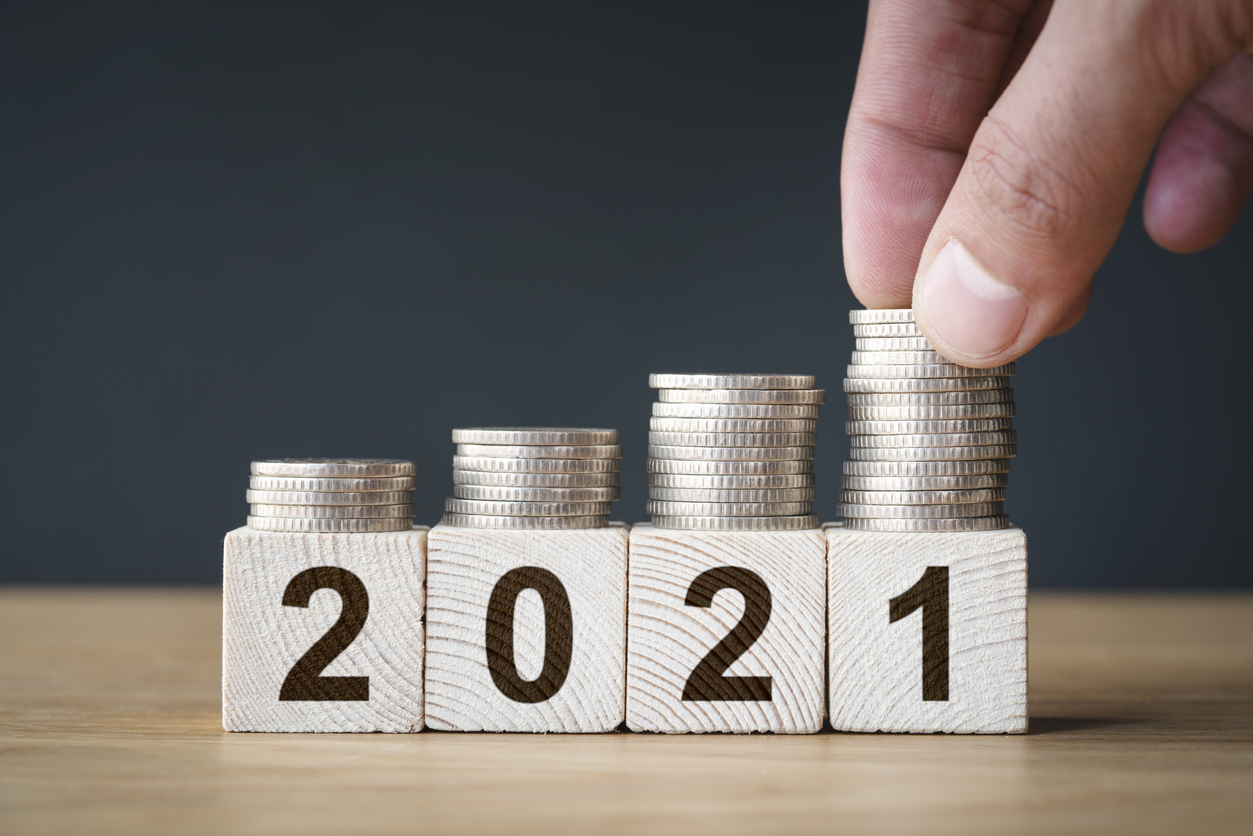 Selling online can be very fruitful. However, for one reason or another, you may feel like you aren't taking advantage of every opportunity. This triggers an age-old question: How do I improve my sales?
While this question can be answered in a number of ways, some methods are better than others when it comes to effectively improving your online sales. Here are some of the best practices to increase online sales in 2021.
25 Ways to Boost Your Online Sales
1. Optimize your titles and descriptions.
Your titles and descriptions for products are a focal point in every eCommerce listing, regardless of the platform. Therefore, they need to be easy to read and effective at describing your product concisely. However, titles and descriptions don't just need to be easy for people to read. They also need to contain relevant keywords to draw people in initially. To find relevant keywords, you need to use keyword research tools.
Once you have completed your keyword research using any of the wide variety of keyword tools available, you should ensure the relevant keywords you found are at the forefront of your titles and descriptions. This is necessary because Google shortens titles and descriptions, especially on mobile devices. Therefore, the first few words are the most visible across all platforms.
By using the right keywords in your titles and descriptions, your product listings will be matched with relevant search queries on Google, and other search engines. This will assist in drawing your target audience into your listings to make sales.
"Informative and targeted product descriptions don't just help improve your website's SEO performance, they can also improve your conversion rate. Customers coming to your site need product descriptions to check that an item suits their needs and to compare your products to those being sold by competitors. A lack of descriptions or limited detail can use confusion leading to customers leaving your site, abandoning their cart or taking up extra customer support time. Ensuring your product descriptions are helpful and informative, as well as keyword optimized, will help customers serve themselves and encourage them to head to the checkout." Matt Janaway, MarketingLabs
2. Make the checkout process simple.
An easy and navigable checkout process will help to decrease your rate of cart abandonment and, as a result, improve your online sales. To make a checkout process simpler and more effective, you can ensure it has the following elements:
Make the whole checkout process and its stages navigable so users can go back to previous steps if they make a mistake.
Show the products a customer has in their cart so they are completely aware of what they are buying.
Show the number of steps in the checkout process to the customer so they can estimate how long it will take to complete the checkout.
Allow customers to save their personal information, contact information, and payment information if they want to. This will speed up the process in the future.
Use a clear layout and avoid any unnecessary details on the page.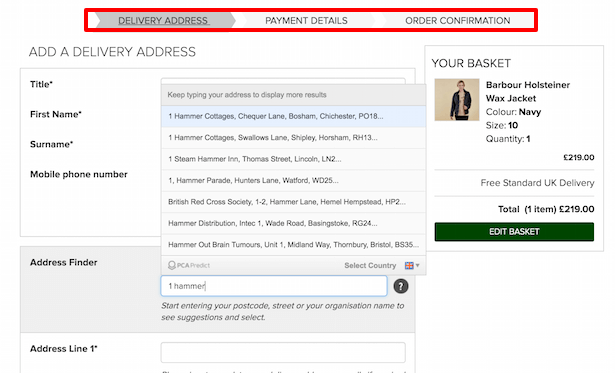 Source: Core DNA
3. Declutter your website.
A website that is clear and concise is often the best choice. Many potential customers who land on a page will not want to sift through large quantities of unnecessary information. This will only act as a deterrent. In addition, a cluttered website can seriously hamper the load speed of your site, creating high bounce rates that cause your Google ranking to suffer. Decluttering your website can help you avoid all these issues, and instead keep a potential customer's interests piqued while guiding them through your purchasing process.
4. Simplify website navigation.
By simplifying your website's navigation, you allow your customers to browse with greater ease. This makes their online shopping experience more enjoyable, which encourages them to spend more time on your site. They are then more likely to buy more and finalize any purchases they are considering.
5. Offer a wider variety of payment options.
By offering a wide variety of payment options, customers can select their payment method of choice. This ensures that they can buy within their comfort zone, feeling safe and secure doing so.
A variety of payment choices can also be convenient for customers, as they don't have to waste time setting up a payment account, like they may have to with some sites. This means payment feels safer, simpler, and therefore means customers are less likely to abandon their cart.
6. Highlight your store's security.
Customers want to feel secure when buying online. Making sure your SSL certification is visible will go a long way to helping your customers feel secure while shopping with you. If a customer does not feel secure, they are unlikely to buy anything. Whereas, if they do, they will likely complete their intended purchase, and maybe even come back in the future.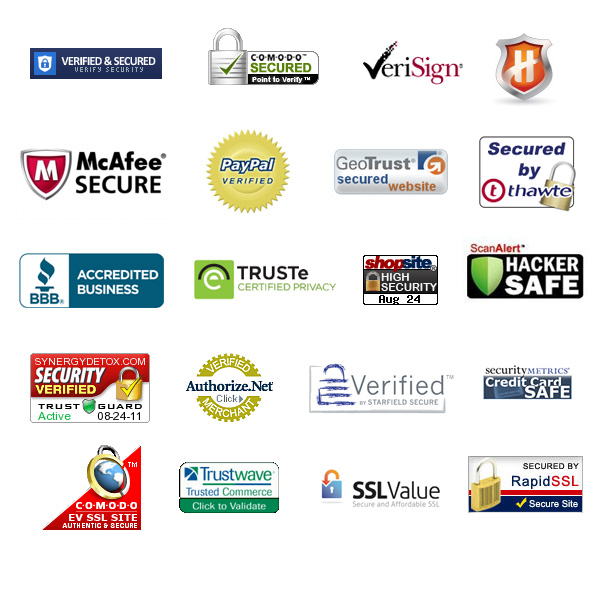 Source: Referral Candy
7. Try running an omnichannel campaign.
Omnichannel marketing campaigns are a perfect way to increase your sales. This is because you present a unified message and approach across all channels you advertise on. By doing this, you can easily market to customers in one place, and then make the sale in another. This unified approach means you can personalize each step of the customer's journey and give them the best possible experience of your brand. Customers can shop in a way that is convenient for them. This positive experience tends to lead to more frequent orders from customers, as well as a higher average order value.
8. Use effective CTAs on your ads.
A call to action (CTA) is an integral part of any advertisement. It is a short phrase that creates urgency and encourages browsers to click on an ad. The most effective CTAs tend to be the ones that generate the most urgency or create a sense of popularity in relation to the product advertised. An effective CTA is a defining factor when it comes to turning impressions into clicks, so it is worth taking your time to create the perfect one.
9. Focus your advertising on best-selling products.
If you have products that already sell better than others, it may be worth focusing most of your advertising on those in-demand items. In most cases, they will help to get better ROAS (return on advertising spend). Whereas products that are less popular will cost you the same to advertise and give you less in return.
Popular products are usually popular for a reason. And by focusing your advertising on those items, you can maximize the impact of the product's popularity.
10. Avoid advertising out-of-stock items.
Advertising low or out-of-stock items can often cost you sales. This is because customers will click on the advert, and find that there is nothing left to purchase. This still costs you because the customer clicked on your ad. However, in the end, it will be one of your competitors making the sale, not you.
You can avoid advertising out-of-stock items by excluding quantities below a certain amount using a feed management tool.
11. Optimize for all platforms, including mobile.
Ordering online by mobile is becoming more and more popular. By optimizing your store for all platforms, you ensure your products are accessible from anywhere and to anybody. Failing to do so can cause you to miss out on thousands of sales.
Ideally, your store should have a mobile version, as well as an app. This will make it easier for customers to buy at their convenience, especially if the mobile versions of your store are easy to navigate, use, and buy on.
12. Use high-resolution images for your products.
High-resolution images can make all the difference to customers when they are deciding whether or not to buy from you. A clear and well-displayed image that highlights the product clearly will immediately catch any potential customer's eye. It will also help to portray your brand in a good light from the offset. This will make sure potential customers are more likely to buy from you, as opposed to an unclear image which would drive them away and towards competitors.
13. Offer free shipping.
One of the most common reasons for cart abandonment is shipping costs. By offering free shipping, you avoid that issue.
However, this then increases your own costs. To combat covering shipping costs yourself, you can either increase the costs of products slightly or use a minimum spend system. Customers are far more willing to pay more for a product or purchase more at once than they are to pay shipping fees.
14. Use social proof.
Social proof is a must when you're selling products online. This is because many potential buyers will not necessarily trust a brand instantly. However, they will trust the honest opinions of other customers. By allowing customers to review your products and displaying those reviews clearly, new customers will read those reviews and better understand the reliability and quality of the products you are offering.
15. Spread the word of your business through referrals.
Referrals are a great way to get the word out about your business and draw in new customers to increase your sales. Referral programs work by offering your current customers a future discount for recommending your business to others. This makes them a cost-effective way to reach a wider audience.
16. Make use of social media to bridge the gap between your brand and the consumer.
It is often the case that people are disinterested in brands because they don't have any real experience with them. That is why it is so important to have a good content marketing strategy that can be helpful in building a relationship with the customer. One of the best methods of doing this is to utilize social media.
Building relationships with customers over social media can be done over any platform, in a number of ways. One of the most effective ways is simply to provide customer support over social media, as many younger customers prefer to use social media to resolve issues. Alternatively, you could drive engagement through debate, competitions, or even showing an opinion of current affairs.
By engaging with your customers on a regular basis, they will gradually develop a positive opinion of your brand. Doing this successfully can amplify your growth because of your users' loyalty and organic credibility. This will lead them to choose you over competitors, and even shop more regularly if they are exposed to your content frequently enough.
17. Consider using influencers.
Influencers are a great way to boost your brand through increased credibility and awareness. By utilizing influencers, you can get the word out about your products via the voice of someone trusted by their audience. Just remember to only use influencers relevant to your industry and products. Otherwise, it is unlikely that the audience of the influencer will show any interest in your products at all.
18. Use remarketing.
Most forms of advertising will boost your online sales somewhat if they are done well. However, remarketing is one of the most effective. This is because it is targeting consumers who have already shown interest in your products, but have not completed a transaction.
Remarketing campaigns tend to be at their most effective when they offer discounts, which help to lure customers back in.
19. Offer guest checkout as an option to buyers.
Many new users will be reluctant to make an account and commit to a brand they are unfamiliar with. This could be because trust is yet to be established, or because they are unsure of whether they will be a long-term customer yet. A great way to get around this issue, and still get these customers to complete their purchase, is to allow guest checkout.
By using guest checkout, customers can enter everything they need for delivery and nothing more. This means the customer can then take the time to decide whether or not they like your brand, and you still get them to purchase something, thus increasing your conversion rate.
There is also the added benefit of the customer giving you their email address, meaning you can reach out to them in the future with relevant promotions to interest them in your brand again.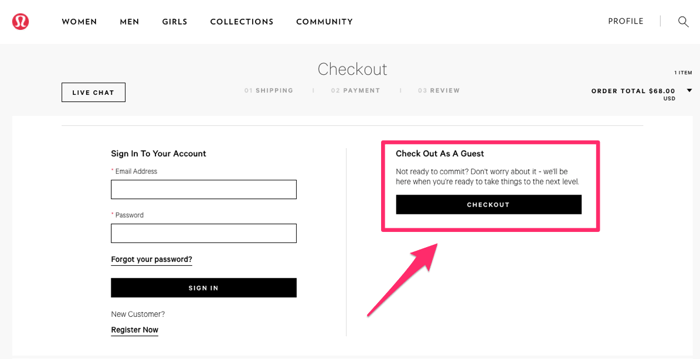 Source: Quick Sprout
20. Make contacting your store easy.
Great customer service can go a long way to boosting your sales, as it is a natural generator of good publicity. Part of good customer service is to ensure your store is easy to contact in the first place. This helps to reassure customers that, if anything is untoward with their order, they can get in touch with you.
However, being easy to contact doesn't simply mean showing your contact information in a visible place. It also means being reachable over various mediums. Try to ensure customers have the option of contacting you by email and social media at the very minimum, as these are two of the most popular methods of contact for eCommerce customers. Other forms of contact, such as by phone, contact form, and LiveChat, are also useful to add if possible.
21. Include an FAQ section.
A FAQ section can not only save you time answering customer service inquiries, but it can also be a reassuring addition to potential customers. This is because you can include answers to the most common pressing questions on the customer's mind. By having this information readily available for customers to read, you start to establish trust with the consumer at an early stage. This trust then helps to convince people to complete their purchase, especially if the FAQs cover the issue that was troubling them.
22. Highlight your returns and refunds process clearly.
A clearly presented returns and refunds policy will help to establish trust with your buyers. This is because they will know what to expect and how to proceed should something go wrong with their order. By highlighting these policies clearly, customers will be more likely to buy with you in the first place, as they will feel safe to do so.
23. Offer loyalty program bonuses.
One of the most effective ways to improve your online sales is to keep your current customers loyal and coming back for more. One way to do this is by using a loyalty program. Loyalty programs work by rewarding customers with a discount or reward after making a certain amount of orders. By using this type of reward program, customers are encouraged to buy more frequently or to use your store over competitors in order to receive a discount in the future.
24. Make use of the "Thank You" page.
When someone orders from your online store, it is good practice to then redirect them to a "Thank You" page, confirming their order and thanking them for their purchase. However, many sellers fail to use this page to the fullest extent. As well as the standard confirmation and "thank you" message, you can also use this page to encourage customers to make future purchases. This can be done by including discount codes on the page or inviting them to take part in a referral program.
25. Conduct frequent A/B testing.
A/B testing allows you to compare the effectiveness of different versions of your website, product listings, or product advertisements. For example, by changing one variable (such as the image) of a product listing, you could compare how that listing performs before and after the change. By conducting A/B testing across all elements of your store on a regular basis, you will be able to find the most effective variations in terms of impressions, click-through rate, cart abandonment, and much more. This will help you to improve your store and increase your sales as a result.
It's also important to use a good website host and a well-planned infrastructure that will prevent technical problems that could affect user experience. Your sales team should have clear sales objectives as well so they can help you achieve all the goals you've made for your business.
Final Thoughts
Deciphering the best way to improve your online sales and get more from your business can be a daunting prospect. However, it doesn't have to be as challenging as it initially may seem. Many of these practices are easy and quick to implement, meaning you can improve the effectiveness of your online store and multiply your sales in both the short term and the long term.