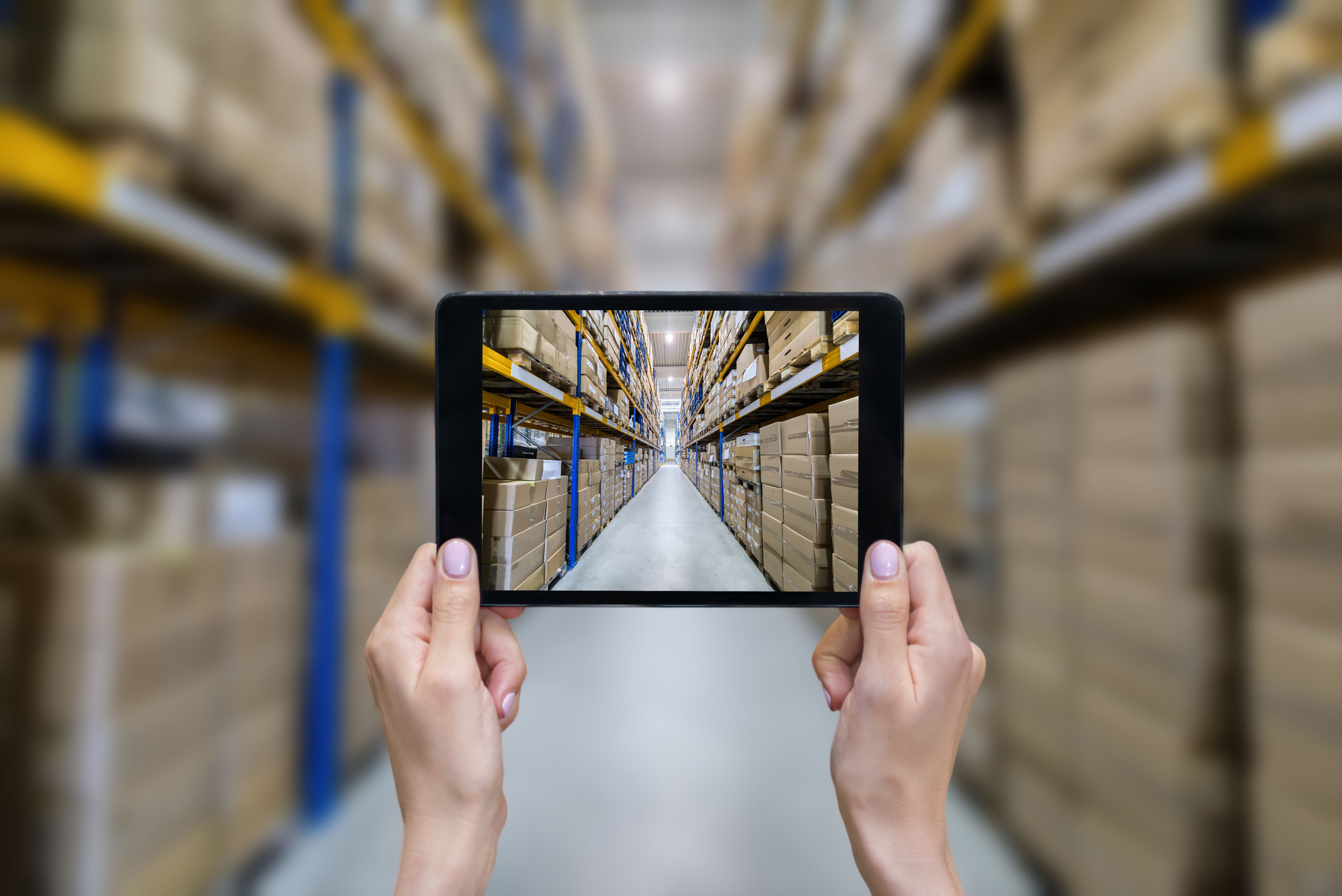 As an eCommerce store owner, you may run into a situation where a customer would like to order in bulk. These customers could be purchasing on behalf of other businesses, non-profits, or government organizations. Serving clients like this can provide your business with a major opportunity to enter the B2B market.
These various business structures all participate in what is called quantity-driven markets, which are products that are frequently purchased in large quantities. Some excellent examples of this include:
School supplies
Party supplies
Dinnerware
Kitchen supplies
Food
Medical equipment
Of course, these aren't the only industries/markets that can take advantage of bulk ordering. In fact, it is likely that with a little bit of creative maneuvering, you can fully take advantage of this strategy — even if you don't handle anything related to these markets.
Now, you may be hesitant to accommodate bulk pricing. While the profit you make on individual items may be lower in bulk orders, your total profits should be increased along with your sales.
With that in mind, it's important to remember that accomplishing this on your eCommerce website isn't always black and white. To help you take advantage of this opportunity, this guide seeks to show you the benefits that wholesale ordering can bring to your business, and some tips on how to handle them.
Should Your Business Offer Wholesale Ordering?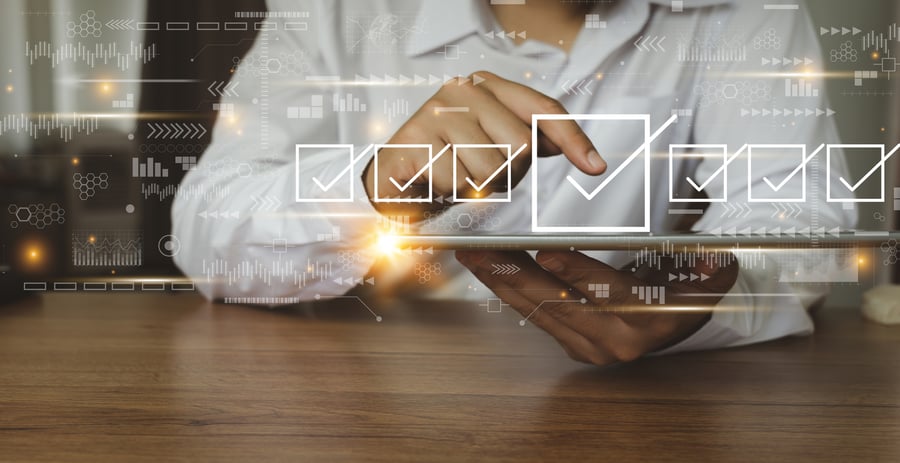 Of course, not every business strategy works for every company. If you'd like to offer bulk ordering, you should consider taking the time to assess how your industry would work in this ecosystem. If your business isn't traditionally "wholesale friendly" like those education or restaurant markets, think about how you can adjust your product offering to support B2B sales. You may just find yourself accessing opportunities and markets that would have been unimaginable before.
With that being said, it is still important to assess your risks and make a plan. After all, you wouldn't want to jump into a new strategy unprepared or not knowing what waits for you on the other end. However, if done right, offering wholesale prices can offer a variety of benefits.
Increased Profits
The fact of the matter is that the wholesale business is booming. Wholesale trade experienced more than $7.1 trillion in sales in 2021, according to mdm.com. Customers are simply seeing the benefits of purchasing a higher number of units at a lower individual cost.
At the same time, your business sees the benefits of increased sales. While you may be selling your products for less overall, you are still making more sales than you would have without offering bulk options.
Loyal Clients
Clients who consistently need a large quantity of products are always looking for businesses that can accommodate their needs. This is especially true for clients that may have a somewhat niche need, such as an obscure part for a type of medical equipment. This can very well lead to loyal customers that come back, resulting in positive referrals to other companies looking for similar products.
Of course, the benefits go both ways. When orders are created and shipped in bulk, there is greater overall consistency in your product, ensuring that your client will be reliably happy with their order. They'll also get all of their products at the same time, which is crucial for those dealing with food or perishables.
Reduced Waste
It's no secret that corporate waste is not only hazardous to the environment (with 20 companies responsible for 55% of all plastic waste), but also your bottom line. By creating an opportunity for slow-moving products to be sold, you're creating an opportunity for a new income stream.
When shipping out bulk orders, you have the opportunity to move more product that may otherwise be sitting around or even wasted. With consistent clients, you will also have a better idea of just how much to have in stock at any given time. This will help to reduce overstocking or understocking, which cost most retailers around 3.2% and 4.1% in lost revenue, respectively.
5 Tips for Handling Bulk Orders as an Online Business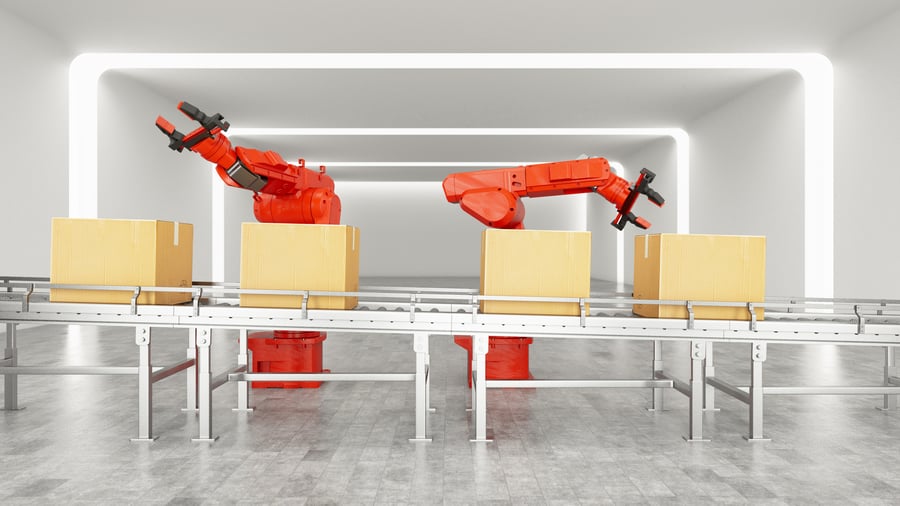 1. Set up discounts for bulk orders.
As previously mentioned, organizations buy in bulk because they require a large quantity of an item to accommodate a certain aspect of their operations. Of course, they also want to take advantage of the discounts that become available with bulk ordering.
Fortunately, many eCommerce solutions, like Shift4Shop, include built-in tools that automatically apply bulk discount prices based on order quantity.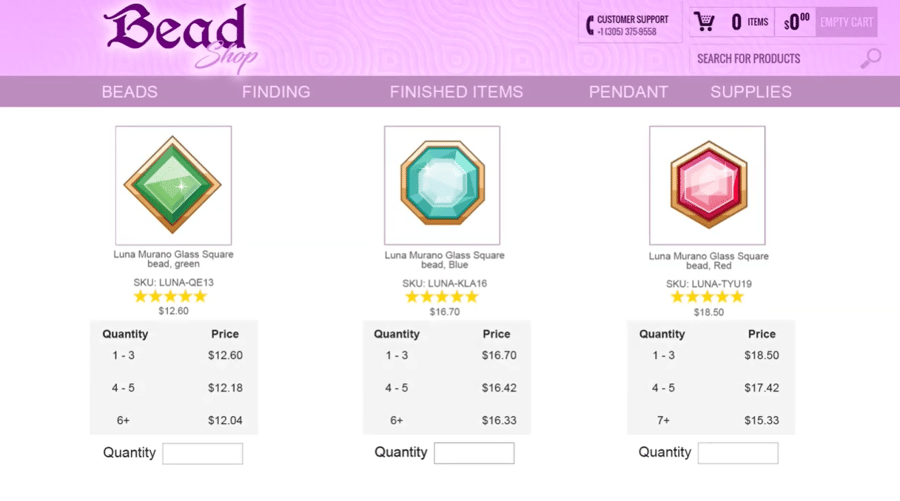 With this ability, your business can offer discounted bulk pricing for specific customer groups and even create multiple discount levels for certain demographics. You can even set up maximum and minimum quantities, in addition to allowing an order to be essentially unlimited. To illustrate the price range per quantity to your customers, you can provide a "quantity pricing" section on your product page.
Of course, your B2B customers aren't the only ones that can benefit from bulk discounts. Many everyday consumers are looking to stock up on certain products at a good price. Establishing yourself as a regular source of these discounts and materials can be a huge boon to your business. Before you know it, you will have established a niche for yourself.
2. Check on stock with manufacturers and distributors.
Making sure that you have the appropriate quantity of product in stock is important for any business, but especially so for eCommerce stores that offer bulk ordering. After all, making sure that you have enough supply to consistently fill large orders can require consistent, special attention paid to stock and good communication between you and your supplier.
The first step to reliably filling out bulk orders is assuring that you have the stock needed to complete them. This means keeping an open communication channel with your suppliers. Naturally, any quality wholesale distributor or supplier would immediately contact you regarding any production or supply chain issues. However, it is still important to reach out as soon as possible when you see that there may be an issue.
Whenever you have a change in supply, it is imperative that you update your eCommerce store with the updated quantity as soon as possible. When there is a limited or low quantity of an item, try to provide an indication on the product page.
Amazon and Etsy are pioneers in this concept, and examples of providing stock quantity and how many carts are currently holding a product can be found on a variety of product pages. In addition to managing transparency, this will invoke a sense of urgency within the customer, encouraging a sale.
3. Ask for payment upfront.
Filling out bulk orders can be somewhat risky. After all, if someone puts in a large order and cancels it, you are stuck with unsold stock. Gaining a reputation that allows this can put your organization in some serious trouble. That is why it is important to ask for payment upfront. If it's not realistic to expect that of your customers, you may want to ask for security deposits or implement a Buy Now, Pay Later option.
Of course, as you build a relationship with these regular customers and businesses, there should be an atmosphere of trust and confidence that allows you to be more comfortable with your transactions.
As long as you understand the value of your product, charge a reasonable rate, and provide an easy-to-use payment system, you should have little issue securing payment from legitimate customers. If your potential client is reluctant to work with you through this system, they may not be a customer worth having.
4. Create a landing page for wholesale/bulk order purchases.
Adding an accessible landing page for your bulk order system to your website can inspire trust in your business and communicate important information to new and existing customers. This includes minimum/maximum purchase policy, bulk shipping information, and links to your product pages. You can direct all questions about your bulk order process to this page.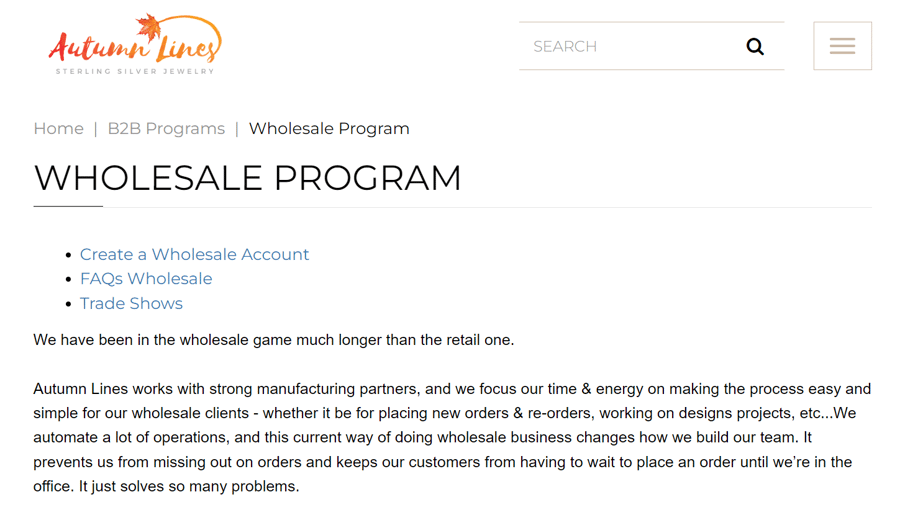 Source: Autumn Lines
You can also easily target your preferred demographic through best SEO practices on this page. Be sure to use text and images that are simple and easily navigable. Give your reader important information upfront while encouraging them to explore your site further. Remember, you want important information to be apparent, especially to someone who's quickly skimming the page.
5. Add password-protected logins for frequent buyers.
It is true that many first time buyers would prefer to not create an account on your store, opting for a faster guest checkout option. However, frequent clients will want and need certain features that will only be available through having their own account. This includes saving orders/frequent purchases, shipping addresses, payment methods, and customized options.
By making your login process quick and easy, you can remove obstacles preventing your clients from making an account. This includes having your user only put in their password once, allowing them to "unmask" their password, and auto filling fields like "State" based on their zip code. Once your client has already registered, you can simplify the sign up process by allowing them to sign in with their email or phone number rather than a unique username.
Final Thoughts
Filling bulk orders for other businesses can quickly become an exciting new frontier for your company. While it can be difficult to transition into the B2B market, it can be well worth it. Before you know it, you will be moving product like never before and acquiring new, exciting business relationships that you thought weren't feasible before.