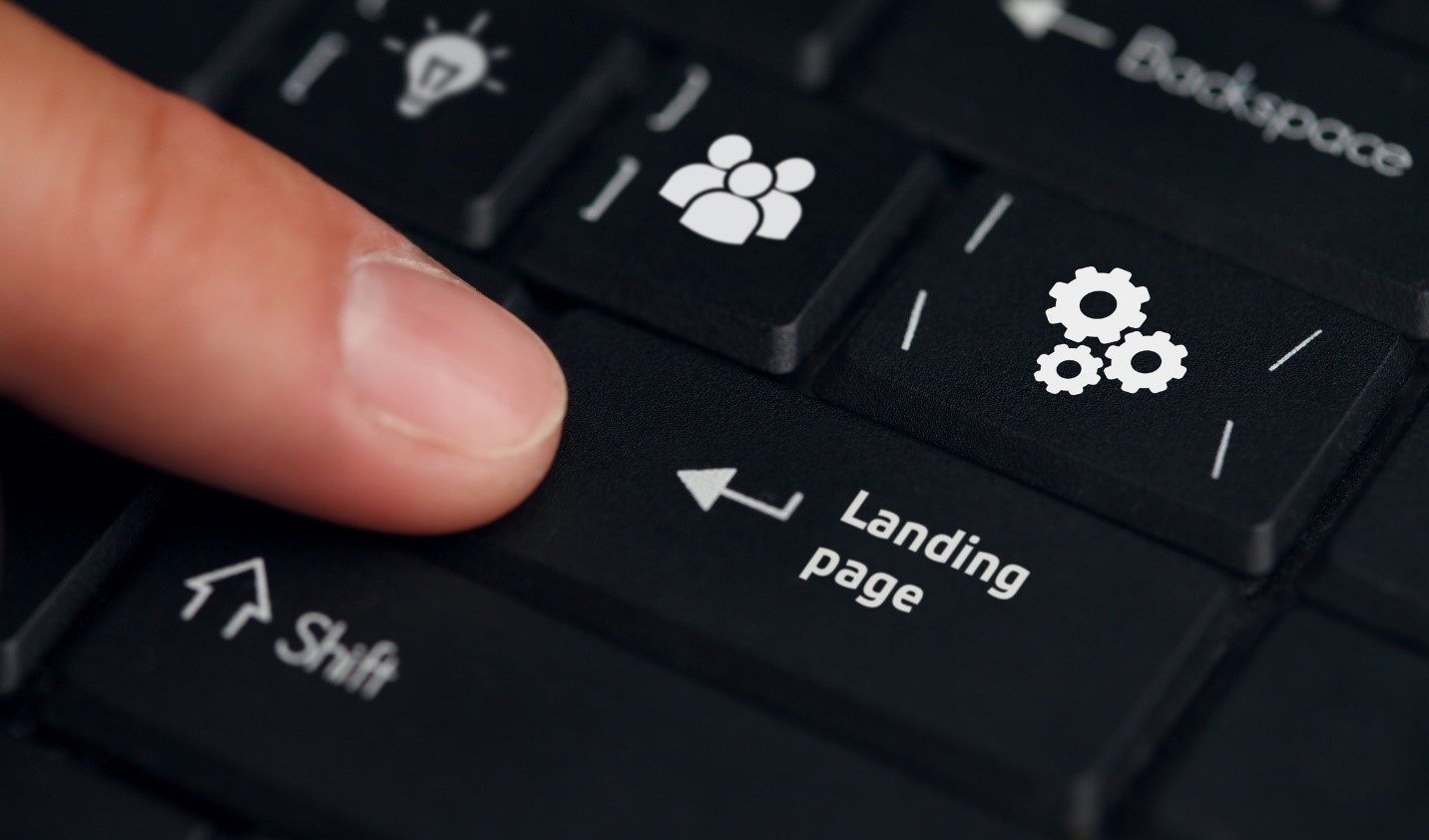 What are the different types of pages you can find on a shopping website? The answer may be trickier than you would expect. You have the home page, naturally. You have your product pages, as well as the category pages that organize them. There are checkout pages, which guide customers into placing orders. There are also more informative sections like the About page, the Contact Us page, blog posts, terms and conditions, and more.
There's one more type that savvy eCommerce store owners can use to their advantage: the landing page. If you're asking "What is a landing page?" then you've come to the right place. In this in-depth guide, we'll describe the function of landing pages and the many benefits they can provide. We'll even show you the best landing page builders out there, so you can start on the right foot and watch your conversions multiply.
What is a Landing Page?
If you want to be technical (or pedantic), any page can be a landing page. The key is that people reach it by clicking a link within an advertisement, an email, or a social media post (to give three examples). In other words, it's a page where people land. That seems straightforward enough, right?
A true landing page, however, is distinct from the rest of the website. The layout of the typical webpage features links to various other areas of the site, facilitating navigation. Landing pages are often separate from the rest of the website. They do not encourage exploration because it would distract from their purpose.
The sole purpose of a landing page is to guide visitors toward taking a specific desired action. This call-to-action (CTA) might be to buy a certain product, sign up for a newsletter, start a free trial, and so forth. Any elements on the page, from text to images to videos, are there to persuade them.
Types of Landing Pages
With a little creativity and cunning, any page on your website can be an opportunity to earn some conversions. Here are a few examples of landing pages that you might find useful:
Lead Capture Pages: Convincing people to provide contact information can be difficult when the form is just one of many elements and links on a webpage. Lead capture pages sift all these distractions and put the form in the spotlight. Not everyone will bite, but your email list may still see substantial gains.
Splash Pages: In comic books, splash pages are full-page illustrations designed for maximal impact. In website design, splash pages are similarly flashy. They often welcome visitors with a minimal message and a large background photo, along with a link to the main page. They may also ask for age verification, offer content warnings, and provide language options.
Thank You Pages: The quest for conversions doesn't need to end when a visitor successfully places an order. In fact, you can use the confirmation page to provoke further action and get more conversions. For example, if someone makes a purchase, your site could show other products bought by customers who ordered that same product.
Squeeze Pages: Squeeze pages are similar to lead capture pages, but they strive to be more persuasive. In exchange for the customer's email address or other information, they offer rewards: discount codes, special access, or simply the thrill of a newsletter subscription. You could make dedicated pages for these offers, but they can also appear as pop-ups on your site.
404 Pages: Even when a customer makes a mistake, you can turn their defeat into a victory (for both them and your business). Don't just write, "This page doesn't exist." The most common approach is to tack on a link to the homepage, where your guest can try again. You could also include a search bar, a connection to the sitemap, and even links to popular products.
How Can Landing Pages Boost Sales?
eCommerce statistics bear out the benefits of using landing pages. In fact, studies from HubSpot seem to show that the law of diminishing returns does not apply to landing pages. According to their research, online stores with over 40 such pages make significantly more conversions than those with five or fewer. "Significantly more" here means "12 times more." In other words, more opportunities for conversions lead to, well, more conversions.
A 2018 report from Omnisend claims that despite being the least-used of several sign-up form methods, landing pages boast the most conversions of them all. The study measured a conversion rate of 23%, more than double that of the runner-up. That's a sizable sales boost, no matter how you look at it. With their implied relatively minimal use, taking advantage of them may also give you a real edge over competitors.
Integrating Your Landing Pages with Your Online Store
Creating a landing page is one thing, but making it part of your website is another. Fortunately, online store owners can easily connect the landing page builders they use to the eCommerce software that powers their site. All they need is Zapier, a platform that enables connections between apps.
Zapier integrations are available between Shift4Shop and all ten of the aforementioned best landing page builders. Once you "zap" them together, you can build as many as you want without worry. The Zapier page for Click Funnels and Shift4Shop integrations gives several examples of "triggers" and "actions" that you can set up.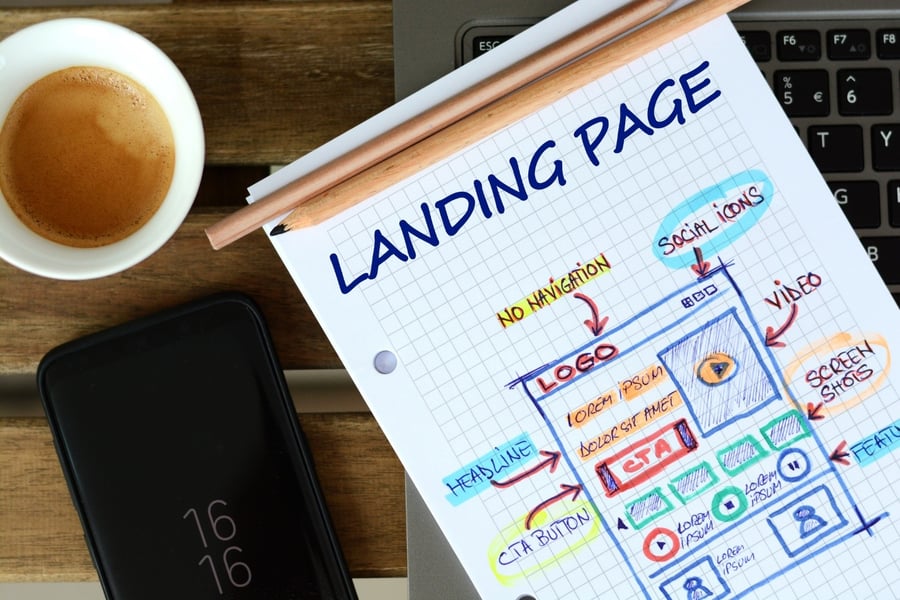 Using a Landing Page Builder with Your eCommerce Shop
Before we proceed to the best landing page builders, we should address a question that's probably on your mind: what can you do with them? Perhaps the best thing about landing pages is that they are highly versatile. There are many potential uses for them, and here are just a few to get you started:
Direct form submissions to create new orders. The typical e-shopping process takes customers from a product page to the shopping cart page, then through a lengthy process for placing an order. If you're promoting specific products, you could create a landing page where people can just give their information and buy the product immediately. Think of it as an all-in-one checkout process.
Set a new failed purchase to add an email to a list. Cart abandonment is a common plague, with about three in every four shopping carts going unfulfilled. If a customer fills out their email address before they leave, though, you have an opportunity to win them back. Your site could automatically email them a link to a landing page where they can finish their order in a snap.
Allow a new customer to trigger the creation of a contact profile. A golden opportunity arises when your website receives an order containing unfamiliar contact information. You could set up the Thank You page at the end of the checkout process to include a new user account form. It'll encourage one-time buyers to become loyal customers.
10 Best Landing Page Builders
By now, you should be able to answer the question, "What is a landing page and what can it do for me?" The next practical step is to start making some of your own. You can find dozens of landing page builders out there. For your convenience, we rounded up ten of the best landing page builders that you can start using right away.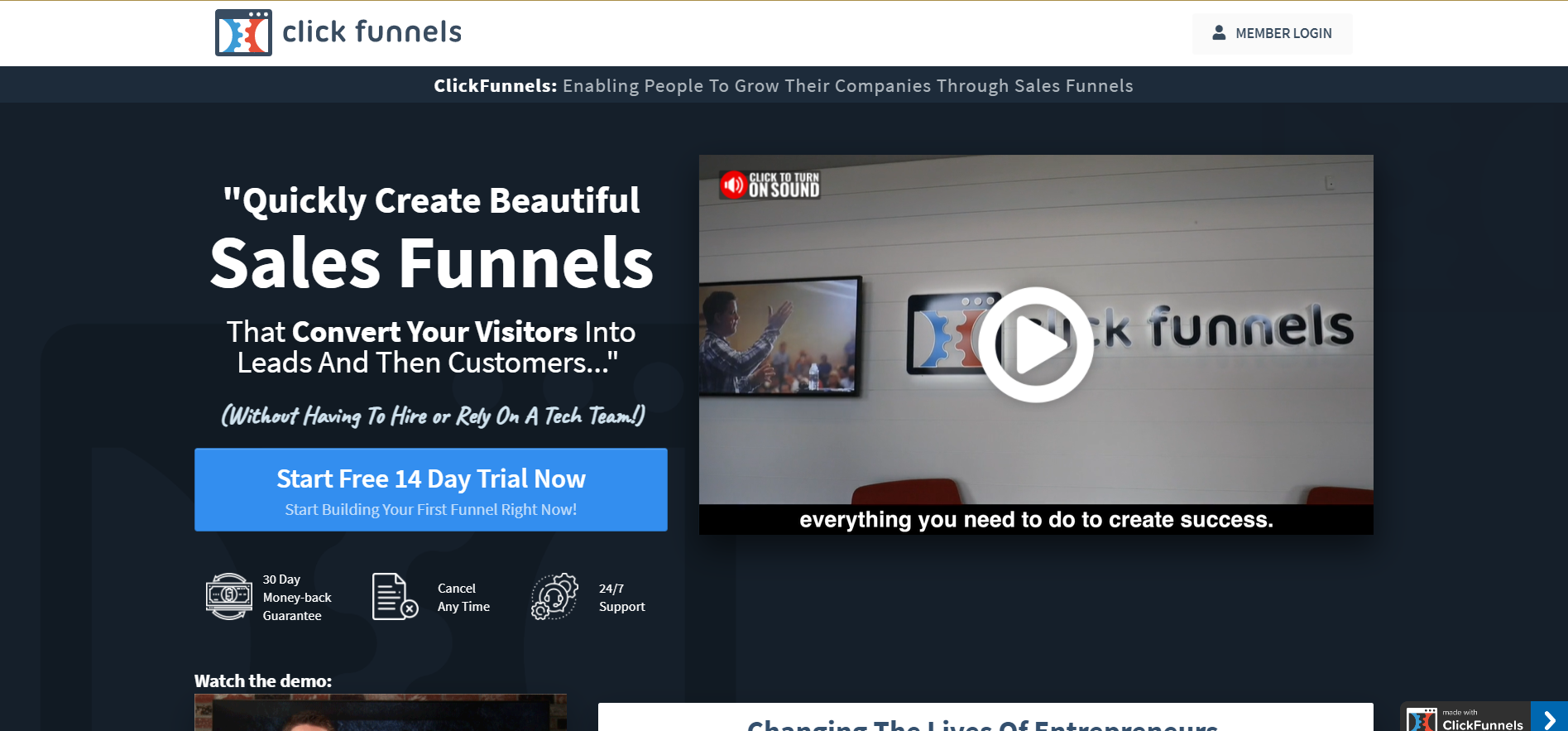 Click Funnels presents itself as an ideal alternative to commissioning landing page construction from coders and designers. Their builder software is user-friendly enough that anyone can use it without previous experience in either field. They start by giving you the choice of over two dozen templates, each oriented toward different services or goals. Customizing the design is easy enough, as is adjusting or adding elements like logos, videos, and countdowns. You can go from the first step to a live landing page in under ten minutes.
As you could guess from the name, Click Funnels focuses heavily on helping users create engrossing and effective sales funnels. Their platform comes packed with plenty of useful features. A notable one available from the Platinum Plan onward is "follow-up funnels," which offer a more personalized take on email autoresponders. The messages can be tailored to customers based on recent purchases and activity. Such targeting can have greater appeal than a boilerplate email.
Cost: Click Funnels offers three monthly payment plans: Regular ($97/mo), Platinum ($297/mo), and TwoCommaClubX ($2,497/mo). The free trial lasts two weeks.
Supported Platforms: Shift4Shop, ShipStation, InfusionSoft, SalesForce, Maropost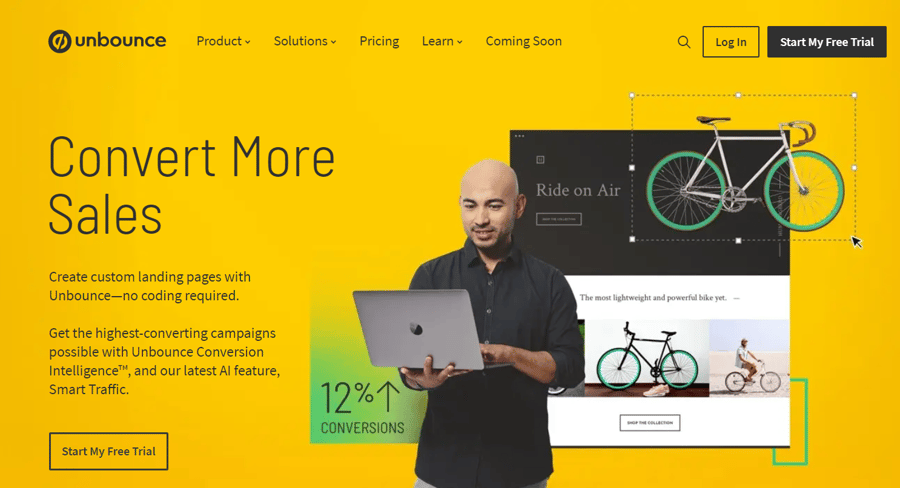 Getting leads is one thing, but getting those leads to do what you want is another. If you're having trouble with the latter, Unbounce can help: their software concentrates on conversions. Each of their 100-plus templates is optimized for maximum conversions from the jump. The drag-and-drop building tools allow for extensive customization, with no coding knowledge required (although it can help!).
Dynamic Text Replacement and SmartTraffic are both tools that, in their own unique way, answer customers' questions for them. The most famous feature of the platform, the Unbounce Conversion Intelligence, does the same for site owners. It's a machine learning technology, capable of providing all kinds of insights into your landing page practices. While many other platforms offer A/B testing, few boast an AI that illuminates the tests' findings.
Cost: Unbounce's four pricing plans are actually eight, with the company offering annual plans at a 10% discount from the monthly ones. They break down as follows: Launch ($80/mo and $72/mo), Optimize ($120/mo and $108/mo), Accelerate ($200/mo and $180/mo), and Scale ($300/mo and $270/mo). The free trial lasts 14 days.
Supported Platforms: Shift4Shop, InfusionSoft, SalesForce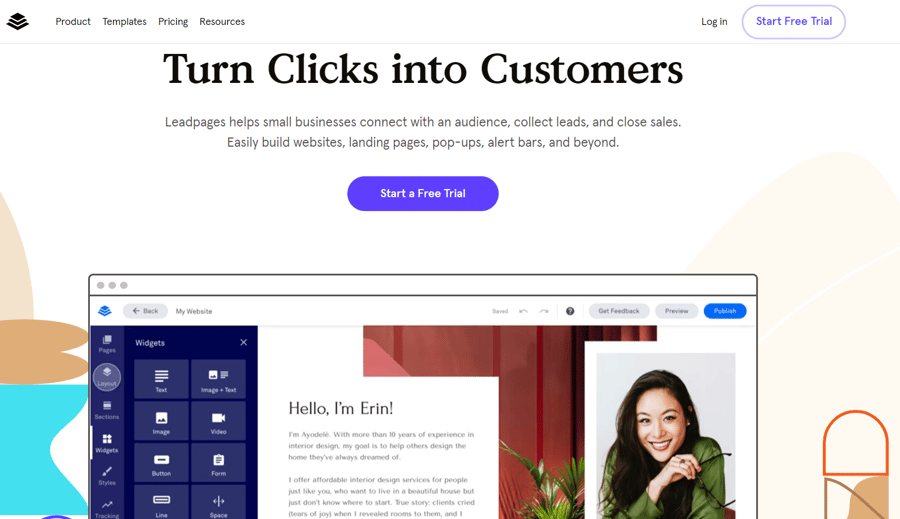 LeadPages offers builders for websites, pop-ups, and alert bars. Here, we'll focus on their builder for landing pages, which was one of the first in internet history (though Unbounce is a few years older). Unlike many other builders of this type, LeadPages imposes no limits on the leads you net, nor the number of landing pages you make. With no punishment for growth and success, it's among the best landing page builders for small businesses.
Novice business owners will find plenty of other features to appreciate. The UX is excellent, offering real-time advice on how you can optimize your page for conversions. The selection of templates falls just short of a whopping 200, and the drag-and-drop customization lets you refine them further. If you're a budding entrepreneur, this solution is at least worth a good long look.
Cost: LeadPages focuses on small businesses, and the trio of monthly price plans match this intention. They include Standard ($37/mo), Pro ($79/mo), and Advanced ($321/mo). Annual versions of the plans respectively divide to $27/mo, $59/mo, and $239/mo. The free trial lasts 14 days.
Supported Platforms: Shift4Shop, Shopify, SendOwl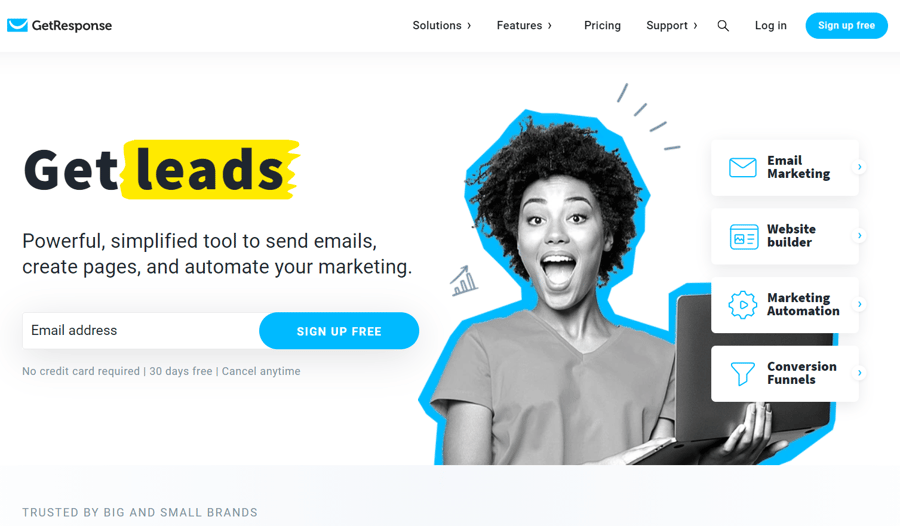 GetResponse started in the late '90s as an email marketing solution. The Poland-based company gained plenty of experience in marketing, sales funnels, and conversions. You can therefore trust their landing page builder to draw from that well of knowledge, provide great features, and get you results.
The builder comes with over 200 fully customizable templates, many inspired by their templates for marketing emails but optimized for their new purpose. You can use them to make unlimited landing pages, and you can analyze the data from A/B tests as well. Naturally, you'd also get access to GetResponse's email automation services.
Cost: This one is tricky to explain. There are three tiers — Basic ($15/mo), Plus ($49/mo), and Professional ($99/mo) — plus a Max tier with custom pricing geared to each GetResponse client's needs. Each of the three main tiers' monthly costs drop 18% if you pay for a year-long plan. It drops 30% if you pay for a two-year-long plan. The prices can also increase depending on your list size. You may just want to read the full details on their website. The free trial lasts 30 days.
Supported Platforms: Shift4Shop, Shopify, WooCommerce, Magento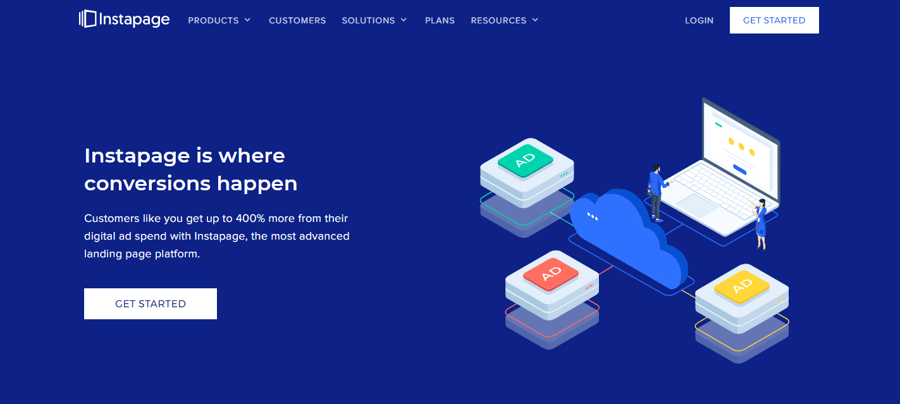 Instapage's software is dedicated solely to helping people construct the best landing pages. Look no further than their bafflingly large selection of AMP-powered templates, which exceeds 500. If you like a particular section of a page, you can save it as an "Instablock" and past it to other pages. This astounding feature allows for quicker page creation and greater personalization.
Another notable feature, and one that's allegedly unique to their builder, is the built-in collaboration system. People can leave comments anywhere on the page layout, then receive feedback and updates in real-time. It's excellent for large teams working on big projects together. While Instapage is definitely a pricy investment, as you'll see below, these and other features make it definitely worthwhile for those who can afford it.
Cost: Instapage's three pricing tiers are Building ($499/mo), Optimizing ($999/mo), and Converting ($1999+/mo). The annual version of the Building plan brings the monthly cost down to $399/mo — no other tier is affected. The free trial lasts 14 days.
Supported Platforms: Shift4Shop, Shopify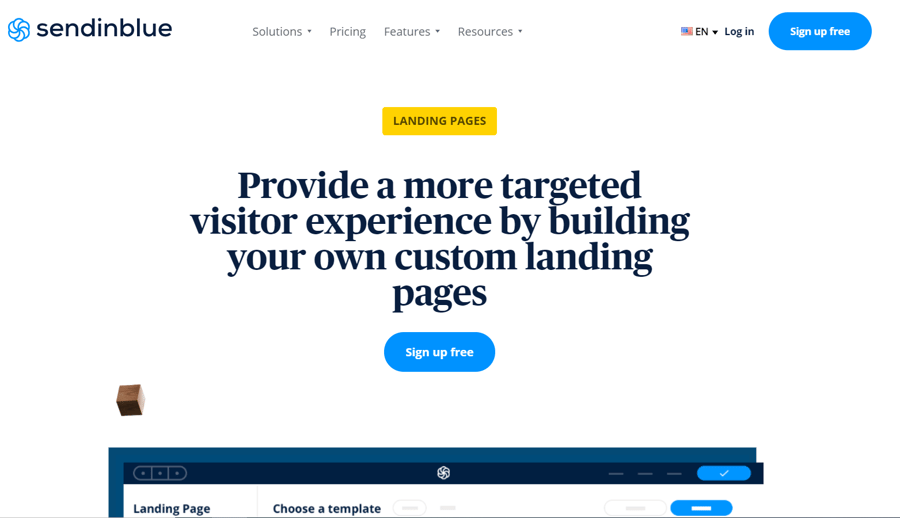 Landing pages are just one part of SendinBlue's marketing platform. This builder isn't even available on the Free or Lite plans. Its presence on this list should indicate that despite just being a feature, it's a great example of a landing page builder.
There are not even that many fancy bells and whistles on this one. Still, don't dismiss it just because it only has a few dozen templates and the features you'd expect. The drag-and-drop layout editor is smooth, and creating follow-up pages is easy and effective at personalizing the experience for customers. You could also take advantage of the other marketing solutions included in the SendinBlue suite.
Cost: Landing pages are only available for users on the Premium plan, which starts at $65/mo. However, that's with a maximum monthly email volume of 20,000. You can choose to increase the volume all the way to 1 million for $599/mo, with cheaper options between the lowest and highest. An Enterprise plan with custom monthly email volume is available. Due to the existence of a Free plan, there is no free trial.
Supported Platforms: Shift4Shop, Shopify, BigCommerce, WooCommerce, PrestaShop, Magento, nopCommerce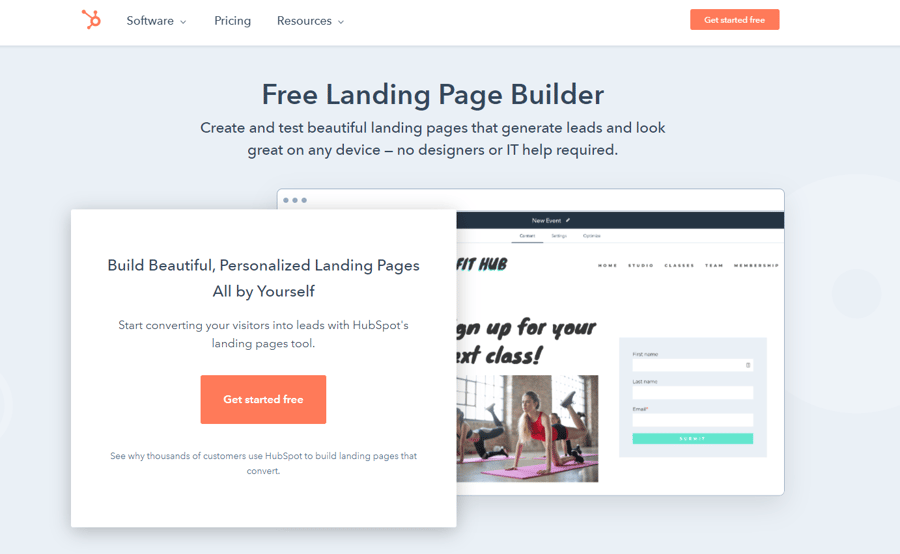 It's no wonder that HubSpot had plenty of data for the studies we mentioned earlier: they have their own landing page builder. As with SendinBlue, this one is part of a larger package. Fortunately, as of the end of 2020, that larger package is their suite of free marketing tools. Like all the best landing page builders, you can choose from a (relatively small) number of templates and edit many different aspects.
Where HubSpot's builder excels is in personalizing the customer experience. You can easily create multiple versions of the same page for different demographics. Then, you can set "smart rules" so the right ones display to the right people. Most builders have something similar, but the HubSpot version is very user-friendly.
Cost: The HubSpot landing page builder is now part of their free CRM. You can get started right now at no cost.
Supported Platforms: Shift4Shop, Shopify, BigCommerce, Magento, WooCommerce, PrestaShop, eZo Commerce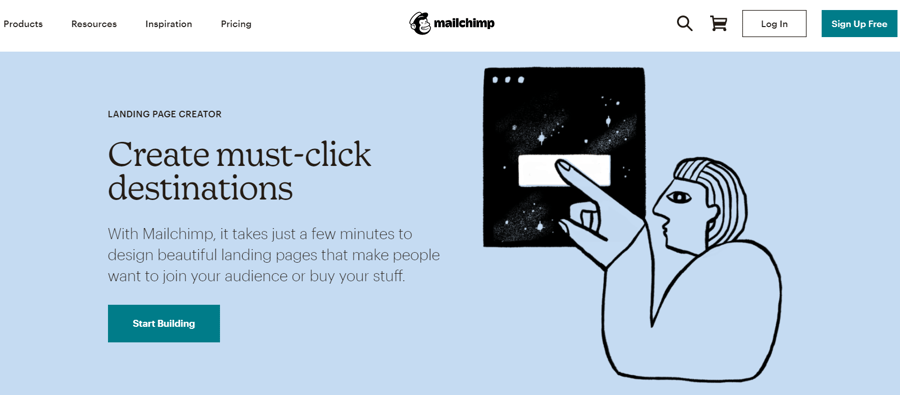 Mailchimp is mostly known for their marketing email design services. There's a great deal of crossover between that field and landing page builders, so it's unsurprising that Mailchimp is great in that department as well. The themes may be limited to a mere ten, but they look classy. The editor may be simple, but it is suitably beginner-friendly.
The best way to use Mailchimp's landing pages is in tandem with other marketing efforts. Even Mailchimp agrees, though a company that sells marketing software would say that. Thankfully, it's easy to connect it with your eCommerce store through Zapier. Plus, a look at the Cost section may be enough to put Mailchimp on your list.
Cost: Every Mailchimp payment plan comes with the landing page builder. That includes the one that requires no payments, so you can build unlimited pages for free. With that said, A/B testing, ordinarily a staple of these programs, is only available starting at the Essentials plan ($9.99/mo).
Supported Platforms: Shift4Shop, BigCommerce, Magento, Volusion, PrestaShop, ShopSync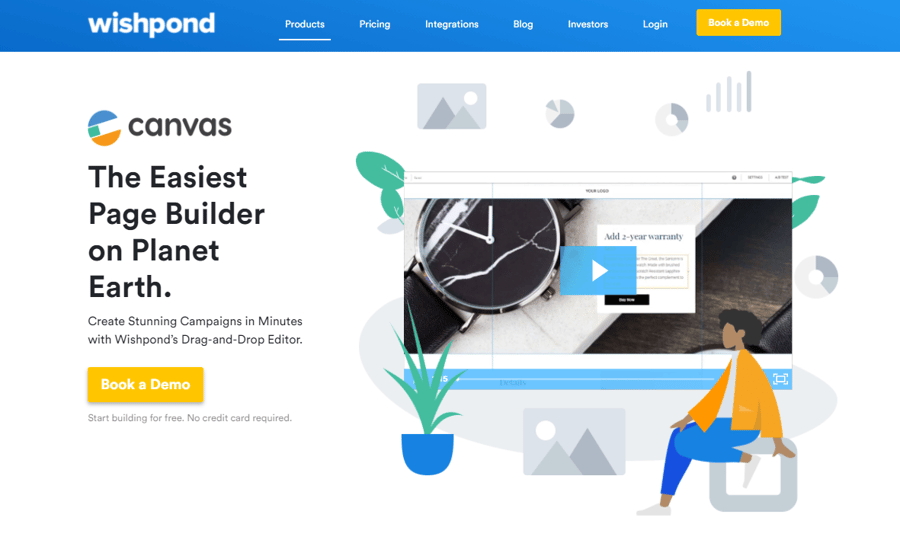 Wishpond is unusual when compared with many of the best landing page builders on this list. For starters, it is not a dedicated builder, although the ability to create landing pages is a major selling point. Additionally, the pricing plan is based on the maximum number of leads you can earn.
Some will find the latter factor frustrating. Look at it from another perspective, though, and you will see a builder that gives you all the features you need on any pricing plan. That includes unlimited landing pages, automation software, and a robust editor.
Cost: Wishpond offers three pricing plans: Starting Out ($49/mo), Everything You Need ($99/mo), and Rapid Growth ($199/mo). The two former plans respectively allow for a maximum of 1000 and 2500 leads. The last one is more flexible: if you want up to a million leads, you can pay $3000/mo. The free trial lasts 14 days.
Supported Platforms: Shift4Shop, Shopify, SalesForce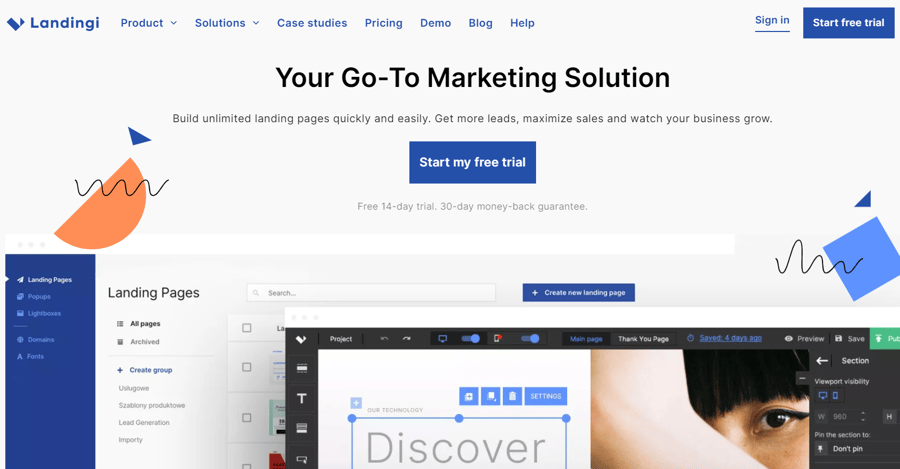 It only makes sense to cap off our list with one that's widely recognized as among the best landing page builders. Landingi earns its reputation with powerful software that takes you from start to publication in minutes, with a huge bump in conversions as the result.
You start by choosing from over 300 professionally designed templates, or by crafting a layout of your own. From there, adding and editing page elements is a breeze. Landingi provides a massive array of options for every conceivable aspect, as well as 5000-plus assets for decorating the page. With only a little effort, you'll end up with a page that you and your customers will like.
Cost: Landingi's three tiers are as follows: Create ($55/mo), Automate ($79/mo), and Agency ($149/mo). These prices reflect the monthly breakdown of the annual payment plan. In addition to the routine monthly version ($89/mo, $127/mo, and $199/mo, respectively), there are other plans for paying every three or six months. The free trial, as with most other builders on this list, lasts 14 days.
Supported Platforms: Shift4Shop, Shopify, HubSpot, SalesForce
Conclusion
You might be shocked at how effective optimized landing pages are at guiding customers down the sales funnel and driving up conversions. You might also be pleasantly surprised at how versatile they are, both in their layouts and their capabilities. Whether you want to increase your email readership or turn a failed purchase into a completed order, landing pages may prove extremely useful.
Of course, it's not enough for them to exist. The best landing pages use every aspect of their designs to point customers towards a CTA and persuade them to take it. Likewise, the best landing page builders give users a wide array of tools for creating excellent layouts. What is a landing page builder good for if it doesn't?
We hope the ten featured builders on our list can come in handy when you start an online store. More than that, we hope you use them to try all kinds of experiments and discover the benefits of landing pages for yourself.