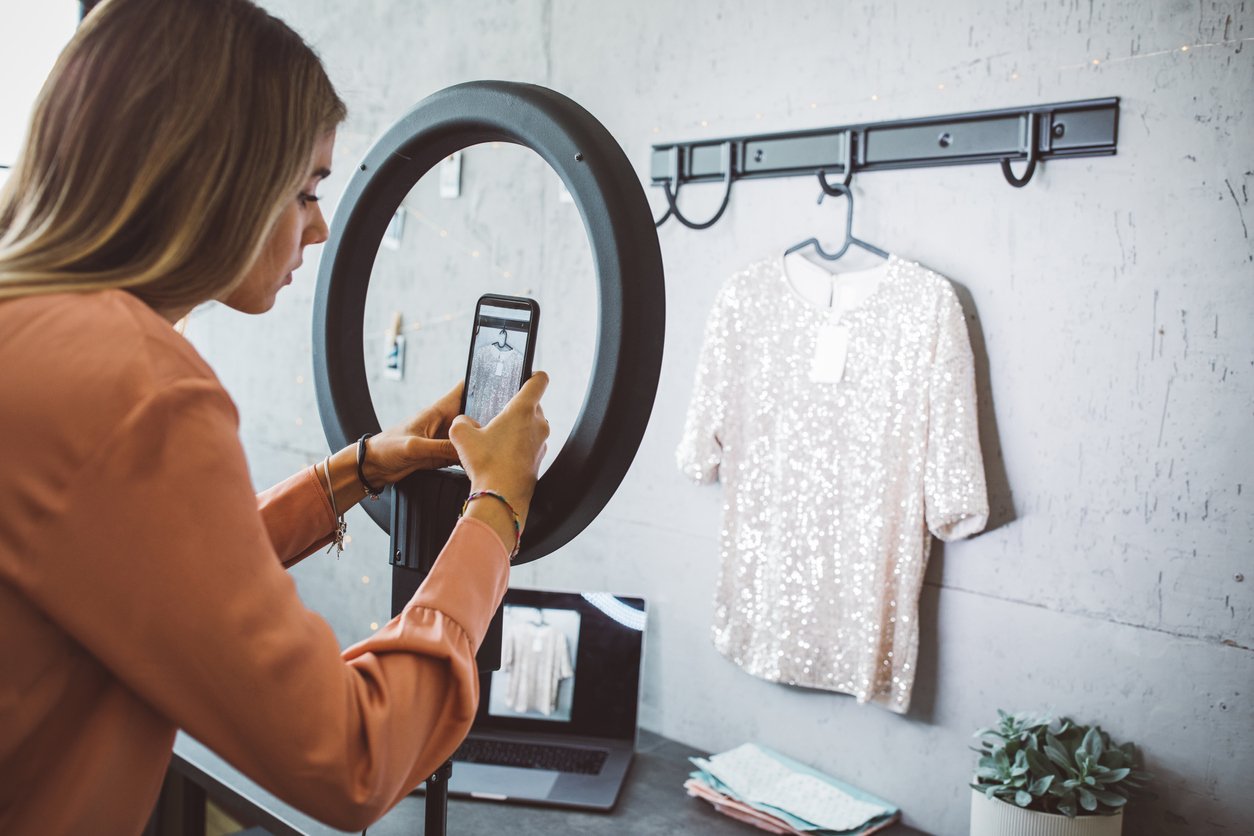 Product images are essential for any eCommerce store. Authentic photos can communicate your brand values to customers. They also help potential customers visualize the products in your store. After all, these are images of products that they can't physically touch.
In other words, without eCommerce photos, you can't possibly encourage purchases.
But which types of eCommerce images should you have? In this article, let's take a look at eight of the most common types of photos in product photography.
1. Group Shots
As the name suggests, a group shot is an image with at least two products of the same or different types. Compared with product-only photos showing one product per shot, group shots give potential customers an overview of several products.
Let's look at the example below. Mooala, a Dallas-based beverage company, opted to include the various flavors of its featured Bananamilk product in a group shot on its landing page: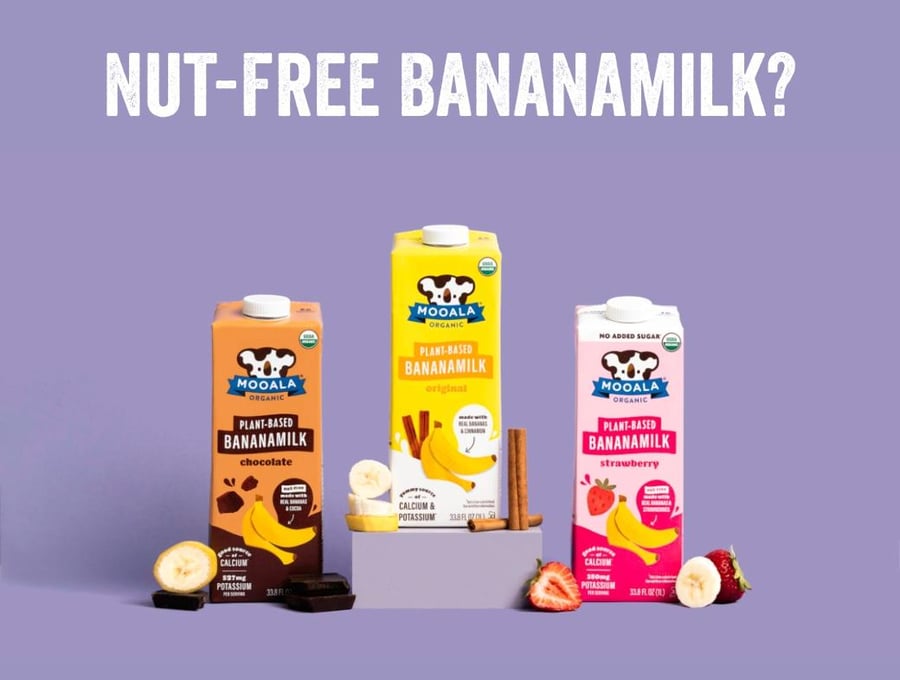 Source: Mooala
A group shot of relevant products clues customers in on which items should be used together. It can also show users the different options they have when it comes to a specific product category. For example, if you're selling drinks, as in our example above, the group shot can show each flavor.
Although a group shot means there will be many elements in the picture, this doesn't mean the image needs to look cluttered. Ensure there are enough spaces between each product, especially if you have more than five different elements.
You can also experiment with depth. Use leading lines to guide the viewer to the product or part of the picture you'd like them to focus on.
Apart from the landing page, you can use group shots in social media posts or pages offering eCommerce discounts or product pages.
2. Lifestyle Product Photos
Lifestyle shots showcase how your products are used in natural, real-life settings. Here's an example from Bed Threads. The picture shows its Rust Stripe linen bedding set.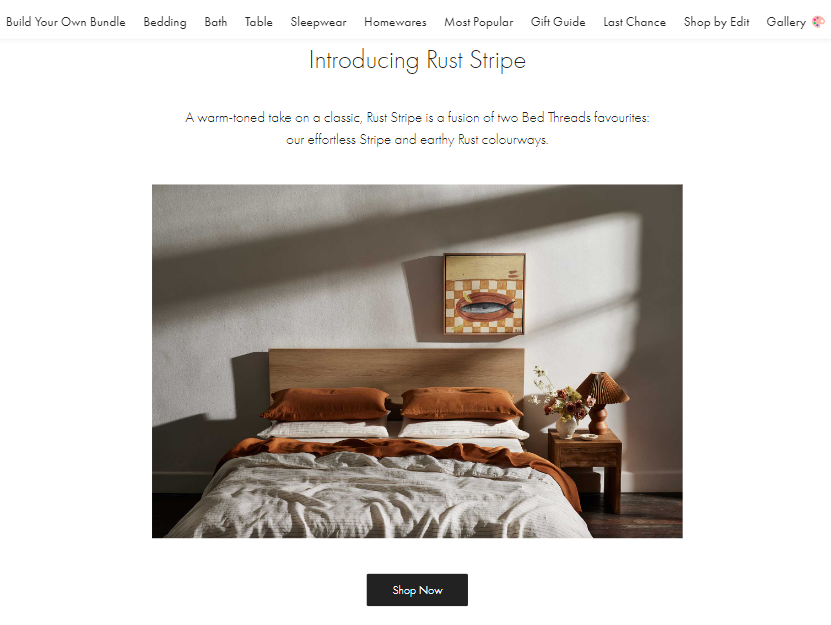 Source: Bed Threads
Lifestyle photography allows potential customers to imagine their lives if they had the products in the picture. It can encourage excitement and prompt purchases. The key is to make the products look the part.
You can play with lighting to highlight their most important features. You can also change their look to convey specific product attributes. For instance, the sheets are a bit crumpled in the picture above. This makes the bed, in general, look enticing for people to sleep on.
But these campaigns can be ineffective if your photos are too styled. According to Invesp, at least 30% of customers return products they bought online once they realize they look different than the images they saw. So get creative, yes, but make sure your product in real life is still how you portray it to be in the final picture.
Lifestyle images can be used on social media platforms, adverts, or emails. With marketing automation tools, you can easily build effective eCommerce marketing campaigns on multiple channels.
3. Product Infographics
Product infographics combine images and text to provide information about a specific product. With product infographics, you can convince people to buy your product by showcasing two things: the product's aesthetic and its features.
In your image, your text should explain the most vital features of your product. You can also describe its outstanding specs or uses.
The location of the text (and the image, for that matter) is everything, too. You can put the text on the side of the product image. Further, you can use arrows pointing at the text and at the product feature you're describing.
Here's an example from Logitech showcasing its "Logitech MX Anywhere 3" mouse on its website.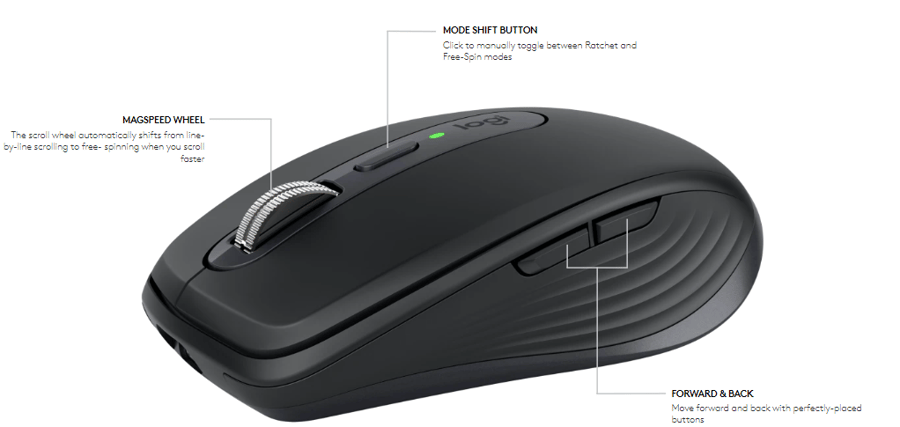 Source: Logitech
With infographics, customers spend less time reading every spec in the description section to see if a product meets their needs. Instead, product infographics provide essential information about a product faster and more effectively.
You can be creative in choosing background images or fonts for product infographics. But remember to make your infographics as simple as possible. Using improper product images or fonts can result in your infographics being a chaotic jumble.
As you may have already guessed, infographics are best used for products with various uses or specs. Some typical examples are electronic devices or watches. Put yourself in your customers' shoes to understand what they want to know about your product. Then, get that essential information for your infographics.
4. Product-Only Image
Among the types of eCommerce images you should consider are product-only photos. These images focus on individual products. When creating this type of image, you'd typically use plain backgrounds to make the items stand out. This type of image is widely used on the product page of a top eCommerce website like Amazon or Walmart.
Below are examples of product-only images from Skullcandy, a popular headphones brand. The photos are found in the brand's online store product catalog. The white background helps shoppers focus their attention on the products. This way, customers can better consider the headphones' design, color, and technical details.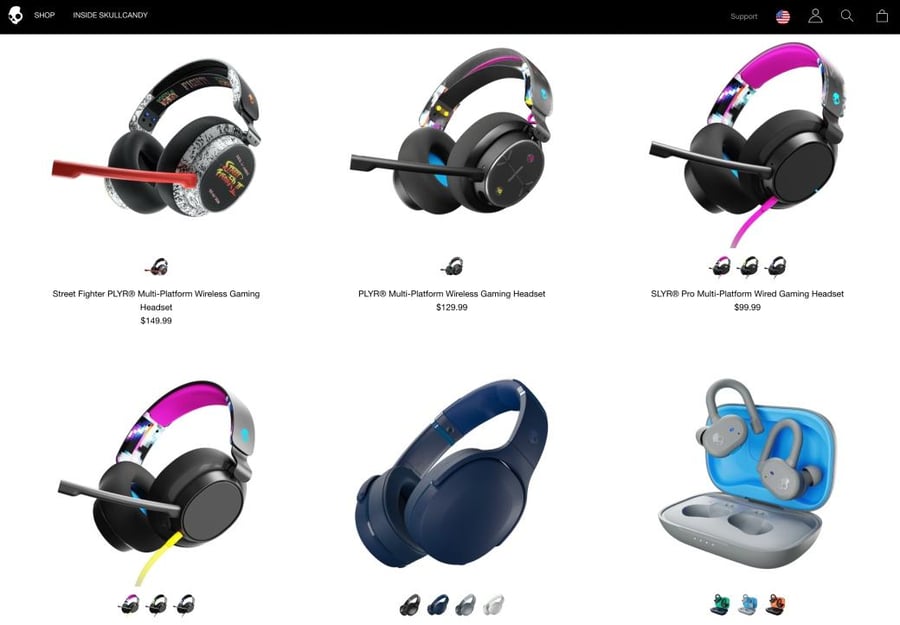 Source: Skullcandy
You can take product-only shots easily with a small studio in your house. Apart from plain backgrounds, choose controlled lighting in a lightbox. Capture your products from different angles to help customers see the product as a whole. With some basics of image editing, you can have a perfect shot posted on various channels.
Products can be shot under natural light with mobile devices if you don't have enough budget for studio equipment. But ensure all customers will be drawn to the highlighted objects when they look at your photos.
5. Product Packaging Images
Packages are the first thing customers see when looking at your products. A product's packaging represents the brand and becomes integral to your brand identity. In one Ipsos survey, 72% of Americans say a product's packaging design affects their purchase decision.
So, to attract potential customers' attention, include packshot photos on your websites, social media channels, ads, or emails.
Esker uses packshot images on its website. The brand captures multiple angles of the package to give shoppers a better idea of how the product will look when they receive it.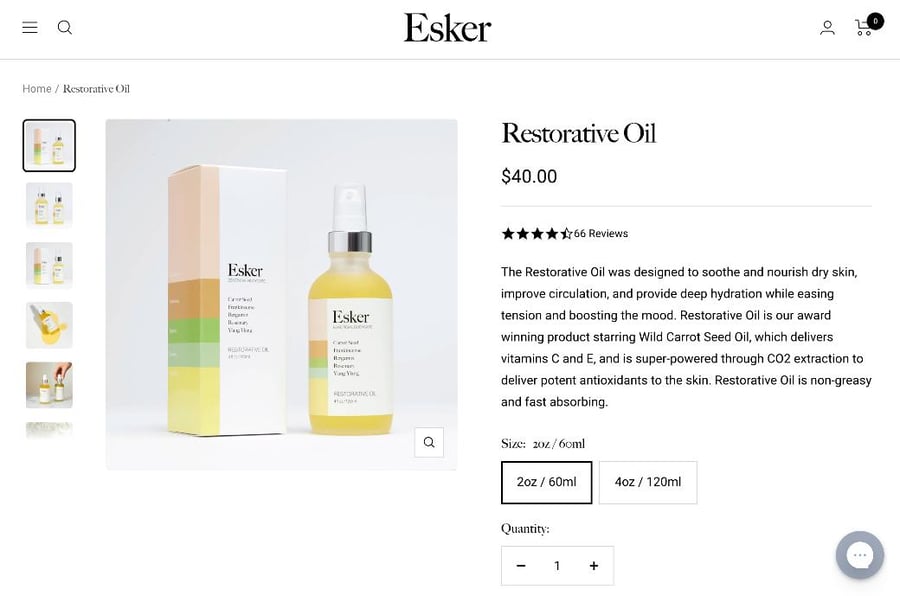 Source: Esker
Packages are often printed with basic product information, like its components or usage. Some product packages also include a QR code for app download, where users can retrieve additional information about the product.
It's best to include packshots that include these details. After all, when customers like what they see, they'll make that purchase. Here's a great example of a packshot with a QR code from Ethical Bean Coffee's store.

Source: Ethical Bean Coffee
The sky's the limit regarding the types of shots you can make of your packaging. Just make sure that the final pictures show the labels clearly. You can experiment with lighting to highlight the features or details you think will convince customers to buy the product.
Also, don't overedit the pictures. You want to avoid giving customers unrealistic expectations of how the product should look.
6. Production Process Shots
Don't exclude production process shots from your eCommerce store. You want customers to see the skill required to create your product. That gives them an appreciation for the product itself and the people behind the product, of course.
Here's a great example from Iris Skateboards. In the shot below, Iris Skateboards shows how they transform old skateboards into wooden furniture. You'll find these types of images on the site's homepage and even in a separate gallery: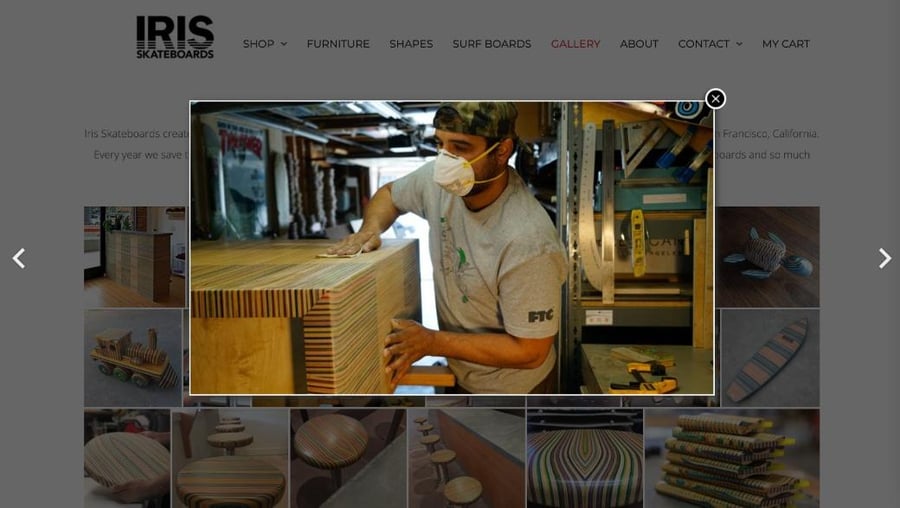 Source: Iris Skateboards
It's best not to stage the production process when taking pictures for your eCommerce store. If you take photos of the process as it happens, you can create images that accurately show how the product is made. The pictures appear more authentic (because they are), too.
Apart from your homepage and gallery, this type of visual content can be placed on landing pages and social media sites. You can also use them in marketing campaigns to attract more leads and increase click-through rates.
7. Products-With-Models Images
Pictures of products on human models are among the most popular types of eCommerce images. The photos allow visitors to visualize the product on them.
So, when choosing your model for a product, make sure the model represents the kinds of people who usually buy that product. You can even go back to your customer persona and look at your ideal customer's characteristics for this. The key is to ensure your model is relatable.
Your model should reflect your brand personality, too. Check out this excellent example from HIKI: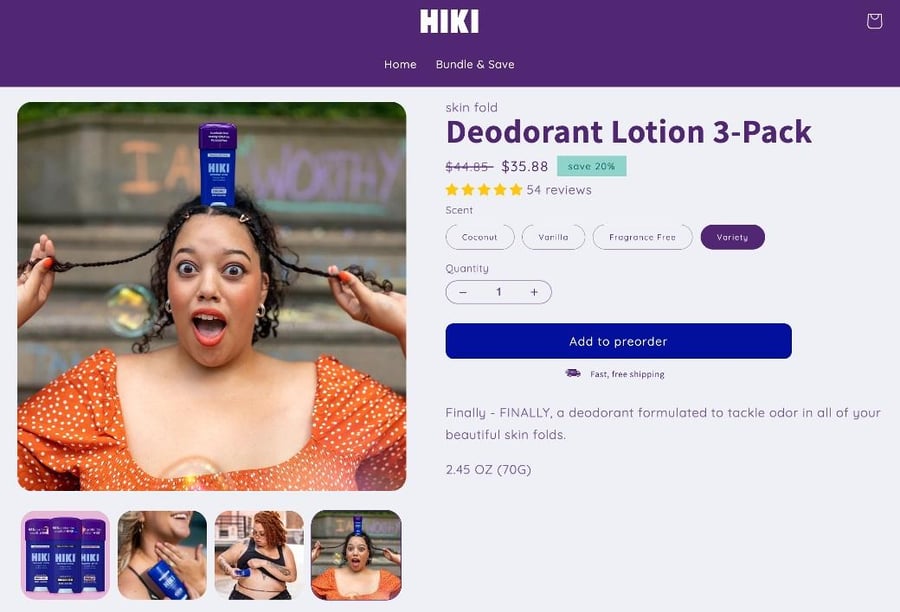 Source: HIKI
HIKI is a fun brand, so their model also makes fun poses in pictures. If you opt for this strategy, just ensure your model doesn't take too much attention away from the product. Remember, the main element in your picture should still be your product.
Also, don't just take one shot of your model using your product in one way. You want to show your potential customers how they can use your product to entice them to buy. Shoot from different angles, too.
8. Scale and Detail Shots
Visitors who shop for products on eCommerce sites cannot touch these products. This means they have no way of knowing their size or other details. That's why you need scale and detail shots among the types of eCommerce images on your website.
A scale photo shows the product with another object that allows visitors to visualize the product's size. For instance, if you're selling a sofa, you can have the sofa placed beside a table. With this type of shot, you can more or less imagine how tall the sofa is.
Another option is to include the sofa's actual measurements. Check out this scale shot of a Sabai sofa: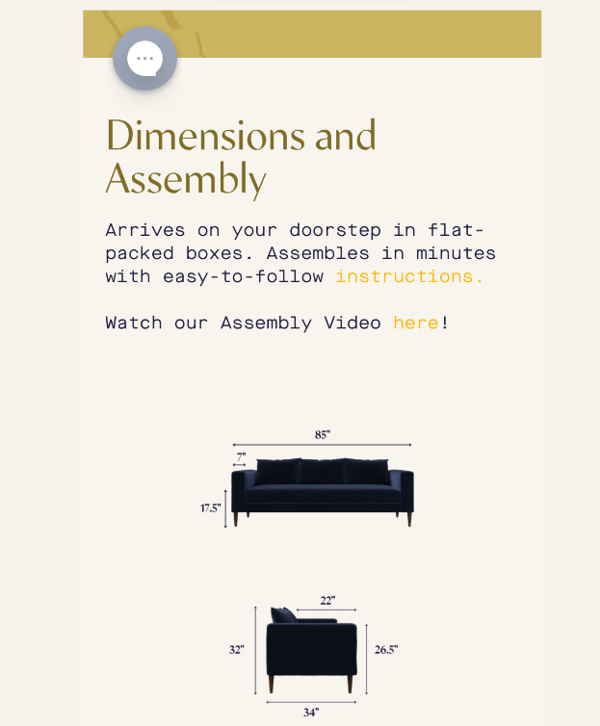 Source: Sabai Design
If you're using this option, include as many measurements as possible. The more measurements you include, the more accurate your potential customer's visualization of the product.
Meanwhile, detailed shots can highlight specific characteristics and features of a product. The pictures involve zooming into parts of the product from its back, sides, and other angles. They give shoppers a better idea of the product's appearance from a short distance. With these pictures, shoppers may also see the product's texture.
Let's look at a close-up image of the Sabai sofa: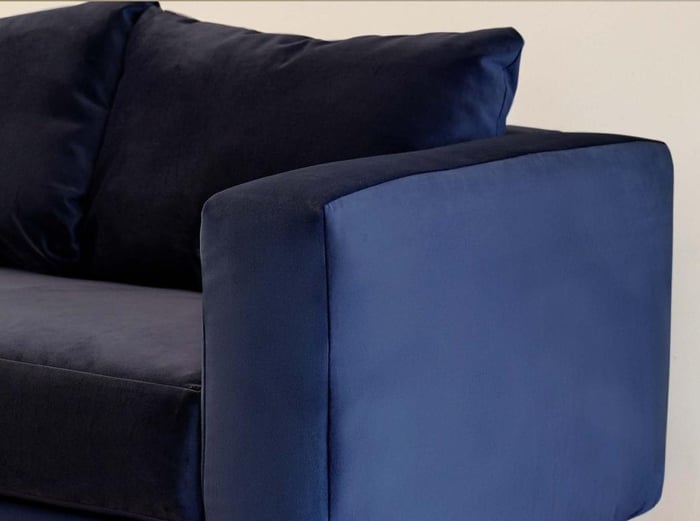 Source: Sabai Design
Just make sure your detail shots are high-quality. You might not be able to pinpoint your product's finest details if your image is low-quality in the first place.
In Closing
If you run an eCommerce store, use product images to communicate your brand values to customers.
In this article, we listed eight popular types of eCommerce images you should consider for your online store. They included group shots, lifestyle photos, infographics, product-only, product packaging, production process, products with models, and scale and detail photos.
Take appealing, creative product photos that set you apart from competitors. If you include high-quality images, expect those potential customers to click the buy button. Good luck!