As the eCommerce marketplace gets competitive, customers look for better products personalized to their needs. In this pursuit, they run a Google search, look for referrals and actively search for a solution to their problems. When you're looking to tap into this active need, your eCommerce store needs to be positioned to attract customers at all stages of the customer journey. You need a content strategy that attracts and retains customers for conversions.
First, begin by auditing your existing situation as part of your content strategy. Then decide on content clusters based on your topic and content that attracts and converts your potential customers. Create differentiation in the market when you pick your clusters to avoid repetitive content online. Rely on keyword research tools to help you narrow down the keywords that can rank your content. Then use content pillars to build the foundation of your content. Pick KPIs so you can see if your content strategy is working. Lastly, prime your audience for conversions using CTAs and other tactics.
Does this all sound too overwhelming to you? Let's break it all down. First, let us assess your current situation to begin the content strategy.
Audit Your Existing Situation
The content strategy for a new store differs from an existing one. Audit your current situation, so you are clear on your content goals for your website. The strategy for a brand new website will differ from what it is for an established website.
Established sites with an aged domain and good authority can target relatively tougher keywords. A brand new website will need to target the long-tail that does not have much competition. This way, you can quickly bring a trickle of traffic and backlinks to your website, which will establish authority in the eyes of Google. You can target relatively tougher keywords moving forward.
You do not even need to build backlinks to bring traffic to your site by going after these long-tail keywords. Often quality content is adequate to build traffic to your site.
Irrespective of your website age, factor in your goals and metrics. Take stock of your content inventory to assess which content needs an upgrade. Plan your strategy that aligns with your content marketing goals.
Decide on Relevant Content Clusters
The first step in the content process is to establish topical authority. You do this by going after clusters. For example, if you sell beauty products, you split the products into different clusters like skincare, haircare, etc. You can further break it into smaller clusters like hair serum, hair conditioners, hair shampoo, etc.
Then, go after one cluster and write all kinds of articles around it. This way, Google will see your site as an authority in this specific cluster (ex: hair serum). Once you are done with all topics in this space, go after related clusters like hair conditioners, shampoo, etc., and go one level up from there.
If you have yet to set up your eCommerce store, then pick content related to your product line. Identify the potential of one or two products in the market and start from there. Once you understand the product demand backed by market data, your new website has a higher chance of getting the right traffic, reducing bounce rate. It also helps to get started on the right note concerning SEO.
Don't rush in moving on to the next step. Carry out the necessary research since it sets the stage to plan your website structure, and inter-link the various articles within a cluster. This way, your pages move up the rankings for all the relevant search terms.
Another advantage of doing this right is that, as your product line increases, it becomes easy to organize your content. This results in better site navigation, user experience, and conversions.
How Do You Decide on Clusters?
Picking the right cluster is critical. Think beyond the typical short- or long-term keywords. Go for keywords under the 'underserved' or ignored category on Google. These keywords haven't been explored yet, or there's no adequate coverage of this topic either on Google or any other platform.
This makes it an excellent place to start, especially if you have a new website that you want to rank. And if these keywords are an exact match to your product line, it gives your eCommerce store the leverage to rank for it. For example, if there is not much competition for serum-related topics, you start with serum.
You can approach this by placing yourself in your reader's shoes. If your product line is for beginners, try thinking about the most sought-after questions that directly link to your products. This way, when you make a sales offer, it's a natural fit making it easy for conversions.
Also, consider the relevance of the clusters for the long term. Look around competitor sites and analyze the existing content on their site. If the cluster already exists, there is an existing audience and a broader potential to meet their needs.
How to Pick Topics for eCommerce Content
After choosing your clusters, decide on topics to build your content. For this, begin by exploring free keyword tools like AnswerThePublic. These can get you started as a new website owner without stretching your budget. You could explore paid tools if it's something you can accommodate at the start itself.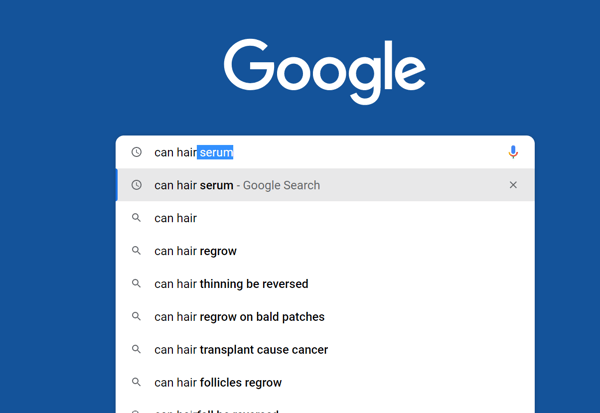 Use the Google Autosuggest feature to search for potential ideas you can make a part of your content strategy. Look for results where the top results do not answer the question directly or are from forums like Quora, Reddit, etc. — these are underserved topics you can go after.
Also, take a few cues from the answer section on these forums to see how people answer them. Are there answers that are responded to well by the users? If so, pick those keywords and include them in the list. This way, you get the responses from those who currently face the exact situation you need to write about. Research a bit further to see if there are questions that can act as a subsection to your posts. This research can give you a structure based on user queries, making it ideal for readers to skim and find the necessary answers.
Working for all topics at once can get overwhelming, so pick a few that have the potential to rank faster and move them into your content list.
Translating Content into Conversion
While drawing up a content list, select content that links back to your main page or content pillar. The content pillar is the cornerstone of your content and will link to related content on your website. Pick the main product from your product list and ensure your pillar page content aligns with this product.
Use a content pillar method to backlink your product page from all the relevant content pages. This way, people searching for a product on Google may find your product page listed.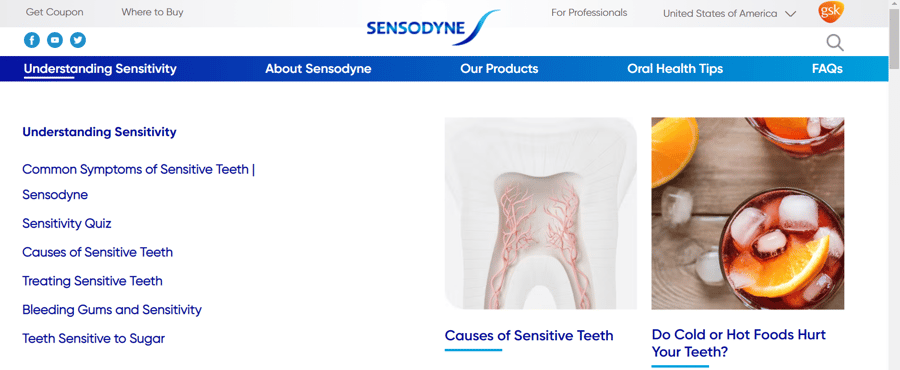 Source: Sensodyne
Sensodyne uses the content pillar as a great place to get the conversation started with the user. To the left of the home page is educational content that takes the reader through the various stages of sensitivity.

As the reader goes deeper to learn how to solve their immediate problem, they are greeted with relevant CTAs and blog posts that lead them to the end product for conversions. This is an excellent example of starting with content leading to conversions.
Nestle is an apt example of a brand looking to expand. They have diversified their offerings and uplifted their commitment to society and the planet.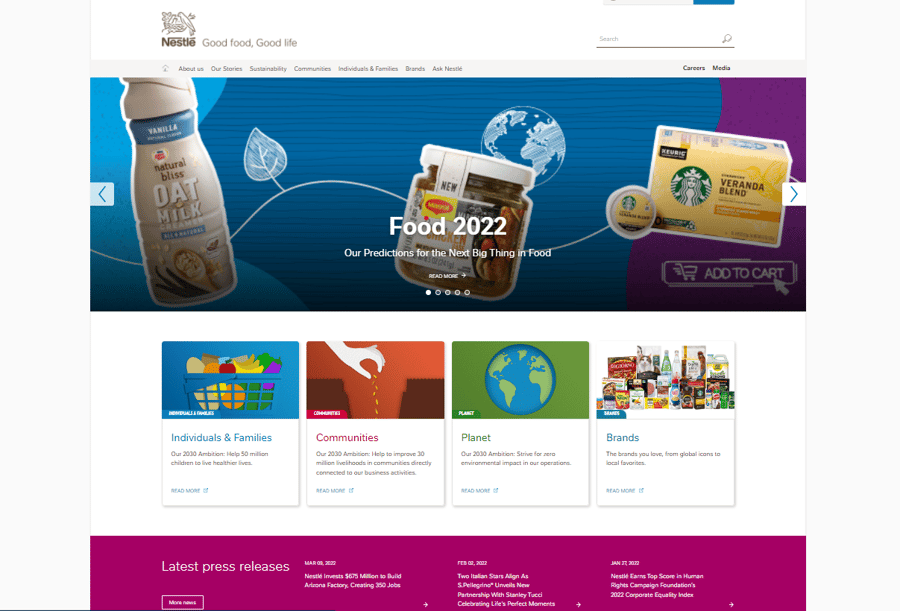 Source: NestleUSA
By making it easy for the user to jump to their preferred page, shoppers can seamlessly move across the website and join in their CSR activities or buy products as per their choice. This creates an excellent user experience and a positive brand image.
When you create consistent content aligned to your products and content goals, you ensure excellent and relevant content that attracts users at all stages of the buying cycle.
Keeping the content pillar at the center of your strategy helps organize things, making it easy to inter-link to other articles on your site and to go back and update as needed. This keeps your content fresh and relevant, even as you add more product lines and related content to your eCommerce store.
Create an article structure that you can follow for all your articles. Maintain the same formula for all posts, so consistency in the formatting provides a great user experience. As a new store owner, try out a few structures before testing and seeing what works. Based on the user response, narrow it down to the one that has a better ROI for that page.
Also, follow some good content best practices like white spaces, inter-linking to other content posts, and adding contextual images to keep the user on your site longer. This sends a positive sign to the search engines, building authority.
Use prominent CTAs to take visitors to product pages. Factor in the user stage of awareness while including this CTA. What do you want the user to do?
Do you want to send them to your email list? Then use Subscribe or Sign Up Now. If retaining customers is on your agenda, pick the Coupon Code or VIP button to get customers to stick around with your products.
Identify whether the user is still in the discovery phase or is ready to convert. To get your users to the conversion end of the funnel, rely on Add to cart or Add to Wishlist CTAs to get sales.
How to Track Content Progress
Content strategy is a long-term game. Each piece of content you write may not yield peak performance for as much as one year. So, it is essential to front-load as much content as possible so that you see results quicker.
Make it a point to track the content as frequently as you pump out new content. This way, you know if you are on track to meet your goals. Identify a KPI that works for your business. This could include metrics like:
Average page views per article
Average CTR
The average revenue per article
Even as you track these metrics, and analyze customer insights, understand that content strategy is two-pronged. Bringing visitors to your articles is one thing, and converting them into buyers is another. Both are equally important.
To ensure your content is not too long-tail or specific that nobody searches for it, make sure you look at the average page views each article generates.
If your KPI is not met, you can try merging one or more articles into a larger piece. This way, you will have a more authoritative article that can rank for a longer range of keywords.
At the same time, if it is not ranking, try splitting content into smaller pieces with a deeper focus so that each of the smaller pieces ranks better than the one bigger article.
Alternatively, you can also consider building backlinks so that the article ranks better.
Wrapping it Up
Creating a content strategy can be a daunting task. There are many ways to begin. But the best way would be to audit your existing site and understand the current situation to know the path ahead.
As a new site, look for long-tail keywords to attract the right traffic as you begin to get some momentum to your site. If your site has been around for some time, go for more challenging keywords to get quality traffic. Keep your product line at the heart of your content strategy so your content cluster resonates with similar topics.
Do the research by relying on free tools or Google search to develop relevant keywords. Once you narrow down the best keywords, identify the clusters that can set your eCommerce store to be seen as an authority.
Content pillars can help you create the cornerstone content you need to drive users directly to your product pages, making it easy to convert passive readers to buyers with a great user experience. Then, add in the relevant CTAs. As you create more content, track the performance with relevant KPIs, so your focus is on getting a better ROI from each content piece.