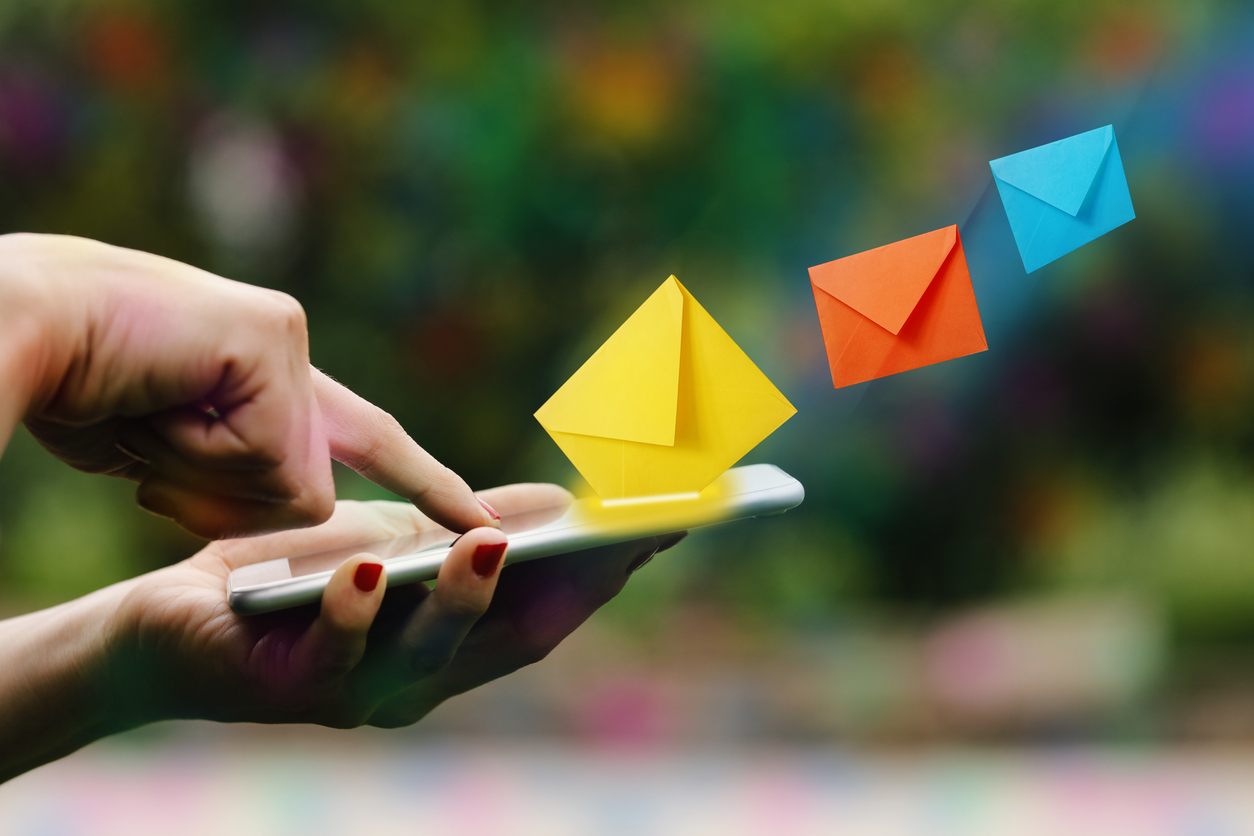 Customer acquisition is necessary for any business. One of the most effective ways to attain that goal is through email marketing.
In this article, I'll provide you some practical advice on how to improve and maintain your email campaigns.
I'll also go over some marketing terminology, such as inbound vs. outbound marketing, and give you some tips on how to develop your email list and audience.
Make sure you read all the way to the end since there will be some predictions about email marketing's future.
What is Email Marketing?
Email marketing is a form of digital marketing. It is a way to keep in touch with your existing and potential customers. It is also an integral part of digital marketing as it can be used to generate leads, nurture prospects, and maintain customer relationships.
Email is a vital strategic channel for practically every business and one of the most effective ways to convert individuals into consumers, despite the fact that it is far from new.
According to the DMA Marketer Email Tracker 2019 study, organizations get a $42 return on investment for every dollar spent (mind blown, right?)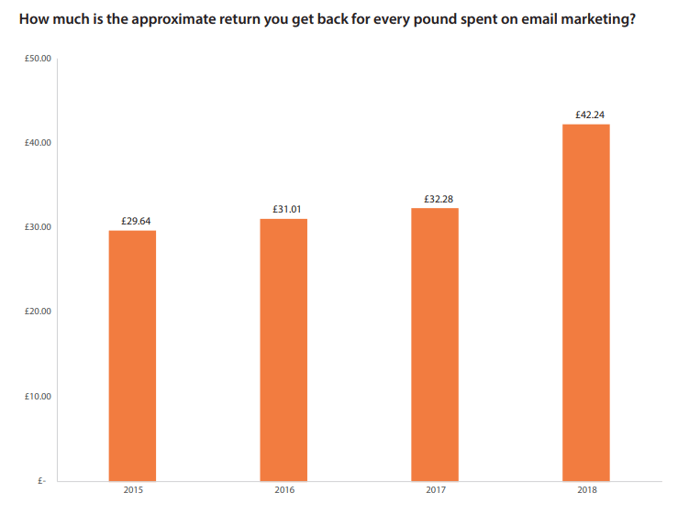 Source: DMA
To put it another way, investing in email marketing pays off. Therefore, keep reading this article to find out these 4 steps for improving your email marketing strategy in 2022.
4 Steps to Improve Your Email Marketing Strategy
Email marketing is still a key strategy in the digital era. It is an effective and affordable way to reach out to your customers.
Whether you work for a corporation or want to establish your own side business, email marketing is one of the most important phases in customer acquisition.
With the right strategy, you can increase your conversion rate, generate more leads and make more sales.
Here are 4 steps that will help you improve your email marketing strategy.
1. Segment Your List
Segmentation is essential if you want to make sure you're only distributing relevant content.
Wait, what is segmentation in the first place?
During the segmentation process, email users are segmented into smaller groups based on predetermined criteria.
Segmentation is typically used as a personalization strategy to offer more relevant email marketing to subscribers based on their geographic area, interests, purchase history, and other factors. Instead of sending a single mass message to all of the email lists, segments are formed so that the marketer may cater directly to each list and its unique interests. Also, try taking email security measures and using an SPF record checker to guarantee a high level of email security.
Why should you bother with segmentation? Let's look at the data.
Segmented campaigns can result in a revenue increase of up to 760%. They also have a 14.32% higher open rate and a 100.95% higher click-through rate.
You can invite a user to choose their preferences after they've joined up or purchased a product by inquiring what their interests are and what kind of content they'd want to receive in the future. If you manage an eCommerce business that sells sports equipment, for example, you might inquire about the sports that your customers like. Then, based on other segments such as tennis, football, and skiing, you may design targeted email marketing.
Bonus tips:
In your welcome email, inquire about preferences
Subscribers should fill out a user profile
Existing subscribers should receive a fresh email asking them to update their selections
2. Combine Email Marketing with Other Channels
While email marketing is a great tool in and of itself, you can combine it with other channels to ensure that your customers get a consistent brand experience. Using email marketing to drive traffic back to your website, for example, can help you improve your SEO by lowering bounce rates and obtaining reviews on your business page.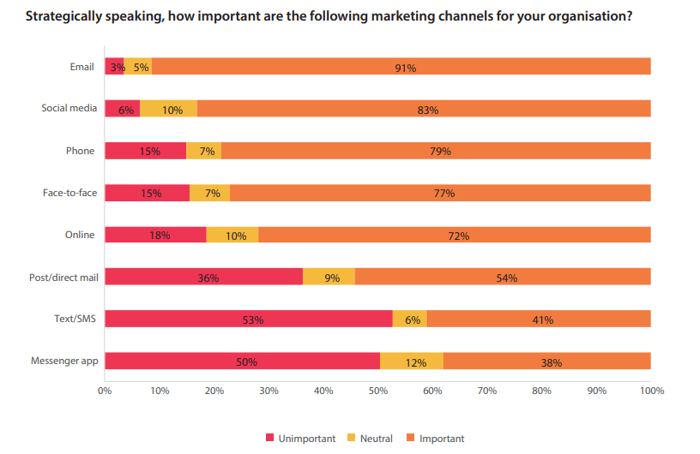 Source: DMA
The Advantages of Multi-Channel Marketing
You can maximize your reach by connecting with clients through a variety of methods. After all, your social media followers may not be on your email list or subscribe to your blog, and vice versa.
That's why it's critical to engage subscribers across many platforms to ensure that your message reaches every customer who is interested in your product or brand.
You can also collect a lot of client data by combining your efforts. You can acquire reports that help you analyze audience behavior. With this data, you can build tailored messages for different sectors of your client base.
Email Marketing and Omnichannel Marketing Strategy
You can use email in a variety of ways to mix it with other channels.
For example, utilize social media CTAs to increase email list conversions, send highly-targeted emails marketing your product or service to subscribers, and make your website and landing pages high-converting and simplified.
Consider it this way: although the other channels are constantly vying for the attention of clients, email marketing is the glue that holds everything together.
Email can provide direct links that allow customers to take action, regardless of the goal of your campaign. Furthermore, your customers prefer email.
According to DMA research, people prefer email as a method of brand promotion. And, as the statistics show, email isn't simply appealing to the older generation; even millennials enjoy it.
Here are some ideas for combining your blog, social media, and email:
Create a blog article and send it out via email and social media
Invite your social media followers to your email community by hosting a social media contest and publicizing it via email and blog
Add social media sharing buttons
Utilize social media to encourage individuals to join email lists
Create an email campaign with a social focus
3. Personalize Your Email
Email blasts with no obvious customisation will not resonate effectively with your contacts. However, when done well, personalisation can inspire contacts to open emails and then interact with the content inside.
Start with adding first names to subject lines. Use more advanced data in the body of the email to create a compelling call to action if you have it. Use historical purchasing history, for example, to evaluate which promotions could be most appealing to specific contacts.
The more recipient data you can utilize to personalize the messaging, whether simple or advanced, the more effective the campaign will be. Rather than the mass emails of the past, subscribers want highly targeted messages that address their individual interests and pain problems.
Even though personalization provides a powerful boost to email results, 70% of companies still do not use it, creating an exceptionally good opportunity for businesses that do. This is particularly true because, as reported by Instapage, personalized emails have 29% higher open rates and 41% higher click rates.
The good news is that customizing emails has been proven to increase click-through rates. Personalized subject lines are 26% more likely to get opened.
Therefore, be personal — even though it's just business!
4. Include Mobile Optimization
Mobile optimization is an important factor of SEO. Google ranks pages higher if they are optimized for mobile, which has a significant impact on your organic search traffic.
Make sure your emails are responsive to mobile devices. According to research by Campaign Monitor, 71% of consumers will delete an email right away if it doesn't appear correctly on their mobile device.
It's critical to focus on developing mobile-optimized email content that is eye-catching and interesting on a smartphone to avoid your email being tossed straight into the trash.
Marketers should use a single-column design that works well with vertical scrolling. You should use large graphics and powerful headlines. To make scanning easier, leave plenty of white space.
Keep your subject lines to a minimum. Also, make sure your CTA buttons are at least 44 pixels squared so they can be easily tapped.
Email marketing tools like MailChimp enable you to test how your messages look on a number of devices and in different inboxes, such as Gmail or Outlook, and ensure that your designs display appropriately wherever they're delivered.
If you don't have access to an email service that allows you to test how your messages will appear on different devices, build your emails using responsive design.
Inbound vs. Outbound Lead Generation Strategies
Inbound lead generation is when a company generates leads by providing potential customers with valuable content on their website. The company creates this content to answer the questions that their potential customers are asking online.
Outbound lead generation is when a company generates leads by using marketing campaigns to reach out to potential customers and convince them to become clients.
The difference between inbound and outbound lead generation strategies is that inbound focuses on attracting people who are already interested in your product, while outbound focuses on attracting people who may not be aware of your product or service at all.
Best Practices for Building a Strong Email List & Growing Your Audience
To build a strong email list, you need to get your audience to subscribe to your content. You can do this by offering them something valuable in exchange for their email address.
The first step is to create a compelling landing page, which converts visitors into subscribers. It should be clear and concise and provide the visitor with a clear call-to-action.
The conversion process should be as easy as possible for the visitor, so there are no barriers between them and signing up for your emails.
Another important aspect of list building is nurturing your leads by providing them with regular updates on what they signed up for. This will help you maintain their interest and keep them engaged with your brand or business.
Conclusion — The Future of Email Marketing in 2022
Email marketing is a powerful tool for business that can help you stay connected with your customers, grow your business and increase sales.
The future of email marketing is bright, but the number of emails in people's inboxes is increasing. There are many strategies you can use to ensure that your emails get opened and read.
The growth of email marketing is not slowing down anytime soon. It will continue to be a powerful tool for businesses to connect with their customers and grow their business through the next few years.