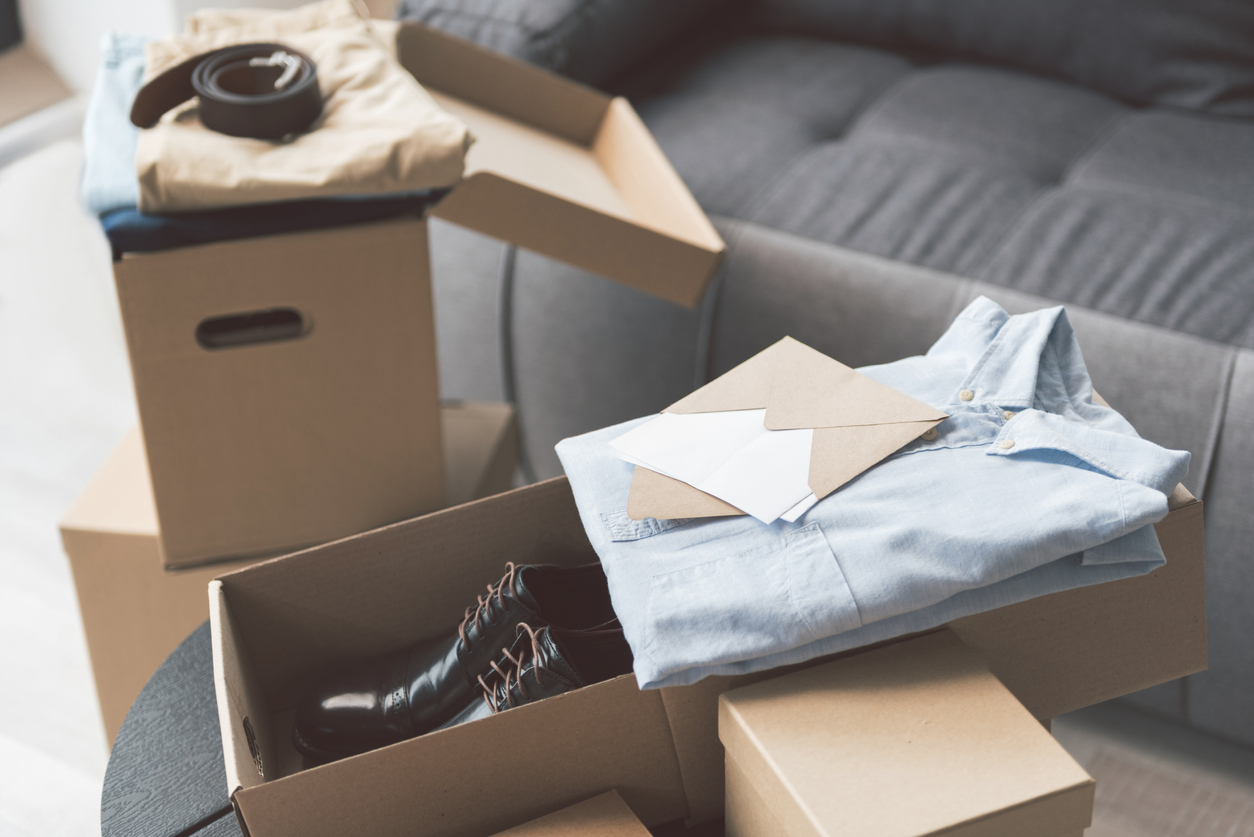 Statistics show that the eCommerce industry has been steadily growing over the past few years. More importantly, it's expected to continue to expand in the years to come. A study published by Statista found that the global eCommerce sales in 2019 amounted to 3.53 trillion US dollars. What's even more promising is that, by the end of 2022, it's predicted that eCommerce sales will reach 6.54 trillion US dollars.
As an eCommerce business model, dropshipping is considered a highly profitable venture. Nevertheless, it really depends on the type of products you are going to dropship. In other words, choosing the right niche for your dropshipping store will get you on the road to success faster. So, what are the most popular eCommerce categories at the moment?
Based on reports from Statista, the largest segment of the eCommerce market belongs to the fashion category. It is forecasted that the online fashion sales will keep on increasing and that, by the end of 2020, it will reach a volume of $578,392 million US dollars.
How can you decide what kind of fashion products to dropship? First, it is vital to analyze the pros and cons of selling branded clothing versus cheap fashion items. By selling branded clothing and accessories, you will be able to offer quality products to your customers. In the end, the customers are always in favor of quality over quantity. Furthermore, apparel from widely-recognized brands and designers can sell better because they have superior quality and durability as compared to non-branded items.
However, it may be difficult to find branded fashion products available for dropshipping. The most popular dropshipping suppliers, such as AliExpress, don't carry many options. Luckily, there are a few dropshipping suppliers available to businesses that provide brand-name fashion.
In this article, we will explore how to dropship clothing with BrandsGateway – the leading online B2B marketplace for high-end branded clothing and accessories. But, first, let's present the dropshipping model and its benefits.
The Advantages of Starting a Dropshipping Business
Dropshipping is a popular eCommerce model that enables retailers to sell products online without having to store them or own an inventory. More precisely, in dropshipping, the owners of online stores don't have to invest in getting a warehouse or storage space. Their supplier takes full responsibility for this part.
Additionally, the dropshipping supplier is responsible for shipping the products to the end-customer. Simply put, when a customer places an order in an online store that's using dropshipping, the retailer forwards the order to its supplier. Then, the supplier proceeds with packaging and shipping the item.
Having explained the basics of how the dropshipping model works, let's look closely at the major advantages it ensures.
1. Low Start-Up Investment
The popularity of dropshipping lies in the low investment that is necessary for getting into the business. Many online entrepreneurs that are in the pursuit of success, but without much startup capital, decide to open up a dropshipping store first. What attracts them is the opportunity to have a profitable online business with minimal investment.
2. Zero Warehousing Costs
The standard retail model requires owning a warehouse for stockpiling – which comes at a price. This is one aspect that makes the dropshipping model simpler and more convenient to run and manage. If you want to enter the game, you don't need to invest a large amount of money. You'll only need to find your ideal product to sell and the eCommerce platform with which you'll build your online store. Afterward, you will need to find yourself a reputable and dependable dropshipping supplier to take care of the rest.
3. High Security
The third key benefit of dropshipping is business security. What does this mean? It means that if you open a traditional online store with storage space, you could run into a major risk. That is – investing in acquiring a large collection of products that don't sell and losing a lot of money. In dropshipping, on the other hand, you can always test how your products are going to sell. Since you don't purchase and store the goods, if you don't have success with one type of product, you can simply try another one. You won't be losing any money, which is the most secure option for a new online business.
How to Succeed in Dropshipping Clothing From Recognized Brands
When starting to dropship branded clothes, the first thing you need to focus on is identifying the best suppliers. A number of factors can influence whether a certain supplier is the right one for you. In reality, you should be looking for the following characteristics:
A Wide Variety of Products
You should avoid suppliers that have a poor or limited selection of products. The problems that you could encounter with these suppliers are numerous. Some of them could include issues with out of stock or discontinued items. On the contrary, if you partner up with a supplier that has a large and varied assortment of items, you won't be dealing with these kinds of risks. You can be sure that, by going with the second type of supplier, you will avoid inventory and stock hazards.
Excellent Customer Support
Customer support is one thing that can make or break your online business. The fact that you don't have a physical store, and only an online store, can be an issue in itself. Due to this, you should put extra effort into finding a supplier that can provide you with flawless customer support. In the end, your dropshipping supplier may be the one who will communicate with your customers. In case your customers are not satisfied with the provided customer support, your hard work will have been for nothing.
Fast and Secure Worldwide Shipping
Next on the list of factors that contribute to achieving success in this business is fast and secure shipping around the world. Your supplier will be responsible for this part of the process as well. To prevent customers' dissatisfaction, you should choose your supplier wisely. When shipping is in question, the most important aspect is for it to be timely and secure. No one enjoys waiting for their package to be delivered, let alone having it get lost or damaged along the way. So, having a supplier that can blend these two qualities is substantial.
Low Competition
Aside from all of the above-mentioned pros, having an online store for dropshipping clothing from famous established brands has another benefit. Low competition is what everyone looks for when starting their own business. The shorter the list of competitors is, the bigger the chances for profit are. Namely, the competition in the market for dropshipping luxury clothes and accessories is low, which is perfect. This can put your store on the right track toward outperforming your competitors.
What is BrandsGateway?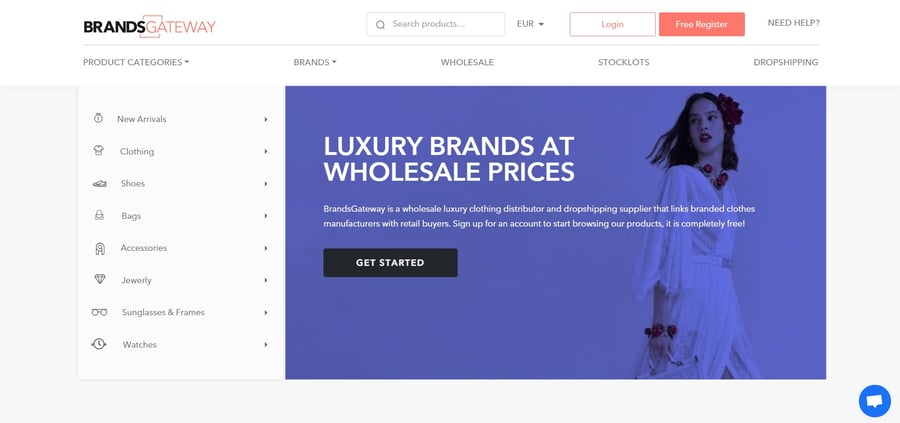 BrandsGateway has been at the forefront of the industry of dropshipping luxury clothing and accessories for years. It is the largest online B2B marketplace that holds over 15,000 items from world-class brands and designers. On top of that, its attractive dropshipping program offers the biggest profit margins and highest discounts to its dropshippers.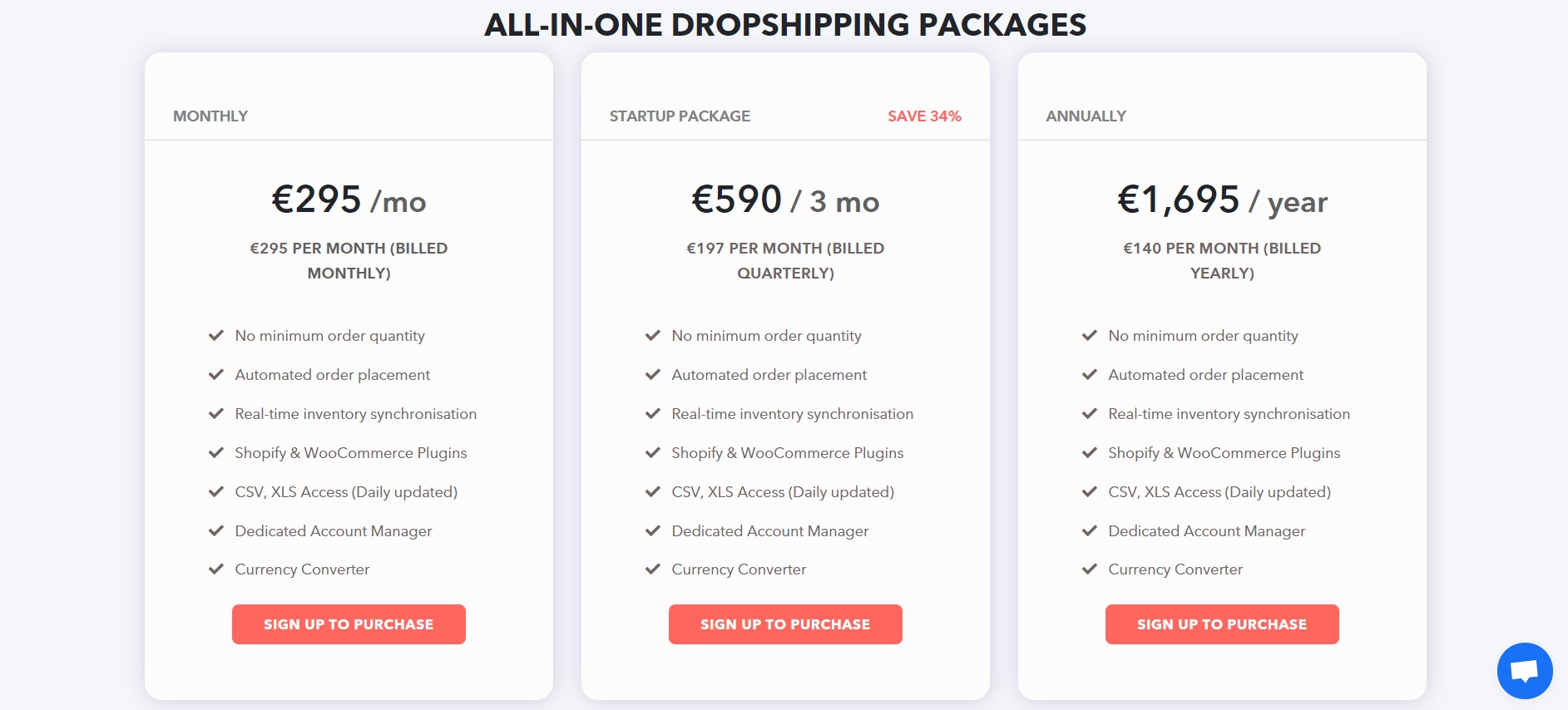 More precisely, BrandsGateway provides an average discount of 75-90% off retail. In the brand-name fashion dropshipping industry, this discount rate would be considered unimaginable. BrandsGateway also has advanced software for updating and automating inventory and order checking, which is a great asset. Let's thoroughly analyze the other benefits you may find if you team up with BrandsGateway for your online store.
Why Choose BrandsGateway As Your Dropshipping Supplier?
BrandsGateway's dropshipping service is acclaimed because of several different aspects. We'll go through six of the most prominent benefits to using their service.
1. Reliability and Loyalty
BrandsGateway has a proven track record of over 10 years of experience in the industry for dropshipping clothes. They operate with dedication and commitment to delivering premium dropshipping services. At the moment, BrandsGateway acts as a supplier of more than 15,000 premium items to thousands of brick-and-mortar stores and online dropshippers.
2. A Limited Number of Dropshippers
By partnering with BrandsGateway, you can enjoy the advantage of a limited number of dropshippers. To elaborate, a limited number of dropshippers indicates fair competition. BrandsGateway also guarantees that all dropshippers get a fair share of profits.
3. Big Market Opportunities
As a dropshipper of clothing, you should strive to earn profit by selling quality products at reasonable prices. Today's consumers tend to choose quality over quantity. Hence, joining BrandsGateway's network of dropshippers comes as an advantage. You can earn more by selling one expensive and quality item as compared to ten cheap and generic items from AliExpress. In fact, some of the most thriving dropshippers collaborating with BrandsGateway are earning over $44,000 per month.
4. A Large Selection of Products
Another thing that differentiates BrandsGateway from its competitors is the variety of luxury items you can choose from. It offers a huge collection of clothing and accessories from luxury brands.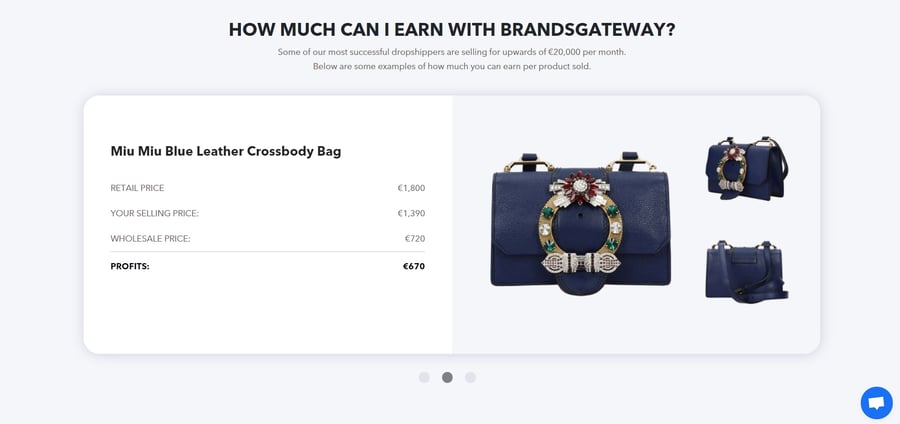 What's more, BrandsGateway provides some exclusive fashion items that can't be found elsewhere. Hence, if you become part of BrandsGateway's dropshipping network, you'll enjoy the privilege of selling superior fashion pieces. These include authentic garments from the most well-known brands and designers.
5. Worldwide Shipping and Returns
The shipping process largely impacts the success of an online store. BrandsGateway has a significant advantage in comparison to other clothing suppliers. Based in Europe, BrandsGateway provides fast and safe shipping to more than 160 countries. It covers the European territory within 1-3 days and the rest of the world within 3-5 days. They offer flat rate shipping regardless of the size or weight of the package and deliver with FedEx Economy or Express.
Additionally, they have a convenient and fair return policy. Returns are accepted within 14 days from delivery. If a customer requests a return because of a shipping error or damaged product, BrandsGateway handles the return costs.
6. First-Class Customer Support
Last, but not least, is the aspect of customer support. In the dropshipping industry, retailers are usually struggling with inferior customer service. This happens mostly because they are not directly involved in handling the relationships with their customers. To guarantee outstanding customer service, you need a trustworthy supplier that provides round-the-clock support. BrandsGateway's customer service leads by example by being available 24/7, providing step-by-step instructions, and smoothly resolving any type of issue.
Wrapping Up
Starting your journey in dropshipping clothing with BrandsGateway by your side can lead you on the path to success. BrandsGateway always strives to ensure a seamless dropshipping experience for both retailers and their customers. As the leading B2B luxury fashion marketplace, they are keeping up with the latest industry trends and are constantly updating and improving their dropshipping services. The sole purpose of BrandsGateway is to deliver a one-of-a-kind dropshipping program.