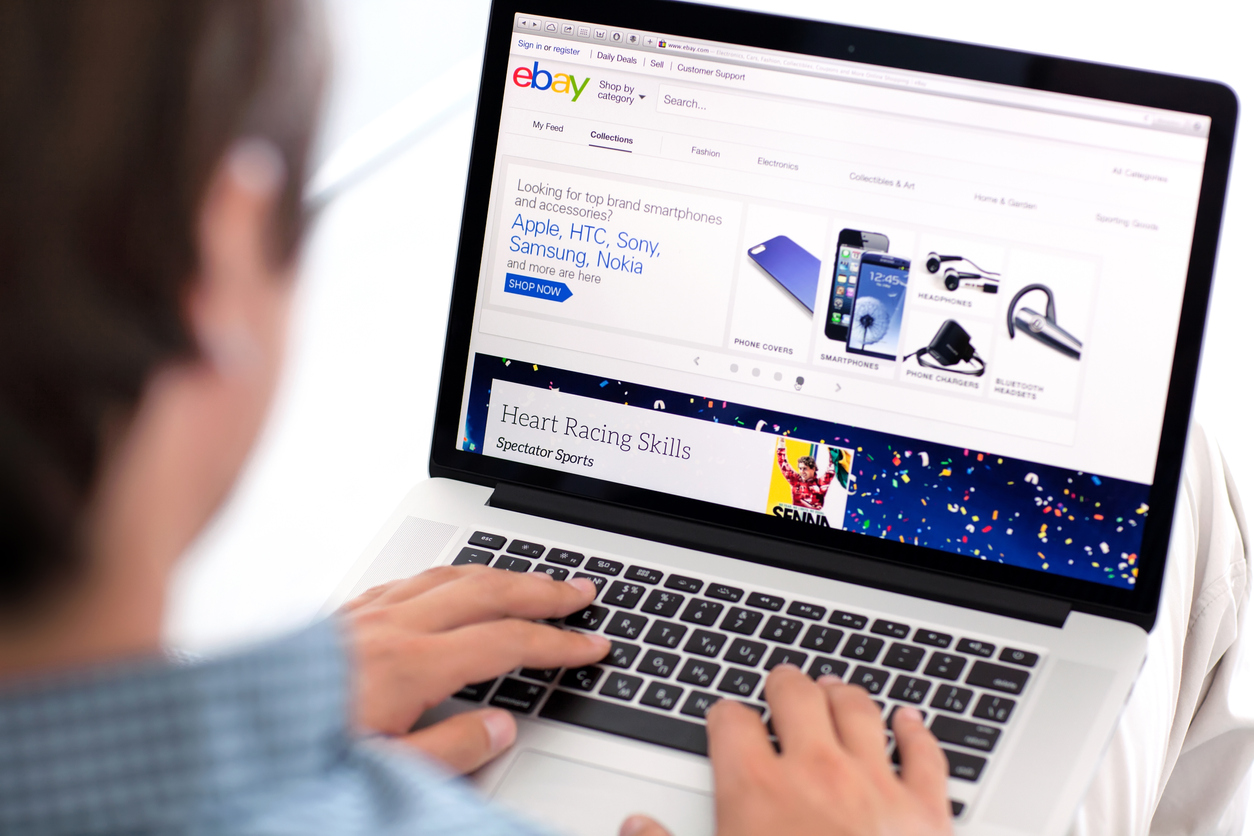 Although you may have an official website, having a presence on a separate platform where you can showcase your products and services is an added advantage. Online marketplaces make it possible for you to concentrate on improving your business, leaving the platform operator with the responsibility of handling logistics and processing all transactions. A shoppers' preference survey by Statista shows that more people are inclined to make repeat purchases from online marketplaces than any other sales channel.
eBay is among the most prominent global online marketplaces with over 109 million monthly visitors, according to recent statistics. Whether you run a big multinational company or a small business, you get to reach a wide range of prospective customers from anywhere in the world. Anything can be set on sale, including clothes, smartphones, sports equipment, books, musical instruments, and lots more.
Are you looking to generate more online leads and extra income from eBay, but don't know how to go about it? Then this article will provide you with comprehensive information to guide you through the process of selling on eBay.
What is eBay?
Pierre Omidyar started eBay in 1995, which soon became famous for enabling consumer-to-consumer sales through an online platform. Users get to auction new and used items, ranging from fashion accessories to cars, antiques, and even concert tickets. It is a convenient way to eliminate individual possessions that are no longer useful to you while making lots of cash in the process.
Business-to-consumer sales also occur on eBay, where users get to search for specific items using simple keywords and narrow the results using advanced filters. You can find several fixed-price items with the accepted modes of payment similar to other marketplaces like Amazon and Etsy. If you are satisfied with the product details, you can make a payment and have the item delivered to your doorstep.
What makes eBay unique is the auctions, which made it possible for users to sell unusual items at a premium. Whether they are collectibles or things that are in short supply, you can sell just about anything conceivable on eBay. When a bid is placed on an item in an auction listing, the seller can wait until bidding reaches the desired selling price before parting with the product. Items that have a "Buy it Now" option can be sold instantly when a buyer decides to acquire it at the set price without bidding.
Selling at a low-profit margin can increase your merchant rating on the platform, but that is not the only way to be successful on eBay. With the right strategy, you can make sure that you are making a profit and not selling at a loss.
What are the Requirements to Sell on eBay?
Setting up an eBay business is quite simple and straightforward. Most successful entrepreneurs on the platform started with a plan to get rid of unwanted items in their household while making some extra cash in return. They soon began to generate a steady flow of income that they started sourcing for other products to sell after they have decluttered their homes.
Besides selling wholesale and retail items, which is the practice for eBay entrepreneurs, you can stock your inventory with unusual items at yard sales within your locality. You may find it difficult to pick things that would sell at a higher profit margin at first, but you will soon develop an eye for excellent deals.
Consignment and Dropshipping Models
There is the consignment model, where you enter an agreement with someone that wants to sell an unusual item. The seller gets a percentage of the auction amount after you have sold the product at a price that covers your expenses. With the dropshipping model, you get to set a profit margin for items that are sold by another supplier without worrying about packaging and shipping.
Costs of Selling on eBay
After creating an eBay account, you get to list up to 50 items for free every month. To add more items to your listing, you would need to pay a specified amount, commonly called the insertion fee. For most sellers, the amount is usually about $0.35 per listing. With an eBay Stores subscription, you get to list hundreds of items per month without paying extra.
There are payment processing fees that are usually dependent on the method you have chosen for receiving payments. 10% of the total amount paid by the buyer goes to eBay as the final value fee, which does not exceed $750.
So, before creating an auction listing, you should try to:
Specify how you want to pay seller fees (subscription or insertion).
Choose a preferred method for receiving payments.
Have a public feedback profile.
Becoming a PayPal verified merchant improves the ease of making international sales on the platform. Even if you do not have any inventory upfront, you can start up an eBay business with an internet-enabled device and watch your fortunes rise.
Getting Started
While creating an account on eBay is free, you would have to visit the website through an internet-enabled device to register. Here are the necessary steps to take after you have read and understood the eBay rules and policies:
#1 Choosing the Account Type
All eBay entrepreneurs started by choosing whether they want a personal or business account. Most people prefer starting with a personal account, which is like testing the waters. They eventually upgrade to the business account when they start to turn a profit.
For legally registered businesses, setting up an eBay business account is usually the best option. You get to create a brand while selling your product under a business name. It also offers full privacy options and allows you to add custom logos, making you look more professional, which is key to attracting customers and making more sales. You may also keep an alternate account for personal purchases if you'd like.
Choosing an eBay business account means that you get to register with your legal company name. You also enjoy other amazing benefits, like getting to add terms and conditions for selected listings and being entitled to discounts on eBay fees.
#2 The Account Registering Process
You would need to fill in relevant information like your legal business name and address, as well as phone number and email address when registering your account. Choosing a username that highlights your business and a secure password is crucial. Avoid anything that may seem offensive, including sexually suggestive names, if you want to be a successful entrepreneur.
Although eBay allows users to change their usernames after every 30 days, you don't want to be doing that because it may look unprofessional by prospective customers. After entering the required information, you can instantly create your account by clicking the "Register" button.
#3 Setting up Account Preferences and Payment Method
When logged into your account, you should immediately access "Account Settings" from the menu bar to make vital adjustments. You get to update your business address, communication preferences, buyer requirements, shipping details, and preferred payment method.
Fees that are based on seller activities are automatically charged through the selected payment method. Users get to choose between debit or credit cards, as well as PayPal. You should research the processing fees for your selected payment method to help you make a well-informed decision.
Listing Your Products and Processing Orders on eBay
After setting up your account, you'll want to populate your store with products to start earning on eBay. The two methods for listing your products on the platform are using the Quick Listing and Advanced Listing forms.
With Quick Listing, you get to add inventory with a few simple steps. All you need to do is enter keywords that describe your product, and the site comes up with listing suggestions based on your entry. It is different for the Advanced Listing, with which you get to provide comprehensive information about your product, including item name, description, category, and photo, among others.
The listing process is quite daunting for people with numerous products. But, with the right integration tool, you can manage your inventory and orders faster. Ecommerce platforms like Shift4Shop offer eBay integration, allowing you to optimize your listings from a single location to make it more appealing to online shoppers.
eBay eventually calculates the seller fees for both listing methods based on the provided product data. You would also want to specify the following details:
Whether each product is selling at a fixed price or an auction
Whether you want to ship at a flat-rate or not
The preferred method of receiving payment (pay-on-delivery, eBay Managed Payments, or PayPal)
Best Practices for Selling on eBay
With a high seller rating, shoppers will be more inclined to buy from you every time. You should have an effective feedback system that provides answers to buyer's questions. Try not to overlook little details about the products that you are selling.
It would be best if you stayed abreast of eBay policies to ensure that you remain compliant. The Verified Rights Owner (VeRO) Program provides that all users respect the intellectual property rights of all eBay sellers. Infringements could lead to the suspension of your account in an attempt to protect all shoppers and merchants from suspicious transactions. Avoid prohibited terms that are not allowed on the platform, including those that are trademarked, when creating listings.
To improve sales, you can make your listings stand out from the rest using the eBay Promotions Manager. Shoppers are more inclined to buy items when promotions are in effect. Offering discounts and coupons can also be instrumental in increasing your sales volume.
Conclusion
Whether you are looking to build an eCommerce business, or you just want to get rid of unwanted possessions, having a good understanding of how eBay works can go a long way in helping you to achieve your goals. To become a successful eBay entrepreneur, you must be willing to expand your knowledge and develop specific marketing skills. Selling strategies on the online marketplace have continued to evolve, so this guide provides a few essential tips that you need to get started.