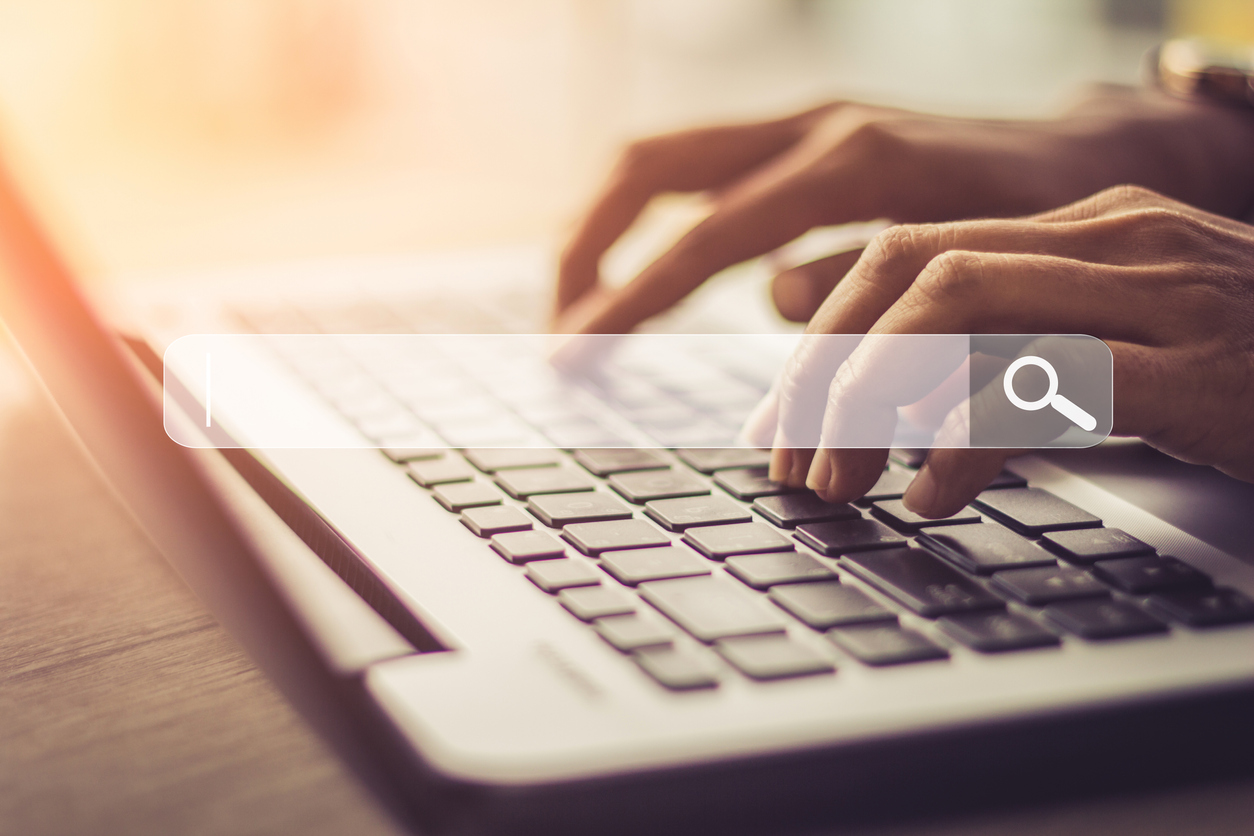 When it comes to on-site search, many eCommerce marketers and business owners overlook it as an important sibling of SEO-optimization. Marketers and owners put significant resources into search engine optimization and creating effective AdWords campaigns, but completely forget about the feature that is literally in front of their faces.
What is one of our first experiences as consumers with an eCommerce website? We go straight to the search box to find what we need. Website visitors using internal searches have a specific goal in mind. They already know everything to make a purchase, and they're simply trying to find a specific product or service on your site. But, if they don't, they'll leave and take their business elsewhere.
Effective site search helps to reduce bounces and increase engagement. Typically, your site search visitors convert better and generate a higher average order value. Data proves it!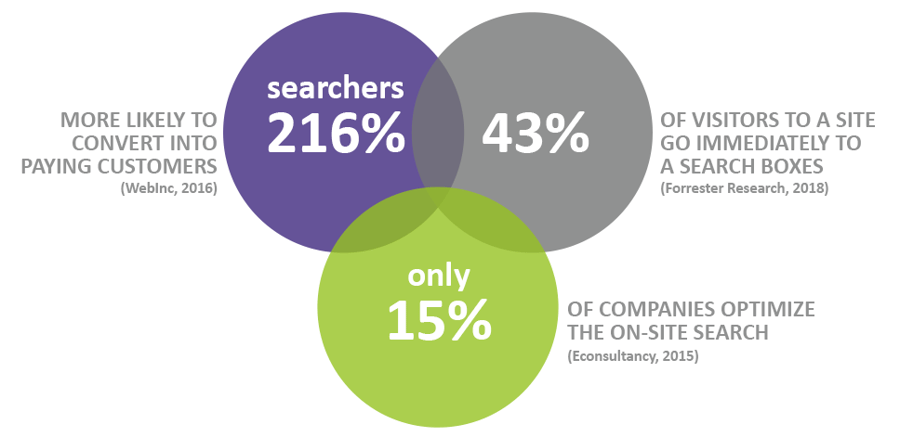 Once you've grasped the importance of on-site search, what should you do next? Read on to find out how these 10 site search practices will make your customer's experience better and conversion rate higher.
1) Make the Search Box Easy to Find
As statistics show, the first thing many visitors do on your website is go straight to the search box. Obviously, it's very important for a potential customer to see it immediately. There are many ways to make your site search stand out:
Put it in the top right or top middle of your website – metrics show that most of the users expect to find it there. It must be visible on every page.
Offset it in a different color from your site's design color scheme, so that a visitor can easily identify it.
Place the word "Search" inside the box. It also can be a more creative 'placeholder' text in your search input that suggests or hints at your most searched products. Check your Google Analytics for commonly used search terms.
Most of your visitors should be familiar with the magnifying glass icon that is used to represent a search box, but just in case they are not, include the word 'SEARCH' or 'GO' on the button beside it.
Allow input of at least 30 characters into the box, so the people can find precisely what they need. Even though more than half of the search queries consists of just one word, there are some customers who like to put two (26%) or three (11%) words.
AMSCO makes its search bar more noticeable by positioning it right in the center, placing a bold 'SEARCH' beside it, and putting examples of typical queries and the word 'GO' in a bright orange color inside the box.

2) Rich Autocomplete
Implementing autocomplete, or autosuggestion, options in your search box is an effective way of making search easier for your visitors. The concept is fairly straightforward: the search engine predicts or suggests phrases to complete people's queries as they type.
Why does this option make a difference?
It's a time saver for shoppers. Typing can occupy time, and modern users have become more and more impatient. Predictive search engines will help them find what products they're looking for as quickly as possible, even after typing only the first few characters.
It improves the overall user experience. As visitors are prompted with the suggestions of products they previously couldn't or didn't know how to find, autocomplete allows them to simply select what they need from the dropdown menu.
It's a great way to reduce the number of queries with typos.
Advanced autocomplete can contain:
Preview images of predicted products
A drop-down list by category, brand, or department level options
Extra suggestions with matching items and blog posts to read
Autocomplete enhances your website, positively affects user experience, improves conversion rates, and increases average order value.
GoPeachy's site search predicts queries' ends, offers to choose a relevant category, and provides pictures in the suggestions.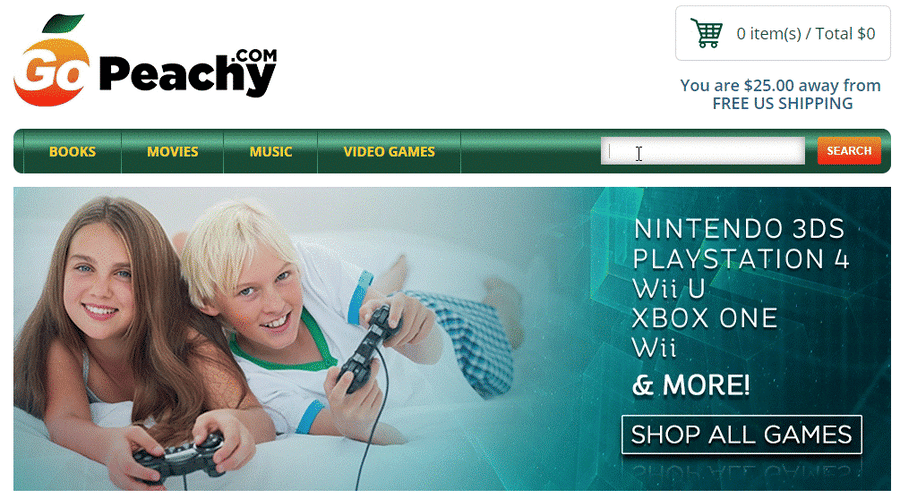 3) Filters
The essential tool for making search results easier for the user is filters. Customers can organize their results by particular criteria, such as color, size, price range, and brand, just to name a few. The filters will depend on the products you're selling.
There is nothing more frustrating to a customer than getting over a million search results and wading through pages of irrelevant products. By letting the customer narrow down the results of the query, you make sure the users aren't kept waiting and can find what they like. Filters help customers to specify preferences for how they want results displayed, making it more likely that they'll find something they want and make a purchase.
Faceted sorting in search results should include:
The ability to use multiple filters at once
Adding and removing filters from search results
A large variety of sorting options for shoppers to refine items by an article of clothing, size, popularity/price, availability, sales, new arrivals, etc.
Depending on attribute type or data available, filter panels can be arranged in the form of:
Checkboxes (Multi-Value Selection)
If a user can select multiple options for a selected parameter, then checkbox list displays.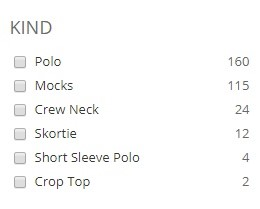 Color Swatches
It's better to have a visual representation of colors rather than just names.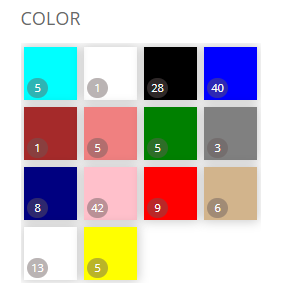 Stars (Average Rating)
Customer reviews are best depicted in the form of stars.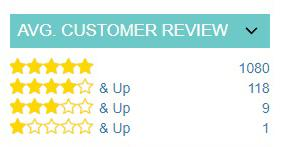 Price (Ranges + Manual Input)
A user can choose from a price range or enter the specific price range they're looking for.


Slider (dimensions)
A slider is used when the user has to select a value from within a range.

Hierarchy Tree (Categories)
This filter consists of an expandable tree view, where categories within different levels of the hierarchy are represented by checkboxes.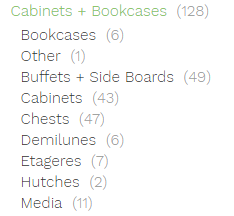 4) Attribute Extraction
A common problem for retail websites is when there's plenty of information about the product in the description, but it appears in an unstructured form, making it difficult to set up proper filters. In most instances, mapping this data will require significant time and manual labor. That's when attribute extraction comes in handy.
Attribute Extraction is a method of identifying product attributes from a free-form product description and organizing them in the form of more structured data. It's used to extract the attributes (such as brand, color, flavor, and so on) of each product in a particular category and to standardize the attribute values by correcting short forms, misspellings, and other inconsistencies. The results of extraction have widespread implications for Product Search (search filters), Product Recommendation (matching the same items from different sellers, providing ranked suggestions on other products customers may like), and Product Grouping (grouping items by variants such as size and color).
In order for consumers to navigate your eCommerce site and search through the product space conveniently, products should be tagged with the right attributes. The absence of relevant attribute values in item metadata has a direct impact on the discoverability of the product, eventually negatively affecting its sale.
During a study of Walmart in 2016, researchers measured the impressions for a set of products during 44 days prior and 27 days following the enlargement of product data. The third panel in the figure below shows an uptick in visits to product pages.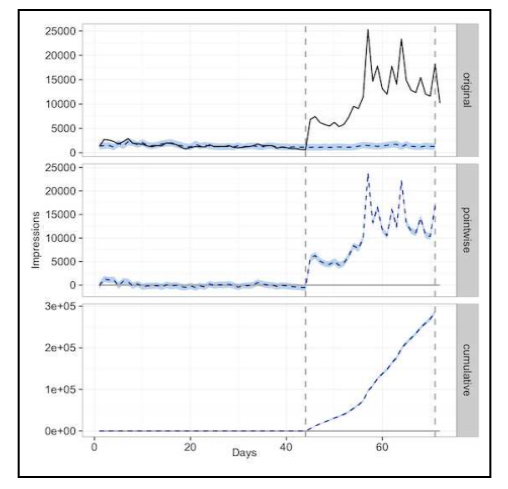 In order to ensure a good faceted navigation experience, it's crucial for modern eCommerce sites to allow customers to select multiple proper product attributes. Paylessrugs' website search was insufficient, and attribute extraction helped in advancing it. This is what the process looked like: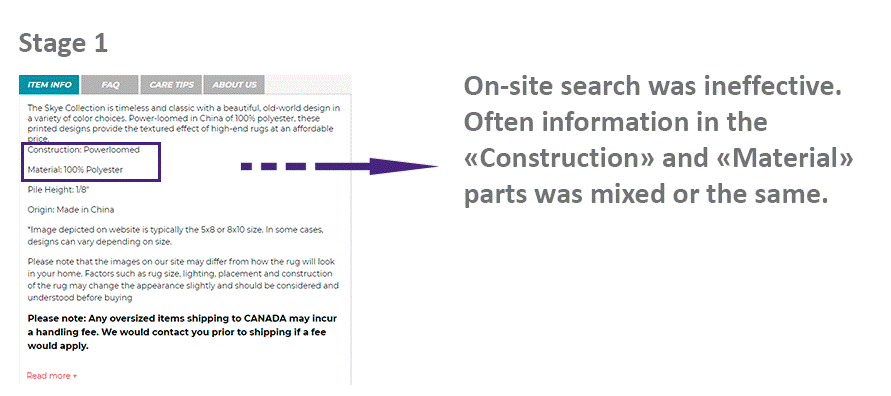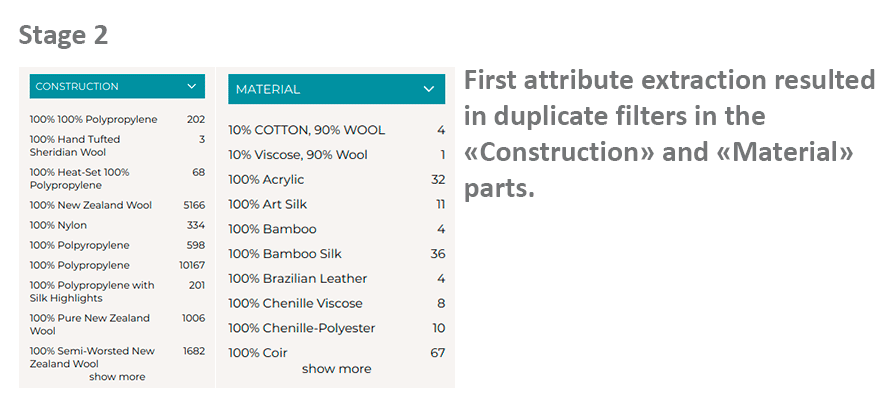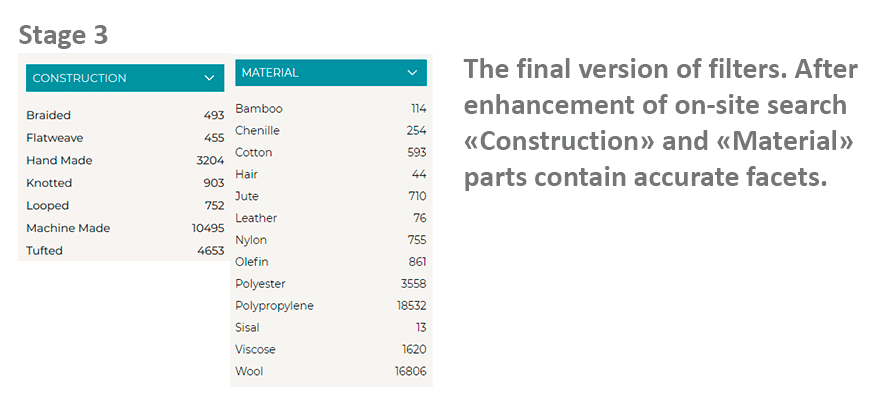 5) Understanding Customer Language
Another significant factor for a better on-site search is understanding how customers type in a product name. It's unlikely that your customers will describe your product in exactly the same way as you. They are also prone to making typos, mistakes, or just naming things another way. The worst thing that can happen is that the user is led to a 'No Results' page, becomes frustrated, and leaves.
According to a study of the top 50 grossing US eCommerce sites by Baymard Institute, 70% require users to search by the exact same product-type jargon the site uses. They fail to return relevant products for a search, such as "instrument kit" if "instrument set" is used on the site, or "multifunction printer" vs "all-in-one printer". Moreover, 84% of retail websites don't handle queries that specify a subjective qualifier, such as "cheap" or "high quality".
Considering the statistics, it's imperative that your site is a little smarter than the average one out there.
So, how do you make sure that your eCommerce site's search engine is an intelligent one?
It has a synonym control tool. For instance, if a customer types in 'women's mittens' and it's described as 'women's gloves' on your site, the user will still get the results they need.
It handles long-tail semantic searches. If a visitor is searching for "men's long sleeve white tee size M," the search engine should understand the intent behind the user's search. According to TotalRetail, sites with a semantic-based search engine have a low 2% rate in shopping cart abandonment, compared to as much as 40% on sites with plain text search.
It's able to provide accurate results, even if the customer gets the spelling wrong. For example, the word 'classic' may be spelled with only one "s."
By optimizing your internal search and providing a result no matter how the user types a query inside the search box, you increase the chances of getting more of your products sold.
For instance, WeGotLites understands what their visitors want: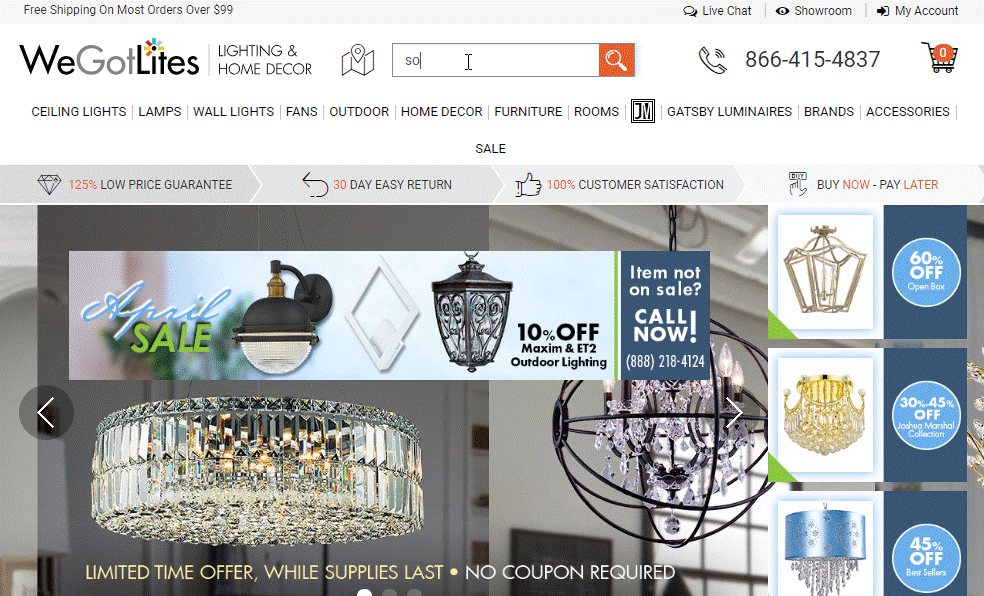 6) Mobile-Friendly
The average person spends 86 hours a month on their mobile phone, which means your website, and on-site search in particular, must be mobile friendly. Emarketer stated that over half (53.7%) of mobile users who browse, research, or compare products on their smartphones end up buying there. In 2018, mobile commerce sales in the US accounted for 39.6% of total retail eCommerce sales. It's believed that, by 2021, m-commerce will represent the majority of eCommerce spending. You want to be among those who profit from it, right?
Whether you choose a mobile website or smartphone app, the search will be one of the key means of interacting with your brand online. So, your site search engine should be in its best shape when performing on mobile devices. Here is some advice:
Typing on a smartphone can be cumbersome, so make sure that the autocomplete option is optimized for mobile devices.
Test out your site search on a variety of devices for ease of use and fast loading. Don't make savvy mobile users wait while 1,000+ products load up on a results page.
Your internal search should be able to process more complex queries as well as it does it on the desktop version.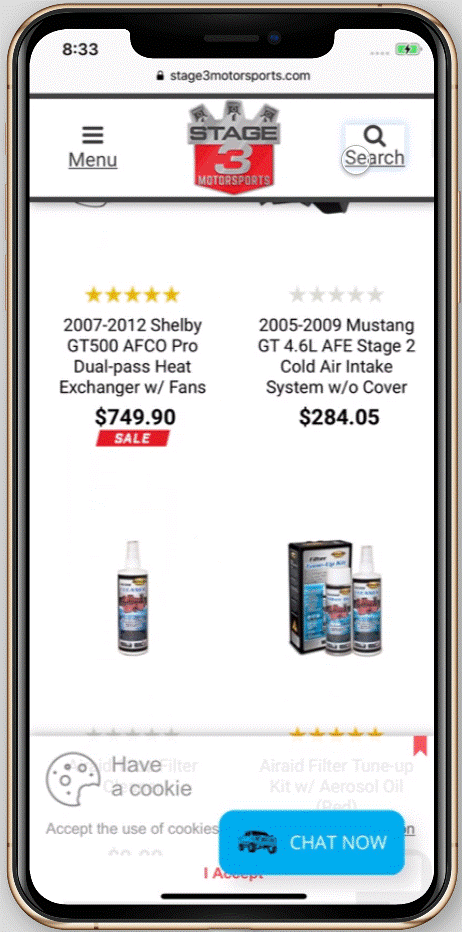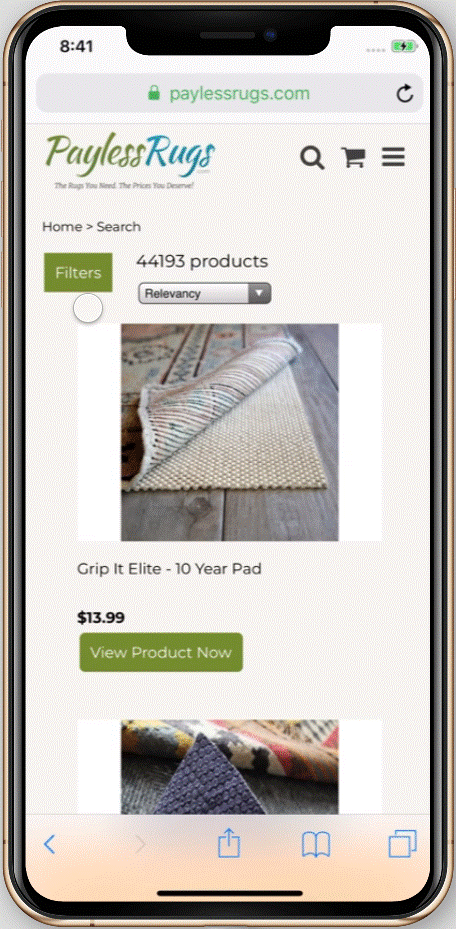 7) Out of Stock Products
It may seem trivial, but you should decide how out of stock products will appear, if they appear at all. Customers won't appreciate it if they click on a product they're interested in, only to find it's not available. There are 3 ways of dealing with this issue:
Out of Stock products can be removed from the search results completely.
The results page puts out of stock products at the end, shows that they're not available, and gives details on when it will be back in stock.
Search results indicate that the product is out of stock, but offer alternative goods as a 'You Might Also Like' option. Recommendations can be based on what other customers purchased. In the best-case scenario, you should provide personalized suggestions generated by machine learning.
8) Relevance and Ranking
It's become critical that your website search relevancy be something you focus on. Websites that return irrelevant results against a search term are losing conversion opportunities. You certainly don't want your site's visitors to be underwhelmed with the accuracy of the results.
The first page of results informs potential customers how well you understand their needs. A relevant set of results will make the visitor feel confident about your site and its ability to provide them with what they want.
Ranking is an important area to address if your goal is to optimize your eCommerce site. A good site search not only facilitates sophisticated text-matching, but also arranges the products by factors such as the novelty, sales data, customer reviews, average ratings, number of views, etc.
For example, if you look for "washi tape" on FotoBella, the first items you see on the results page are new arrivals or products on sale.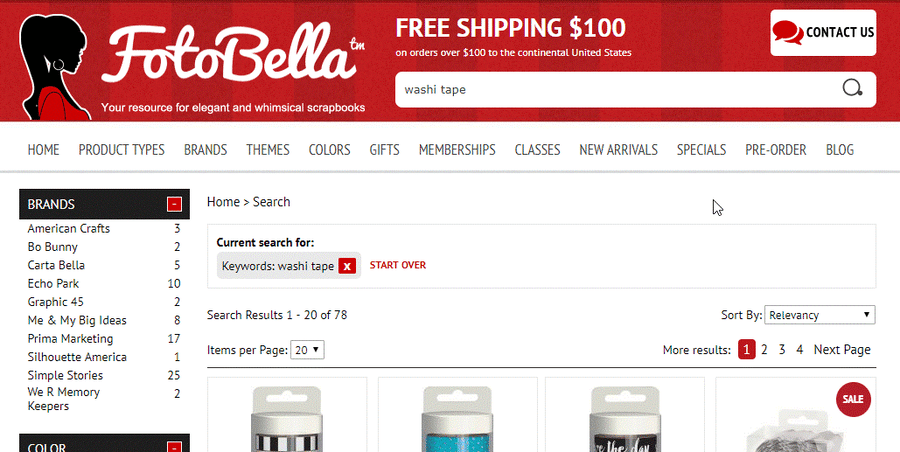 9) Allow Saved Searches
Saved searches are an excellent tool for users who can't buy something right now, but want to put products into their wish list. It's also a good sign for a business owner – there's a high likelihood they are going to come back.
It would be easier for customers who previously searched any product on your website to navigate quickly and purchase what they really want if the search box reminds them of what they were looking for previously. Your on-site search can deliver personalized search suggestions in the dropdown menu, depending on the buyers' previous activity.
Look how well The 4×4 Guys do this: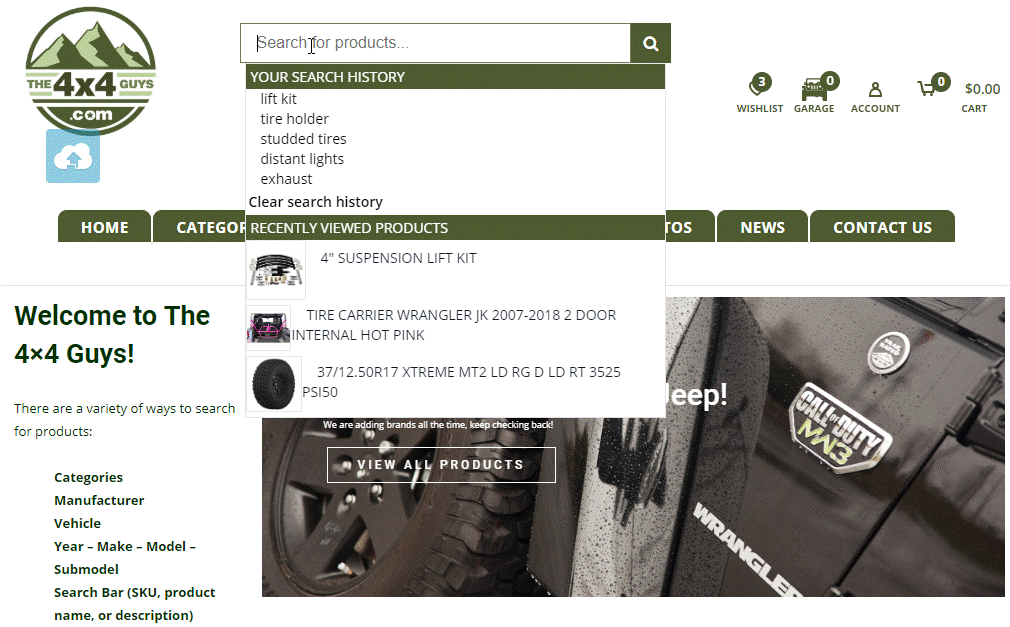 10) Optimize with Analytics
Accumulated data is the most neglected and, at the same time, the most insightful part of a site search. From search analytics, you can track and measure numerous things, such as:
The volume of search queries
Most sought after products by your customers
Geographical information of where most queries are performed
Queries returning no results
CTRs on search results
The total number of filters in use and frequency of their usage, etc.
Search analytics reports can be used to track search terms for SEO, identify if there are any data or usability problems with your websites, and many other essential things. It can be especially useful for merchandisers who are looking for new and innovative ways to promote products/brands or for marketers who may utilize search analytics for data-driven content development. Based on statistical data, you can recommend certain products to potential customers, encourage the interaction of purchasers within the website, and promote products on a personal level.
For example, analytics can inform not only how many clicks, request, and queries were made, but also show which products of a specific color are the most searched ones.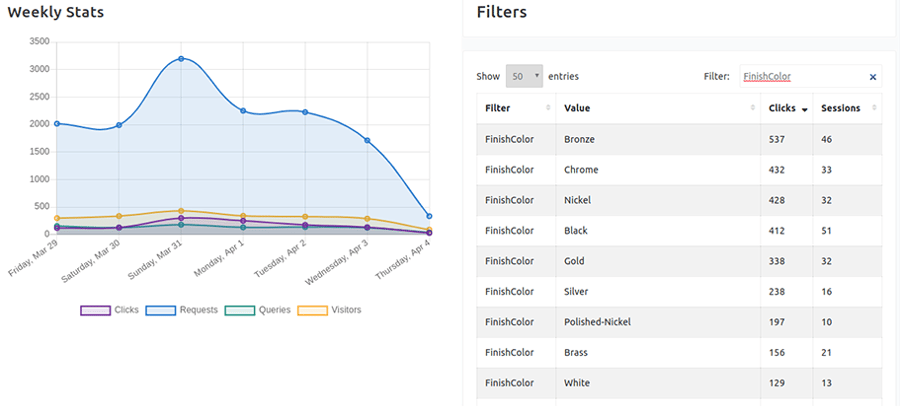 Analyzing popular queries and those with no results may be useful for product mix policy and other marketing purposes.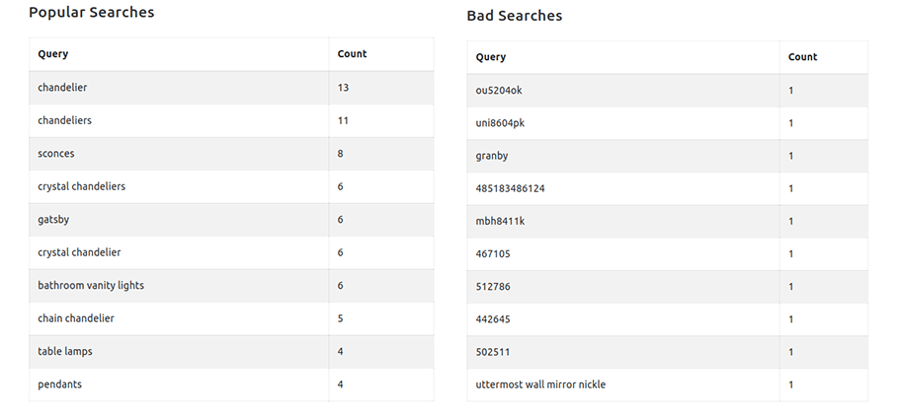 So, why do eCommerce site search practices matter?
Search and navigation tools are closely intertwined with marketing features, and boosting them not only will provide a better customer experience, but also help to increase conversion rates. Those retailers who overlook on-site search engine capabilities may miss out on an ultimate game-changer.
Let's look at the results of the new search implementation on Duralee's website.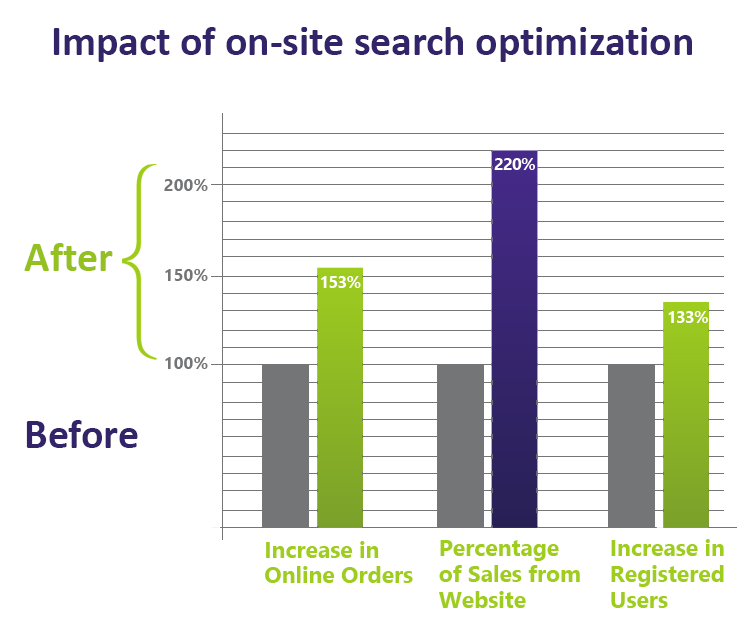 Just one month after their new search implementation, our client can notice remarkable changes:
Online orders increased by 48% over the last month, and 53% as compared to the same month the year prior.
The percentage of overall sales coming from the website increased from 6.5% to 8.0% (never, in the history of the company, had website sales accounted for more than 7.5% of overall sales).
The number of registered users on the website increased by 33%.
In the second month, sales climbed another 44% to 14.4% of overall sales, more than doubling average web sales volume from the previous site.
Results have been maintained, and the company has also seen an increase in complex phone orders directly attributed to the website's search functionality. Moreover, Duralee received positive feedback from over 1,000 customers who were highly satisfied with the new on-site search.
So, if you're wondering whether your internal search engine is effective enough or not, you can receive a free audit from our team. As mentioned before, we have a wide variety of advice on how to improve your e-commerce site search.