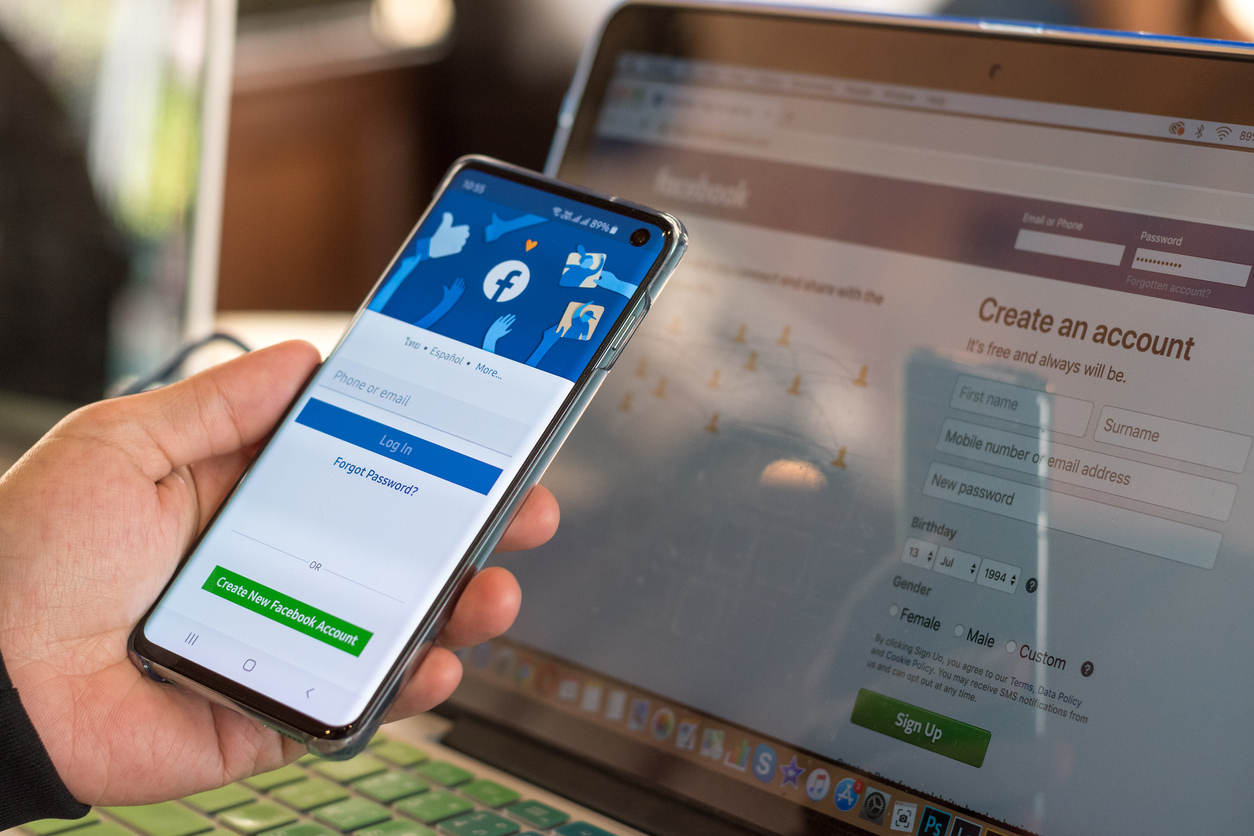 While most people tend to assume that the ads they see on Facebook don't work, the reality is that, for many online businesses, they do. And not only do they just "work," but they can be highly effective, making Facebook one of the top places businesses and brands go in order to generate leads and find new customers.
Today, there are several different ways you can advertise on Facebook. From promoting your page to bringing traffic to a post, there's no shortage of opportunities to leverage Facebook for your business. By targeting the right Facebook users (a huge advantage Facebook ads have over almost every other online ad), you can get hundreds of thousands of impressions on a single ad, which means more eyes on your brand, more emails on your list, and, ultimately, more sales at the end of the day.
Of course, in order to be successful advertising on Facebook, you have to understand how to play the game — and why you should even be playing it in the first place.
Why Choose Facebook for Advertising?
While there's no shortage of advertising opportunities in today's world, not all are equal. And, despite your personal sentiments towards the social media giant, Facebook continues to reign as the place to go online, which means your audience is almost guaranteed to show up. Even better, people on Facebook don't just show up and observe — they interact, clicking on more than 22 billion ads each and every year.
Why else should you choose Facebook? Here are four other compelling reasons to make Facebook part of your advertising strategy.
1. Facebook ads are relatively affordable.
While there are businesses that spend millions (if not more) on Facebook ads, there are way more businesses that have a ton of success just spending a few hundred dollars each month. Unlike other advertising opportunities that can be totally out of reach for a lot of brands, Facebook ads are equal opportunity, meaning that you can get started (and have success) for next to nothing.
2. Facebook allows you to target your specific audience.
Facebook targeting has completely changed how online advertising looks, allowing for an unimaginable amount of customization — and that's a really big deal for small businesses. Rather than casting your fishing pole into an ocean, Facebook targeting allows you to narrow the body of water tremendously, giving you the ability to fish from a small pond or tank for better, more affordable, results. Choose from things like behaviors and demographics, to languages and location, and you no longer have to guess about who's seeing your ads.
3. Facebook gives you an amazing opportunity to re-market.
One of the best parts about Facebook ads is that you can create re-marketing opportunities by targeting custom audiences that have already visited your site. When your ads appear for this audience, the conversion rate is much higher than "cold" traffic that's never hit your site.
4. Facebook lets you "clone" performing audiences.
Every marketer's goal is to find an audience to advertise to that converts at a high percentage. The beauty of creating ads on Facebook is that once you've come across a winning ad, you can actually create a new "lookalike audience" that allows you to reach new customers that are nearly identical to those who are converting and clicking on your ads.
Types of Facebook Ads
Once you've determined that Facebook is the right platform for your ads, then the next step is determining which type of ads you want to create. While there are a lot of different ways to create Facebook ads, below are three types of Facebook ads that have proven to be effective for businesses.
Lead Ads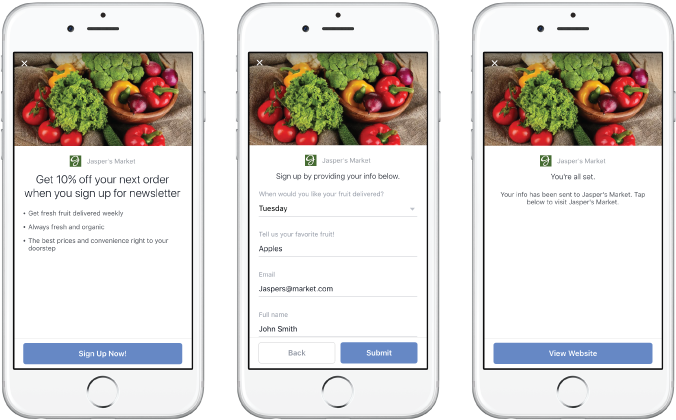 Source: Hootsuite
Lead ads are particularly effective on Facebook because most people on the platform aren't actually looking to buy a product. But, when they see an interesting (i.e. compelling) opportunity to enter an email address in order to receive something, they'll typically take the time to fill out a form. Lead ads take advantage of this by specifically asking viewers to simply "sign up" — nothing else. And because Facebook typically auto-populates most of the fields in the form, there's very little the viewer has to do except click "submit".
Dynamic Ads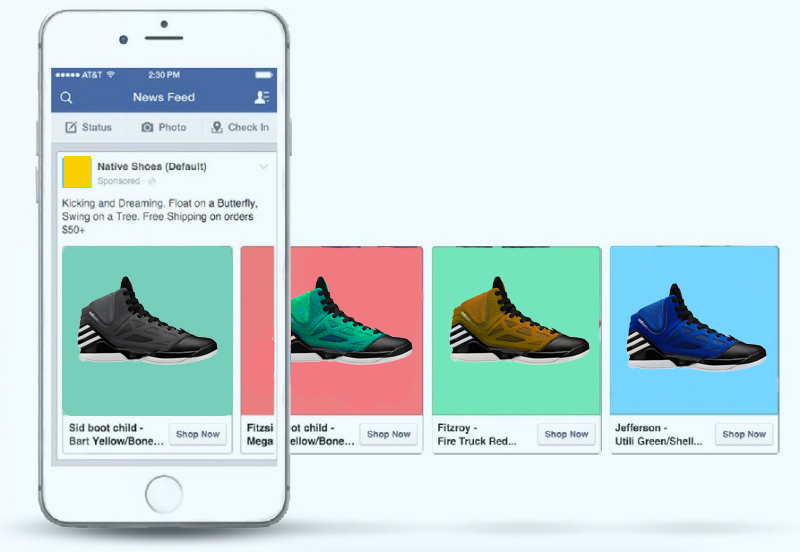 Although they might seem like the most complicated ads to create on Facebook, they're actually pretty simple once you understand what they're doing. Dynamic ads connect your store's product catalog with your Facebook ad account and pixel, which means that Facebook users who have visited your website are automatically retargeted, seeing the exact product they saw when they were on your site.
Collection Ads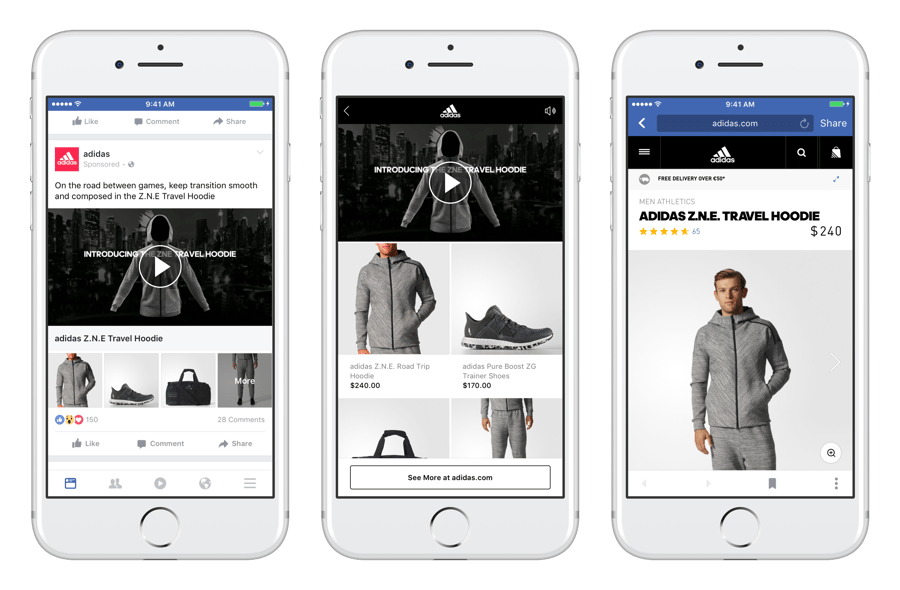 If you're running an online business and want to convert Facebook users instantly, you'll want to pay attention to one of Facebook's newest ad formats: collection ads. This type of ad acts as an interactive catalog for your business, which can include a main video or image, followed by related products that users can buy directly from the ad. This is the Instant Storefront style of collection ad; if you'd like to simply show your products in action, you can use the Instant Lookbook style. Alternatively, you can focus in on driving conversions with the Instant Customer Acquisition ad, which replaced the products with images that inform users about your product. You can even use the Instant Storytelling style to give users an engaging way to explore your brand's story. Collection ads are truly versatile, making them an ad format you should not ignore.
How to Get Started Advertising on Facebook
Getting started with your Facebook ad campaign is relatively easy, especially when you have a plan in mind. Knowing how successful you can be with Facebook makes the process of setting up your account and designing your first ads less painful; you know there's the potential for a lot of success. If you can keep in mind that people on Facebook want to scroll quickly and spend as little time possible on a single post, then you can create ads that don't require a big commitment — whether that's time or money.
To get started, the first step is setting up a Facebook advertising account. Thankfully, there are a lot of step-by-step videos out there if you need to be guided through. In general, however, getting your account set up is simple. Just follow these four steps below:
1. Create a Facebook Business Manager Account.
In order to do this, you need to have a business Facebook page already. (If you don't, setting this page up will be your first step.) Once you have a business page, you can create your Business Manager account so that you can enable ads. Just look for the Business Manager home page and then find the "Create Account" link. (The log in for your Business Manager account should be the same password and email you submitted for your business page.)
2. Get the Facebook Pixel.
To do this, you'll go to your website and then actually install the custom Facebook pixel. This step makes sure that Facebook knows who's visiting your site (making all of the advanced Facebook ad features work properly).
3. Target Facebook users by creating audiences.
Creating the right audience takes work, so you'll definitely want to do your research and then test several different audiences. Make sure you save your audience groups so that you can reuse the ones that work. Creating audiences happens under your Business Manager account by selecting "audiences" from the options.
4. Create your ad.
The easiest way to do this is by creating a post on Facebook first. Once you have created a post, you can turn it into an ad from your Business Manager account — and then you're done!
How to Be Successful with Facebook Advertising
So, are those four steps all you need to be successful in your Facebook advertising attempts? In theory, yes. In reality, you may need to do more. Your Facebook ads need to be the right type of ad and for the right type of audience in order to be effective. That means optimizing your ads and optimizing your audience are essential.
Optimizing Your Audience
When it comes to optimizing your audience, it's all about getting the targeting done the right way. You'll need to look at a variety of factors in order to create an effective audience that is responsive to your ads. Here's some of the variables that you'll need to consider:
Location
Age
Gender
Interests
Connections
Relationship Status
Languages
Education
Workplaces
Additionally, you'll want to understand the difference between "broad category" targeting and "precise interest" targeting. Broad category, while tempting, really isn't your best option. Trying to find your audience based off things like "people who like romantic comedies" and "people who are expecting a baby" requires you to spend more money and, in general, these broad audiences rarely spend very much money.
Instead, precise interest targeting gives you the opportunity to find your audience based off of much more specific things, like the Facebook pages they like and the interests they list on their profile. Using these specific interests results in less money spent and more money earned. Of course, knowing which of the seemingly endless interests you'll want to target is a big part of the trial-and-error process that goes along with finding success on Facebook.
Optimizing Your Ads
The other part of the Facebook puzzle is making sure that your ads convert. That means creating a design and writing text that makes people want to engage. A big part of this is choosing (or creating) the right image for your ad. As a basic rule of thumb, avoid using images that are low-quality and generic. Google Images is not an ideal place to get ad images from.
You'll also want to be able to track the performance of your ads so that you can understand if your money is being well spent. And, if it is, you'll also want to know how to make more ads like it. While Facebook doesn't give you conversion tracking options anymore, you can use other tools that will provide you with invaluable data. Tools like Facebook Insights and Google Analytics will make a real difference in determining how successful your advertisements on Facebook are in the long run.
Conclusion
Getting started with advertising on Facebook can feel overwhelming, but, once you get going, it really is fairly simple to learn. The beauty of advertising on Facebook is that the potential is limitless — and it really takes next to nothing to give it a shot.