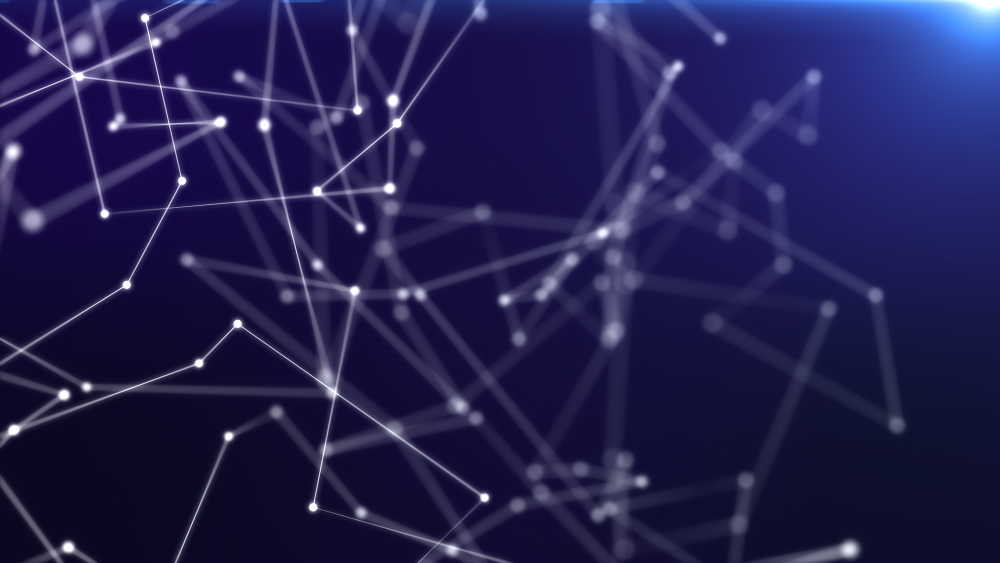 Link building is hard. That's a fact.
One thing we see from a lot of companies is treating link building as a one off project. They create a piece of content, identify some potential sites that may want to link back to that piece of content and then outreach to those sites. Whilst this can be successful in gaining a few links in the short term, it's not a sustainable way of building the authority of your content piece.
If you really want to nail your link building efforts, it's got to be a continuous process. No start and end date. Just an ongoing process to build high quality links to your content. You can read more about sustainable link building in this awesome Whiteboard Friday post from Paddy Moogan on the Moz Blog.
Creating link-worthy content
The first place to start is creating high quality, link-worthy content. Sounds easy right? Well, this is where content-driven link building can be troublesome and time consuming.
The main issues we have faced when creating content for the specific purposes of link outreach include:
Quality content does not mean link-worthy content – just because you created an awesome piece of content doesn't mean that people want to link to it. We've been there a number of times. Invested a lot of time and resource into creating a highly polished, well-researched piece of content only for it to receive zero links. We often get great feedback on those content pieces, just not the links we crave.
Content is time consuming – creating a piece of content that is likely to attract links is time consuming. It takes something very special to catch someone's attention enough for them to link back to it from their own website (or even their social platforms) so you are going to have to invest time into creating that content.
Outreach is time consuming – on top of the time taken to create the content in the first place, link outreach (when done well) is also incredibly time consuming. Researching the sites that are likely to be interested in your content, crafting personalised emails, monitoring responses, following up…it all takes time with no guarantee of success.
Whilst all this sound pretty negative and you may be asking 'Why would be spend time and budget on creating content that is not all that likely to get links?', there is light at the end of the tunnel.
If you want to increase your chances of getting more links to your content, it's about working smarter, not working harder or longer.
Learn which content types work for your business
The only way to work smarter is to monitor and analyse every piece of content you create. This means setting up some sort of spreadsheet to capture all the key data including number of links, traffic, time on page…all this data will help you to see which pieces of content you are creating that are engaging your target audience AND getting you links.
You might also want to record the amount of investment in each piece of content (time and budget) so you can allocate a return on investment for each piece of content. This will really help you to refine the type of content you are creating and help to improve your chances of attracting relevant links to your content.
In Paddy Moogan's blog, he highlights a great way of quickly plotting the types of content that work for you and using this as a way to sell in new ideas to clients. An example can be seen below: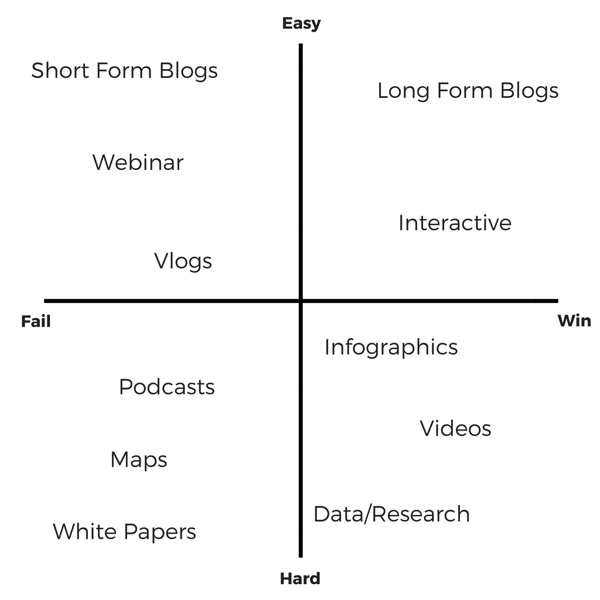 5 types of content that attract links
As a medium sized agency here in New Zealand, we work with a wide range of clients across a number of different sectors. We create a lot of content for these clients and over time, we have started to be able to refine the types of content that really work (from a link building perspective) and those that are trickier and don't tend to yield such great results.
We wanted to share with you the five types of content we find to be the most successful when it comes to attracting links.
1. Infographics
Without a doubt one of the most popular content types when it comes to driving links are infographics. Not only are they an extremely visible way of displaying content, they can also be used as cornerstone content from which you can build other link-worthy content pieces.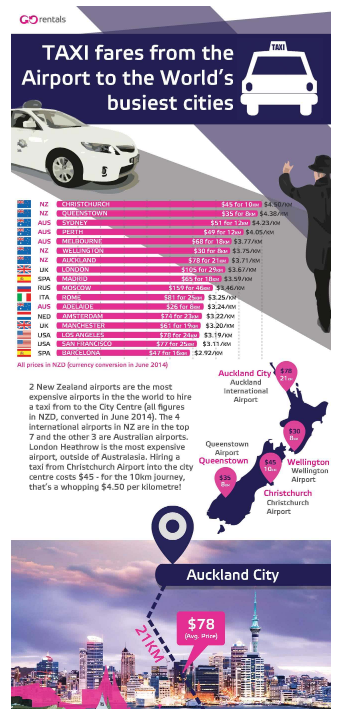 *This infographic was created to showcase the cost of taxi fares in cities around the world. It gathered a huge amount of links from media sites around the world and was picked up by the likes of The Guardian, Stuff, The Herald, Sydney Morning Herald and more.
When it comes to creating infographics, we have found the most successful pieces we have created have followed the following steps:
Unique – our top performing infographics have all had a unique angle which has been generated by carrying out original research. If you can reveal a new trend or highlight something that has never been picked up before, your infographic suddenly becomes a lot more link-worthy.
Relevant – it's easy to get off topic but at the end of the day, you still need to create an infographic that's relevant to your target audience. If you're a hotel, don't create an infographic about GDPR just because it's topical at the minute. Keep your audience engaged with highly relevant content.
Looks great – this one is important. We've learnt from previous mistakes that trying to create an infographic ourselves using free tools like Canva may save money, however it doesn't save time and always looks pretty average. Splash the cash and invest in a graphic designer to create you an infographic that pops.
Cons: Whilst infographics are definitely highly linkable, they are extremely time consuming to create. The original research and then design on top of that can take a considerable amount of resource (both time and budget).
Top tip: Plan for one awesome infographic each quarter rather than trying to create them monthly.
2. Videos
Videos have definitely stood the test of time. They have been a highly linkable piece of content for some time now and people seem to be craving more and more video content. With so much video content available, however, you are going to have to get creative to get noticed.
We have found the most successful videos we have created are ones that answer customer questions and needs. How-to videos have become one of the most popular types of content available online. They make it so much easier than trying to read a long form blog post for specific activities.
*This video appeals to so many people – anyone who lives in Devon, anyone who has been on holiday to Devon and generally people from the UK. This generated a huge amount of views (4.7m), shares (46,000) and reactions (12,000). These videos are simple to create and resonate with the target audience.
We've also found personalisation to be a hugely appealing and linkable aspect to video content. This doesn't mean creating videos for individuals, but more targeting things that people are proud of – their home town, a local icon, a school – something that resonates with them and makes them proud to watch the video.
Cons: Like infographics, video content can be time consuming and expensive to create. Unless you have a talented in-house team, it's likely you will need to outsource production and this can be expensive. Another potential issue is the hosting of the video. Most of us will use a third party hosting site like YouTube or Vimeo for housing video content so you can find your own landing page competing with the third-party site for links.
Top tip: Use backlink auditing tools to monitor the links pointing to videos hosted on YouTube or Vimeo and outreach to ask those sites to update their links back to your landing page.
3. Data/Research
Original research definitely grabs attention. And links. The way you present that data and research can have a big impact on how many links you attract. We've already covered infographics which are a great way of presenting original data and research but there are other ways including White Papers, Research Reports and Video Series.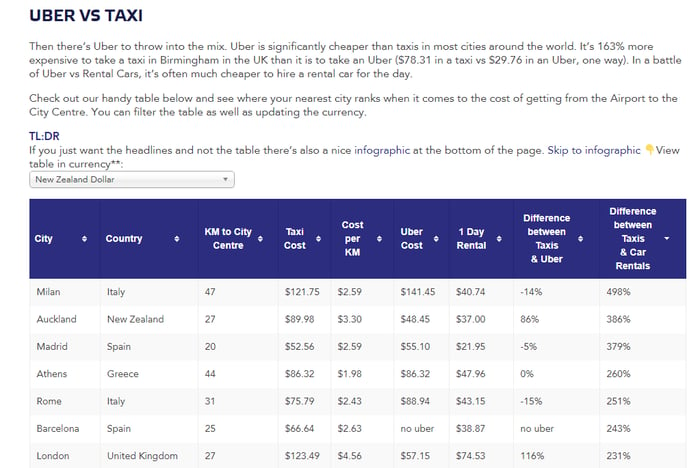 *This is an original piece of content which attracted a lot of links for our car rentals client looking at the cost of an Uber vs a Taxi vs a Rental Car in the world's biggest cities. This piece attracted a high volume of links from around the world as it has global reach due to the countries included. We also created individual infographics for the four key target markets of NZ, Australia, US and UK.
Of course it's not just a case of rocking up and carrying out some original research. You do need to establish some credibility within your sector or niche and that comes from publishing high quality content and getting noticed. If people are intrigued by your original research, they will most likely go and check out your other content – make sure you have some quality material for them to find.
Here are some other things to consider when creating a data driven content piece:
Answer a relevant question – there is absolutely no point in creating a high quality piece of content on a topic no one is interested in. It simply won't get any traction. Do your research first and find out the topics that generate the most questions within your niche and then create a piece of content that answers those questions using original research.
Large sample size – make sure your research piece has credibility by selecting a large sample size. Surveying 10 people is never really going to generate a strong enough data set to conclusively prove anything. Interviewing 500+ people will add a lot more credibility to your piece, especially if you include sector specialists in your research.
Cons: There is a reason no one else has done this piece of research – if it was easy, everyone would be doing it. A new research piece can take time and effort and there is no guarantee it will resonate with your target audience.
Top tip: Do your research before you start. Speak to your customer service team and find out about the commonly asked questions or check out Quora where you can research popular questions in the niche you are interested in.
4. Interactive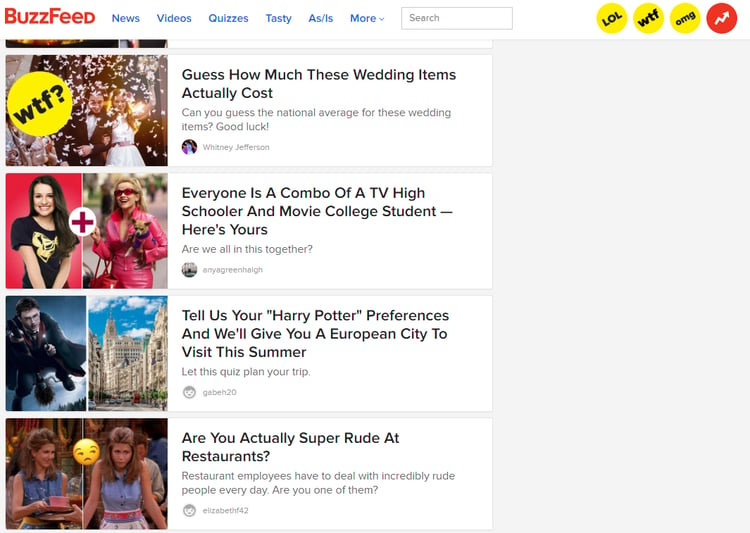 One of the most successful types of content we have built here at Digital Hothouse is interactive content pieces. These have varied from client to client from mini-games to quizzes to interactive flowcharts but one thing they all have in common is that they are super-engaging content pieces. That means they're also super-link-worthy pieces of content.
Creating these interactive content pieces relies on a certain degree of creativity. At the end of the day, like all of the other content ideas in this list, an interactive piece still needs to meet the needs of the customer. This could be as simple as entertaining them, or it could also help them to select the perfect wine for any occasion.
If you are going to create an interactive content piece, try and tick at least one of the following boxes:
Does the content piece:
If you tick one of these boxes, it's likely your interactive piece will be a success. Buzzfeed are the masters of engaging interactive content pieces. How many of their quizzes have you gone on to complete on the most random topics like 'Tell Us Your "Harry Potter" Preferences And We'll Give You A European City To Visit This Summer' or 'How many elements from the periodic table can you name'. The thing that a lot of these pieces have in common is a click-worthy headline and a strong image.
Cons: You need to have a development team to help you to create these awesome interactive pieces. If you have a great team, however, these pieces can be fairly simple to create and highly effective.
Top tip: With so many interactive content pieces out there, it's important to stand out from the crowd. We have had the most success creating interactive pieces that answer common questions from our customers.
5. Long form blogs
The final piece of content on our list is possibly the easiest when it comes to time and budget but no less tricky when it comes to outreach. Long form blogs rely on a high quality of writing, actionable tips and snippets, engaging copy, images, videos and last but not least, a CTA that invites people to do more.
The first place to start (as with all content pieces) is researching what your audience wants. From here, you can look to build a structure for your post and then start to flesh it out with engaging and informative copy that is both keyword rich and easy to digest.
We have found two extremely popular types of long form blog posts:
Listicle - these posts have become increasingly popular and it's easy to see why. Titles like '10 best places to live in New Zealand' or '5 type of link-worthy content you need to create today' are extremely clickable and therefore highly linkable. Providing content that gives people actions – whether that's adding some new places to your list of things to do in New Zealand or it's five new tips for creating awesome content, these things are hugely popular.
How to – Another type of long-form content we have found to be extremely popular are the 'How to' type blogs. This can be something as simple as 'How to clean your toilet without using chemicals' to 'How to create an awesome content strategy for your clients'. People are always looking for short cuts when it comes to carrying out tasks. How to content can meet their needs and help them to get a job done quickly which in turn is likely to lead to them sharing or linking to your content.
Cons: There is a lot of 'How to' content out there so sifting through the rubbish and creating a high quality content piece can be tricky. Research what's already out there and look to create your own content that is 10x better.
Top tip: Use Google's 'People also ask' feature to identify the types of questions that people are asking in your niche and look to build content to answer those questions. You can also look for questions that deliver an answer box in the search results. Answer boxes drive a high volume of clicks making it much more likely that someone will link to your content if you can take the answer box.
Conclusion
What works for one company doesn't necessarily work for another when it comes to link outreach. You need to think about the pieces of content that work for you and focus on creating more of these. Make sure you are recording the performance of each of the different types of content and the ROI you are getting from each piece of content and this will allow you to be more objective when you are making a decision on whether or not to go ahead with a new content idea.
Hopefully this leaves you with some great ideas to go away and build on. Good luck!
---