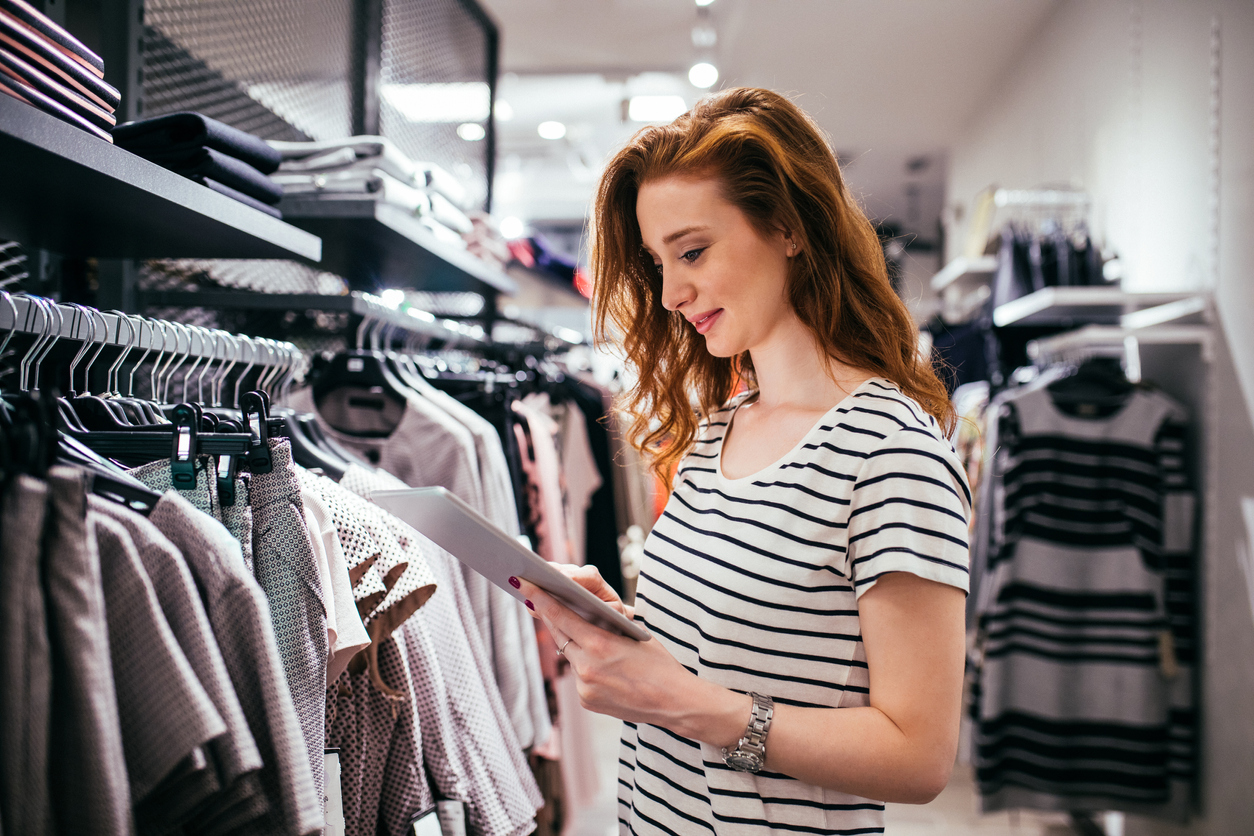 The last few years have seen an absolute explosion in eCommerce growth, and there has never been a better time to get in on the action yourself with an online boutique.
During the 2020 pandemic, eCommerce sales soared upwards by an incredible 33.6%, destroying previous estimates in its wake. That growth has only continued since, and it's just common sense to want to get in on the action with your own venture.
Let's be honest: it's an exciting time to be an entrepreneur. In days past, starting your own boutique meant a considerable risk in a brick and mortar investment to serve a small, local audience. Now, you can create an online business for free that can serve the entire world as a whole.

Not only that, but dedicated eCommerce platforms — such as Shift4Shop — are ready to do whatever it takes to help you succeed. With such a wide variety of tools available to help you reach such a massive audience, I bet you're salivating at the opportunity to find your place in the digital sun.
Will it take hard work to create a successful online boutique? Absolutely, but that hard work can lead to an incredibly profitable enterprise. In this article, I'll guide you through the process and set you on your way to eCommerce success.
Let's get started.
1. Pick a Niche to Target
Before you even think about setting up your new boutique, you've got to decide what niche you want to serve.
Let's face it: you're not going to start off as a Nordstrom or Saks Fifth Avenue. Instead of trying to have a broad appeal, you need to pick a smaller niche to focus on for maximum efficiency. For example, rather than just opening a general unisex boutique, you may just want to focus on women's clothing and accessories (you can go even smaller, but I'll leave that up to you).
It's also essential that you take the time to verify that your prospective niche is actually profitable. For example, you may want to open a high-end toe-socks boutique, but are you sure that's going to generate enough revenue for you to prosper? While it's undoubtedly essential to find a niche you're passionate about, it's equally important to find one that's worth your time in terms of profitability.
2. Draft a Business Plan
You must take the time to plan your business out if you want to maximize your chances of success. This is where your business plan comes in — the guide describing each of your business goals and how you're going to achieve them.
What are your exact goals for your venture? Do you want to only sell directly to your consumer base, or do you want to vend to stores as well? Do you want to be the next Saks Fifth Avenue, or are you just looking for a way to supplement your current income? Your goal with your business plan is to answer these questions and more.
3. Pick Your Name and Domain
What's in a name? Everything. In the 2016 movie The Founder, Michael Keaton's Ray Croc famously declared that the reason he fought so hard for the rights to the McDonald's franchise was the name itself. "It's the name. It's that glorious name," declared Ray.
Picking a name isn't something that you want to rush into. I don't think most people appreciate the full power of a good name and its impact on a business.
Making sure you have a name that sounds good is crucial to your business regardless of whether it's a physical business or an online store.
Take the time to draft out a complete list of candidates, and poll your friends and family on which one they like the most.
Once you've decided on a final list of candidates, verify that there aren't any other boutiques with a similar name. For example, if you start a store called "Polly's Perfections" when there's already a boutique called "Polly's Selections," you're going to be fighting them in search results, branding, and even in legal disputes.
In addition, you'll want to make sure that your name is available in a ".com" domain without any additions. For example, if you want to start a boutique called "Parisian Wear," make sure that "parisianwear.com" is available. You want your domain to match the name of your business; it's as simple as that.
4. Think About Branding
If you're starting an online boutique, odds are your branding will consist of some posh, fancy design. That said, there is still plenty of room for you to get creative. You will express this creativity in your website layout, logos, favicons, promotional materials, emails, and more. Take the time to think about how you want to present yourself.
Let's look at a couple of examples of boutique websites: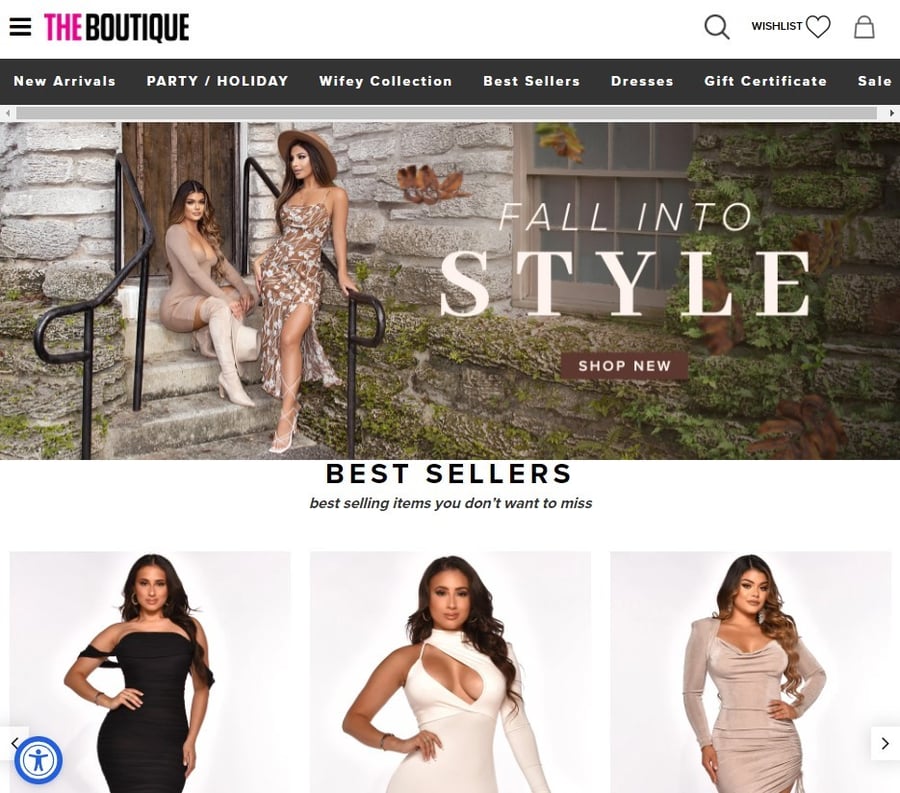 Credit: The Boutique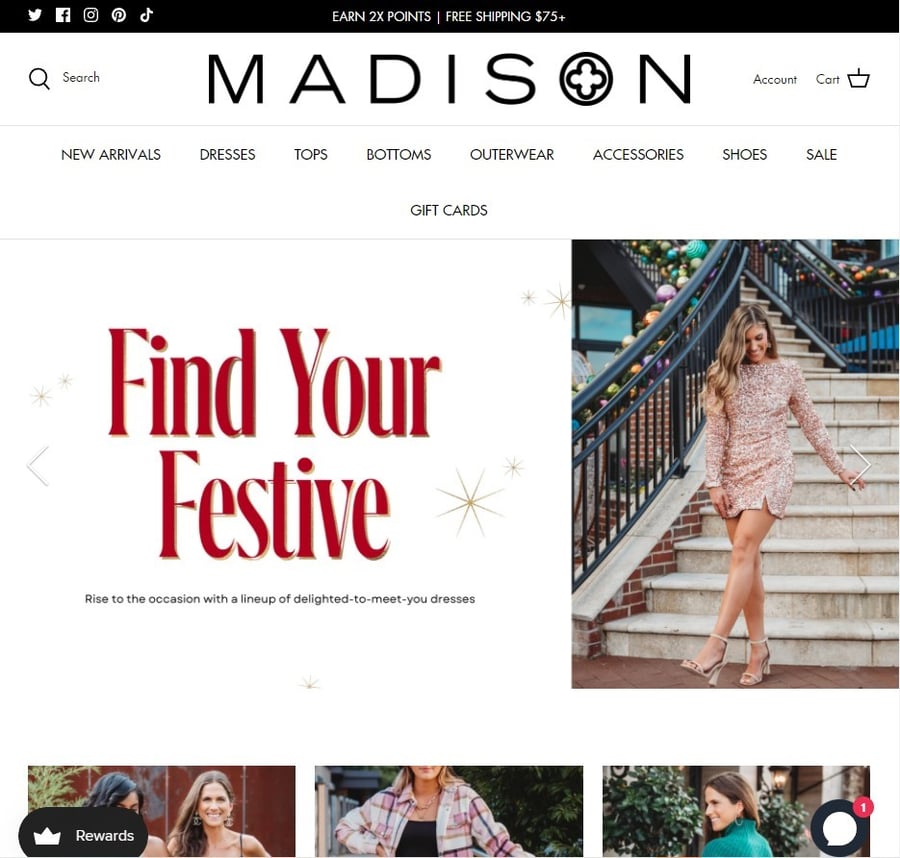 Credit: Madison Boutique
What do both of these have in common? They communicate refinement and class, while still remaining approachable. The logos, fonts, colors, and images all reflect the high standards of quality they want to convey to you. They do all this without uttering a single word in praise of themselves — as the saying goes, an image is worth a thousand words.
5. Fulfill Legal Obligations
To run a legitimate business, you'll need to fulfill the obligations set for new companies in your area. This usually consists of things like registering your business, copyrighting your branding, patenting your product, and anything else required of the particular kind of boutique you're running.
These things can sound complicated, but fortunately, dedicated professionals can help you with this. You can check out expedited legal services such as Legal Zoom or speak to a lawyer directly. Of course, there is the option of doing it all yourself, but complicated processes like this are easy to mess up when you're new to the field.
6. Choose an eCommerce Platform
So far, we've decided what niche our business will target, our goals, our name, and we've registered it all officially. Now, we've got to pick out the eCommerce platform that will make it all possible.
Way back when I started my first online business, I picked a platform that did a pretty shoddy job. My website was slow, clunky, and lacked many essential features that put me at a competitive disadvantage. Take it from experience: you need to take the time to pick the best eCommerce platform for your business, or you'll pay the price later.
Building Your Website
Now, when first deciding on an eCommerce platform, you need to determine what you're going to build your website with. For this question, the answer will be one of two options (in 99% of cases): will you base it off of WordPress and use eCommerce plugins, or will you use a website builder included in a dedicated eCommerce platform?
Both options can be great choices, but my recommendation for anyone starting out is just to choose a full-stack eCommerce solution that includes a website builder. WordPress is extremely powerful — and with great power comes great responsibility. That responsibility means domain registration, web hosting, security, email, compatibility, and a dozen other things you need to master to get your website up and running correctly.
Hosting and security are particularly important here. Make sure your host is the right fit and always check to see if an SSL certificate is included. You should also be sure to protect against identity theft to avoid having your domain name stolen by hackers.
A comprehensive eCommerce platform will streamline all of these things and make them infinitely more straightforward. That's why I recommend that path for beginners.
7. Find Reliable Suppliers
Whether you're crafting your products yourself or you're dropshipping them, there's going to be a supplier of materials located somewhere in the process. That supplier can make or break you. A good one will set you up for a consistent, quality product — a bad one will leave you stranded and unable to provide consistent deliveries.
Here are a couple of essential questions you should ask yourself when considering any prospective supplier:
Do They Produce Quality Products Consistently?
Especially for an online boutique, quality is everything when it comes to customer satisfaction. Therefore, product quality will be central to your business' success — so take the time to verify that your supplier can produce quality products and materials consistently. Confirming their quality means reading reviews from other store owners and ordering direct samples.
How is Their Customer Support?
Even with the most outstanding service and most detailed knowledge base, there will always be times when you need to speak with your supplier directly about an issue. Instead of just relying on information from their website, take the time to ask their sales teams questions directly.
Do they have a quality customer support team using reliable support software? Do they go the extra mile for you? If you ever feel that you're just another customer to them, run and don't look back. That attitude won't do you any favors when your supplies are late, and you have orders to fulfill.
8. Add Products to Your Store
Now it's time to actually add products to your store. Whatever you're selling, make sure it's no more than you're confident you can produce at top-quality every time. Reputation is absolutely everything, especially when starting out. As the saying goes, "you only get one chance at a first impression."
Pricing
When creating your business plan, you should have already come to a rough conclusion of the price points you want to sell at and the margins you want to make. When deciding your final price, you need to account for every expenditure involved. Think about sales tax, income tax, shipping, materials, and everything else involved in making your product a reality.
Remember: never undersell yourself. If you're producing quality, high-end products (as boutiques do), don't be afraid to add a price tag that reflects that. A higher-end price is often a telltale sign of a higher-end product, and customers will respect that.
Images
It's essential to the success of your boutique that you take the time to get high-quality pictures made of your products. You simply cannot afford to communicate any unprofessionalism in this space, and your product images will be a massive part of your product impression.
That said, you don't have to break the bank to produce excellent product images. Taking great at-home pictures is much easier than you think. All it takes is a little effort and patience.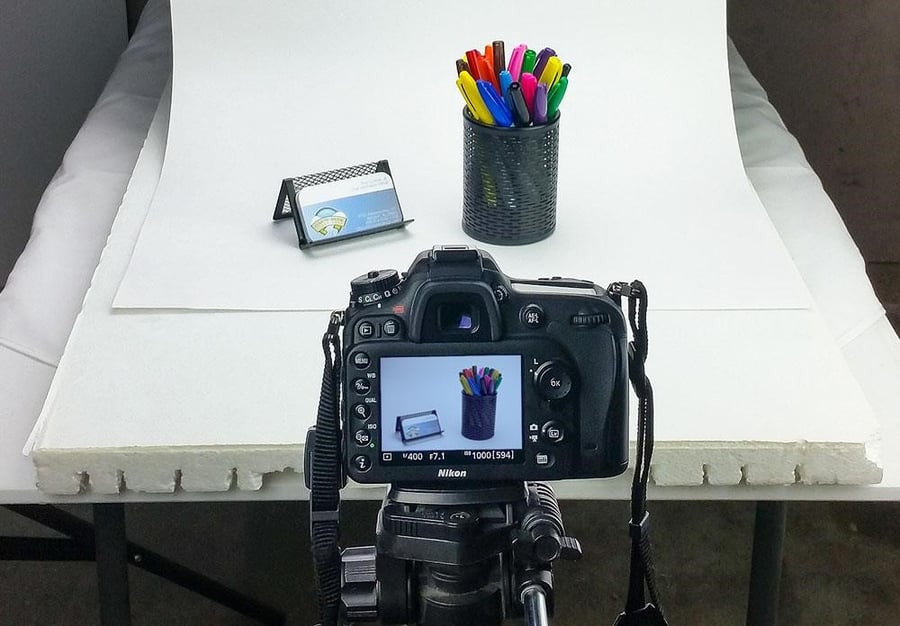 Source: CountryBrookDesign
As you can see in the image above, this person was able to take a great product image with just a camera, a sheet of paper, and good lighting. An extra touchup in Photoshop will really send it home.
9. Establish Your Shipping Policy
Product shipping is an entire topic by itself, and it's one of the most critical aspects of eCommerce success. Entire businesses — such as Amazon — are built around their shipping policies. So you've got to do this right.
Are you going to be shipping for free, or will it come as an additional charge? Will your shipping be fulfilled in a matter of days or a matter of weeks? Whatever it is, you've got to pick one and stick with it. A good shipping experience will encourage your customers to return for more, and a bad one may cause them to never return.
Shipping Options Impact Conversion Rates
Whatever you choose, here's something to think about: conversion rates between stores with free shipping and paid shipping are often night and day. For example, one store saw an overnight 50% surge in conversion rates when they began to offer free shipping options.
In addition, customers are often much more forgiving when fulfillment issues arise if the shipping is free. It's simple to understand why that is! If you received free food that you didn't like very much, it's hard to complain about it. Why? Because you got it for free! The same principle applies here.
If you're worried about how you're going to mitigate the cost of free shipping, simply include the cost in your product's price. You also can make shipping free after a specific dollar total.
10. Start Marketing
Now that your online boutique is set up and ready to go, we can now focus on spreading the word to customers and get to making sales! Channels for your outreach include social media, email marketing, word of mouth, gift cards, physical advertisements, and more.
I won't lie to you: this part won't necessarily be easy. It will take a lot of studying, refinement, investment, and hard work. However, with the right approach, you can absolutely succeed.
Here are a few ways you can start getting the word out to customers:
Influencer Marketing
Influencer marketing has exploded in the last few years. Simply put, influencers have an audience that wants to copy them. The best way to profit from that phenomenon is to simply pay the influencer to use your products and post about them. An association with an influencer also has the added benefit of boosting your own reputation.
Don't think you need to start with a huge household name, either. Investing in micro-influencers has proven to be a very effective tactic for many businesses, as these smaller audiences tend to have a higher engagement rate than their bigger counterparts. Their greater perceived authenticity also leads to a significant boost in value for your money.
Because you're in the boutique space, influencer marketing will be a vital advertising channel for your business. Take a look at any influencer's Instagram account, and you'll find them oozing with sponsorships.
Social Media
I'm sure I don't have to go to great lengths to explain the importance of a solid social media presence. Ever since the days of Myspace, social media's importance for effective marketing has only continued to grow. You can start by finding a few people to model your products for your boutique business. Then, find an excellent photographer to capture the images and share them on social media.
Those can be your starting point. From there, run advertisements, gift products to influencers, run giveaways, and more to build a real organic presence online. Over time, you may find that a vast portion of your customer base comes from Instagram, Facebook, and other social media sites.
Remember that, with social media, the trick is to keep people engaged. You want to post consistently and create engagement. Always keep your audience excited about what's to come. Drop hints, release teaser videos, and have countdowns for any event. Hype is the name of the game.
You can even sell directly to followers with direct integrations such as Instagram Shopping. The sky is the limit, so don't be afraid to have fun with it.
Partner with Other Brands
Never hesitate to reach out to other brands in your space to work out mutually beneficial promotional deals. For example, you may only sell footwear, while a similar boutique may sell ankle bracelets. You could easily run a cross-promotional campaign that combined both of your products.
These relationships can bloom into long-term connections that grow in value with both of your businesses.
Email Marketing
As you grow your audience organically, you will build a larger and larger email list. Make no mistake; each of these subscribers is a potential repeat customer (the best kind of customer!). Once you have a respectable readership, you'll need to send them regularly scheduled, conversion-optimized emails to maintain their interest. A good email marketing strategy can produce a massive portion of your income.
Conclusion
Let's summarize the steps we've covered in starting your online boutique:
Pick a Niche to Target
Draft a Business Plan
Pick Your Name and Domain
Think About Branding
Fulfill Legal Obligations
Choose an eCommerce Platform
Find Reliable Suppliers
Add Products to Your Store
Establish Your Shipping Policy
Start Marketing
If you're willing to put in the time and effort to create a high-quality online boutique, success is absolutely within your reach. While there are no givens in the competitive, no-prisoners world of eCommerce, intelligent decisions coupled with hard work will produce success.
While you should never doubt yourself, always recognize that there is more to learn in this space. When you're your own boss, the world is your oyster. So here's to that oyster producing a beautiful pearl of an online boutique for you.