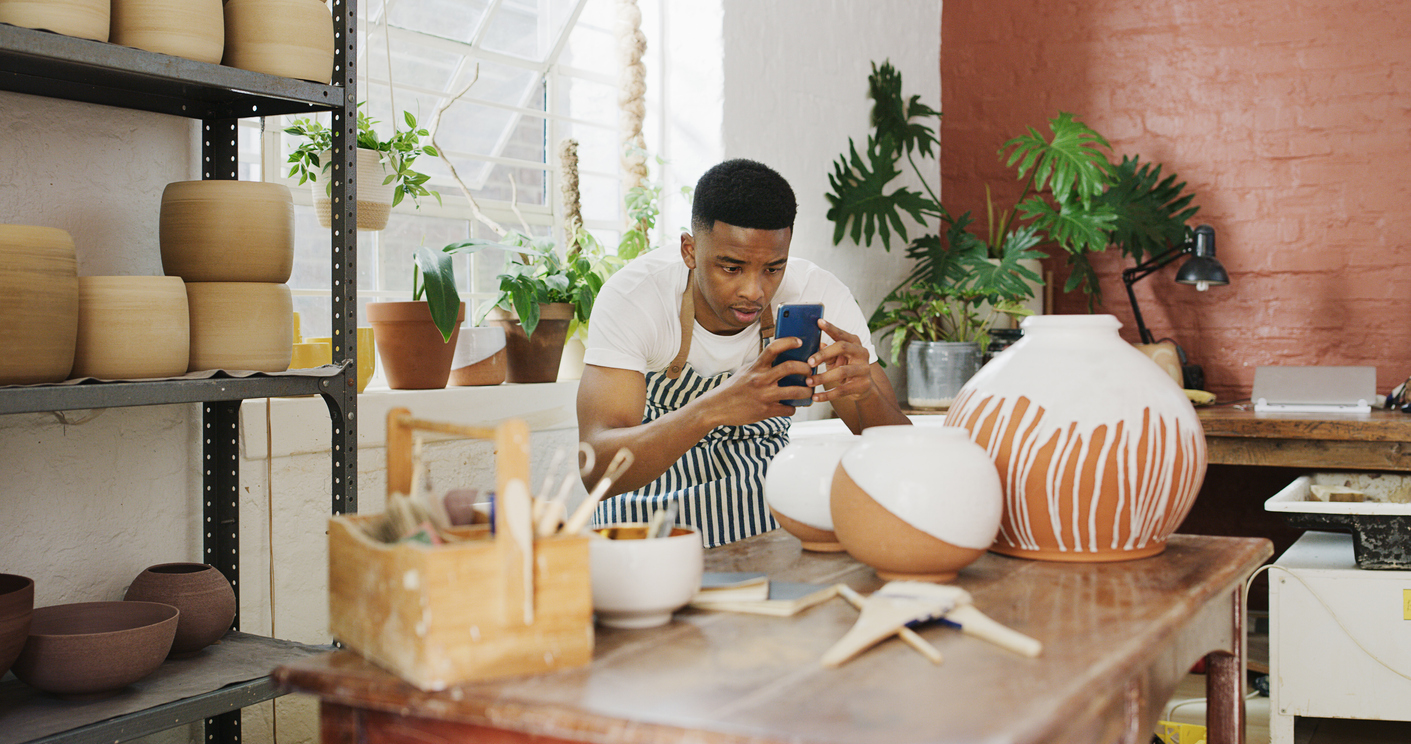 Although setting up an eCommerce store can be an uphill battle — identifying your niche, collecting all the paperwork for registering your business, setting up a website, etc. — that's actually the easy part. You now have to start attracting audiences and keeping your eCommerce store afloat, and that's only possible with a well thought-out marketing plan.
While developing a strategic marketing plan a challenge in and of itself, it becomes even more complicated when your business is only starting to grow and has no room in the budget for expensive marketing campaigns.
The good news is that you don't have to invest almost 12% of your budget in marketing at first. You have plenty of affordable marketing options that won't break your bank. Let's have a look.
1. Focus on boosting website traffic.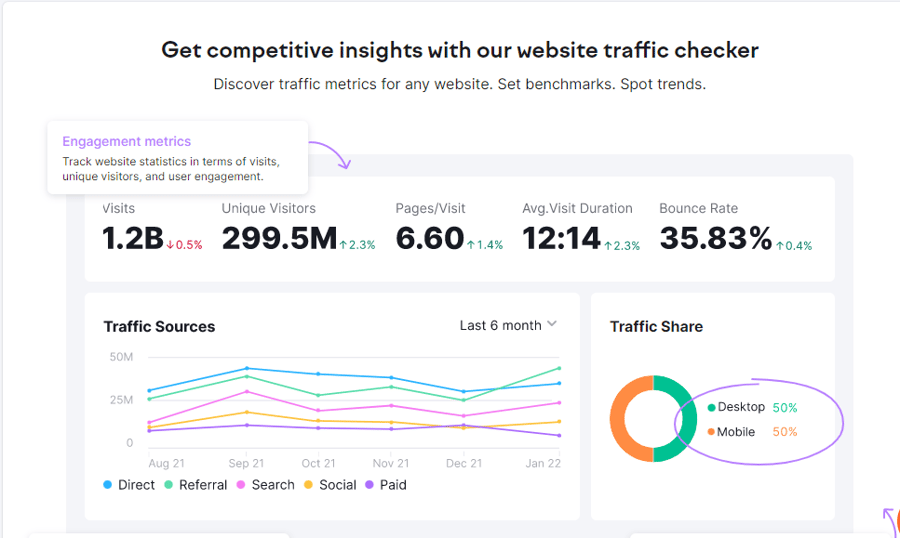 Source: SEMrush
While the ultimate goal of any business is to drive sales, you can't approach your marketing-on-a-budget strategy with this objective. Initially, you need to prioritize spreading brand awareness and boosting your website traffic. Sales will follow naturally.
Therefore, start analyzing your visitors instead of focusing on how much you're spending on your Pay-Per-Click (PPC) campaigns, or how many sales you make in a day. Which of your pages attract the most traffic? Which ones are the worst performers? What can you do to attract a higher number of visitors?
Many of the following affordable marketing tips are designed primarily to help you boost traffic and spread brand awareness. Once you improve sales using them and ensure a reliable revenue stream, you can start developing more marketing- and sales-oriented campaigns - since you'll have the budget for these.
2. Build up your email list.
With the clear goal of boosting traffic, you can start putting in the effort to market your new eCommerce store. The first step is setting up an email marketing strategy.
Email marketing has an excellent return on investment (ROI), earning an average of $42 for every $1 spent. However, if you want to improve your ROI, you first have to start with building your email list.
Some of the best ways to do so are through:
Gated Content
Gated content is only available to website visitors who give you their information (i.e., email addresses). This type of content is often of higher quality, like statistics, eBooks, and webinars. It's a good idea to present some non-gated content first, as it can give your site visitors a taste of what you have to offer.
Exclusive Notifications
Offering exclusive notifications is a great way to incentivize your visitors to leave their email addresses. You can send notifications when an item is back in stock or when you introduce new limited-time products.
Newsletters
Newsletters can contain any entertaining/helpful piece of information that your target market would be interested in — industry developments, upcoming sales, interviews with relevant experts, and the making of a product, to list just a few examples.
Lead-Capture Forms
These should be simple, straightforward, and concise. Offer lead capture forms in site pop-ups, on product pages, or even on your order completion pages.
Discount Offers and Giveaways
Your leads will only give out their valuable information if they get something valuable in return, and few things are as cherished as great discounts or fantastic giveaways.
Social Media Quizzes
Social media quizzes are fun, interactive, and shareable. Include a lead capture form at the end of your quizzes or offer more detailed quiz results as gated content.
You can build your email list manually or use a cloud-based tool. The best emailing services will provide you with modern templates and ensure that your emails are delivered to your subscribers' main inbox, rather than the spam folder. After all, how will you boost your sales through email marketing if your emails are just collecting dust in your leads' spam folders?
3. Improve your social media presence.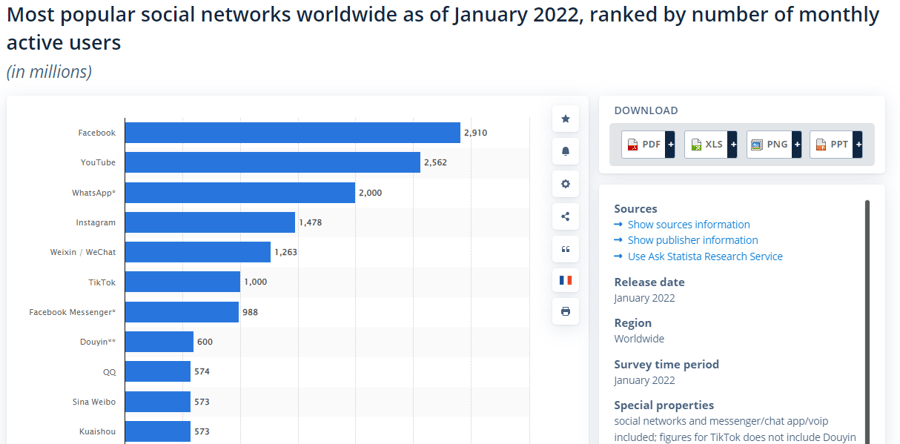 Source: Statista
Creating a social media page for your eCommerce store isn't an option — it's a necessity. With over 3.96 billion users across all platforms, social media gives you a unique way to expand your reach and spread your brand awareness. You don't have to spend a dime to connect with your target markets, share your brand values, or attract new customers.
However, before you make an account on every possible platform, check where your target audiences spend most of their time. Some businesses can use Twitter to drive traffic to their websites, but you won't benefit much from it if that's not your audience's preferred platform.
You can make a relatively accurate guess on where your audience is by analyzing your competitors and assessing your buyer personas.
Share frequent posts
The importance of regular account activity on social media can't be overstated. It's not enough to simply create a few social media profiles and be done with it. Neglecting your accounts seems unprofessional, it makes you look unreliable, and it will only push loyal and prospective customers away.
Therefore, you'll want to stay as active on your chosen platforms as possible. Share frequent posts, updates, images, behind-the-scenes videos, and more.
How frequently you post will depend on the platform and your specific target audience. As a general rule of thumb, make sure that you have at least a few posts a week, but don't go over two or three posts a day as your audience might see that as spamming.
Stay engaged with your followers
Social media gives you a chance to engage with your followers in several different ways — through comments, tags, mentions, and direct messages, to name but a few. Make use of them; this will help you build relationships with your existing customers and make your posts more visible to your target audiences.
To take things a step further, you should consider staying available to your followers for any inquiries on social media and your website. Enable live chat support on your site and remain available on social media 24/7 with simple chatbots that can provide relevant information when you're away from the keyboard.
Invest in social media ads
Although not always cheap, social media ads can help you spread brand awareness quickly. Platforms like Facebook have incredible targeting features that let you specify exactly the type of demographic you're trying to reach.
Your costs will depend on the platform, the type of paid ad you choose to launch, the audience size, and even your specific industry. Still, you'll have to set aside around $300/month for social media marketing when you're starting out.
Don't forget about retargeting
Speaking of paid social media ads, you should consider investing in retargeting. This is a type of campaign that targets social media audiences that have already interacted with your brand. They may have liked your post but haven't started following you, visited your website but haven't made a purchase, or made a purchase a while ago and have since stopped interacting with your brand.
Retargeting can be exceptionally effective for increasing conversions and boosting your sales.
4. Dedicate some time to SEO.
Search engine optimization (SEO) helps you rank higher on engines like Google and improves your website visibility. It's the process of making your site more reliable and relevant for your audiences.
Although many factors impact your SEO, some of the best practices to improve it are as follows:
Relevant Content
Content is one of the most critical aspects of SEO. It allows you to use your keywords naturally, establish authority within your niche, improve link building, and enhance the overall user experience (UX).
Metadata
Metadata (or data about data) helps search engines understand what your content is about and increases your chances of ranking higher and improving your site visibility.
Page Loading Time
Optimizing your page loading time improves your site's overall UX and boosts your visibility. If your site is too slow, try reducing redirects, caching your pages, removing unnecessary clutter from your pages, or better yet — upgrading to a faster server.
Optimized Images
Images can use site resources that slow page loading time. Make sure that you're using the correct format, compress them to reduce file size without compromising quality, and add HTML attributes such as alt tags.
Backlinks
Having other websites link back to yours, and your site link back to others increases your website authority and makes you seem more reliable (something that search engines prioritize).
Keep in mind that SEO is a marathon, not a race. Unlike PPC campaigns, it will not offer immediate results. It will help you build organic traffic over time and improve your site's performance in the long run.
5. Start creating relevant content.
You've probably heard it time and time again — content is king. It helps you build rapport with your audiences, improves your SEO, allows you to build authority within your niche, and helps you engage with your site visitors. However, it will only do those things if it's relevant and high-quality.
Therefore, you'll first need to find out what your site visitors want to see. Google Analytics, customer personas, and a bit of competitor research can tell you all you need to know about the content you're going to make.
Still, regardless of the "topic," you'll need to diversify your content and present it in a few different formats:
Blog posts
FAQs
Tutorial videos
Reviews
Use cases
Podcasts
Infographics
Quizzes
Staying on top of content can be a challenge, so make sure you have a scaling strategy in place before you get started.
6. Join forums and online communities.
Forums and online communities are excellent places for connecting with your target audiences. Visit relevant industry websites and head to the comment section, or do a quick Google search for your keyword + "forum" to find your audiences. Then, join discussions.
Offer relevant information, answer questions, or provide helpful tips to those who ask for them. Ideally, add a link to your website where someone could find more information. However, don't be too promotional. Your goal should be to offer assistance to those who need it — if that happens to lead to better website traffic and more sales, excellent. If it doesn't, you'll still be building up your reputation, which will help you in the long run.
7. Look for influencers in your niche.
The influencer marketing industry is vast, so you should have no trouble connecting with influencers relevant to your niche. To keep your costs low and ensure better campaign performance, you'll want to look for micro-influencers with between 1,000 and 100,000 followers.
As a general rule of thumb, they'll have the best engagement rates with their followers, and they'll inspire more trust and loyalty than those who have a much broader reach.
Since they're still making a name for themselves, they're more likely to agree to brand partnerships that get them free products in return for promotions.
8. Search for complementary brands.
Partnering with complementary brands is another excellent option for new eCommerce stores on a strict marketing budget. Here's how these partnerships usually work – each brand promotes the other to their audiences through collaboration videos, blog posts, guest posts, social media mentions, etc. They're mutually beneficial as they help each business expand its reach and connect with broader audiences.
All you have to do is make sure that you partner with complementary brands, not competitors. If you sell pet clothes on your eCommerce site, you could partner with veterinarians or pet food sellers, and if you sell fashion dresses, partner with those who make shoes or accessories.
9. Offer customer loyalty programs.
Customer loyalty programs can incentivize your existing customers to come back and become your brand ambassadors. They improve word-of-mouth marketing, encourage repeat buyers, build your reputation, and ultimately help you make more sales.
However, don't make the mistake of rewarding only the new customers with your loyalty programs. Too many brands offer excellent discounts for joining a program, but not enough for staying in it. Ensure that your loyalty programs are the most rewarding for the most loyal customers.
Final thoughts
Marketing a new eCommerce store on a budget is no easy task. While you can definitely save money, you need to be prepared for a significant time commitment.
The good news is that these affordable marketing efforts often prove to be the most effective in the long run as they prioritize building your reputation, improving your relationship with existing customers, and offering quality above all. Just make sure not to forget these marketing tactics once your marketing budget increases.