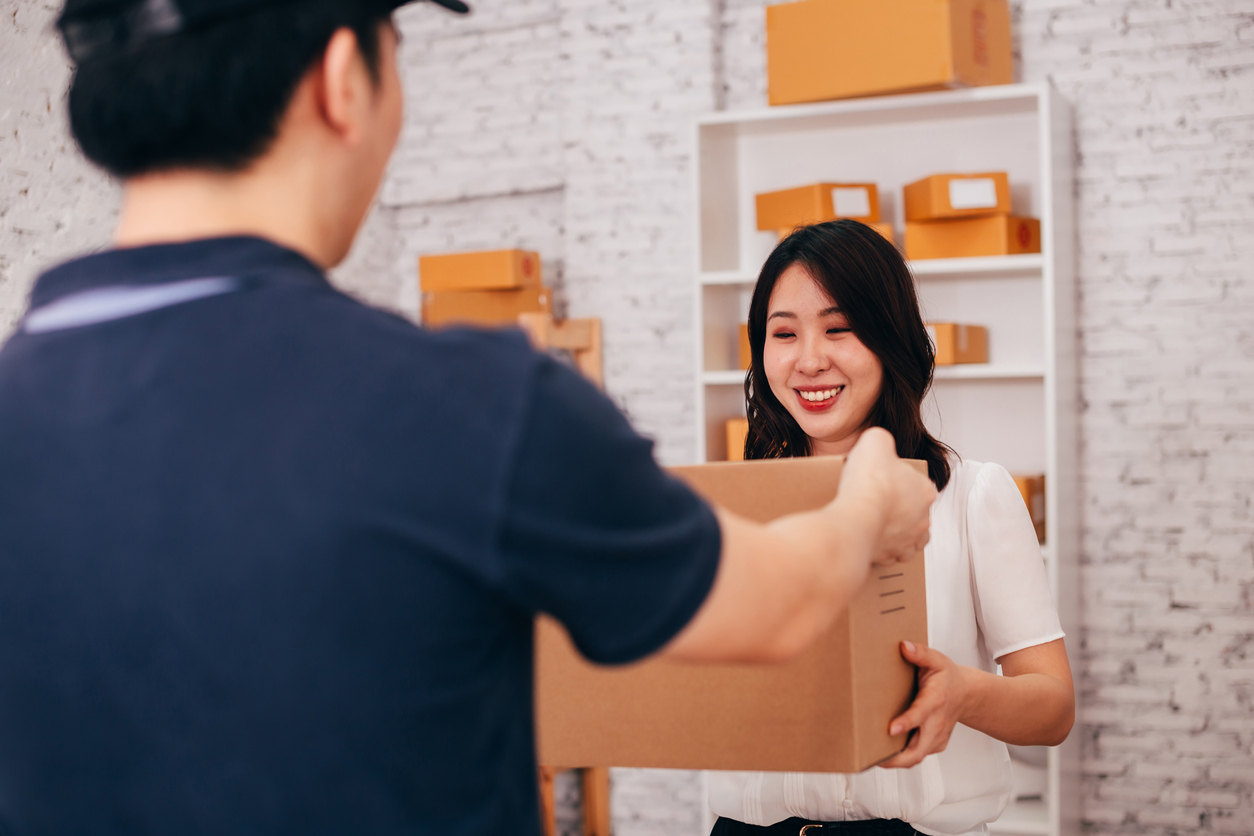 Smart business owners are always looking for ways to improve the services they offer their customers, and for tools to help them adjust their business model to match their own vision. Customers always appreciate having more options, and if you can provide them without significantly adding to your workload, it's a winning situation for everyone. One eCommerce feature with this potential is in-store pickup, the practice of allowing the customer to pick up their online purchase from your location rather than having you ship it to them.
In this article, we'll discuss why you might want to use in-store pickup for your business and how to make the experience smooth for both you and your customers. We'll also explain how to set it up in your online store.
Ways to Use In-Store Pickup (and Why Customers Want It)
Customers who prefer in-store pickup view it as more convenient for them than other methods of obtaining their purchase. This relates to the two different ways to use in-store pickup: as an alternative to spending time shopping, and as an alternative to shipping.
In-Store Pickup as an Alternative to Shopping
Some retailers are mainly focused on their brick-and-mortar store (or stores). Businesses like these are primarily known for physical locations where customers can browse and shop in a traditional retail environment, but have expanded into eCommerce to allow customers to order online. While some businesses following this model will use the entire typical eCommerce process to fulfill their orders (e.g. shipping them out and keeping their brick-and-mortar locations essentially uninvolved in their eCommerce sales), others offer in-store pickup for online orders.
In this situation, a customer can find the item they're looking for on the business's online store, purchase it, and select the option for in-store pickup at their chosen location. As soon as their order is complete, employees at the location will set aside their purchase for pickup. This allows the customer to save the time they'd spend in the store looking for their item, as they can simply order online and then grab it while running other errands. Many people love the chance to shorten a planned shopping trip, and being able to limit the time spent in public places has become crucial with 2020's COVID-19 pandemic — many businesses have only been able to remain operational by transitioning to online ordering with curbside pickup.
There are other reasons a customer will appreciate being able to order online and then pick up their purchase: for example, a customer in search of a specific product may discover you only have one of the item in stock. The customer wants this item today, and already plans to head out to buy it, but wants to ensure nobody else gets it during the time it takes them to get to your store. Letting them purchase it online for in-store pickup is the perfect solution. Businesses also usually consider this better than having a customer call them and ask to reserve the item for them at the register — all too often, the customer never shows up to buy a reserved item, but with in-store pickup, they've already paid for it.
As we mentioned, some brick-and-mortar retailers offer in-store pickup alongside regular shipping options on their eCommerce websites, but it's perfectly valid for an online store to offer in-store pickup only. This is a great way for a small business to increase convenience for its customers even if it has no intention of selling online to a wider audience. In fact, many offline businesses went online for this exact purpose during the COVID pandemic — they created online stores as a shopping substitute for their usual customers, with in-store pickup, but had no plans to expand into regular eCommerce.
For businesses with multiple locations, it's up to the business whether they only offer in-store pickup at the location that already has the item, or if they're willing to ship it between stores for the customer to pick up. Many choose the former, as it avoids shipping an order altogether, and keeps the process simpler.
In-Store Pickup as an Alternative to Shipping
Businesses that are primarily focused on eCommerce may want to offer in-store pickup as an alternative to shipping orders via the traditional method. An actual brick-and-mortar store isn't necessary for this, but you do need a reasonable location for customers to arrive and pick up their order (e.g. a decent place to park, and if you have a large warehouse, a specified area for order pickup).
Local customers tend to love it when an eCommerce business offers in-store pickup. Since online shopping is an international phenomenon, it can also feel quite impersonal. Offering in-store pickup can make local customers feel appreciated and recognized, despite your business possibly serving the entire country.
It also helps alleviate a common source of frustration: a customer searches online for a product and discovers your online store, and by coincidence, they live nearby. However, they discover that they'll have to wait for shipping like everyone else, meaning they'll still need to wait a few days for their order. The customer will naturally think "But I'm in the same city! Why can't I just go get it?" By offering in-store pickup, you're directly addressing the desires of this type of customer, and you may win them over for life!
Some customers will always prefer in-store pickup to shipping, as long as it's an option for them. Like our example above, some of them simply don't want to wait. Others will choose it to avoid the risks inherent in shipping, like possible damage to the item in transit. Some simply don't want to deal with receiving a package, whether due to an unsafe neighborhood or another reason like wanting to ensure they can collect it in person. (In this case, FedEx Hold at Location is another useful option — it lets customers specify a secure location to receive their package and then pick it up with valid identification).
Keys to a Reliable In-Store Pickup Feature
Regardless of your business model, or your reasons for implementing in-store pickup, there are some considerations you need to make to ensure the process works smoothly for both you and your customers.
Provide enough information for the customer. Customers will need to know your business hours, address, and all other pertinent information (like which door to approach, if your location's layout is at all confusing). Make sure you provide this information.
Let them select the location for pickup. If you have multiple locations, with a product in stock at each of them, give the customer an easy way to choose the one closest to them.
Help the customer eliminate mistakes. The last thing you want is to need to contact the customer to straighten something out about their order. With in-store pickup, the most common error is to accidentally "allow" pickup for a product that doesn't qualify for it. This usually happens when a customer orders multiple products with some available for pickup and some that aren't. Display a message to them when this happens, to inform them that they'll need to separate their pickup items and their shipped items into separate orders.
How Shift4Shop's In-Store Pickup Feature Works
Shift4Shop has a built-in In-Store Pickup module available automatically for Shift4Shop stores on the free plan. It allows you to quickly set up a detailed in-store pickup option for any product you see fit. It includes several options to help you tailor the in-store pickup experience to match the needs of your business and your customers.
Set locations: You can designate as many pickup locations as you need, specify hours of operation, and provide any other information for the customer.
Choose qualifying products: You can set any product to be available for pickup only, shipping only, or both pickup and shipping.
Add pickup details to multiple products: If you need to add pickup availability details to a large number of products, you can upload this setting via CSV file instead of setting it manually on each product. You can also export a CSV file with the same details, if you should ever need it.
Customize the messaging for your customers: You can easily change the specific wording of default messages (such as "In-store pickup only") within the Store Language section of your Shift4Shop Online Store Manager.
Restrict pickup and non-pickup orders: If the customer tries to purchase "pickup-only" and "pickup not available" items in the same order, they'll receive a message instructing them to place separate orders.
Phone order compatibility: The Shift4Shop In-Store Pickup module works the same way for phone orders or other manually created orders, so you or your staff can access all these options when creating an order for a customer.
How to Set Up the Shift4Shop In-Store Pickup Module
Setting up the Shift4Shop In-Store Pickup module is easy and intuitive, and you'll be ready to offer in-store pickup to your customers right away. First, ensure that your Shift4Shop account has access to the module; if you have a free plan store, Pro plan store, or higher, it's included free. You also need to be using a Core theme for your store — all themes in the Shift4Shop eCommerce Website Template store are Core themes (and many are free).
Next, you'll need to enable the feature within the Modules section of your Shift4Shop Online Store Manager. You can find it more easily by entering "In-Store Pickup" or simply "Pickup" into the search bar. Click the Enable checkbox, save your change, and then click the Settings button.
Your next step will be to set your pickup locations. Click Add Location and then enter the pertinent details, including a location name, hours, and instructions for the customer. You can also specify an email address at which to be notified when a pickup order comes through for that location. Click Save before you leave this page.
Next, you'll want to add the pickup option to your products. Each product can be configured separately on its Advanced tab. The options include No Pickup Available (selected by default), Available for in-store pickup, and In-store pickup only. If you don't want to set any of these manually, you can do them all at once via CSV file — for detailed instructions, check out our Knowledgebase articles, How do I Import Products via CSV? for a tutorial on using CSV files with Shift4Shop, and How do I Use the In-Store Pickup Module? for specific instructions on adding pickup information.
Once you've set up the module, any product you've marked for in-store pickup will display a message on the product page and QuickView popup specifying that the item is available for pickup. You can edit the wording of this message, and all other messages relating to in-store pickup, by navigating to your Store Language settings.
When a customer checks out, they'll see the in-store pickup option (if their order qualifies) and be able to select their pickup location. The location they select will be copied to the order's shipping information and all shipping costs will be removed. Your Shift4Shop store will also automatically calculate sales tax based on the location the customer selected. When the customer places the order, you'll receive a copy of the order notification at the email address you specified.
Wrapping Up
In-store pickup can be a valuable feature for a business, whether eCommerce is their main focus or they simply want to make shopping faster for local customers. Shift4Shop's built-in module makes this possible without the need for workarounds or third-party plugins. Our goal since 1997 has been to combine all the best eCommerce features into a powerful all-in-one platform, and the In-Store Pickup module is just one of the pieces of this puzzle.
Being able to offer this feature to your customers means more convenience for you as well as for them, since neither will have to deal with shipping — and also lends the feeling of personalized service for your local customers. It's another great tool for growing your business, increasing customer loyalty, and overall helping your brand thrive in a competitive world.