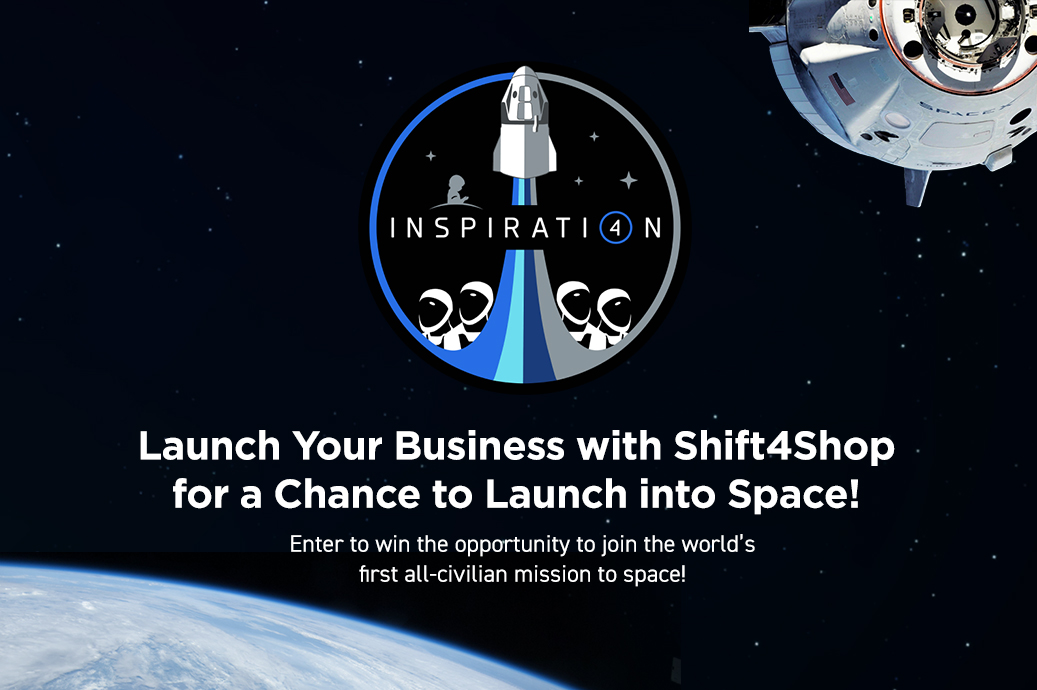 Shift4Shop is making history with four seats on the first civilian mission to space. It's no secret — we made the news in several areas, and you may have seen our Super Bowl commercial. If you're in the United States, you could be eligible to win one of these seats and visit space yourself. But we also want to give you something special just for entering!
There are two ways to enter the contest. One way is to make a donation to St. Jude Children's Research Hospital through the Inspiration4 website. The other way to enter is to create an online store with Shift4Shop using Shift4 Payments, and create an inspirational video about your journey to entrepreneurship. For the next 50 entries in the Shift4Shop category, we're offering a special reward just for participating.
Get a Free Limited-Edition Inspiration4 Shirt
The next 50 contest entries who get started on their Shift4Shop store and approval by Shift4 Payments, and submit an inspirational video, will receive a free, limited-edition Inspiration4 shirt. This classic long-sleeved shirt looks great and is a fantastic way to show your excitement about the contest — and about space travel and what it represents for our future.
If you're still setting up your Shift4Shop eCommerce website, and still in the process of connecting with Shift4 Payments, you can still enter by submitting your video. Your business doesn't have to be successful yet, either; what matters is your potential and your ability to inspire others. Keep in mind that to qualify to win the contest, your store will need to be ready and Shift4 Payments set up, but that's not required at time of entry.
Only the next 50 people to enter the contest will receive the free shirt, so don't wait!
Tips for Creating Your Video
Don't be intimidated by the idea of creating your video for the contest entry. It doesn't need to be professional, just inspiring. All video entries will be judged based on their inspirational qualities, not on technique or polish.
In your video, make sure you discuss your entrepreneurial journey, even if it's just beginning. Talk about your store, your brand, and what you sell. Consider mentioning your motivations for going into business, or any part of your story that could inspire others.
Submitting Your Video
When your video is ready, you need to submit it to the contest entry form for it to be a valid entry. You also need to publish it to Twitter with the hashtag #inspiration4contest and be sure to include your store URL in the tweet.
If you're one of the next 50 people to successfully submit your video, you'll receive a promo code to redeem for your free shirt in the Inspiration4 Shop. It's that simple!
Final Notes
Every business has a story, and we encourage you to tell yours. You never know who you might inspire, and whose lives you may touch, just by sharing your experiences. And now with our Inspiration4 contest, you can win a chance to reach for the stars as well. (Remember that if you do win a seat on the mission and you're unable to accept it, or choose not to, you can give it away — see the Inspiration4 website for restrictions and details.)
But first things first— let's get you decked out in a limited-edition Inspiration4 shirt so you can share your excitement, hope, and love of space travel with the world. Time is short, and only the next 50 participants will qualify for a free shirt, so get your inspirational video to the launch pad and prepare for liftoff!