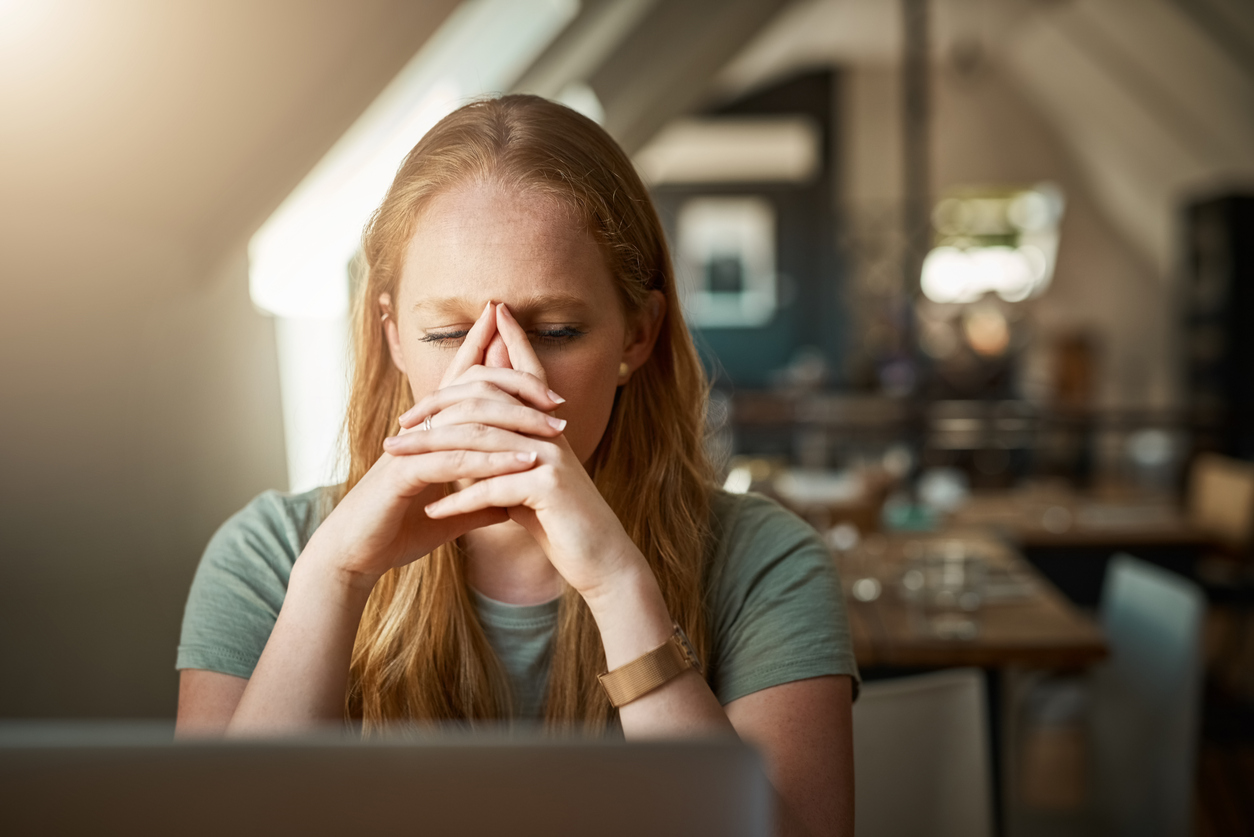 Showcasing interesting eCommerce product images can give your Instagram account visibility. However, if you're new to Instagram and trying to build an eCommerce brand, there's a lot more you can do.
You can begin by avoiding the mistakes of other eCommerce stores, making it easy to skip directly to the good part of positioning your product, defining your audience, creating interesting videos and stories, and working on persuasive product-focused copy.
Creative videos on Instagram can help your audience to understand your brand better, engage with your content, and use some tried and tested strategies to save your video creation time.
In this article, we'll also show you how some eCommerce stores can stand out and let their audience relate to their brand with user-generated content that seamlessly integrates their products and services, tipping prospects to embrace their products without a hard sell.
See more on this and how you can replicate the same for your eCommerce store as we dive into the details.
But before we get there…
Do you need Instagram at all for your eCommerce business?
Instagram as a visual medium allows more significant interaction with your audience. But it may or may not work for your eCommerce store, depending on how you operate.
Not all eCommerce stores are consumer-focused. You have B2B, C2C, and B2G operators to begin with. Some businesses work with multiple SKUs making it easy to build a large Instagram asset library, while others have limited SKUs that may seem like a relatively difficult asset to work with.
Unlike B2C, B2B clients often buy directly from other organizations — this minimizes interaction over third-party platforms like Instagram.
B2G businesses work directly with government bodies, making them a sales-focused business. Auction sites and tax portals are some B2G examples that may not need Instagram for marketing purposes.
But if you operate a B2C or C2C eCommerce business, your customers are actively searching for companies that can cater to them on Instagram. In any case, do not work on an Instagram presence only because everyone else does it.
14 Common Instagram Marketing Mistakes
Having a strategic plan for Instagram is critical. There are a few mistakes to avoid that can save you valuable time and money.
Mistake 1: No proper bio
Get started on the right note by looking at your bio as a sales tool rather than a brief description of yourself and your business. Avoid a descriptive approach. Instead, let your personality shine with custom branding beyond keywords, hashtags, URLs, and CTAs. Use tools like LTX to create a "link in bio" page that showcases your brand, giving people many reasons to learn about you and engage further.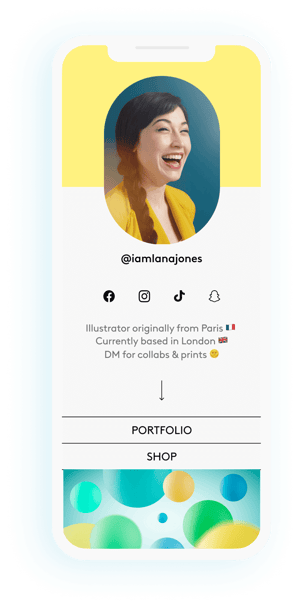 Mistake 2: Not targeted at your customer
Voice of Customer (VoC) is your customer's exact words to describe your business. So, if you want your eCommerce store to resonate with your audience, use customer surveys, online customer reviews, or emails to know how and what they say about your brand.
Chalk out a VoC strategy that lets you use Instagram to its full potential. So answer questions on your products or services transparently, be prompt with Instagram DM queries, organize Q&A and AMA sessions, monitor brand mentions, and try out giveaways to understand the demand for a particular product or service.
Mistake 3: Inconsistent posting strategy
Consistency increases familiarity with a business. If you are a new eCommerce business owner, you should recognize that being visible frequently with predictability allows your users to get used to your message. Staying consistent helps your message align with your sales.
Mistake 4: Not aligned with your online sales
Being present on Instagram means a lot of DMs that are product-related inquiries-depending on your customer demographics. It makes sense to have virtual assistants on shifts to handle inquiries as soon as they are posted conversions drop dramatically if not responded to immediately.
Mistake 5: Chasing the wrong metrics
Randomly posting on Instagram will lead to poor brand recall. And a disorganized feed will only create clutter in your prospects' minds, making them leave your page before you can showcase your products.
Chasing likes is a wrong metric since it does not reflect your message's relevance to your target audience. You could use all the hashtags in your industry, but they will clog your reader's timeline instead of adding value.
Tracking popular questions and positioning your products as a solution is easy when you're consistently posting at a specific time. This way, you're not actively pushing your products. Instead, you're creating an opportunity for your prospects to know you care about their problems and position your products well.
Mistake 6: Excessive Reels
Reels are short videos posted to Instagram, similar to the style of video that TikTok has popularized. Packing too many things into one Reel makes it difficult for the reader to gauge your message quickly, prompting them to move on to the next one. Instead, try to have one message that connects to a specific user pain point and how you can help.
Identify the best light conditions since Instagram recommends videos with a good quality resolution, adequate lighting, and relevant messaging.
Another factor to avoid is using excessive text. Try including only a minimal amount of text in your Reels. Videos with an audio track, pixel understanding, and whole frames are preferred over other reels. Making them a part of your Reels allows it greater visibility than those with none of these elements.
Mistake 7: Low-quality content
Ensure you keep it light and share fun facts about your business or a behind-the-scenes view of your product or service using VoC and brand guidelines. This way, you humanize your brand, making it easy to build engagement.
Missing out on user-generated content alienates your users from your message. When you use user-generated content in Instagram Stories, for example, you can feature reposts from other users, adding authenticity and credibility to your brand.
Mistake 8: Not defining your audience well
As a new business owner, position your business by defining your audience on Instagram. To do this, understand the right demographic age, location, and other details that can help reach your target audience. Then tailor your content to your target audience. Use Instagram Insights to track your performance. Use @mentions for large accounts authentically — this way, it's easy to reach a larger audience that's similar to your own.
Mistake 9: Exaggerated product claims
Use product photos or personal branding photos shot in good light conditions. This portrays your eCommerce business well and also communicates that it cares about delivering good quality service or product to the user. Remember to use product descriptions that don't over-promise and under-deliver. Instead, focus on product copy so that you're accurately describing what someone receives once they decide to buy something from your store.
Mistake 10: Not creating persuasive content
Narrow your focus on improving your product-focused copy by using psychology-based principles. Pick the top benefit-focused approach to turn casual users into active shoppers. Keep them engaged by using sensory words that connect with a wide range of users in different ways. This way, your message is aligned to tap into the user's mind and prime them for future sales.
Mistake 11: No clear objective for your videos
Putting together Instagram videos can get you a particular set of followers, but it is unlikely to turn them into buyers since they are not your intended audience. Without clear goals, you will spend a lot of time and money on inconsistent results that don't increase sales.
Instead, come up with a clear plan for each video. Decide on the end goal of either gaining followers, sharing product information, or sneak previews that create excitement. Once your end goal is clear, remember to repurpose it.
Mistake 12: Not repurposing your content
If you're not repurposing your videos, you're losing the opportunity to reach out to a new audience and spending a lot of time starting from scratch every time. Instead, repurpose your videos so your content is reshared differently.
Use YouTube videos on IGTV. Resize it according to the platform using relevant tools, and you're ready to repurpose content quickly. Consider tweaking your message, if need be, to tailor your video to the new audience.
Mistake 13: Missing video captions
Video captions are often ignored, but the most helpful asset. It allows people to watch videos in a sound-sensitive environment, making it easy to consume the content. It also attracts an audience that's not familiar with your language.
Mistake 14: Not engaging with your audience
Ignoring messages on your posts can make your audience feel let down. A non-responsive poster also signals that you're not open to interacting with your audience, letting them switch to a competitor who could drive more engagement.
Examples of Instagram Marketing Done Right
Many eCommerce businesses are using Instagram to their advantage. They actively put out engaging educational, inspirational, and informative content that keeps users coming back for more. It's also one reason for their immense popularity on Instagram.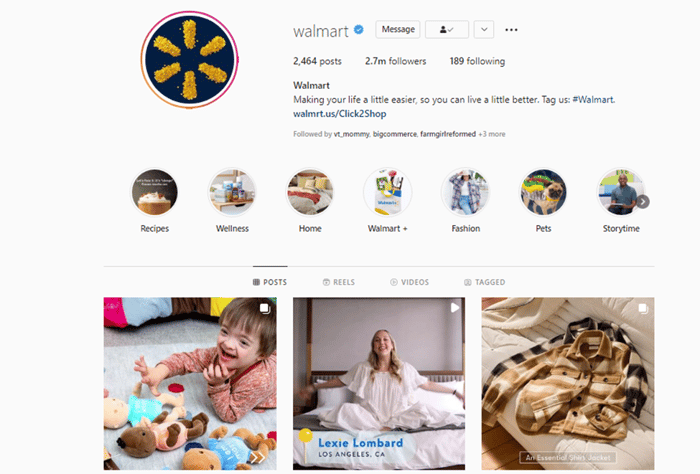 Source: @Walmart on Instagram
Walmart caters to all people interested in food, wellness, fashion, pets, and kids. In short, they cater to the masses by keeping their feed fresh with relevant content that lives up to its core offering in its bio – making life easier and better.
As a new business owner, you can pick a few tips from their captions that beautifully tie in their customers and products by using value-driven posts. Their inspirational and seasonal posts are also excellent examples of using user-focused content to generate sales.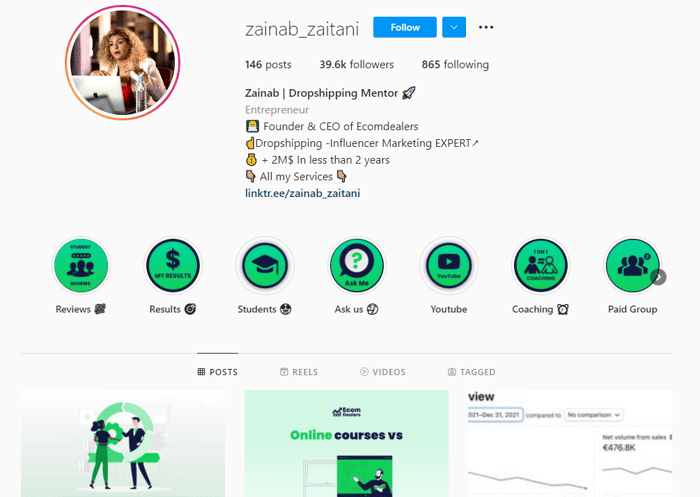 Source: @zainab_zaitani on Instagram
As a single business owner, if you feel overwhelmed at the kind of content you need to create, then Zainab Zaitani is an excellent source to watch out for. As a dropshipping influencer, she has gained a sizable following and presents content from different angles — all focused on eCommerce business owners. Her posts are filled with ways to grow your eCommerce store and how you can add value to your clients with focused content.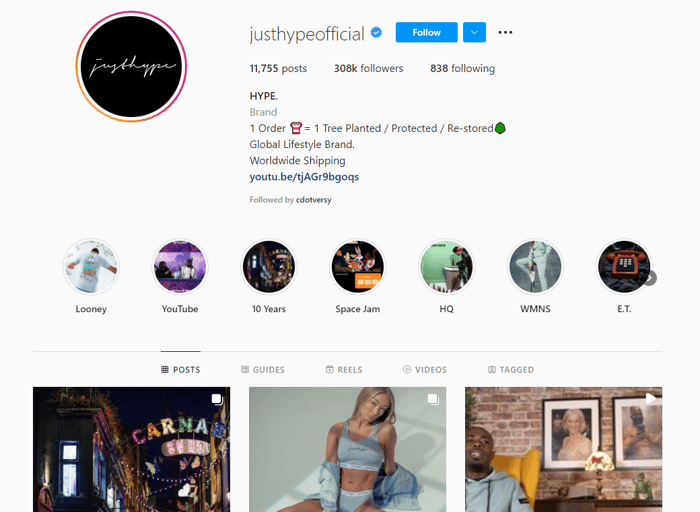 Source: @justhypeofficial on Instagram
This street-style fashion brand keeps its followers entertained with a light and humorous take on ongoing events. They also use current topics to keep the conversation going. Their feed has enough new arrivals and product information that keeps users excited and coming back for more. They also have giveaways that tie in with major special events that generate interest in their product line.
Final Thoughts
As you begin your journey on Instagram, you're going to try out all the new and trending topics to gain visibility quickly. But before you go ahead, stop and note the popular mistakes of other business owners.
First, avoid using Instagram just because other eCommerce businesses use it. Identify your audience and avoid using a descriptive bio; use VoC to connect with your customers. Be consistent with your messaging, and remember to naturally tie it to your sales.
Avoid basic posting mistakes and prioritize targeted prospects over follower count and likes. It's easy to build trust and credibility when you align your story and Reels to be authentic and share user-generated content.
And when you focus on repurposing videos, using psychology in your copy, and compelling videos content, it's easy to create a following and authentically relate with your prospects using value-driven inspiring, educational, informative content in your feed to prime them for purchase.