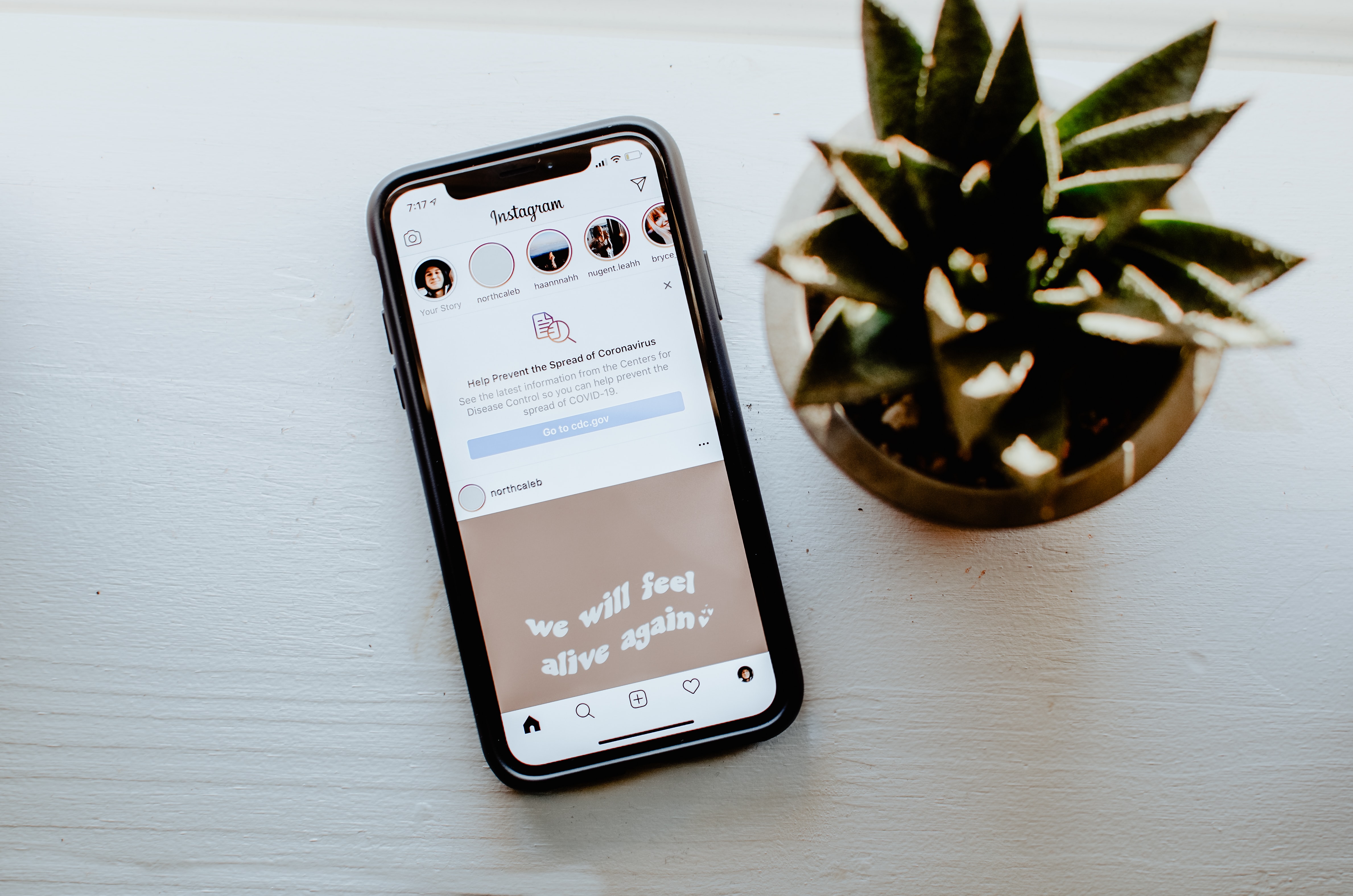 Back in 2010, when the first photo was posted on Instagram, it was difficult to predict the growing popularity of this platform. Today, its community has over one billion monthly active users and 90% of them follow at least one business in-app. What's more, 70% of Instagrammers use this platform for product discovery, so it has great sales potential for eCommerce businesses.
Doubtless, Instagram has evolved from a photo-sharing app to a powerful marketing tool and it is now one of the most popular social media platforms. With 25 million businesses who show off and promote their products in-app, it's no wonder that businesses seek out new creative ways to hook the attention of their target audience and sell products. As a result, popular eCommerce businesses make the most out of its short-lived content feature, Instagram Stories, to create a sense of urgency and therefore generate more sales.
In this article, we're going to tell you more about the concept of Instagram Stories, explain why eCommerce brands should lay a bet on ephemeral content when promoting goods on Instagram, and provide you with six best ways to use Instagram Stories for more sales as well as show examples from popular eCommerce brands.
Let's dive in!
The Concept of Instagram Stories
First, let's speak about the concept of Instagram Stories. It's a type of short-lived content that allows users to upload photos or videos that appear at the top of your feed and vanishes after 24 hours.
The history of this feature dates back to 2013 when Snapchat was the first to launch its "My Story" feature. It gained popularity among young users so other social media platforms like Instagram jumped on the bandwagon to create a similar feature for its users.
Three years later, in 2016, Instagram copied this idea and introduced its version of ephemeral content feature — Instagram Stories — and it became extremely popular among users. The time spent on Instagram has grown from 15 minutes to 32 minutes a day.
For now, Instagram Stories has 2.5x more users than Snapchat's Stories as over 500 million daily active users create or watch stories daily: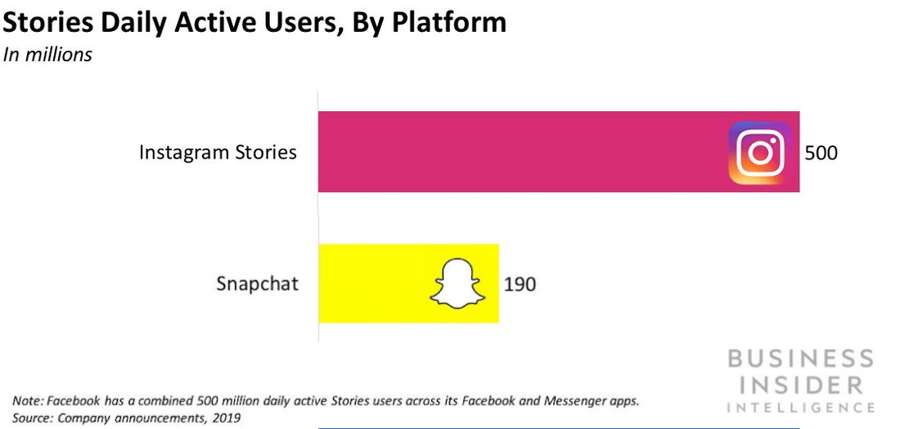 As you can see, Instagram users are in love with this feature, so Instagram rolls out business-friendly features for IG Stories to make it easier for customers and brands to interact with each other via ephemeral content.
Why Use Instagram Stories for eCommerce
Although it seems that creating content that vanishes within 24 hours is a waste of time, more and more brands see the importance of Instagram Stories for business promotion.
According to Business Instagram, 50% of businesses publish at least one story a month, businesses create ⅓ of the most viewed Instagram Stories, and 96% of US marketers want to continue using Stories ads.
If you want to build an online store and get more sales, use Instagram Stories for eCommerce. This strategy helps you achieve the following goals:
Hook your audience: Instagram Stories are extremely popular among the community (500 million users) and the number of Instagram Story users is constantly growing. Since users create or watch Stories daily, it allows your eCommerce brand to hook your audience and interact with potential customers.
Encourage impulse buying: 98% of website visitors leave your site without buying. With a short lifespan, Instagram Stories attract more users who are afraid of missing out on something important. This also encourages users to take action after seeing your product or offer. As a result, customers are more likely to make impulse purchase decisions.
Generate more sales in-app: Product tags and clickable links are several business-friendly features for eCommerce businesses who use Instagram Stories. These features allow interested users learn more about your featured products or even buy them in-app which improves customer experience and therefore helps to generate more sales.
The bottom line? If you use Instagram for eCommerce, make Instagram Stories a part of Instagram marketing strategy. Now that you know the importance of Instagram Stories for eCommerce, let's take a look at six best ways to generate more sales with this short-lived content.
How to Generate More Sales with Instagram Stories
1. Show Off Your Product
When it comes to Instagram Shopping, customers can't physically try out or test products. Thus, it's important to tell your followers and visitors more about your products and show them off from different perspectives and therefore encourage them to give your products a try.
Here are several ways to do it:
Showcase the variety of products
If you know your target audience well, that's great. This allows you to create products they find useful. However, all customers are different, so it can be daunting to meet customers' expectations.
The solution? Have a variety of products! The more products you have, the more potential customers you can attract.
If you use Instagram Stories for eCommerce, you can showcase your products without clogging the main feed up with content. Let's take Lacoste, for example. The company used Instagram Stories to show its main products of a new collection which helped customers find something interesting.

Announce a product launch
No matter how good your products are, loyal customers are also looking for new products from brands they love and support. To surprise your loyal customers or acquire new consumers, launching a new product is a proven way to generate more sales.
Once you know more about the launch date, it's a good idea to inform your Instagram followers and therefore build anticipation for the product.
Before publishing Instagram Stories, think about product promotion. For instance, you can generate a brand hashtag that describes your new product and post Stories with it. Not only does it allow you to sort and group relevant stories, but it can also attract more potential customers who are interested in your product launch.
Want to reach more people? Create an Instagram post with the information about the product launch and share it from the feed to stories, just like H&M did it in the example below: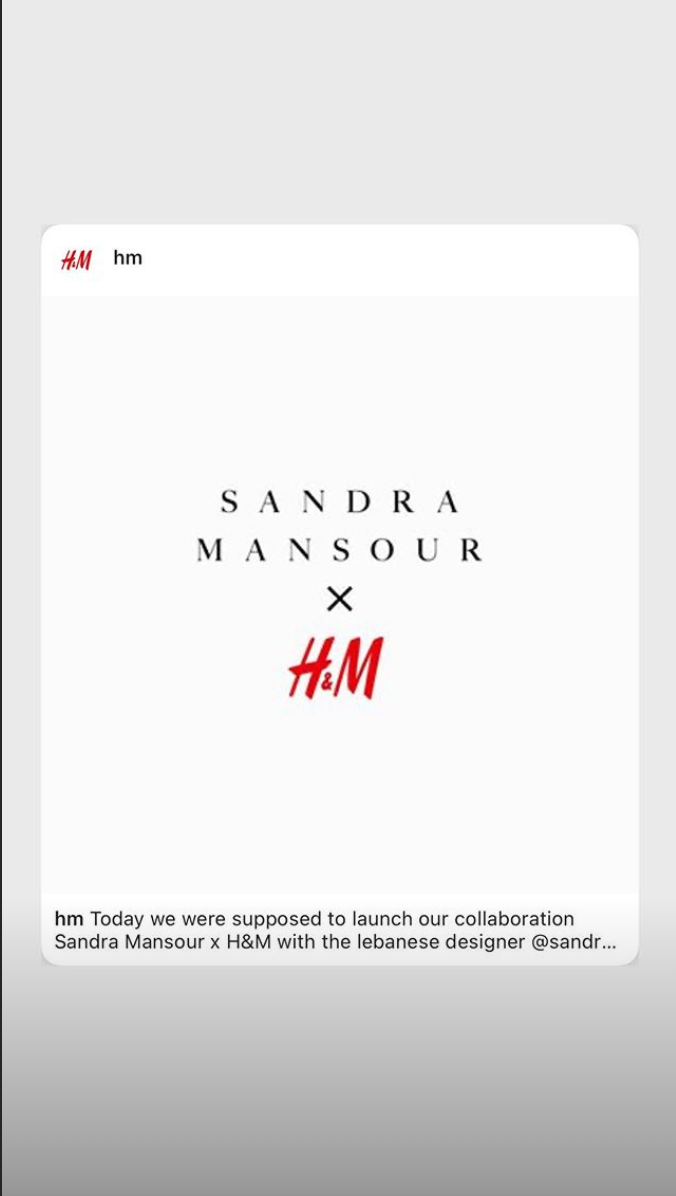 If you don't have product photos of your new collection, you can still use relevant stock photos and add text on them to spark interest in your collection without showing it off before the launch.
Create Highlight albums
Good news for marketers who value their time and effort. With Instagram Stories Highlights, you can make some of your best stories permanent. This means they won't disappear after 24 hours; they will appear under your bio section.
This feature allows eCommerce businesses to group their products and therefore improve the customer journey. Here's how Sephora uses Highlight albums to help visitors find relevant options with ease: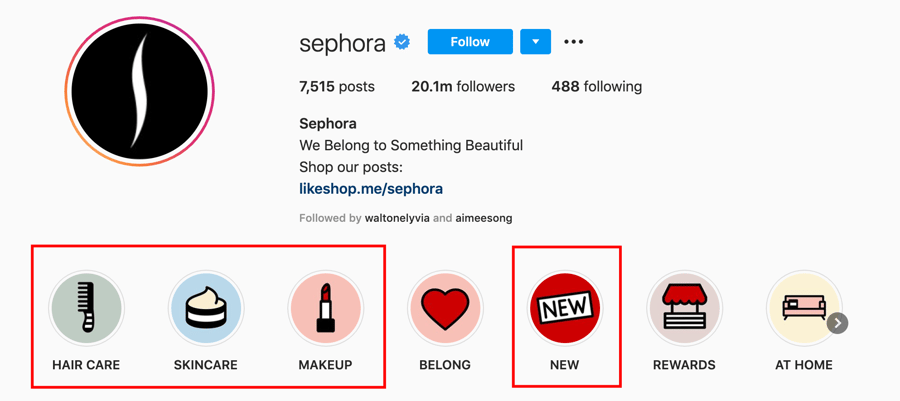 If you want to create similar Highlight album covers that grab the attention of your audience, consider using a graphic design software like VistaCreate that makes it easy for non-designers to make eye-catching visuals with ease. Moreover, it offers a variety of templates so every business can find something that fits their brand identity well.
2. Convince Followers to Buy from You
The number of products is growing, so modern customers face too many options and it's difficult for them to make purchase decisions. Thus, they always buy from brands they trust. With Instagram Stories, you can convince your followers to choose your eCommerce company over your competitors, and here's how to do it:
Publish user-generated content
Today, 92% of people seek out peer recommendations, so customers pay close attention to brands their friends choose. If you have loyal customers, it's high time to encourage them to share user-generated photos with you and therefore provide potential customers with social proof.
Let's take Lulus, for example. The company uses its bio section to tell visitors how to tag UGC photos and get an opportunity to win a $250 gift certificate: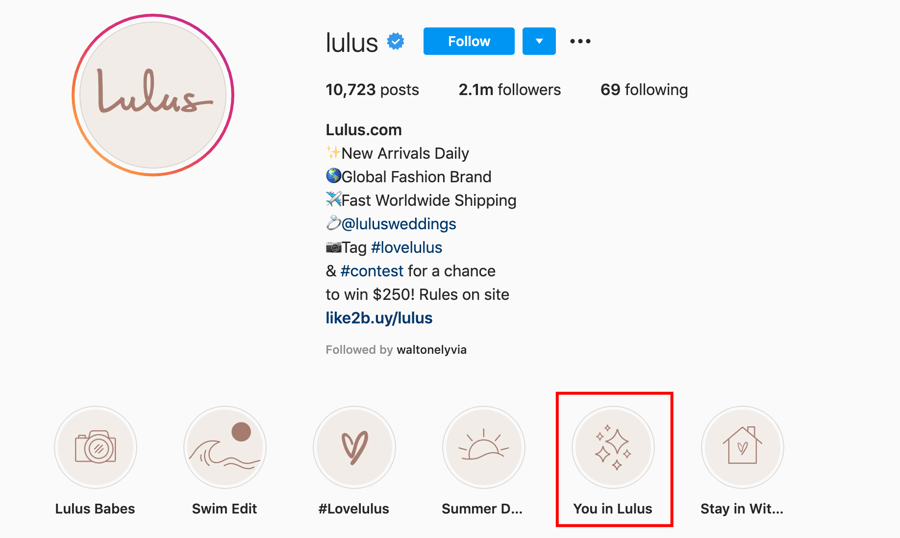 Moreover, you can create a separate Highlights album dedicated to your customers and repost their photos with a tag. Not only does it show the popularity of your company within your customer base, but it also helps to increase brand loyalty and trust as featured customers feel valued and motivated to take more photos of your product in action.
Feature customer reviews
Customer reviews have become extremely useful for consumers as 82% of people read online reviews before buying from a brand. Why? Reading authentic reviews gives potential customers an opportunity to understand whether your product can fit their needs and wants.
If your customers are open to sharing their feedback with you, that's great. It allows you to turn their thoughts into customer reviews and feature them via Instagram Stories so that other people can understand more about your product. Here's how Clek uses stories to publish customer reviews: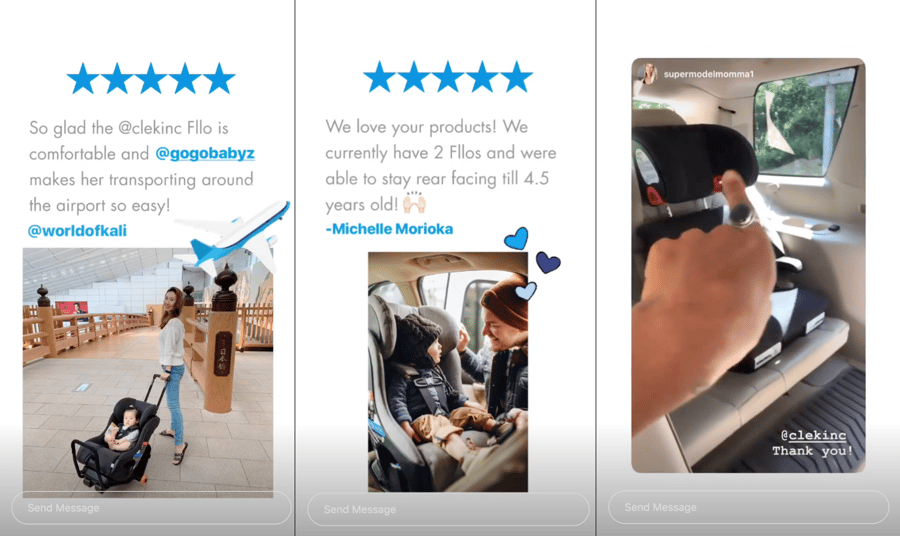 To get more customer reviews, you can use a valid email finder to find your customers' contact information and reach out to them asking for a review in exchange for customer incentives like discounts or brand freebies.
Feature Frequently Asked Questions
Having a good product isn't enough to acquire new customers. It's also important to assure customers that your product can solve their pain points. Thus, get ready to answer various questions about your product.
Want to do it fast? Use chatbot platforms to collect customer questions and prepare the list of FAQs to feature them via Instagram Stories.
Why? 70% of Instagrammers use the platform for product discovery, so it's easier for customers to analyze your profiles and make the final decision whether they want to buy from you or not. If you feature FAQ via Instagram Stories, you can reduce the number of Direct Messages from your followers and encourage them to make the purchase decision faster.
Here's an example of this strategy in action from Ulta Beauty: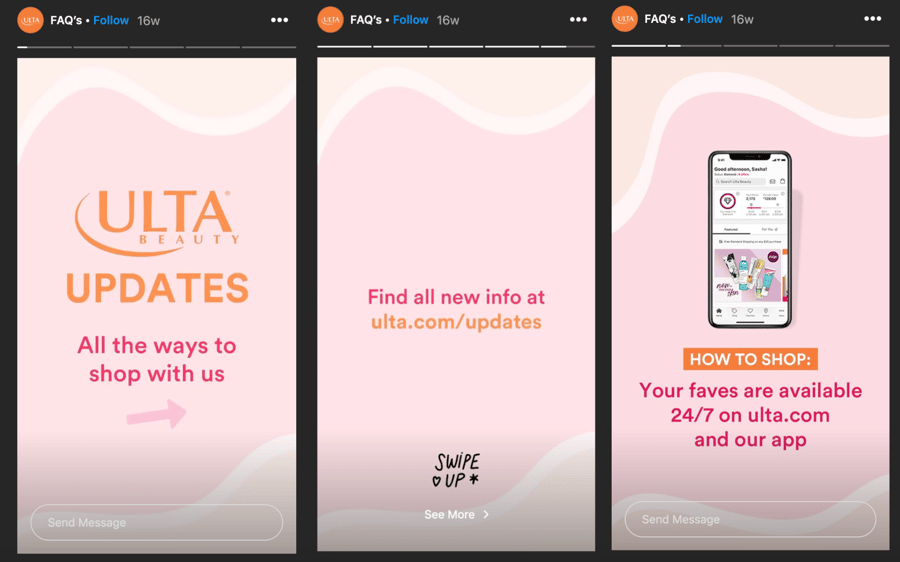 Not only does the company publish questions and answers, but it also explains to followers how to contact their support team for help.
Side note: If your customer support team gets various questions from your customers, it's a good idea to use collaboration software to communicate with all team members with ease and therefore provide people with answers fast.
3. Improve Instagram Shopping Experience
Customer experience matters. If your brand makes a positive impression on your customers during the buyer's journey, they are more likely to trust your company, recommend it to their friends and family, and come back to buy from you again.
To generate sales on the platform, you need to improve Instagram Shopping experience and there are several ways to do it.
Write product descriptions
With a 15-second limit per one Instagram Story, writing a product description seems to be a waste of time. However, it's important to generate more sales. According to one report, missing or having unclear product information leads to 20% of purchase failures.
An example? To introduce its new product line, Hydro Flask created a series of Instagram Stories and included the product image as well as short descriptions. Plus, the company told viewers about the product names, sizes, and benefits: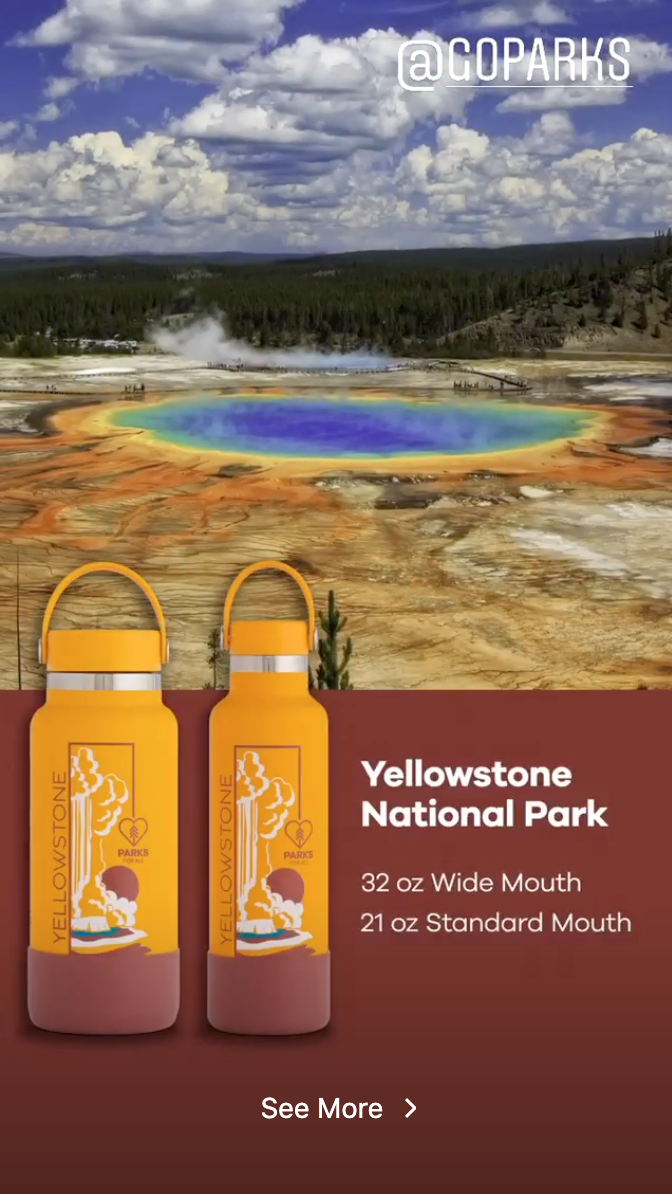 For interested followers, the company included a clickable link that took users to its product page where they could learn more about the featured products or order them on the website without leaving the app. Not only does it help to improve shopping experience, but it also shows that your company protects its customers from credit card fraud.
To get access to the clickable link feature, you need to have over 10k followers or a verified account.
Add product stickers
With the introduction of product stickers in 2019, brands got an opportunity to reach hooked audiences via ephemeral content and sell more products in-app.
Moreover, 130 million people tap on product stickers each month, so Instagrammers are interested in learning more about your products on the platform.
When users tap on product stickers, they can view product description and get redirected to the product page or view the item on the website. Here's how it looks in action: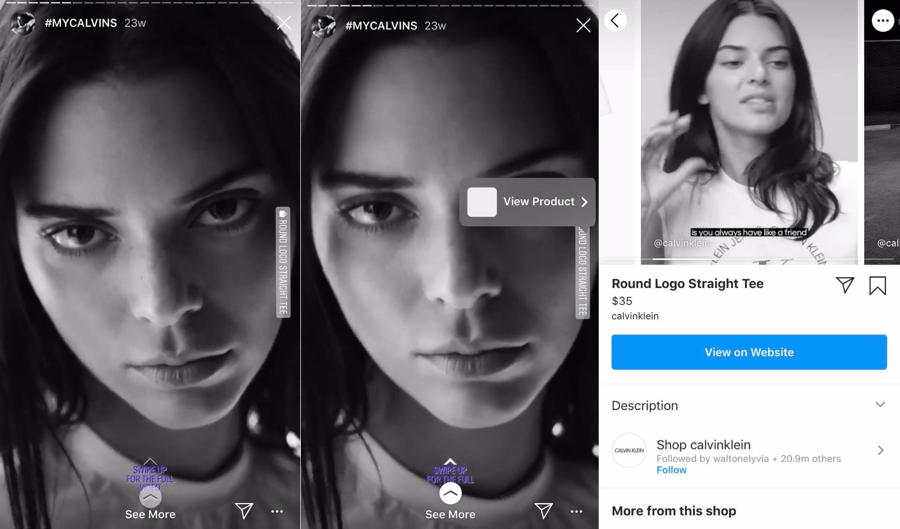 Adding a product sticker is a great way to tell more about your products without adding much information or text on the photo or video. When people can find information about the product description, prices, and get an opportunity to buy products fast, they have better customer experience that encourages them to buy from you.
Include a clickable link
If you have more than 10k followers on your Instagram profile, don't miss an opportunity to include a clickable link to your stories and therefore redirect your viewers to the relevant page on your website.
Want to get more sales? Use Instagram Stories to promote a group of products and link back to the relevant product page on your website where customers can find information and prices about all products. Here's an example from J.Crew: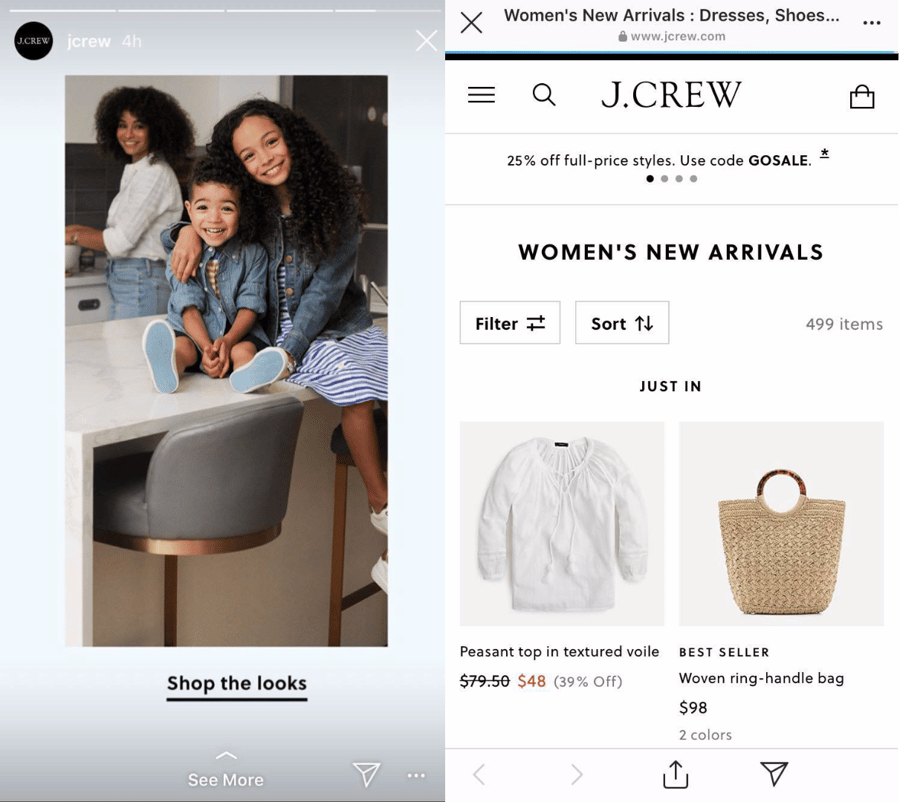 4. Use the Power of FOMO
Instagram Stories vanish within 24 hours, so it creates the FOMO (fear of missing out) effect that motivates customers to take action faster. To use the power of FOMO, consider giving the following ideas a try:
Share Discounts and Time-Limited Offers
Customers love discounts: 40% of people expect to get discounts and exclusive deals from brands they follow on social media. Since discounts are limited in time, they create a sense of urgency and motivate customers to make the most out of these offers fast.
Using Instagram Stories for eCommerce, you can also use this tactic.
When Innisfree USA announced the closure of its shop in Santa Monica, the company decided to offer its customers a 50% sale for a three-day period. Here's how they promoted it via stories: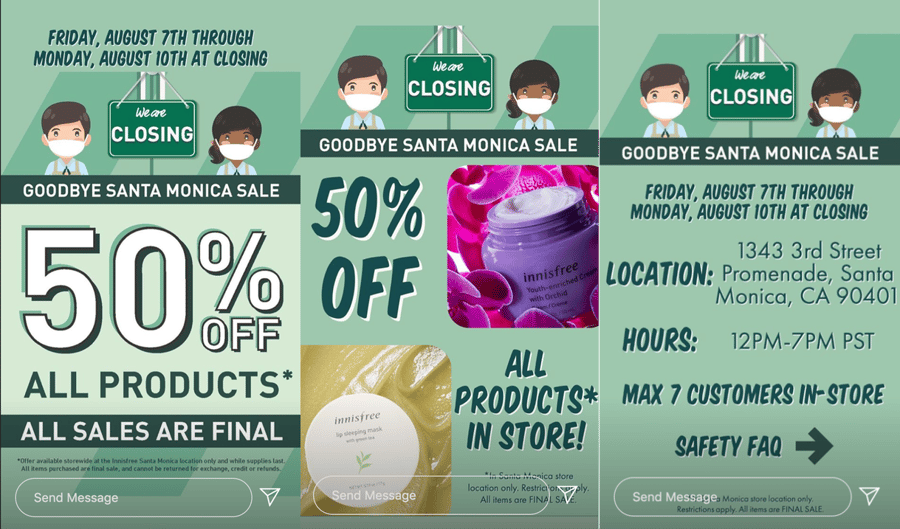 Go live
When someone goes live, it encourages people to join the stream. What is more, going live is a great way to help your customers during the buyer journey as 74% of millennial customers believe live video is helpful when shopping online.
Want to use this tactic? Learn from Cluse and organize a Q&A session with niche experts who can answer customer questions in real-time.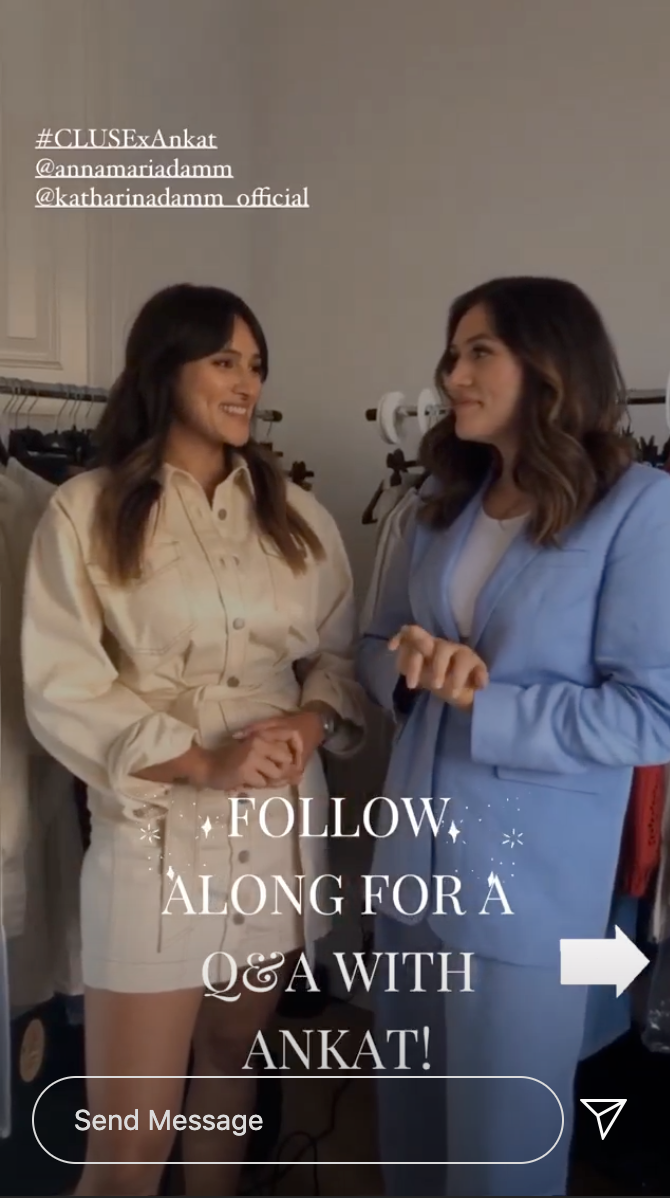 Here are some other ideas on how to use the power of livestream to generate more sales:
Tell followers about your products
Do unboxing
Test out your products
5. Leverage Instagram Influencers
Influencer marketing has become a new form of word-of-mouth marketing that gives brands an opportunity to reach their audience and build brand trust. Instagram is the best platform for brand collaboration as most social media influencers (80%) use this platform for communicating with their followers. To build brand loyalty and trust and increase eCommerce sales, leverage Instagram influencers when creating Instagram Stories.
Here are two main ways to make the most out of influencer marketing:
Turn influencers into brand ambassadors
Influencers are happy to collaborate with brands as it allows them to attract more followers and earn money. For eCommerce brands, this means an opportunity to represent a brand in a positive light if you hire them as brand ambassadors.
For example, you can invite influencers to become the heroes of your collection. It's a great way to attract attention to your brand and encourage opinion leaders to spread the word about your brand on their profiles.
In partnership with different influencers like Xiuhtezcatl Martinez (activist) and Lolo Zouai (singer), Tommy Jeans creates collections and promotes them on its Instagram profile.

Make the most out of influencer collaboration
Instagram influencers come in all sizes and shapes: from nano-influencers with a small but loyal following of under 1000 followers to celebrity influencers with a solid army of fans. This allows your brand to achieve business goals you want.
For example, you can do the following:
Send products for review
Add a clickable link to your product page
Ask for video testimonials or UGC
Collect customer feedback
Here's an example of effective influencer collaboration: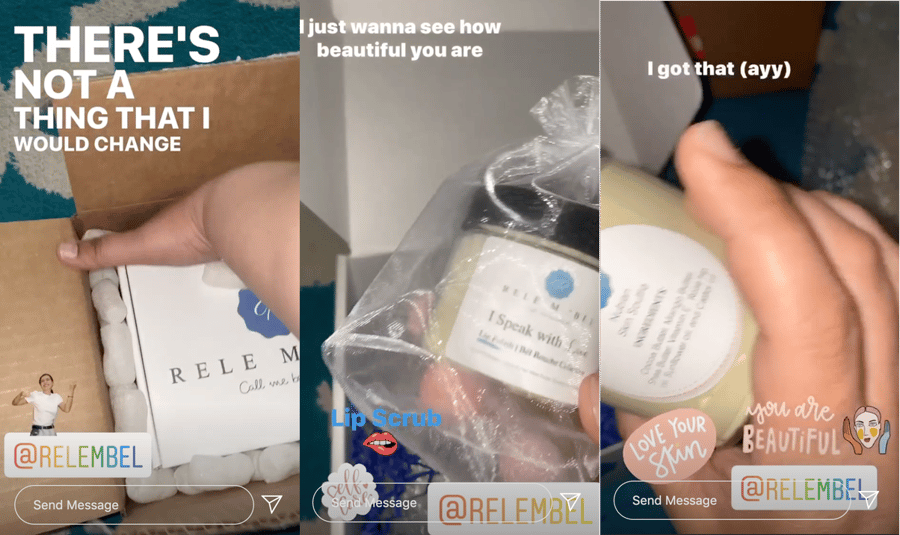 When done right, eCommerce influencer marketing can help you generate more sales and it's important to make the most out of this opportunity.
6. Run Instagram Stories Ads
With a growing number of businesses on Instagram, the popularity of paid ads is growing and over 2 million advertisers create ad campaigns to cut through the noise and achieve business goals fast. To create effective eCommerce Instagram ads, test out the following ideas:
Experiment with IG Stories Ad formats
Instagram Stories ads allow eCommerce brands to showcase their creativity and stand out from the crowd of competitors as they come in three formats (photo, video, or carousel ads) and offer a variety of business-friendly features.
Many brands see growth in running IG Stories ads. To promote its winter sale and increase sales, Made.com ran an ad campaign that increased the return on ad spend by 69%.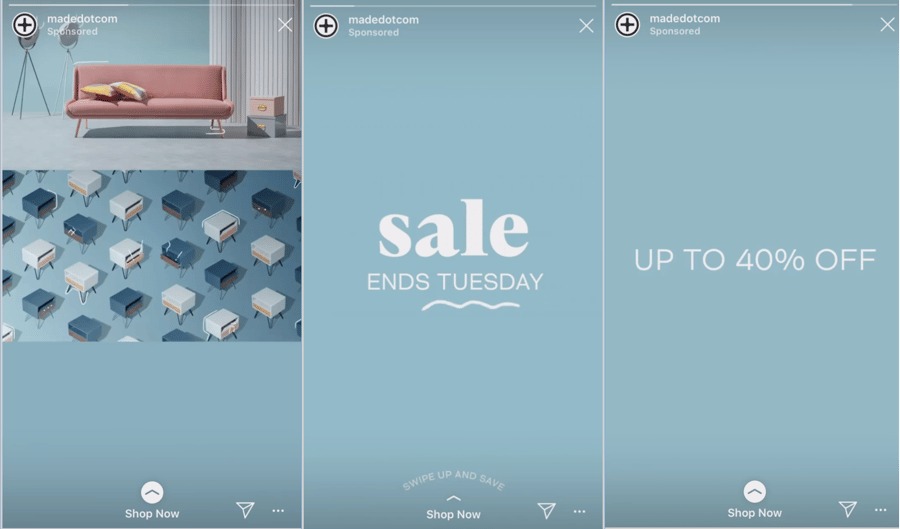 Would this sample work for you? No one knows. However, you can test out different ads.
When you experiment with ads, you can understand what works best for your audience and therefore create an ad campaign that grabs the attention of your potential customers and encourages them to buy from you.
Interact with Hooked Followers
Instagram Stories ads are extremely powerful as they keep the attention of interested audiences (other customers can just exit your ad with ease). For eCommerce brands, this gives an opportunity to interact with hooked customers and encourage them to follow your brand or share their thoughts on your product.
How to do it? Use Instagram Stories features like polls or questions. For example, Reserved created an Instagram Stories video ad with two outfits and asked their viewers to vote for their choice. Not only did it help to show different options, but it also allowed the company to understand customers' preferences better.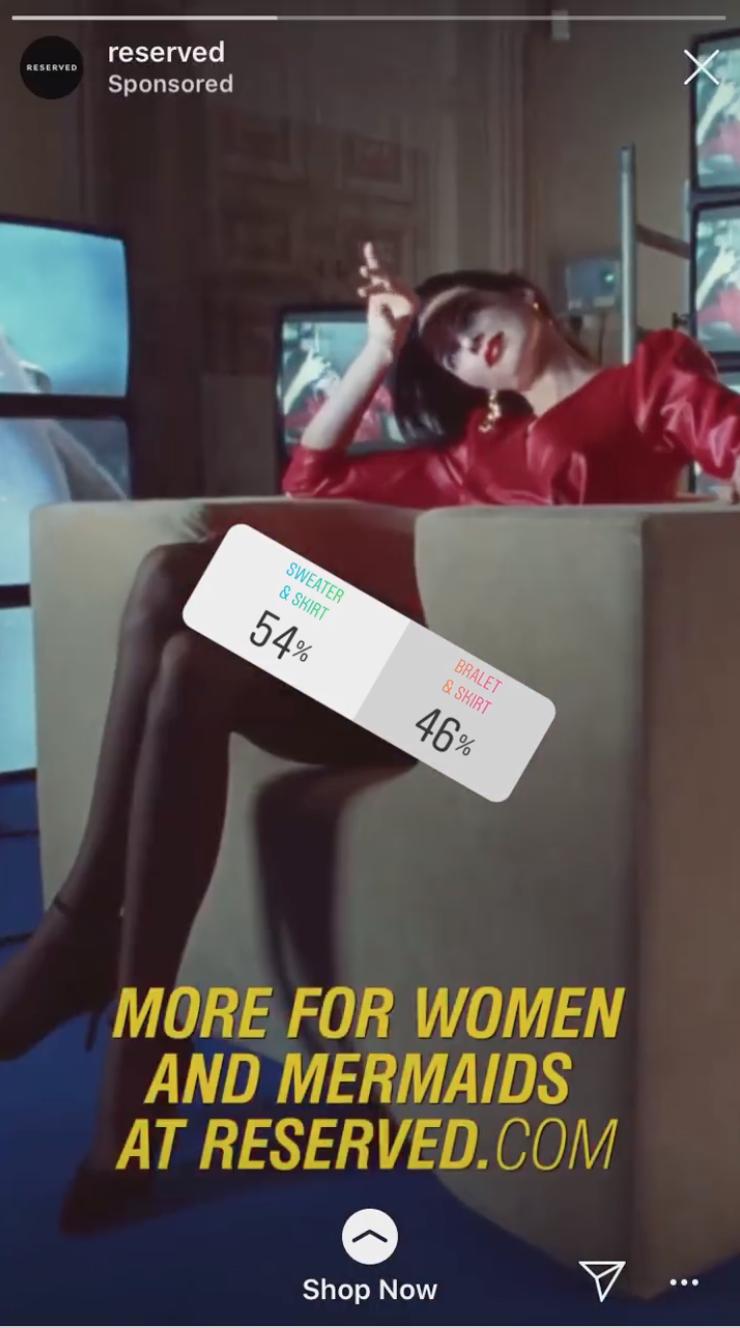 Thoughts on Using Instagram Stories for eCommerce
Over the last few years, customer behavior has changed. Today, Instagrammers follow brands in-app and want to discover new products on the platform. For eCommerce brands, this means a great sales potential and many of them use Instagram for promoting their goods, but just a few brands make Instagram Stories a part of their strategy.
With the growing number of active users and business-specific features, Instagram Stories have become a powerful tool to generate more sales and eCommerce brands should make the most out of ephemeral content to stand one step ahead of their competitors who don't want to invest time and effort into creating short-lived content.