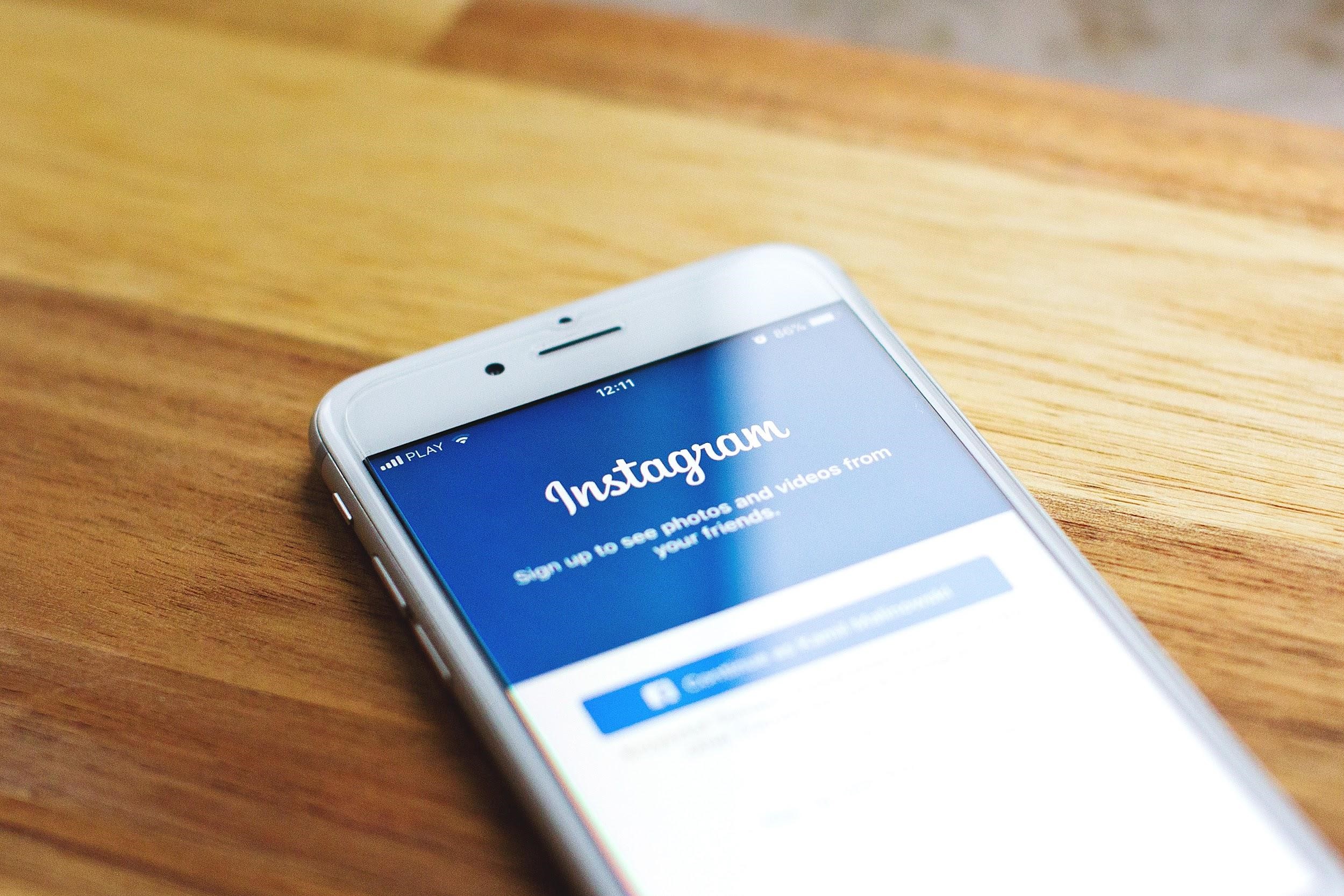 Consumer behavior has changed over the last decade. The number of internet users has grown to 4.13 billion people, so it's no wonder that more and more people discover new products and shop online. Simply put, eCommerce is flourishing, and brands are constantly seeking out new ways to promote and sell products online.
Since Instagram has over one billion active users and 83% of shoppers use this platform for new product discovery, many eCommerce brands have already started selling in-app. If you're interested in giving Instagram shopping a try, read on to find out more about Instagram and how to optimize your Instagram account for eCommerce.
What is Instagram?
Back in 2010, Kevin Systrom and Mike Krieger launched Instagram: a photo and video-sharing social media platform. Since 65% of people are visual learners, this platform has gained immense popularity quickly.
As of June 2018, the Instagram community has grown to one billion active users. Moreover, Instagram is one of the fastest-growing social media platforms with the most engaged user base. For brands of all sizes and niches, this means that Instagram is a powerful marketing tool, and eCommerce brands can even sell on Instagram.
The Popularity of Instagram Shopping
Today, Instagram has many business-specific features, like in-app checkout, product tags and stickers, and the Shop Button, that help eCommerce brands generate sales online. Not only do Instagrammers discover new products in-app, but they also make purchases, and social media statistics prove it:
80% of Instagram users follow at least one business on the platform.
83% of shoppers use Instagram for new product discovery.
75% of people take action, such as visiting a website or making a purchase, after seeing a post.
73% of U.S. teens say Instagram is the best way for brands to reach them about new products or promotions.
The popularity of Instagram shopping is on its rise, so brands of all sizes and niches need to optimize their accounts for eCommerce.
How to Optimize Your Instagram Account for eCommerce
1. Set Up a Professional Account
Over the last few years, many brands have realized the sales potential of Instagram. Today, over 25 million businesses use this platform to reach their target audience, interact with potential customers, and promote products.
However, having an Instagram presence isn't enough to drive eCommerce sales, so it's important to set up a professional account that stands out from the crowd and grabs the attention of your audience.
To make a long story short, here's a great example of a professional Instagram account from J.Crew: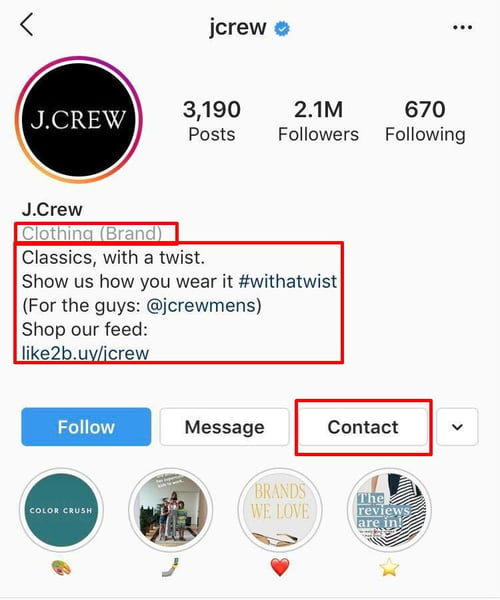 If you want to set up a similar brand account, the following three steps should be present.
Switch to a Business Profile
If you want to use Instagram for business, you need to set up a business profile first. Not only does it allow you to connect your Instagram page to your Facebook and start selling in-app, but it also helps to choose a category label, add contact information, and get access to insights which means you can attract the right audience and understand your potential customers better. Here's how to do it: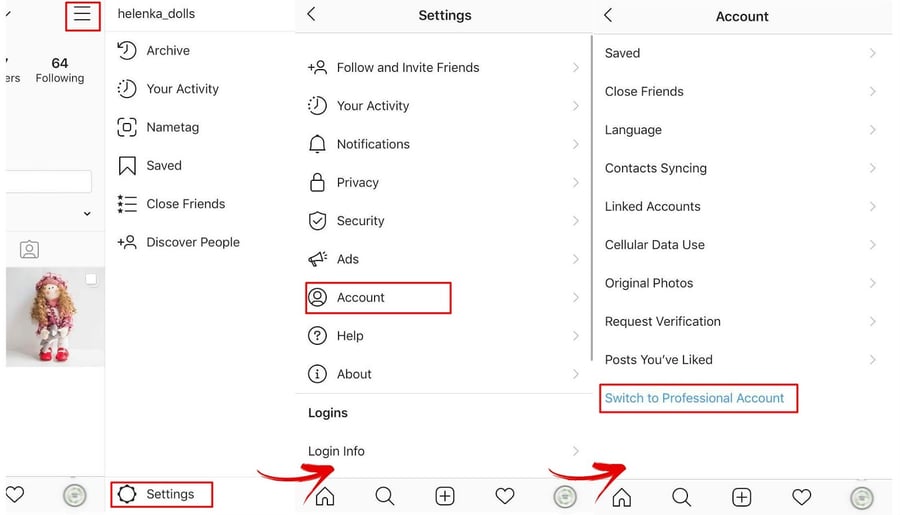 Write a Descriptive Instagram Bio
For any brand, an Instagram bio is a business card that tells users about your company, its values, and its products. However, the amount of brand information has significantly increased, bombarding customers from all sides – it's no wonder that modern people don't focus much on what they see or read online.
In other words, the average attention span has dropped to eight seconds, so it's important to have a descriptive and eye-catching Instagram bio to interest your visitors. Here's how to write the best Instagram bio:
Talk about your company and products
Add your target keyword
Include a branded hashtag
Add relevant profile links
Insert a website link (or possible to multiple links with a grid gallery)
Write a strong call to action
Add Contact Options
Did you know that 55% of customers use social media to get responses or resolutions?
Modern customers want to get in touch with brands on social media platforms, so brands should add various contact options to make it even easier for people to connect with companies.
When it comes to setting up a professional account, you can add an email, phone number, and/or directions. This contact information appears below the bio section, so it doesn't take much time or effort to find a proven way to contact you fast. Providing this information shows that you care about your customers and encourages them to buy from you.
2. Showcase Your Products
No matter how good your products are, it's nearly impossible to convince Instagram followers to buy them if you don't showcase your products in-app. Moreover, having quality product photos helps to ease the worried mind of customers and simplify the decision-making process. Thus, it's important to showcase your products via Instagram feed and Instagram Stories.
Add Product Photos and Videos
It's no secret that consumers want to see, touch and feel products before buying them. In fact, 56% of shoppers say they visit physical stores— at least occasionally—before buying products online. When it comes to eCommerce, product photography is the only way to showcase products and tell a story with them, which means explaining to potential customers why they are worth giving a try.
For eCommerce brands, adding product photos and videos helps to show off products from different angles and, therefore, convince followers to buy from them. Here's how Nike uses product photography to introduce its products: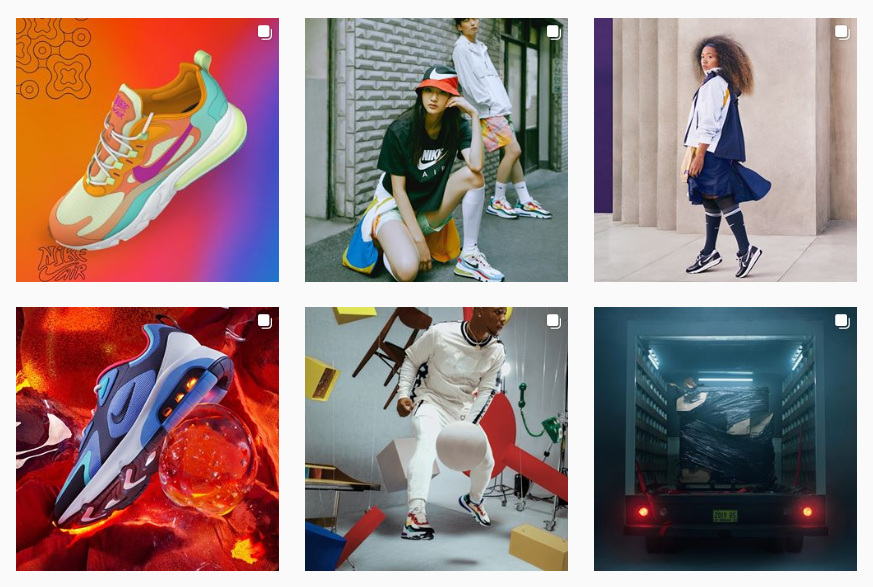 To grab your target audience's attention, it's important to create an eye-catching and cohesive Instagram feed, so you need to keep up with current visual trends when planning your Instagram content. For example, Nike uses 3D graphic design compositions that are popular among customers.
Show Your Products in Action
If you want to encourage your Instagram followers to buy from you, it's important to prove to them that your products meet their needs. Thus, it's important to show your products in action and hint at what customers can expect after buying your product.
Let's take ASOS as an example. Not only did the company create a long-form video for its IGTV channel to show its products in action, but it also added product codes to make it easier for followers to find featured items on the website: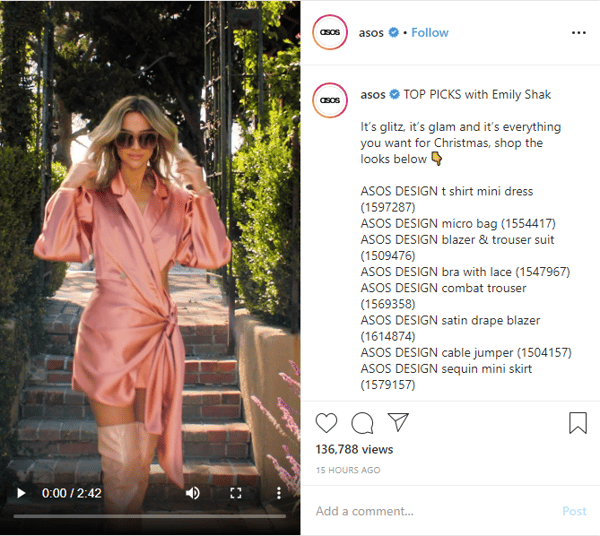 If you sell cosmetics on Instagram, you can upload video makeup tutorials to show your followers how to use your products. This helps to show customers how to benefit from using your products and keep them engaged.
Make sure you accompany your photos with a caption as it plays an important role in driving sales. If you write a good call to action with several hashtags it can make a massive difference. Another important thing you need to do is publish your post at the right time. If you do this more people will see your post and buy your products. To publish at the right time, use a good Instagram scheduler to find your best time to post and then schedule your post in advance.
3. Improve Your Customers' In-App Shopping Experience
When shopping online, people are more likely to buy on impulse; 84% of customers have made impulse purchases at least once in a lifetime.
However, online shoppers have so many distractions, so it's important to simplify the shopping experience. From providing social proof to offering in-app checkout, there are many ways to improve your customers' in-app shopping experience that leads to more sales.
Share Customer Testimonials
In the era of sponsored posts, people seek out social proof. As specified in the Nielsen Global Online Consumer Survey, people crave peer recommendations: 90% of consumers trust product recommendations from people they know and 70% trust consumer opinions posted online.
To drive eCommerce sales on Instagram, share customer testimonials to prove that other customers are satisfied with your products. Want to know the best part? Customer testimonials come in various forms (UGC photos, customer reviews, video testimonials, etc.), so let your creativity run wild and choose what works best for your company. For example, Converse shares user-generated content via Instagram Stories and adds these photos to a separate Instagram Stories Highlights album that appears below the bio section: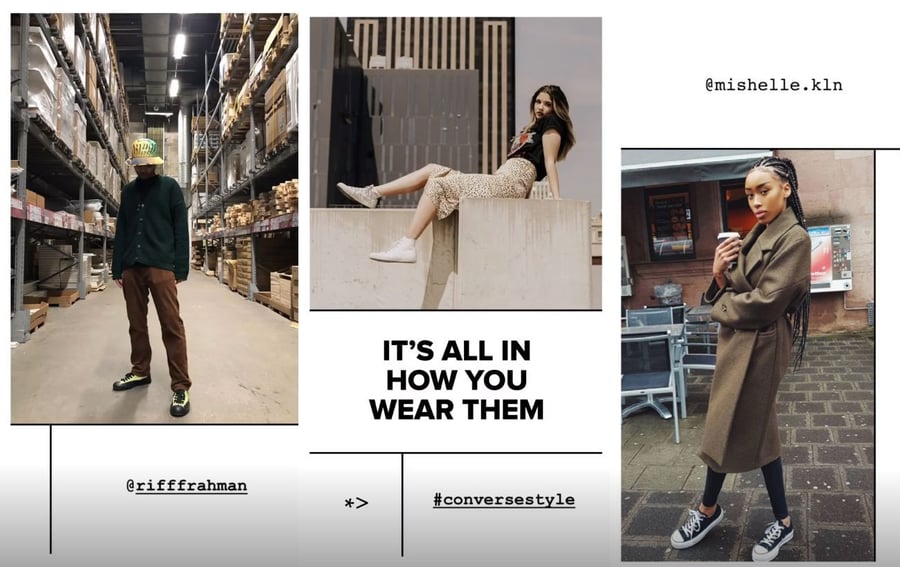 Add Product Tags
Today, many Instagrammers use this platform to discover new products, but they are also interested in learning more about descriptions and prices in-app. With the introduction of product tags, it has become easier than ever. According to one study, around 130 million Instagrammers tap on a shopping post to learn more about featured items every month.
No matter how big your eCommerce business is, it's important to add product tags in order to provide interested followers with additional information about your product.
But first things first: To add product tags, it's important to have a business account and connect Instagram to a product catalog on a Facebook account. Luckily, you can use an eCommerce solution like Shift4Shop to synchronize your products across all platforms.
Once you have completed set-up in Instagram shopping, you can add product tags in posts which appear as a small circle with the shopping bag icon. This allows followers to tap on them and learn more about featured items (up to 5 products per single-image post and video posts), just like Honest did it: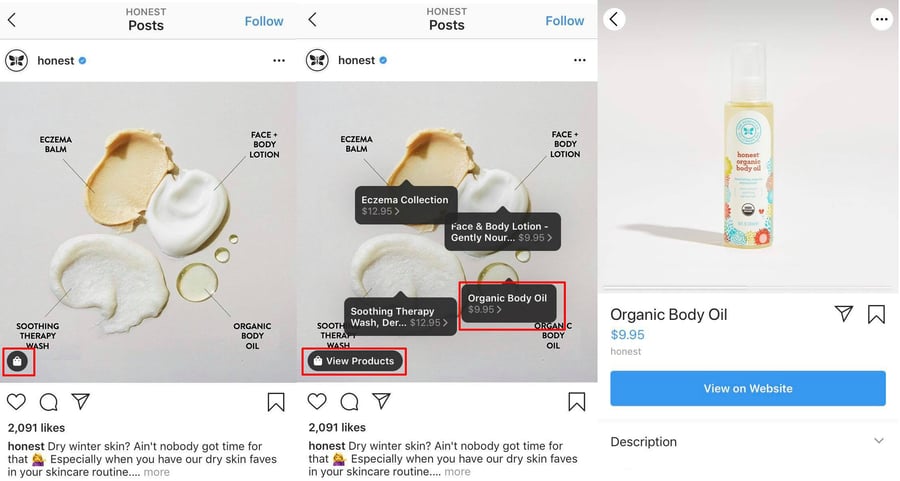 Use Shoppable Instagram Stories Stickers
Instagram Stories have quickly gained popularity among users. According to Instagram Business, over 500 million people use Instagram Stories daily and 33% of the most-viewed Instagram Stories come from businesses.
Since people spend much time watching and creating IG Stories, it's important for eCommerce brands to interact with the engaged audience via short-lived content. Thus, the platform rolled out shoppable Instagram Stories stickers. This feature works just like regular Instagram shopping posts, so your Instagram profile must be connected to a Facebook catalog.
Today, many eCommerce brands have already started using this feature to generate sales. Just take a look at an example from Calvin Klein: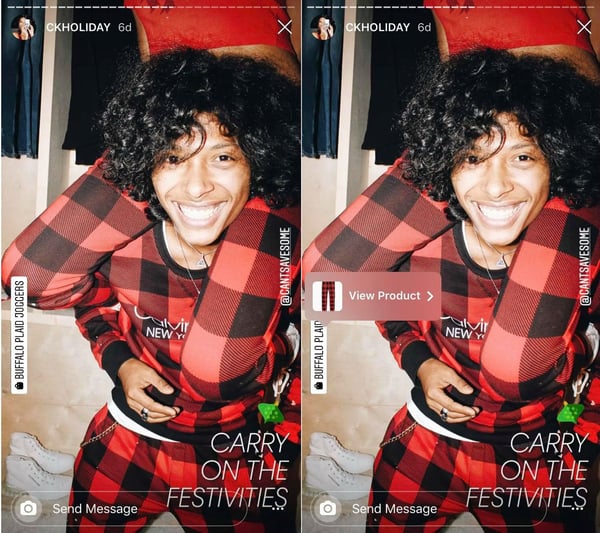 Include Swipeable Links
When done right, Instagram can also help to drive traffic to your eCommerce website. For example, some business profiles can add swipeable links to Instagram Stories that allow them to provide their followers with additional information about products without using product tags.
However, your account must have over 10k followers or be verified. Once you get 10k followers on Instagram, you can include swipeable links to Instagram Stories. For eCommerce brands, this feature is a goldmine as it allows you to direct users to different product pages with a variety of products.
Here's another example from Calvin Klein that shows how the company uses the swipe up feature to provide followers with information about featured items: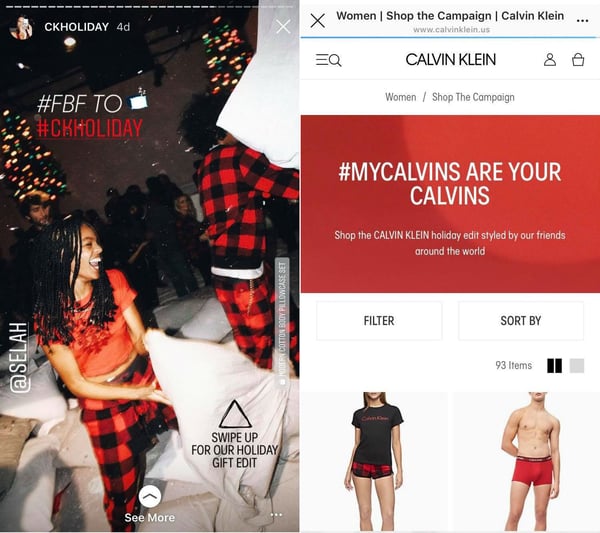 To go the extra mile, you can use Instagram Stories Highlights to keep all important information about your products in one place. For example, you can create separate albums for new collections, top-selling products, or items on sale.
Provide Customer Support
If you want to boost eCommerce sales on Instagram, get ready for providing customer support on the platform as shoppers always want to ask additional questions about your product before making the purchase decision.
In fact, more than 35% of customers use social media platforms to reach out to companies and 52% expect resolution within a day via social media, according to GetVoIP.
For example, Hydro Flask recently shared a post to wish happy holidays to its followers, but people used it to ask questions about the products: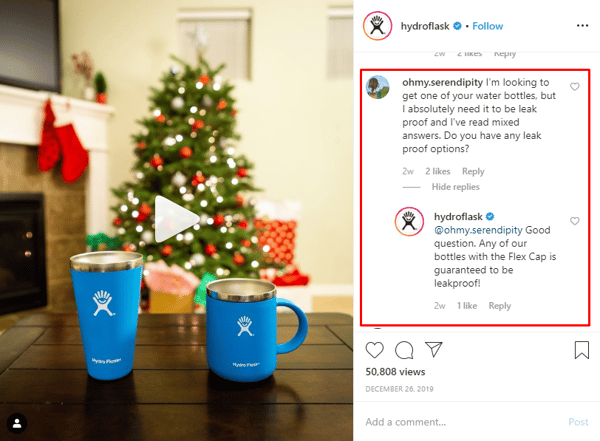 With over 664k followers on Instagram, it's no wonder that Hydro Flask has a customer support team that monitors customer requests and replies to comments.
But if you realize that you can't provide excellent customer support on Instagram, it's better to tell your followers that you use other channels like Facebook or Twitter for customer service queries, like how IWoot did it below:
Online shoppers may have doubts when choosing products to buy, so it's vital for eCommerce brands to provide proactive customer service on Instagram to improve customer experience.
4. Spread the Word About Your Products
The more customers you have, the more products you can sell. Thus, it's no wonder that 44% of companies keep a focus on customer acquisition, trying to attract new customers.
When it comes to Instagram marketing, having an optimized Instagram profile for eCommerce doesn't mean generating sales, as you need to have followers who may want to buy from you. So, it's important to spread the word about your products. Here are several proven ways to promote your products beyond your Instagram profile.
Collaborate with Niche Influencers
If you want to reach your target audience fast without being too pushy, find niche influencers who can work with you to promote your products in exchange for branded freebies or payment. Why? Customers trust peer recommendations more than ever, so it's a proven way to find your potential customers and convince them to give your product a try. Without a doubt, influencer marketing helps to drive eCommerce sales as people trust opinion leaders they follow.
When you work with niche influencers, not only can you enter an already-established community of your target audience, but you can also use influencers' photos to provide social proof on your profile. Here's how Missguided, a UK-based multi-channel fashion retailer, does it: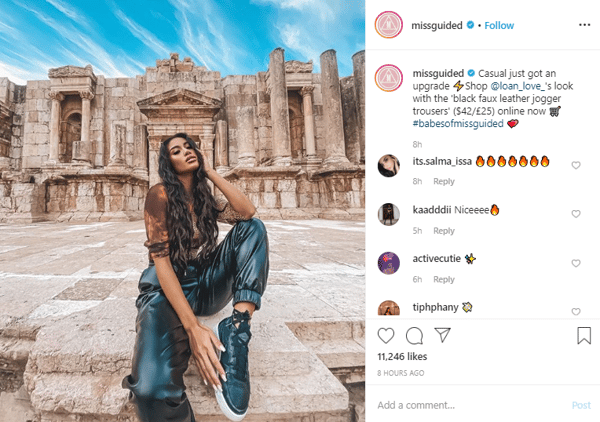 If you want to turn your customers into brand advocates, you can set up a referral program as it's a proven way to encourage your loyal customers to spread the word about your product. Any proof needed? One case study by Talkable shows that 57% of new customers make a purchase both online and in-store after receiving a referral offer.
Sponsor a Giveaway
Free stuff is irresistible, so eCommerce brands often organize giveaways to announce a new product launch or promote a new collection. However, there's another way to reach a wider audience--sponsor a giveaway.
If you've decided to become a giveaway sponsor, it's a good idea to offer your product as a prize as it allows you to attract the right audience who wants to experience what you have. When people get something for free, their expectations are low, so it's more likely you can satisfy their needs and therefore encourage them to spread a word about your company.
For instance, Gem Gossip, a jewelry blogger, teamed up with Ross-Simons Jewelry to organize a giveaway and offer a blue diamond and lapis lazuli ring as the prize: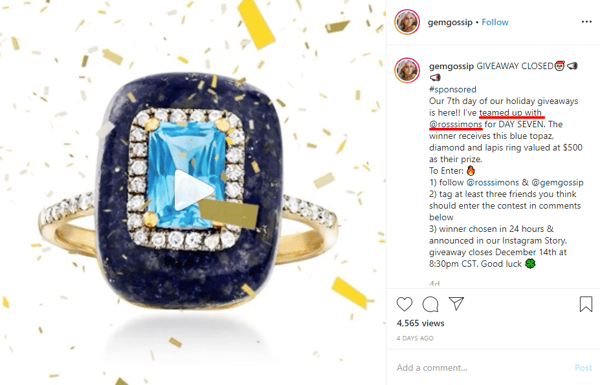 Since Gem Gossip is known as a jewelry blogger, it's no doubt that her following is interested in discovering jewelry brands. For Ross-Simons Jewelry, it was a great opportunity to build brand awareness and find potential customers who could be interested in buying their products.
Run Instagram Ad Campaigns
Since Instagram is getting more and more popular among users and brands, it's harder to reach your target audience unless you use Instagram ads. Today, over 2 million advertisers run paid ads to promote their products or services and it gives great results.
Case in point: Last year, when iDeal of Sweden decided to promote its new collection of phone accessories, the company ran thumb-stopping photo and video ads to reach a wider audience.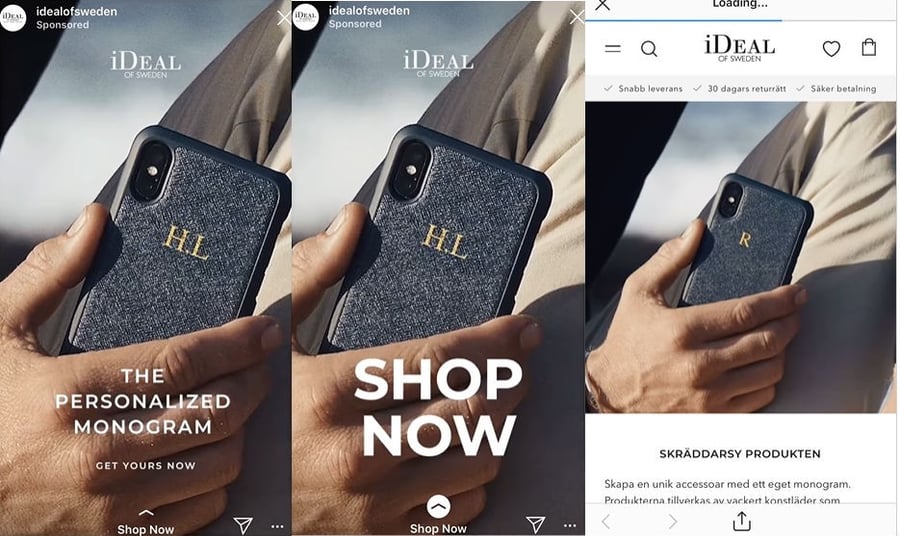 Just within one month, the campaign received a 21-point increase in ad recall, an 8-point increase in purchase intent, and a 4-point increase in brand awareness.
Final Thoughts on Using Instagram for eCommerce
The days when people used Instagram for only posting photos about their lives are long gone now.
Today, more and more users research new products on Instagram. Since Instagram shopping is getting easier, online shoppers are also ready to buy on the platform. Thus, eCommerce brands should jump on the bandwagon and optimize their Instagram accounts for eCommerce in order to make it easier for potential customers to buy products with ease.
After all, multi-channel retailing is the future of eCommerce, and selling on Instagram helps to stay ahead of your competitors and grow revenue.