International Beer Day is a day of appreciation for beer and the breweries that bring it to fine establishments and backyards everywhere. Since its beginnings in Santa Cruz, California in 2007, the event has expanded to 80 countries across 6 continents — and no wonder, since beer has been one of the world's most popular beverages for most of human history. This annual holiday takes place on the first Friday of August, placing it on August 2 this year (tomorrow, in fact).
The stated purpose of International Beer Day is to enjoy beer, appreciate the hard work and dedication of creative brewers, and bring the world together by celebrating beer from all nations and cultures. If you're a fan of beer whatsoever, it's definitely something you can get behind.
So how is 3dcart participating? Just like beer, eCommerce is a global phenomenon, and some of the best homebrewing suppliers, breweries, and other venues use 3dcart for their online stores. We decided to celebrate International Beer Day by showcasing them!
Brewing Your Own Beer
There's nothing quite like relaxing with a beer after a long day, but some enthusiasts take it a step further and start brewing their own. It doesn't take much investigation to learn that beer is much more complex than it might seem, which opens up tons of possibilities to homebrewers interested in creating their own recipes, and even the most casual homebrewer can find themselves developing an intense passion for it.
The homebrewing industry exists to serve and support homebrewers with any degree of interest and experience. Most homebrewing suppliers maintain brick-and-mortar facilities in which customers can shop, grind their own grains, and get the professional advice they need. The local homebrewing supplier (frequently abbreviated as LHBS) often becomes the center of the beer-making community, offering memberships and holding events as well as supplying local homebrewers.
Not everyone lives within reasonable distance of a homebrewing supplier, though that doesn't mean an aspiring brewer is out of luck. The homebrewing industry has a healthy eCommerce presence so you can get what you need to start brewing almost anywhere in the world.
If you're interested in brewing your own beer or even opening a homebrewing supply store of your own, this article will be a great place to start. Most suppliers have proprietary equipment and recipes among their stock, so it's worth your time to check them all out.
Adventures in Homebrewing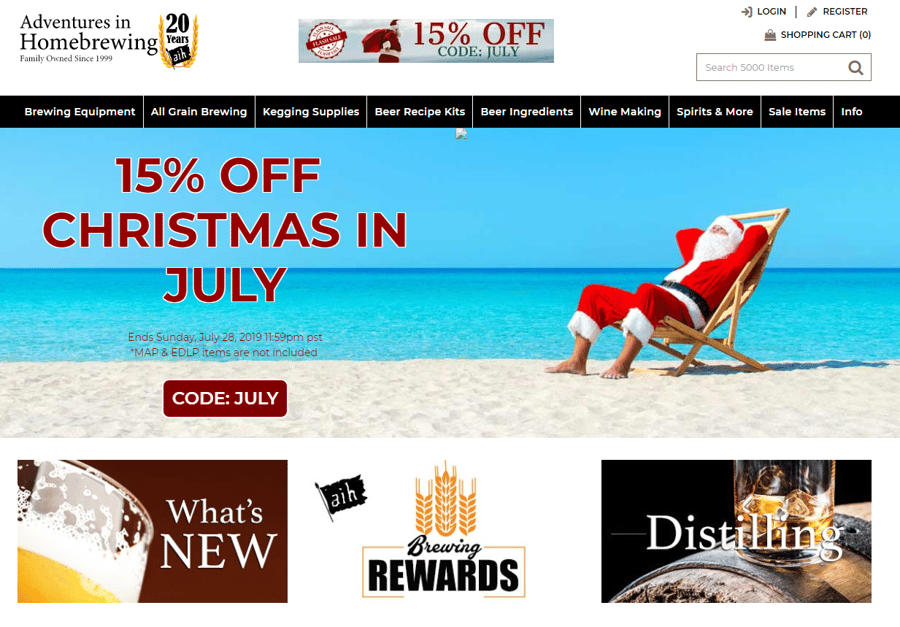 Since its beginnings in 1999, Adventures in Homebrewing has grown to become one of the world's premier suppliers of brewing equipment, accessories, recipes, and more. While the company has a strong focus on beer, they also provide a huge assortment of supplies for making wine, spirits, soft drinks, coffee, and even cheese. You'll also find a full selection of kegging equipment, beer tap handles, and everything else you need to brew and serve your own beer. It's the ultimate destination for do-it-yourself brewing and fermentation of every kind!
Adventures in Homebrewing is headquartered in Taylor, Michigan, with an additional full-service retail location in Ann Arbor. Despite their massive growth and success over the past 20 years, the company is still family-owned and friendly to beginners and experts alike. Both brick-and-mortar locations are open 7 days a week and staffed with knowledgeable employees.
As for their eCommerce presence, Adventures in Homebrewing has been with 3dcart for over a decade. Their website takes advantage of numerous 3dcart features, one of the most important of which is a Mega Menu to organize their vast selection of products and categories, including images to draw customers' attention to popular items and promotions. The Rewards Program and Gift Certificates serve as valuable incentives to keep shopping.
Brewing is a complex process, so Adventures in Homebrewing makes comprehensive information available via Extra Pages as well as multiple product page tabs to include how-to videos on the more complicated products. The Product Questions and Answers module is essential for helping customers learn from staff and other experienced brewers.
Adventures in Homebrewing also owns Austin Homebrew Supply in Texas, another full-service brick-and-mortar location. Austin Homebrew Supply was founded in 1991 and joined the Adventures in Homebrewing family a few years ago, which brought their massive product selection to a whole new region of local brewers. Their online store is built with 3dcart as well, and uses many of the same features.
Atlantic Brew Supply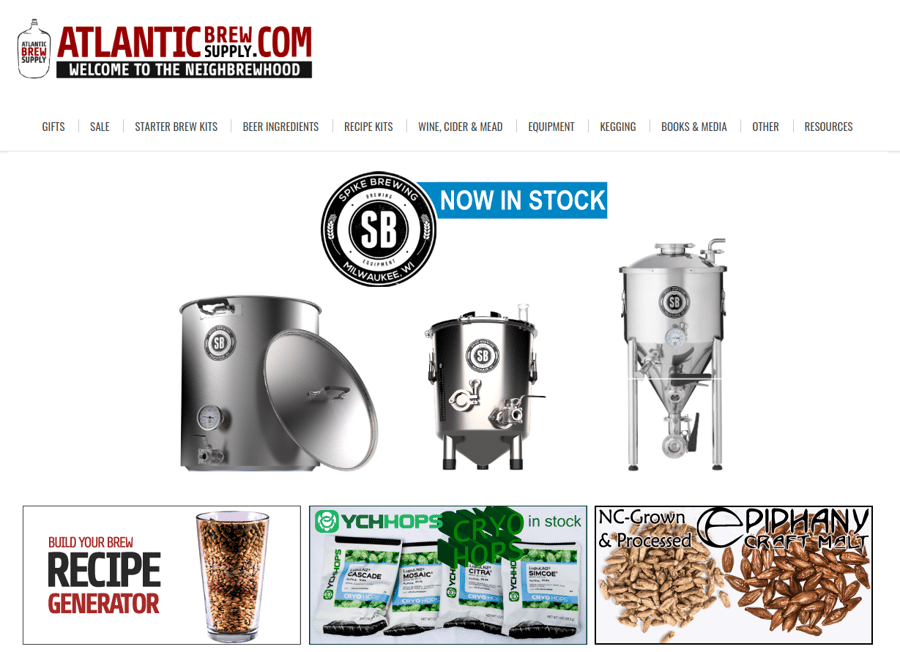 Atlantic Brew Supply is a North Carolina-based homebrewing supplier that holds regular brewing classes and other events in their shop. Their 3dcart website gets right to the point with several banners on the front page, directing customers to promotions and site features — and there's plenty of information available too. Atlantic Brew Supply maintains a directory of resources for homebrewers including basic instructions, tips and tricks from several experienced brewers, a guide to hop varieties, and more. Their site also includes a Homebrewing Recipe Generator to help brewers bring their ideas to life.
The company's wide product selection is neatly categorized using 3dcart's dropdown menu functionality, making it easy for customers to find everything they need. Atlantic Brew Supply even serves large, professional breweries through its sister company ABS Commercial.
Brew Hub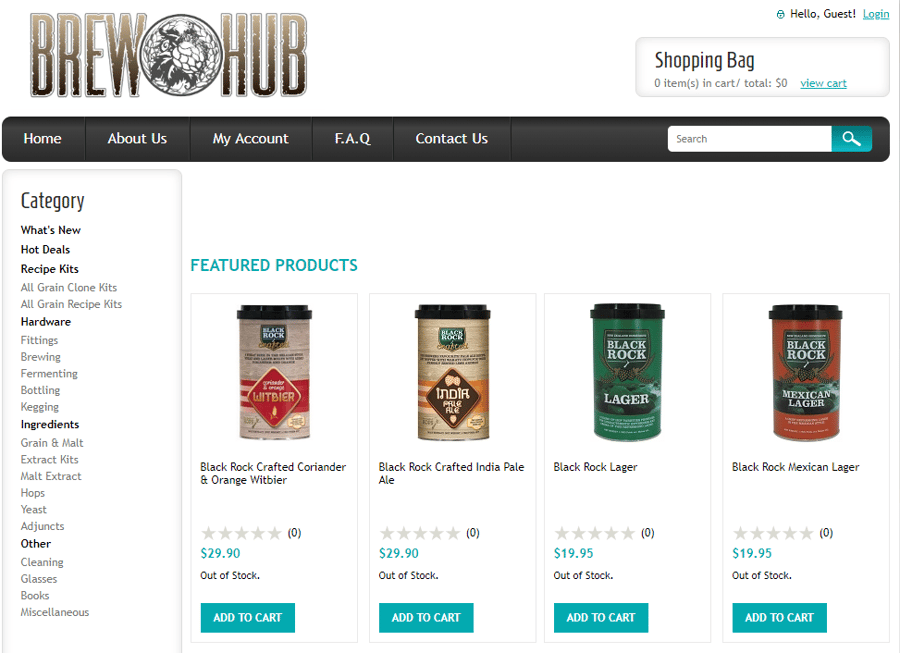 Brew Hub is a small, family-owned homebrewing supplier located in Paraparaumu, New Zealand. As passionate homebrewers, they were inspired to start their own business when the area's LHBS closed down. Homebrewing is popular in New Zealand, one of the main reasons being that the country's climate is among the best for growing barley and hops, including hop varieties developed by New Zealand farmers which are now in demand overseas. This rich craft beer culture meant a solid market for a supplier like Brew Hub.
Today, Brew Hub has customers all over New Zealand and has relationships with wholesalers that can connect customers with all types of homebrewing products, even if Brew Hub itself does not have them in stock. Although the company currently sells online only, local order pickup is available and staff is ready to answer questions in person.
Wholesale Suppliers for Beer Venues and More
Of course, whether homebrewed or not, all that beer has to go somewhere. Bars, restaurants, concert venues, and retail stores need a steady supply of related products, and prolific homebrewers might want to stock up on glassware and other accessories for brew parties and other events. That's where wholesalers come in.
Diversified Wholesale LLC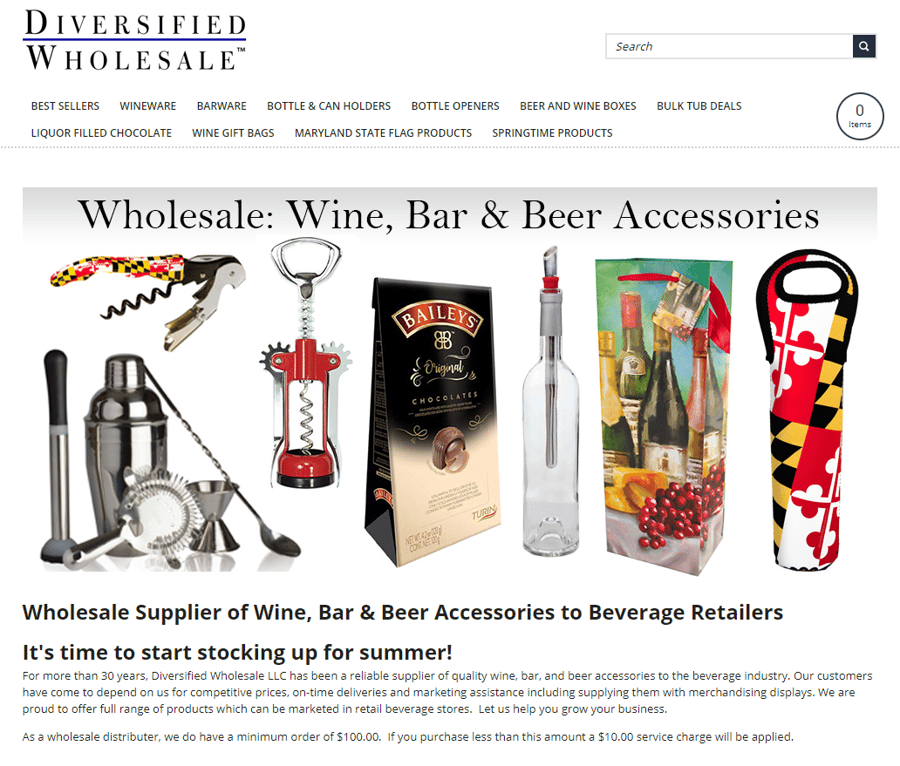 Diversified Wholesale LLC has been supplying the beverage industry for over 30 years, with a huge selection of products including everything from bottle openers to merchandising displays. The Maryland-based company is the go-to source for barware and accessories for any type of venue that serves alcohol. Their 3dcart website keeps it simple, benefiting from easy navigation and nested categorization that keeps everything organized.
Despite being a wholesaler, Diversified Wholesale LLC does not have specific limits on order quantity, opting instead for a minimum order of $100 with a $10 service fee if this threshold is not reached. This flexibility allows the company to serve a larger customer base that includes homebrewers as well as bigger businesses.
Breweries and Beer Retailers
Due to extremely variable alcohol shipping laws, selling beer online is a lot more complicated than selling brewing supplies. A retailer must acquire all the necessary permits, meet special requirements for shipping carriers, avoid shipping to dry counties and across certain state lines, and much more — meaning selling beer online is more trouble than it's worth for some businesses. It's still possible, of course, but each business is different and needs to evaluate its risks versus rewards before delving into the requirements for selling alcohol through an eCommerce store.
Fortunately, beer lovers are willing to buy many more products than just beer alone; just like fans of anything, accessories and apparel are extremely popular. Beer lovers often have preferred brands, breweries, types of beer, and more, and are happy to purchase accessories to show off these loyalties and support their favorites. That means plenty more opportunity for brewers to sell online, even if selling beer over the internet is out of reach for them at the moment.
Global Beer Network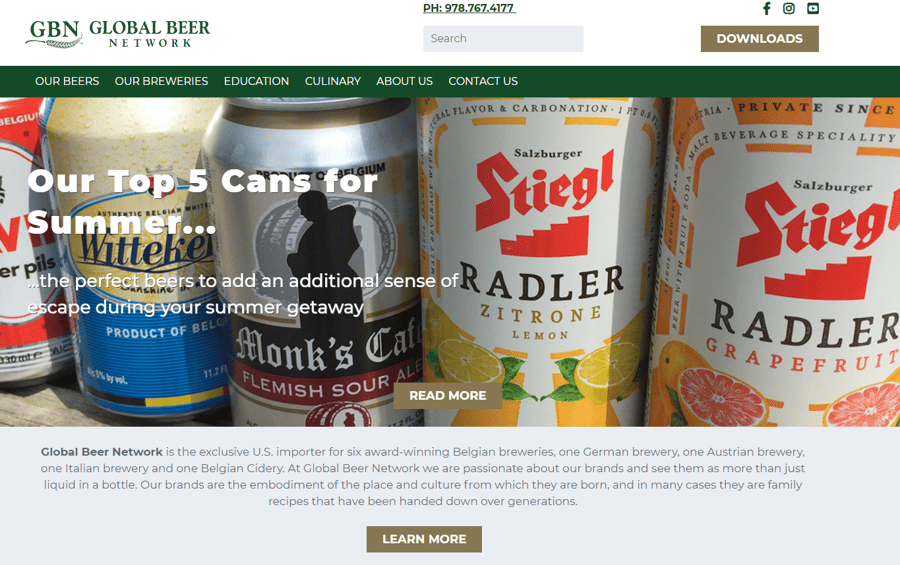 Global Beer Network stands as the exclusive US importer for several European breweries, and distributes to all 50 states, Puerto Rico, and the US and British Virgin Islands. Based in Middleton, Massachusetts, the company is responsible for importing and distributing beer from several highly-regarded breweries in Belgium, Germany, Austria, and Italy, as well as another Belgian brewer specializing in cider. Their website is mostly intended for retailers and other venues, but is also a fascinating source of information on all the types and brands of beer they distribute.
While not itself a beer retailer, Global Beer Network does provide links to certain online stores that are licensed to sell the brands in question. Global Beer Network's own online store (through 3dcart) sells a wide variety of products and accessories likely to be found in a bar, taproom, or the home of any beer lover. Their selection of beer glasses is categorized by the type of beer each glass is intended to be used for, which is extremely helpful to budding beer enthusiasts who want the most out of each sip.
Black Shirt Brewing Co.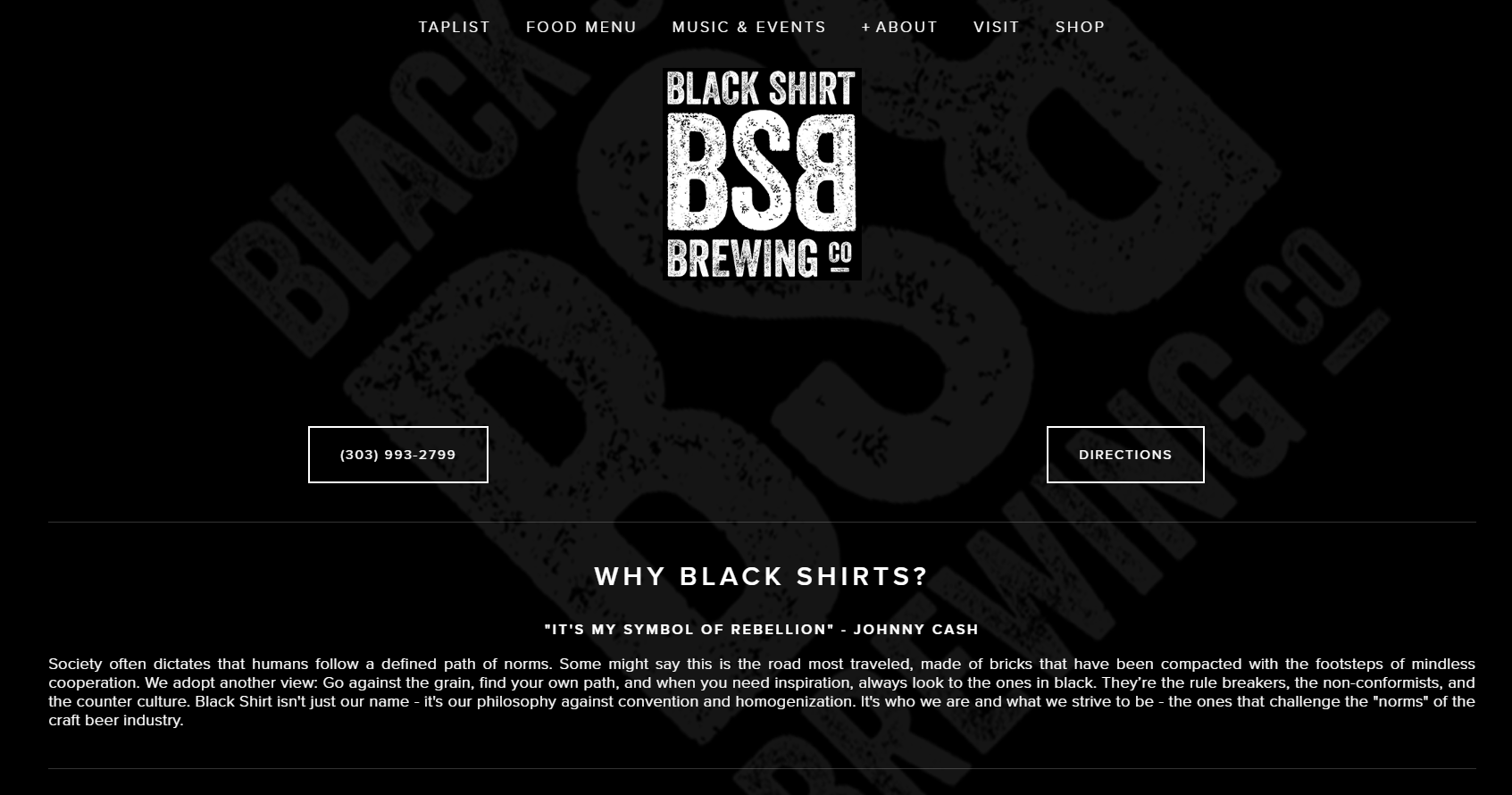 Black Shirt Brewing Co. is a brewery, taproom, and pizzeria in Denver, Colorado with a welcoming, casual atmosphere and a focus on live music. They serve several unique beers of their own creation along with a few options for more conventional patrons. Their kitchen serves several types of pizza, salad, and appetizers, and takes the opportunity to use their own beer in certain recipes.
As an exciting and popular venue, Black Shirt Brewing Co. has amassed a bit of a following, including local citizens who stop by when they can and tourists who can't wait to return. Instead of selling beer online, the Black Shirt Brewing Co. online store is filled with apparel, glassware, and other accessories to help fans enjoy their memories and show their loyalty, wherever they are.
How Are You Celebrating International Beer Day?
We hope you've enjoyed this quick peek into the brewing industry's presence on 3dcart. If you're only a casual beer fan, you may not have known how vast the online beer trade really is — and we've still barely scratched the surface. If this post has spurred a desire to learn to homebrew, we encourage you to check out the suppliers we've featured here. Likewise, if you get a craving to try some award-winning Belgian ale, now you know where to look!
There's much more to celebrate, and you can always explore on your own, where you're sure to discover new favorites and a deeper interest in the world of beer. You might discover a new business idea at the same time. Maybe your area lacks a local homebrewer supply and you can step into the market like New Zealand's Brew Hub, or maybe you're more interested in the brewing itself. In that case, it's entirely possible to meet all the eCommerce regulations for selling beer online with tools from 3dcart, including age verification, restricted shipping, appropriate high-risk payment providers, and more.
In the meantime, let's raise our glasses to the worldwide phenomenon of beer and everything it stands for: fellowship, ingenuity, and commerce.