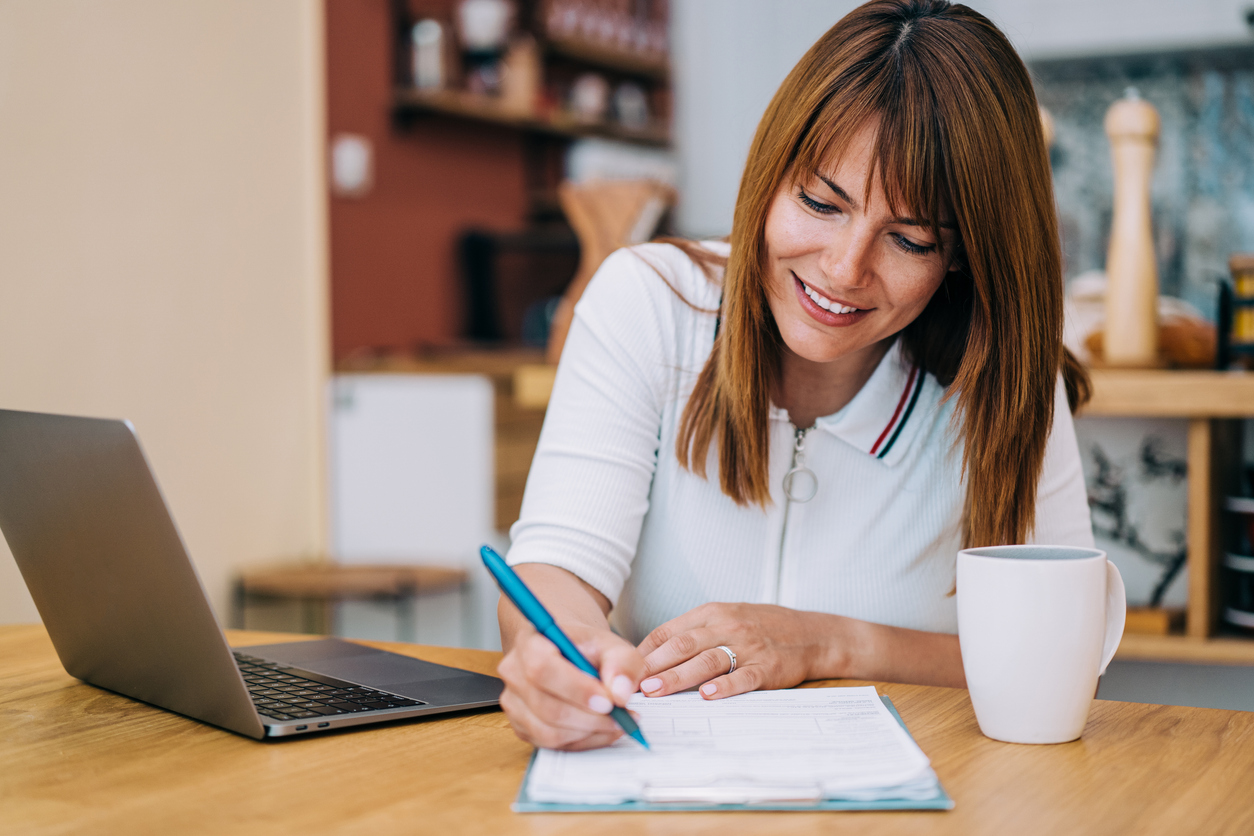 So, you have a great idea for an online business. You've done market research, know current eCommerce trends, sourced the products you will sell, and built a snazzy new website to connect with your customers. You have also identified the best social media platforms to market your products, so you're ready to get on the path to that first million, right?
Or are you? Have you considered all the legal requirements in starting a new eCommerce business, or is that something you overlooked? Having the right legal business policies is essential to starting any new business. Without those policies, you could face penalties or sanctions a little bit down that new path you're embarking on.
While entering the murky world of legalese may be daunting, it is a necessary 'evil' if you plan on doing significant amounts of business online. Having the right legal business policies in place means everything is above board; you can focus on building your business, attracting and retaining customers, and heading towards that magic million instead.

Source: ResearchGate
Why do you need certain legal business policies?
There are three main reasons why having the right legal business policies in place is essential for any eCommerce business.
Laws and Regulations
Whether you're building your eCommerce business locally or globally, compliance with relevant laws and regulations is essential. These laws and regulations can often be complex. Still, with the right policies in place, you make it easier for you to navigate them and ensure your business is operating legally. This is especially crucial if you are a small business owner with limited resources.
Avoid Future Issues
Having the required legal business policies can help you avoid messy scenarios in the future. Suppose, for any reason, you have legal issues down the line. In that case, a lack of legal policies could mean mounting legal fees and possible payouts due to litigation or other legal challenges. Having those policies in place from the start gives you the protection you need.
Transparency
With all the needed policies in place, you are giving complete transparency to your customers. They can see their rights and your responsibilities when providing products and/or services. Having these policies in place can also affect how your brand is viewed and can help build a relationship based on trust.
5 Legal Business Policies You May Need
If you have overlooked this in your planning, don't worry too much; the policies are relatively straightforward. Knowing what policies are essential can help guide you as you move forward.
1. Terms & Conditions
This is the first and perhaps the most crucial legal business policy you should have. Often abbreviated to "T&Cs" and also known as "Terms of Service" or "Terms of Use," your Terms & Conditions are, in essence, the rules pertaining to your customers' use of your business. That means your T&Cs apply whenever they buy a product, sign up for an account, or even browse your website.
Terms & Conditions offer customers transparency so they know what is expected or required of them when they shop with your business. There are several items you should include in your terms and conditions:
Payment information
Your liability, responsibilities, and any limitations on those factors
Rules on behavior and conduct (use of profanity or insulting language on any social media pages or any website forums)
Any relevant disclaimers
How any disputes would be resolved and identification of applicable legal jurisdiction
Whether changes can be made to your terms and conditions and how you will inform customers of such changes
Any key terms that you use as an organization and what they mean
It's also worth noting that terms and conditions usually come in one of two forms:
Clickwrap: With this format, your users need to simply tick a box to show they have accepted your T&Cs.
Browsewrap: This requires no action on the part of your customers, and consent is implied by their use of your site.
Luckily, there are a variety of resources online that can help you create T&Cs for your online store. Consider using a terms and conditions generator to help simplify the process.
2. Privacy Policy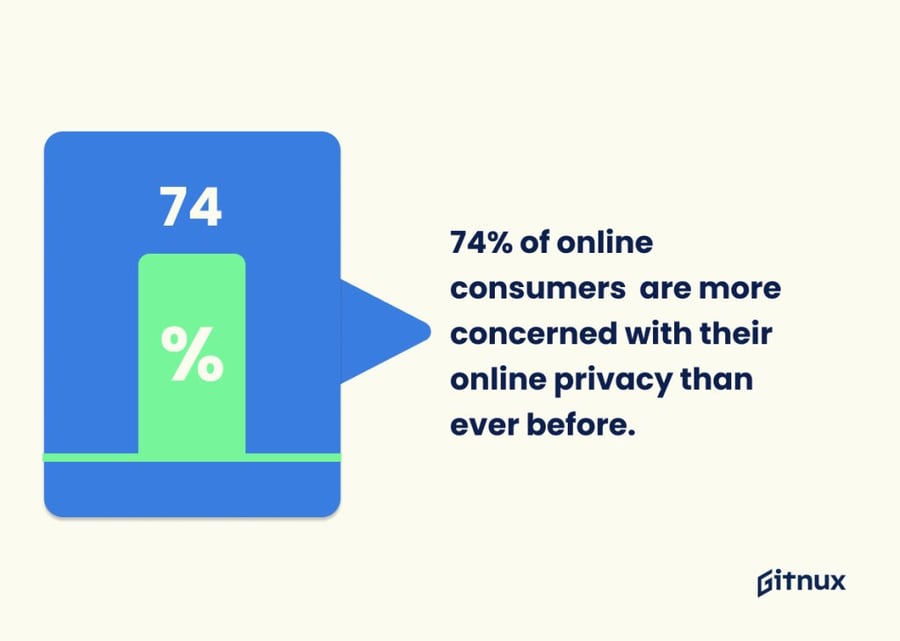 Source: Gitnux
It is highly likely that your website (and other platforms) will be collecting a lot of customer data. Even when just browsing your site, you'll collect data such as their IP address. And when they sign up for an account or make a purchase, the amount of data increases exponentially and can include everything from name and address to payment details.
As mentioned earlier, one of the reasons to ensure you have the correct legal business policies is to comply with laws and regulations. Perhaps in this area of data collection and privacy, this is needed more than any other. Depending on where you have customers, you need to be aware of that country or region's privacy laws. For example, an American company selling in the EU must comply with GDPR laws.
There are many factors you need to consider when formulating your privacy policy, including:
The data you will collect and keep
That any data collected will be securely stored
Whether you will share that data with any partners or third parties (and include an opt-out of this)
How your users can access and review the data you store on them
How they can challenge or delete that information
What laws and regulations apply in different areas you operate in
This policy should be separate from your T&Cs and should also be easy to access. That usually means having a link that leads straight to the policy. This applies especially in the US so that you comply with the California Online Privacy Protection Act.
3. Guarantees and Warranties
Customers want to use your website with confidence, so they need to know the guarantees and warranties you provide on your products and services. While placed together, these are two separate policies, and you should clearly define your policies.
A guarantee is a promise you make to your customers that covers any dissatisfaction with their purchase. For example, you might offer a 30-day money-back guarantee if they're unhappy. You want to be sure that you include this as part of a good overall customer experience strategy.
However, a warranty is an extended guarantee that usually comes with extra costs. It acts as a type of insurance that covers them if something goes wrong with the product. You typically find warranties apply to large appliances or tech such as laptops. It's worth emphasizing that a warranty does not infringe on their existing legal rights. If you provide them with a faulty product, most countries' laws require you to refund or replace it.
4. Refunds and Returns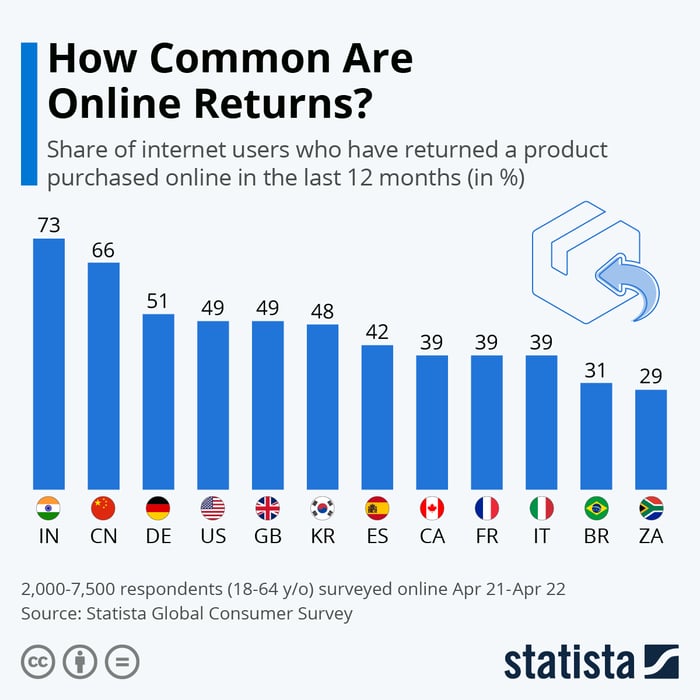 Source: Statista
As the old saying goes, you can't please all of the people all of the time. Things will inevitably go wrong (though hopefully rarely). Customers may order the wrong size of your product, or it might simply not meet their expectations. It's not only one of the legal business policies you need, but it's also indicative of how good your customer service is and can help retain customers.
While you should keep it separate from your T&Cs, you can combine it with your warranties and guarantees policy as long as you don't confuse your customers with legalese complexity. The language should be clear and not contain "small print" clauses that will negate any other points you include.
You should clearly state your policy and identify the period in which you allow returns and refunds to be made. You should also include a clear statement as to who covers any shipping costs for returning an item; a clear shipping policy is a must. Make it clear if there are products or categories — such as some digital products — that are excluded from your policy.
5. Subscription Agreement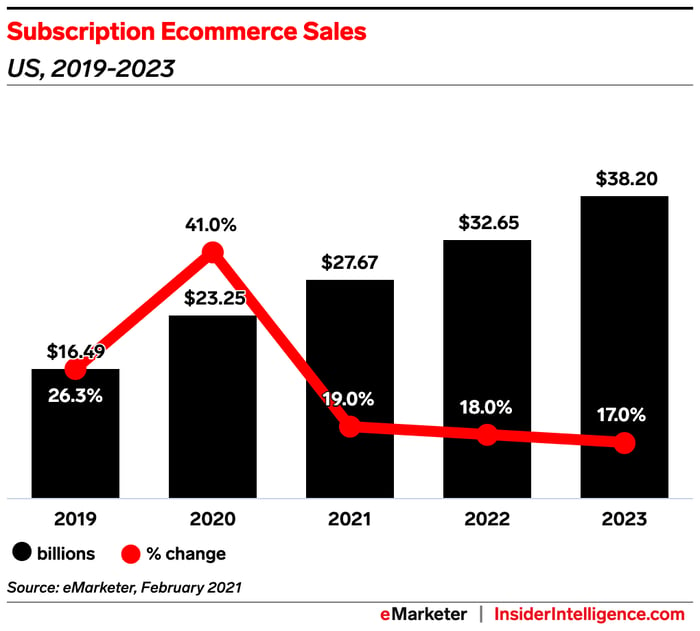 Source: InsiderIntelligence
Although not a prerequisite for every eCommerce business, if any part of your organization is a subscription-based model, then you need a subscription agreement. You could include these details in your T&Cs, but that may already be a large and unwieldy policy. It's best to have your subscription agreement separate in your list of legal business policies.
A subscription agreement should cover all the T&Cs and specific issues related to your subscription services. This may also apply to companies that offer SaaS services so that their customers know what is expected of them and what is expected from the organization itself. Some common things to consider having in your agreement include:
Electronic Signatures: This includes how they will be used and their binding legality. It can help to use a dedicated e-signature solution, ideally one that offers integration with other tools you may use, such as PandaDoc Salesforce.
Licensing: This defines what customers can do with any product or service they purchase from you.
Membership Agreements: Customers agree to these when subscribing to your service.
Legal and Regulatory Compliance: This is how you protect their rights and data.
Shipping Policies: These clarify if there are any special conditions regarding the shipping of products.
Disclaimers and Waivers: These clarify if there are any special circumstances related to any of your products or services.
Export and/or Taxes: If you sell globally, identify clearly any conditions regarding exporting (such as the buyer bearing responsibility for import taxes in their country) and also whether there is any responsibility for sales tax at the point of origin.
Guarantees and Warranties: These clarify if there are any special conditions related to subscription services that are not covered in your central guarantees and warranties policy.
The Takeaway
Nobody said that the path to success would be easy. As an eCommerce business owner, there are many things to consider, both at the start of your business journey and on an ongoing basis. You should have two goals in mind: to have a highly-satisfied customer base that shops with you repeatedly and to see your business achieve sustainable growth, maybe even to the point where you need to use an affiliate marketing template to onboard new affiliate sellers. As your customer base and business grows, you'll have to adapt to the new demands this creates.
However, running parallel to those two goals is a need to be fully legal and compliant with all required laws and regulations regardless of where you operate. Meeting that need means that you are transparent and can avoid potentially costly litigation, fines, and legal fees in the future.
Disclaimer: The above content is provided solely for informational purposes and is not intended to serve as accounting, tax, legal, or other professional advice. You are solely responsible for your own compliance with laws and regulations. You should contact your accountant, attorney, or other relevant advisors for advice specific to your circumstances.