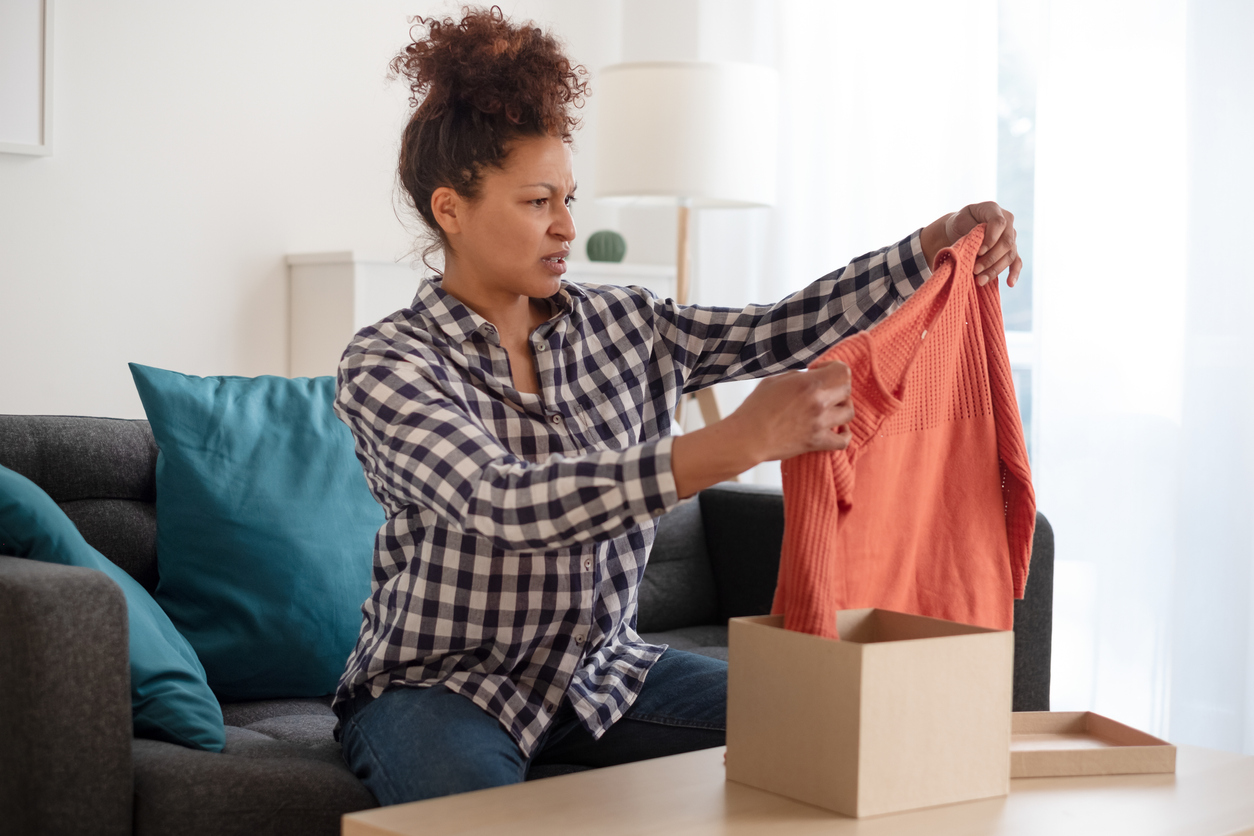 Ecommerce returns can slowly eat into your bottom line if you're not strategically attacking them with post-purchase loyalty-building tactics.
During the holiday season shopping frenzy, many will buy from you with the sole intention of returning one out of every ten purchases. Now, this consumer behavior might seem out of your control, but there are many instances where retailers are at fault. Wrong products delivered, unclear copy, and insufficient visuals, etc. – the list goes on.
Here are some of our tips to help you understand why customers return products and what you can do to rescue your eCommerce return rate.
Why Customers Return Products
1. They always intended to return.
Many people, especially holiday shoppers, are notorious for returning products en-masse post-holiday season, taking advantage of extended return policies. Brick-and-mortar retailers are aware of this perfectly well. Whether it's a sweater your partner abhorred or a big-ticket impulse purchase made in a holiday-caused shopping frenzy, shoppers will try to return it.
NRF reports that a quarter of holiday shoppers buy products with the intention of returning them at a much later date, and many eCommerce businesses concur with returns peaking during January.
2. The product didn't fit or work.
With brands flooding the market by thousands every quarter, sizes and fits are more likely to vary than ever before. While earlier consumers had choices between four family clothing brands to choose from, now there are hundreds!
It's all too common in the apparel and footwear industry, but it provides food for thought in others like home electronics or health products, for example.
A couple of motivators behind this is that people genuinely make mistakes more frequently than they care to admit. They may have purchased the wrong item or size, changed their mind about it after seeing the product, or simply don't need it anymore.
All you can really do is ensure you're sharing as much product information on listings as possible to work around this. Turn customer feedback into valuable product information. If people report, a particular item fits bigger, mention that prominently in the product description.
Talk to your customers by doing post-purchase and return surveys to determine a strong product positioning that matches their needs. Opening doors to feedback can help you as an eCommerce business provide a better range of products that fit more closely with your intended market.
3. The product didn't match the description.
Speaking of writing accurate product descriptions, if there was a dollar for each time eCommerce sites wrote just one sentence in the name of 'description,' we'd be drowning in cash.
Take the following product – a kitchen rack – for instance. The product description mentions a plastic rack with no more detail about its durability, use, make, or anything that would differentiate it from 50 other sellers.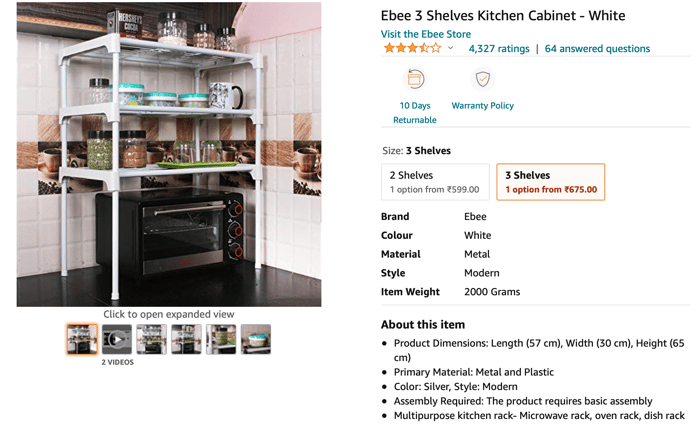 15% of reviews under this Amazon product listing are single-star reviews, with most saying it's "not worth buying."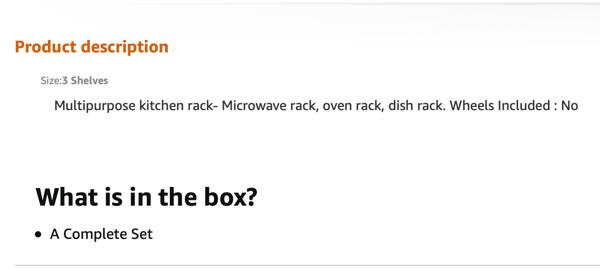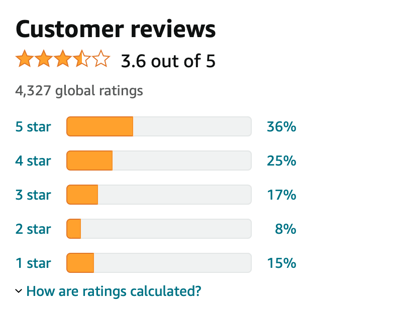 4. They're returning a gift.
There's a reason gift receipts exist. You might not know someone's size or tastes, so it's only polite to give a gift receipt along with the gift, right? Among holiday returners, many customers are those returning a gift. Since they didn't directly buy the product, they are not your brand's direct target market.
These are usually returns ringing less than $100 and are not worth spending marketing dollars trying to keep them in your system.
5. They're defrauding you.
During 2020's eCommerce boom, return fraud amplified too. In this practice, a customer places a legitimate order online, the online business delivers it successfully, then the customer goes online or to customer service and falsely declares that they never received the package. To maintain high customer service standards, businesses promptly refund the paid amount while the customer keeps the item for free.
Wall Street Journal reports that consumers became so savvy that they hired professional fraudsters to defraud eCommerce sellers to the tune of $20,000 in refunds per order.
They extensively research and document seller return policies, identify loopholes, and make a princely living out of them.
Strategies to Reduce Your eCommerce Return Rates
1. Optimize Product Visuals
Online shopping for shoes or clothing from new brands usually consists of more misses than hits. In a real-world where you would try an entire rack spending at least an hour in a dressing room, instead, now you'd be relying on product photos, videos, and reviews to stand in for all the above.
Ecommerce can make the online shopping experience as close to an in-store one by optimizing visuals for what customers are looking for.
Take a page out of eyewear companies' book of creating a stellar shopping experience. They've delivered on understanding of their target customer's needs perfectly. Clearly – an online multi-brand eyewear retailer – offers 360-degree views of frames, an AI-powered tool to test out products, and examples on how they'll look on different genders.
Failing to understand whom you're selling to is one of the most common eCommerce mistakes you can make.
Other ideas to optimize visuals are –
Show products in different use cases. For example, a coffee table can be shown in several areas of a home, such as a living room, balcony, study room, etc.
Leverage user-generated content by using those photos in the original listing.
Example: Lulu's puts this into practice by including customer photos where they have either tried out the item or worn it to a real occasion, like a wedding. They encourage happy and satisfied customers to share their looks on social media and reward them by giving a shoutout on the listings.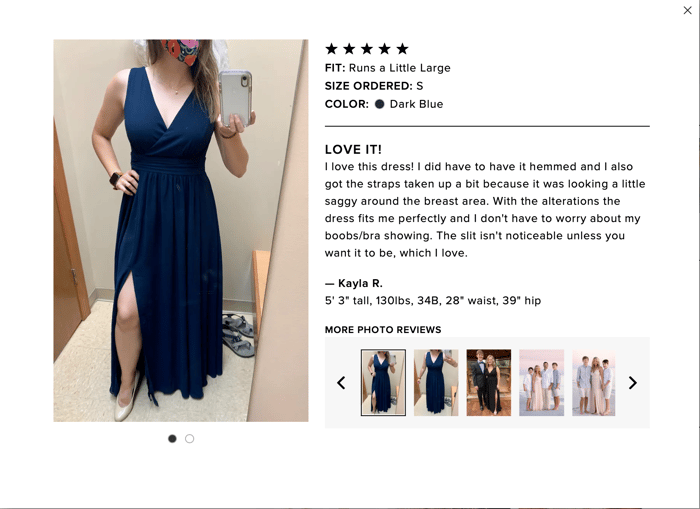 2. Enhance Products Descriptions
If you're selling run-of-the-mill products, you really can't go wrong with a copy there. It's new products and services that need an extra touch of SEO copywriting love to get customers to understand them better.
A few tips on writing product descriptions are -
Be accurate and true to the product
Focus on main selling points
Avoid information overload
Include care and storage instructions
Explain the returns and exchange policy
Pro tip: All returns policies are not made the same. Write a detailed return and exchange policy that covers all use cases and anticipates your customer's expectations.
3. Collect Customer Feedback
Remember the tip about determining the right product positioning? Collecting customer feedback is the secret sauce to striking a balance between product and market needs.
Regardless of whether they are service or product-oriented, most businesses send post-purchase feedback collection marketing emails to get a sense of how they did. Were they satisfied with the purchase experience? Will they recommend you to someone they know? Word of mouth is powerful.
Example: Clothing brand Frank and Oak lets customers enter lucky draws to win shopping sprees worth $1000.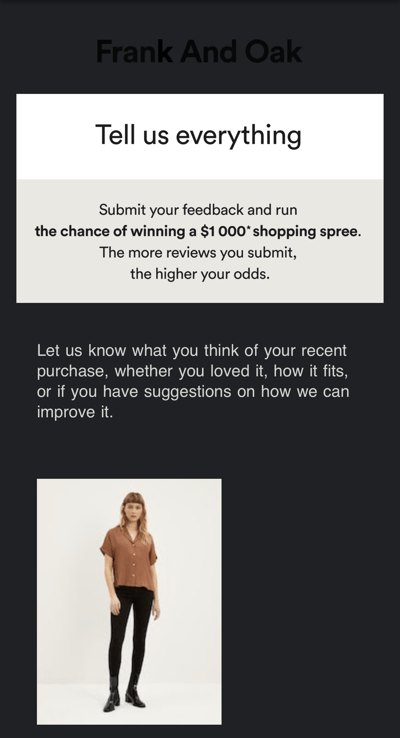 If your business is already asking for reviews, then spend time reading them.
Many brands have feedback collection processes without a post-collection plan to turn them into powerful data, which helps inform product research and the online shopping experience. For example, you can build a survey form on your website to directly engage with visitors who are shopping.
It's important to ask yourself a few critical questions.
What are you doing with the reviews?
Does your customer service team respond and address concerns often?
Have you found reasons why customers return your products? Is the description not clear or sizing too small?
Once you've deliberated on the above areas, take appropriate action to address them with the right optimization tactics.
4. Provide Precise Sizing Information
Heard your customers' reasons for returning? Is 'ordered the wrong size' turning out to be the most-often chosen option? You're not alone. Wrong and inconsistent sizing is the main culprit in most returns initiated in the apparel and shoe industry.
While people are familiar with their sizing in mega-brands like Nike and Adidas, customers might have a tough time landing the right size and fit in new, upcoming brands.
Consider adding sizing charts under the product description section, including equivalent sizing in brands customers are familiar with. This could help lower the incidence of returns initiated due to sizing issues and enhance the overall shopping experience for your customers in the long run.
Other ways to help customers get the right size are –
Product Comparison: How does this product look compared to a popular brand? Does a shoe size 6 run bigger than a Nike size 6?
Sizing Scales: Do customers report a product running bigger, smaller, or true-to-size? Include an easy-to-understand sliding scale with at max three markers – smaller, true-to-size, bigger.
Real-Life Comparison: How large or small does a wallet appear on a real human hand?
5. Make it Easy for Customers to Change Orders
Don't be a sneaky online business that doesn't take returns or offer exchanges. It might work for eCommerce stores based in far-off regions, but if you're catering to a local customer base, ensure you're making the post-purchase experience as hassle-free as possible.
Automate the entire experience by allowing customers to initiate returns online through self-help desk software. It can also help you reduce customer churn rates by offering them alternatives to their purchase based on their selected reason to return.
Did they change their mind? Offer them similar items in a different color or style and turn a return into an exchange, mitigating losses along the way.
Was it not what they expected? Ask them to delve deeper and share their expectation. Was it the size, color, or look and feel of the product? Offer them a store credit and a discount on the next purchase to build customer loyalty long term.
Choosing the right order management tools can help small businesses spin a return into a transaction.
6. Offer an Alternative Product During Returns
Building on the previous point, roping in cross-selling and up-selling tactics during a returns process is a valuable retention strategy that can help lower your returns rate.
This is especially useful during peak returns season!
Your customer's dad doesn't like the color of the sweater you got him, but he likes the design? Before they hit return, show them other colors it's available in. He gets to keep the sweater while your customer doesn't get to hear about the time they got them THAT slimy green color during the next family dinner.
7. Protect Your Brand Against Fraud
Holiday returning season also means peak fraud season. An easy-to-use online returns process is a goldmine for serial fraudsters. They don't even need to step foot in a store and argue with a service employee.
Amazon found a great way to mitigate this by mandating their delivery partners to click and post a picture of the package on delivery as evidence to customers. The key here is to determine a way that preserves your profit margins while uplifting your brand's customer service experience.
To protect yourself from fraudsters:
Invest in Fraud Protection: Is a customer initiating too many refunds without a good reason? Set a limit to the number of returns a customer can make in a particular range of time. For example, allow only two items in 5 days during the peak holiday season.
Document Delivery with Photos: Take a leaf out of Amazon's book and include precise delivery time and circumstances on the order information page. Did the shipper drop it at the front desk or with a neighbor? What time did they deliver at? If they claim something like 'item not received,' leverage this information to save the return.
Return Shipping Labels: Include return shipping labels in packages, so they are obligated to ship the item back to get a refund.
As your shipping volume grows, you can add sophisticated fraud protection systems and decrease your return rate.
Returns are not the bad guy here
Brick-and-mortar businesses dread returns because they hit them right in the bottom line. They don't have leading-edge intervention tools at their disposal like eCommerce stores to rescue a return at the cash desk. They solely rely on human intervention, which can vary widely depending on someone's communication and sales skills.
Creating a smooth returns process is a valuable addition to your online store's overall shopping experience. Customers can shop peacefully knowing they can safely return a product in case they change their mind about it. In the meantime, it boosts your brand reputation and customer satisfaction rates.