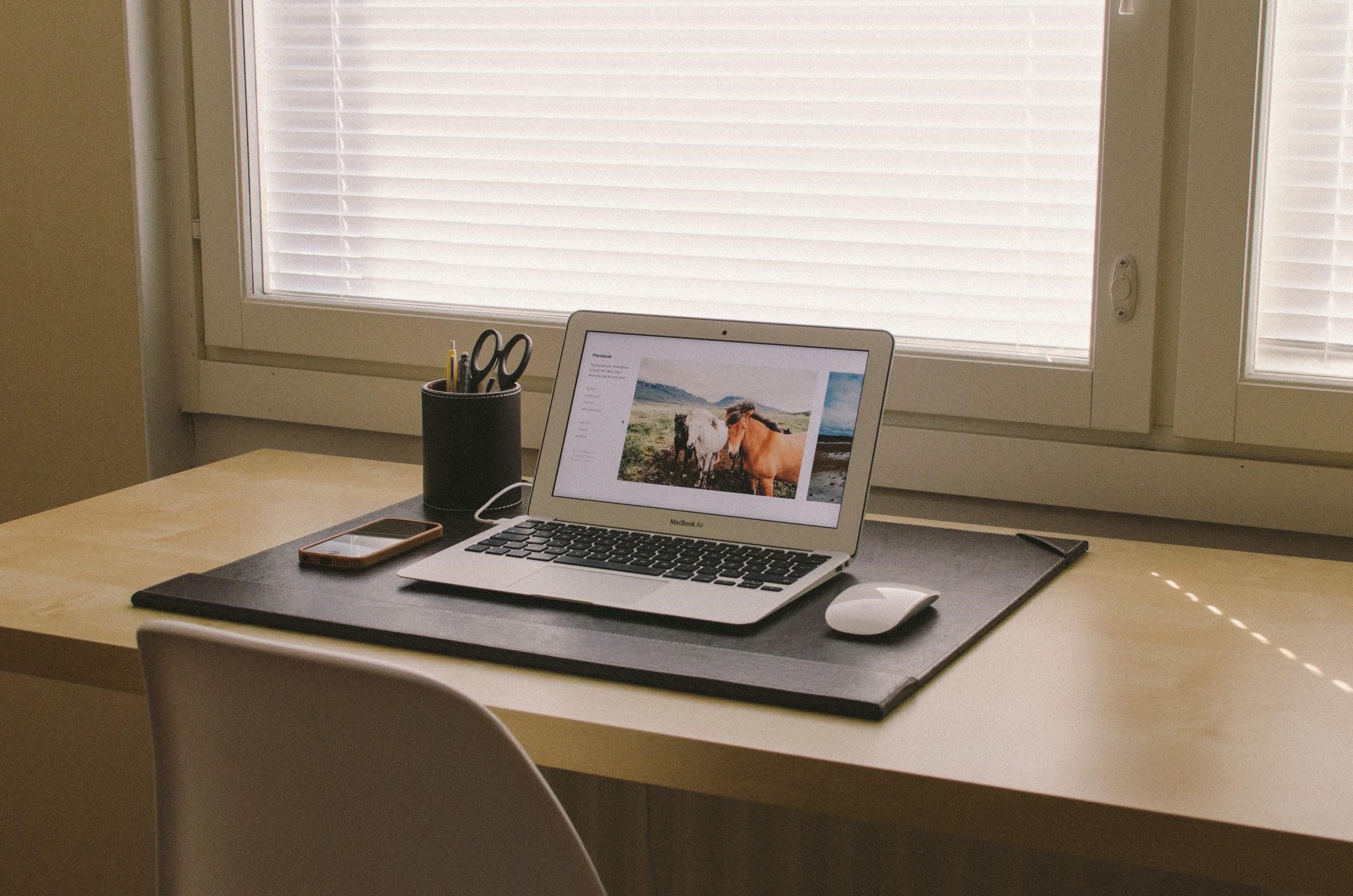 Remote working has become one of the hottest topics recently as everyone is stuck in their homes. But, believe me, remote working isn't something new. It has been up and coming for a good couple of years. Now, with the current outbreak, businesses are "forced" to explore the world of remote working.
I believe that the long-lasting bias against working remotely is gone by now, but there are some nuances that some businesses might not be aware of which could help them fully utilize the benefits of a remote working force. A study done in 2019 summarizes the biggest issues remote workers are facing is struggling to unplug after their workday is over. This statement can single-handedly show how productive a remote team can get.
Ecommerce businesses might have a tough time during this unprecedented situation, but it's important to not give up and prosper by following some simple remote work techniques and tools.
Tips for an Effective Remote Working Team
One of the prominent traits of a remote team is the lack of an office. No tapping on shoulders, no coffee breaks, and no team lunches. In other words, the lack of an office means that communication can be a serious issue. However, it doesn't have to be; with a proper setup your team can communicate even better.
With the right tools and the right mindset, teams can do a much better job of communicating what they are doing. Tools are easy and plenty but gaining the right mindset is a little trickier.
The biggest benefit of remote working to employees is flexible working hours. Everyone has their own time of the day when they are productive; being able to work when they are at the peak of their performance makes them much more productive and, as a result, more satisfied with their work. That's probably why most remote workers struggle to end their workday.
Effective communication is the key to successfully coordinating teams while they are working flexible schedules. For example, we at JotForm have core hours where every team member has to be online, but how they will distribute the rest of their workday is entirely up to them. This enables our teammates to have common work hours where we can discuss urgent issues, but we are also not restricted to a specific time period so that we work when we feel like we're the most productive.
One other problem remote workers face is, especially for those who work from home instead of workspaces (basically everyone right now), that their daily lives get tangled up with their work. To prevent this from happening, it's always a good idea to have a separate room or desk that is reserved for only working. This might sound ineffective but when you work where you live your brain doesn't know when you should be resting. So, you either end up constantly checking your emails or you start slacking during your work hours. Both are there as the greatest problems a remote worker can face.
While remote working removes the need for an office, you should still provide your employees with the proper equipment. Helping them with setting up a home office, providing them with office supplies and of course a computer to work on is usually expected from you.
Remote Working in eCommerce
Remote working is growing and even without the current pandemic, it would still be growing. So, let's go over how remote working applies to eCommerce businesses in a world where it's not mandatory, but a good business decision.
Ecommerce is a busy industry and, depending on your niche it can be quite competitive as well. Providing around the clock support, coordinating suppliers, keeping track of sales, marketing, and everything else you need to do to be successful requires your business to be extremely responsive, more so if you're globally active. A standard 9-5 office schedule won't cut it. Hiring from a local workforce won't cut it either.
That's where remote working comes into the picture. Apart from potentially boosting the productivity of your team, it allows you to tap into a global workforce, be active in all time zones, and cut operational costs significantly. Maintaining an office, or in some cases, multiple offices can be quite costly. A remote workforce won't be free of course, but still, it's a lot cheaper – especially when you take into consideration the lower turnover rates remote companies have. Not maintaining an office and cutting re-hiring costs can provide your business with a much-needed lift.
Top Tools for your Remote eCommerce Team
The prevalence of remote working rests on the variety of digital tools that are available. With the right set of tools, businesses are able to quickly shift to remote working. In fact, if businesses weren't able to switch to remote this quickly, the consequences of the outbreak would be much, much more severe.
It's important to always remember that tools can only be useful if they are utilized properly, so none of these tools will magically solve all of your problems, but with the right toolset and the right mindset, chances for you nailing it is pretty high.
Communication Tools
Communication is everything in a remote team. And, when teammates can't communicate just by visiting their colleague's desk, a proper communication tool becomes one of the most important tools you can employ. Most companies already use these tools, but they go from helpful to mandatory in a remote setting. Successfully managing projects while working remotely can be the differentiating factor for keeping your e-Commerce profitable during a crisis.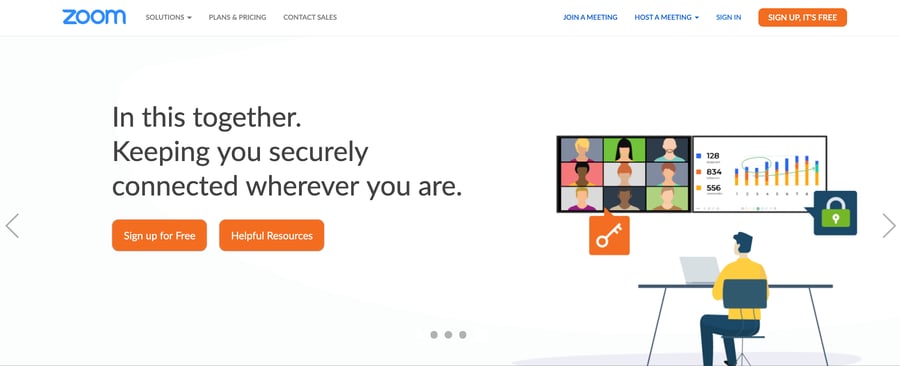 I believe most of the world's population is now aware of a video communication platform called Zoom. The service allows the users to set up video and audio calls, even webinars. Getting to know how to use Zoom is considerably easy, supposedly has fewer crashes compared to its competitors and easy to integrate with other services, making it the most widely used video conferencing tool.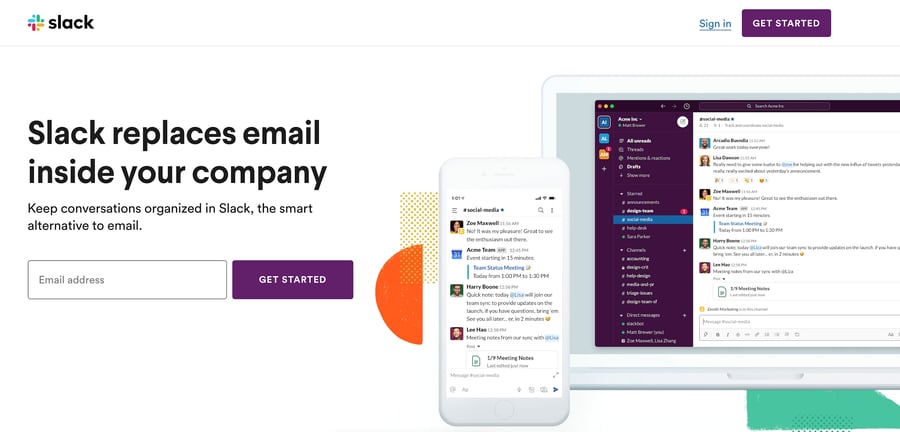 I don't think that there is a business that doesn't use Slack or a similar communication tool, even if they aren't remote companies. Slack is a communication hub for teams where you can create channels for projects, departments, or just fun stuff. Slack comes with thousands of integrations and is especially useful for support and sales teams as you can automate new tickets, leads, etc.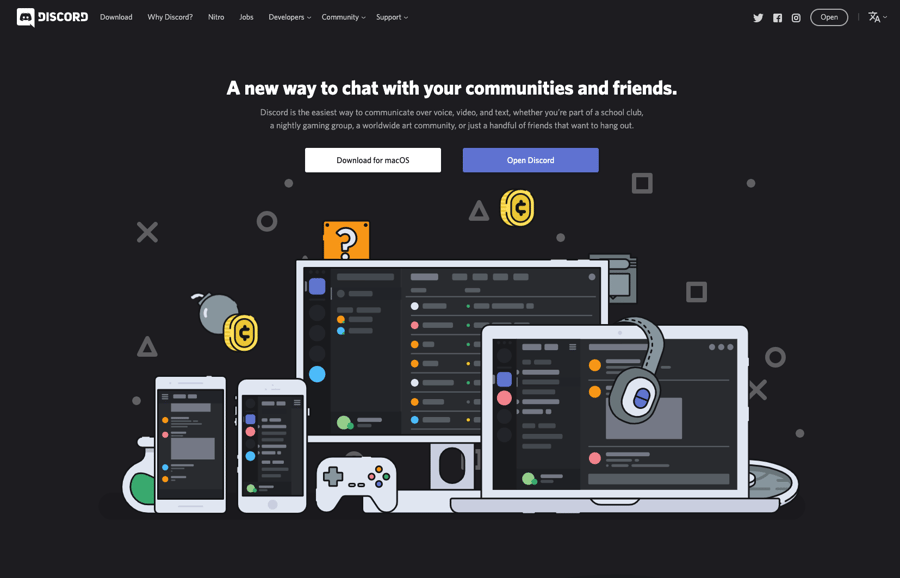 Discord started as a communication tool for gaming, but it has evolved significantly. Similar to Slack, its main benefit is instantaneous messaging and voice chatting. You can create voice channels for each team where people can instantly ask questions just by speaking or open video calls to quickly hop on a meeting. It basically allows you to create virtual office spaces. Discord is quite popular among developers, as it's pretty easy to create bots that will execute various tasks.
Part of the G Suite toolset, Google Meet (previously Google Hangouts) allows you to host larger video calls, thus making it an excellent tool for meetings. It's bundled in the G Suite package, so if you're already using the wide variety of tools it offers, it's a good addition. You can create recurring meetings and naturally, it integrates with Google Calendars seamlessly. Simply create a meeting and everyone invited will be notified and see it on their calendar.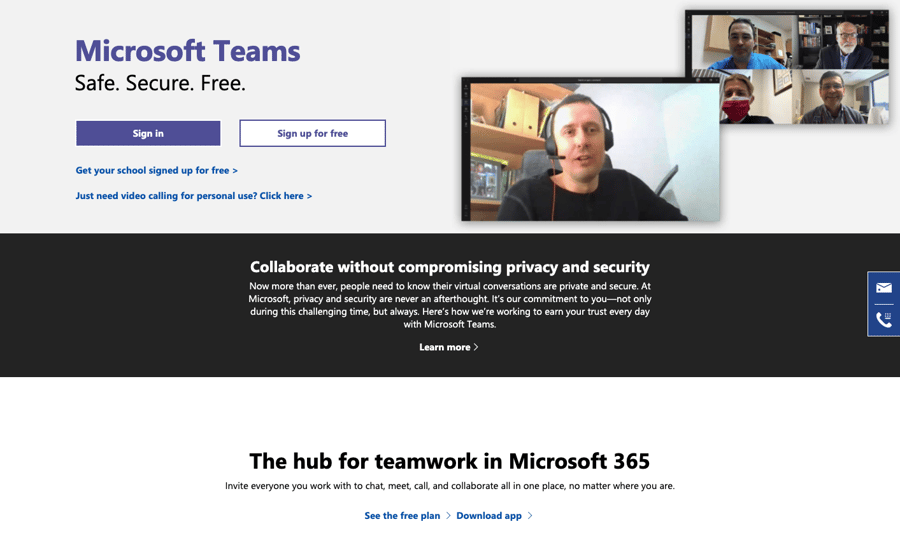 If your team is using Microsoft Office 365 tools instead of G Suite, Microsoft Teams is a no-brainer. Similar to Slack and Discord, it allows instantaneous messaging, video conferencing and on top of that, allows collaboration on Excel, Word, and PowerPoint documents. It's the perfect hub if you prefer Microsoft Office tools over G Suite.
Collaboration & Management Tools
Collaboration is almost equally important as communication in a remote setting, as team members won't have the opportunity to just pull up a chair and go over a task or project. Fortunately, there are many tools that make collaboration even easier than pulling up a chair.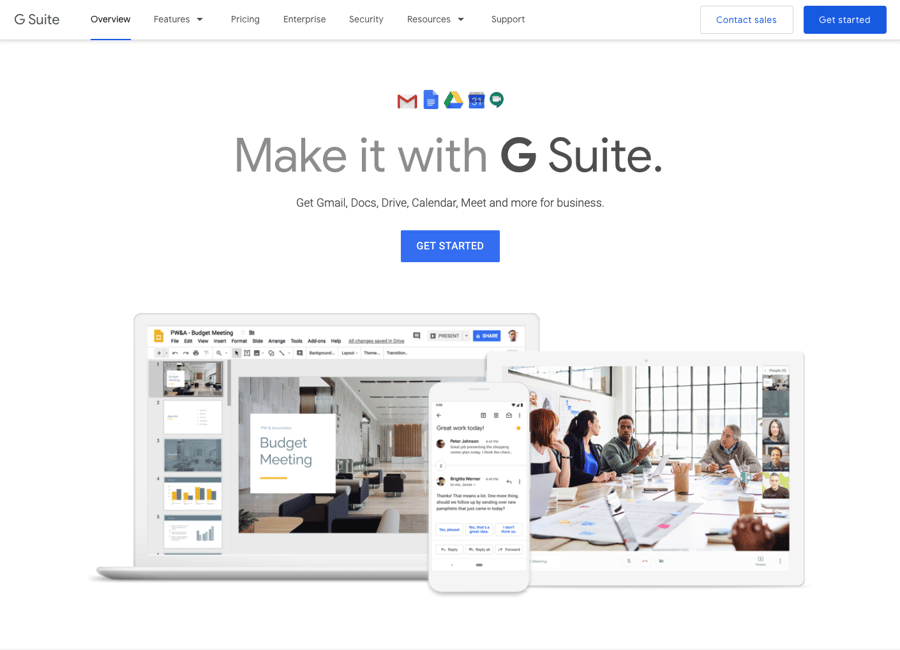 G Suite is the full suite of Google tools including Gmail, Google Drive, Google Docs, Google Sheets, etc. All of these tools are hosted on the cloud and are connected in Google Drive. So, teams can create their projects and access them from anywhere and anytime through their browsers.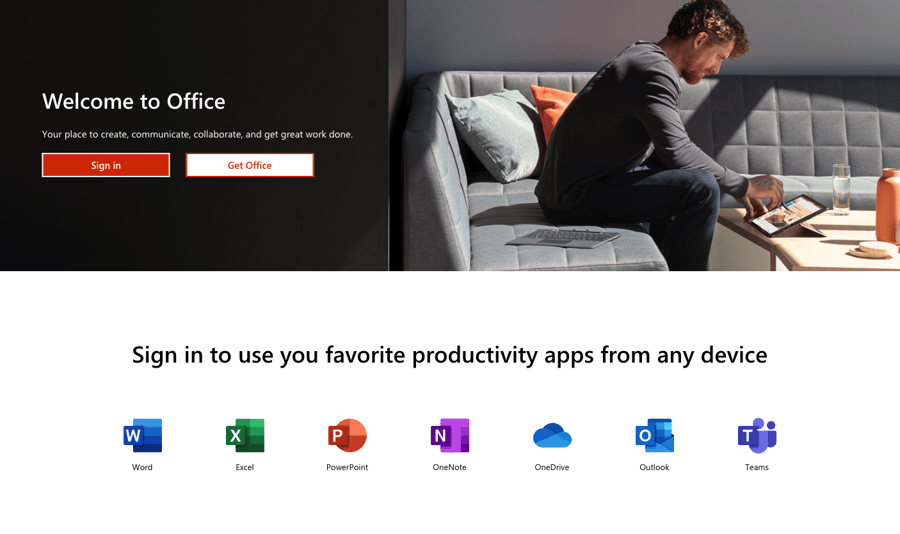 Microsoft Office is the original collaboration hub; it combines the classics such as Word, Excel, and PowerPoint. Combined with Microsoft Teams, it becomes one of the best collaboration tools a remote team can use, as Microsoft Teams allows teammates to sync their work together and access it remotely.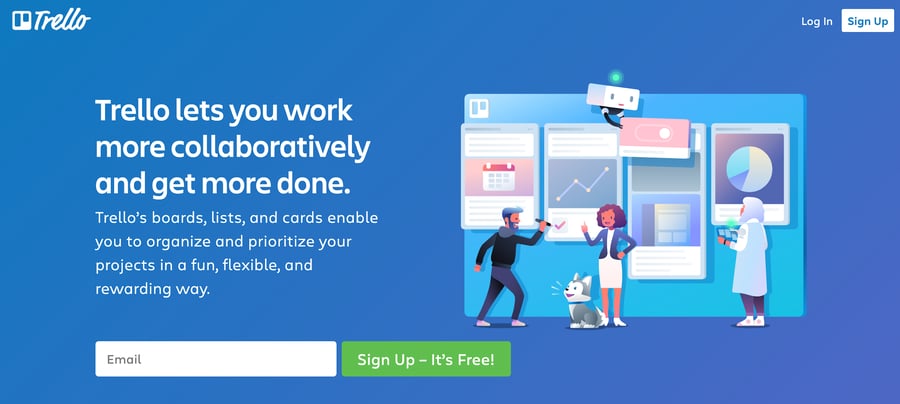 The Japanese Kanban method is a visual production management system and has made its way to almost any industry as one of the most effective project management techniques. Trello is the digital embodiment of the Kanban board. You simply create tasks in a card format, add details, share files, images, links, and (based on the current status of the task) you can move the card to their appropriate spot. This makes it extremely easy for people to keep track of their tasks and the rest of the team to stay in sync.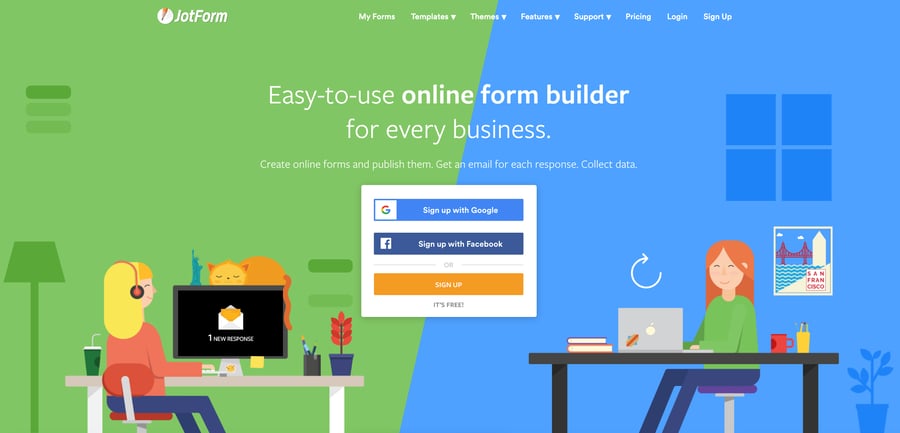 JotForm is a low-tech online form builder. It allows users to create online forms with minimum technical knowledge. It's also quite a strong collaboration tool as your teammates can officially request work or help in their tasks, report progress, and more. It works especially well in eCommerce as supply chain management and inventory management teams can use it to report their situation. It can also serve as the bridge between your remote workers and field workers. If your business is dealing with the healthcare sector, for example, you might find something useful for your e-Commerce website from their telemedicine toolkit. JotForm can also be used when you're setting up your remote team, gathering what suppliers are needed by your workers, or it can be used as a strong remote hiring tool.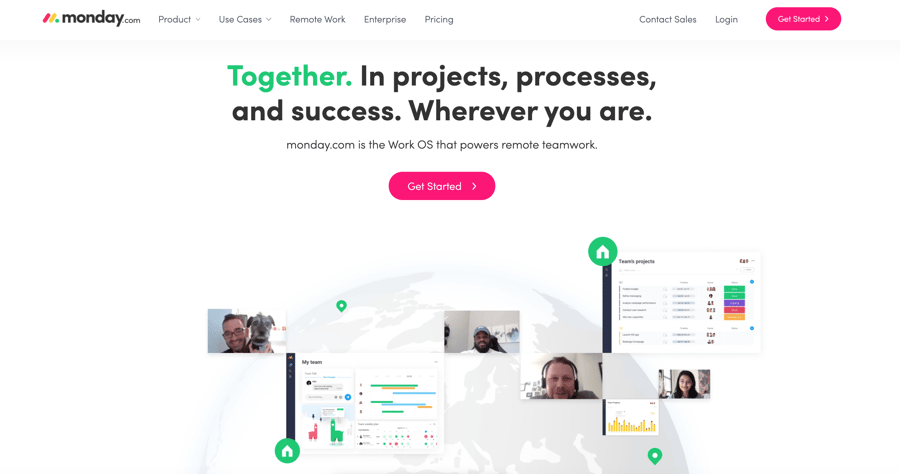 Monday.com is the ultimate project management tool, and its value only increases with remote teams. It's a tool that makes it extremely easy to create workflows. These can be used to track and sync the work hours of your remote team, collaborate on projects, tasks, and keep track of the entire team and project.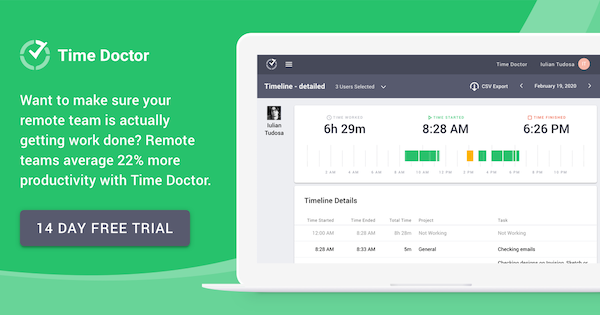 Don't worry, big brother isn't watching you. Time Doctor is a time tracking tool that tracks which websites you visit while you're working and how much time you spend there. Some employees might think of it as surveillance, but that's not the purpose of the tool. It helps the individual to track their productivity and easily see what distracts them and see how productive they were in the last week, day or month to reflect upon it and improve themselves. Automatically getting feedback on their own performance will help employees keep up the motivation in a remote world where getting first-hand feedback from team members and managers is not that easy.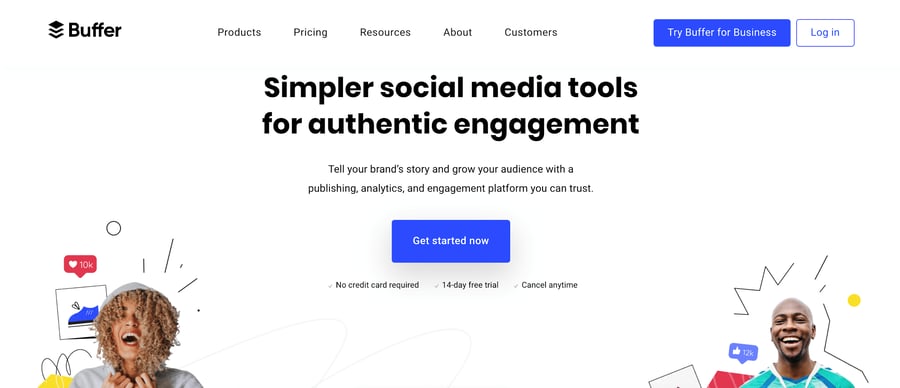 Buffer is a social media scheduling tool that works exceptionally well with remote teams. Your social media team can schedule posts to go live at certain times. They no longer have to adjust their work hours or be in your time zone to run successful social media campaigns. The rest of the team can stay on top of the social media calendar as well.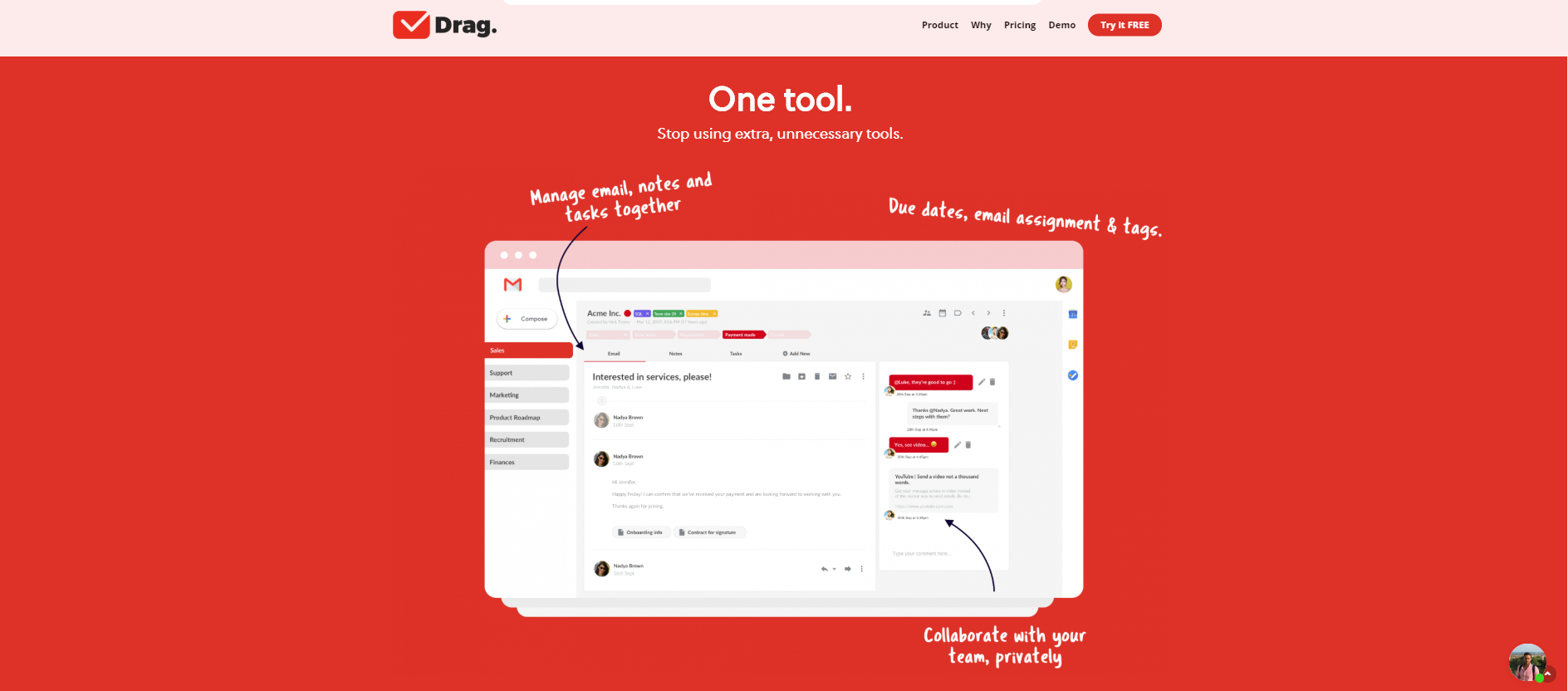 DragApp is a shared inbox solution that works inside Gmail. So you can have your personal inbox and a team inbox (such as sales@, support@) in the same place, without the need of sharing passwords and logins.
Since most things in a workflow start as emails, they can easily spread across different tools -help desk, CRM, task management tools. Drag's purpose is to eliminate the back and forth from your inbox to these tools, to save time and increase your productivity.
It also offers a Kanban view, which is great for task tracking on your projects. Moreover, you can easily turn your emails into tasks, add notes and due dates, and even mention teammates to assign work.
To Conclude
So, that wraps it up. We tried to come up with the most effective remote working tools that will make the shift to remote working seamless. These crazy days can be viewed as a demo of a remote working world. However, it's always important to remember that, normally, the remote working experience is drastically different than working from home during quarantine. Most remote workers prefer working from their homes, but they can also go to a cafe, a workspace, or even work while on a holiday. But still, these trying times will pass, and I hope that the efficiency and benefits of a remote team will be more widely recognized as a result.