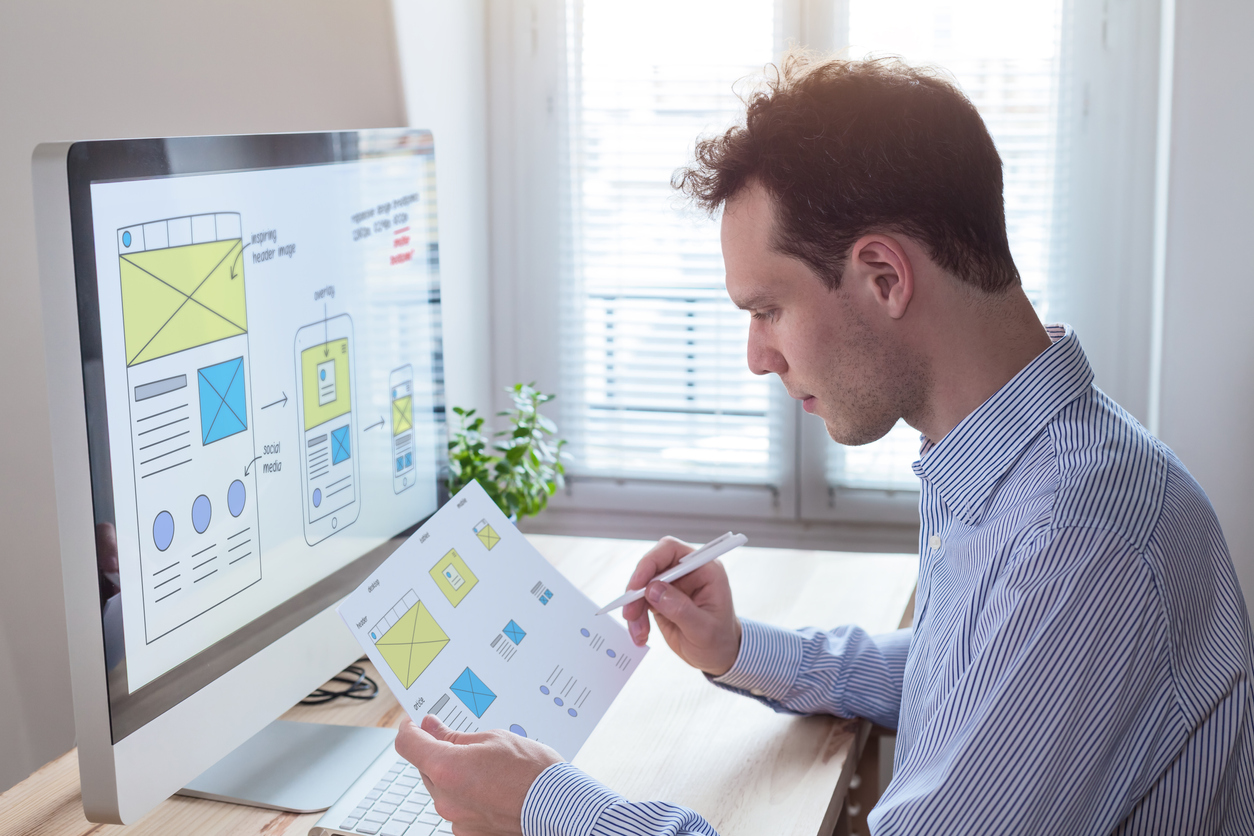 Running an eCommerce website is on the minds of most of the retail industry in 2020. However, the problem lies in the fact that, in such a competitive industry, you need to learn how to tap into every single potential advantage that you come across. One of the ways to get there is to follow all the latest trends and requirements. With that being said, here are the top 20 basic eCommerce website requirements for 2020.
1. Minimalism
The first thing you need to keep in mind is that your audience doesn't always want an abundance of choice. What they're interested in is getting the product that they want, which is why they need a simple interface, intuitive categories and the necessary information. We're talking about price, shipment options and a brief list of product features. To do this right, you should start looking for minimalist website builders.
2. Dark Mode
A dark mode enhances visual ergonomics and drastically reduces eye strain. Keep in mind that, for someone who spends most of the day online, this chance to rest their eyes might be more than welcome. This is especially prominent during the nighttime which is, coincidentally, when most people are staring at their phones. The biggest advantage of a dark mode is that it slightly and passively increases the customer satisfaction that users feel when shopping on your site.
3. Chatbots
Chatbots providing assistance on a page are yet another welcome change. Namely, chatbots provide your audience with an immediate response, which is a huge plus for your customer experience. As far as the concerns of people that don't want to chat with bots go, most of the time your audience can't even tell whether there's a human being or a machine on the other end. Although, it's beneficial to have human support agents on stand-by for those who need more personalized assistance.
4. Protect Your Platform
Since you're asking people to give you their personal information, it is only right that you go above and beyond to protect their data and your business. This is why, in order to be taken seriously in the eCommerce world of 2020, you need to make an extra effort to protect your platform. A single leak is sometimes enough to ruin your reputation for good – especially when there are so many competitors out there that your audience doesn't even have to take the unnecessary risk.
5. Mobile-First
Seeing as how the majority of traffic online takes place via mobile devices, it's only natural that you need to consider going mobile-first with your design. Today, people no longer expect their mobile browsing experience to be any slower than its desktop-based counterpart. This way, you put the emphasis on responsiveness, which should drastically improve your user experience. Speaking of which…
6. Focus on User Experience
While user experience may sound like something subjective, the truth is that it consists of a plethora of objective, statistically proven factors. Keep in mind that key factors here are the intuitiveness of your design and the responsiveness of your website. Therefore, your homepage needs to be clean and simple while your categories need to be well-organized. Aside from this, visuals that aid in the user experience, rather than distract from or get in the way of it, also play a key role in the overall effectiveness.
7. Search Engine Optimization
The internet is a big place, making it easy to exist without ever being noticed online. Perhaps the most important thing to improve about a website in such a competitive field is its ease of discovery. The most efficient way of doing so is making an investment into the SEO optimization of your page. For this to work, you need to look for reliable local SEO professionals. For instance, an NSW-based business should look for Sydney SEO experts to help them out. Local collaboration can drastically improve the effectiveness of outsourcing, seeing as how face-to-face meetings and being in the same time-zone tend to make things a lot simpler.
8. Gamify Shopping
There are many ways for you to gamify the overall shopping experience on an eCommerce website; one of the most unique methods is incentivizing shoppers with a loyalty program. By offering rewards in different tiers, you'll give your audience an intrinsic motivation to try extra hard in order to make a difference. Loyalty programs work best by offering rewards for shopping often, typically giving customers points with every transaction that can be put towards a future free item or discount.
9. Content-Centric Design
Keep in mind that your audience is always looking for content. This means that you need to make sure that your website is content-centric. Otherwise, you're not providing your target audience with the multi-faceted brand experience that they're looking for. Keep in mind that the quantity of the content in question matters almost as much as quality. Even the best-written post won't do much if the rest of your site is completely empty, so work on putting out consistently valuable content in the form of blog posts, videos, photographs, or anything that works with your brand.
10. Focus on Return Customers
Return customers are incredibly profitable because they're already familiar with your business and are more likely to stay loyal. However, every returning customer was once a first-time shopper. This is why you need to optimize your platform so that it turns one-time shoppers into lifetime buyers. While a post-sale follow-up may not be directly integrated into your website design, you can gather customer information and reach out to them to further personalize the shopping experience.
11. Adequate Photography Techniques
Your website is all about categories and products. For your products, you need to be using high-resolution photos and images – but, it's not just the resolution that matters here. Other than this, you also need to focus on the photography techniques used. For instance, when selling clothing items, there's nothing quite like ghost mannequin photography. Product photography should focus on giving customers the closest understanding possible of the product in question to boost conversions and cut down on post-purchase regrets.
12. Increased Traffic
Apart from all of the above, you need to keep in mind that an increase in website traffic needs to be a factor that you prepare your business and website for. Every year, the number of people online rises; the same goes for eCommerce. By utilizing technology that enables your website to handle lots of customers at once, you can prepare yourself for the change. Regularly updating your website, updating the plugins and removing those that you no longer use are just some of the ways to achieve this. Finding a reliable host, or using a secure hosted eCommerce platform, also helps to maintain a constant up-time.
13. Multilanguage Support
More and more of the eCommerce business is occurring internationally. For instance, while the majority of the internet is in English, it goes without saying that China is currently the world's biggest eCommerce market. In fact, Alibaba is the world's largest eCommerce site when taking into account GMV, or gross merchandise value. Since many overseas markets are rapidly growing, you should provide multi-language support on your website to avoid alienating any international customers.
14. Guest Checkout
A lot of people become frustrated at any delay when they decide to make a purchase. Because of this, customers highly value it when you allow them to pay without having to register for an account on your online store. Simply offer them a guest checkout option to give you their payment information, their email (for confirmation and digital receipt) and the address of delivery. The checkout page especially is incredibly important for optimizing conversions and reducing cart abandonment, so focus on any potential snags in the process on your site.
15. Secure, Flexible Payments
It's vital that you keep your customers' sensitive payment information safe and secure when they shop on your eCommerce website. Additionally, you want to offer flexible methods of payment to customers who prefer alternative payment methods like digital wallets. By integrating with a payment gateway like Shift4 Payments, your online store will take payments securely with a platform that offers tokenization, card-on-file, bank-grade security, and more. They can also accept popular wallets like Apple Pay and Google Pay, keeping your customers happy with more options to pay.
16. Adjusting to Your Demographic
There are various studies online about different demographics; what you need to do is A) study them and B) adjust to them. For instance, men statistically spend more money online than women, Generation X is the most active when it comes to shopping, and Baby Boomers spend more per transaction than any other group. Knowing the composition of your target audience will allow you to adapt your strategy to their more likely habits.
17. All Devices Matter
Previously, we've talked about the importance of going mobile-first. Well, the truth is that all devices matter. You see, even though there are fewer sales on tablets and desktops, the truth is that these two devices have A) higher conversion rates and B) higher average value of the order. This makes them relevant, even in 2020, which emphasizes the importance of responsive design instead of a separate mobile website. Test your site out on multiple devices to ensure that all elements function properly, regardless of screen size.
18. Recommended Items
Recommending the right item at the right time might make a difference between making a sale and failing to do so entirely. One of the best ways to improve your recommendation algorithm is to closely study the art of cross-selling, which is the practice of selling additional, often complementary, items alongside the initial product a customer may have been looking to purchase. The recommended items feature is a subtle and seamless way to do so.
19. Work on Load Times
One thing that most highest-ranking eCommerce websites have in common is their average load speed being bellow 2 seconds. This makes a huge difference since, after 4 seconds of not loading, you stand to lose as much as 25 percent of your total audience. Test your site's load times with a tool like Google's PageSpeed Insights and work on eliminating factors that may be causing your site to load slower than optimal.
20. Abandonment Rate Isn't That Scary
The last thing you need to keep in mind is the fact that cart abandonment rate is no longer seen as something scary. After all, about 85 percent of all people do research before buying, and average the conversion rate within the eCommerce industry is lower than 3 percent. So, don't get discouraged; cart abandonment is something that will happen with any online store. While you can work to reduce it, this rate isn't something that can be totally eliminated.
In Conclusion
If you work to abide by these 20 simple rules and requirements, you'll be well on your way towards getting the most out of your website in 2020. Keep in mind that, while some of the above-listed stats are bound to change, all the mentioned trends seem to be quite solid indicators for the year to come.