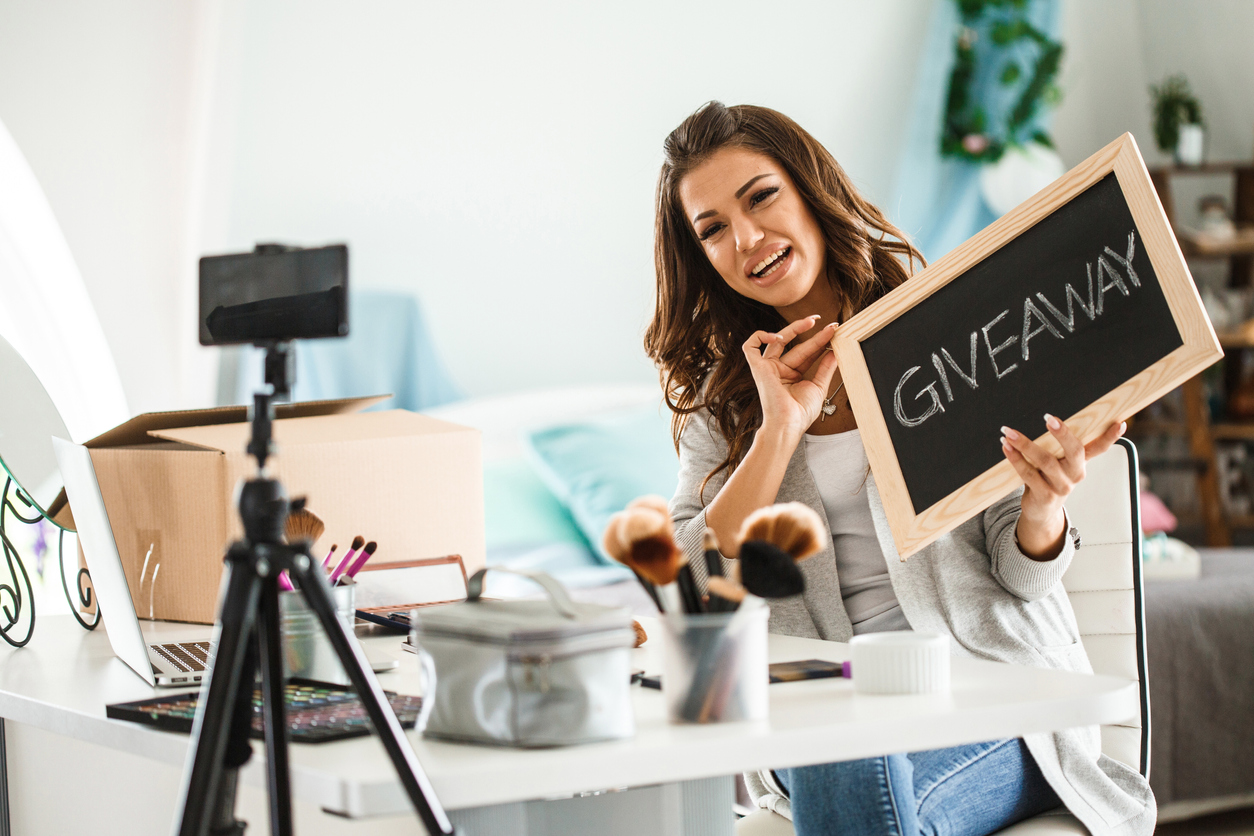 Giveaways bring an air of excitement to a brand's followers. They give people a chance to engage with brands they love while standing a chance to win exciting prizes.
As a result, knowing how to do a giveaway is essential for eCommerce business owners.
Giveaways are a great way to introduce new products and keep audiences engaged. They can also help you gain new followers.
So, how exactly can you do this?
Following these steps, you'll learn how to run a successful giveaway and increase eCommerce sales.
Let's get started!
1. Define your goals and objectives.
It's essential to know that a giveaway is a marketing campaign. So, you must set objectives and marketing goals, whether you're still a new company seeking small business grants or an established eCommerce firm. These goals will help you measure the success of your giveaway idea.
Determine if you're trying to:
Raise awareness about your brand
Get more sales
Drive traffic to your eCommerce store
Increase your following on social
Boost customer engagement with your brand
Gain more subscribers
Let's say you're launching a new product in your eCommerce store. You should set "brand awareness" as your giveaway goal. Your giveaway goal would be to ensure that your customers know about the new product by participating.
Here's a giveaway launched by Tropic Tan with that same goal: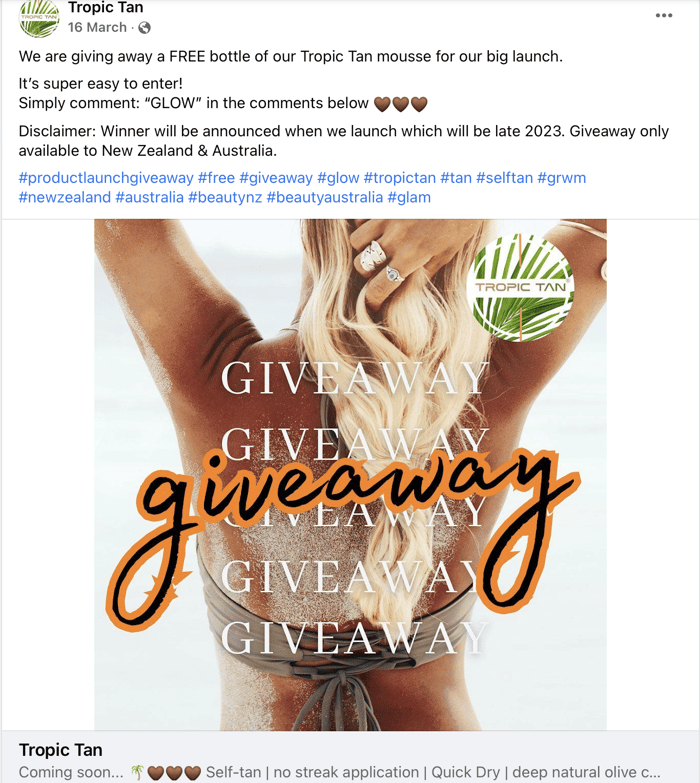 Source: Tropic Tan on Facebook
Once your goals are set, it's time to set your key performance indicators (KPIs). These need to be in line with the set goal. For instance, if brand awareness is the goal, your KPIs could be increased email subscribers and social media followers, increased reach, brand mentions, engagement, and impressions.
Your goals and objectives can be anything if they align with your marketing strategy. Plan your giveaway around your set goals and be on track for success.
2. Identify your target audience.
The next step is determining whom your giveaway is targeting. In this step, your business goals and objectives will be your guide. For instance, let's say your goal is to boost engagement with your brand. You'll target both your current and potential new customers. Or let's say you want to build your verified email list. Then you won't target your current email subscribers with your giveaway. You'll want to target those who haven't already subscribed to your email list.
Additionally, the social media data and insights you've collected over time can guide you in identifying your target audience. Data like age, demographics, geographical location, browsing history, and website interactions can help you decide whom to target per giveaway.
After identifying your target audience, you can create compelling content catering to them. Knowing your target audience can also help you come up with the appropriate prize for the giveaway.
You'll know what social media platform to use, too. After all, your giveaway will only be effective if you post it on the platform your target audience uses.
3. Select a compelling prize.
As much as people love free stuff, they'll only go through the hassle of joining a contest if they feel the prize is worth it. Therefore, having a compelling contest prize is essential for a successful giveaway. For instance, SheaMoisture offered their followers a chance to win four free hair and lip products from their partner, The Lip Bar.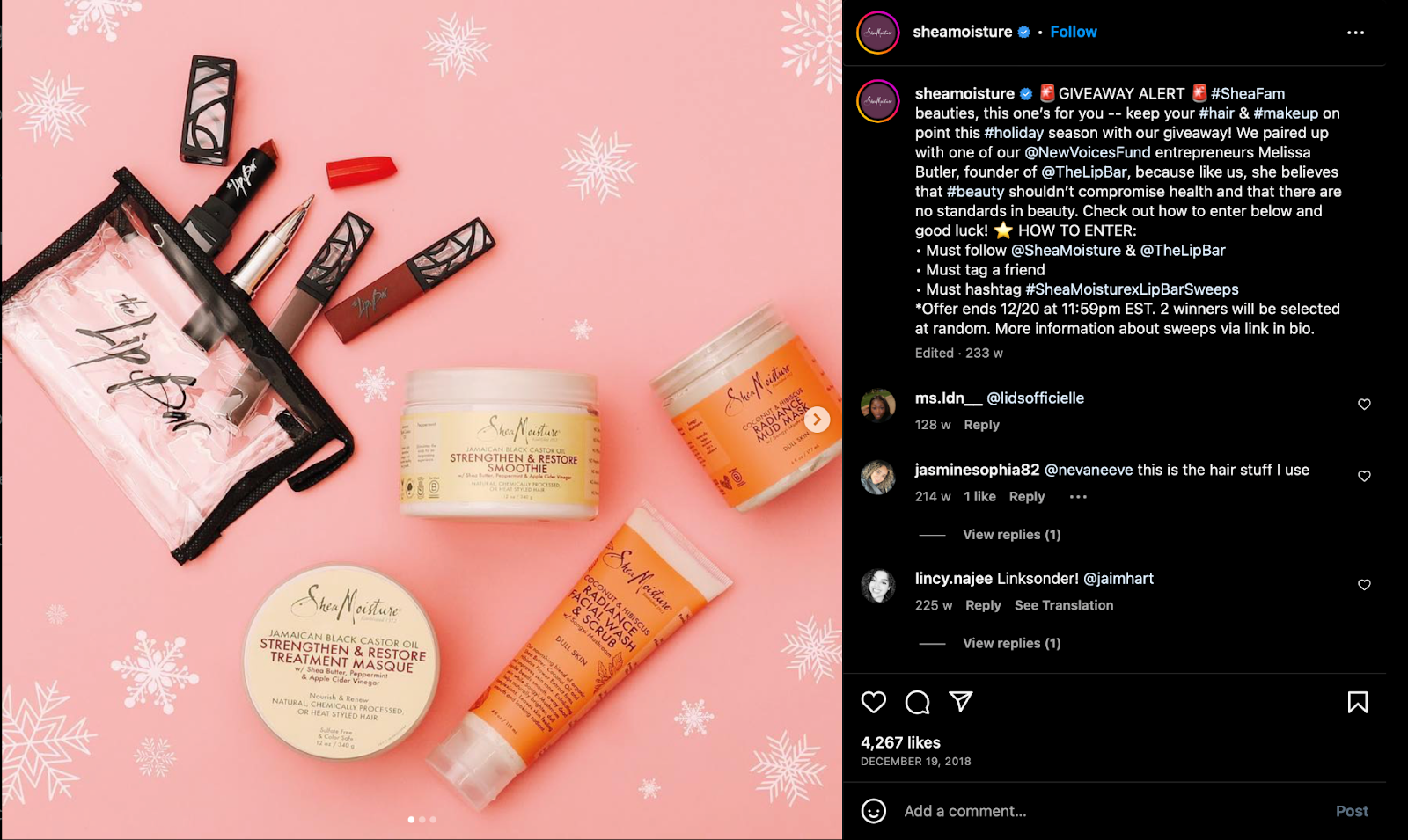 Source: SheaMoisture on Instagram
That said, ensure your online giveaway prize applies to your target audience. Choosing prizes your target customers will most likely appreciate will help you gain more entries from your ideal customers.
You want your giveaway prizes to be related to your brand as much as possible. Even if you can have many goals for your giveaways, your ultimate goal as a business is to generate sales. So, you want the people who participate in your giveaways to be people you can convert into paying customers. Here's a scenario to illustrate my point.
Assume you sell dog products. Suppose you decide to give away a $50 Amazon gift certificate to the first five people who subscribe to your email list, for instance. In that case, you're likely to attract a wide range of participants (practically everyone uses Amazon and will see some use for your gift certificate), even if they don't have pets.
So, even if they subscribe to your email list — the primary purpose of which is to nurture leads to convert them into customers — you won't be able to turn them into customers.
You can use generative AI tools like Ask Writer to help create relevant text for your campaign. They can help you develop blog, email, and social media content about your giveaway.
4. Determine the entry criteria and rules.
The next step is to outline the rules of engagement. Before launching the giveaway, have clear rules and entry requirements to help you determine valid and invalid entries.
It's essential to make your entry requirements easy to follow and implement. This will help you get more participants to enter the giveaway contest.
Here's an example of a contest with simple, clear rules from Jar Melo.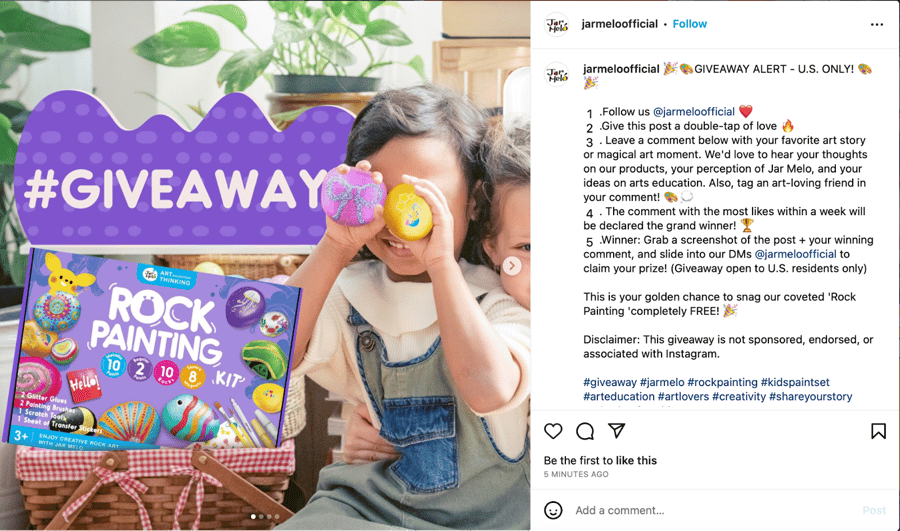 Source: Jar Melo on Instagram
Your contest rules will be determined by the giveaway goals you set earlier. For instance, let's say your goal is to grow your email list. One of the main entry rules will be signing up for your email newsletter. If you aim to increase engagement, then you'll get your followers to share the post and tag their friends.
5. Promote the giveaway.
When thinking about how to do a giveaway, you must also consider how to launch it and help it gain some momentum. There are several ways to promote your giveaway. The first way is to send it to your email list.
Since your email subscribers have already interacted with your brand, they can easily participate in your giveaway. Make a simple promotional email outlining the giveaway prize, entry criteria, and duration. Also, give your subscribers a good reason to participate.
You can also post your giveaway on your social media channels. It's easy for people to share a social media giveaway post with their followers. The more they share the contest post, the more reach the giveaway has.
Consider partnering with relevant influencers if you have the budget for it. A well-executed campaign can help you gain more reach and increase your online presence.
You may also create a unique hashtag for your online contest campaign to attract new followers and increase your giveaway's visibility. Encourage participants to use the hashtag as part of the entry criteria to boost your campaign's success further.
In the example below, GoPro used the hashtag #GoProAwards to launch the new #GoProHero11.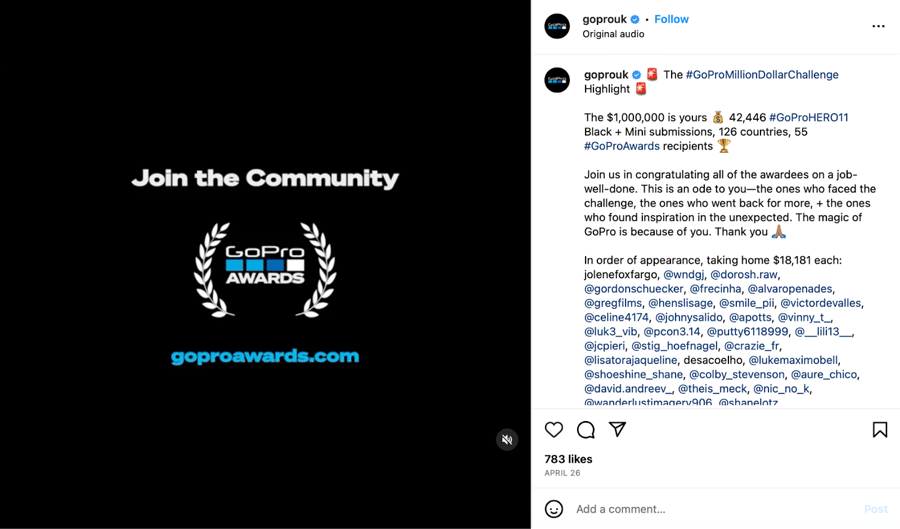 Source: GoPro UK on Instagram
The winners took home $18,181 each — a pretty good giveaway prize.
The final way to promote your giveaway is to add a popup to your website. This ensures all your site visitors see it whenever they interact with your site.
6. Engage and nurture participants.
This is the part where you choose your giveaway's contest winner(s). You will select the winner based on the rules and entry criteria you set earlier.
Once you've picked the winners, it's time to contact them and let them know the good news. Choose between notifying them privately through their DMs or publicly through your website and social media channels.
It's advisable to do both so that all the participants can see that you followed through and delivered the giveaway prizes to the lucky winners. Let your winners know the next steps they need to take to claim the prizes won.
Here's an example: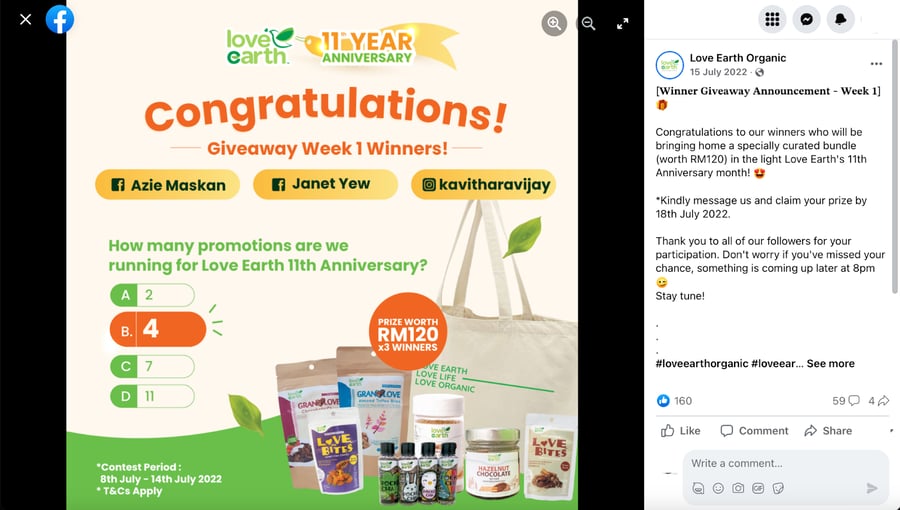 Source: Love Earth Organic on Facebook
In addition to the winners, it's also essential to follow up with the other participants who didn't win. Send them thank you emails and messages to appreciate them for their efforts. Invite them to participate in your next giveaway to build their anticipation for the next campaign.
Remember to post a "giveaway closed" message to inform your followers that the contest is over so they don't enter after it ends.
7. Track and measure results.
Your giveaway is now over, and the winners have their prizes. Everyone's happy, and we can all go home now, right? Well, not quite.
You must measure the results of your giveaway and analyze its success. This is where you determine whether you achieved the set goals and objectives.
So, if your goal was to boost your social media follower count, you should review how many more followers you have after the giveaway. The same applies if your goal is to build your email list. You'll analyze how many email addresses you've added to your list.
Additionally, if you've run multiple contents in the past, you can use this data to analyze:
The prizes that get you the best results
The best times of the year to run giveaways
The type of content that brings you the most engagement
The kind of participation that gets people interested
You can also measure the number of website visitors you get within the contest's duration. Tools like Google Analytics and inbuilt social media analytics will help you measure this and much more. Your findings will inform you how to do a giveaway successfully in the future.
In Closing
In this article, you've learned how to run a giveaway successfully. First, having your contest goals and objectives in check is essential. These will act as your true north, showing you the direction the campaign is to take.
Identify your target audience, select a compelling prize, and determine the official contest rules you will apply. After this, promote the giveaway on social media and other platforms. After the giveaway ends, engage and nurture your participants to keep them interested in your brand.
Track your results to see what worked best and how to replicate the results in the future. You're all set to run a successful online giveaway.