Your social platforms are an extension of your business. Within them lies countless amounts of consumer data.
Whether it's your Instagram, Facebook page, or Twitter, social media data can help you improve your business. It is the key to building lasting and meaningful relationships with your users.
Today, we'll be outlining the importance of social data and how you can use it in your marketing strategy.
What Is Social Media Data?
Social media data is information gathered from social media platforms like Facebook, Twitter, and Instagram. It includes details like the people you follow, what you post and share, what you search for online, and even where you are.
Companies usually collect, organize, and analyze this information to understand their target audience's demographics and interests. You can collect social media data in several ways, including:
Surveys and polls
Social interactions (likes, shares, comments)
Online browsing behavior
Analyzing inbuilt social media analytics tools
You may use social media data for a variety of purposes. For example, you can use it to improve marketing campaigns and product development, create targeted ads, and predict trends.
6 Ways To Use Social Media Data For Your eCommerce Brand
Social media data is a powerful tool for eCommerce businesses. However, it's about more than just having a presence on social media. It's about understanding what people say about your brand and how to use that information to improve your business.
Here are six ways to use social media data in your eCommerce business.
1. Create Better Buyer Personas
A buyer persona, or target consumer profile, represents your ideal customer based on the information they share online. It's a way to help you understand their value, what they want from products and services, and how they interact with brands.
Social media data is an incredible resource for creating an eCommerce buyer persona. It can help you understand your customers' preferences, demographics, and habits, which is crucial to success in a competitive market.
Around 93% of companies that exceed their revenue and lead goals use buyer personas. Using a fictional representation of your ideal client will help you focus your marketing efforts. It requires thorough research and data collection, which will help you get to know your consumer.
Below is an example of an eCommerce buyer persona. Retailers may adapt their eCommerce site to specific customer categories.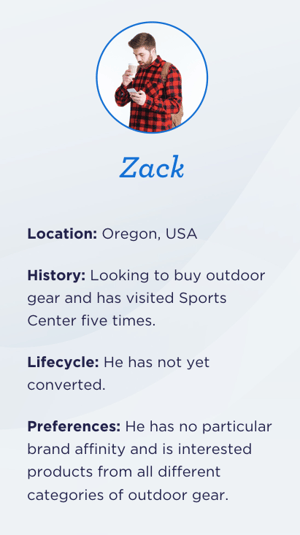 Source: Nosto
For example, similar to the Backcountry store below, you might choose specific products based on your collected interest data.

Source: Backcountry
Social media data allows you to create accurate and in-depth buyer personas. Then, you can create a solid content strategy using the available data. For example, you might monitor your Instagram likes to determine which content draws new consumers and engages existing ones.
Additionally, the social media analytics tool lets you see users' satisfaction and their demographics, such as age and gender. This way, you can tailor your social ads and overall marketing campaigns to the right individuals.
2. Leverage UGC For Content Marketing
You can use UGC (user-generated content) to understand what products are popular, how people talk about them, and the types of things they're interested in. It essentially works as a free content generator tool, except you're getting content from your customers, which makes it even more valuable. UGC data can help you determine how to design your eCommerce site and what products you should offer.
74% of online users rely on social networks to influence buying decisions. No matter your business type, there is always an opportunity for UGC. Creating custom hashtags and giveaways on your social media platforms and encouraging active users to tag you in their posts are excellent ways to generate UGC.
For example, the clothing brand Monsoon added its branded hashtag to its Instagram profile. Buyers are also tagging the brand and expressing their thoughts and feedback.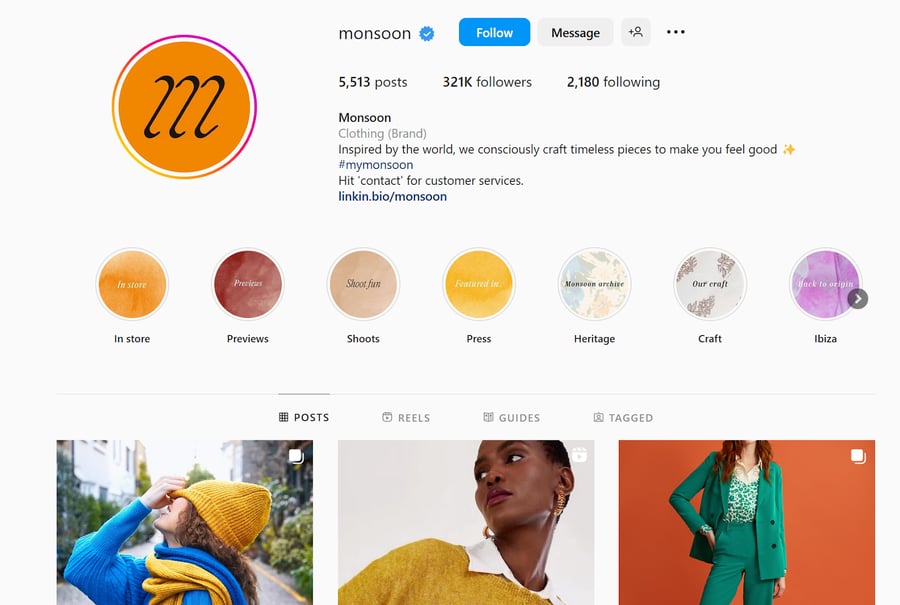 More than 7,000 posts were created using the branded hashtag. That allows the brand to structure its eCommerce strategy around its UGC.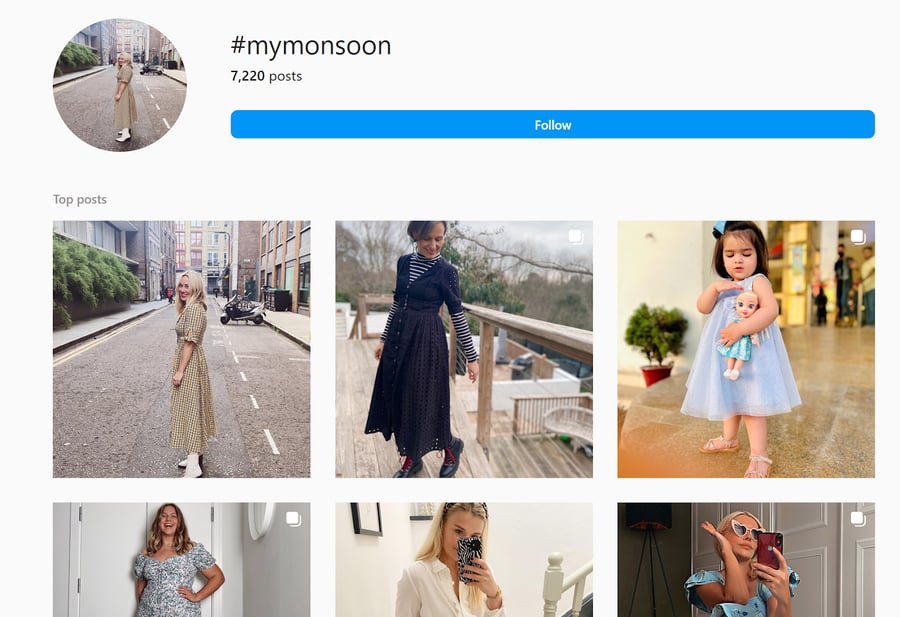 Source: Instagram
You can also use this UGC in other marketing channels, like your email marketing campaigns.
3. Analyze Your Competition
You wouldn't open up a cake shop in the city center without first assessing the competition. So it stands to reason that you'd check out your online competitors too.
Social media is one of the best ways to see what's going on in the world of eCommerce. Using social media data, you can see who your competitors are, what platforms they use the most, their campaign strategies, and who else your followers like to engage with.
With this information, you can create campaigns you know your audience will like. Before posting, you can also see what hashtags your competitors are using and replicate them so that you show up where they are online.
You can also use social media data to determine what kind of content they're sharing with their followers and what results they are getting. That will give you an idea of which types of posts have worked well for them in the past so that you can emulate those same strategies for your brand.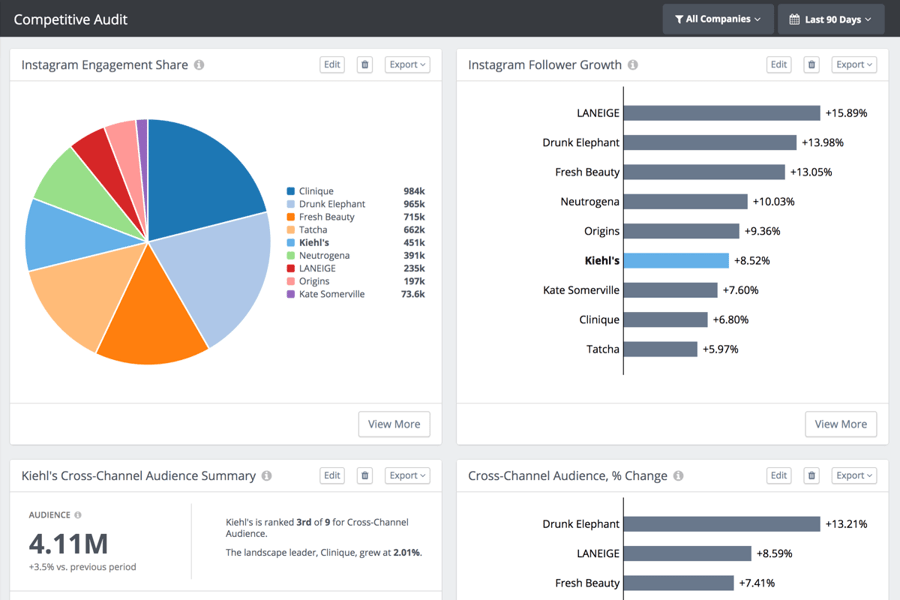 Source: Rival IQ
Take the above image, for example. Here, you can see Instagram data related to several prominent brands. From this, you can deduce where they are in terms of rank and the crossover between audiences.
These businesses can also see their biggest competition and delve deeper into their marketing strategies.
Here are some tips for analyzing your competitors:
Find out which of your competitors are using social media by searching for their brand names on social media sites like Twitter and Facebook. You can also try Googling "competitor's brand name + Facebook" or similar terms if you want more general results.
Look at their post history and see what kinds of content they tend to share (e.g., posts about new products or promotions).
Examine the types of interactions that happen on these posts (e.g., likes/shares/comments).
You can also leverage social listening tools to collect more data about your competitors and their products. For example, they can tell you what customers are saying about your competitor's products. You can then use this to your advantage.
Competitive analyses are not just tools to show you what others are doing. They can also identify gaps in your strategy so you can do something about it.
4. Add Social Media To Your Sales Funnel
Social media can help you view a customer's social media footprint comprehensively. You can reach out to potential and current customers through Facebook, Instagram, and Twitter.
With this information, you could better understand their needs — and use that knowledge to create more personalized experiences for them on your website or app.
For example, let's say that you've posted tap-worthy social media content and cultivated an engaged audience. You can move beyond brand awareness and convert your users into paying customers by monitoring your click-through rate (CTR) and working it into a combined sales and social media strategy.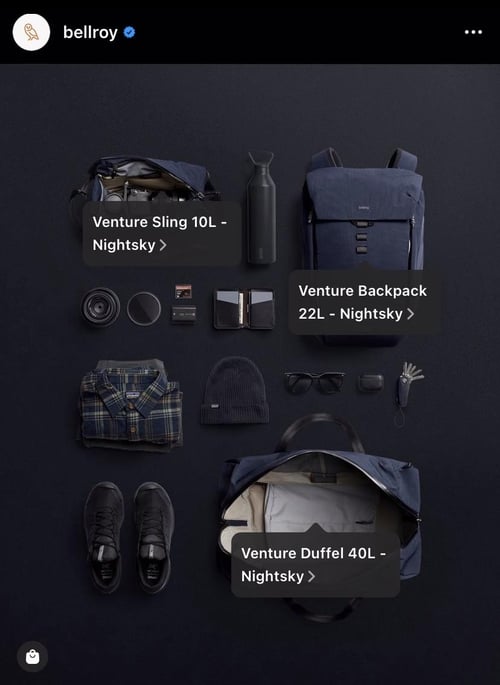 Source: Bellroy
The above example by Bellroy shows how easy it is to advertise your products. It also demonstrates how: with a click-worthy ad campaign. They have even used the Instagram shop feature to tag their products and make them simple for users to buy.
Bellroy has also made great use of its online space by placing several products in one post. The above image demonstrates how easy it is for users to see the product information. Now all they have to do is tap.
5. Use Social Media For Customer Service
Approximately 64% of people would prefer to message you on social media than pick up the phone to call. In other words, if you're not conducting efficient customer service on your social platforms, you are not meeting customer expectations.
Using social data to step up your social game and improve your online customer service may seem like a chore, but a little can go a long way. Insights not only show us what customers do, but it also shows us what we're supposed to do as business owners.
Social media allows you to see whom you have replied to, the reviews you have received, and whose message is still not answered.
Using the social data available, you can set key performance indicators (KPIs) for your business to ensure everything is responded to quickly.
For example, set this as your KPI if you wish to get a 96% 5-star review score. Then monitor Facebook and log your customer feedback and response times.
You could also set monthly KPIs to increase your followers or engagement numbers and customize a Facebook report to deliver the data when you want it.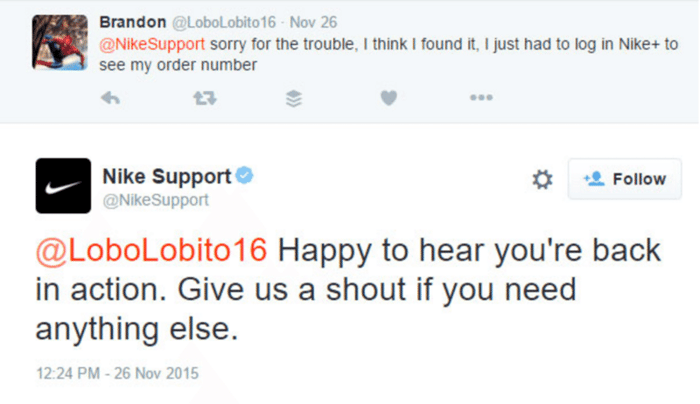 Source: Buffer
This reply by Nike on Twitter may look insignificant, but the opposite couldn't be more accurate. Nike took the time to respond to this customer, showing the individual and other users that they value their customers.
Replying to a user's post could be the difference between a negative review and a glowing 5-star review.
6. Better Communication Strategy
You may have heard the term 'social listening' being thrown about repeatedly. Yes, it is a buzzword. However, it's a must-do when compiling any communication strategy.
To create a helpful communication strategy, you must carry out one of the most basic principles in marketing; listen to your audience. However, you might need a hand with millions of people out there. That's where social listening tools come in.
Social listening tools can monitor what people say, do, and engage with online.
These tools also note how your users speak, how they feel, the content they share, and the other pages (your competitors) that they frequent.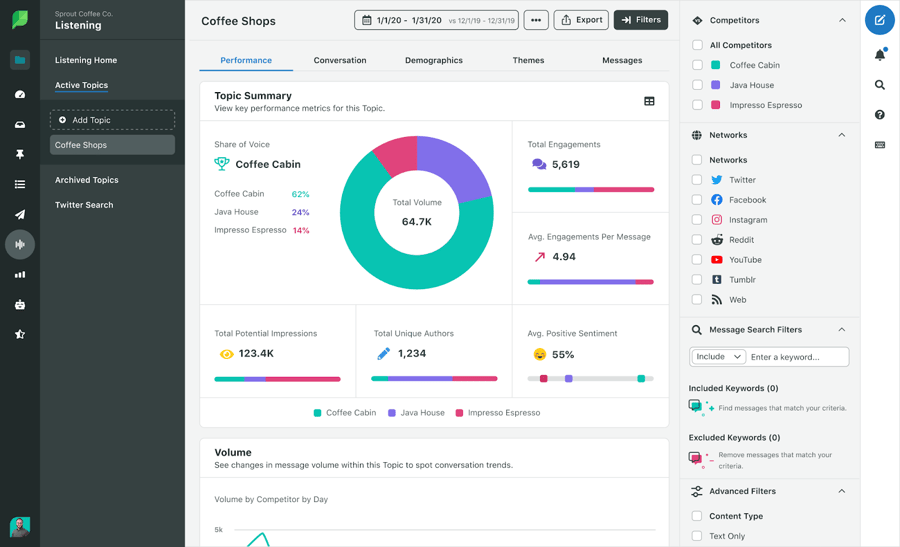 Source: Sprout Social
The above graph shows an example of a social listening tool. This data compares three coffee houses, their section of the online market, and the customer sentiment towards each.
Social media data combined with a social listening tool provides invaluable information instantly. This saves you from scrolling manually for hours and gives you time to create a relevant and targeted communication strategy.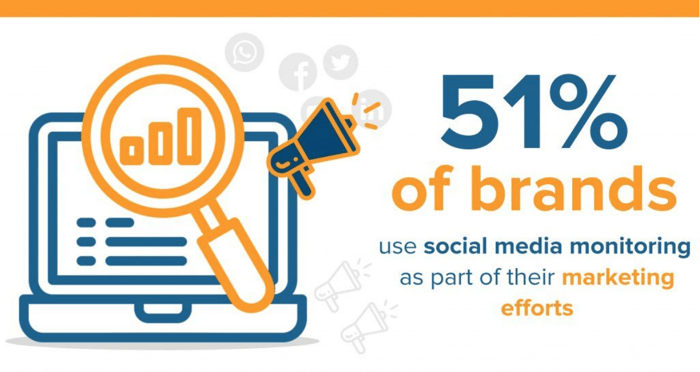 Source: Finances Online
Thanks to social media platforms, word of mouth has never traveled faster. So make sure you communicate positively and regularly with your followers. Whether it's through resharing your blog posts, posting native content, sharing your digital business card, or even replying to comments, never stop interacting with your audience.
By now, we hope you can see that the data provided to us via social media activity goes far beyond that of likes and shares. It is a window into the lives of our customers as they live them.
Curating your social media posts and using social media analytics tools can seem daunting. However, the pros far outweigh any menial cons.
Wrapping Up
It's time to recognize the effect that the proper use of social media data can have on your business. It's not just a data exercise. It is a proven and concrete way to increase your revenue.
Create buyer personas, take advantage of UGC, conduct active social listening, and add socials to your sales funnel. Use it to create a strong communication strategy and gain insights into your competitors.
The power of social media data is yours for the taking; all you need to do is realize its benefit.