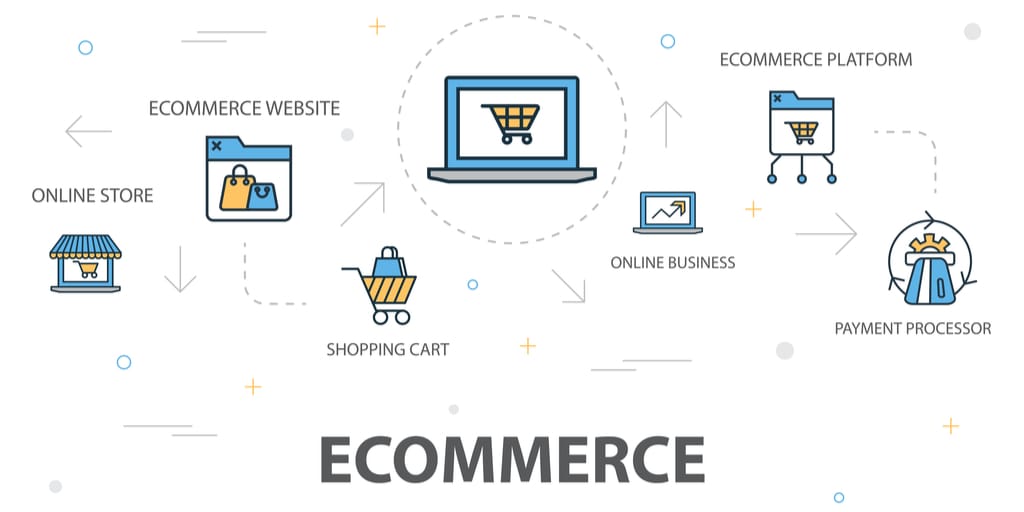 When you've got a great idea for an eCommerce website, you want to make sure that every detail is in place when you're ready to launch. Before you decide how your website should look and function, you need to find a reliable hosting solution.
The problem?
There are so many options for hosting your new website that it's tough to know which is the best for your type of business and expected level of traffic. Choose wrong, and you could aggravate more potential customers than you serve. You could even expose them - and yourself - to hackers.
Fear not, future entrepreneur. We're here to give you the lowdown on your options and the advantages or drawbacks of each.
eCommerce Website Hosting Explained
An eCommerce platform is one that's specially designed for online businesses. That means it:
Gives you enough bandwidth to handle traffic spikes due to events like seasonal sales
Guarantees a certain level of uptime to keep your website open, functional, and accessible as close to 100 percent of the time as possible
Is scalable enough to handle growth without forcing you to pay for features and resources you don't need in the meantime
Provides tight security using current technology
Gives business owners like you the tools you need to manage every aspect of your business
It's important to note that 38 percent of shoppers will leave your website and go with a competitor if it's unattractive or badly laid out. How choosing one of the best hosting providers improves SEO is another consideration.
You won't get the opportunity to show them how you shine if your website is inaccessible, either. Excessive downtime could even cost you your business. According to a study conducted by Gremlin, large enterprises like Amazon and Costco would lose tens of thousands of dollars for every minute their site is down. The average small business loses about $100,000 per hour of unplanned downtime.
Could your company afford that kind of revenue loss?
Most can't.
The key features you need for a fully functional eCommerce website also work differently on self-hosted sites than they do on hosted platforms. Your main concerns are:
Uptime and content delivery: This is your number one priority if you want to establish, and keep, a viable online presence. Even a fraction of a percent can cost money, customers, and reputation. A minimum of 99.999 percent or 99 percent is a difference of nearly an hour of downtime per month. Reputable websites will post their average uptime and guarantee accessibility in writing as part of your SLA.


Security and PCI compliance: Most of your customers will be paying by credit card, so you want a secure, smooth interface for them to place their orders and pay. Any reputable hosting service will make receiving and storing customer data securely a priority. However, it's also essential to make sure that your checkout and data storage platform is also Payment Card Industry Data Security Standard (PCI DSS) compliant.


Design and layout: Does your hosting solution allow you to tweak aspects of your site or change the entire layout at will?


Server maintenance and backups: Does your host offer this as part of your plan, as a premium add-on, or not at all? If you do have backup and restore, is it available to you? Some hosts offer backups, but you're not able to access the database when you need to restore your site. Avoid these providers.

As for maintenance, do you want to take care of upgrades and site monitoring yourself or have it taken care of automatically? That could include not only software, but sometimes hardware and infrastructure.


Overall functionality: With self-hosted solutions, you're getting a blank slate that you can customize almost any way you want your site to look and function. With hosted platforms, you're limited by their technology and frameworks. Which is best for you depends on your time, the learning curve of the platform, and comfort level with technology.
So, now that you know what to look for in a hosting company, your next decision is whether to host yourself or look into a hosted website. Here's how the two options stack up in these categories.
Self-Hosting Benefits and Drawbacks
Self-hosted websites offer the ultimate in flexibility and customization. These DIY platforms are often offered as a Software-as-a-Service (SaaS) product. You perform all of the design and upkeep yourself, and the company gives you the storage capacity to house everything.
This is usually provided in the form of cloud-based storage, and most of the technology is open source. That makes it easier to migrate to another platform if you're unhappy with your current host or you find a better deal elsewhere. Most offer a money-back guarantee, so you'll have a chance to try before you buy.
You don't have to worry if you're not too tech-savvy as the best hosts have great support, an extensive knowledge base, and a community of developers to offer advice.
However, self-hosting is not for the faint of heart or time-starved because you're responsible for every facet of the build and management. That can be a lot to heap on the plate of a busy webpreneur.
Of course, you could outsource some elements, like design and maintenance. Just remember that that's an added expense on top of your other budgetary concerns.
Still, if you want full control over your content and layout, and you want to actually own your domain and it's contents, this is a good way to go. Two of the most popular are WooCommerce, which is an eCommerce plugin for WordPress sites, and Magento.
In a recent interview with Designer Fix, Alex Williams of UK's Web Hosting Data mentioned an important metric he uses for all new clients - datacenter location. While self-hosted companies are popping up everywhere they often utilize the same networks. Resellers have flocked to affluent markets and often resell services that utilize cheaper overseas datacenters. The results are slower speeds and higher prices.
When it comes to self hosting, picking a nearby datacenter is the key to good performance and consistent uptime.
Now for the downside of self-hosting.
Self-hosting ain't easy. You have a lot of decisions to make, not the least of which is which eCommerce solution you're going to use, how to lay out your website, and what plugins and other components will give you the functionality you need. Then, you have to install and configure everything.


You may not have a dedicated, centralized support team. That could mean reading through tons of documentation, searching through tech forums, and watching a lot of tutorials to get it right.


There's a danger of outgrowing your plan. When you self-host, you're often paying for a set limit of resources and storage space. If you outgrow your plan before your contract term is up, you'll be stuck with a low-performing website and possible loss of customers.
How Having a Hosted eCommerce Website Compares
Hosted eCommerce sites are all-inclusive platforms. They're easy to get up and running, and maintenance is taken care of for you. In most cases, all you'll have to do is decide on a layout and populate your site with content. The most prominent in this category is probably Shopify, but other big competitors include Shift4Shop, BigCommerce, and Volusion.
Hosted platforms charge a set fee that varies depending on their service agreement. Some limit your plan by the size of your website, with resources limited to what your plan dictates. If your hosted platform charges disk space or bandwidth overages, overrunning your allotted storage or traffic can result in hefty charges for additional resources. Plans can be more expensive than self-hosted solutions as well, especially if the platform charges transaction fees as Shopify does. However, some hosted platforms like Shift4Shop offer a free plan without transaction fees.
Most have built-in tools for managing your business such as shopping cart functions. But, if you want to use your own eCommerce tools and utilities, they may not be compatible with the tech that powers your website. That means that your customization potential is limited to what your platform offers or how compatible your preferred tools are with their tech.
Looking for 3rd parties that can integrate via Zapier is one option, or finding companies that provide templates/tools on their own domain is another. Invoicing software like Freshbooks can help create an easier payment and invoicing procedure for client-centric businesses.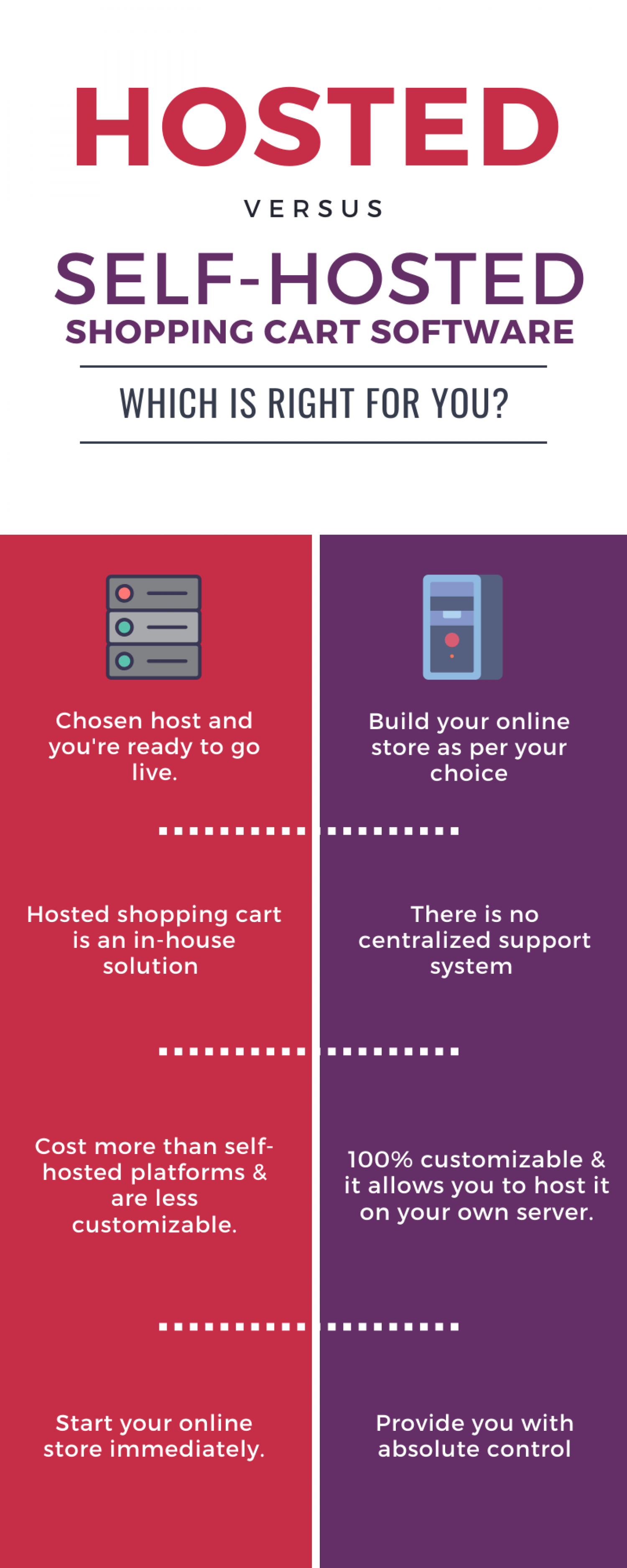 When you use a hosted platform, you'll also be subject to their terms and conditions, meaning you may not be able to sell some products if they are in an industry that is prohibited by the platform. Even perfectly legal industries can be subject to platform rules. Migrating to another platform can be costly, and your website content may not always make the transition easily. Of course, web hosts also have their own rules, and migrating software is rarely simple, so self-hosted businesses are not immune to these problems.
If you don't mind the issues that come with a hosted platform and you'd rather not do all the building yourself, then this is a good option. It's also ideal for those who just want to get up and running quickly.
Still not sure?
Here's a checklist of questions to consider before you shop for a web host.
How fast do you want to launch?
How comfortable are you with tech aspects like coding and design?
What features do you need to run your site?
How big is your website going to be, and how much traffic so you expect to generate?
Are you comfortable handling SEO or do you need someone to optimize your content for search engines as well?
What's your budget?
How much do you know about data compliance issues in your location and in each location your website reaches? For example, you may live in Canada, but you'll have to meet General Data Protection Regulation (GDPR) compliance and post your data policies on your site if you have an audience in European countries.
How much tech support will you need?
Final Thoughts
When you're starting an online business, there are a lot of moving parts to consider. In general, you should choose a hosting platform that fits your anticipated needs and current budget. That's in addition to how much or little you want to deal with the technology involved.
We hope this comparison will help you make the decision that's best for you. Good luck!