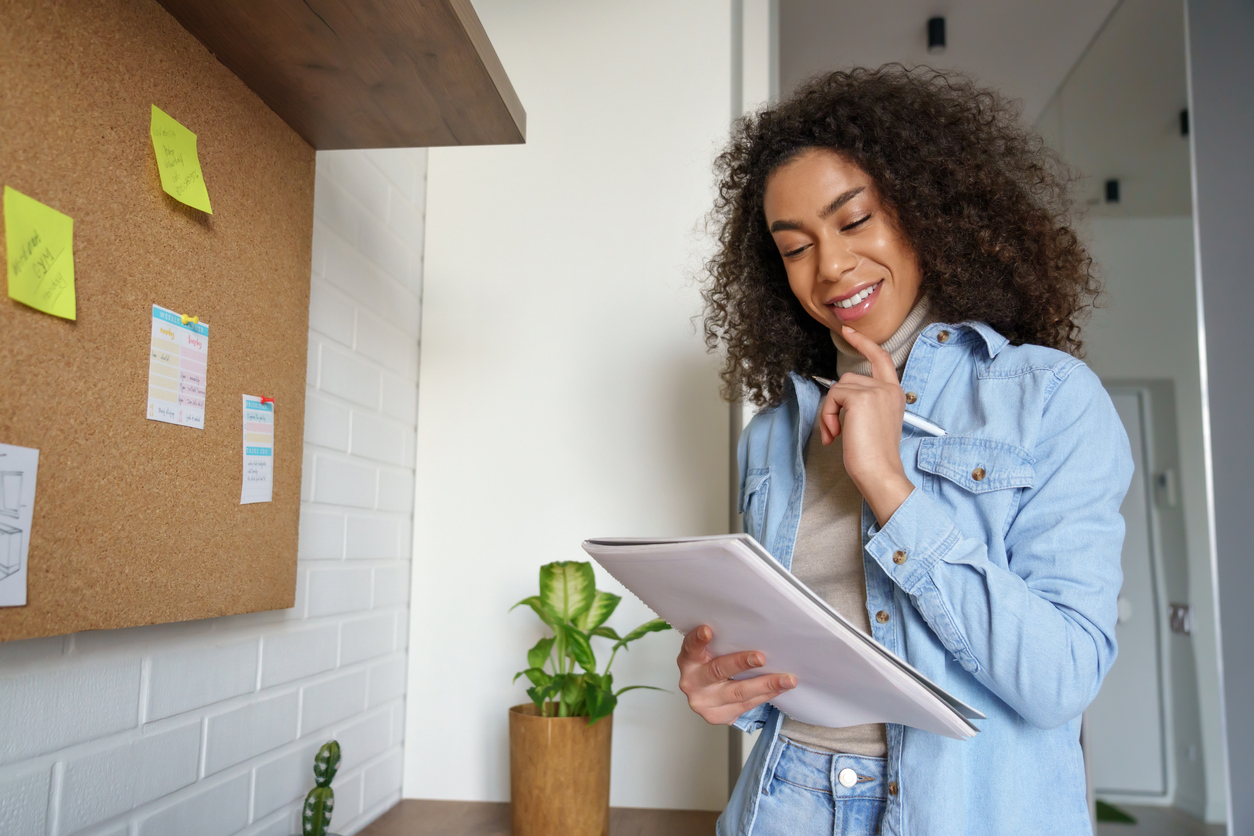 Over 2.14 billion people will make a purchase online in 2021, according to Statista. If you're a small business owner, that statistic alone may be enough to make you want to throw money at digital marketing.
But effective digital marketing isn't just about flashy banner ads, well-produced videos, and heavily manicured product shots. Truthfully, if you want your marketing strategies to succeed, you'll need to enhance your brand's online image with a robust, multi-platform campaign that helps people remember you.
Thankfully for your wallet, those strategies don't have to be expensive. That's what this article is all about. Read on, and you'll learn how to use ten low-cost ideas for small business marketing.
Let's dive in.
1. Create a strong website design.
It is difficult to overstate the importance of having a good website if you're an online retailer. Design a good website, and you'll attract customers, make sales, and grow your small business. But design a poor website, and you'll lose leads quickly (in fact, research shows that 94% of online shoppers won't trust a website that looks outdated!).
So how do you design a good website?
To create a strong website, you'll need to focus on five key factors. Those include:
Strong page design: Making good use of white space, choosing an easy-to-read style, and prioritizing page elements by importance (i.e., putting the critical information at the top of the page) will keep viewers on your website longer. You can design a great site with one of these website builders.
Fast page speed: As 47% of internet users expect pages to load in two seconds or less, fast pages get more website traffic and have a lower bounce rate. You can use Google's Page Speed Insights to decrease your page speed.
A good landing page: An informative landing page will convert leads into sales. You can learn how to create a great landing page here.
Great multimedia: Images, videos, and infographics can engage your site visitors and keep them on the page for longer.
A mobile-friendly theme: 8% of global website traffic comes from mobile devices in 2021. To get a mobile-friendly site, choose a website theme that utilizes responsive design.
If you're looking for an example of a site that ties these five factors together, check out this example from the website WhoGivesaCrap.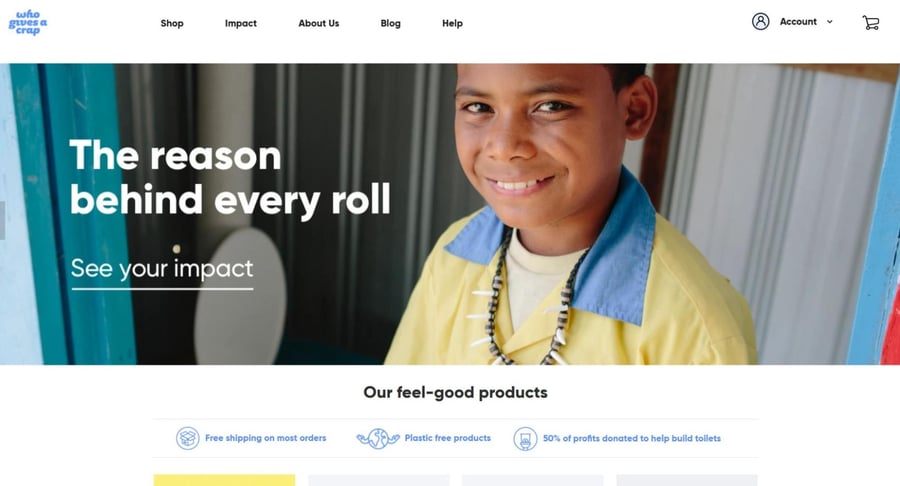 Source: WhoGivesaCrap
2. Master your SEO strategy.
If you're familiar with digital advertising strategies, you've probably heard of Search Engine Optimization (SEO). But what can SEO do for you?
Optimizing your website for search engines like Google, Bing, and Yahoo will increase your website ranking in search results, which will boost your traffic (and sales) long-term.
While SEO may sound tricky, you can implement a great SEO strategy by simply:
Creating high-quality content using keywords related to your product (i.e., if you sell couch blankets, you may use keywords like 'comfy couch blankets' or 'wool throw blankets')
Adding keyword-optimized titles and meta descriptions to your web pages to make them search engine friendly
Adding internal links into your top-performing pages to take visitors to other pages
Using an SEO-optimiser plugin like RankMath or YoastSEO
Making your URL's search engine friendly (i.e., change 'www.cushions4you.com/585749291848' to 'www.cushions4you.com/couch-blankets')
Optimizing your images with alt descriptions and title tags to make them search engine friendly
If you want to master SEO fully, you can also read SEO best practice guides or hire an SEO consultant to give you a personalized strategy.
3. Leverage social media to grow.
In 2020, 44.8% of the world's internet browsers used social media to look for brand information. And those consumers aren't just young people, either. According to the Global State of Digital 2021 report, 48.1% - 55.9% of people aged 16 to 34, 35.3 - 42.5% of people aged 35 to 54, and 27.9 - 28.3% of people aged 55 to 64 performed brand research on social media.
In other words: whatever your target audience, you can reach them on social media.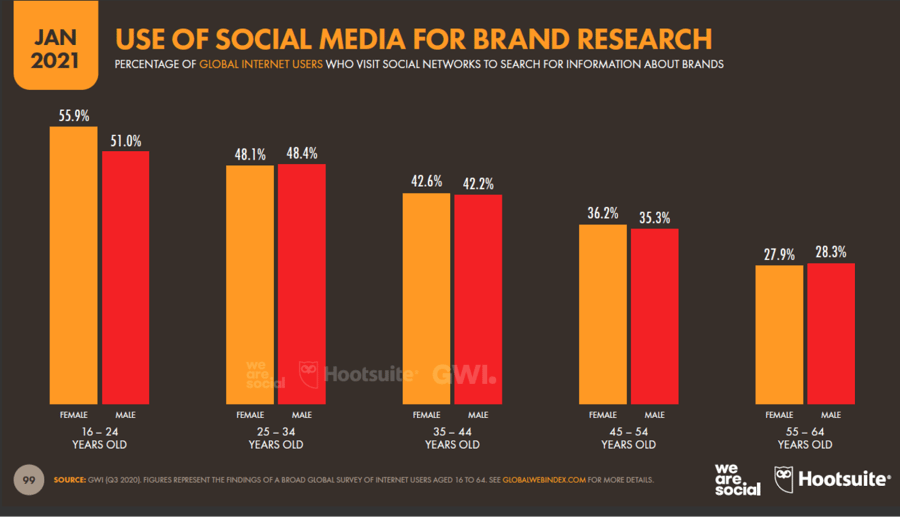 Source: Hootsuite
So how do you market your business on social media platforms like Facebook, Instagram, Twitter, LinkedIn, Pinterest, and TikTok? Ideally, you'll want to establish a business profile on 1 - 3 major platforms. Then, you should establish a regular posting schedule and create a variety of content to engage your viewers with (here's a guide to get you started with content production).
Once you've built a basic social media strategy, you can improve your brand image with these tips:
Optimize your profile by filling out the description and using a high-quality profile picture
Collaborate with other brands and influencers to boost your traffic
Respond to followers when they engage with you
Encourage people to tag you or send you user-generated content
Host giveaways
Create diverse posts (i.e., use a mixture of images, text posts, polls, and videos)
Tag your posts with hashtags
Use a content calendar to plan your posts in advance
4. Start a blog to connect with your target market.
As companies with blogs get 67% more leads than companies without blogs, starting your own content marketing blog is an excellent investment. Thankfully, it's easy to start a blog, as you simply need to:
Create a website or blog
Make a list of keywords and potential topics to cover on your blog
Research blog posts with similar keywords to find a gap in the knowledge they offer
Draft articles that address the gap
Optimize your posts with keywords
To optimize your posts properly, make sure you use one primary keyword, 2 - 3 secondary keywords, and 3 - 5 Latent Semantic Indexing (LSI) keywords in each post. For example, if your blog post topic was 'how to use Facebook advertising' you would use:
Primary keyword = 'Facebook advertising'
Secondary keywords = 'Facebook marketing tips' and 'ideas to grow your business'
LSI keywords = 'social media posts,' 'online marketing,' 'social media marketing plan,' and 'online strategy'
5. Optimize and grow your email list.
Email marketing is one of the most affordable forms of digital advertising, and yet, it has the highest Return on Investment (ROI). According to the Digital Marketing Institute UK (DMA), email campaigns have an average ROI of 4,200%, meaning that brands make $42 for every $1 they spend on their email campaign.
Email marketing is also smart for another reason: it allows you to sell to existing customers. As we've known since the 1990s that acquiring a new customer is five times more expensive than selling to an existing customer, email marketing is an effective evidence-based marketing strategy you don't want to neglect.
To get the most out of your email campaign, you'll need to send your email list 1 - 2 emails per week. That includes emails like:
Newsletters
Lead nurturing emails
Promotional emails
Event invitation emails
Re-engagement emails
Product announcement emails
Brand story emails
You should also design high-quality transactional emails to engage with existing customers as they shop. Transactional emails are emails you send after a customer sets off a trigger (i.e., abandoned cart emails, order confirmations, tracking code emails, etc.).
6. Leverage the power of social media advertising.
In 2020, over 3.6 billion people were on social media, which is approximately 45% of the global population. Every day, those internet users spend an average of 144 minutes on social platforms. Naturally, with such a large, captive audience, social media advertising was the second highest-performing paid marketing technique in 2020 (behind pay-per-click advertising).
So how do you use social media advertising to your advantage? To maximize your advertising investment, you should:
Use retargeting (meaning you target people who have already seen your ad)
Only show ads to your target audience
Offer a free trial to existing customers who follow you
Keep your messaging clear and simple
Enhance your ad with bright colors and imagery
If you're looking for an example of a great ad that meets the criteria above, check out this example from WP Rocket.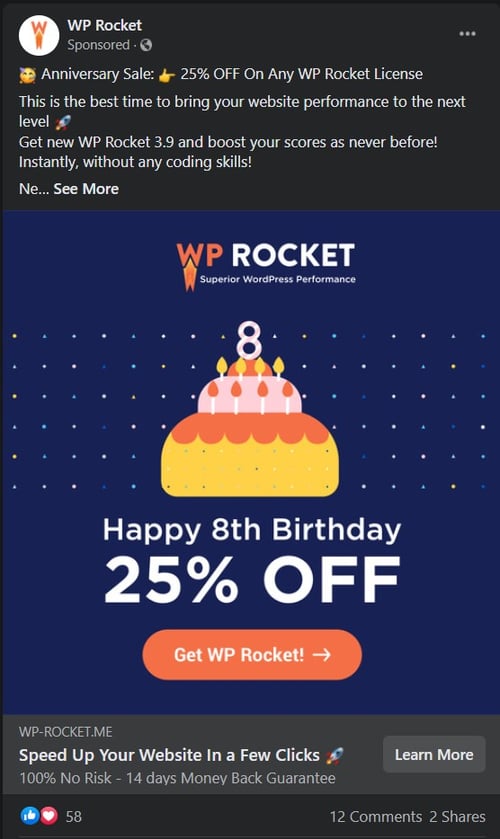 Source: '@WPRocket' on Facebook
7. Capture your web prospects' feedback.
If you want a strategy that pays off long-term, you'll need to start collecting data on your potential customers. Collecting customer data allows you to adjust your marketing plan to your customer's responses.
So how should you go about collecting customer data?
One of the easiest ways to collect customer data is by adding a customer feedback survey to your website. On the survey, you should ask questions like:
How can we make our website more user-friendly?
What feature do you like the most about our product or service?
How did you find us?
What are the top three disadvantages of our product or service?
Why did you choose our product or service?
What are the three most important things you value in our product or service?
Tip: If you are having trouble getting potential customers to fill out your survey, incentivize them with a small discount or the chance to win a prize.
Also, consider having a dedicated telephone line for customer feedback and support. Services such as Global Call Forwarding make it easy to buy toll-free and local phone numbers from more than 150 countries.
8. Launch business pages on relevant platforms.
What would you say if you learned that you could get free publicity for your small business by simply filling out a basic form? If you said "yes!" then you're in luck.
In 2021, there are dozens of online directories that will help you market to potential customers. Online directories are phone-book-type websites that help customers find businesses. While you don't need an entry in every directory to succeed, you should consider signing your business up for the top-performing directories. These include:
Google My Business
HotFrog
Bing Places
Yellow Pages
Yahoo
Yelp
Spoke
Foursquare
Best of the Web (BOTW)
To get the most out of your directory listings, make sure you use high-quality photographs, provide contact information (especially your phone number), link your social media accounts, and fill in your description. For example, here's a great Google My Business listing from the World Wildlife Fund (WWF).

9. Offer free webinars.
If your business works in a knowledge-dense industry or offers niche expertise to customers, you should consider hosting a webinar. Webinars are short, free, interactive classes that allow you to teach customers about your field of expertise.
Running a webinar is a great way to boost your brand awareness, as you can engage with your most loyal customers while driving traffic to your site. In fact, the average webinar conversion rate is around 55%.
Hosting a webinar is fairly straightforward, as you simply need to find a suitable expert to speak, design a PowerPoint and some content, and go live with a webinar tool. To get the most out of your webinar, make sure you:
Invite attendees at least two weeks in advance (and remind them 24 hours before)
Ask questions to keep people engaged
Invite your viewers to participate by sharing their thoughts and experiences
Thank people for attending individually (and by name)
Record the webinar and post it online for people who couldn't attend
Host your webinar at a convenient time for your attendees
Limit your webinar to thirty minutes or less
Put a Call to Action (CTA) at the end of your webinar
10. Get experimental with your strategy.
Finally, you should consider getting experimental with your marketing. Every audience is different, meaning that different techniques work well for each audience. To find strategies your audience engages with, make sure you test out several different strategies.
You might also need to continually tweak your content strategy. Just because something works, for now, doesn't mean it will continue to work forever. Keep yourself updated and keep trying new things.
For example, you could try any of these experimental techniques:
Starting a hashtag
Creating infographics to share in blog posts
Designing buyers guides to help customers choose the right products or services
Writing guest posts to generate good word of mouth referrals from local businesses
Giving influencers affiliate links (they advertise your product through affiliate marketing, and you pay them a commission on their sales)
Using augmented reality to enhance your ads, website, and product shots
Using QR codes in your ads
Try urban marketing (covert marketing in your local area). Here's an example by Vijar Barbecues: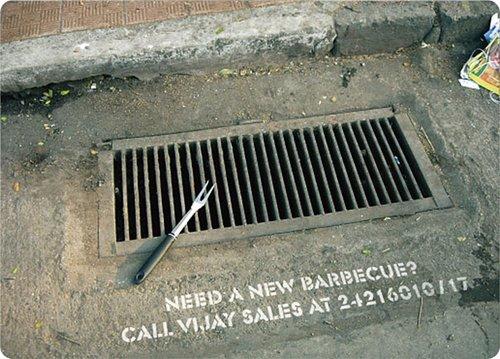 Source: Wordstream
Ideally, you should test out each marketing strategy for at least two weeks. If the strategy complements your marketing, keep it. Otherwise, just keep trying new strategies until you find "the thing" your audience loves.
The Secret to A Great Small Business Marketing Strategy
Bringing your business online is important in today's online world, but you don't have to invest in expensive, fancy advertising to reach new customers.
As covered in this article, you can boost your marketing efforts for free by creating a great website, embracing SEO, building a blog, adding your business to directories, starting social media accounts, collecting customer data, and offering webinars. However, if you want to invest in advertising, you don't have to spend big to make an impact. Paid advertising and email marketing are both incredibly effective but remain affordable for small businesses.
Ultimately, great marketing is about great ideas. The ideas in this article aren't "out there," but they are tried and true. If you give them a shot, they'll help you build something great.