Digital signage is a powerful technology that can improve the performance of your eCommerce brand. Many brands have turned to digital signage to convey relevant marketing messages to customers in the public domain.
Out-of-home (OOH) advertising research shows that 83% of consumers recall OOH advertising within 30 minutes of shopping. That means digital signage can potentially influence customers into researching your brand or encourage impulse buying.
There's a large market revolving around digital signage. A digital signage market study said that the global digital signage market is estimated to be USD 16.3 billion in 2021. It is projected to reach USD 27.8 billion by 2026. Many industries have adopted digital signage technologies because they are effective at disseminating information. Also, customers are more likely to make a purchase after seeing digital signage.
Everywhere you go, you'll come across some form of digital signage. Over 50% of offices use digital signage for internal communication. A SaaS company may advertise its call center analytics software in public spaces. When moving to eCommerce, brands should find suitable eCommerce solutions and make use of digital signage. It's a growing market that you can't miss.
By reading this post, you can see how your eCommerce brand can utilize digital signage.
What is Digital Signage?
Digital signage refers to digital displays that project or exhibit multimedia content for members of the public. Digital signage uses display technologies such as LED, LCD, and electronic paper to attract the public's interest. You will find digital signage at events, in public places, along with transportation systems, in stores, and in areas of business.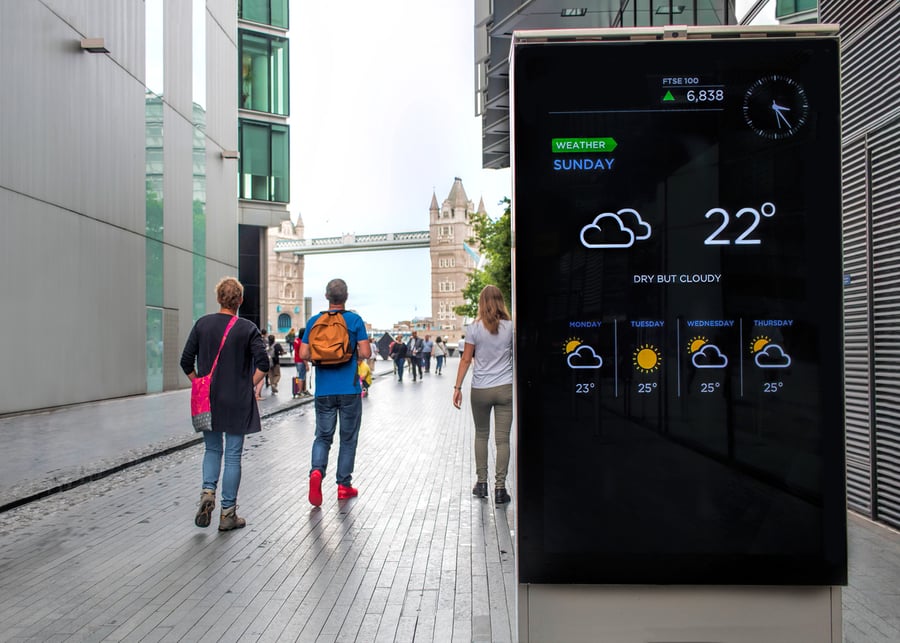 Companies can use digital signage for marketing, outdoor advertising, to direct customers, or other marketing objectives. Digital signage will typically display text, video and animation, graphic design, and images to achieve its intended purpose. Digital signage can be a valuable asset when used correctly. There are several ways to use digital signage to benefit your brand:
Advertising or promotions
Influencing customers
Informing customers
Enhancing customer experience
Internal information
Wayfinding
Digital signage is a centrally controlled set of displays. Each display is managed individually to achieve its objectives. It is essential to consider how digital signage could improve customer experiences and add more value for your customers. Look at your specific goals and see how it can help you achieve them.
The Benefits of Digital Signage
Deliver a Killer Customer Experience
Customer experience is a significant factor in the way customers engage with a brand. Customers with positive experiences spend 140% more than customers that report a negative experience. Today, there is an increasing focus on multichannel experiences for customers. With digital signage, companies can create consistent customer experiences between their physical locations and their digital spaces.
Using different customer engagement strategies and digital signage can improve customer experience by engaging with customers. When waiting and standing in line, digital signage offers a cure for boredom. In a mall, you can also provide greater autonomy through interactive, informative digital signs.
It is easy to communicate with potential customers and offer something memorable through digital signage. A company can update its content using contact management systems and determine the signage needed as displays. Upon seeing great digital signs, customers can relate your brand with their positive experiences.
Added Value to Customers
Digital signage offers companies another way to add value to their customers. Many customers want information about a brand or products without needing to invest much time. Digital signage is an efficient way for a company or institution to achieve that goal.
This added value may be different in varying locations. A phone SaaS company may briefly use digital signage to inform customers of call disposition codes. At a mall, digital signage is used for wayfinding and advertising. For instance, customers can find an information desk and make inquiries, all thanks to digital signage. To save time, customers can also find digital signs labeling their location and the locations of all the stores available.
Museums could use digital signage to educate customers about history and art. Corporate buildings can use digital signage to communicate corporate goals internally. According to out-of-home advertising research, 75% of commuters will recognize digital billboards. 82% will recall the adverts they saw in the last thirty days. Digital signage is highly engaging for both customers and commuters.
Advertise and Promote Services or Products
Digital signage is an effective advertising tool for eCommerce brands. It is easy to take in digital signs as part of the environment. As a result, consumers are consciously and subconsciously engaging with every company's messaging. By utilizing digital signs for advertising and promotions, you can significantly improve a company's sales prospects.
In countries like the UK, out-of-home advertising reaches 98% of the population every week. Out-of-home (OOH) advertising is valuable to eCommerce brands, leading to an increase in customers due to impulse shopping. In B2B, a company can use digital signage to display the benefits of its services. A SaaS company could show its solution to contact center management.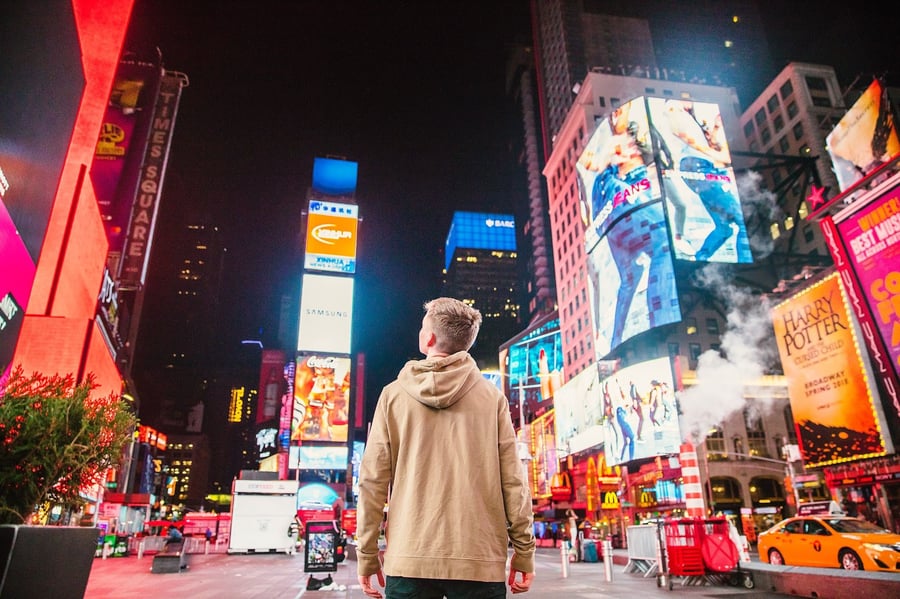 Increased Digital Traffic and Footfall
Companies constantly invest in several tactics that can increase their online traffic and footfall in their brick-and-mortar stores. Ecommerce brands can use digital signage to boost traffic to their online stores. Digital signs are practical tools when influencing the public or showcasing the value of a brand's products. They're more memorable than many other forms of advertising.
Up to 46% of consumers believe digital billboards stand out more than television adverts. Up to 55% of consumers can recall the specific message displayed on digital billboards that they have passed. In Times Square in New York City, which is covered in digital signs, anywhere between 380,000-460,000 pedestrians pass through every day.
Times Square also sees an average of 115,000 daily drivers and passengers.
According to Investopedia, companies spend up to USD 4 million a year on advertising in Times Square. Digital displays can garner considerable attention when using the right content. Sparking curiosity in potential customers can bring them to search for an eCommerce brand. Advertising with digital signage brings your next customer one step closer to making a purchase.
Low-Cost Content Display
Companies spend considerable resources to produce high-quality targeted marketing campaigns. Digital signs can lower the number of resources required to distribute great content. Using content management systems, brands can still provide targeted content for the right customers. But, by simply utilizing several screens, brands can advertise their content to specific types of audiences.
It is cheaper to advertise with digital signage than pumping out content across multiple specific channels. It is also beneficial to consumers as they can intentionally engage with your content as they browse, commute, or shop. Digital signs are lower-cost investments for both companies and customers. A company can easily change its displays remotely, and customers can passively absorb the messaging.
Build Connections with Customers
Digital signage is a great way to build rapport with your customers. Ecommerce brands could choose subtle digital signage solutions that contribute to the consumers' environment. They can also choose to install interactive digital signage solutions.
Using interactive digital signage can ensure that your marketing message is delivered correctly. It also means that the customer can choose to engage with your marketing materials actively. Some digital signage can promote product reviews and social media channels. Others can offer up games and digital downloads or simply encourage customers to search for products independently.
As customers engage with your digital signs, they can develop a degree of trust in your brand. By actively engaging with these interactive advertisements, customers can have a complete experience with retail and eCommerce brands. People often believe in tangible things they can personally experience.
Use digital signage to offer great experiences, and more customers will peruse your physical or digital store.
Geographic Movement
Digital signs consist of displays and screens. That means companies and brands can effortlessly move them to more suitable geographic locations, at any time. In the past, companies were bound to static adverts, some of which were paper-based. Back in the day, you would hire someone to paste your advert on a billboard. Today, you simply rent a digital one and send over your content.
For retailers, it's beneficial to have digital signs distributed in-store. The store could find suitable locations to advertise, inform, and add value to its customer experience. Similarly, an eCommerce brand would need to find the most convenient locations to place their digital signs.
Many eCommerce stores' operations could benefit from the geographic flexibility of digital signage. After optimizing the layouts of their warehouses, eCommerce stores can use these displays to convey internal information or location information to on-site employees.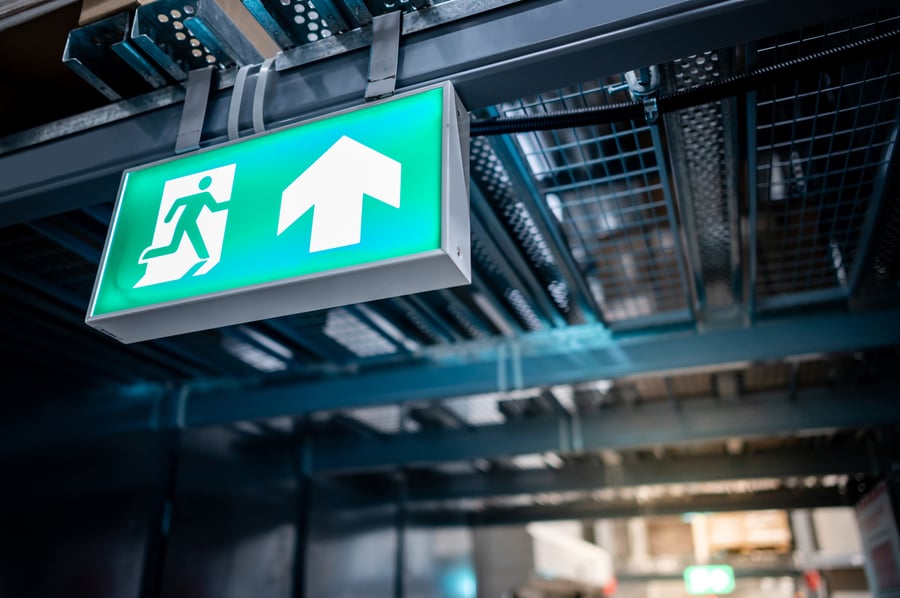 Suggestions for Digital Signage
1. Social media
As part of your multi-channel branding strategy, you can use digital signage to display your other communications channels. Why not showcase social media channels and the content your brand has to offer? Customers will take an interest in your content and browse your eCommerce store. Use these display ads to engage new prospects and later use your social media marketing strategies to nurture customers.
2. Video content
In some instances, customers need to wait for a particular service or to queue at physical stores. Waiting can cause 75% of customers not to purchase in-store. A brand can use video content to entertain customers and lower their perceived waiting time.
Depending on the consumers, video content can be informative or entertaining. A SaaS company could provide informative, instructional videos about "how to record a phone call" in their corporate offices. At an airport, managers can use video content for advertising or entertainment for waiting passengers.
3. Recent brand news
Is your eCommerce brand making some changes around different seasons or for a particular reason? Let customers know as they commute to work or enter other public spaces. Customers want to know about sales, promotions, and valuable items your brand can offer them.
4. Customer reviews
Customer reviews are a sure-fire way to offer proof as to the quality of your brand. Much like social media content, customer reviews can provide positive reflections of a business. Knowing that other customers find value in a brand can encourage new customers to take a step forward, and hopefully make a purchase.
Invest in Digital Signage
Digital signs offer opportunities that are convenient when compared to other forms of advertising. On the one hand, you can engage in targeted marketing. On the other hand, you can engage with customers by offering entertaining, digital experiences. Digital signage offers more positive customer experiences while engaging with a brand.
For retailers, digital signage can add to the shopping experience at brick-and-mortar locations. For eCommerce sites, they can provide customers with information, spark interest, or provide technology worth engaging. Digital signs are flexible and can scale as your company grows. So, why wait? Try out digital signage systems and see how they can improve your eCommerce brand's performance.