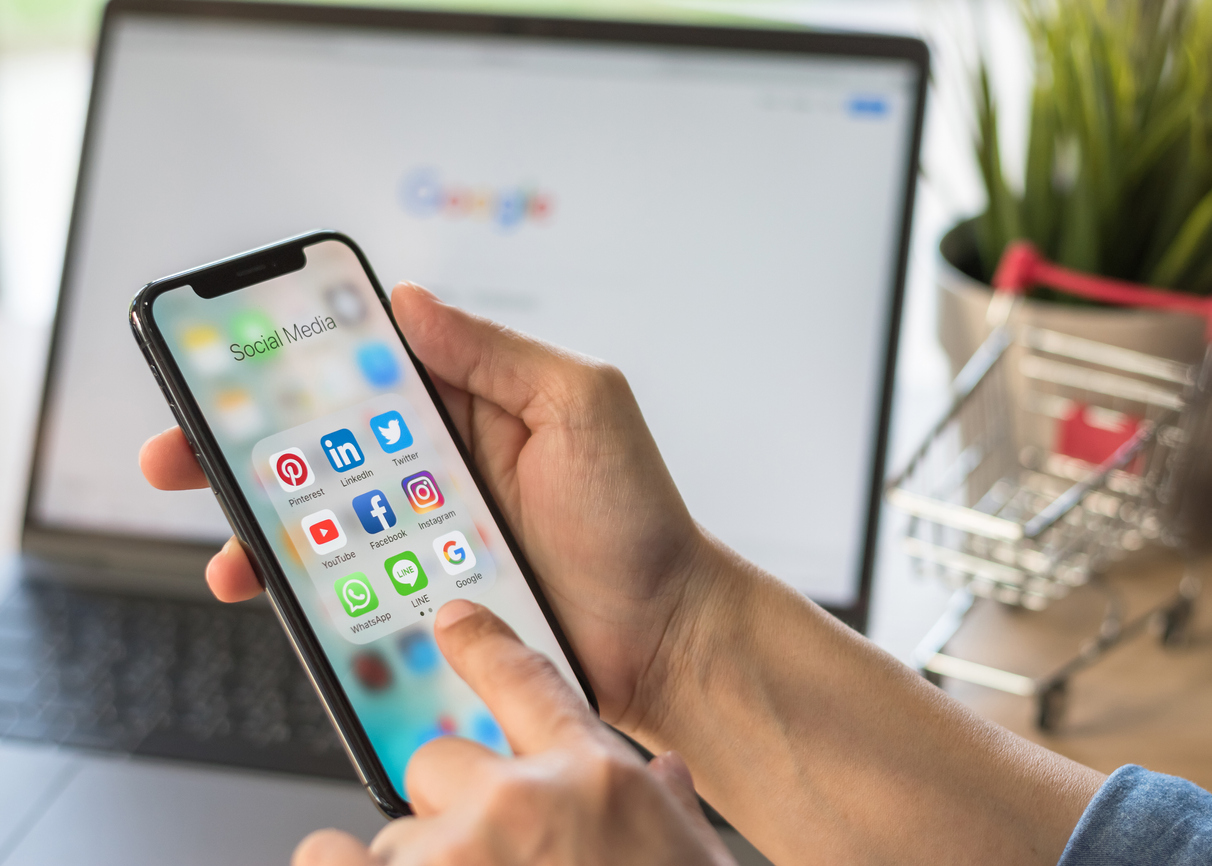 Most marketers think that social media performance has nothing to do with SEO rankings.
And they're right... partially.
Matt Cutts, from the Google search center, has confirmed a long time ago that they don't take social elements such as likes, shares, and followers as ranking factors.
However, even if your eCommerce store's social success doesn't directly affect SEO performance, a great social media strategy helps you get more traffic, backlinks, and brand searches if done right.
And these are 100% ranking factors that can help you climb the SERP and boost your organic traffic numbers exponentially.
Let's dig deeper into how to do that.
How Your Social Presence Can Influence Your SEO Results
Even if traditional social media KPIs like impressions, shares, and retweets don't count as ranking factors, they can expose your content to the right people and get your brand in front of potential customers who would've never heard of you otherwise.
If you can get enough traffic from your social content, Google will eventually recognize your site as useful and valuable for your specific market and make it rank higher for valuable keywords.
And the story doesn't end here. There are many more social media nuances that can help you get more SEO results, for example:
Google crawls and indexes links from Facebook (including comments). So, you're making a safe bet when you write your posts and comments as if they were going to appear on the SERP.
Google also crawls your brand's social profiles, making it a great idea to have an optimized profile on your social channels.
Platforms like Quora, Pinterest, and Reddit are powerful social channels where you can distribute your content and get more potential traffic to your domain.
Great social media marketing increases brand awareness. This leads to more branded searches and thus improving your chances to rank for more valuable keywords.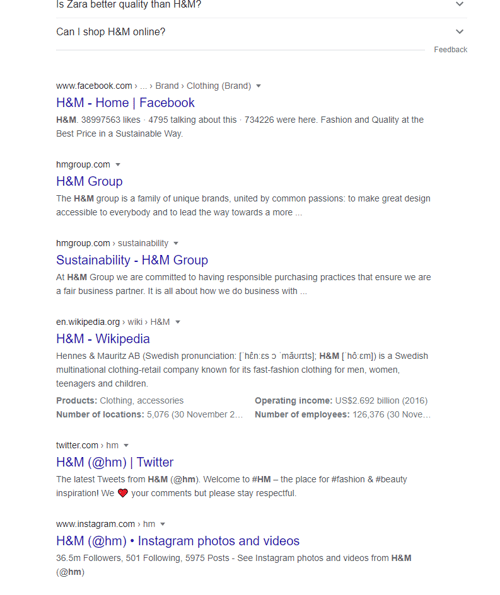 Google can index your social profiles.
If you're now convinced that great social media marketing can benefit your SEO rankings, then it's time to dive into some tactics.
The 5 Social Media Content Hacks You Need for SEO
When writing social media content, you need to consider how your posts might affect your SEO, even if it's indirectly.
The next five social media tips will help you get more chances to improve your rankings if done well.
1. Write Optimized Content
The content you write on your tweets, Facebook posts, or Instagram captions all play a role in your audience experience.
They might be short in length, but they can get you more traffic if they meet three requirements:
Are engaging, communicating your message with low friction.
Provide value to your target audience, making it exciting and memorable.
Are optimized to reach more people, enhancing your SEO results.
For the latter requirement, you need to do some background work.
Social platforms have their own search engines where you can also get exposed to new people. So it's necessary to consider how each social channel works.
Depending on the platform (such as Twitter and Facebook), you might have to include specific keywords in your posts, without sounding robotic or unnatural. Use clever metaphors and write conversationally. Make sure that your captions will be something both Google and your readers would appreciate.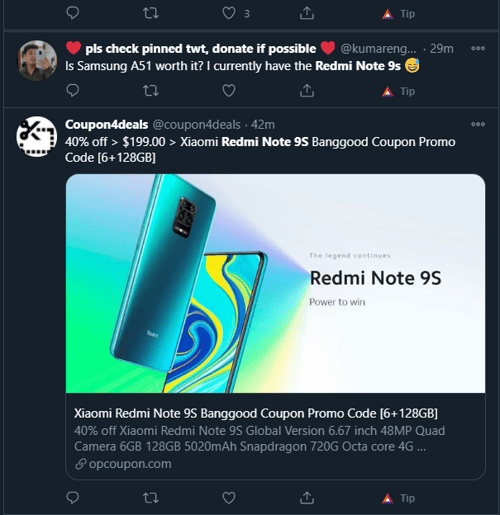 The bold words indicate the keywords that were used in the search.
On Instagram, for example, you'd have to include relevant hashtags that people use, such as #LivingWithKids or #BeingAParent. You can also create a branded hashtag so that engaged followers can search for your content.
The goal here is to amplify your content distribution as much as you can to get more traffic and brand awareness.
2. Engage Influencers
Influencer marketing has been pretty popular.
It is an extraordinary hack for reaching new audiences and expanding your brand awareness in the process.
What's better, you don't even need to negotiate with influencers to benefit from it.
Something as simple as commenting on influencer's content or tagging them on your posts (when relevant) can show the social algorithms that you're engaged with that specific "space," giving more exposure of your brand's content to the right people.
It also provides a huge benefit when receiving a retweet or a reply from such influencers by increasing your impressions even more.
If you don't know who you should engage with, you can check out top influencers lists or even use a tool to find influencers in your industry and get in touch with them.
Applying this hack won't only increase your following count and engagement; it will also show the search engine's algorithm that your brand is legit when people start googling your brand.
3. Leverage User Generated Content
UGC is a social media engagement hack.
And it's no surprise, considering that 56% of people want to see more user-generated content from brands (according to a Stackla survey).
Right now, your current customers are publishing content that's relevant to your brand.
They might be new customers sharing a pic of your product or posting a joke where your brand is mentioned. Whatever it is, you can take it as an opportunity to comment or share their content with your audience so they can engage deeper with you. In the long run, this will also help you serve them better.
To make use of UGC, you can do the following:
Whenever you find a potential UGC, ask permission to use the photo or video you want. It's way better to borrow content in good terms and save trouble (don't forget to always tag the owner in the caption).
Encourage your followers to use a branded hashtag for their content (like #WholeFoodHaul), so you can always have an influx of potential UGC.
Run a contest with an exciting reward. Request people to engage with your post and share a picture or video that you can use as UGC (could be a photo of their dogs, or video of them using your product, etc...)
Using a social listening tool is incredibly useful to look for UGC online. It will let you know whenever someone mentions your brand and allow you to engage with those people right away to find user-generated gems.
What's more, you can use social listening for SEO. Increasing your brand's presence on the SERP allows Google to crawl your profile, comments, and everything related to your brand.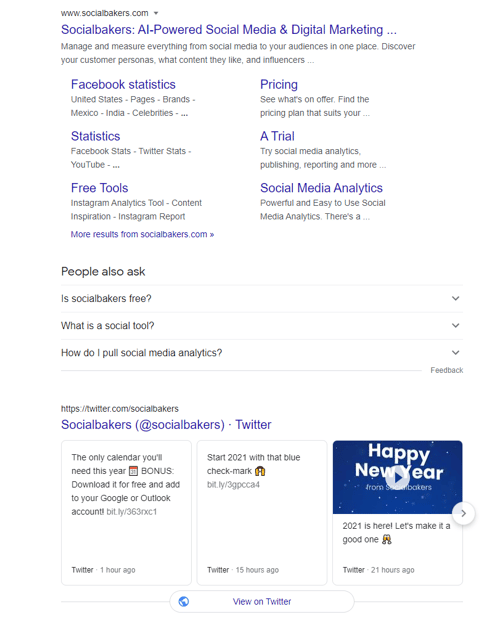 Google can even crawl your tweets.
4. Make Posts Shoppable
People are using social media more and more to discover new products and shop — at least, according to Instagram. 83% of the platform's users discover products and services through Instagram posts.
This means that posting your products directly might be valuable for the segment of your audience that's actively shopping on the platform.
And the best way to do this is to make your posts shoppable.
Here are some tips to highlight your products on social media:
Don't tag every single product in your images. Try to keep them simple and visually focused on the most attractive features (remember that people use social media on their phones, hence less space).
Whenever possible, add a link to your product's page. This can be done on platforms like Pinterest or Facebook (Instagram only allows one link on your profile, so use it wisely).
Repurpose your shoppable content across many (relevant) platforms. Pinterest is, for example, a vast place to get organic traffic and boost your SEO rankings (many brands rely on it for their traffic). So you can re-use your Instagram posts to publish more Pinterest pins.
Post Instagram's carousels or multiple images. Present different features of your products and diversify your online catalog.
Label your products with keywords so they can get a chance to rank on Google images.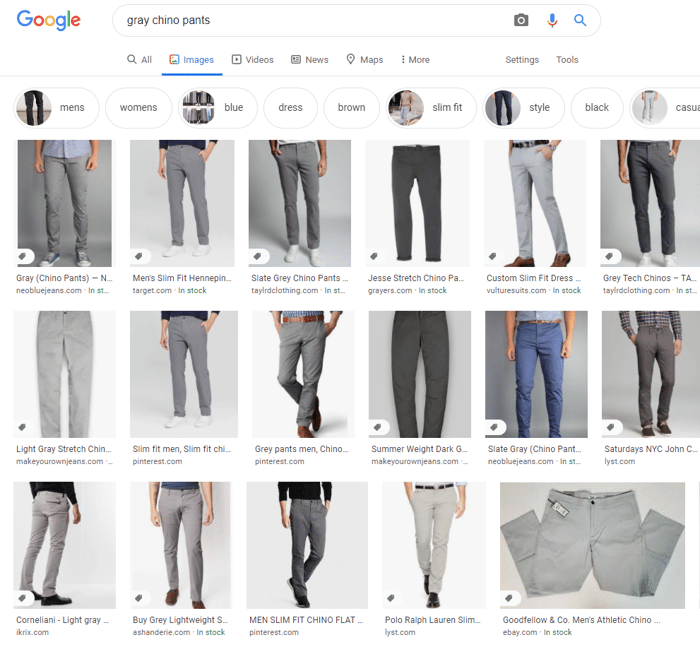 Three of these results are coming from Pinterest.
What you want to accomplish here is to incentivize your audience to visit your website and discover more of your product catalog. Craft a good mix of lifestyle and product posts in your social media calendar.
Achieving this will send signals to the Google algorithm saying that your pages are worth ranking as they keep getting more organic traffic — and all from a public platform.
5. Go Viral
Going viral is a huge traffic booster; everybody wants their posts to go viral.
Unfortunately, viral marketing isn't an exact science, and it's something you don't have much control over except to just keep trying.
However, almost every piece of content that went viral has one thing in common.
They all provide massive value to the reader.
Now, what does it mean to provide value? Well, when it comes to social media content, valuable content usually has these qualities:
It hits the audience's emotions. People react harder to emotions rather than basic rational information. If your content is made to impact your audience's feelings, it will have the potential to go viral.
It provides free value. Cialdini's rule of reciprocity means that when you give value for free (like an eBook, report, free trial, or free shipping), the receiver will feel the need to reciprocate back to you, either by giving you their attention, email address, or just money.
It's video. Videos are getting so much traction recently that posting video content increases your chances to go viral significantly. So get a video marketing tool and start creating viral-worthy content.
It's easy to consume. Plain and simple, the easier it is to read/watch your content, the more likely it is for your audience to engage with it and share it.
It's unique and different from the traditional content. People are bombarded with the same content in their feeds. So, the only way for them to stop scrolling, see your content, react, and share it is to do something that can't be found anywhere and is worth sharing.
Going viral is a one-way ticket to SEO success. As Matthew Woodward's case study shows, his post about "unhealthiest foods" went so viral that the SEO results were apparent.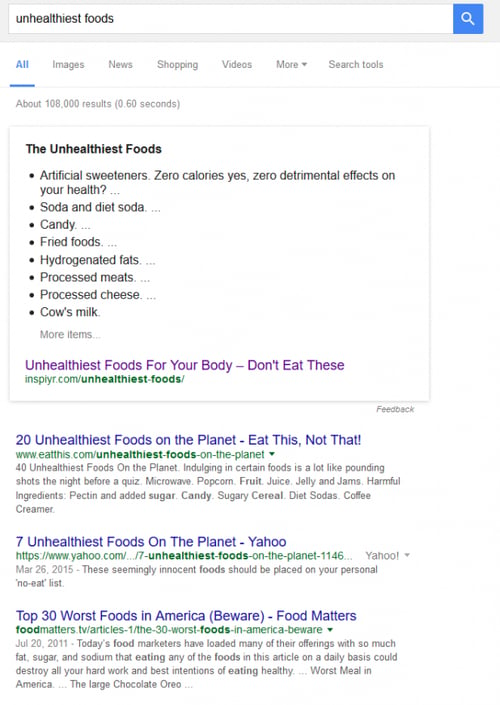 The Google algorithm will always reward those who get positive attention from people.
Quick Wrap Up
It's now evident how your social media success can also influence your SEO results.
As long as you can use social media as a content distribution channel to build brand awareness and get traffic, it will always impact your SEO rankings.
Focus on getting more traffic, expanding your audience, and building your market authority.
If you stay true to this goal, you'll nail social media and SEO at the same time!