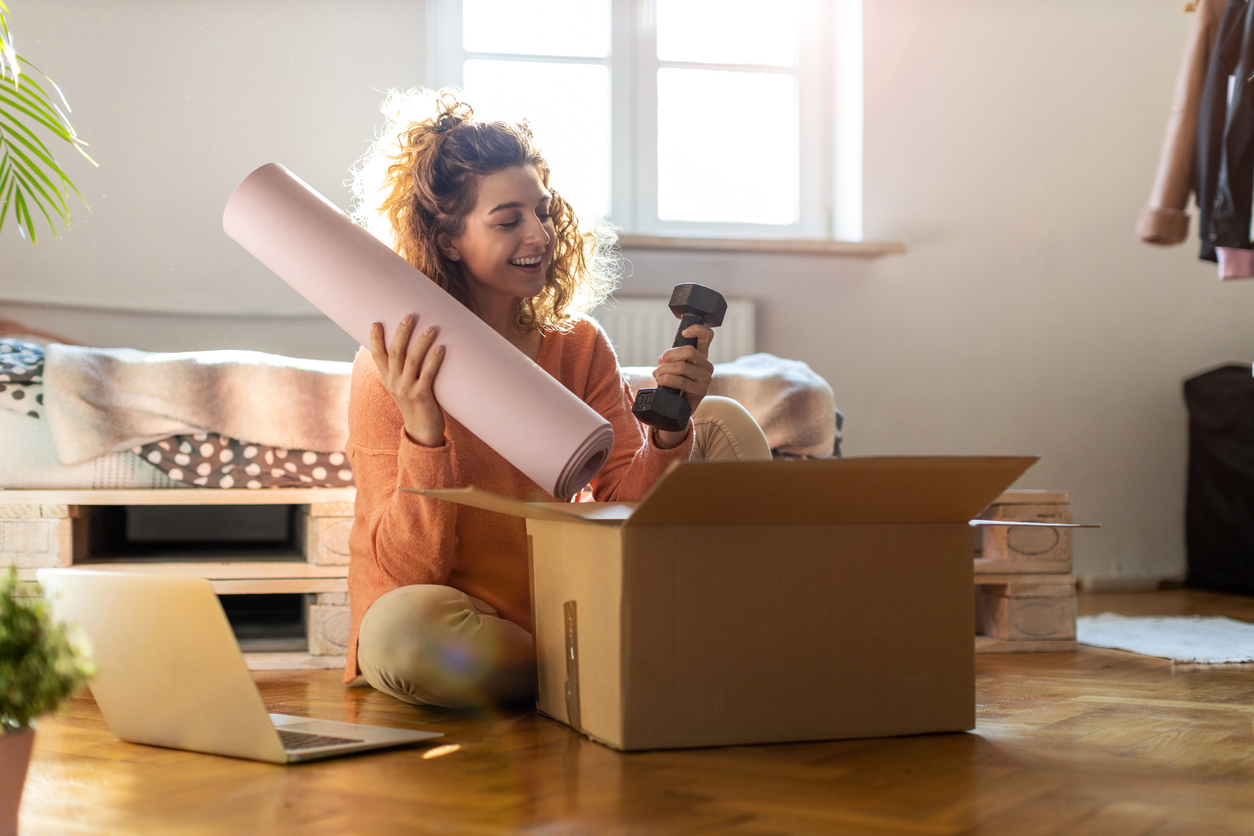 Everyone has gone online — you would be hard-pressed to find anything in the "real" world that you can't find for sale on the Internet somewhere. And just as physical shops need an alluring display to attract potential customers, your eCommerce store needs the same.
There are various things to consider, and we will outline the most critical and sometimes overlooked aspects in this article.
What exactly is eCommerce?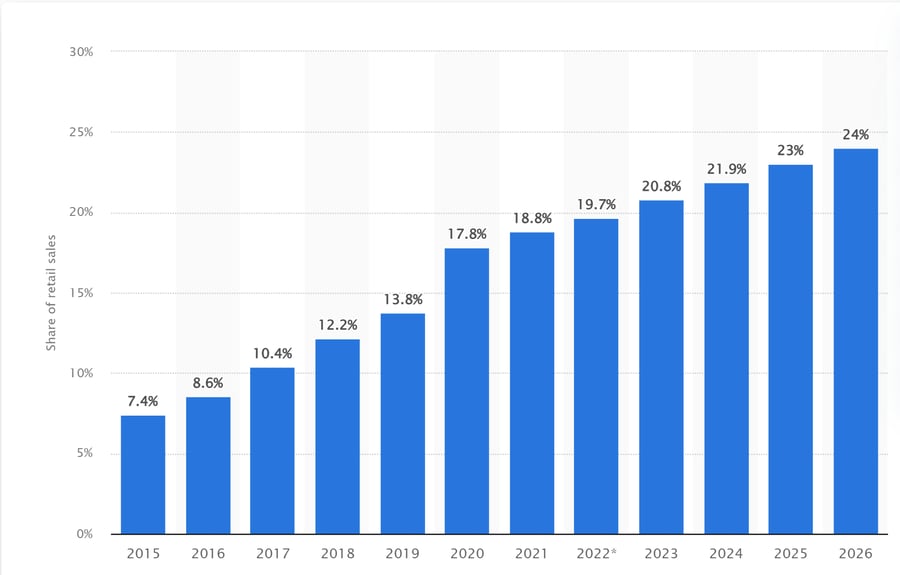 Source: Statista
Electronic commerce (eCommerce) is another way of saying online shopping — buying and selling products and services over the Internet. Businesses and individuals can sell their services and products using digital means of accepting payments and collecting customer data. They do so via their shop's website, online marketplaces like eBay and Etsy, and social media.
Now let's dive into five core considerations to help you stand out.
1. Your website address matters.
You might think your website address is just a formality, an insignificant detail in your customer's experience with your brand. WRONG!
Your address should be easy to remember - the simpler, the better. Compare the following two addresses:
www.YourShopNamePlusSomeOtherRandomWords.blogspace.bloglife.com
VS
www.YourShopName.com
If you have a simpler name that doesn't include the website hosting platform, it's worth it! The bigger your business becomes, the more valuable that name will become to you.
The last thing you want is a situation where someone else snags your ideal website name before you can. The best option is to pay for the address you want right off the bat.
And is it worth it? Absolutely. Believe in your business, invest in it, and get the domain name you want. It will make it much easier for customers to find you.
2. Usability is vital.
Your site should be nice and easy to navigate. How quickly would a newcomer to your website be able to find the product pages, the VoIP pricing page, and the contact details? Are there any obvious pain points?
Ask colleagues and friends to have a look and give you honest feedback before launching your website. If they keep encountering "whoops! That page doesn't seem to exist…" messages, you must sort it out. This is the time for easy access to products and selling.
3. Brand identity is everything.
Brand identity plays a significant role in your online store standing out from the ocean of other stores bobbing around on the waves of consumerism. Your brand identity includes visual, verbal, and emotional angles that can set you apart as the most attractive option for your potential customers. It can also extend to the methods you use for communicating with your customers — a forward-looking business might consider VoIP vs landline and decide on the more modern, streamlined option to match their identity.
The online marketplace scene is crowded. Suppose you foster a strong brand identity and establish a unique brand that folks recognize. In that case, you can develop a highly relatable brand identity that your customers will be attracted to.
As well as standing out from the competition, a strong brand identity helps your customers trust you and believe in your ability to get things done right. If you can curate and uphold a professional and cohesive brand image AND deliver your products on time, your customers will feel at ease shopping from you. As a result, you'll not only gain a loyal fanbase, but these happy customers can also get the word out about what a great company you are to their friends and families.
A consistent brand identity across your different interaction spaces, like your Instagram, website, and packages, helps you stick in people's minds through repeated and consistent exposure. This creates a sense of familiarity and recognition.
Finally, a brand identity allows you to show your customers what you're all about and pluck at their heartstrings. When you understand your customers' hopes, dreams, and values, you can funnel your brand in their direction so that they connect emotionally with you. This leads to a deeper and more regular connection with your store.
4. Get comfortable with social media.
If you're an old soul, you might dislike social media and dream of the old days when billboards plastered the sides of motorways. Unfortunately, social media is here to stay — and it matters. To create a stand-out shop in today's environment, you must bite the bullet and get yourself on Instagram and Facebook.
The good news: you can use software (yes, more apps!) to automate your social media posts across all your channels. This means you don't have to juggle posting across multiple accounts one by one.
You will occasionally need to check your comments and messages to see if any customers have asked you a question. Social media is an excellent tool for showcasing customer service, linking to your website, and getting those sales. You can also link directly to your products from your posts.
Think of social media as free advertising space next to the motorway of the internet. You can pay for extra exposure, but you can also do without. Social media is also a great place for curious customers to learn more about you — hashtags are your friend.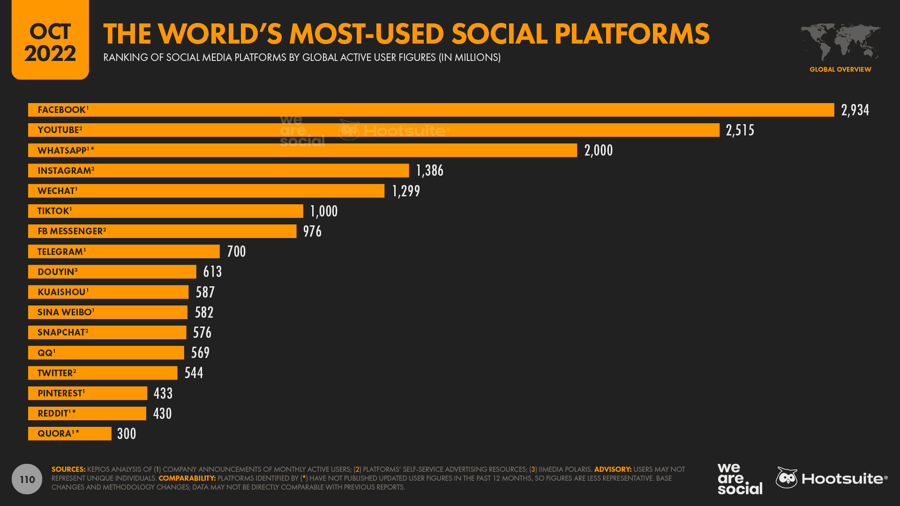 Source: Hootsuite
5. Break out your camera.
With social media and the internet being so heavily visual (you can't touch products before buying them), good pictures' importance cannot be overstated. Make use of whatever you have at your disposal and within your budget. You will want pictures that evoke other senses and feelings, including texture, smells, sounds, or emotions.
The good news is that most smartphones take pretty decent pictures and videos, so you don't have to shell out for some expensive DSLR camera or even hire a professional photographer — unless you want to and your budget allows for this. Plenty of YouTube tutorials are available to help you DIY your way to the top.
From lighting hacks to modeling tips and ideas for original and eye-catching photos, the Internet is the endless encyclopedia of everything in the world, right at your disposal.
6. Get to know your online marketplaces.
As well as having your own website and social media accounts, you can opt for selling on an online marketplace, such as eBay or Etsy. Let's break down some of the key differences you should be aware of with these two heavy hitters:
eBay
eBay is primarily known for its auction-style listings, where sellers can set starting bids, and buyers can bid on the items they want. You can also sell things at a fixed price or allow buyer offers. Here are some key features that eBay includes:
World-Wide Audience: eBay's user base is enormous, and if you decide to sell from eBay, you will have access to customers worldwide with varying buyer personas.
Auction Format: The auction-style option offers you the chance to get higher prices on some unique items if you are flexible in your selling style.
Flexible Listing Options: eBay offers various listing options. Along with auctions, you have fixed-price listings and the option to negotiate prices with buyers using offers.
Etsy
Etsy has carved out a reputation for itself as a specialized online marketplace that gives a platform to handmade and vintage items and crafts. It's the place to be if you are an artist, an independent seller, or a small business selling your wares. Some of the key features of Etsy include:
Handmade and Original Products: With an emphasis on one-of-a-kind and artisanal products, Etsy is the place to be if you want to attract buyers willing to pay for handmade, ethical items.
Niche Market: Etsy emphasizes the importance of community and support and caters to a niche clientele that is interested in the values of supporting small businesses, crafters, and artists. These customers may be willing to pay a little more if they know their money is going towards individual sellers and ethical practices.
Customization: Etsy gives you many tools and features to customize your shop while remaining within the overall Etsy aesthetic for consistency. You can add any shop policies that are important to you, include product photos and videos in your listing, and interact with your customers through the direct messaging feature.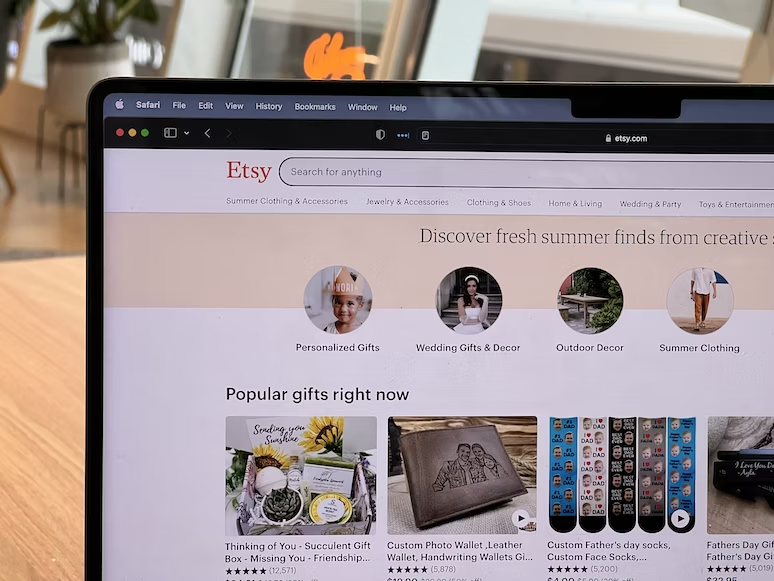 Source: Unsplash
While eBay offers an extensive, global reach, Etsy focuses on handmade, vintage, and craft items and caters to a niche market with a strong sense of community. And these are just two of the marketplaces available. Depending on your audience type and product, you also have the likes of Amazon, Vinted, and many more.
The Takeaway
Standing out from other stores in competitive markets is all about getting your ducks in a row — you want to make your customer's journey as seamless and easy as possible while offering them a fun overview of yourself as a seller.
Standing out is about brand identity and ease of use. You want to appeal to your customers' values and make buying from you as easy as possible.
Whether you're selling a niche handmade craft on Etsy or using eBay to appeal to the broadest audience possible, or perhaps skipping online marketplaces altogether, there is space for you on the Internet, and there are people out there who will want what you're selling. You just have to make it easy for them to find you.