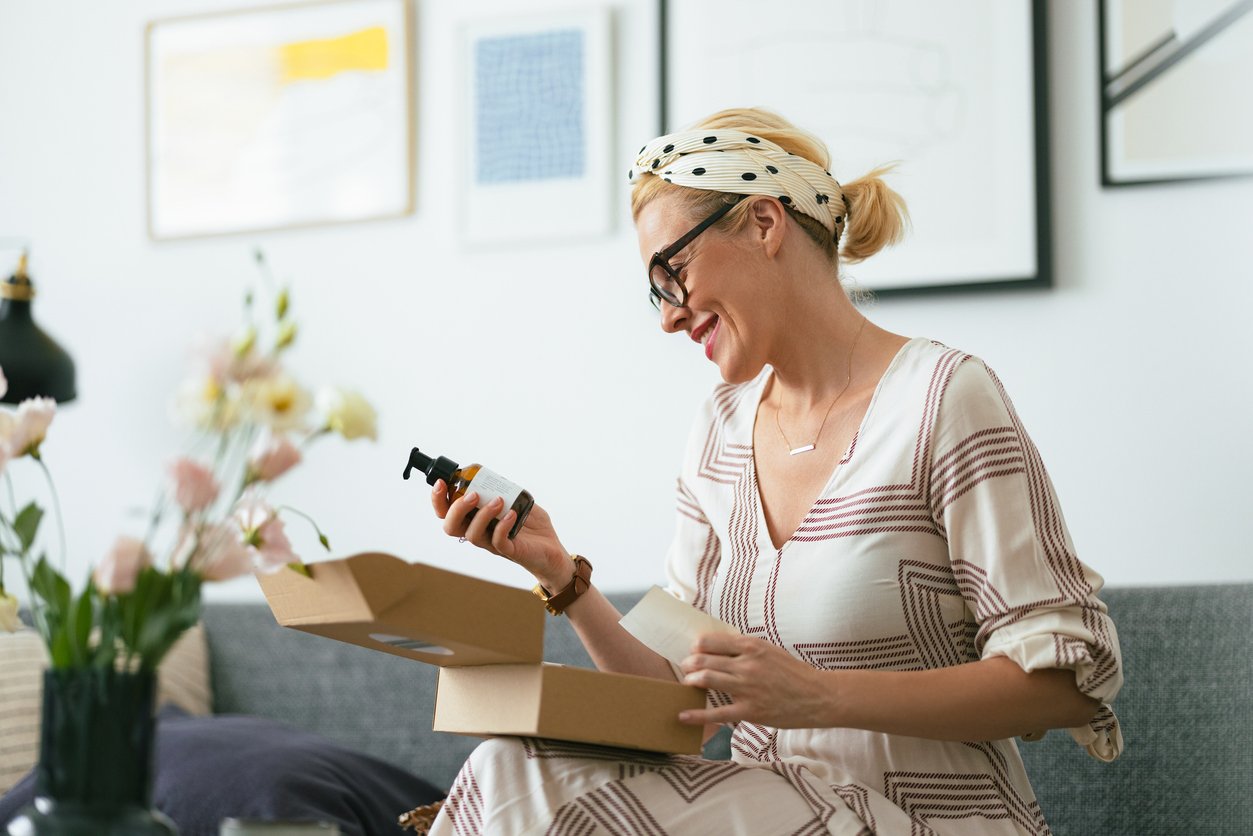 No business has ever made history because of its bland, brown cardboard box packaging. Physical packaging is free real estate for your brand image that ends up inside the customer's home; it would be a shame to waste that opportunity.
Starting a subscription box isn't enough on its own. Consumers want excitement and connection with the brands they buy from. Unboxing is all part of the experience, and if you don't have a great design, customers will be more likely to leave.
However, creating subscription box packaging that consumers love is not as simple as slapping some red paint on a box. This article will help you create an unforgettable experience for your customer through the design of your subscription box.
Why Packaging is an Important Part of the Subscription Box Experience
Why are presents wrapped in pretty paper and tied with a bow?
Because presentation matters.
Subscription boxes are no different. They might even require more thought since the package will be your brand's first chance at making a positive impression. Your packaging represents your brand; it should be an accurate reflection of what customers can expect from your company.
When consumers have the box in their hands, they get excited about what's inside and (unconsciously) start forming a positive association with your brand. If the packaging is flimsy or damaged, on the other hand, it creates a negative first impression of your business.
The best subscription boxes make customers feel special, not like they just bought something off a store shelf. It should be an extension of your brand that customers can hold in their hands. Consumers consider packaging to be part of the product, not just something the goods come in, so it's so important to get it right.
Subscription box packaging also comes with the added bonus of built-in marketing opportunities. Your box can be designed to display your brand colors, logo, and tagline prominently. This is valuable real estate that you should take advantage of to make sure your box stands out from the competition.
When customers share pictures of your box on social media, it's important that your branding is visible. This is free marketing for your business that will help you reach a wider audience and attract new customers. An uninspired package design will not generate the kind of excitement or buzz that leads to social shares.
User-generated content is a powerful marketing tool that involves finding (or incentivizing) posts about your product on social media and using them much like you would paid ads. A great example of this is the influencer-oriented collaboration between IPSY and influencer Zoe Lee: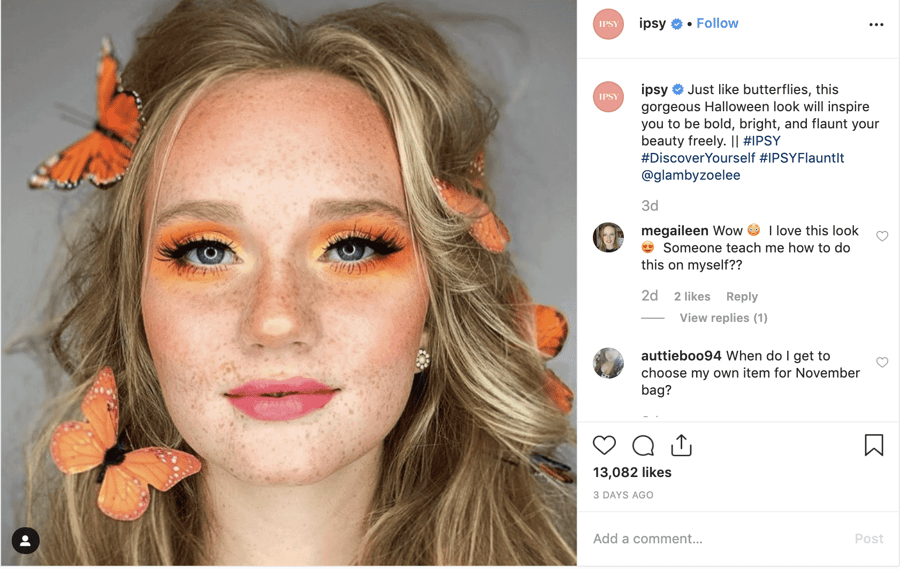 Source: IPSY
Birchbox, one of the first curation boxes on the market, understood the power of influencer marketing from its inception. The box teams up with popular influencers to run campaigns that put their subscription box center stage.
A 2019 Birchbox campaign ended with a 61% conversion rate and outperformed its KPI goals by 57%. All of the collaborations with influencers were focused on the unboxing experience. This just shows that when done right, your packaging can be a powerful marketing tool.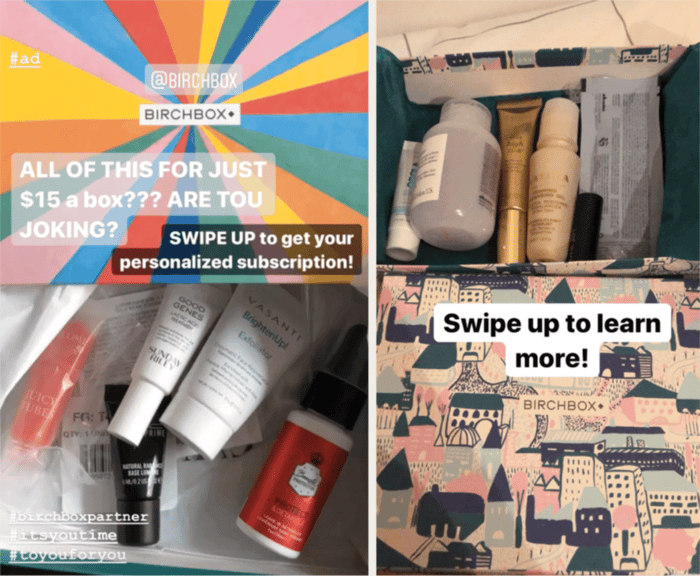 Source: Birchbox
Birchbox gets it right with its packaging. It's colorful, varied, and exciting. Consumers and influencers alike have something to look forward to when the subscription box lands at their door.
Types of Subscription Box Packaging
Every subscription box needs to be able to survive in transit; the last thing anyone wants is a package that's busted up and damaged when it reaches your customer.
The packaging should also be able to protect the items inside, so they arrive in perfect condition. Choosing the right type of packaging will depend on the type of things you are sending, the weight and dimensions of your products, and your budget.
When deciding on your subscription box packaging ideas, think about how you'll incorporate your brand identity and your target audience's expectations.
Here are a few things to consider:
Padded Mailers
Padded mailers are an excellent choice if your products are small and will easily fit through a letterbox. They offer good protection for items and are lightweight, which keeps shipping costs down.
One downside of using padded mailers is that they can be difficult to brand. You can add your logo or branding colors, but the customization opportunities are limited. LiveGlam uses padded mailers to ship their products. The branding is clear and straightforward but isn't as impactful as some of the other packaging options available.

Source: HelloSubscription
Rigid Mailers
Like padded mailers, the rigid variant will easily fit through a letterbox. The difference is that rigid envelopes have a paperboard layer that adds durability to the packaging and helps prevent damage such as bending. They're perfect for companies shipping flat items like artwork.
Dollar Shave Club, a men's grooming subscription company, ships its products in rigid mailers. The outside of the mailer is basic, with just the brand name and logo. Although there is little fanfare with this package, it is well-targeted toward men choosing a new razor brand, where practicality is preferred over style.

Source: HelloSubscription
Mailer Boxes
Mailer boxes are slightly larger than padded or rigid mailers, which gives you more room to work with when it comes to branding and design. They can protect your items in transit, and there's room for packing materials for extra safety.
An example of a company using mailer boxes is Hopebox. They use digitally printed boxes to easily change their design each month. The outside of the box displays their name center stage with the floral design and negative space drawing attention to it. This playful design helps create an unboxing experience that's exciting for their customers.

Source: MySubscriptionAddiction
Custom Boxes
If you want your subscription box to make a real impact, custom packaging is the way to go. Custom boxes are entirely customizable, which means you can design them to perfectly match your brand identity. You can also include custom inserts and packaging materials to enhance the unboxing experience.
One company that's really nailed custom packaging is GlobeIn. Their boxes are beautifully designed with a premium feel. The contents are thoughtfully arranged, and the overall unboxing experience leaves a lasting impression.

Source: HelloSubscription
Choosing the Right Size Packaging for Your Box
When deciding on the size of your subscription box, consider the items you'll be including. Will they be small items like jewelry or larger items like books? You'll also need to think about how many things you want to have in each box.
Getting the wrong size could be a costly mistake. If products don't fit the packaging initially ordered, you'll need to replace them, which will increase your expenses.
To find the correct size box for your goods, you should find out the following for each of the products you sell:
Length
Width
Depth
Weight
Durability
Once you know these dimensions for your products, you can start to look for packaging that will accommodate them. It's better to have a little too much space than not enough. If the packaging is slightly bigger, it can be filled with shredded paper or other packaging materials to make sure everything is secure.
When it comes to the weight of your products, you'll need to think about how much your packaging can hold. Heavier items will require more robust material such as corrugated cardboard to stop the packaging from splitting under the weight.
Fragile items will need to be protected with materials like shredded paper, air pillows, or packing peanuts. You will need to account for the extra room in your box. Otherwise, the goods may be damaged in transit.
Smaller boxes that can fit through a letterbox are convenient for customers to order. There is no need to be in the house for delivery. A letterbox is typically 12 inches x 2 inches (30cm x 5cm).
Simple Loose Leaf Tea Company sends out its subscription box every month, which can slot through any letterbox. Since their product is small and lightweight, a mailer box was the perfect option. Customers don't have to be home for their tea to be delivered, which makes life more convenient — and that's key as a subscription box.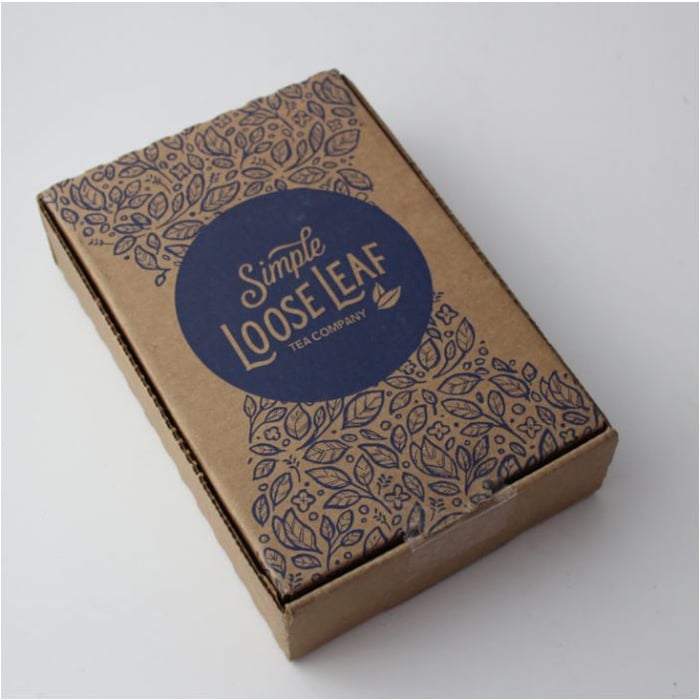 Source: MySubscriptionAddiction
It isn't just small boxes that do well as subscription services. In fact, two of the most popular subscription brands out there are Blue Apron and Hello Fresh. These companies ship meal kits each week to households all around the world.
Of course (given they're selling pumpkins and cauliflower) the contents are simply too big to slot through a letterbox. Instead, they ship using large custom boxes which proudly display their branding and are left in a convenient location if the customer isn't in. Unfortunately, this does put them at the mercy of porch pirates, which is harmful to consumer relationships.

Source: HelloSubscription
Designing the Packaging for your Brand
Start by creating a style guide for your packaging design. This will ensure that all future designs are cohesive and aligned with your brand identity. If you're working with a designer, make sure they have access to this guide.
Your style guide should include the following:
Logo
Typography
Colors
Imagery/Patterns
Tone of Voice
With a style guide in hand, you can move forward with the design process, confident that everything will be consistent. Inconsistent branding confuses customers and makes it difficult to connect with a company.
Bitsbox takes a simple approach to its packaging design. The box is brown with a pattern that stays consistent each month. Since the package is aimed at children, its design features many character illustrations that speak to a child's imagination.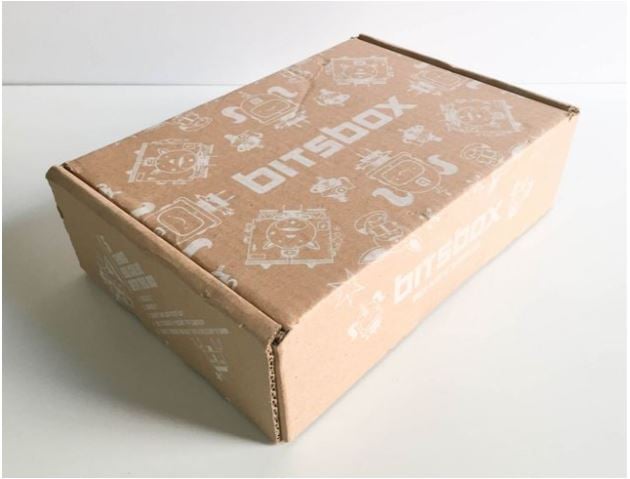 Source: BlogLovin
A custom packaging design will make your box stand out from the competition and give customers a better unboxing experience. It will also help you further solidify your brand identity and deepen your connection with consumers.
There are endless possibilities for custom packaging designs, so there's no need to be limited by what's been done before — get creative!
A few timeless branding tips you can use:
Use bright colors/bold patterns: Color affects how people feel towards your brand and can elicit specific feelings like joy, trust, and passion. Use eye-catching color wavelengths and patterns to appeal to your ideal customers.
Use negative space: Play with negative space to draw attention to the essential parts of your design, like the logo or hashtags. It's an effective way to make your design pop and ensure that all the elements are balanced.
Keep it simple: The most straightforward designs are often the most memorable. A design that's too busy can be distracting.
Stick to your brand identity: Try not to deviate too much from the identity of your brand. Ideally, the box should be able to fit in with any of your marketing efforts.
Orly is an excellent example of a box that uses color to evoke emotion. Pink is a calming color associated with playfulness and elegance. The simple design contains a ton of negative space, directing the consumer's attention straight to the brand name.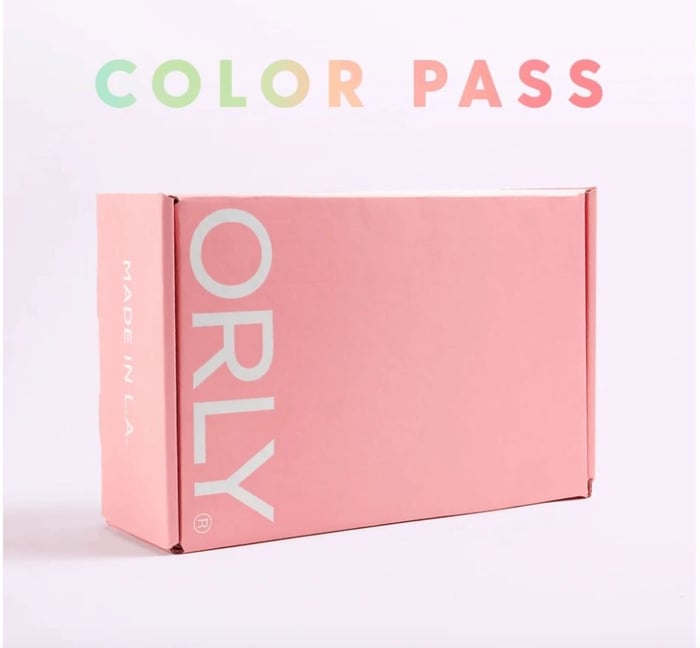 Source: Orly
If it's within your budget, you should move forward with custom packaging design by reaching out to a professional designer. They will be able to advise you on materials, print processes, and finishes that will elevate your packaging and create an unforgettable unboxing experience for customers.
While working with professionals does come at a cost, it's important to remember that cheap packaging reflects poorly on your brand. Investing in high-quality packaging will pay off in the long run as you build a loyal customer base who loves your products.
Create a Connection to Your Brand Through Packaging
To create a strong bond with your customers, you need to make sure your branding is sharp. Your subscription box carries the essence of your brand, and the customer should be able to tell that it's you immediately when they see your packaging.
Subscription boxes rely on recurring revenue, so it's crucial to keep consumers subscribed for the long term, and positive brand association and an emotional connection are at the heart of customer loyalty.
Consumers feel connected when they can trust a brand and when the brand's values align with their own. Use your packaging to show off what your company is all about. What kind of message do you want to send?
Do you want to be known as environmentally sustainable or eco-friendly? Use recycled materials in your packaging.
Are you all about luxury? Use high-quality materials and finishes.
Do you want to be at the forefront of modern design? Use interesting, eye-catching packaging.
Hubble Contacts, which provides a subscription delivery service for contact lenses, ensure that its packaging is bright, colorful, and easily recognizable on its customer's doorstep.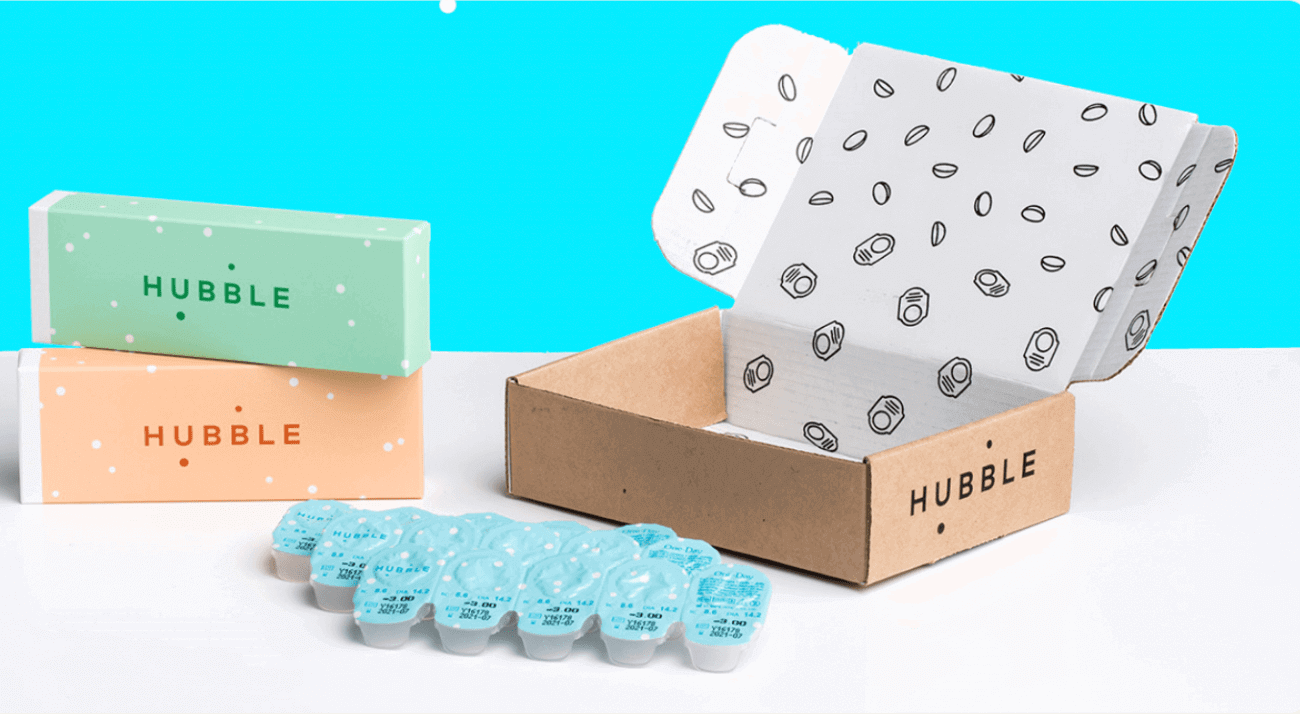 Source: Hubble Contacts
Your packaging should also be consistent with the overall aesthetic of your brand. If you have a modern website, your box should have a similar feel. If you're targeting an older demographic, don't go for flashy packaging that's too over the top.
Use Packaging as an Opportunity to Speak to the Customer
Printing a hashtag on the box that you're using in a current marketing campaign can help to increase brand awareness and reach. It helps build a community on social media where like-minded people promote your products with user-generated content.
Allure Beauty Box does this to great effect by printing a prominent hashtag on the outside of its box. The hashtag can be found again on the inside of the box alongside a call to action directing consumers to their social media pages.

Source: Sharelov
Examples of Subscription Box Packaging
Standing out from the crowd is essential for any business, but it's especially important in the subscription box industry. With so many options on the market, you need to find a way to make your box stand out from the rest.
One way to do this is with unique and eye-catching packaging. Subscription boxes come in all shapes and sizes, so there's plenty of room for creativity. Let's take a look at 3 excellent examples of subscription boxes that look great.
Tokyo Treat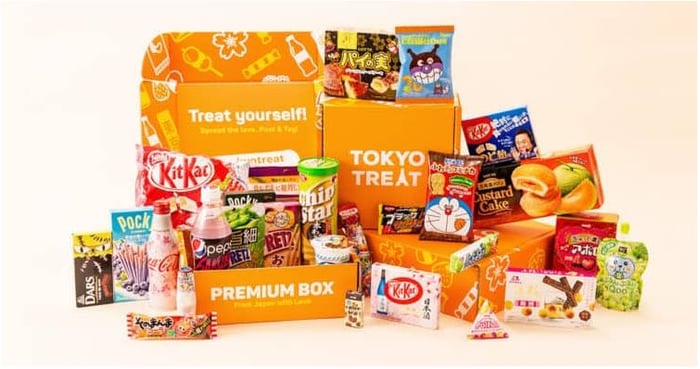 Source: TV Over Mind
Tokyo Treat is a monthly subscription box that delivers Japanese candy and snacks to your door. The subscription box stands out and draws attention with its bright orange color.
Orange symbolizes youthfulness and enthusiasm and is optimistic in nature. It's the perfect color to reflect Tokyo Treat's focus on delivering fun and delicious snacks from Japan.
The outside of the box uses negative space to create a minimalist design. The Tokyo Treat logo is the only thing printed on the top of the box, which keeps the overall look clean and simple. Around the sides, the package is more playful with illustrations of drinks and snacks, giving customers a hint at what's inside.
Tokyo Treat uses a custom mailer box that fits all its products inside. However, the box is too large to fit through a letterbox, which means the customer will need to be in, or the parcel will be left unattended.
Vinyl Me, Please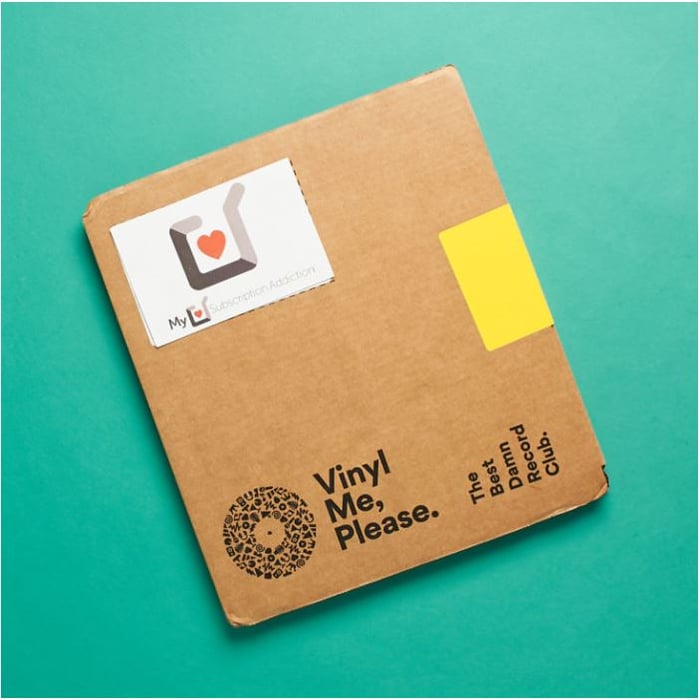 Source: My Subscription Addiction
Vinyl Me, Please is a monthly subscription service that delivers new vinyl records. Due to the nature of the product being shipped, they use a corrugated cardboard box that's double-walled for extra protection. Vinyl can break easily if not protected, which would not endear the company to music lovers.
The outside of the box is free from complex patterns. There's not a lot of fanfare in the design, which is just the standard cardboard brown color with a black logo and text. Vinyl Me, Please targets music enthusiasts looking for an exciting way to get new records each month.
Vinyl Me, Please don't need to wow people with their own packaging as the real magic is unboxing the vinyl record itself. The focus is on delivering a product that's well-protected and will arrive in perfect condition.
FabFitFun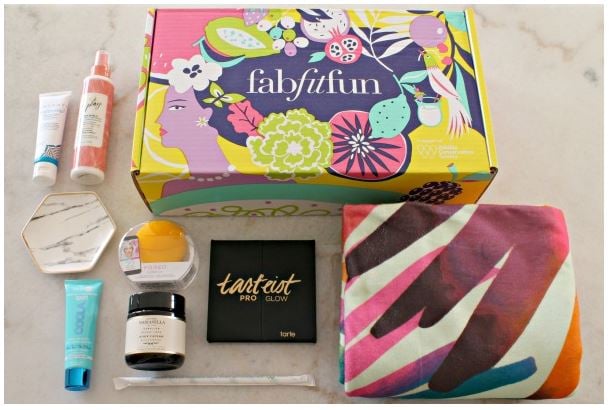 Source: Away She Went Blog
FabFitFun is a quarterly subscription box that delivers full-size beauty, fashion, fitness, and lifestyle products. The company uses a custom mailer box that's made from thick cardboard. The outside of the box is a lot busier than most subscription boxes but perfectly encapsulates the feel of the brand.
The overall look is fun and bright, with a lot of colors used in the design. There's usually a theme for each release, and the designers go all out with creative illustrations. FabFitFun prominently displays its logo in the center of the box.
Since the company specializes in sending out full-sized products, their box needs to be larger than most. While this does allow for more creative designs, it does mean that the box can't be posted straight through the door.
Digital Printing for Subscription Boxes
Digital printing is a cost-effective way to create custom designs for subscription box packaging ideas. It's much faster and more efficient than traditional printing methods, meaning you can get your boxes printed and shipped out quickly.
There are no minimum order quantities, so you can print as many or as few as you need. This is perfect for small businesses or start-ups just getting their subscription boxes off the ground. Digital printing scales with you, so there's no need to worry about waste.
Flexible Designs
Digital printing allows for more intricate designs, meaning you have a lot of control over the process. If the prototype comes back and something isn't right, it's easy to make adjustments before placing a whole order. This flexibility is one of the main reasons businesses choose digital printing for their subscription boxes.
Eco-Friendly
Digital printing is one of the most eco-friendly printing methods available. There's no need for harsh chemicals or toxic inks, so you can rest assured that your packaging is safe for the environment. Consumers are more eco-conscious than ever, with more than a third willing to pay higher prices for sustainable products.
Kiwi Eco is a sustainable brand that uses recyclable materials for its packaging. This gives them an excellent opportunity to share their brand message in their design.

Source: Kiwi Eco Box
Speedy Turnaround
Digital printing has a much shorter turnaround time than traditional printing methods. If you have an unexpected rush of orders, you'll be able to get more boxes printed and ready for shipping in no time. You can typically expect your digitally printed boxes to be delivered within two weeks of placing your order.
Best Digital Printing Services for Subscription Box Packaging
The best digital printing services for subscription boxes offer high-quality custom packaging printing at an affordable price. You'll also want to consider turnaround time, customer service, and whether or not the company can offer a prototype before ordering.
Here are three of the best printing services online that cater to subscription boxes:
BoxUp
BoxUp is a custom subscription box packaging company that offers digital printing for subscription boxes. They have no minimum order quantity and offer a range of box styles. Their products include:
Display mailer
Shipper
Gift mailer
Square mailer
Gable box
End Open Mailer
They offer a $1 sample box to anyone who requests one so you can get a feel for the quality before committing to an order. If you want a complete prototype, the cost for one box is $25. Orders must be placed in increments of 12.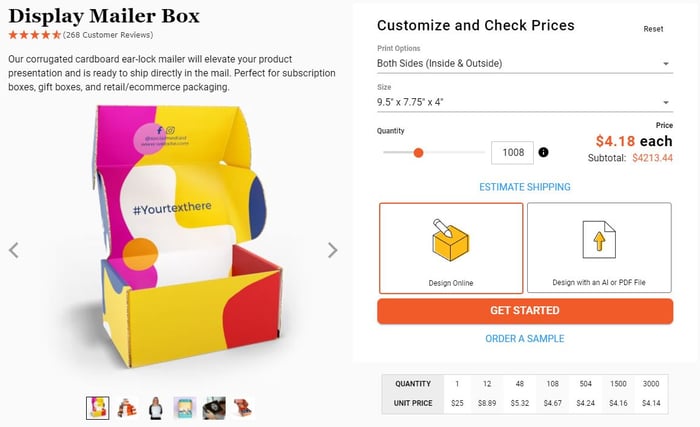 Source: BoxUp
BoxUp has built-in design tools you can use to create a stunning box design. Or, if you already have a design ready to go, simply upload your artwork, and they'll take care of the rest. The BoxUp team will then go over your order to make sure everything is just right before printing.
Boxes are printed within 10 business days from the day the order is approved by BoxUp. They ship using UPS Ground and recommend allowing 3-4 days for delivery. If you have a preferred courier, this can be arranged by contacting BoxUp directly.
Packlane
Packlane has fewer packaging solutions, but they offer custom printing for mailers and product boxes. They have low minimum orders, and a sample kit can be ordered for $6, so you can test out the products before placing an order. The box styles that PackLane offers are:
Mailer box
Shipping box
Econoflex Shipping box
There is no minimum order quantity, so you can order as few or as many boxes as you need. Boxes come in various set sizes, and PackLane offers custom sizes if you need something different.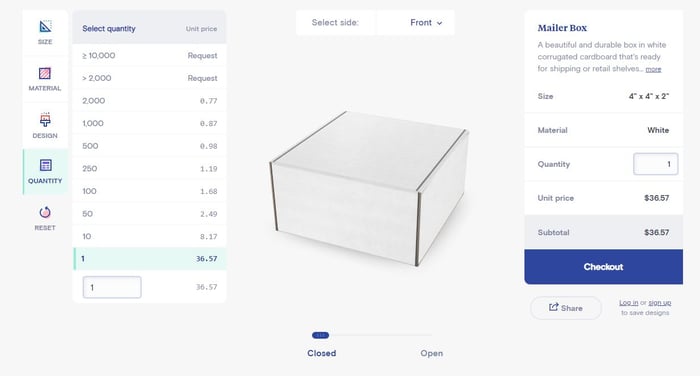 Source: Packlane
Packlane's design tool allows you to customize the box to your liking. You can add your logo, change the colors, change the material for the box, and upload your premade designs.
The majority of orders are shipped by FedEx, and orders of large quantities will be handled by LTL Freight. Packlane has three tiers of production speed:
Economy Production: 7-18 business days
Standard Production: 7-12 business days
Rush Production: 4 - 6 business days
Arka
Arka is a digital printing service that offers eco-friendly packaging, custom subscription box design, and all the accessories you'll need to send your boxes. Arka provides three types of subscription box packaging:
Mailer box
Shipper box
Poly mailers
They offer samples of each box for $20, but the minimum order quantity for the poly mailers is 1,000. Arka also offers add-ons like inserts, custom stickers, tissue paper, and custom tape to give your box a complete look.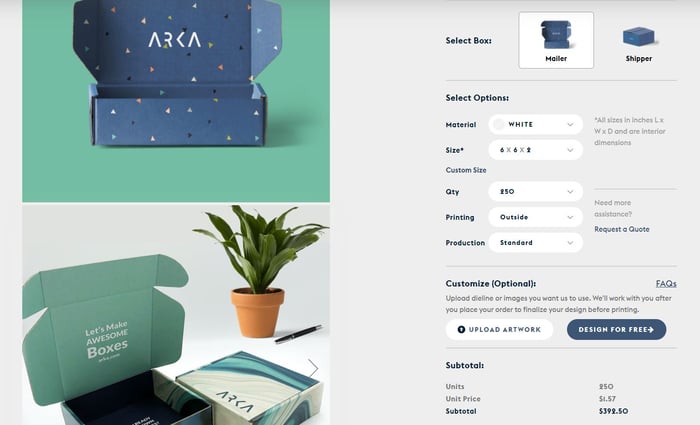 Source: Arka
Arka has a built-in design tool that can be used to customize your box, or alternatively, you can upload artwork onto the website. Box sizes can be customized to suit your needs, and they offer a range of standard and premium box materials.
Once you've placed an order, Arka will aim to send the design proof back within 2 business days. Production starts once approval is received. Standard production time is 2-3 weeks from approval, but rush orders can be completed within 1 week. Shipping takes 2-7 days, longer for large orders.
How to Place a Prototype Order
It's always good to order a prototype before placing a large order for your subscription boxes. This will give you an idea of the quality of the printing and box construction and an opportunity to test out your design.
The cost of a single box will be significantly higher than ordering in bulk, so don't be too alarmed if the price quoted for 1 seems high. It's worth the investment for the peace of mind that everything will look good, and if any changes need to be made, it's better to do so at this stage.
Use the design tools on the website of your chosen supplier to create your design, or upload artwork if you have a premade design. You'll have the option to change colors, font, and text as well as add logos or images.
Some things may affect the price of the box, so be sure to keep an eye on the total. Price factors include:
Size
Material
Finish
Single or double-sided printing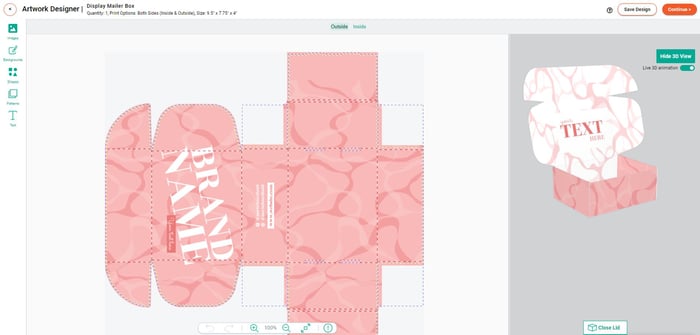 Source: BoxUp
Once you are happy with the design, go ahead and place the order. The company will then approve the design and create your subscription box. It will be mailed to you shortly after, and you'll be able to assess for any defects in the design or the packaging itself.
If you're happy with the design, all that's left is to place a full order to start packing and shipping your products to the customer.
Subscription Box Packaging Checklist
Creating the perfect subscription box model is a process, and there are a lot of factors to consider. To make sure you don't forget anything, here's a quick checklist:
Determine the size of your products.
Choose the kind of packaging you want to use.
Create a style guide for the packaging design.
Match the design to the brand voice and target audience.
Hire a graphic designer to create the packaging design.
Order samples from printers to assess box quality.
Order a prototype with your preferred printer.
Assess the product design for any deficiencies.
Place a complete order when you're happy with the design.
Conclusion
Creating a custom subscription box is a lot of work, but it's a rewarding experience that can lead to recurring revenue. Packaging is one of the most important aspects of the business as it's the first thing your customers will see.
By following the steps in this guide, you'll be on your way to creating beautiful and stylish packaging for your subscription box that will make your eCommerce business stand out from the competition.