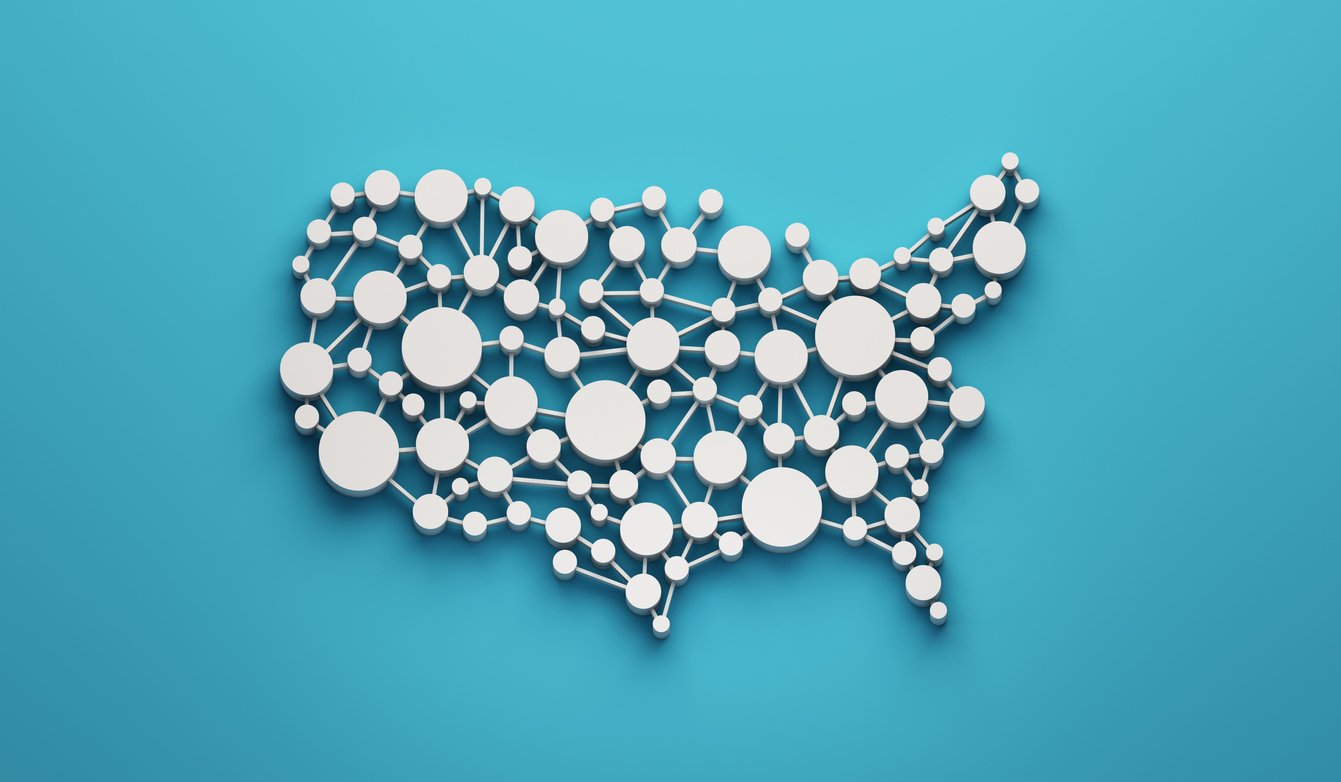 Shipping charges tend to rise as your packages go further, and carriers determine how much your price scales by seeing how far you ship across their U.S. shipping zones. Carriers each carve up the continental map to create their list, with most dividing up the country into seven shipping zones numbered "2" through "8." These shipping zones can impact both the cost and delivery speeds available for your goods.
Knowing U.S. shipping zones and how they're calculated can help an eCommerce business understand and predict costs. It should also inform your fulfillment strategy concerning partners, locations, and more. You might even be able to use shipping zones to your advantage.
What exactly are U.S. shipping zones?
Broadly speaking, U.S. shipping zones are segments of a carrier's delivery territory in the continental U.S. that help determine costs for a shipment. One important note is that shipping zones aren't fixed. Regions of the U.S. are covered in shipping zones, and the numbers for a zone will change based on the origin point of the package and what service you're using.
Standard shipping zones tend to cover just the continuous U.S., so shipping to, from, or within Alaska and Hawaii will have different shipping zones.
Typically, the further your starting point is from the customer, the higher the zone. Let's assume you're shipping a package from Knoxville, TN, so the origin ZIP code starts with 377. If you're shipping close by to areas whose ZIP codes start with 376-379, they'll be in Zone 2 when shipping via UPS. Going to the West Coast with a 970 ZIP code, like Oregon's 97035 ZIP, you'll be shipping to Zone 8 because of the distance from Knoxville to Portland.
Prices increase by zone to allow carriers to charge you appropriately. It takes more labor, time, equipment, and gas to travel to more distant zones. And, generally speaking, more stops and facilities are involved for longer transits, further increasing the carrier's cost, which they pass on to you.
While many services use zones 2 through 8 for designation, others can have a more complex numbering system. If that's the case, it's usually easiest to find large sheets that explain zone-based rates, like this one for FedEx's freight services.
All this means that you'll want to get charts specific to your originating ZIP code for each carrier and for the different services you'll use. When possible, look for methods that integrate these details into your order management or eCommerce sales tools. Integration can keep your zone information up to date, making it easier to choose the best delivery option based on speed and price. Thankfully, integration tools and services are becoming more common for both inbound and outbound freight.
Do zones impact cost or fulfillment speeds?
The U.S. shipping zones you cross will impact two essential factors for eCommerce order fulfillment: time and money. Zones play a significant role in the price carriers charge, so most companies focus on this cost. However, higher zone numbers may also mean longer delivery times. So, knowing your zones may help you understand when you want to investigate faster shipping methods.
Carriers set service pricing based on zones traveled and a package's weight — either physical or dimensional weight. Typically, heavier or larger packages will see their costs scale more significantly as they travel more zones. For example, UPS and FedEx will charge $18.55 to ship a 10 lbs. package to Zone 8 based on their daily rates. But if your package is 20 lbs., shipping to Zone 5 is costlier at $19.15 and $19.19, respectively. You'll pay more than $30 with each carrier to go all the way to Zone 8.
Delivery times are calculated separately, even though carriers will provide a broad range based on zone. You want to check every delivery instead of just relying on zone information because deliveries within the same zone may take different times. In some cases, shipping to the metropolitan area nearest to your fulfillment center may be a day or faster than shipping to a rural location at the furthest point within the same zone.
What are carriers' different zones?
Zones are not fixed or mutually defined elements, so each carrier has a separate shipping zone map. The most common variations are different ZIP codes at the edge of a given zone. However, different services from a carrier may also have different zones. FedEx Ground has eight zones, while its express services like Priority Overnight have 16 zones.
Let's look at zones set out by each carrier to help you understand their pricing and differences.
USPS Shipping Zones
USPS has a unique set of shipping zones that run from 1 to 9, covering local shipments to the "Freely Associated States," such as Guam. Generally, USPS's current zones break out like this, based on how far the package travels from origin to destination:
Zone 1: 1-50 miles
Zone 2:51-150 miles
Zone 3:151-300 miles
Zone 4:301-600 miles
Zone 5:601-1000 miles
Zone 6:1001-1400 miles
Zone 7:1401-1800 miles
Zone 8:1801 miles or greater
Zone 9 is specific to the destination and generally isn't impacted by the origin point. USPS provides a domestic zone chart that you can use to understand different zone distances based on origin and destination ZIP codes. There's an online version that stays up to date, including exceptions.
Zone pricing can vary broadly based on your package's size and weight. Many eCommerce companies will opt for USPS' flat-rate services. That can make it easy to understand and predict fulfillment expenses, which is especially important for small businesses that may not have the time or workforce to price shop.
FedEx Shipping Zones
FedEx uses shipping zones numbered 2 through 8 for shipping within the continental U.S. on its ground services. FedEx's zone information can be hard to find on its website when you're looking for mileage. One of your better options is to go to the company's Service Guide (PDF) that covers services, rates, and terms the carrier uses. There are service charts that provide you with a look at each zone, and those will include the general miles traveled from the origin point.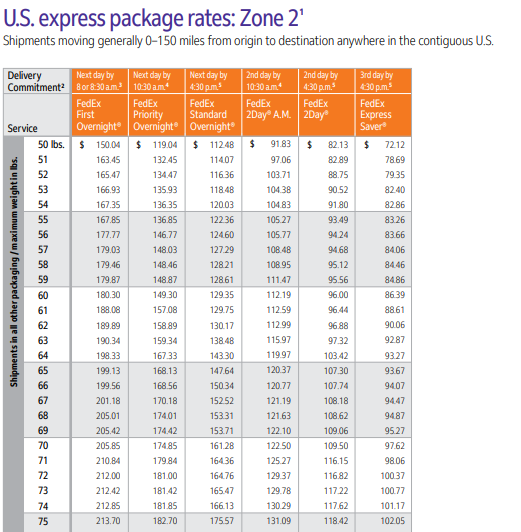 A sample for Zone 2 taken from the 2021 Service Guide
Based on that information, FedEx's current zone calculations generally follow this pattern:
| | |
| --- | --- |
| Zone | Miles from the point of origin to the delivery address |
| 2 | 0-150 |
| 3 | 151-300 |
| 4 | 301-600 |
| 5 | 601-1,000 |
| 6 | 1,001-1,400 |
| 7 | 1,401-1,800 |
| 8 | 1,801 or more within the contiguous U.S. |
For services like Ground Economy, there are different zones for Alaska, Hawaii, Puerto Rico, military addresses, and other locations.
The pandemic has complicated many things, and that includes some of these FedEx shipments. The carrier has updated its fuel surcharges, peak surcharges, and charges for oversized goods since the start of 2021. Ecommerce companies should review updated charges and look for carrier selection and comparison tools for orders that keep this information updated.
UPS Shipping Zones
Figuring out UPS zones is best achieved by getting a custom chart for your origin's postal code with their online tool. That'll show you rates for your location for a variety of service options.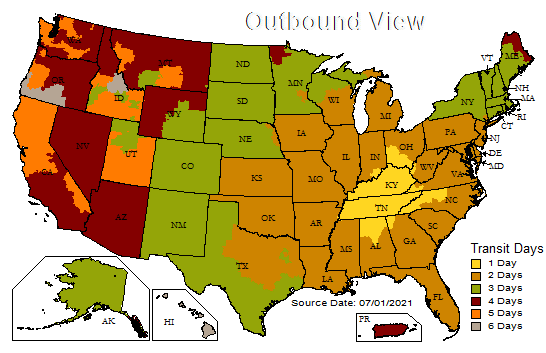 Sample UPS transit speed map
UPS uses Zone 2 through Zone 8 for its UPS Ground service for the continental U.S., while Zone 44 is metro Alaska and Hawaii, Zone 45 is Puerto Rico, and Zone 46 is remote Alaska and Hawaii. The Next Day Air uses similar zone numbers, but they're in the 100s, while UPS 3 Day Select is in the 300s. However, other services are less easy to follow, such as UPS 2nd Day Air A.M. using zones numbered 242 through 248.
Use the first tool to determine the codes and services available, then the company's published daily rates guide to determine how much you'll pay for a service.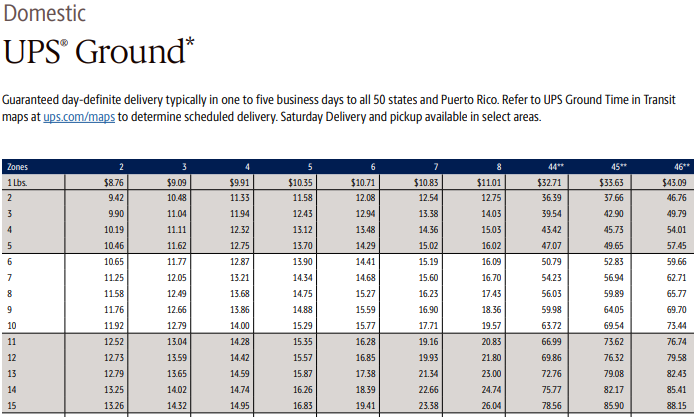 The UPS rate table will look something like this.
While you can find U.S. shipping zones from most carriers, many offer tools that allow you to get a specific cost for a specific shipment. Reviewing zone pricing can be a useful tool for price comparisons and how you select a carrier for local or longer shipments. While you may not need to download these tables daily, it's good to check them regularly to ensure you're still making the best business decisions.
Regional Carrier Zones
Adding regional carriers to your list of fulfillment options is a great way to protect yourself in the event other carriers have a capacity crunch, especially during the year-end holiday sales season. Regional carriers add ways to get products to customers quickly so that you can save dedicated national carrier capacity for larger or faster shipments. However, regional carriers also have their own approach to U.S. shipping zones.
Your best option to understand these zones is to go directly to the carrier's website or contact your account representative. OnTrac, for example, has a website that shows ground zones and transit days based on the ZIP codes for pickup and delivery. The delivery charge you pay is calculated based on the shipment's rate zone and weight (either physical or dimensional weight), just like with other carriers.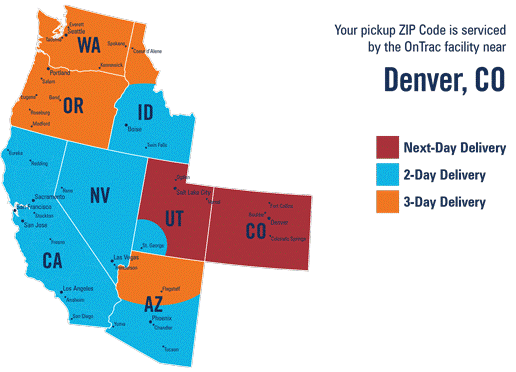 OnTrac provided this service map for the sample ZIP code 80909.
Regional carriers will often create zones that look different from national carriers because they're only focusing on a specific region. Their zones may also leave out some regional areas or not cover an entire state. The carrier wants to meet its service-level guarantees for two- or three-day shipping while also avoiding taking loads to low-volume areas where they may take a loss on fulfillment.
How do you reduce zones and save money?
The quickest way to reduce your shipping costs is to move products closer to their final destination, sometimes even before you know what that destination is. This practice, called zone skipping, cuts your costs by moving individual parcels through fewer shipping zones. It requires that you have multiple warehouses or distribution locations where you can move large quantities of goods at freight-rate pricing.
Then, when a customer orders from your store, you just ship the individual item or items out from the nearest distribution location. This is why many third-party logistics service providers (3PLs) will have multiple warehouses across the U.S. That gives their clients the ability to ship from a few locations and save significantly. As a seller, you'll want to match your total inventory to the number of locations the 3PL has. If you don't sell many units, it can be difficult to afford carrying a large enough amount of inventory to have a presence at six warehouses. On the other hand, if you do high volumes in the Northeast, only having fulfillment centers on the West Coast and Southwest could mean that the 3PL isn't offering you the right locations to save.
Get strategic about the warehouse locations you use, whether you run them or they're from a partner. The good news for most eCommerce companies is that just a couple of warehouses can reach most of the continental U.S. with two-day shipping options. That's if those warehouses are positioned correctly. The same distribution centers may also give you access to enough carrier options that you can afford to provide free shipping to customers without having it break the bank.
Knowing shipping zones and related charges from the carriers you use now, plus new potential regional partners, can help you project costs and even identify potential savings. Thankfully, many eCommerce tools can automate zone calculations and select carriers based on rates and speeds. However, you'll want to monitor this data for carrier price updates and leverage it the next time you need a new fulfillment location or partner. At high volumes, reducing zones for your shipments often can yield significant enough savings to justify changing how your business operates day-to-day.
Moving Forward
Understanding U.S. shipping zones and how they can affect your online business's bottom line is crucial. Luckily, your preferred shipping carrier provides all of the information you need to make informed decisions on shipping costs, which you may be passing onto your customers. To bring prices down, you may even want to explore 3PL options for your business fulfillment – take the time to research what works for your business, customers, and budget.