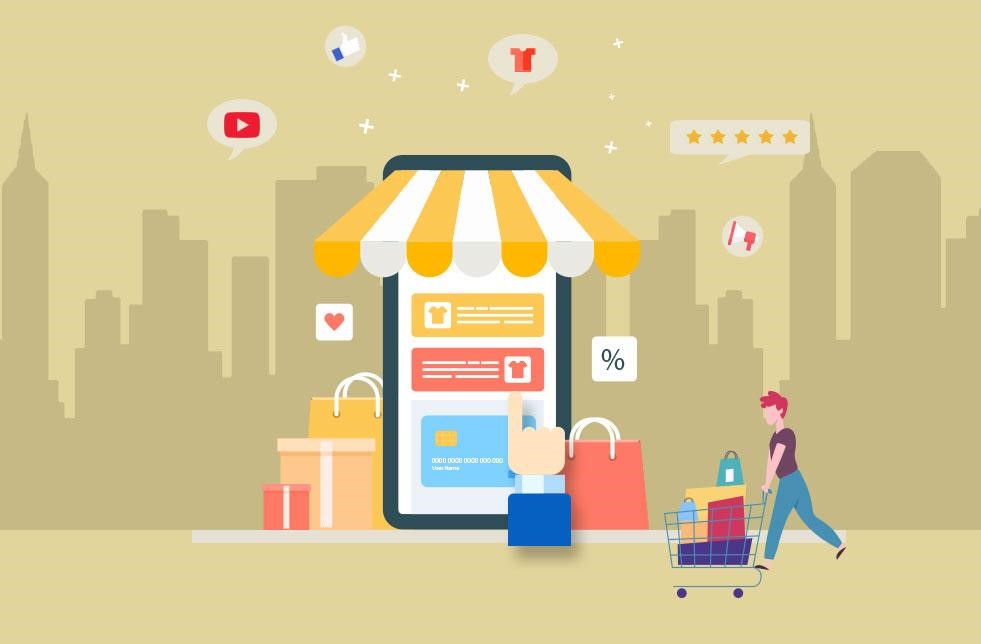 Customers love to interact with eCommerce stores now more than ever, especially with their journeys now merging online shopping with in-store retail. What most online stores may not be aware of is that UGC, or user-generated content, can directly affect an online store's conversion rate. UGC can take the form of many types of content, including customer reviews, social media posts, and video content.
Customer reviews have become significantly more prominent these days, as an increasing number of shoppers are choosing to provide feedback concerning their online shopping experience. Leaving a positive product or site review is a true reflection of their trust with the online store - whether it's on an eCommerce platform, like 3dcart product reviews, or on social media.
Adoption of the ecommerce business model is increasing, and so are the challenges associated with it. In fact, according to a survey conducted by BrightLocal:
"Shoppers read at least 10 online customer reviews before they feel they can trust a brand."
Significance of Online Store Conversion Rates
You may have hundreds, or even thousands of unique visitors every day, just to find that only a small few of them end up purchasing a product on your store. This is where optimizing your eCommerce conversion funnel comes in.
A typical eCommerce conversion funnel involves the following:
Awareness (TAM - Total Addressable Market)
Interest (Suspects)
Aspiration (Interested Buyers)
Purchase decision (Customers)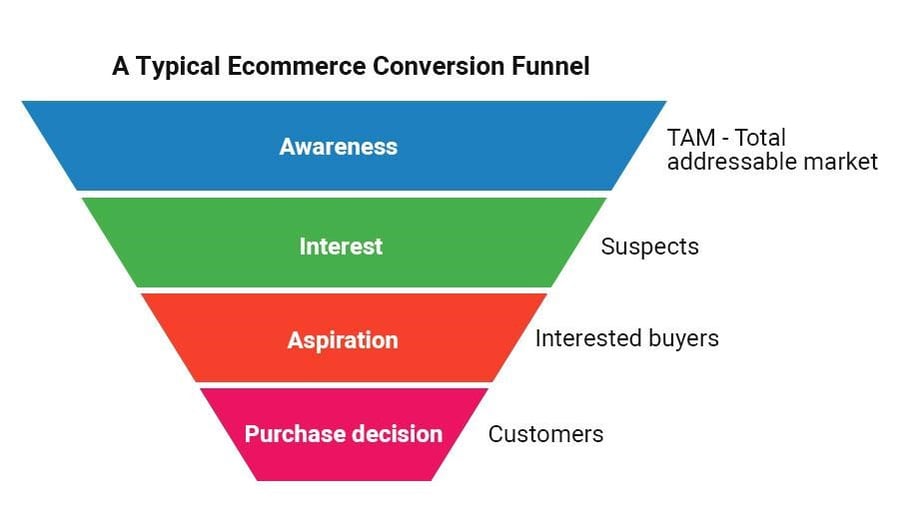 According to Invescpro, the average eCommerce conversion globally is at 2.86%, with the average in the US at 2.63%. Consumers look for a lot of information before making a purchase decision on an online store.
Some key factors that make or break conversions for an eCommerce store are:
A Good Quality Website with Simple Navigation: Better website usability and navigation results in high engagement rate and lowers bounce rates. Better site search experience within an eCommerce website increases relevance when searched for products, which also increases conversion rates.
Product Description and Details Page: Consumers look for more clarity when they navigate to the products they are looking for. They also prefer more choices, as well as competitive pricing.
No Shipping Charges: Shoppers love websites that offer free shipping and are particularly attracted to speedy delivery. Simple return policies also drive more conversions with good customer support.
Product Reviews: It's all about trust when it comes to engagement between a retailer and a shopper. According to SearchEngineLand, 72% of consumers trust online reviews as much as they trust personal recommendations. Showcasing reviews written by shoppers increases trust by other shoppers. Products with reviews and ratings lead to a sale, especially the ones with more positive reviews. Customer reviews enhance brand credibility; don't shy away from negative reviews if you have some!
Product Recommendations: Showing personalized product recommendations that are individualized to every shopper can excite them when they are shown at the right time. Displaying the latest or top-rated items, best sellers and products frequently bought together can nudge customers into adding more to their existing cart, thereby increasing the average value per order.
What is Cart Abandonment and How Effective are Abandoned Cart Emails?
Every eCommerce store faces this day-to-day challenge wherein several people who visit your online store abandon their carts before completing their purchase. Here's an interesting stat: Baymard Research says that 58.6% of US online shoppers have abandoned a cart within the last 3 months!
Modern eCommerce tools can predict and serve up personalized, highly-relevant product suggestions for every user. Integrating this potent feature into abandoned cart emails can take your online store to the next level.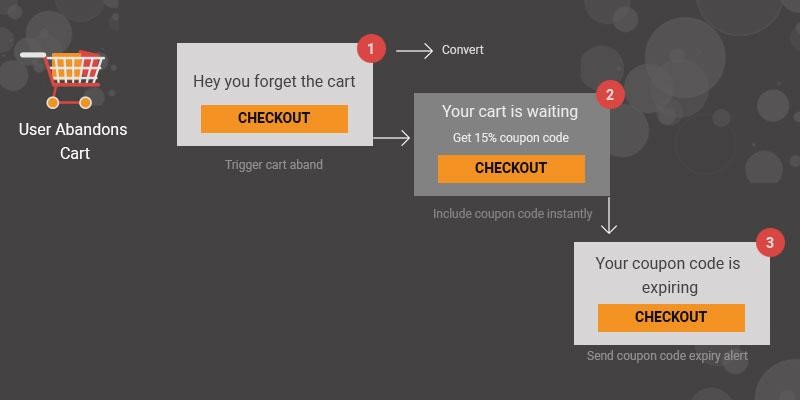 You can take complete control of your email marketing through trigger-based automated emails. Set triggers to send a series of emails at different times and automate the process of sending customized emails on schedule to segmented customers.
User Generated Content and Its Growing Popularity
Consumers like to share their opinions on products or services that they've bought. The internet provides a platform for them to express themselves and feel heard.
It has since helped many brands become popular and reach out to their target audience beyond borders. Brands such as Coke have used UGC to sail their ship across the tides of difficult times, connecting with different audiences that they never could have before. They all have discovered their new global identities courtesy of "user-generated content".
UGC is just as dynamic as the people who create it, but it's extremely valuable because it has the power to bring a dead eCommerce business back to life.
But what exactly is UGC or user-generated content?
User-Generated Content (UGC) is any form of content created voluntarily by users. This includes reviews, videos, images, comments, and even questions.
Here are 12 secret tips to increase sales conversions through user-generated content:
Tip 1: Posting & Showcasing User Reviews on the Product Page
How many times do you read a review before buying things online? Do reviews influence your purchasing decisions in any way?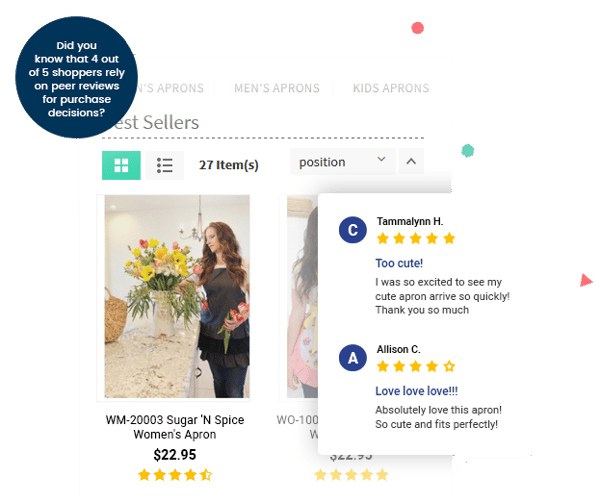 Well, the answers to the above questions are usually yes. We do scan all the reviews on a website as they help us make a wise decision. Users or previous buyers of a particular product or service would have posted their honest thoughts or feedback on the website without any bias just to help others know the reality. Posting your own shoppers' reviews on your website is an easy way to kick-start using the benefits of UGC. Remember, good or bad reviews, they're all important to enhance user engagement and sales conversions.
We know the importance of user generated content; it's probably the most powerful form of marketing in eCommerce. With TargetBay, you can drive more product and brand reviews to improve your stores' sales. Highlighting reviews on product pages is probably one of the best ways to highlight and sell your products online.
Tip 2: Share Videos Created by Users
According to a recent study, videos created by users are likely to get 10 times more views than videos created by the brand itself. They are also more likely to become viral. The main reason for that is because they offer an unbiased perspective, which is exactly what other users want: an unbiased review to help them make an informed decision.
Several brands have opted for using user-generated videos. This has helped them increase their fan base because user videos are organic, authentic, and unbiased. Customers talk about their experiences associated with the product or services of a particular brand; nothing can get better than this for marketing.
Tip 3: Use Special Content for the Holiday Season
The holiday season is probably the best time to engage with your customers, as your store's website traffic typically peaks at that time. Use some unique and creative UGCs to keep your audience wanting more out of you, always! Review your goals and think about what you want to get from a holiday-based marketing campaign. With established goals, you can focus your UGCs around them.
A lot of big brands have used these strategies to become even bigger. For example, Starbucks in December asked fans to share their customized Starbucks cups in lieu of making a traditional festive design themselves.
Tip 4: Know Your Audience and Segment Them
Know the pulse of your audience before planning marketing campaigns. It is always beneficial to give your audience what they want, so offer them something tailor-made. Personalize your offerings to your audience and track the performance of your campaigns over time.
According to Smartinsights, user segmentation can be done in 12 ways: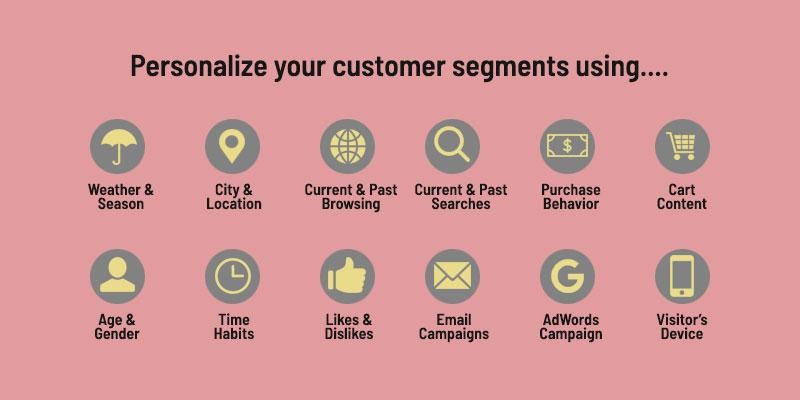 Tip 5: Win Your Users' Hearts on Social Media
This is one of the most important parts of utilizing user-generated content. Identify which social media platforms your customers or fan base usually flock to. Target that social media platform smartly with UGC and, soon enough, you will be able to woo your audience more effectively.
For example, if you are a fashion brand, you should probably figure out when and where you should post your user-generated content. You got to have them all on Instagram and possibly Facebook, but not on LinkedIn for sure.
So, choose your social media platform(s) strategically.
Tip 6: Guide Your Audience with Influencers
Build that trust with your customers to increase conversions by utilizing influencers who can propel your brand's outreach and visibility.
As a part of your marketing strategy, you may want to use "influencer marketing." Brands sometimes advertise through brand ambassadors or influencers, who usually have a large following and can attract your audience in a short period of time. It also helps with brand recall when done right!
Tip 7: Create Powerful Abandoned Cart Emails
Recover your lost shoppers with intelligent email marketing - the global abandoned cart rate is a whopping 69% according to Baymard.
Take complete control of your email marketing through trigger-based automated emails. Set triggers to send a series of emails at different times and automate the process of sending customized emails on schedule to segmented customers.
Abandoned cart emails empower brands to reach out to segments of shoppers and encourage them to complete the checkout process. You can incorporate UGC into these emails by showcasing customer reviews for the products they left in their cart.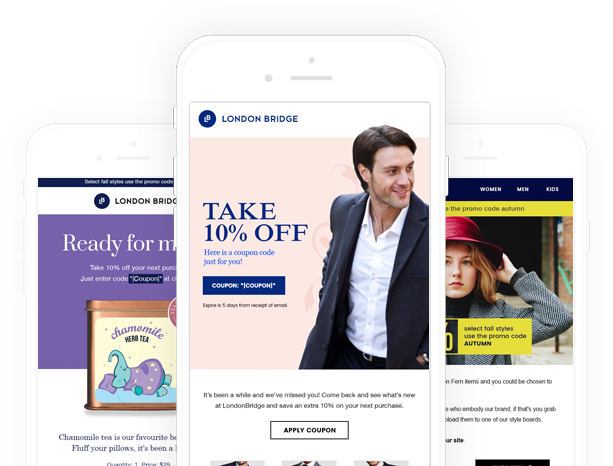 Tip 8: Don't Weed Out the Negative UGC
Several brands did this in the beginning when the UGC trend was catching up; they were weeding out the negative content created by their users.
After all, why would a brand post a negative user-generated content on any platform? It will leave a bad impression on other users. It will influence their purchase decisions.
Name any one brand in the world that has not received any negative review. No brand can satisfy all the needs of a consumer. If users only see the good things about your brand on any platform, it will raise suspicions. It is good to have negative UGC because they will help you tailor your services and products for your target audience.
Tip 9: Leverage Reviews on Facebook To Increase Visibility
There are more than 2.4 billion active Facebook users across the globe. Using a Facebook plugin for reviews makes it simple to collect brand reviews on the social media platform and import them to your website.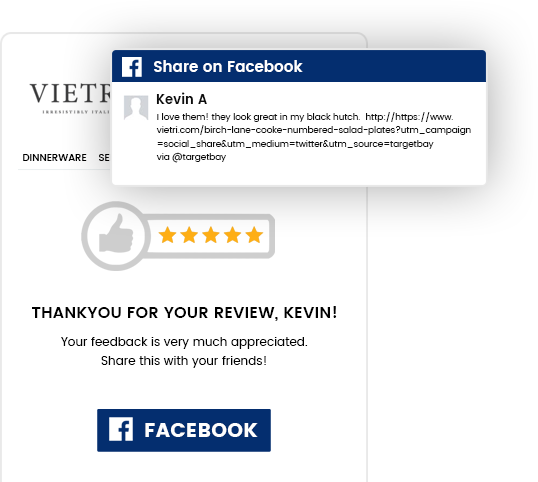 If you want your users to generate content for you, then you've got to make sure that you encourage them to do so. Give them a reason to do it for you. Reward them occasionally and let them know how important they are to your success journey.
Dedicate a separate page for your users to spread some words through creative UGC.
Tip 10: Build A Separate Community for Your Users
We all love to get attention, and your users are no different. Create a community for your fans all over the world. They will love the personal experience here.
Dedicate this space for users where they can come and find out what's happening in the community. This is where they will get all the news about UGC guidelines.
Tip 11: Leverage Google Rich Snippets to Display User Reviews
Make your website stand out on the Google SERP (Search Engine Results Page). As compared to normal snippets, a search result displayed with Google Rich Snippets presents key information on the Search Results Page listing itself, helping viewers instantly know more, at first glance.
Shoppers generally prefer to click on rich snippets results. This gets eCommerce brands a higher Click Through Rate and traffic to the website begins to build, eventually improving SERP.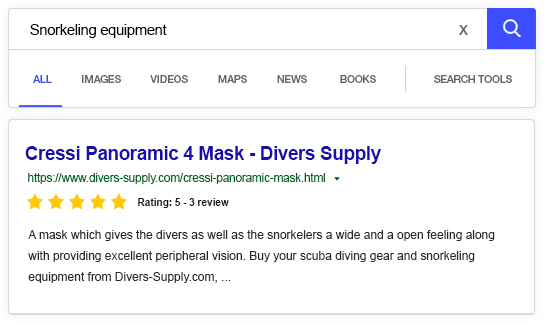 Tip 12: Online Contests and Giveaways
You must have heard about restaurants running live contests to woo their customers. The idea behind marketing campaigns like these is to engage with them in a bidirectional way.
Share content and brand updates on all social media platforms. Let your customers know what you are up to. Conduct fun online contests. Encourage users to participate.
Starbucks, way back in 2009, kick-started a contest on social media in which the brand asked its customers to customize their Starbucks mugs and post it online. The best ones were rewarded, obviously.
You may also offer gift cards to your store to the winners of competitions or contests, which will encourage them to come back and shop with you again.
Final Thoughts
Gathering reviews doesn't have to be manual, as it's a time-consuming process. There is automated review software available that can make collecting reviews a breeze.
There are millions of online stores globally today and that number is only growing. Nearly all business platforms are, in a way, an eCommerce store. With easy access to the Internet everywhere and knowledge about the procedure, the market for eCommerce has boomed to glorious heights in the recent past.
UGC is created by the customers who use your products and it outweighs all the challenges you may have to overcome when you run an eCommerce store.