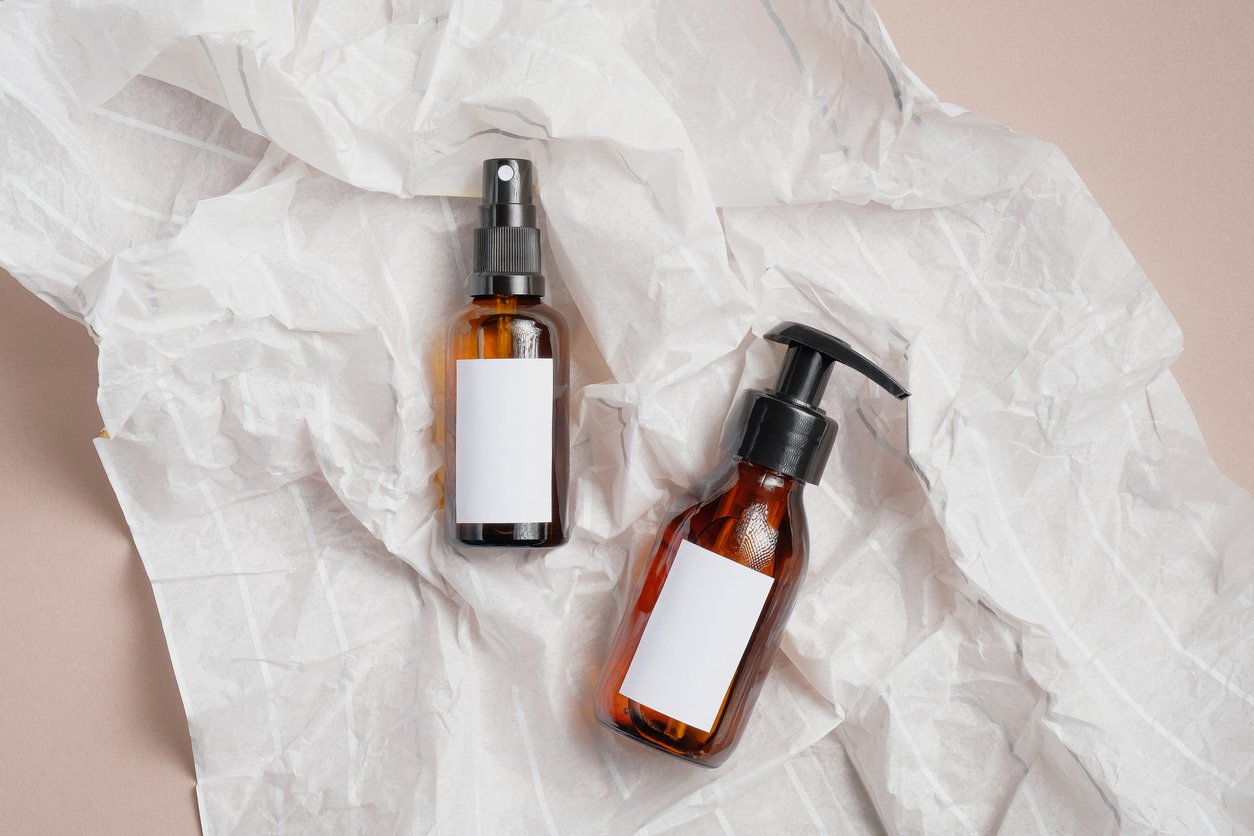 Have you been looking for new ways to add to your business's product lineup? Working on producing and manufacturing a new product from scratch yourself can be time-consuming and costly. And, if you'd like to take manufacturing products yourself out of the picture, you may not want to spend money on obtaining brand-name products to sell.
Instead, many businesses choose to design and sell private label products on their online stores. But what exactly are private label products? Let's learn all about private labeling, how it works, and how your business can start utilizing it.
What is Private Label?
Have you ever walked into a Target or Walmart and noticed their "Up&Up" or "Great Value" brands on the shelves next to name brands? These store brands are typically less expensive and don't carry the same well-known brand names as similar products.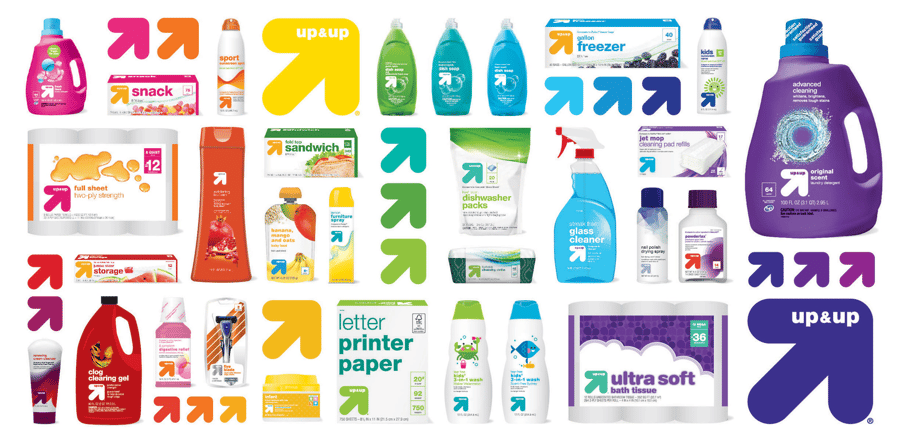 Source: Lindsay Little
These products are what's known as "private label." To define the term, a private label product is a product with a company's brand name on it that is manufactured by a third party. So, the retailer in question chooses the product's materials, concept, packaging, and design while the manufacturer creates the product according to those specifications. The product is then delivered to the retailer without any branding signaling a third-party's involvement and placed on store shelves.
You may be thinking that private labeling is only for large corporations. However, any type of business can private label products, whether you're a small online startup or an established enterprise-sized company. Private labeling isn't restricted to any type of product either — you can private label nearly anything, from food to cosmetics.
How does Private Labeling Work?
The process to start private labeling is actually quite simple. We've broken it down into a list of the most important steps.
Decide what type of products you want to sell.
What niche market are you looking to target with your private label products? If you already have an established business, you should aim towards a niche that you're already in or are vertical to. Alternatively, you can use private labeling to move into a new market safely. For example, if you sell hair care products and you want to start selling makeup products, you may want to start by selling private label cosmetics.
Find and contact a manufacturer.
Once you've decided on the type of products you'd like to sell, you can find a manufacturer that meets your needs. You'll want to choose a manufacturer that has a good reputation, high-quality results, and good communication with its clients. Since the quality of your products depends on the manufacturer you choose, it's vital that you do the research and make sure that you're working with the best available. You also want to ensure that your manufacturer specializes in the product you'd like to make — this guarantees better results and a wider variety of product options to choose from.
Order sample products before finalizing.
While you may be happy with your choice of manufacturer, that doesn't mean that the first version of what they create will be the final product you sell on your store. Small or large adjustments may be needed once you actually see the product they've made for yourself — and that's where samples come in.
Before you go ahead and make an order of a thousand products, be sure to order sample products. You can think of sample products as the first draft of a paper — closely analyze these samples and make notes of anything that you'd like to see changed before the final version. Provide the manufacturer with any feedback, order the updated sample based on your changes, and finalize when you're happy with the outcome.
Add products to your online store.
Now that you've worked with a manufacturer to create the perfect products, it's time to add them to your online storefront. This step will ultimately depend on your chosen form of fulfillment.
If you're working with a manufacturer that will dropship your products to customers, then you won't need to have products in hand when they're uploaded to the store for sale. You may also be able to upload products automatically via a dropshipping integration if your supplier and eCommerce platform support that.
Alternatively, if your chosen route is to ship products out to customers yourself, then you'll want to order all of the stock that you think you'll need and upload your products once you've received them. At this point, you'll need to take product images, write product descriptions, add dimensions and necessary specifications, etc.
Launch your new product line and start marketing!
With all of your products added to your online store, it's finally time to get the word out. If you already have an established business, and these products are simply a new offering for your store, then you can use your channels to let customers know that you have something new to offer. You can market to specific customer groups that would be interested in this new product as well.
If you're launching both new products and a new business, you'll want to take the time to establish marketing channels that work for your target audience. Create social media profiles, build email lists, and work on your site's SEO to bring new traffic to your site. Keep your niche in mind and use that to develop the audience you need to target while marketing.
How to Find the Best Private Label Manufacturers
As we've covered, it's important to choose the right private label manufacturer for your products. However, before you can choose a manufacturer, you need to find one. A cursory Google search will reveal that there's a seemingly endless supply of manufacturers to be found, but there are better ways to go about this.
There are several indexes, lists, and websites that compile all of the best manufacturers to choose from for your private label products. To make your search easier, we've gathered a list of a few of the most popular websites that you can browse through to find a manufacturer.
Alibaba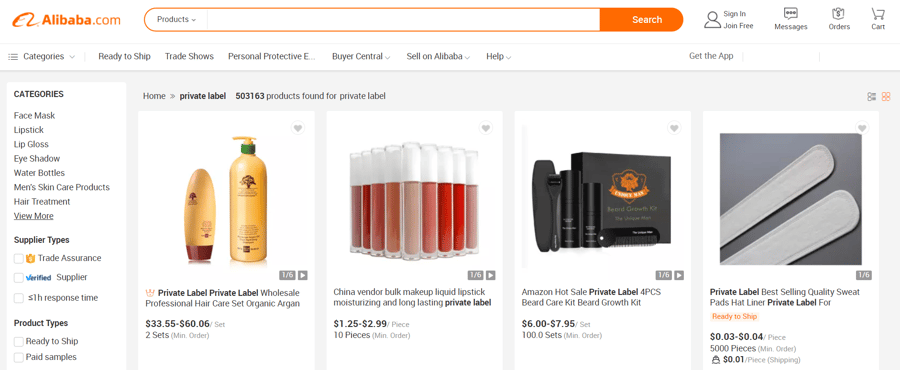 As the largest eCommerce company worldwide, Alibaba is a premier source for many online businesses. While Alibaba does own multiple B2C websites, like Taobao and AliExpress, their B2B offering at Alibaba.com is what you need to look at for private label manufacturers. With Alibaba, you can find Chinese manufacturers that are selling a variety of services, from bulk products to customized items.
Because Alibaba's directory of manufacturers is so vast, you should be able to find a manufacturer for any product you could think of. When searching on Alibaba.com, you'll want to start by searching "private label" and the product that you're looking to sell. From there, you can filter out manufacturers based on supplier type, product type, minimum order quantity, supplier country/region, certifications, features, and more. Once you've found manufacturers that fit your requirements, be sure to check their verifications, reviews, and production capabilities on their profile. This is vital because you will need to form a strong relationship between your business and the manufacturer.
Cosmetic Index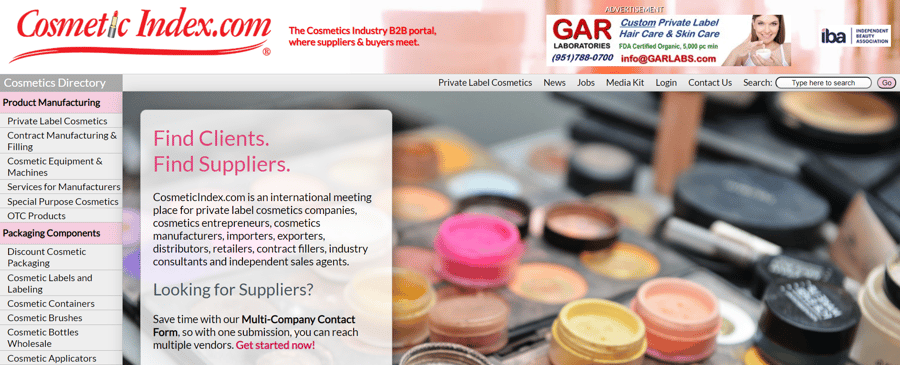 If you're interested in selling private label cosmetics, then Cosmetic Index is where you should be looking for manufacturers. Cosmetic Index brands itself as a "B2B portal where suppliers and buyers meet," attempting to connect manufacturers with sellers like yourself from across the world.
Cosmetic Index hosts a variety of private label suppliers in the cosmetics industry, including manufacturers of lipstick, nail polish, lotion, skincare, serums, haircare, fragrances, color cosmetics, and more. You can browse through their listings of manufacturers and contact them each individually, or utilize Cosmetic Index's multi-contact inquiry form to reach out to multiple companies at once. Each listing will provide the manufacturer's name, address, a short description, a website, and contact methods.
You can also find a host of resources on Cosmetic Index, such as FDA regulations, business plans, compliance regulations, and much more.
Thomasnet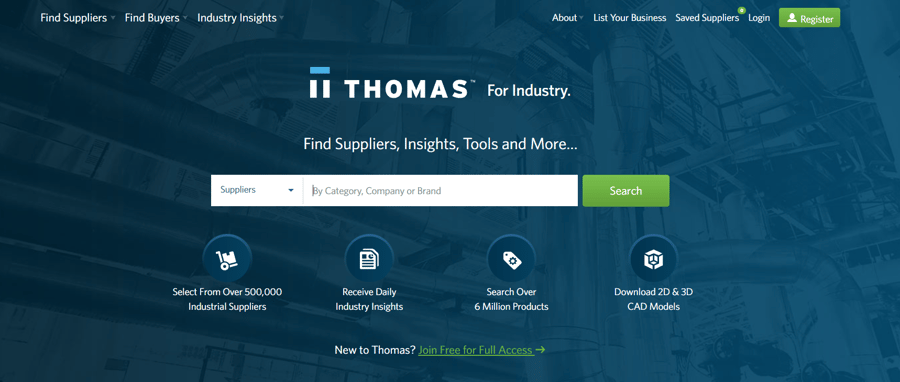 Thomasnet is a directory of over 500,000 suppliers in several industries, from food to candles. Their suppliers are organized into categories based on industry, and each listing provides a wealth of information to help you make a decision. As you browse, you'll find out suppliers' names, locations, manufacturer type, annual revenue, year founded, number of employees, and a description of the business. Some listings even have attached videos, from company overviews to factory tours.
Once you select a manufacturer from their directory that you like, you can view their supplier profile for more details. On their profile, you can view the manufacturer's capabilities, certifications, products and services offered, and more. You can also request a quote from the manufacturer, contact them directly, save the supplier to your account, or add them to a shortlist.
Top 4 Best Private Label Products to Sell
Nearly any product imaginable can be private-label if there's a manufacturer that makes it. But, some product types are a better fit for the private label process. These products typically have a lot of niche potential, leaving room for a new brand (like yours) to make its mark. Let's go through some of the best private label products that you can sell online.
1. Clothing
As an extremely broad category, the possibilities are endless for private label clothing. Working with a private label manufacturer can help turn your own dreams of a fashion line into a reality. Clothing is also consistently in high demand among online shoppers — fashion enthusiasts are always looking for the hottest new trend to add to their wardrobe. Whether they're going to the gym or a nice evening out, shoppers need clothes — and you can meet that need. Not to mention, clothing is especially profitable online; Statista estimates that the online fashion industry will reach $153.6 billion in revenue by 2024.
Work with a private label manufacturer to choose the right fabrics, cuts, styles, patterns, etc. to achieve the perfect garments for your store. Many manufacturers also offer tear-away tag t-shirts that allow you to easily brand the gartments. If trends shift, you can be on top of it with new product lines. Combine your apparel with accessories and complementary items, like matching hats or socks, and your store is ready to go.
2. Skincare & Cosmetics
If you couldn't tell by our inclusion of a cosmetics-exclusive manufacturer directory earlier on in this article, the industry is huge in the private labeling space. Products can vary wildly, from skincare focused on clearing up acne to hair dye that creates vibrant results. The health and beauty industry is a force to be reckoned with, making up nearly half of all online sales in the United States.
Just like clothing, beauty is quite broad, leaving room for you to carve out your own space in the industry. Determine what niche you want to cater to — are you more interested in supplying shoppers with a complete skincare routine, or would you rather help them achieve a full face of makeup with luxury ingredients?
3. Food Products
Everyone needs to eat, but not everyone eats the same thing. This creates niches in the food industry — gluten-free, pre-cooked, organic, free-range, grass-fed, plant-based, etc. Shoppers within these niche markets either prefer or need their food to align with these specifications, making it difficult for them to find what they need at a regular grocery store. That's where your business comes in.
With the right private label manufacturer, you can easily go from concept to sale within your chosen food product niche. Food is one of the easier products to private label because most manufacturers won't need much from your business in the way of decision-making to create a great product. Manufacturers like Private Label Foods have already nailed the perfect recipe that you can customize. Alternatively, a manufacturer can take your own recipe and turn it into a delicious final product — and you don't even need to lift a spoon!
4. Home & Kitchen Products
Whether it's the latest kitchen gadget that will make life easier or home décor that brightens up a living room, it can be private labeled. As customers constantly look for new ways to decorate their home or make processes more efficient, you can fill that niche by providing them with the products they need. Through private labeling, you can also easily stay on top of the latest décor trends and take advantage of seasonality (holiday decorations, kitchen gadgets for Thanksgiving, etc.) to always turn a profit.
Think about the ideal home that you'd like your products to live in — whose home is it and what would they like to see and use? Are you looking to meet a functional need with something practical, like cabinet organizers? Or is aesthetic more your forte, with a passion for decorative wall art? Whatever your ideal niche may be, there's a private label manufacturer that can create the product you're dreaming of.
Conclusion
Whether you're an established business looking for a simple way to add new products to your store, or you're a brand-new entrepreneur with a big idea in need of a manufacturer, private label products may be your answer. Let's recap what we've learned about private label products and manufacturers:
A private label product is manufactured by a third party, but designed by and branded with the company selling the products.
To develop private label products, a business will need to find a manufacturer that specializes in that industry.
Popular private label directories, like Alibaba, can help businesses get in contact with manufacturers that can bring their product ideas to life.
Some of the best private label products to sell are clothing, cosmetics, food, and home & kitchen items.
Now that you're well-versed in private label products, it's time to determine if it's the right production model for your business. If so, use this guide to start researching and develop a product that will bring your business eCommerce success.