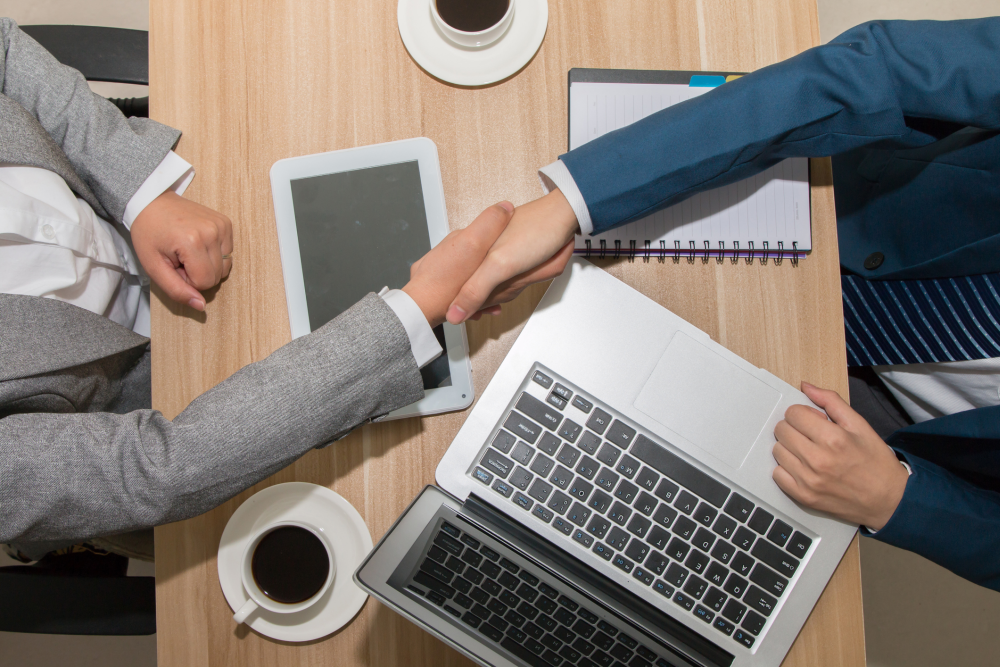 Whether you sell business-to-customer (B2C) or business-to-business (B2B), an online store can be a great benefit for your company. But what makes eCommerce so vital for B2B, and how can you better meet the needs of B2B buyers?
Today's B2B Buyer
B2B buyers are some of the most profitable customers you can ever encounter, but also some of the most demanding. They come prepared, with far more research put into their purchases than the typical online shopper. 90% of B2B buyers start their hunt with a Google search for the products they need, rather than heading straight to a particular seller. It makes a lot of sense when you consider that B2B buyers are shopping for a business, and therefore have more specific needs and restrictions on what they can purchase and how much they can spend.
B2B customers come armed with knowledge and a clear idea of what they need to buy. Product images and video are extremely important to their information-gathering process, as they try to determine whether the products you sell will meet their business's exact requirements. And when a B2B buyer has a question, they expect a prompt answer from the merchant — after all, they are likely on a schedule as well.
As a seller, if you can put the time and effort into attracting B2B buyers, the great benefit is that you'll earn a long-term customer who will continue to purchase for their business from you — as long as your online store continues to be the best option.
The B2B Buyer's Journey
The Research Phase
The research phase describes the time the B2B buyer spends investigating their needed products. During this phase, you need to have a visible means of contact so the buyer knows they can reach you at any time, but it's too early to initiate contact yourself unless you can offer information that can help the buyer with their research.
The Evaluation Phase
This is the phase during which the buyer narrows down their list of potential sellers to do business with, and now is when the work you've put into your eCommerce site can really come in handy. Buyers will be looking for relevant, informative content about both your business and your products. Making a good impression on them is what will cause the buyer to consider you for the next phase: making a purchase.
The Final Selection and Negotiation Phase
The third and final phase involves the buyer making their choice of vendor and going through with their purchase. Negotiating the buying price is part of this phase, but it shouldn't be the only strength you have versus other sellers: you need to establish yourself as the best option during the evaluation phase through the information and content available on your eCommerce website.
eCommerce Benefits for B2B Sellers
The nature of the B2B buyer's journey illustrates why B2B selling benefits so much from eCommerce: research, evaluation, and selection are all performed much more easily online. And yet, B2B sellers have been reluctant to move to eCommerce — misconceptions abound, including the mistaken idea that B2B buyers simply don't want to shop online, which they definitely do!
Another incorrect assumption is that B2B merchants can't also sell B2C. In fact, the two can coexist flawlessly on the same eCommerce website, and the same business can sell B2B and B2C alike. In fact, the B2B buying experience should feel as close to the B2C buying experience as possible — that's one of the main attractions of online B2B shopping, and it's why today's B2B buyers look online before anywhere else.
A third mistaken belief is that typical B2B practices like displaying prices only to clients, building a long-term relationship, and custom ordering are impossible through eCommerce. In fact, all of these are possible and come with the same convenience inherent in online shopping. Through use of registration and logins, customer groups, personalized emails and online chat, and freedom with product options and variants, a B2B merchant can have all these capabilities and more.
Ask the Experts
To expand on this information, we've rounded up a few B2B experts and asked them the questions that are on the mind of every B2B business owner considering breaking into the world of eCommerce.
What's the top reason B2B businesses should consider having an eCommerce website?
What are they risking by not having a B2B website that can process online orders?
What is the main benefit they can experience by launching a B2B ecommerce website?
We received some great answers from B2B companies spanning several industries — check them out below.
1. Speed and Sophistication
What's the top reason B2B businesses should consider having an eCommerce website?
Without question the top reason is to streamline sales ordering processes and provide convenience to a customer base. Even with businesses that have a direct sales force, a digital arm to order processing and fulfillment is paramount.
What are they risking by not having a B2B website that can process online orders?
Two things primarily, they risk providing an inferior experience to their new customer base who will likely evaluate and include within buying criteria. Also they will look unsophisticated to not keep up with the competition who are likely upgrading their commerce platforms and data processes.
What is the main benefit they can experience by launching a B2B ecommerce website?
A business who launches an eCommerce platform should expect a greater velocity of orders with existing customers due to convenience and greater opportunities to market online and drive traffic to web experiences that can create incremental revenue.
— Craig Smith, Founder & CEO at Trinity Insight – Philadelphia, PA
2. Staying Ahead of Buying Trends
Over the last 2 years, my company, Kloeckner Metals, has been very focused on digitizing our sales channels. We are doing this for two main reasons. The top reason is that the nature of metals and direct materiel procurement is changing. Our customers, who are corporate buyers, are getting younger and more digital-savvy by the day.
By not meeting the customer where they are (and where they are going), a company will not only risk losing that customer's business, but also be potentially excluded from even being considered for new business from other customers. As organizations try to do more with less, it's imperative that the customer can purchase their materials in a matter of seconds.
The main benefit we have realized by setting up our eCommerce sites is that we are able to free up our sales teams time from processing inbound emails, calls, and faxes to go and find new customers.
— Jonathan Toler, Product & Digital Innovation at Kloeckner Metals – Roswell, GA
3. Today's Buyers are Online-First
B2B eCommerce is growing at an astonishing rate. We are also seeing millennials become the largest group in the workforce. These two combined make it an easy decision for B2B companies to add an eCommerce site. Millennials have become accustomed to making purchases online, and without an eCommerce site you are losing out on a large audience. If you can capture this workforce early on you will have a customer for life. More and more companies are moving to an eCommerce first approach. It not only provides a platform to make a purchase, but is also a great tool for inbound lead generation.
When a company does not have a website that allows for online ordering they are missing out on a large market of individuals that do all of their research and purchasing online. Unless you are a very niche market that has very little competition, chances are your competitors are already selling online. The internet allows purchasing departments to take their time, do their due diligence, and look for the best options and pricing for their company. Having a strong website with the ability to sell online is becoming a part of everyday business. We are entering a time where the workforce has grown up with the internet and technology. Their first action is to see what they can find on the web, and if you are not there you are not being found.
The main benefit that you can see from creating an eCommerce website is exposure. By listing and selling your items online you are giving ever person that visits your website and entire catalog of your offerings. They may have only known you for selling item A, but visit your site and also see that they can buy items B and C from you as well.. You are creating an easy to use tool for a fast paced society that helps purchasers get their job done in a quick and efficient manner. When another company knows you make a quality product, and you are easy to do business with they will come back for many years. You never want to be the last one to show up to the technology dance.
— Erik Harris, eCommerce Manager at TROY Group, Inc. – Wheeling, WV
4. Reaching New Markets
Our company has worked with many B2B eCommerce clients over the years. From my experience the biggest reason for a B2B retailer to have an eCommerce website is that it expands their reach into new markets that they may not otherwise be able to tap into. For companies that have traditionally relied on their reputation and the trade show circuit to drive sales, for example, an eCommerce website opens the doors for digital advertising and organic search to engage prospective clients anywhere in the world.
If the above doesn't work, another reason we see B2B companies going eCommerce is that it can automate their sales process through seamless integration with ERP and CRM platforms. We recently built an eCommerce site for a pet products brand that used to collect orders via paper intake forms at trade shows. We launched their website last month, just in time for the largest pet products tradeshow in the world, and they were able to use iPads to place orders for customers. As a result, the owners were able to spend less time doing paper work and more time selling.
— Allen Greer, Co-Founder/CEO at FUZE Digital – Miami, FL
5. Convenience is Key
The #1 reason B2B businesses need to have eCommerce set up is because more and more millennials are taking over the workplace. And you can bet that the majority of them prefer something that they can get quickly and with as little friction as possible.
They don't want to speak with someone over the phone to get a price or purchase an item. They don't want to go back and forth.
They want something where they can see the price, add to cart and buy.
— Stanley Tan, Digital Marketing Manager at Selby's – Melbourne, Australia
6. Gain and Preserve Sales, and Get More Insight into Buyers
In my opinion, B2B businesses need to have an eCommerce website because it's an important communication channel, and it gives very valuable insights on the buyers' behavior, needs and concerns.
Main benefit of having an online store for B2B: additional revenue and data stream.
When interacting with the eCommerce website, a B2B buyer can be addressed with the precisely targeted, personalized and tailored to match their purchase stage messaging that will complement sales reps' selling efforts and other channels of marketing like email.
By analyzing paths to the purchase through the representative and eCommerce parts of the website, bounce rates and exit pages, a B2B company can get information that can be used for further communication in order to move corporate buyers further down the purchase funnel.
Also, marketers need to understand the processing preferences of their potential clients – some prefer to shop online even for corporate purchases and solutions. So, by not having an eCommerce website, marketers risk losing that segment of their audience.
— Natasha Kvitka, Digital Marketing Strategist at Gift Baskets Overseas – Arlington, MA
Conclusion
It's clear from these informed responses that eCommerce brings a great benefit to B2B businesses. To truly perform, your online store needs to be built on a scalable eCommerce platform ideal for B2B. With all the right tools at your disposal, you can reach new markets, dominate SEO, define different pricing for different customer groups, and manage everything else you need to succeed. 3dcart has all these features and more, built right into the platform.