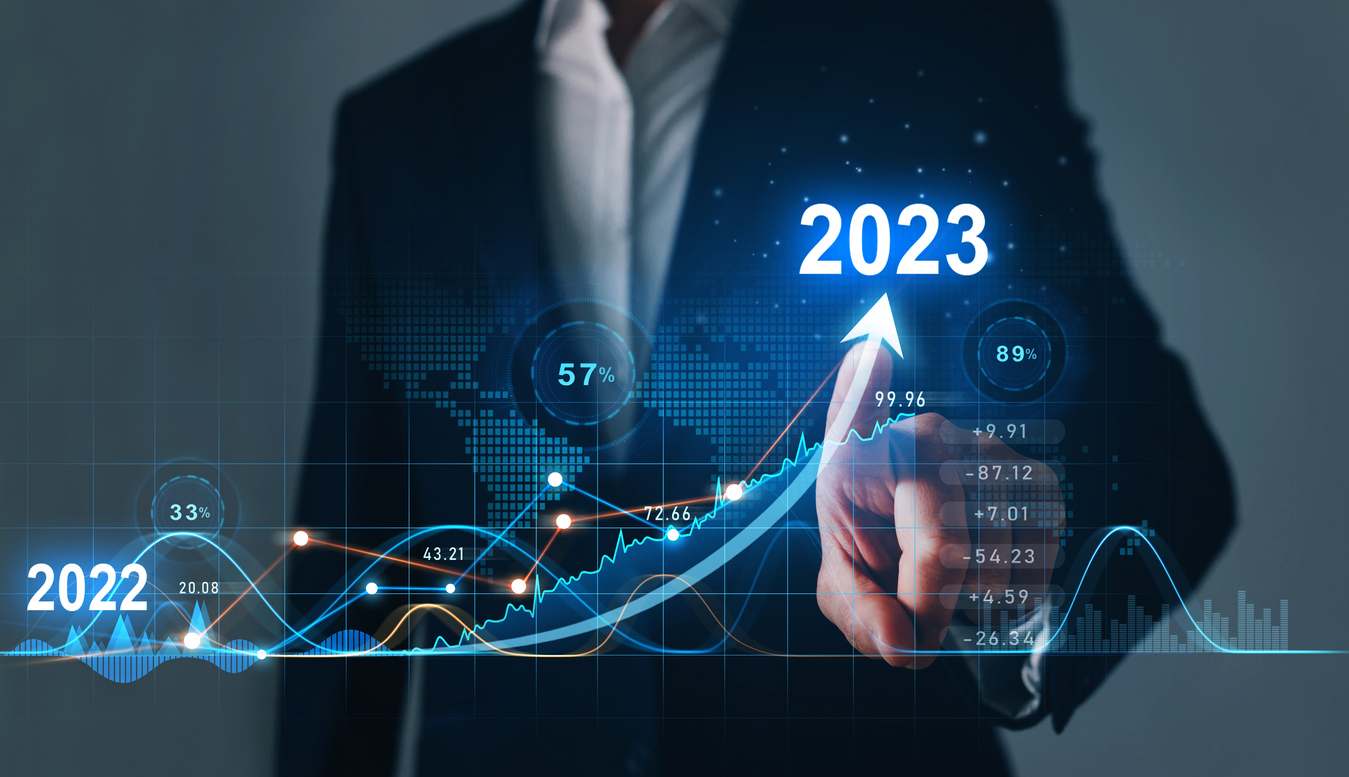 Reports state that B2B eCommerce resulted in only 9% of total B2B product sales in the US. However, the COVID-19 pandemic changed this scenario by revolutionizing buyer preferences.
Additionally, the closure of brick-and-mortar stores helped B2B eCommerce gain momentum.
According to reports, the global B2B eCommerce market value was $6,883.47 billion in 2021. This market size is predicted to grow at a compound annual growth rate of 19.7% between 2022 to 2030.
However, with more B2B businesses setting foot in eCommerce, it's challenging to get ahead. Reports state that 87% of B2B buyers will spend more on brands with impressive eCommerce portals.
This guide will walk you through all the crucial things about B2B eCommerce you need to know in 2023 and beyond.
Let's get started.
What Is B2B eCommerce?
B2B eCommerce is an acronym for business-to-business electronic commerce. It includes online selling and buying transactions between two businesses. The goal is to reduce the cost-to-serve ratio and expand customer reach, thereby scaling the business.
Unlike yesteryears, decision-makers are now open to major B2B eCommerce transactions. According to McKinsey, 70% of B2B businesses are ready to make purchases exceeding $50,000. On the other hand, 27% of buyers are open to spending over $500,000.
This has opened an array of opportunities for businesses to thrive. The key here is to increase reach to the target audience.
How can B2B businesses achieve this goal?
Leveraging effective eCommerce SEO strategies can help B2B businesses boost online visibility. This can help increase quality traffic and chances of conversions, thereby driving high return on investment (ROI).
Key Differences Between B2B and B2C eCommerce
In a B2B business setup, the seller and buyer are business entities. On the other hand, in the B2C business (business-to-consumer), the seller is the business, while the buyer is the consumer.
Here are a few differences between B2B and B2C eCommerce.
Differentiators

B2B eCommerce

B2C eCommerce

Purchase Decisions

In-depth research-driven

Impulsive, minimal research

Sales Cycle

Long

Short

Pricing Model

Customized pricing plans

Price consistency across touchpoints

Order Quantity Limit

Provision to define minimum order quantity

The parameter for the order quantity limit can be defined

Key Focus

Customer relationships

Product

Expected Relationship Horizon

Long term

Short term

Helpful Content for Customers

Articles and how-to blogs
Buying guides
Product videos
Case studies

Reviews and ratings
High-resolution product images
Product videos
Product highlights

Brand Value Creation

Customer trust

Promotion
Why Should You Invest in a B2B eCommerce Website?
According to Gartner, 83% of B2B buyers prefer ordering and paying through eCommerce. Besides, Statista depicts that eCommerce will result in 22% of global sales by 2023. All this data signifies that B2B businesses must invest in B2B eCommerce websites.
Here's what a business with a B2B eCommerce website can achieve.
Enhanced Efficiency: B2B eCommerce websites can help streamline the selling and buying processes. For instance, businesses can integrate automated order processing tools, inventory management, and more. This can help the team work efficiently while saving effort and money.
Improved Brand Awareness: B2B eCommerce websites can enable brands to showcase their unique value propositions. This can help improve brand awareness, thereby creating a positive reputation in the marketplace.
Better Online Visibility: SEO-optimized eCommerce websites can help businesses boost online visibility. This can enhance customer acquisition.
Better Sales and ROI: An eCommerce website with an analytics dashboard can help drive data-driven decisions. This can boost sales and ROI in the long term.
Pro Tip: Create your online store with a search engine-friendly eCommerce website builder like Shift4Shop.
Shift4Shop is an all-in-one B2B eCommerce solution provider. From building an SEO-optimized eCommerce website to enabling businesses to sell products online, Shift4Shop makes everything easy.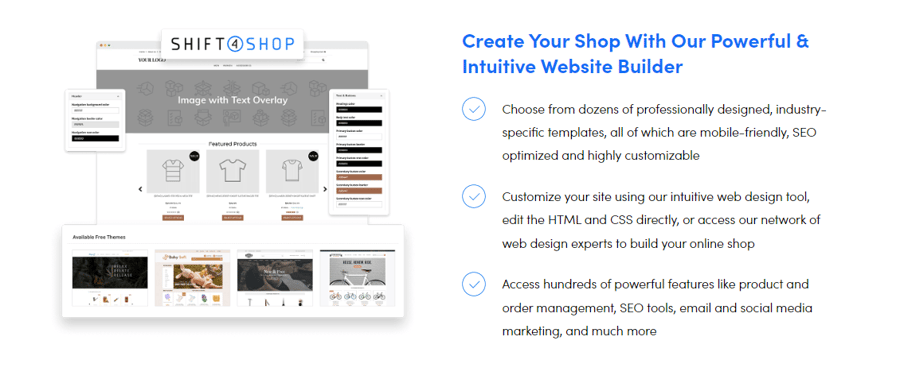 The eCommerce solution includes state-of-the-art marketing tools, a cart abandonment recovery solution, a product and order management system, and more.
Top B2B Marketing Tactics for Achieving High ROI
#1: Educate Customers on Products and Features
A report by CMO Council depicts that content can influence buying decisions of 90% of B2B buyers.
Another report revealed that 44% of millennial buyers desired a human-free sales experience in 2021. This figure will rise in the upcoming years.
So, providing customers with helpful information can be a game changer for B2B businesses. For instance, you can prove your value by sharing content related to your products and features. This can help ease customer decision-making.
Here are a few tips to consider.
Create a Dedicated FAQ Page: This can help answer business-related queries of customers.
Include Blogs and Articles: Create content highlighting your offerings, pricing model, and tips to use products and services. This can be a powerful tool for B2B customers who need clarity before placing orders.
Introduce a Knowledge Base: Knowledge base integration can help serve customers better. Ensure that your self-serve online library includes helpful information on products and relevant topics.
Pro Tip: Implement customer service software like Hiver to empower your customers.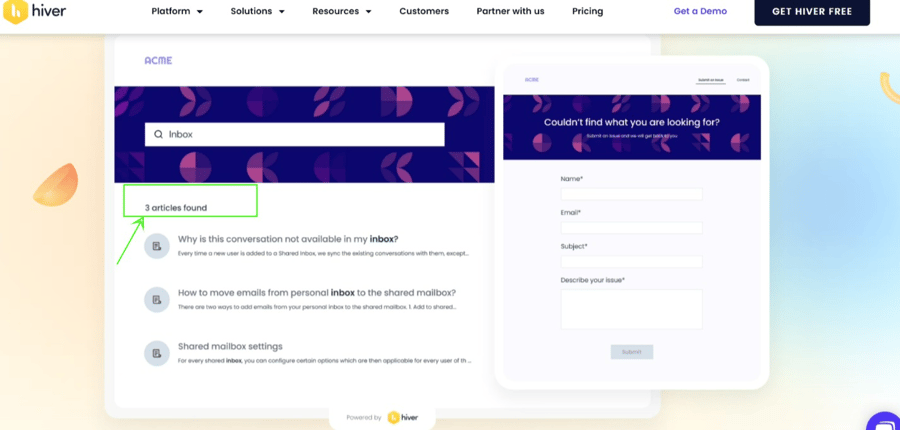 Source: Hiver
With Hiver's knowledge base, you can create, host, and monitor a centralized library of helpful articles, guides, instruction manuals, and more. Your customers can refer to it anytime.
#2: Focus on Providing Excellent eCommerce Experiences
Create value for customers by providing seamless eCommerce experiences. This can help strengthen long-term relationships, thereby increasing ROI.
Here are a few things to consider.
Usability
Great customer experiences begin with engaging website design and usability.
For instance, notice Rope & Rope Products' website.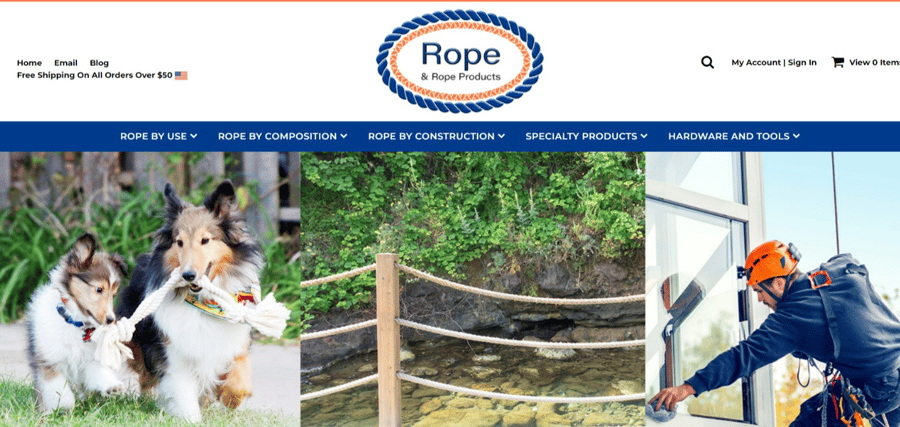 Source: Rope & Rope Products
This eCommerce website has a responsive design. The interface runs seamlessly on computers, smartphones, and other devices. Additionally, appealing visual elements like images and videos enhance the UX experience.
Take some inspiration from this website to improve your website usability.
Here are a few more aspects to focus on.
Page Load Time: In a Google Webmaster video, Maile Ohye explains that eCommerce websites should load within two seconds. So, ensure to optimize your page load time.
High-Quality Content: The content should follow Google E-A-T guidelines (Expertise, Authoritativeness, and Trustworthiness). This can help improve website SEO while offering product knowledge to B2B buyers.
Simplified Checkout Options: 28% of buyers abandon carts due to the complex checkout. Integrating simple checkout can help reduce cart abandonment rates and improve the buyer experience.
Customization
Customize your eCommerce website to serve distinct businesses. Leverage customer segmentation to create and deliver customized product catalogs and price models.
Notice how Steeda provides customized product catalogs.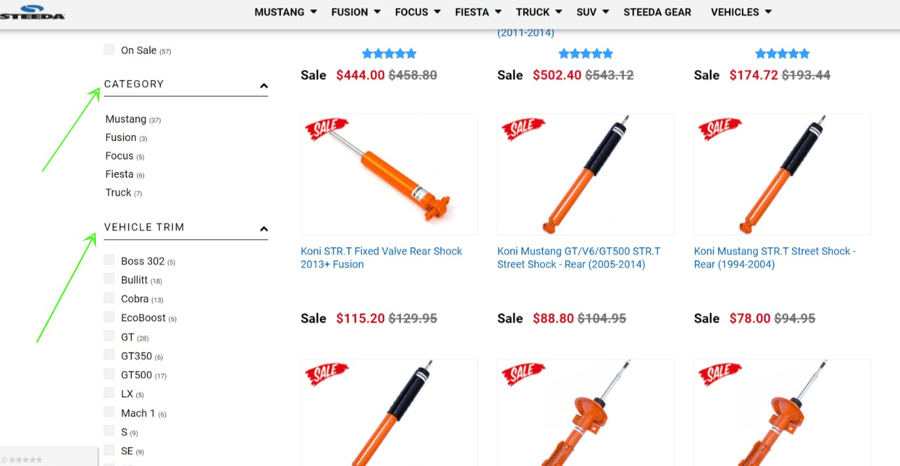 Source: Steeda
Their comprehensive eCommerce website has a well-organized product catalog containing relevant information. This helps their customers find the information they need and eases decision-making.
Loyalty Programs
Introduce reward programs for loyal customers. For instance, offer specialized discounts to B2B buyers that have been your customers for years.
Observe the reward program of TruTech Tools. They offer gift certificate codes to loyal customers.
Source: TruTech Tools
Taking such initiative can help build lasting value and retain B2B buyers.
#3: Invest in an Efficient Tech Stack
B2B fulfillment errors can massively impact sales. Despite offering refunds and apologies, this can deteriorate customer relationships. So, B2B eCommerce businesses should focus on delivering the right orders to their customers.
For instance, providing safe checkout provisions is a necessity. No customer would invest in eCommerce websites that lack safety features. So, businesses should invest in PCI-compliant payment processing solutions.
Here are a few more eCommerce automation tools to consider.
Inventory Management System: B2B eCommerce transactions typically include multiple product orders. So, maintaining inventory transparency can be helpful. With inventory management tools, B2B businesses and buyers can keep a tab on stock availability.
Intuitive Analytics Dashboard: This can help B2B businesses gain visibility into ongoing transactions. From tracking order details to fulfillment stages and delivery status, an analytics dashboard can help them track pivotal insights.
#4: Ensure Team Alignment with Business Processes
Recent research reveals that 80% of B2B sales interactions will occur via digital channels by 2025. So, ensure that your sales team is aligned with your business's processes.
Start with analyzing your sales team's performance. This can help you understand their professional strengths and weaknesses. Besides, employee performance analysis will help you figure out gaps and challenges.
Pro Tip: Count on tools like Zoho People. This tool enables decision-makers to track team performance based on skills, behavioral aspects, goals achieved, and more.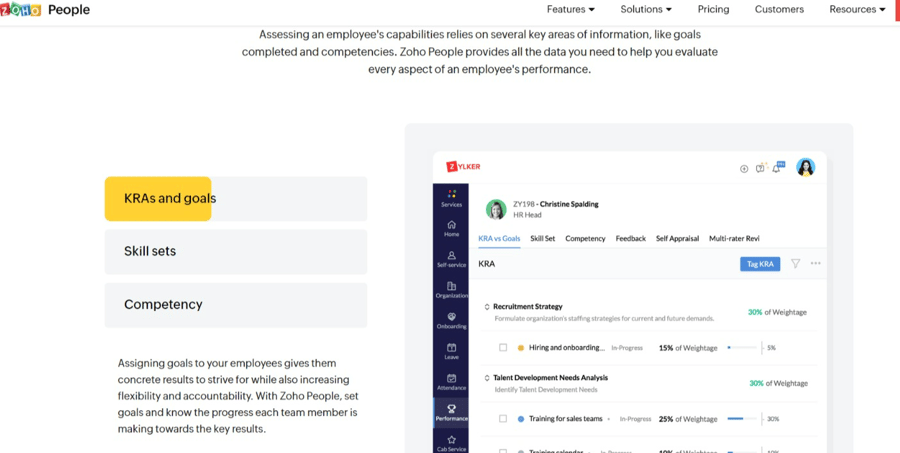 Source: Zoho
With this platform, entrepreneurs can generate actionable insights to help boost employee performance.
Leverage this information to realign the roles and functions of the teammates. Keep tracking KPIs and metrics to analyze their progress.
Top B2B eCommerce Trends That Will Dominate 2023 and Beyond
#1: B2B eCommerce Will Gravitate Towards Social Commerce
"Social commerce" is most usually associated with B2C selling. However, owing to the ease and convenience of direct selling, B2B merchants will focus on social selling in 2023 and beyond.
A report by Gartner reveals 46% of B2B buyers already leverage social media while researching products and services. Hence, embracing social media will help B2B eCommerce brands reach and engage their target audience.
In fact, B2B brands are integrating augmented reality (AR) in social commerce to provide realistic visualization of their product models.
#2: Renewed Emphasis on Existing B2B Customers
Due to the sheer nature of the buying cycle, acquiring new customers is a long and complex process in B2B eCommerce. However, there will be a shift in their approach. Now, you will see B2B eCommerce brands focusing more on customer retention and lifetime value (LTV) over acquisition, specifically while rolling out new eCommerce capabilities to tailor buyers' journeys.
The reason? Customer retention costs less than new customer acquisition.
In fact, reports reveal that retaining customers costs five times less than new customer acquisition and can help generate a high ROI on marketing efforts.
So, B2B eCommerce brands will rethink strategies and incentives to boost LTV and retention.
#3: Dynamic and Real-Time Pricing Approach
The concept of dynamic pricing isn't new for any domain. It has been leveraged for years by the vacation rental industry and has now gathered momentum in the B2B eCommerce realm.
With technology becoming more sophisticated, B2B eCommerce businesses are gaining more control over product pricing.
As a result, you will witness brands change their pricing in response to demand and supply in real time. Considering the inflation that skyrocketed recently, this dynamic pricing approach will help B2B eCommerce brands stay competitive and manage product pricing effectively.
#4: The Metaverse Could Revolutionize B2B eCommerce
The metaverse is a virtual reality 3D space where people can meet and collaborate. According to Forbes, the metaverse is still in the early phase of development. However, it will soon become a key growth factor for eCommerce.
Brands with virtual storefronts will be able to collaborate face-to-face with B2B buyers in the metaverse. This can help them establish an immersive virtual presence, thereby enhancing customer experiences.
In Thailand, a luxury eCommerce brand named Yves Saint Laurent (YSL Beauty), serving B2B and B2C customers, has launched its virtual store in the metaverse.
Soon, you may see other B2B eCommerce brands jumping on the metaverse bandwagon.
#5: Self-Service Portals Are Redefining B2B Customer Service
The COVID-19 pandemic has changed buyers' way of interacting with brands.
Human interaction has taken a back seat while self-service is on the rise. Consumers prefer helpful content, such as FAQs, blog posts, and other self-service options, to analyze products and make buying decisions.
McKinsey & Company affirms that self-service options have become as popular as digital engagements with B2B salespeople.
With this in mind, it's no wonder why B2B eCommerce brands, such as PayPal and NetSuite, have developed state-of-the-art self-service portals to enhance buyer experience.
Conclusion
Embracing digital transformation can be overwhelming for B2B businesses. However, the shared trends prove that the benefits of eCommerce outweigh everything.
So, if you are a B2B business stuck with legacy systems and processes, it's time to make the smart move. Embrace B2B eCommerce by implementing mentioned tactics and tools. This will bring massive growth opportunities, thereby scaling your B2B business.