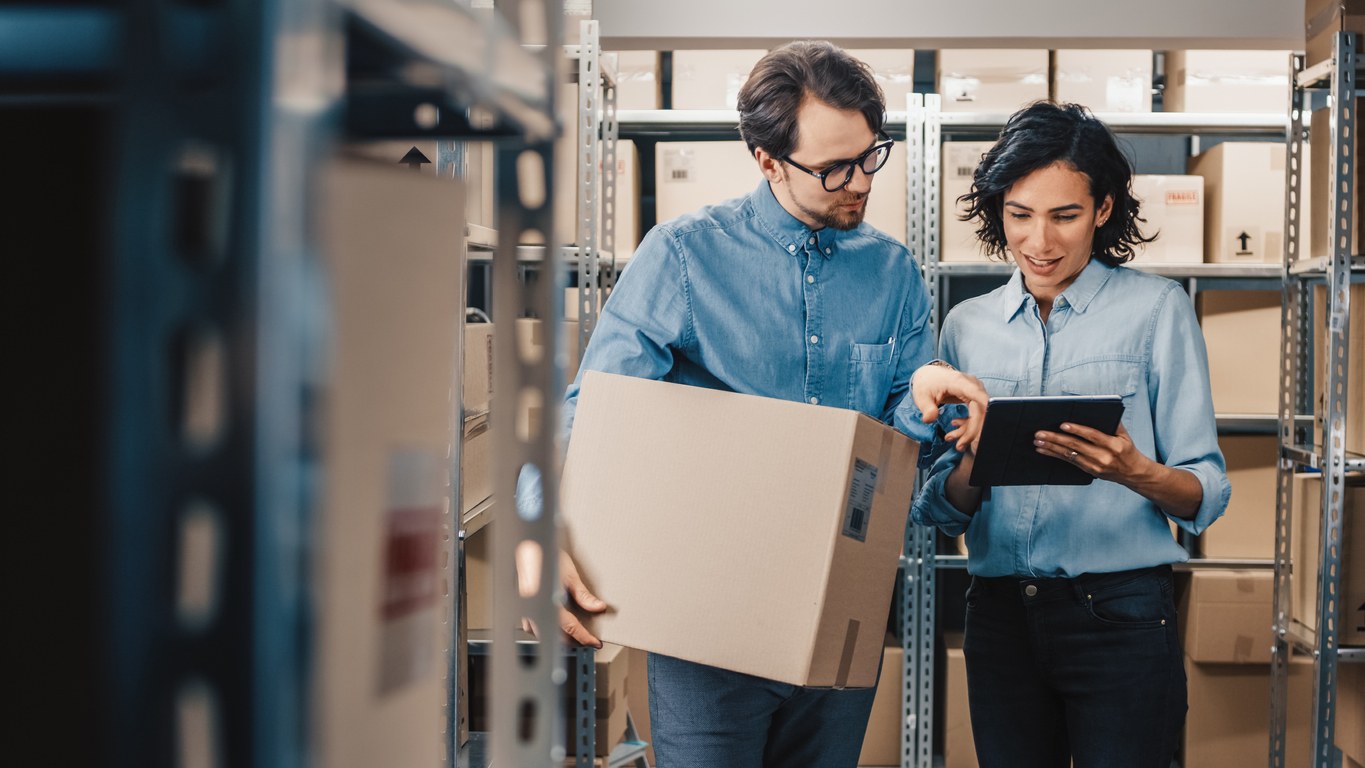 Inventory management is one of the most crucial parts of running a successful store. Whether you're selling online, offline, or both, proper inventory management will reduce problems and lighten your workload. It can even increase sales and brand loyalty, such as by offering back order for products rather than simply marking them as out of stock.
Of course, your business's ability to manage inventory depends on the tools you have available. Shift4Shop includes detailed settings to help you manage your inventory on both a global and per-product scale. This article will guide you through these options so you can set them up in the best way for your business.
How to Set Up Inventory Control in Shift4Shop
Shift4Shop's built-in inventory management tools offer numerous options to meet a variety of needs. The most general settings apply to your whole store, but you can also fine-tune them for specific products. It might seem a bit overwhelming at first, but don't worry — you'll get the hang of it in no time. Let's look at the settings and how to start using them.
General Inventory Control Settings
To start setting up inventory control, first we're going to manage the general or global settings. These settings will apply by default to all the products on your store. You can override these settings on individual products as well, which we'll cover later in this guide.
You can access your store's general inventory control settings by first clicking Settings in the left-hand navigation bar in your Shift4Shop Online Store Manager. More options will pop out beneath. From those, next click on General and then Store Settings. Finally, click the General tab at the top of the Settings window that opens.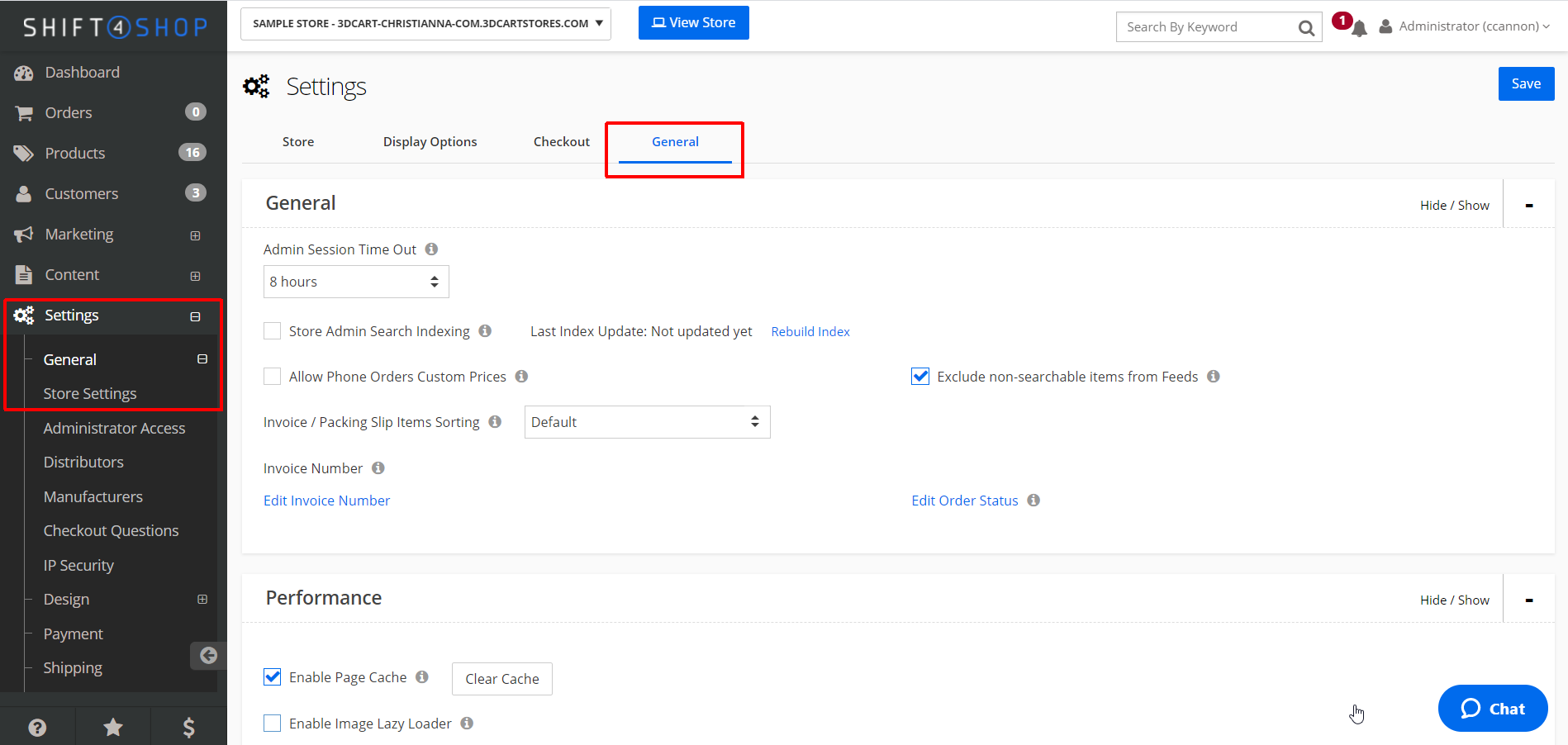 The Inventory Control settings are lower on the page. Scroll down to reach them.

The Enable Inventory Control checkbox needs to be activated to make the rest of these settings visible. If the box is not checked, check it now to access these features.
Below the checkbox are the different ways your store can handle it if a product goes out of stock. Let's take a quick look at what each of these settings mean.
Hide Items: This setting simply hides the entire product page if that product's inventory reaches zero. This usually isn't the best option unless you're never going to restock that product ever again, or even replace it with a new product.


Show as "Out of Stock": This setting keeps the product page live, but puts an "Out of Stock" note in the product information. The Add to Cart button is disabled as well. In this case, customers can't do anything other than check back later to see if you've restocked the item.


Allow Back Order: This setting displays a "Back Order" message on the product page, and allows customers to purchase the item with the understanding that you don't currently have any in stock, but will fulfill their order once you've replenished the product.


Use Waiting List: This setting replaces the Add to Cart button with an invitation for customers to sign up for a waiting list and be informed when the product comes back into stock. Waiting lists can also send out automatic notifications to let customers know it's time to come back and make their purchase. (If you'd like to know more, read about our Waiting Lists for eCommerce.)
In addition to the above settings, the Inventory Control panel also has a couple of other options you can set.
Do not deduct stock for Unpaid Orders: Normally, your store will deduct inventory as soon as an order is placed, whether you have it sent to New status or Unpaid status. Whether a new order starts as New or Unpaid depends on your setting for the payment method the customer used for that order. Unpaid status is mainly used for offline payment methods like checks or money orders, to prevent the order from being processed and shipped off along with New orders while you're still waiting for the check to clear. This setting allows you to stop your store from deducting inventory on orders sent to Unpaid status. You can learn more about this option (and why you might want to use it) in this Knowledgebase article.


Enable Warehouse Location: This setting allows you to specify warehouse location or pick ticket information on each product. It will add Location, Aisle, Bin, and Custom Location fields to your products, which will display on the packing slip. This information is used to help you or your staff locate your products in your warehouse. You can find more tips on using this feature in our Knowledgebase.
Once you're finished with the settings in this panel, make sure you click the Save button at the top of the page.
Per-Product Inventory Control Settings
When setting up your store's general inventory control settings, choose the option for out-of-stock products that you want to apply to most or all items in your store. Now that you've done that, you can move onto the inventory control settings for any individual products that you want to handle differently from the global setting.
You do this within the product's Inventory settings panel within its Information tab. Let's start by finding the product you want to set custom inventory control settings for. In the left-hand navigation bar, click on Products and then Product List.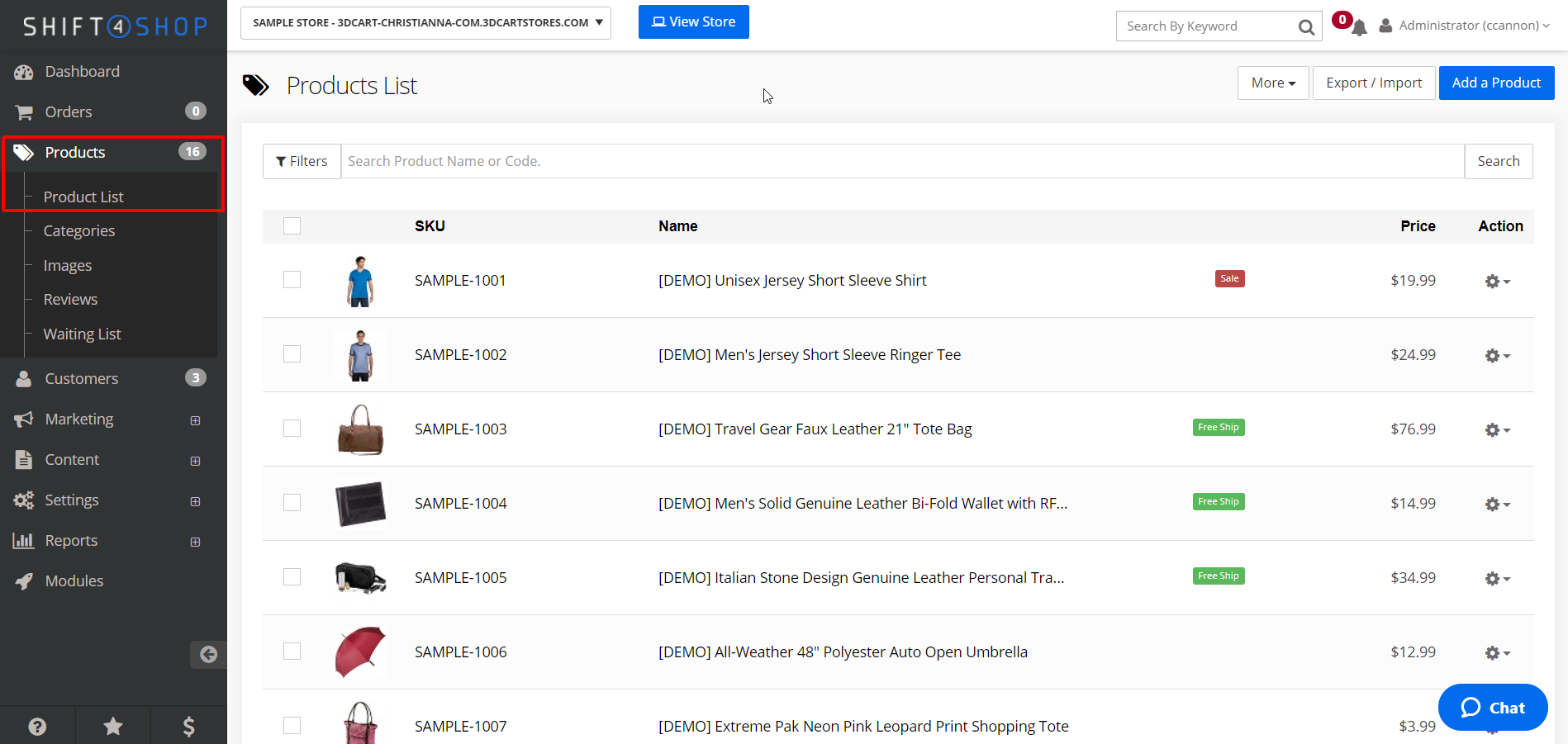 From here, find the product whose inventory control settings you want to change. You can scroll through the list, or use the Search Filters at the top of the screen.
Once you've located the product, click its SKU, name, or select Edit from the Action Wheel at the right side of the screen. You'll be brought straight to the product's Information tab.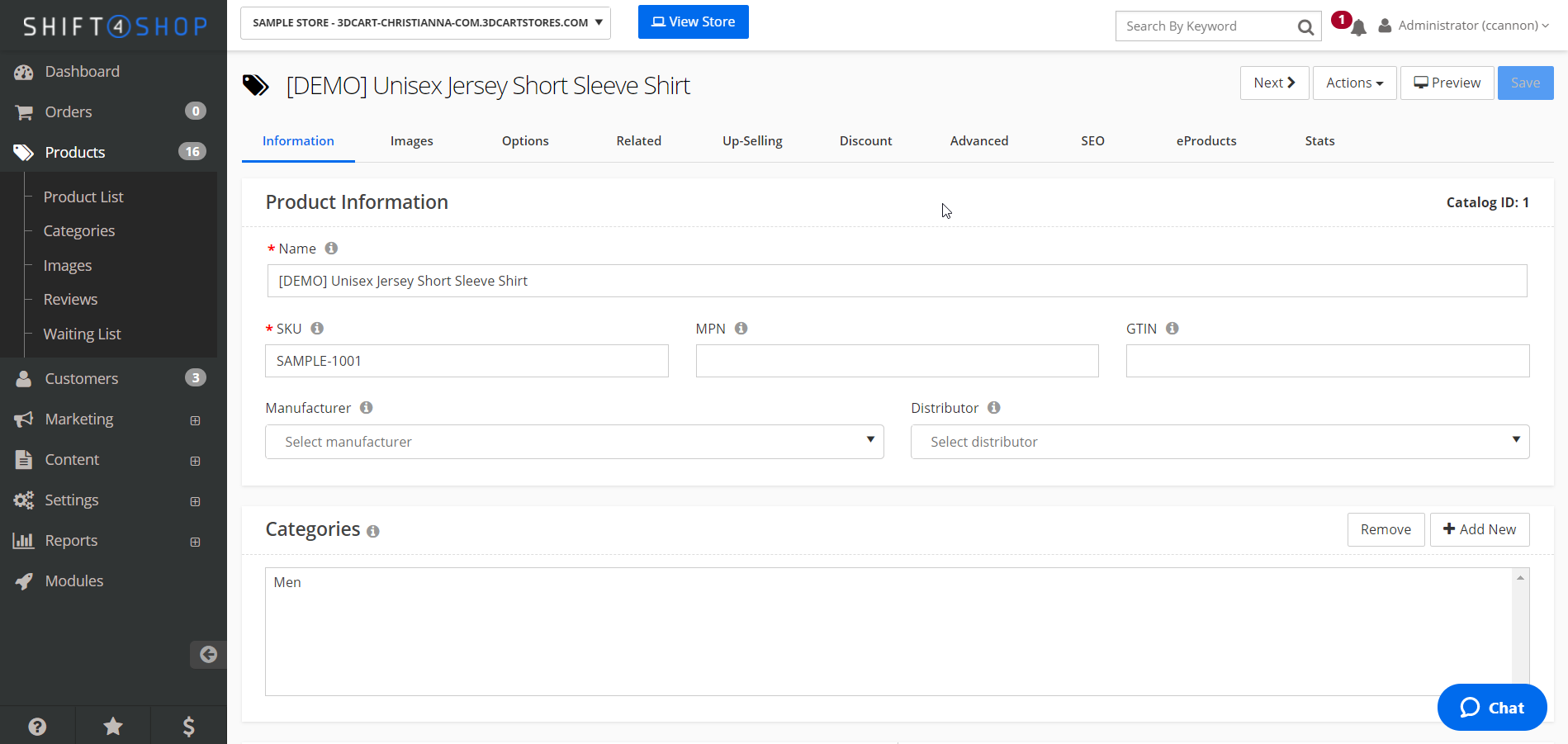 Now, scroll down until you find the Inventory panel. It looks like this:

The first setting of interest here is the Inventory Control dropdown menu. Default means that this product will use the out-of-stock method you defined in your general options. However, you can choose another method from this menu.
From this menu, you can choose Out of Stock, Back Order, or Waiting List to handle this product just as described earlier when we covered the general options. If you have access to our Pre-Orders for Online Stores module, this dropdown is also where you'll find that option.
One option you may notice here is the ability to change the message displayed on a product when it's In Stock, Out of Stock, or on Back Order. If you want to customize these messages across your store (rather than setting them all per-product), you can do so in the Store Language section.
To get to this section, visit Settings in the left-hand navigation bar, click Design, then click Themes & Styles. Next, scroll down to the section labeled "Looking to Edit Other Sections?" and click the Edit button underneath Store Language.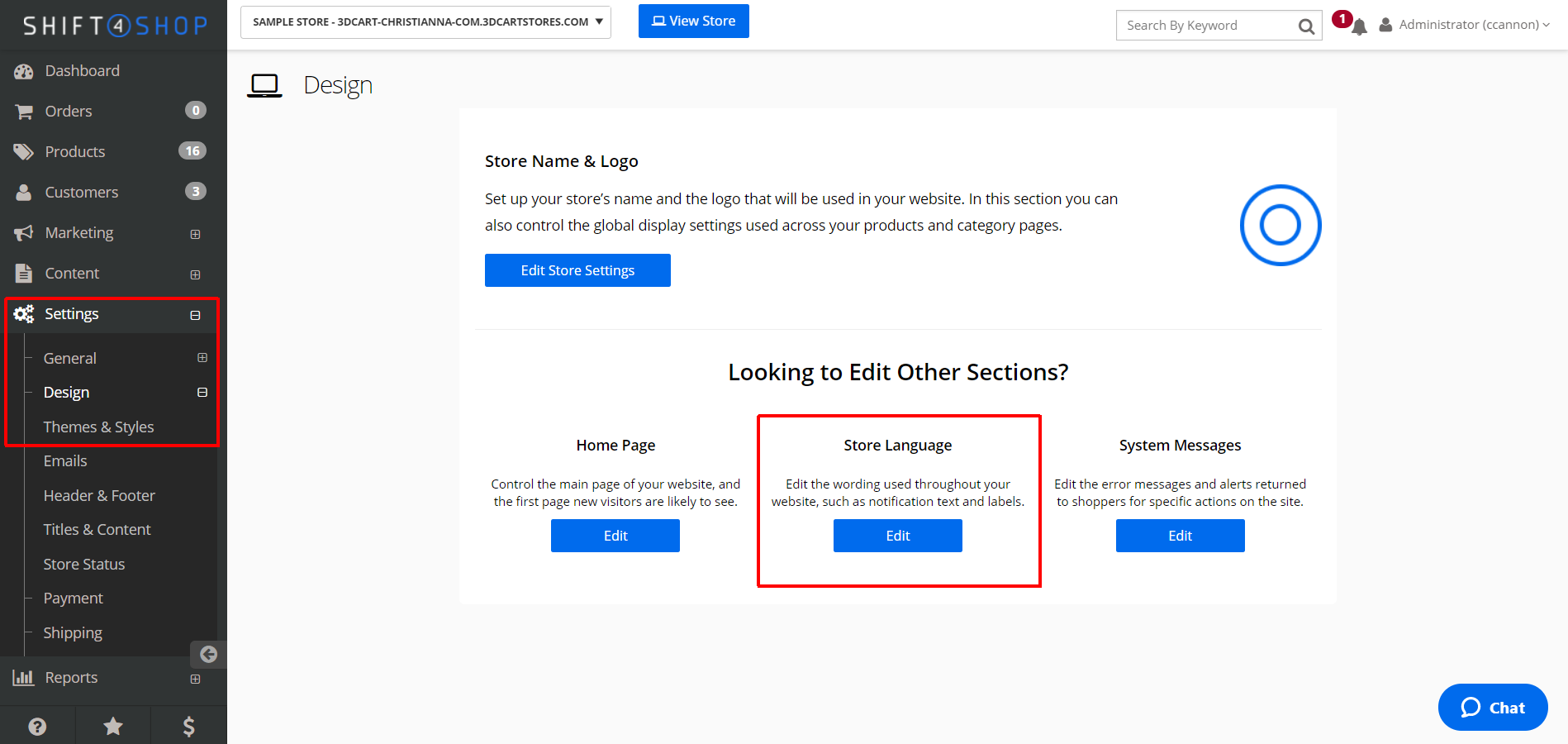 This will bring you to the Store Language panel, in which you can change the default messaging across your store.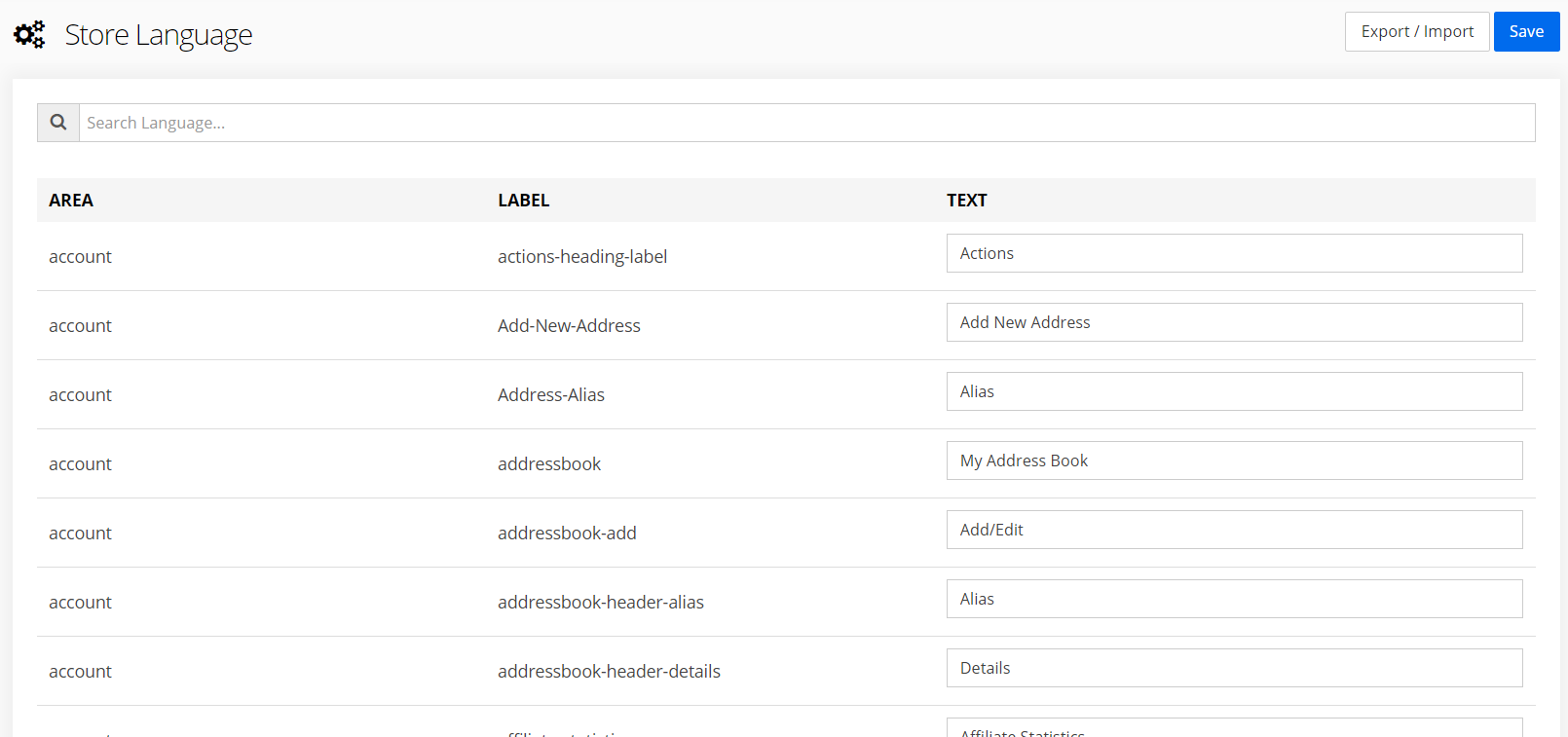 There's a lot to go through here, but you can quickly narrow it down to the stock-related messaging by entering availability into the search bar at the top. This will bring up all store-wide language for stock availability, including the "Availability:" label itself.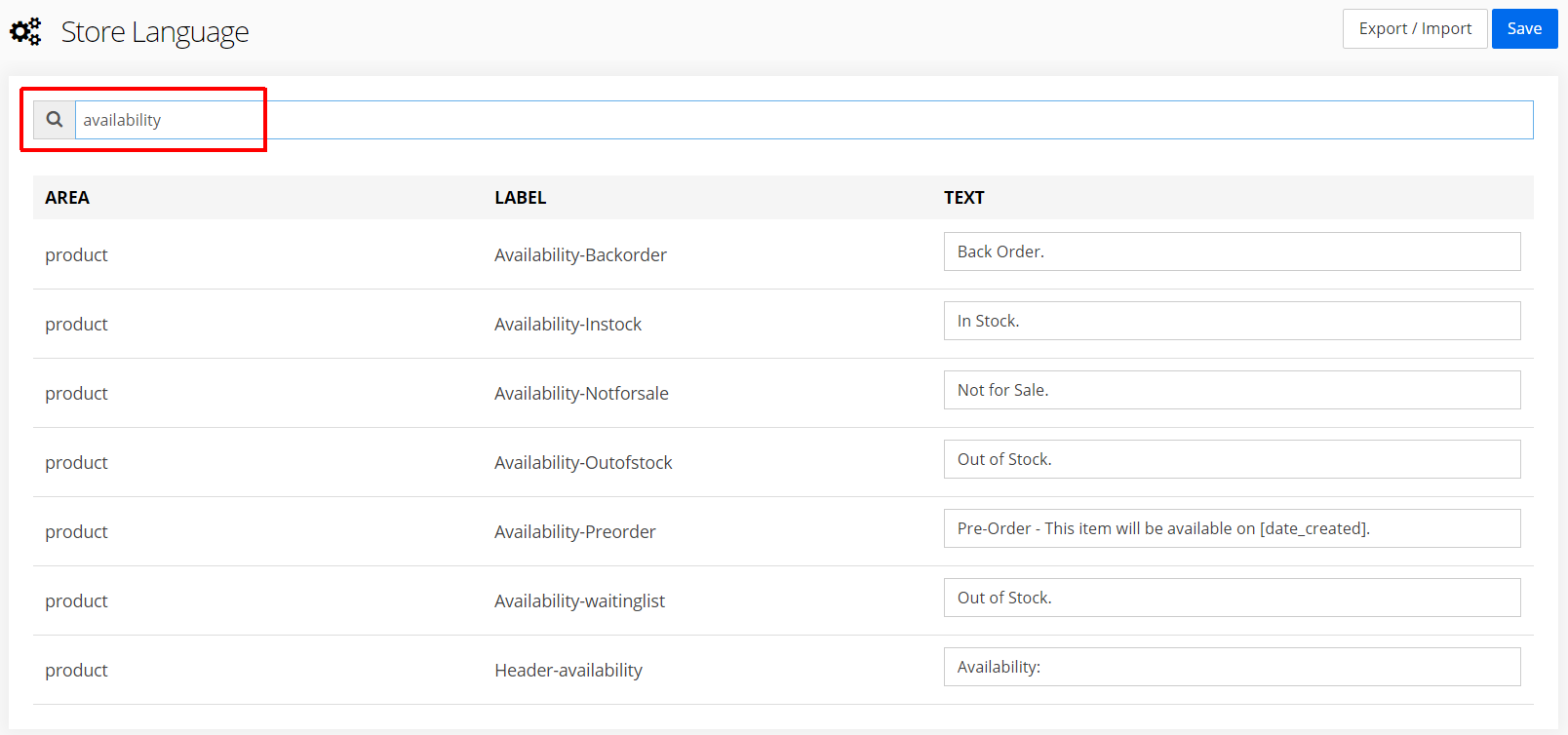 As with all other settings in Shift4Shop, Save your changes before you leave the page. Remember that any Inventory settings you customize in a product page will override the global setting for that option.
Now, let's return to the Inventory settings on the product and cover the remaining settings.

We've discussed the Inventory Control setting and messages, so now, let's look at the New Stock, Current Stock, and Stock Alert fields.
The Current Stock field displays the number of this product you currently have in your inventory. If any of this stock has been purchased but not yet shipped out, the field will also include the number of this item you have On Hold to fulfill those orders. For example, if you have 86 of an item in stock, and sell 3, the item's Current Stock number will display 83 (+3 On Hold) until those 3 orders are shipped out, at which point the amount On Hold will be removed.
The New Stock field is where you can update a product's inventory when you replenish it. There are two ways you can use this field. If you simply enter a number, that number will replace the amount in the Current Stock field. If instead you enter +number, that amount will be added to the amount in the Current Stock field. So, entering 20 in this field would change your Current Stock to 20, and entering +20 would add 20 to the existing amount.
Finally, the Stock Alert field is part of a notification system that will let you know when you're running low on stock. If this item's inventory falls below the number you put in this field, you'll receive an email to the address you entered in your Store Settings. Many store owners enter a number into this field that will give them a buffer so they have time to replenish their inventory before it runs out. If you don't want an email until you've completely sold out of an item, enter 1 in this field — your store will send you the email when the stock falls below the 1, to zero. Entering an actual 0 into this field will disable it.
Once you've customized these settings on your product, click the Save button.
Displaying Stock Levels and Item Availability
Normally, your Shift4Shop store will display products as In Stock, Out of Stock, Back Order, etc. as appropriate based on your settings. However, you can also add the available number of items to each product page by following the instructions in this Knowledgebase article.
Updating Stock on Multiple Items at Once
Adding stock to an individual product is simple enough, but what if you want to add stock to multiple products at once? There are two ways to do this. You can import and update your inventory via CSV Import as outlined in this Knowledgebase article. Or, if you don't want to bother with the CSV process, you can update stock on multiple items through the Products List in your Shift4Shop Online Store Manager.
Go to your Product List (click Products and then Product List in the left-hand navigation bar) and then click the More button near the top right corner. Click Inventory in the dropdown menu that appears.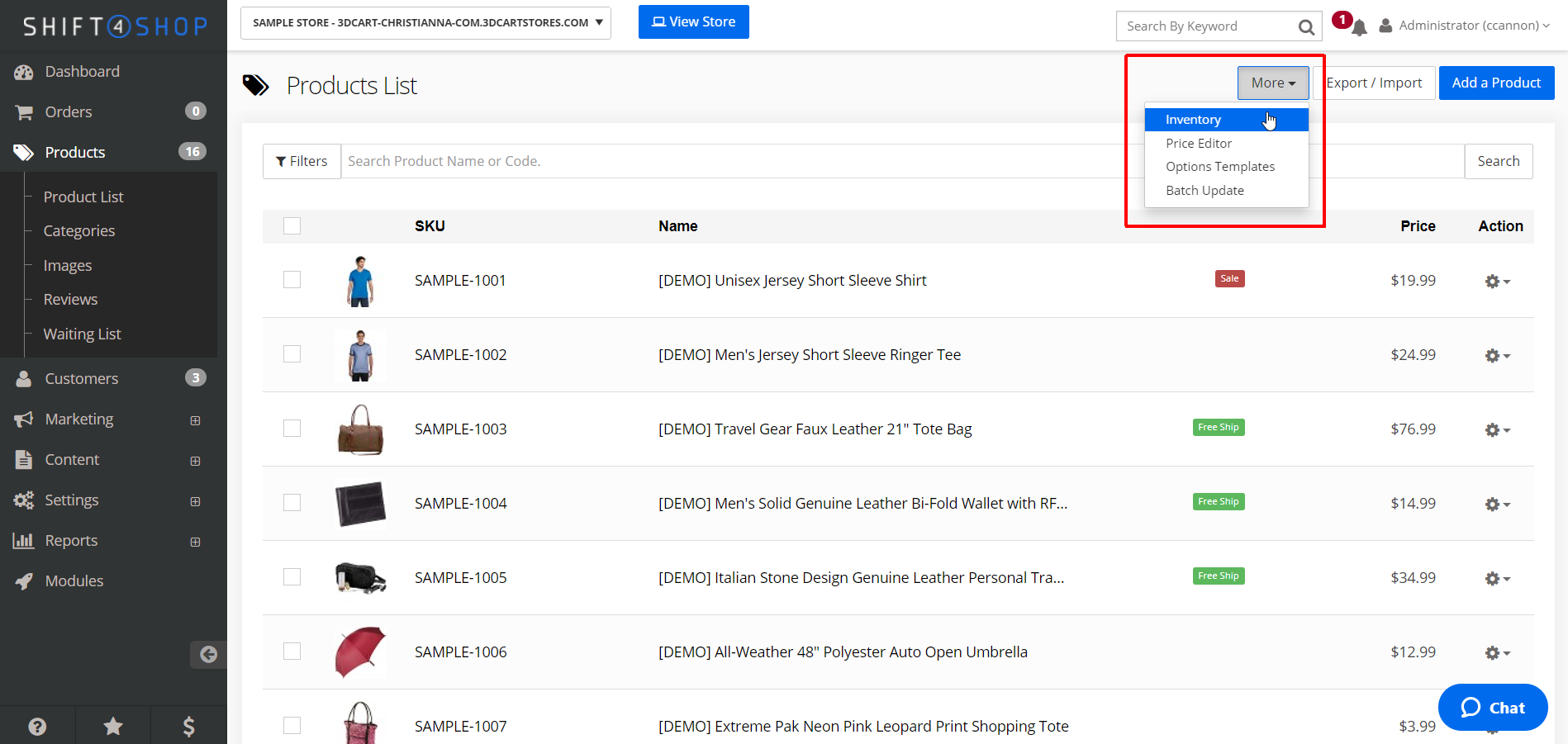 You will be brought to the screen seen below. Here, you can edit the inventory of all your products by changing the number in the Stock column. If you want to find a specific one or narrow down the selection, use the Search filter at the top.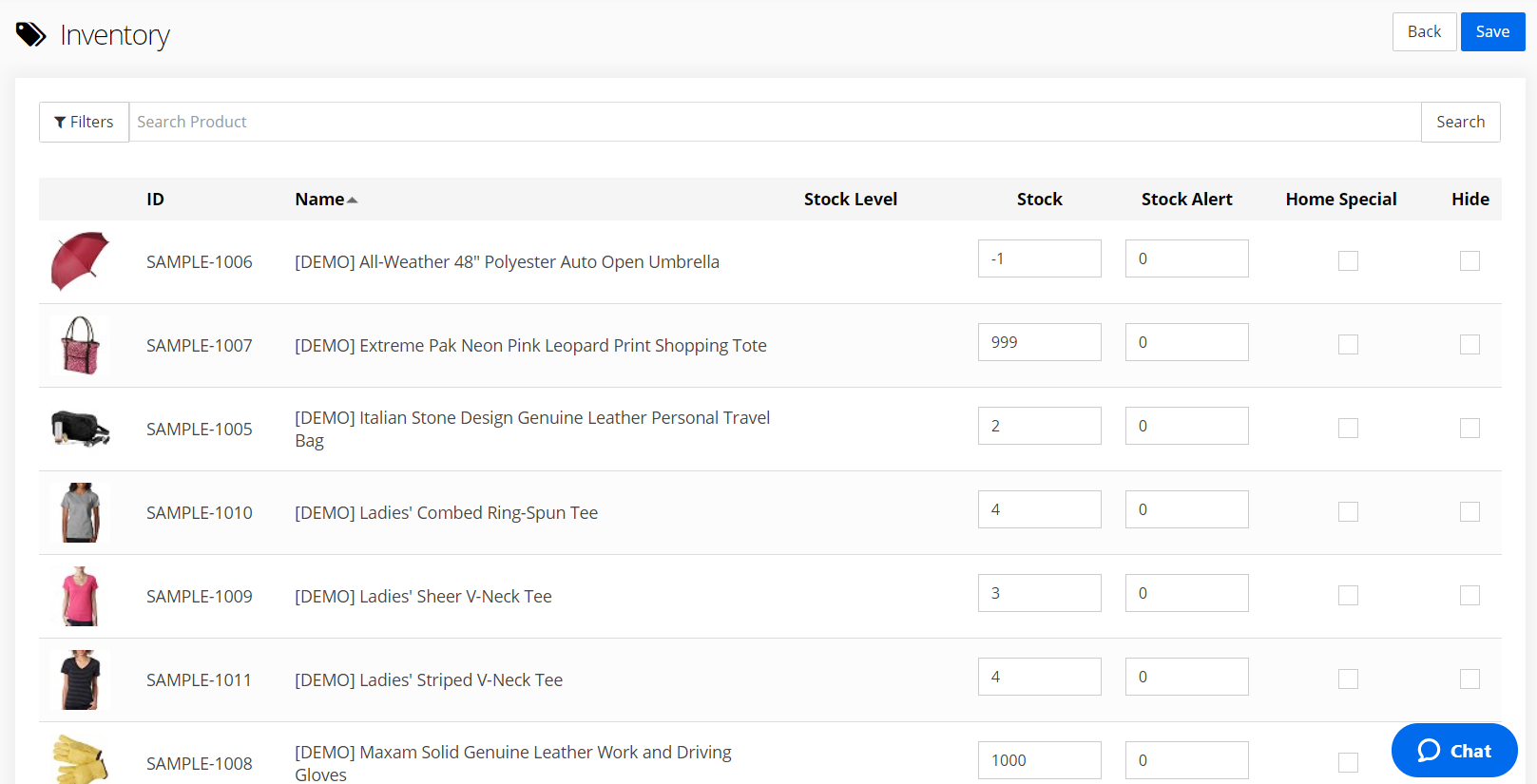 Note that this interface does not accept adding new inventory with the +number format; you must edit the fields to reflect your new total inventory. Any plus signs entered are ignored.
In this panel, you can also set up Stock Alerts, designate products as Home Specials for display on your home page (read our tutorial on Home Specials and Related Items for more information), or Hide a product.
Once you've made your updates, remember to Save.
Advanced Options
Product options or variants are the variations in a single product, such as size or color. But sometimes you may need a bit more control over your product options. For example, a particular product option may cost more to your business or be a different size than the base product. That's where Advanced Options come in.
Advanced Options allow you to specify details that regular product options don't account for, like the examples we just gave. But they also allow you to track inventory separately for each product option you specify. This comes in handy whenever you don't want all variants of a particular product to be tracked together.
Product options overall can be highly customized in Shift4Shop, so we've written a complete guide to product options and variants. It also covers Advanced Options in detail, so check it out for more information on this feature.
Product Bundles
Our Product Bundles feature allows you to group items together as a "bundle" or "kit" so they can be sold together.
Bundles make a good upsell — for example, you could offer a bundle including a main product and its accessories, and customers might choose it instead of the product alone. Bundles also have other uses, like starter kits, sample packs, and more.
For more information, check out our in-depth guide to Product Bundles. It includes all the details about bundles, ideas for using them, how to set them up, and more.
Inventory Reports
Shift4Shop creates detailed reports of several aspects of your online store. One of these is the Inventory Report, which you can access by clicking Reports and then Inventory in the left-hand navigation bar.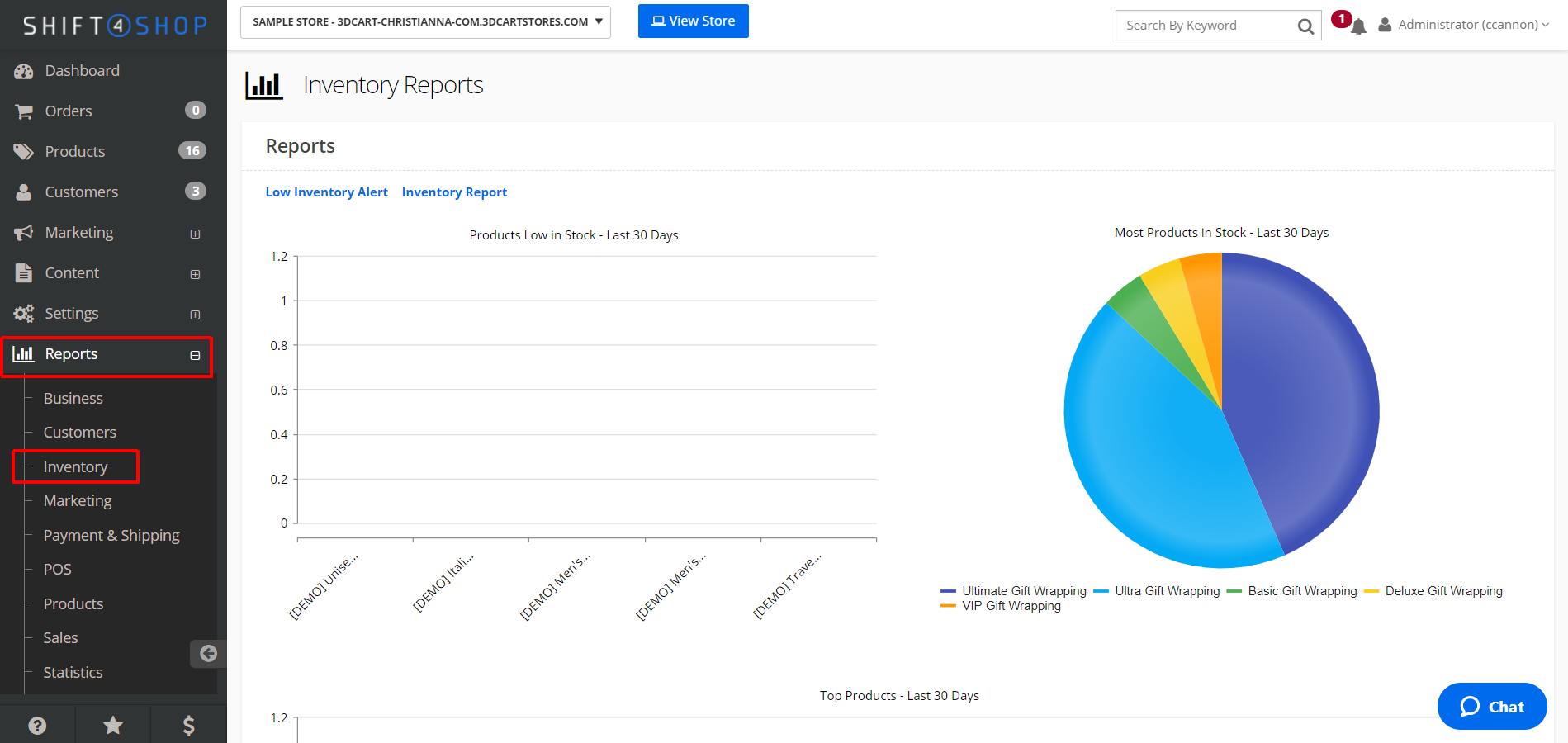 This brings you to the Inventory Reports' main page, seen above, which includes charts showing your lowest stock, highest stock, and top-selling products. Near the top of the page, you also have two more reports you can view: Low Inventory Alert and Inventory Report.
First, let's look at the Low Inventory Alert:

This report lists all your products with a stock level lower than the amount you specify. You can show products with a stock level below their stock alert (as shown above), or click the other radio button to show products under the stock level you put into the field (5 in the screenshot). You can also filter by distributor — this is the distributor you get your stock from, so you can use this filter to see which products you need to reorder from a specific one, for example.
Next, let's look at the Inventory Report: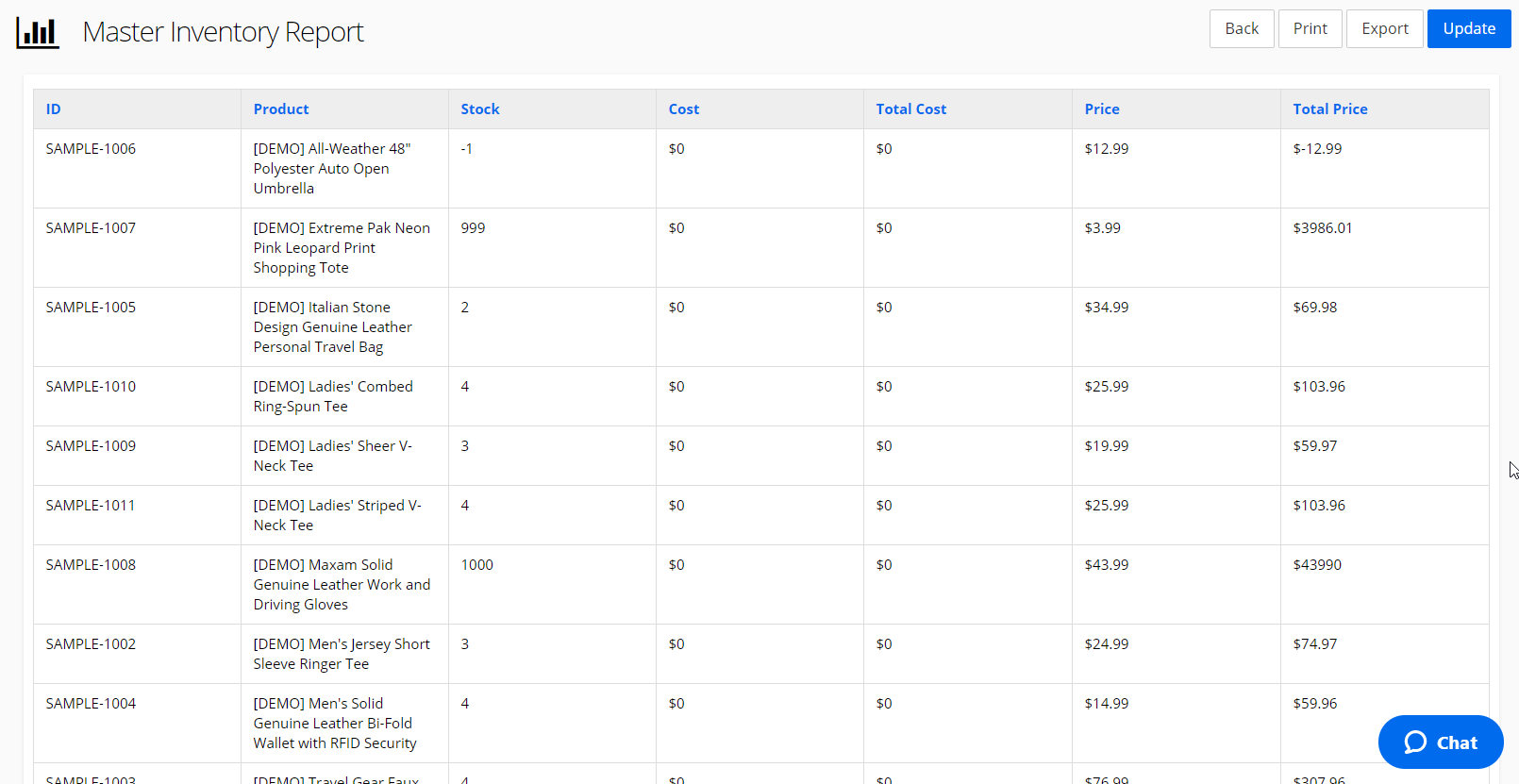 This screen is your Master Inventory Report, which displays all products in your store together with their ID, name, stock, cost, total cost of current stock of that product, price, and total price of current stock of that product.
This page can only display 2,000 products, so if you have more than that and want to see the full list, Export this report using the button in the upper right corner.
To learn more about the reports available in Shift4Shop, check out this guide on our Knowledgebase.
More Tools to Enhance Your Inventory Management
We've covered the built-in inventory management tools in Shift4Shop, but you can also expand your store's capabilities with add-on modules. These modules are found in our App Store.
Multiple Store Sync
If you have multiple stores on Shift4Shop selling the same items, our Multiple Store Sync module lets you synchronize the inventory between them.
First off, why would you have multiple stores selling the same exact products? Well, there are a few reasons you could do this. For example, you could want to operate as two different brands that sell the same items but are built for a different target audience. Or maybe you have another reason this business model would work for you.
Either way, if you want this feature, this module makes it painless to set up. There's a complete guide to Multiple Store Sync on our Knowledgebase.
This add-on is developed and supported by Shift4Shop, so if you're using our free, End-to-End eCommerce plan (accessed by using Shift4 Payments as your payment gateway), you can get this module for free as well. Stores on our End-to-End eCommerce plan can use all Shift4Shop-supported apps for free.
Inventory Stock Buffer
Under some circumstances, you might want to show an item on your website as being Sold Out while still keeping a few units untouched in your inventory. Our Inventory Stock Buffer add-on will allow you to do this.
The way it works is pretty straightforward — simply enter the number of units you want to keep as a buffer, and your store will hide that amount from its public-facing inventory count. Our Knowledgebase has a more in-depth guide to Inventory Stock Buffer, if you need it.
This module is built and supported by Shift4Shop, so you can also get it for free if you're on our End-to-End eCommerce plan.
Reserve Inventory
Sometimes items sell out more quickly than anyone was expecting. A new product can be a surprise hit. Some products, like event tickets or designer sneakers and clothing, are expected to sell out within moments, with customers scrambling to add everything to their cart and go through checkout before someone else snatches the item away.
In some industries, this rush to check out as quickly as possible is expected, and arguably part of the experience. But some customers hate the thought that they could have something in their cart already, but have it taken away by someone else who was faster. Some businesses prefer to avoid this rush by temporarily locking an item to a customer's cart until they check out.
Our Reserve Inventory add-on protects the items in a customer's cart for a default time of 15 minutes. If they haven't checked out within that time limit, the products go back into your available inventory for someone else to buy. It's a seamless method to avoid frustration and ensure your quickest sellers are available more fairly. (If you want, you can adjust the time limit to something other than 15 minutes. This is a global setting and can't be changed per-product.)
As a Shift4Shop-supported app, Reserve Inventory is also available free for store owners on our End-to-End eCommerce plan.
Ready to Take Your Inventory Management to the Next Level?
How well you manage your inventory is one of the keys to how well your business performs. And of course, your ability to do so can be either helped or hindered by the inventory management tools available in your eCommerce software.
Shift4Shop is all about helping you with the most advanced, powerful, and customizable tools available in eCommerce today. And if our built-in tools aren't enough, you can expand your store's capabilities through add-on modules or apps. This means you can customize your store to better meet your business's needs, and tailor your experience to your exact business model.
One of our many goals is to take the pain out of inventory management while still keeping it as configurable as possible. So, you still have plenty of options available to you, without the system becoming too complicated to learn.
Hopefully this guide will help you better understand how to manage inventory in your online store, so you can unlock even more of your business's potential!