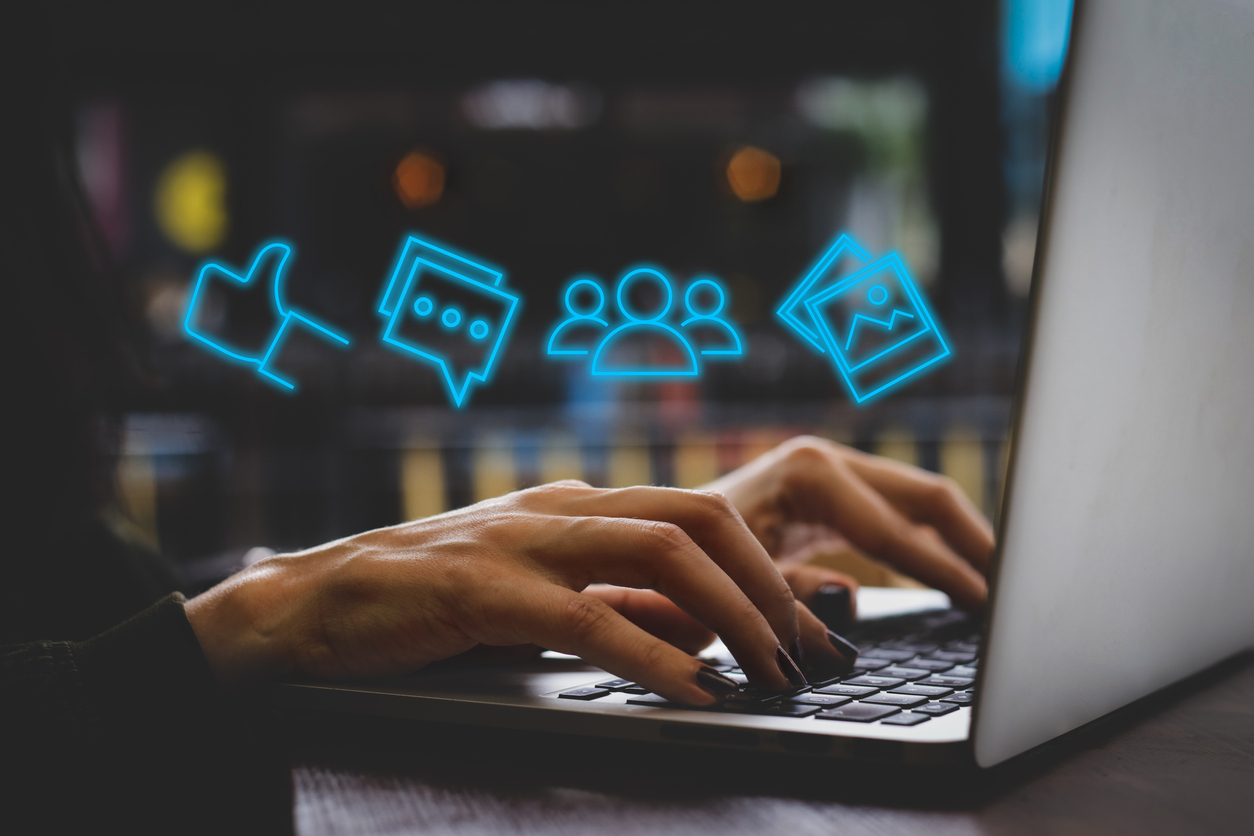 The global B2B eCommerce market is worth over five times more than the B2C market and is valued at nearly $15 trillion USD.
In other words, if you're part of the B2B eCommerce world, you're in a promising industry.
But choosing a blossoming industry and making the most of your resources are two different things.
To thrive as a B2B eCommerce entrepreneur, you need the skills, business know-how, and marketing knowledge to boost visibility and increase conversions.
But with so many competitors, how can you ensure your store will stand out? With all of the current marketing noise, how can you be sure your ideal audience will listen?
While every store's approach will and should look different, there are a few tried-and-true approaches you can use to increase leads — and, most importantly — convert them into loyal customers.
With that said, let's take a look at our ultimate marketing guide for B2B eCommerce entrepreneurs.
1. Know your audience segments and discover where they live online.
Before you can become a pro marketer, you need to understand your audience deeply.
That means uncovering each audience segment's core needs, pain points, preferences, current interests, and buying habits — so you can swoop in and tailor your marketing messages, images, and campaigns accordingly.
To get a full grasp of each segment, draw up a detailed buyer persona for each audience group.
For instance, if you sell wholesale coffee beans and tea leaves, you might have a restaurant owner buyer persona, a coffee chain director buyer persona, and a hospitality manager buyer persona.
Then, discover where your audience segments live online and select your dedicated marketing channels from there. For instance, if they frequent email, LinkedIn, Twitter, and YouTube often, focus your marketing efforts on those channels the most.
2. Optimize your store and products.
Taking advantage of low-hanging fruit by setting your storefront up for success is a crucial marketing course of action you can take right away.
Your goal? Create an organized store and product directory that feels intuitive to the customer.
When a business owner visits your store, everything about their user experience needs to feel pristine and natural.
Here are a few key areas to focus on to help elevate the user experience and optimize your store:
Navigation and Structure
Mimicking the B2C shopping experience by creating a flexible and interoperable eCommerce architecture is essential. Use an orderly site search hierarchy and faceted search functionality, so everything feels intuitive and easy to find.
Optimize your store for mobile browsing and double-check that everything loads quickly.
Finally, optimize your website copy with natural keyword placement so your site's structure and content can stand out to search engines.
Look, Feel, and Copy
Create a consistent and professional look and feel by choosing a set color palette and responsive design.
Choose images and elements that support your brand image and add value to your core message. Avoid crowding sections by maintaining proper spacing and distance between text and images.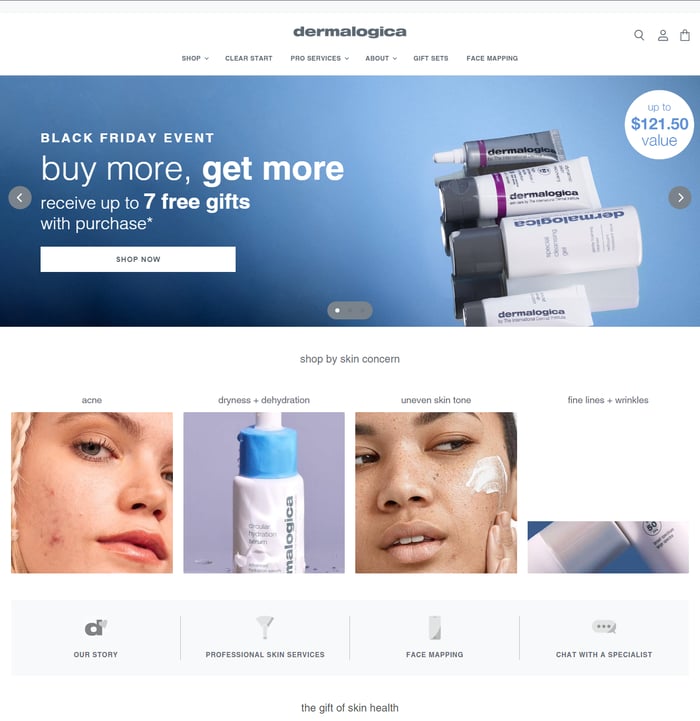 Source: Dermalogica
As far as your sales copy goes, choose messaging and language that aligns with your ideal customer's needs and preferences. Keep your value statement or sales hook above the fold and personalize your site copy with your ideal client in mind.
When in doubt, focus on messaging that addresses how your product solves your ideal customer's top problems and pain points. It's okay to boast about features, but focus your sales copy mostly on the benefits your target audience will enjoy by investing in your product.
Checkout
Revisit your checkout flows to make sure they're seamless. B2B customers should be able to pop in and out of checkout quickly and easily — no gimmicks, bells, whistles, or hassles, please.
Bonus Tip: Remove unnecessary barriers to entry by accepting a wide variety of payment methods.
Product Catalogs and Pages
Make sure B2B shoppers can easily see, find, and purchase your products.
Provide in-depth information on each product, including a full spec sheet describing the available sizes, features, and technical details. Tag products with appropriate keywords (but avoid keyword stuffing).
Photograph your products using a clean, solid backdrop or use a photo editing tool to remove the background later and replace it with a simple color.
If you sell a wide variety of products, reduce shopper overwhelm by creating:
Topic clusters
Product themes
Bundles and sets
Easy search features
Personalized product recommendations
Quizzes to help shoppers discover, choose, and buy products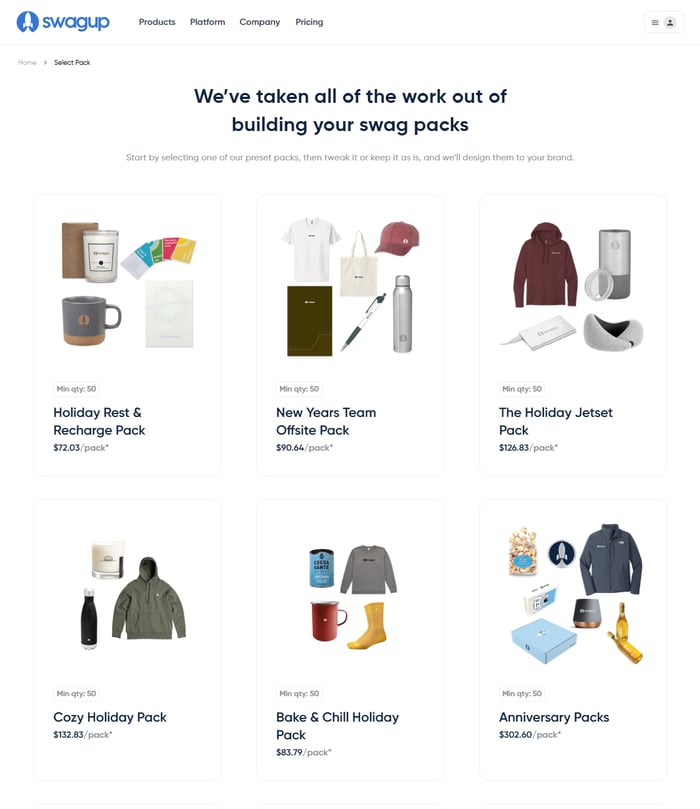 Source: SwagUp
3. Get clear on your goals and take advantage of multi-channel marketing.
Once you're set on your audience segments and know the channels they frequent most, get clear on your overall marketing goals. Then, set micro-goals and create plans for each channel.
For instance, let's say you're top marketing goals include:
Getting more shoppers to sign up for your monthly subscription program
Raising awareness about your latest product drop
Offloading fall inventory to make room for winter and spring
And let's say your audience uses LinkedIn, Instagram, and email the most.
In this case, you might set the following micro-goals and action plans:
LinkedIn: Use ads, promos, and content to boost subscriptions. Share stats, figures, and social proof demonstrating how our B2B customers have been solving a key pain point after signing up for our subscription program. You can use different LinkedIn automation tools to help you connect with potential clients by email.
Instagram: Use ads, Reels, Shoppable posts, and Stories to raise awareness about our new product drop. Generate buzz by starting a contest with a grand prize and linking up with B2B influencers and industry experts in our niche.
Email: Send a series of automated, segmented campaigns announcing a flash sale and massive discounts on our fall inventory. Use FOMO messaging and a timed promo to put the pressure on.
4. Personalize your marketing campaigns.
Using customer data to create a hyper-personalized customer experience for your B2B clients is a proven strategy to increase conversions. In fact, according to Gartner, personalization can result in a 15% revenue increase.
If you run a large eCommerce brand, platforms like Hightouch make it possible to activate data you already have in your data warehouse so you can empower your marketing team to run personalized marketing campaigns and deliver product recommendations.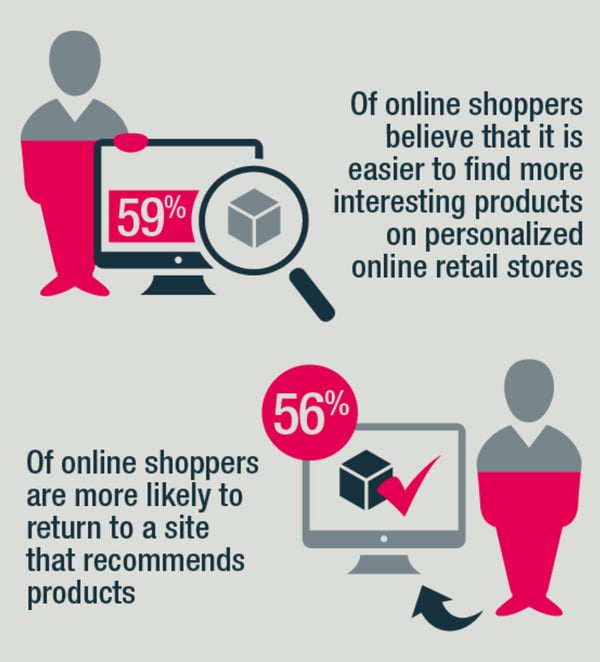 Source: Invesp
If you run a smaller brand or agency, you can use a customer relationship management (Agency CRM) platform or a customer data platform (CDP) to organize your data. You can also use cookies and retargeting strategies to personalize product recommendations.
5. Become an SEO content marketing pro.
Implementing an organic marketing plan with a solid SEO strategy can bolster your store for evergreen success. Content marketing is to long-term success what ads are to short-term success.
By becoming an SEO content marketing pro, you can impress search engines, raise your domain authority, and become a renowned source of knowledge for searchers in your niche.
With that in mind, let's take a look at some content mediums you can capitalize on to become an SEO pro.
Knowledge Base
Teach your B2B customers how to succeed in their roles and how your product can support them in hitting their goals by creating a knowledge base.
Whether you sell courses and digital downloads to graphic designers or wholesale flowers and vases to floral shops, there's a full host of topics you can cover to help your customers thrive in their careers — and succeed with your product.
For instance, if you sell financial products to finance-focused prep schools, colleges, and universities, you might write articles about how to help teenagers and college students learn how to invest.
Or, if you sell courses about how to find eCommerce investors to fellow eCommerce store owners, you might write articles about the process of finding an investor and how to prepare to sell their online store one day.
Need inspiration? Look no further than monday.com, with its robust knowledge base tailored to project management firms.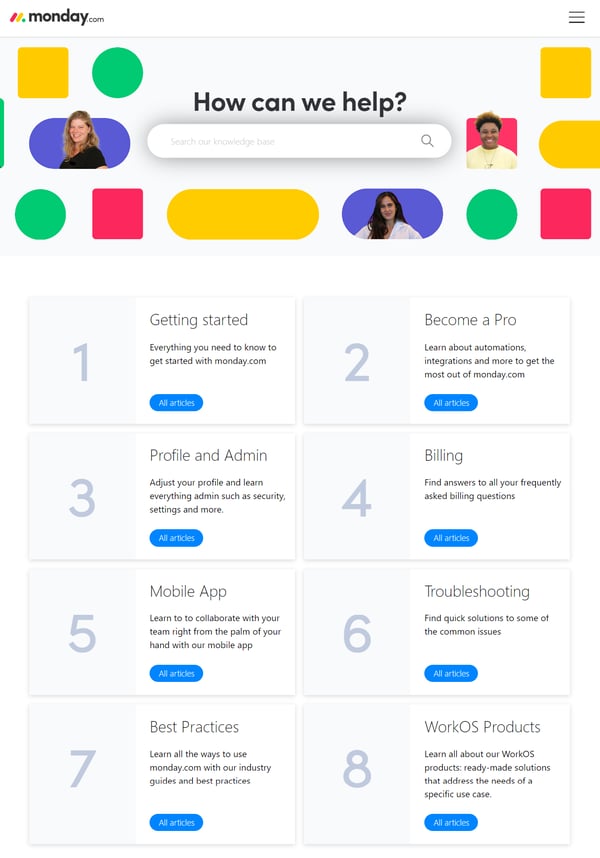 Source: Monday.com
Blog
Cater to searchers and add value to your audience and customers' lives by starting a blog.
Structure and plan each article based on a specific topic — always based on search intent — with supporting semantic keywords naturally woven throughout.
For instance, if you sell books to startup entrepreneurs, and one of your article topics is "startup books," then you might write a piece like the following, called "The 12 best startup books for founders".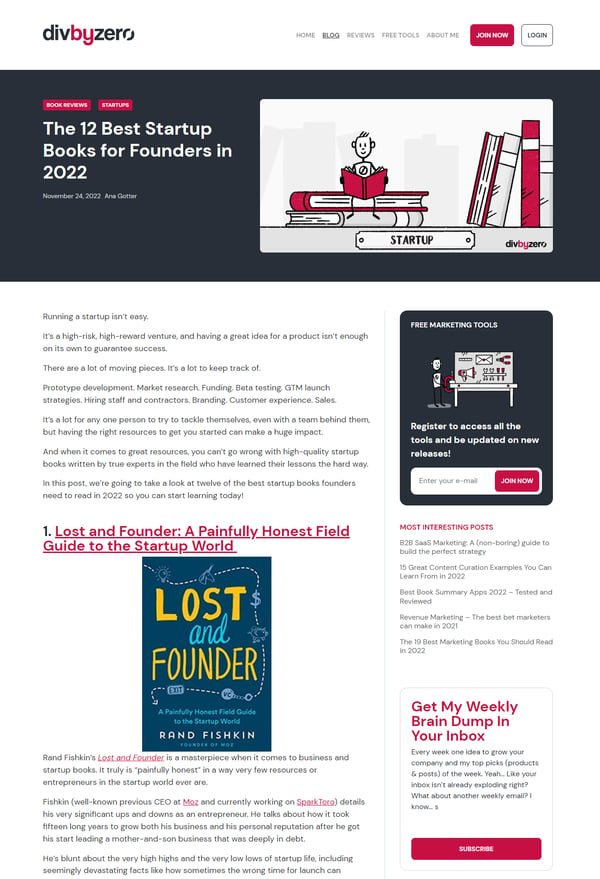 Source: divbyzero
Or, if you sell baking supplies and cookware to restaurants and hotels, and one of your article topics is "cake supplies", then you might write a piece covering the top cake supply must-haves.
FAQ Pages and Customer Support Articles
Score some brownie points with Google, remove some of the load off your customer service team, and save your customers the hassle of contacting you by adding an FAQ section and support articles on your site.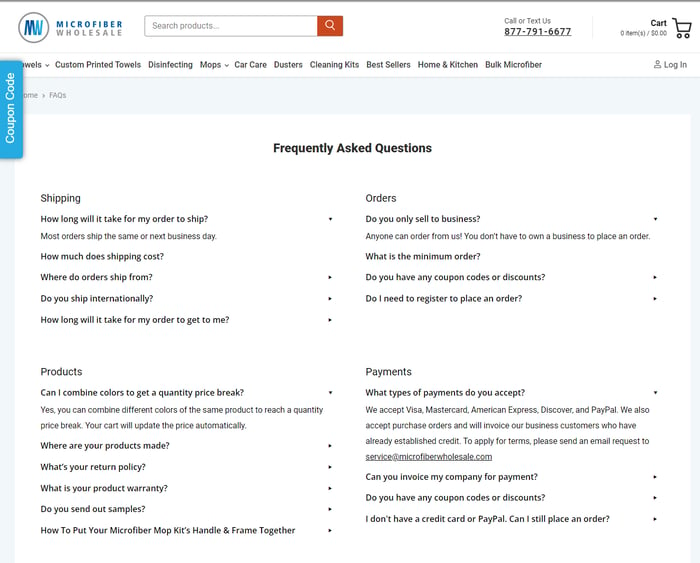 Source: Microfiber Wholesale
Not sure what to add to your FAQ section or talk about in your customer support articles?
Run through your previous email inquiries and customer support tickets to spot your clients' and prospects' most-asked questions. Base the rest of your content on user-intent.
6. Create lead magnets and funnels based on your goals.
And finally, drive more traffic to a specific marketing channel and grow your email list by creating lead magnets and funnels based on your goals.
For instance, imagine you sell gardening supplies to nursery chains and corporate farms.
Let's also say your goals include:
Offloading your mulch bags (your inventory is growing stale!)
Increasing tractor sales
Increasing produce seed sales
In this case, you might create the following lead magnets:
An eBook called "10 Types of Mulch Your Nursery Can't Live Without"
A digital download catalog covering "The Top 15 Best Tractors For Corporate Farms"
An ultimate guide PDF with over 100 pages worth of produce seed descriptions and best practices
After you've created your lead magnets, design your sales frameworks and automate your funnels!
Wrapping Up
As an eCommerce entrepreneur in a trillion-dollar market, you have your work cut out for you.
From understanding your audience's core needs to determining your goals and personalizing your campaigns, there are a lot of moving parts to making sure your store stands out.
Luckily, with our handy guide, you now have a roadmap to help you create a marketing strategy aligned with your brand's goals and your target audience's core needs.
Are you ready to become an ultimate eCommerce entrepreneur and marketer?
Here's a quick recap of the tips we shared in today's guide:
Know your audience segments and discover where they live online
Optimize your store and products
Get clear on your goals and take advantage of multi-channel marketing
Personalize your marketing campaigns
Become an SEO content marketing pro
Create lead magnets and funnels based on your goals
Here's to a future of B2B eCommerce success!