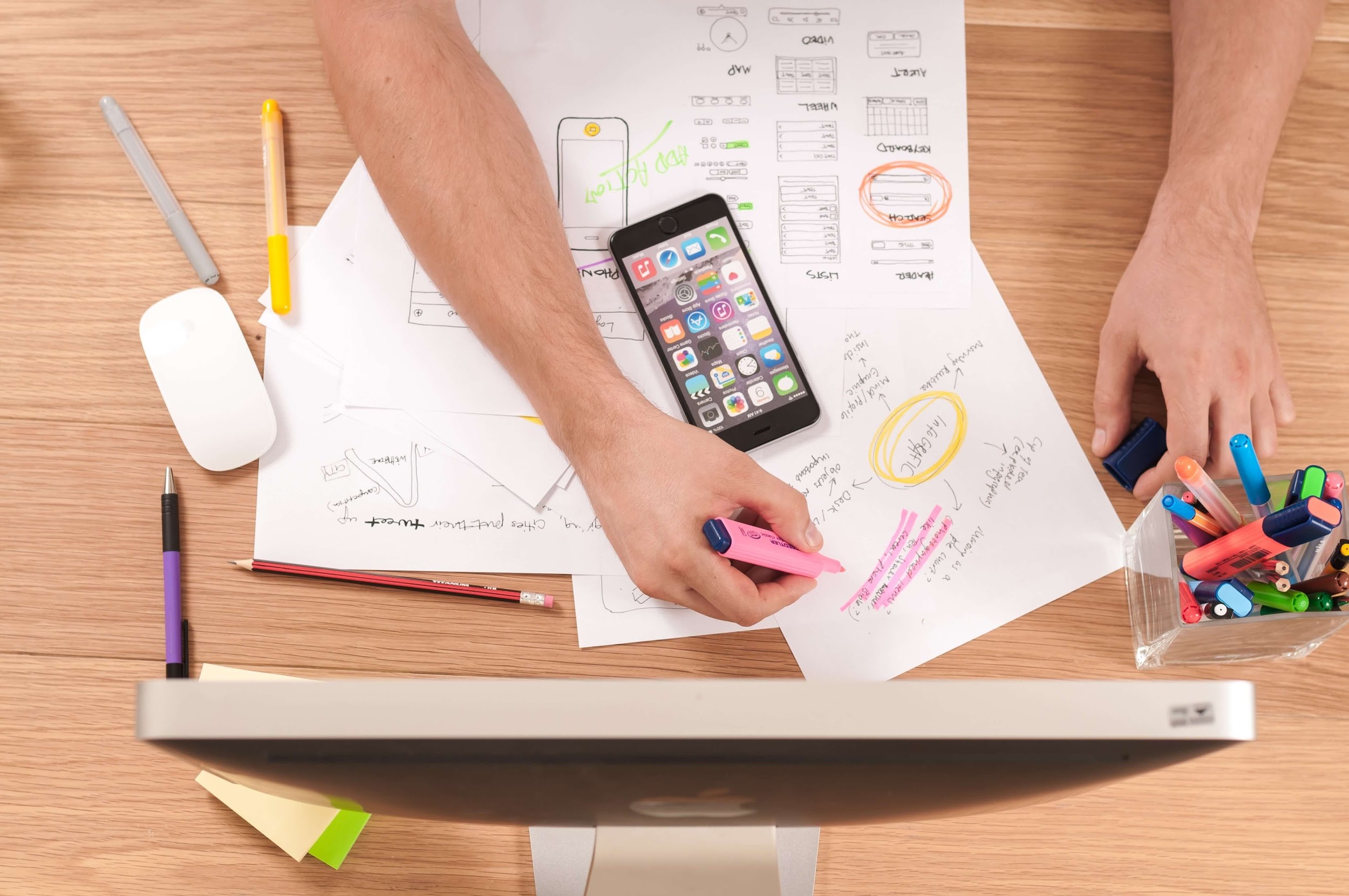 Ask anyone in the digital marketing industry what you need to do to grow your business online and they'll give you one piece of advice — invest in content.
Sure, you could throw money at ads or hire a famous influencer to do one or two Instagram posts about you, but you'll probably see a year's ad budget dry up pretty quickly (and not have a lot of growth to show for it).
A more sensible, cheaper approach might just be to make content the focus of your strategy.
It's been said many times that content is king. From weekly blogs to online galleries, content has become a cornerstone of great web design and development. But just how does it help small businesses to grow? Today, by looking at some great examples, we'll explore why content is such an important investment for small businesses.
Content is a brand- and trust-building exercise
Producing great content isn't just about writing blogs and shooting videos. It's a brand- and trust-building exercise for your small (potentially new) business.
Content is a brilliant way of telling the story of your business and encouraging people to buy-in — either through literally buying products and subscriptions or just taking an active interest in your brand.
While you might think the story of your business is fairly typical and less-than-inspiring to the average customer, just the presence of content about it and your goals help assure concerned customers you're a legitimate operation interested in more than making some quick cash.
Non-profits and community-focused businesses are particularly good at this. It's imperative they quickly win over potential contributors and customers quickly, many of whom will be either vulnerable or have a vested interest in their cause — and want to know they're supporting/working with an organization they can trust.
A thorough company About Us page is a timeless way of showing your humble beginnings as a business and the reliable voices behind it. Veteran-owned business VA Claim Pros do this particularly well, dedicating a significant amount of homepage real estate on vaclaimpros.com to celebrating their team's credentials as ex-veterans and highlighting great feedback from happy customers. This helps set potentially wary users at ease, seeing not just a reflection of themselves in the team, but positive feedback they can trust.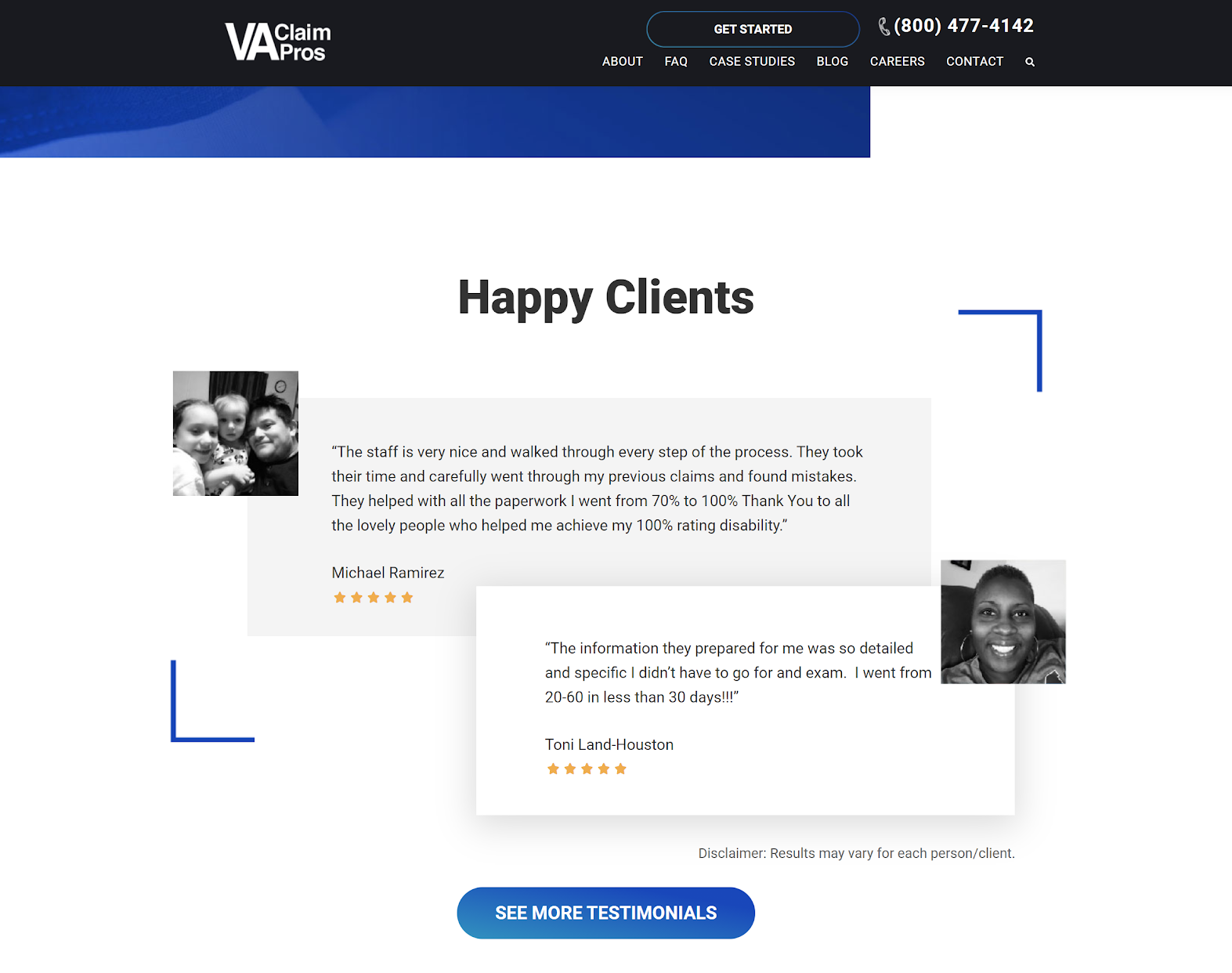 Source: VA Claim Pros
Content isn't just about celebrating achievements and fluff blogs either. It can be used to display tangible results. Convoy of Hope makes time on their website convoyofhope.org to post their tangible impacts, driving home the power of their organization. Small businesses should recognize how self-congratulatory content adds a layer of competency and legitimacy to your operation.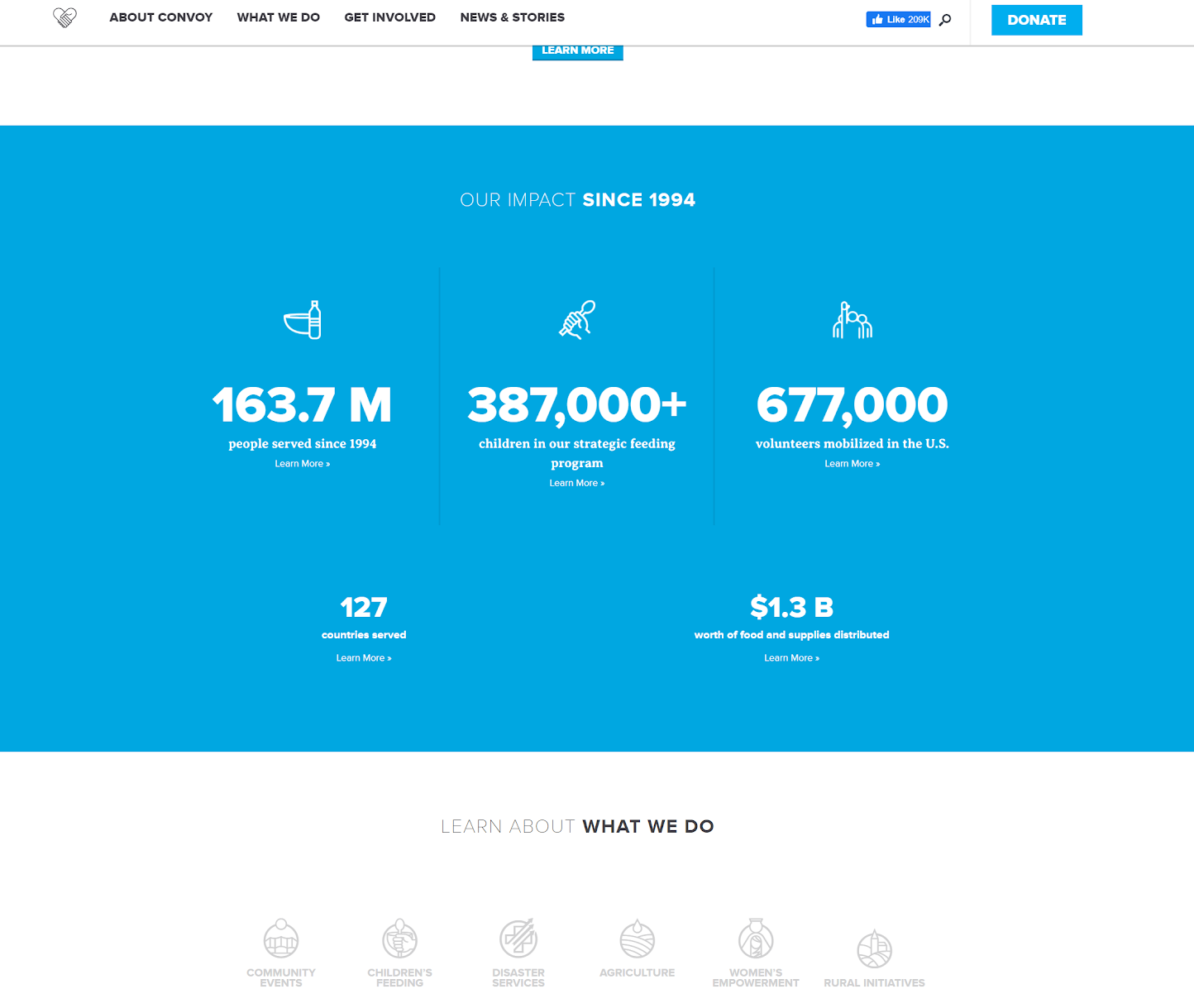 Source: Convoy of Hope
Content improves organic reach
Content is perhaps the most important step in improving organic traffic to your website.
If you're not familiar with the workings of SEO, it's worth gaining an understanding of how you can improve your website's performance on search engines. This guide on ahrefs.com (also a leading SEO tool) is a great place to start.
Getting back to the content, you'll actually benefit your site's SEO in several different ways by crafting quality pieces on a variety of topics.
Google and other search engines seek to provide users with the most useful links based on the user's search query. To serve that goal, they prioritize websites with high-value, relevant content that's helpful to visitors. A user might be searching for a particular type of product, local companies in their area, or the answer to a question. The better the content you provide, the more likely a search engine will include your site near the top of its results.
Plus, as more people visit your website from a search engine results page (SERP), the search engine will take that as a signal that your site is truly useful, which will contribute to your rank. And as your rank goes up, more visitors will find you. It's a positive feedback loop that is hugely beneficial to your SEO.
Other content creators, such as bloggers or website owners, may also discover your content and find it useful. If they link back to it, this is yet another signal to search engines that your website is useful and has value. Great backlinks are one of the most crucial components for boosting your SEO, and also the hardest to get.
Not to mention that readers of that other blog or website can discover you this way as well. No matter how they arrive, by adding content, you make it easier for new users to find your website.
So, content is crucial for making an impression on both human readers, and search engine robots. Your content doesn't have to be limited to just your own output either — you can cover other relevant topics you have an expertise and interest in.
Websites with a blog perform significantly better than those without. Populated blogs answering frequently searched questions don't just look aesthetically pleasing but appeal to what Google wants to offer its users. By branching out into other forms of content such as video, audio and imagery, you give your website more opportunity for organic discovery and links from other websites.
Content builds your industry reputation
Thought leadership is an important part of running a digital business in 2021.
While not everyone is Steve Jobs, controlling the narrative of their industry and developing a celebrity around themselves. However, doing so can significantly boost your business and position your leading figures as top thinkers and innovators amongst your peers (and competition).
Content is a great way of showing off that you (and your business) understand your industry better than anyone else and have something interesting to say. Whatever your business model, displaying expertise through educational blog content or comprehensive webinars and networking your way up the ladder can help your business flourish beyond expectations.
It's not just about massaging your ego. Using content to develop your industry reputation and become a thought leader makes your business brand stronger, helps you earn crucial media coverage and opens the door to public speaking opportunities. This might not have been your aim when you launched your business, but it's an important part of the social media/personality-dominated landscape we find ourselves in.
So how do you create content that does this? Zendesk.com and their Relate blog is a great example to follow. A quick browse through their content shows they're covering the big talking points of the day (that's one point for the relevancy) and creating discussion hubs for their users to interact on. By building communities around your business you strengthen your brand. While providing your thoughts on notable events ensures you're always front of mind. These topics aren't even limited to their industry. Don't be afraid to tackle big questions and plant your flag on an issue. Your bravery might just be rewarded.
Content keeps your website fresh
As much as most webmasters might not want to admit it, the majority of websites are rather bland.
That's not a failing of the businesses behind them. Some companies simply don't have the time to keep adding new imagery, products and innovative browsing experiences. While you should ideally find the time to refine your website, there are going to be times when your website needs a spark of something new.
Content keeps your website fresh and gives users a reason to keep coming back. If you have a blog, regularly updated podcast or gallery of interesting imagery it makes your website significantly more appealing to even your target audience.
Let's use the content management website CopyBlogger as an example. A quick browse through copyblogger.com and you'll see they clearly display an understanding of their audience, providing a consistent stream of valuable content covering a variety of different topics. This content isn't just inspiring and actionable, but fresh and topical.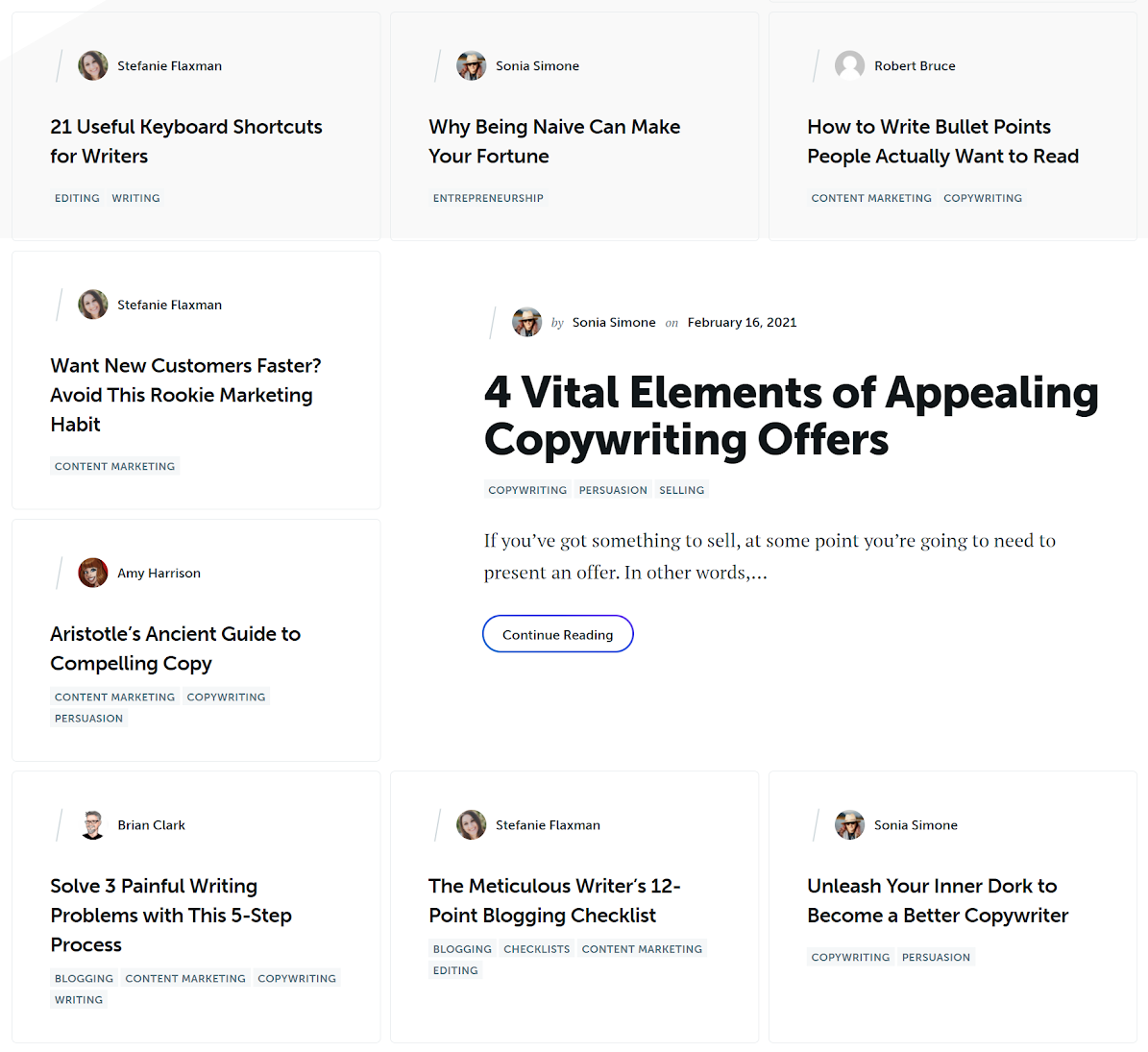 Source: CopyBlogger
Fresh content also helps your rankings on search engines such as Google. When a piece was first created, how often it's updated, and the rate of new inbound links to a piece all factor in how that content (and ultimately your website) ranks. That's why it's so important to keep making little tweaks here and there to a piece, keeping it fresh and appealing, even to your most frequent readers.
A blog is the easiest way to expand your site with additional content, although of course you can also add more pages to your website. Blogs are also helpful if you allow comments, because search engines can take notice that you have user-generated content on your website. Of course, you'll need to moderate comments to ensure there's no spam or other malicious abuse, but it can be worth it for the engagement.
Content ideas to get you started
To close out this article, here are some ideas for great ideas for content that might boost your small business' reach and website quality:
Behind-the-scenes video content
Employee profile blog posts
New product announcement and highlight blogs
Social media live streams
Monthly podcasts on industry topics and business insights
Remember, you're aiming to build a brand and sense of authority around your business as much as you're trying to push new customers to specific products and services. Your content should reflect that. If you're too 'salesy' from the beginning, you'll put off a section of your potential audience.
Invest in a quality blog format, some good recording equipment, and SEO lessons to make sure you hit the mark with your future content.
Small businesses have a lot on their plate. Unfortunately, content is one of those things you can't afford to be lax on. It can make a fairly typical ecommerce store into an industry leader or turn your CEO into a conference-speaking thought leader. Get creative and see how far content can take your small business.