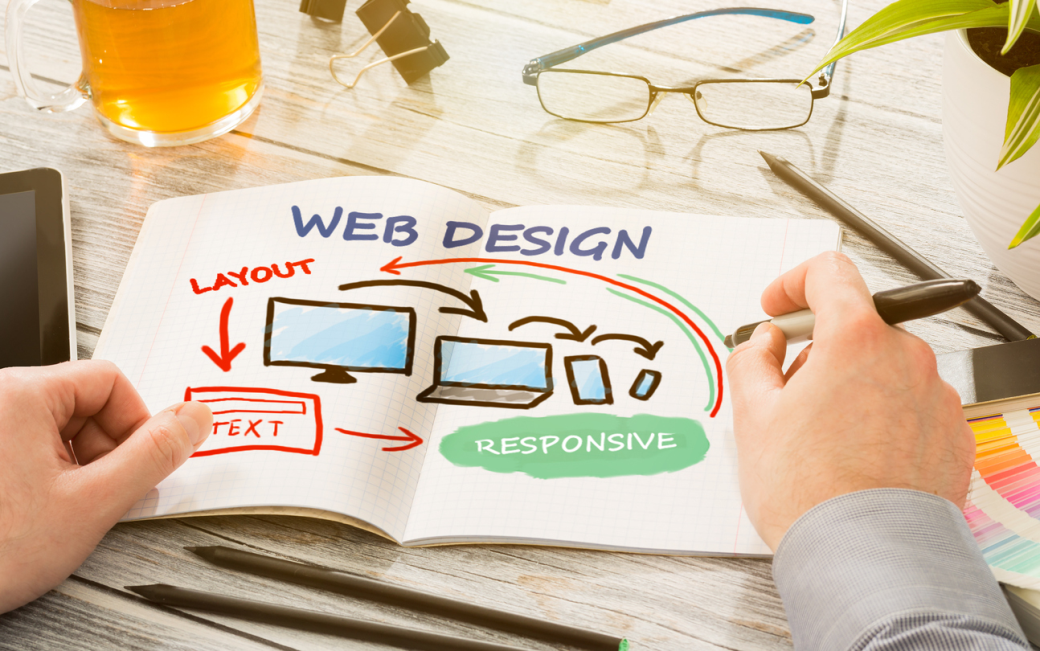 One key part of marketing these days is web design.
What are the best ways to really create the best site that you can? Which elements should you implement in order to engage the user?
Here are the top web design strategies that will take your marketing business to the next level.
Concentrate on Site Navigation
The first thing you'll look at when you go to a site is the design. While there are quite a few essential features you should work on, they will count for little if your site has poor navigation. Navigation is based on how visitors move around your site, and you want the navigation to be easy, look great, grab attention, and offer a wonderful experience to those who want to find what they are looking for.
There are so many different ways to improve navigation, such making new animations that allow for visitors to look at slideshows, or letting them change pages by swiping on the screen. You should consider using these and other techniques, so first-time visitors get a smoother page-surfing experience.
Establish Your Goals Early On
One simple step every business owner should take is to set some goals and see how you can accomplish them. If you establish these goals early on, you're more likely to stay focused and achieve them. When it comes to building a website, you should set a goal to create an interface that works well for both you and your visitors. By establishing your goals and setting priorities for dealing with your customers, you can increase customer loyalty and build a better brand.
Your website, naturally, plays a focal part in this. Having a website with a clear focus will get users interested. The worst thing you could do is to just slap on a whole bunch of random elements and call it a day. You want to have a firmly established goal early on, and one that helps customers understand what your business does for them.
Consider "Busier" Graphic Design
Remember when the reigning site design philosophy was you won't get customers and conversions if your site looked too "busy?" Solid colors, no patterns, everything neatly organized, and solid lines have long been the norm for website graphic design. There isn't anything necessarily wrong with just sticking to that minimalist style.
However, you must consider what your goals are for your website, including the aesthetic and tone that best matches your business. Sometimes, a louder and bolder look is more appropriate, especially for certain industries. A "maximalist" approach, if done right, could actually make your site stand out and attract more customers than the more common alternative.
To create a style that fits what your customers would want, you have to see your website from their perspective. Would they rather visit a site that is all solid colors, plain text, and square boxes? Or would they rather visit one with interesting patterns, unusual yet readable text, and some cool graphics?
We should note that even if you decide to try out a maximalist look, you must restrain yourself from going too far. A sleeker look runs the risk of being dull and generic, but a more audacious look may prove too overbearing and tacky. You need to find a balance with the graphic design of your website.
Build Based on Audience
As we said above, your audience plays an integral part in the look and function of your website. You should look at the demographics that you are targeting: the age of your desired users, their gender, their profession, and more. Then you should tailor your site to their specific needs and preferences.
Let's take, for example, a website designed to promote games for children. Usually, sites like this have brighter colors, plenty of animation, cute images, a more "fun" font (as opposed to Times New Roman), and perhaps less drop-down menus. These appealing elements and more simplistic navigation help children find the information they want with ease.
You wouldn't use a largely black-and-white palette for that kids' website, right? In the same vein, if your audience is mostly younger males, then you probably will not oversaturate the site with a pink color scheme and cursive font. Similarly, if you're trying to market to older generations who may be less experienced with computers, you may not want to make navigation overly complex. Demographics determine many details for site design, and understanding them is crucial for generating the perfect site.
Record and Upload Videos
Written content and graphics may be awesome for showcasing products and services. However, if you want to show how to do something step-by-step or make some sort of point, using video may provide many benefits.
Online video usage is surging, especially with the rise of Facebook video marketing for both content and ads. As a result, websites have been using this more and more as part of their strategy. If you want to really get people to flock to your site, a wonderful video can make a world of difference.
Mobile Optimization
Mobile website capabilities seem like something everyone should have, but the truth is not everyone is optimized for that. Everyone should have been ready five years ago, but few predicted just how much the mobile revolution would change everything. Half of all Google searches are on smartphones or other mobile devices, and many people use Alexa and Siri to ask about different locations and information.
If you aren't mobile optimized, you're basically shooting yourself in the foot. Otherwise, you're not reaching everyone, and more in-the-know competitors will gladly snap them up. At this point, everyone's website should be optimized for mobile users.
Get Those Calls to Action
If you're not putting together calls to action, you are missing out on that final little piece of conversion that you need. Calls to action encourage customers to take some sort of action. They need to be attractive, ubiquitous, and really get people to make conversions.
If you don't have email capture on your site, we suggest putting it there, or even just giving visitors the option to contact you with just a link. It's so much more effective than trying to type in countless email addresses because they offer real value in exchange for each of these.
With all of this, you can keep up with the standards of Google and other sites that use page optimization. You want to make sure that you combine the elements listed here, along with important SEO practices. Adding a design expert who also knows SEO can be a great factor in changing your business, and if you're stuck on what you need to do, you should always consult someone.
Working with a professional SEO agency, and implementing these design tips will markedly improve your success and bring you into this new day and age. If you're ready to create a better, more rewarding experience, then now is the time for you to work on improving your site.