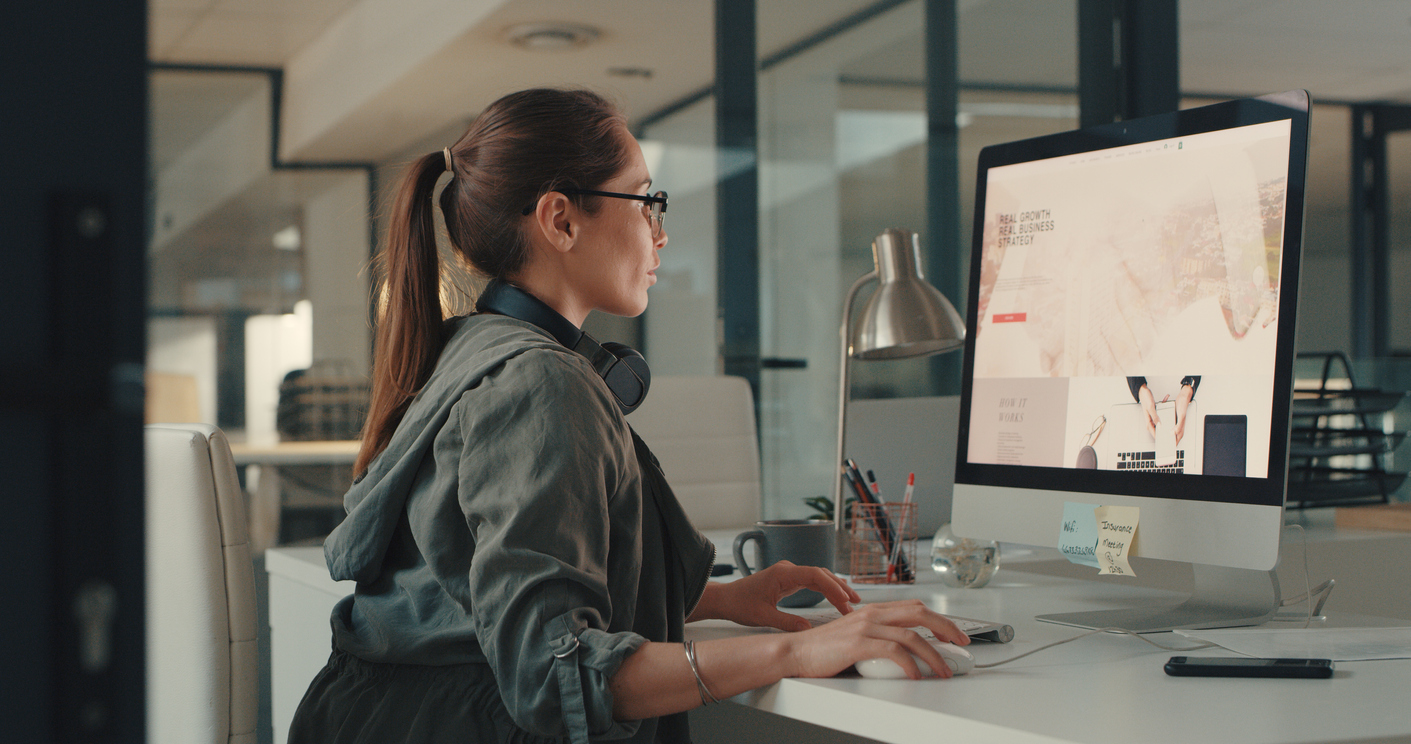 Every business, no matter how small, needs a website. Even businesses that rely primarily on word-of-mouth marketing and local advertising require an online space of their own these days. Not only can a website provide important information your customers need, but they boost credibility. And, when done properly, websites can dramatically boost revenue for small businesses, attracting new customers hunting online for their services and goods.
Today, thanks to website builders that offer incredible templates, there's even less of an excuse to not have a website. These builders make creating a great-looking website easy and affordable. Additionally, many of them include some other great perks, including the ability to create a shopping cart or build a seamless user experience, without needing any knowledge of coding at all.
And because you don't have to start with an empty page, the best website builders for small businesses ensure that the site building process isn't painful. In fact, some businesses might even find that designing their own website is actually fun.
Are There Any Businesses That Shouldn't Use A Website Builder?
Most small businesses do well with website builders. However, some businesses require more custom site builds, which can't be done with most templates provided by general solutions. If your business's online needs are complex, meaning that you need robust search functions or responsive listing capabilities, then you may want to enlist the help of a professional web developer to build your website. But even web developers sometimes utilize website builders as a base for their sites, so keep that in mind as you research.
How Do You Pick the Best Website Builder for Your Small Business?
There are some great website builders available for you to use for your business. (Seven of the best are listed in detail below.) When looking for the right builder for your business, consider the following to make sure you're finding what you and your business needs:
Look for website builders that provide you with a free trial, free plan or money-back guarantee. This will help ensure that you enjoy the experience and will actually be able to create a website for your business with the tools provided.
The best website builders offer great customer support so that your questions can be answered expertly and promptly.
Compare the prices of a few different website builders in order to make sure that what you're paying for is fair. While the cost of website builders cost of website builders can vary greatly, they should be able to explain why access to their builder costs more (i.e. better SEO capabilities, advanced features, professional templates, etc.)
Taking a close look at the features each website builder offers is also important. While you might not need all of the features offered, knowing that you're getting access to the ones you definitely need will help save you time and headaches down the road.
Top 8 Best Website Builders Available for Small Businesses
1. Shift4Shop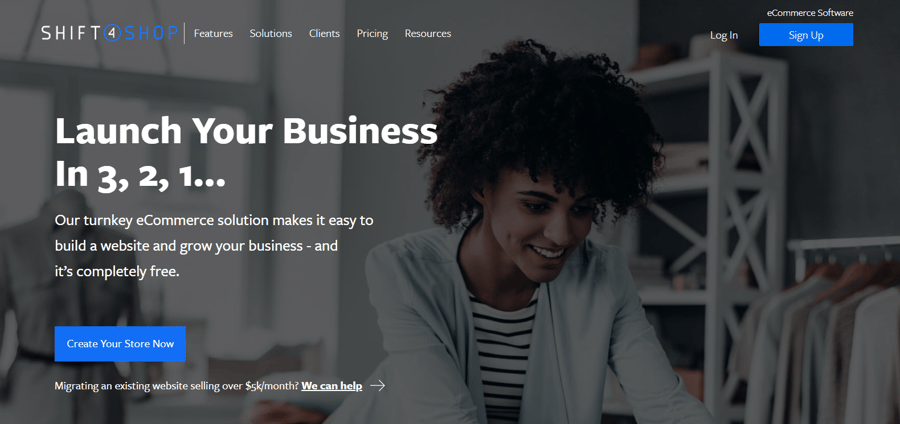 Primarily designed for online businesses, Shift4Shop is an eCommerce platform that you can use to build your own online store. With thousands of websites, the platform has become a popular solution for small businesses looking to sell online since its inception in 1997.
Shift4Shop's software comes with a website builder that can be used to customize your choice of site theme to fit your business needs and branding. To customize a Shift4Shop site, you'll need to choose one of the over 100 free themes available. These themes are built on Shift4Shop's Core Templating Engine, which ensures that all sites are responsive and easy to customize.
Using the Theme Editor and Drag 'n Drop HTML Editor, you can design the perfect look for your site. You can also edit the site's HTML and CSS code for advanced customization.
Any business can find a theme that fits their needs in Shift4Shop's selection and can customize the site's functionality to offer what they need, whether they sell shoes or delivery pizza. Shift4Shop's platform is free to use with Shift4 Payments enabled as the store's payment processor.
2. Wix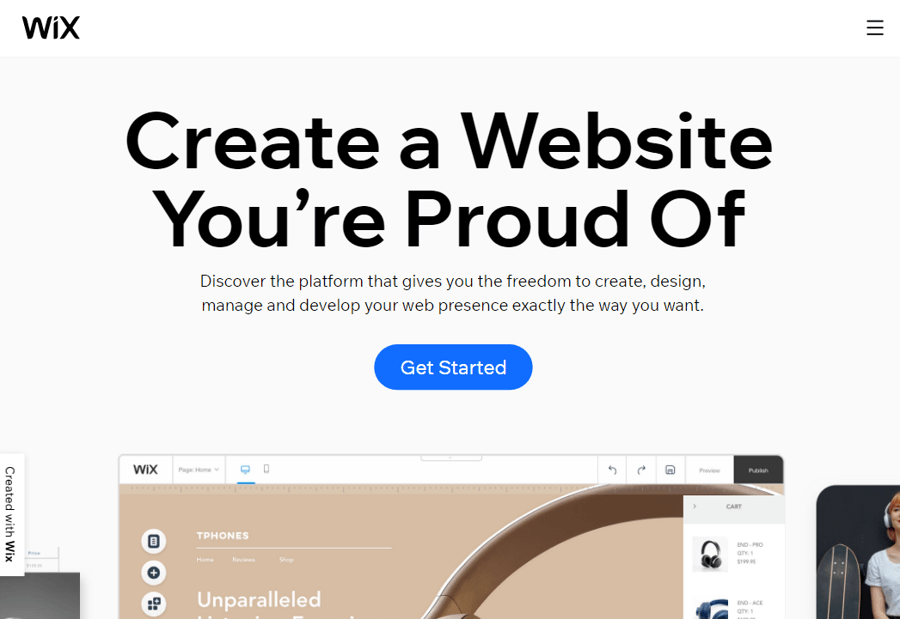 Wix is a powerhouse in the world of website builders. Easy to use, Wix has amassed well over 100 million users, making it one of the most widely used website builders ever. While its early days had some people, especially those interested in SEO rankings, underwhelmed, Wix has come a long way. Today, it offers a lot in terms of rankings, competing with many of the most "prestigious" website builders available.
Easy to customize, Wix websites can be edited with a plug-and-play style modular system, which looks aesthetically pleasing when done right. And, with more features added almost every month, websites developed with Wix look up-to-date. More importantly, they function well too. However, you may run into some limitations if you're trying to build an online store with Wix – namely a lack of eCommerce features like promotions, CRM, and POS.
Wix websites are capable are doing a variety of things for your small business, including allowing customers to quickly schedule bookings, dive into your menus, and reserve tables at your restaurant. It's free to create a website with Wix, but you'll need to upgrade to a paid plan if you'd like to sell products on your Wix site. Pricing for businesses starts at $23/month.
3. Squarespace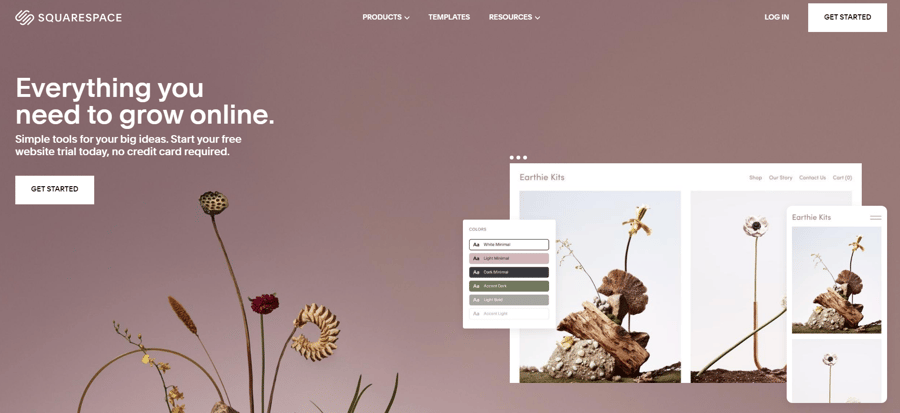 Having existed since 2003, Squarespace has helped millions of businesses create websites. Known for its clean and modern blogging templates, Squarespace provides users with beautiful designs that look and feel professional. Starting at $18/month for businesses, the builder ensures that all of its templates have stellar mobile functionality, ensuring that your images and graphics look great no matter where they're viewed.
Having lagged behind other builders in terms of SEO, Squarespace has improved its features so that you can now customize more, including descriptions and titles of pages. The platform does still lag a bit in the way of built-in features, so be aware of the features you need for your business before signing up.
4. Weebly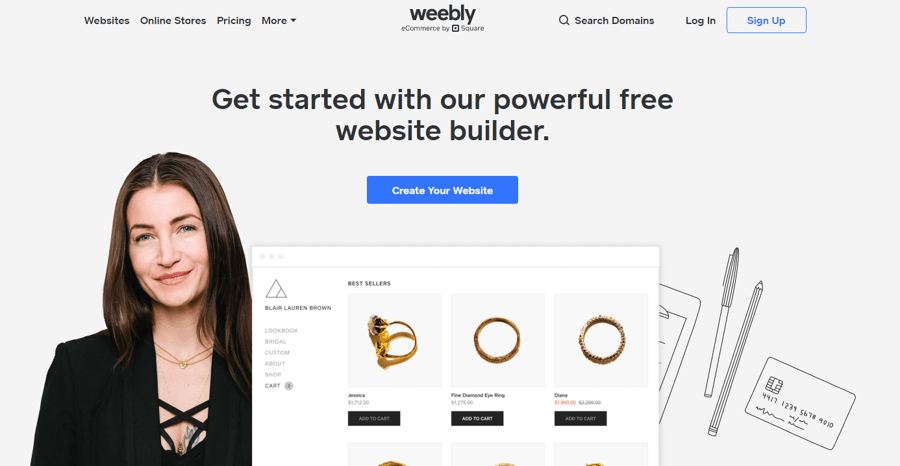 If you want to quickly create a great-looking website that functions well too, then Weebly is a great website builder to use. The behind-the-scenes builder of more than 40 million websites, Weebly provides users with advanced features, including the ability to create membership sites, provide customers with search tools, and develop fully-functioning online stores. Now owned by Square, a payment processing company, Weebly offers more eCommerce-related functionality than before.
While other website builders can't support large sites because of limited content management systems (CMS), Weebly can. In fact, websites with even more than 150 pages can be created on Weebly, which is pretty impressive. With Weebly you can make your site interactive and engaging by quickly integrating video and audio players.
It's free to make a basic Weebly site, but pricing starts at $6/month to connect a custom domain and, if you'd like to sell on your Weebly site, goes up $26/month for businesses.
5. Jimdo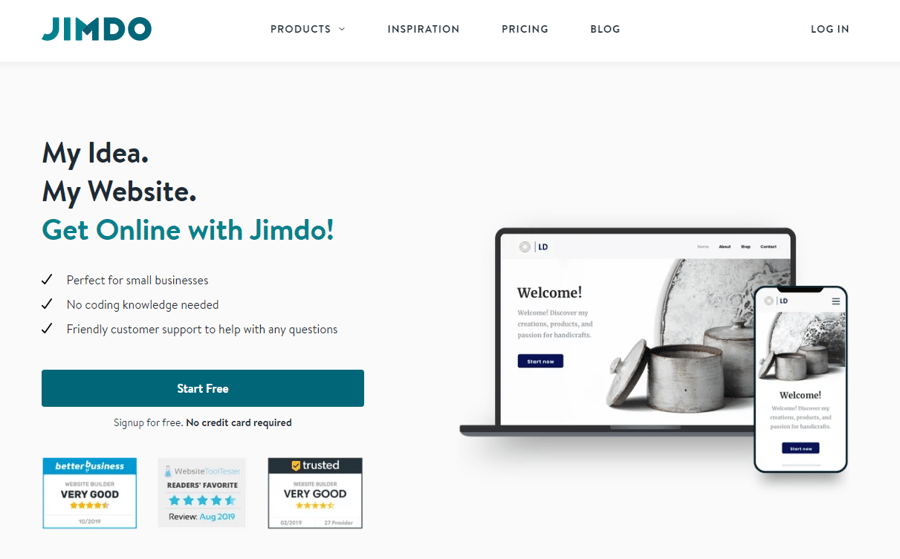 Relatively unknown in the landscape of website builders, Jimdo provides website building and eCommerce functionality. Fully responsive templates have helped to set Jimdo apart from other online website builders. Additionally, the company promises to provide you with a fully functioning website in 3 minutes flat. And, according to customer reviews, this really is possible.
Aside from being incredibly fast, Jimdo also allows for simple customization, allowing users to change colors, adjust headlines, and modify layouts. Users can even use the builder to create simple online stores. Jimdo is free to use, but if you'd like to have your own custom domain, pricing starts at $9/month. For online stores, pricing starts at $15/month.
6. Webnode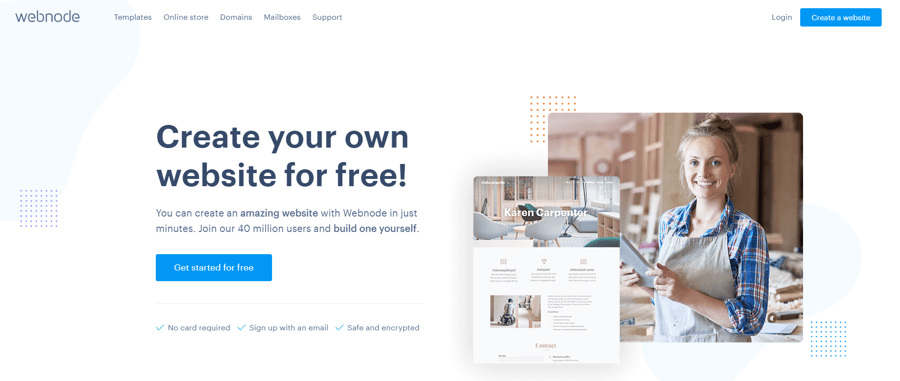 While you might not have heard of Webnode, it's actually a relatively popular website builder globally. Mostly used in Europe, Webnode allows gives access to some unique and advanced features, although some of its functionalities aren't quite up to par with other builders.
One of the perks to using Webnode, however, is that it provides users with a free domain name for the first twelve months, which can save small businesses and startups money upfront. Depending on which plan you choose, Webnode also provides users with free custom email accounts, which can help make your business look more professional and save you the headache of having to create new business emails on your own.
Pricing for Webnode starts at $3.90/month and can go as high as $22.90/month for professional websites and advanced functionality.
7. GoDaddy Website Builder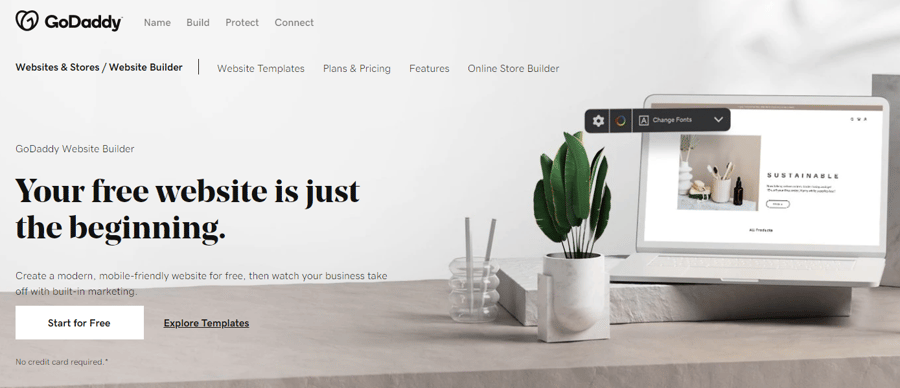 GoDaddy has become an easy solution for many small businesses because it allows you to do almost everything you need to create an online presence in one place. Not only can you purchase a domain name and have your website hosted with GoDaddy, but you can also build your own website with the company, too. Additionally, GoDaddy features other marketing tools, including everything you need to create an email marketing campaign, blog, and improve your business's SEO.
Although GoDaddy's website builder initially couldn't compete with other popular builders, its latest updates have made dramatic improvements that now put it in the running with some of the toughest competition.
GoDaddy allows users to create websites for free, but some of the more advanced features require you to pay in order to have access. SEO features in particular require you to have a more advanced (and expensive) plan with GoDaddy, so be sure to look closely at what the free plans offer before building your website. Paid plans start at $9.99/month for personal use, and reach $24.99/month for selling online.
8. WordPress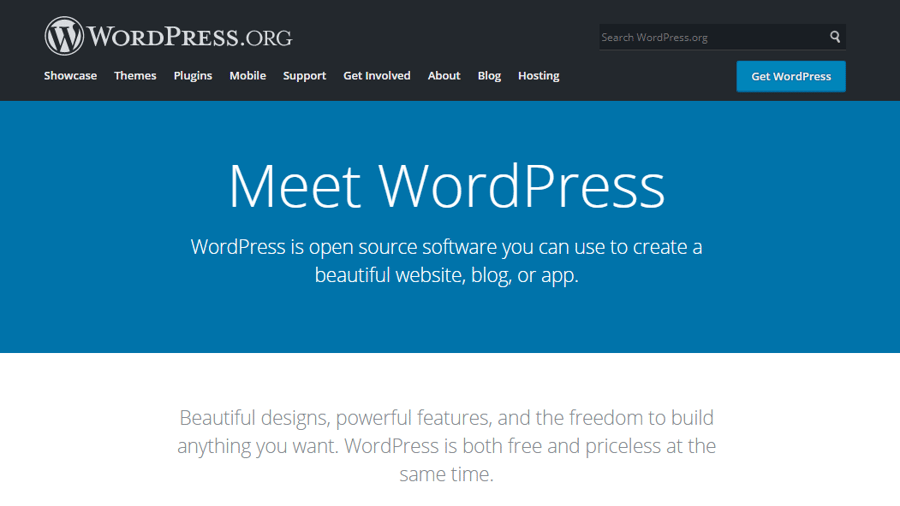 Nearly half of all websites are built using WordPress — and for good reason. One of the most powerful website builders available, WordPress allows for complete customization and has some of the most advanced features available. Because WordPress is open-source, it's constantly being updated, which means that WordPress sites are some of the most functional. And, if you have a question or issue, the WordPress community is one of the most helpful and responsive out there.
WordPress is free and easy-to-use, but it is also self-hosted, meaning you'll need to figure out hosting your site for yourself. This means that you'll need to pay for a domain name, hosting, and any other add-ons or plugins that your site may need. Many business owners using WordPress utilize the free WooCommerce plugin to sell products on their website.
9. Mailchimp Website Builder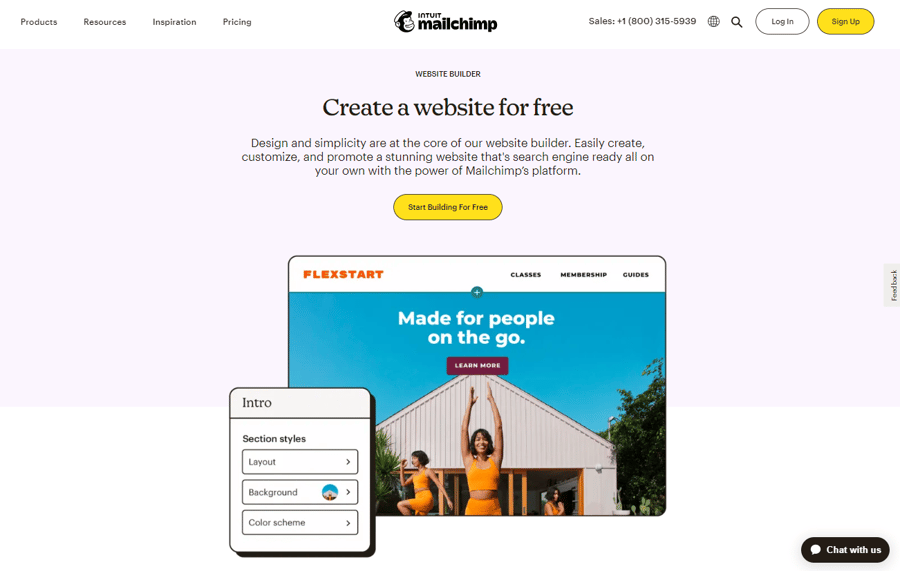 Mailchimp's free website builder is designed for simplicity and ease of use. With their platform, you can easily create, customize, and promote a website that is optimized for search engines and fits your brand's style. This website builder is powered by Mailchimp — one of the most popular email marketing tools on the market. This website builder includes various tools and features, including templates, design customization options, marketing and social media tools, and analytics and reporting. Whether you're a small business owner, artist, or blogger, Mailchimp's website builder can be used to showcase your work and reach a wide audience online.
Conclusion
Using a website builder is a great way to quickly and easily create an online presence for your small business. And, because these builders have become more advanced in recent years, they're easier to use than ever. Typically, you can do everything you need in order to create a website you love without ever touching code with some of the drag and drop builders like Boxmode. However, some websites will require more advanced customization, which means you'll either need to invest more time in learning how to do it yourself, or you'll want to recruit an expert to help.
If you do feel like you'll need a professional developer to help you create your website, be prepared to invest a good amount of money into it. In addition to this upfront cost, also remember that your website will need to be hosted, which can cost upwards of $100 each year. However, if you use a hosted website builder or eCommerce platform, then you won't need to pay for that yourself.
For a lot of small businesses, creating a website on your own is actually good practice because it familiarizes you with the ins and outs of how your site works. Then, if you decide to work with a developer to build a more custom site in the future, you'll have a better understanding of what you're looking for and need to take your business's site to the next level.