3dCart has been selected by Visa as the first hosted eCommerce shopping cart platform to provide our current and future merchants with access to one of the newest payment service options available, Visa Checkout.
As a business owner, you know time is money, especially in today's hyper-digital on the go world. The faster and more secure you can make the online shopping experience for your potential customer, the more likely you are to make a sale and gain repeat business for life. By adding Visa Checkout to your 3dCart store, your customer can make a purchase with just a few clicks, no matter what type of device they are using.
So, what is Visa Checkout?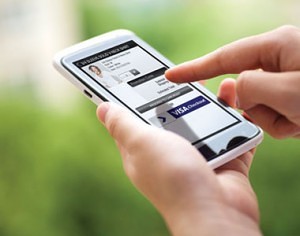 Visa Checkout is a new type of payment service from Visa, launched July, 2014,enabling any consumer with a major debit or credit card a fast and easy way to pay online. Consumers store their card and address information once to their Visa Checkout account, where it is stored securely. Once you add the Visa Checkout buttons to the 3dCart, your customer no longer needs to enter any credit card information and can speed right through the checkout process with ease and peace of mind they associate with Visa.
What are the Benefits of Visa Checkout?
There are numerous benefits with Visa Checkout that can help you accelerate the growth of your business. We have listed five reasons that you should take advantage of the Visa Checkout payment option for your 3dCart:
Simplify the payment process
You will offer your customer a fast, intuitive shopping experience from start to finish while they stay on your 3dCart store. Whether the customer is on a mobile device or sitting in from of their desktop, they can complete their purchase using Visa Checkout in just a few simple clicks.
Reduce the risk of fraud
With advanced tools like device fingerprinting and Visa Dynamic Network Analytics scoring, Visa Checkout has been specifically designed to reduce the risk of fraudulent transactions by authenticating customers prior to making a purchase.
Ease of Integration with 3dCart
After you get it setup, your customer will be able to check out faster than you can set up Visa Checkout, but you only have to set it up once. 3dCart has taken the steps to make the addition of Visa Checkout as easy as possible. To register your store with Visa Checkout and integrate the payment service option with your shopping cart, visit the 3dCart knowledgebase article titled "How do I integrate my store with Visa Checkout".
An additional payment option
It's all about convenience and providing your customer with the options they are looking for. The more payment options you offer the more online payment processing services you can perform on your shopping cart and the more sales you'll make.
It's FREE! Yes, FREE!
This payment option is absolutely FREE. Because Visa Checkout is NOT a payment gateway service which charges and collects payments, there are NO FEES associated with integrating this payment option. It is provided free to you as a merchant and to the consumer with a credit or debit card from a participating bank.
3dCart is honored to be the first hosted shopping cart platform chosen by Visa to offer you this new payment option. As you can see there is no reason you should not add it to your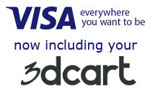 3dCart checkout process. People are now spending more time and money online than ever before and are in search of a fast and secure way to shop. Visa Checkout will allow you customer the ability to shop and use the cards they know and trust.
"