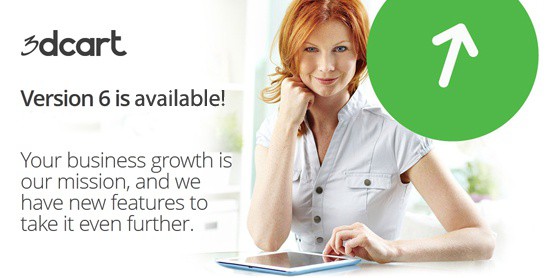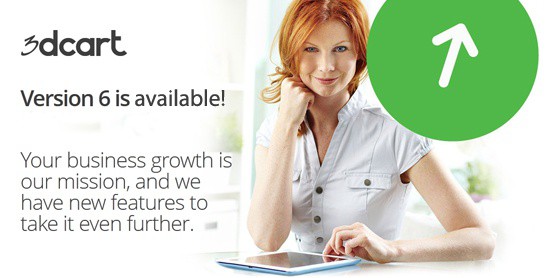 One of the many reasons 3dcart is widely considered the premiere online shopping cart platform for growth revolves around the simple fact that our solution evolves with changing technology. The entire 3dcart team works hard to regularly establish new partnerships, add features and improve our round-the-clock support efforts. We do all of this not only because we love it, but also because we want our merchants to thrive in the ecommerce ocean. If they're successful, we're successful. If they fail, then we've in some way failed them.
Because we're so passionate about the success of our clients, 3dcart's developers have been grinding away the past few months to deliver a reimagined ecommerce solution designed with one thing in mind… helping e-store owners grow their business.
That's why it is with great pride we announce today the release of 3dcart v6.0! We know many of you have been waiting a long time to read those words, so let's give 'em to you one more time… 3dcart v6.0 is now available, and the upgrade process will begin immediately.
Deployment Schedule
It's important to keep in mind that the rollout procedure will take a few weeks to complete. We're very close to finalizing a full deployment schedule for our merchants, and we'll keep everyone updated throughout the process.
Starting today, we anticipate releasing the new version at a rate of 1,000 stores per day, and this means not everyone will be able to use v6.0 immediately. While waiting for your store to be updated, we ask that you please be patient. If you have any questions, comments or concerns, feel free to contact our customer support department anytime.
Additions and Improvements
Some of you are probably wondering what makes the new version so much better than previous versions. The truth is, a lot actually, but let's kick things off by taking a look at some of the biggest changes below.
Payment Solutions
Accept Bitcoins – Bitcoin is the most popular peer-to-peer digital currency, and it's available anywhere there's internet access. Bitcoins reduce the risk and cost of collecting online payments, and 3dcart's new integration with BitPay allows online merchants to receive Bitcoins as a form of payment without having to deal with the hassle of managing Bitcoins themselves.
For more information about BitPay and Bitcoins -- what they are and how they're used -- take a look at this article published by one of our ecommerce experts. You can also learn how to integrate your store with BitPay here.
Payments via Dwolla – Dwolla's payment network allows any business or person to send, request and accept money electronically. Unlike other payment companies that rely on credit/debit cards and charge hefty fees, Dwolla features a custom built network that securely connects to a chosen bank account while allowing users to move money for a miniscule fee.
Learn how to integrate your store with Dwolla by clicking here.
Shipping and Logistics
Canada Post Shipping Labels – The strengthened partnership between 3dcart and Canada Post gives our Canadian-based e-merchants the ability to print shipping labels, calculate rates and streamline order tracking directly from the 3dcart Store Manager.
For more information about Canada Post's web services, please visit their website.
New Features and Enhancements
Homepage Slider – 3dcart's new built-in homepage carousel allows you to display a series of banners on the homepage of your website. This feature is great when promoting special offers and products.
With no coding required, you can simply choose the images you want to feature and 3dcart's admin interface will automatically add them to your chosen template.
To learn how to use the new homepage slider in your 3dcart store, we invite you to check out this detailed tutorial.
Gift Wrapping – This enhancement gives online merchants the ability to offer gift wrapping during the checkout process. It also provides multiple gift-wrapping options that can be set to different prices; a feature online shoppers will love during the holiday season!
If you want to learn how to use the new Gift Wrapping feature in your online store, take a look at this article found in 3dcart's Knowledgebase Center.
SEO Tools – In 3dcart v6.0, SEO is top priority. Given this fact, our developers have grouped SEO features and settings into one dedicated section. This gives new and experienced merchants the ability to manage all of their SEO options from a single location within the 3dcart Store Manager.
To learn more about 3dcart's streamlined SEO features and how to use them, read this article and start optimizing your e-store today!
Purchase Order System -- The new Purchase Order system provides 3dcart with the missing piece in its logistic puzzle. Merchants can now submit information directly from their 3dcart stores to distributors when it's time to reorder products. When goods are received, 3dcart will automatically re-stock inventory and adjust quantities.
View this in-depth tutorial, and learn how to use 3dcart's new Purchase Order System today.
Product Q&A – This feature allows customers to ask questions about specific products. Questions from users can be answered by other shoppers or by an e-store owner's staff, exclusively. Submitted Q&A's will remain on the product page, helping to escalate conversions and improve SEO rankings.
Details about 3dcart's new Product Q&A features can be found here.
Loyalty Programs -- 3dcart's new loyalty program allows shoppers to earn reward points by amount spent or by set rewards per product. It also gives customers the option to purchase with points by applying their accumulated balance during the checkout process. Merchants can now choose to create promotions that give additional points to customers for things like social sharing, product reviews, etc…
Setting up and using 3dcart's new loyalty program is easier than you think. To get started, simply click here to be redirected to our step-by-step guide.
Product Reviews -- The built-in product review feature allows consumers to rate products directly inside a 3dcart store. This enhancement also includes a visitor helpfulness rating on existing reviews, which can be set to display a verified buyer message next to reviewers that have purchased the product.
The configuration options for the new product reviews feature can be found here.
Social Wish Lists – This new feature allows customers to create multiple wish lists under their account. They can choose to organize those lists before deciding to make them public or private. Customers can also elect to share each list via their social networks.
Learn how to use 3dcart's new social wish list feature by reading this article.
Fraudwatch Screening Rules -- 3dcart's Fraudwatch program is a special service that actively collects data points associated with your store's orders. It also provides a fraud risk score on the order itself.
3dcart v6.0 now offers screening rules that allow users to manually set conditions like order amount, customer address and payment method. These options can be configured to automatically approve, reject or flag an order for review when preset conditions are met.
To learn more about 3dcart's Fraudwatch program, click here.
Autoship with PayPal – The subscribe-and-save model that allows shoppers to choose a frequency to have their order refilled now supports PayPal Reference Transactions. This allows autoship orders to be placed via PayPal Express, PayPal Pro and PayPal Advanced.
For more information about 3dcart's enhanced autoship feature, take a look at our dedicated landing page.
Whew… that was a lot to digest, but the updates and improvements don't stop there.
What's Next?
Shortly after the release of v6.0, 3dcart will execute a redesigned administration panel to provide an updated and tablet-ready interface. Users will also experience a new front-end template engine that will allow for responsive templates. In addition, our team will soon launch a new App Store, Theme Store and Experts Directory to accommodate the recent expansion of our growing partner network.
We are also proud to announce that we're in the process of finalizing a new 3dcart Store Manager that will soon offer users enhanced functionality and streamlined navigation. For more information about the new Store Manager and what you can expect, click here and prepare to be impressed.
A Quick Thank You
The entire 3dcart team would like to thank you for the hard work and dedication you continually exude. If not for you, we wouldn't be as successful as we are today, and we cannot thank you enough for all the suggestions, support and encouragement you share with us.
A special thanks goes out to the most active members on the 3dcart forum, particularly Mark, cbsteven, elightbox, Elegant Weddings, piaf, DeanP and rrw. Your unwavering willingness to offer advice, suggestions and/or assistance to our users is very much appreciated.
Parting Thoughts
While we begin the rollout process, we again ask for your patience. Our team is committed to making the transition seamless, but in order for that to happen, we need to perfect the procedure and take our time doing it. Every 3dcart merchant should have v6.0 in no more than two weeks time.
Our technical support department remains on hand, 24/7/365, to help anyway we can. If you have any questions about the new version, its features and/or the deployment schedule, please feel free to contact us anytime. Our support email is: support@3dcart.com. You can also call us at 1-800-828-6650.
If you're looking for more information about 3dcart v6.0, we invite you to check out the official landing page here: www.3dcart.com/v6.
Thanks so much for taking the time, everyone. Good luck and happy selling.