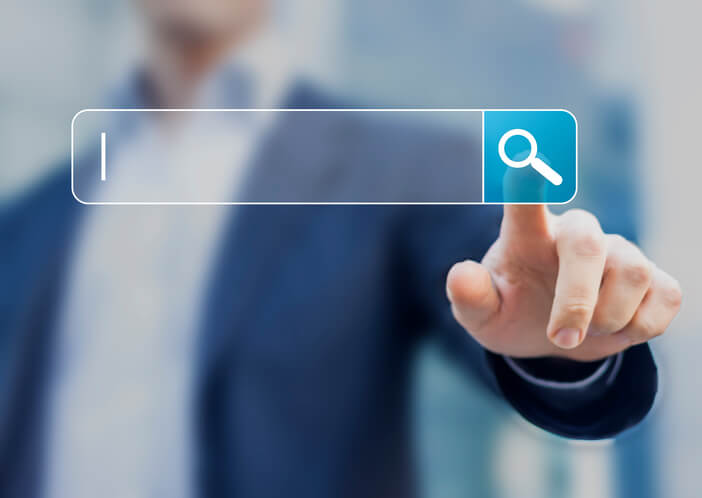 Customers visiting your online store may or may not know what they're looking for, but it's safe to say that if you're lacking great search functionality, you're losing sales.
Many shoppers begin their online shopping session by typing into a site's search box. The results they experience affect as much as half of the typical eCommerce company's total sales. While shoppers who use site search comprise only 15-30% of visitors, site search users consistently convert 2x – 3x higher than shoppers who only browse.
The higher conversion rates reflect the fact that site search users have a higher propensity to buy. This means shoppers who engage with the site search feature are closer to a purchase decision and use site search as the quickest path to the items on their shopping list. A poor site search experience undoubtedly sends them speedily along to the next online store on their Google list.
Clean, smart navigation is a key ingredient to delivering an exceptional user experience, but for 30% of shoppers, a memorable customer journey boils down to a small horizontal bar. Site search is a major interaction point for customers, and can make or break a visitor's shopping experience.
Unlike category navigation, customers that use search are shopping with intent, hoping to quickly land on the product page that will satisfy their lingering buying motivators, such as price and return policy. In fact, studies show that site search delivers an average conversion rate of 2.4%, against a site average of just 1.7%.
Aside from providing an awesome customer experience, site search can:
Drive sales – Effective site search means customers can quickly and easily find what they're looking for, which directly translates to higher conversions for your store.
Increase referrals – Customers that leave your store after a positive experience are more likely to recommend your business to their friends and family.
Boost conversion rates – Smart, intuitive search equates to a higher conversion rate.
Increase site usage – Customers that are treated to a memorable shopping experience are more likely to spend more time browsing your site.
Improve customer retention – Meeting customer expectations means you'll be able to secure their loyalty and future business.
So how do merchants ensure these ready-to-buy shoppers convert?
Here are six ways to increase conversion rates with site search:
1. Provide Faceted Navigation
Many shoppers use broad query terms that yield lots of results and few of them will wade through more than the first page of results. Search result refinement options, commonly referred to as "faceted navigation", for sizes, colors, price ranges, and other attributes can greatly help shoppers narrow in on what they are looking for quickly and easily. Faceted navigation empowers shoppers to visualize their options and explore a store with ease. Here's a bonus tip: Faceted navigation works well on category pages too, often boosting category conversion 15-20%.
2. Use Analytics to Identify Under-performing Query Terms
Google Analytics and similar solutions offer a wealth of insight into site search performance. For E-Commerce merchants, analytics tools correlate site search queries with sales so metrics like number of transactions, total revenue and conversion rate are available. This makes it easy to identify frequently searched queries that have low conversion. Queries that have weak engagement, like those with high bounce rates, are also prime candidates for review.
Studying the search terms customers use inside an online store offers a wealth of insight into product demand trends and keyword patterns. Demand trend insight helps merchants more effectively source and merchandise products, opening the door to new revenue opportunities. Customer keyword patterns can offer fresh ideas to improve paid search campaigns.
3. Master the basics: Use Synonyms and Site Search Merchandising
Understanding basic site search features helps merchants address problematic or under-performing queries and maximize revenue for popular searches that already do well. Synonyms offer a simple but powerful tool to map customer search keywords to keywords found in product names and descriptions. This simple feature can solve findability issues when customers use or frequently misspell keywords. Synonyms can even improve search results when brand name or product name searches match common words found in product descriptions.
Site search merchandising, another common feature, offers merchants the ability to display promotional messages to customers who search for specific keywords. This provides highly targeted, relevant in-store advertising for things like featured brands or higher-margin items. Merchandising features often allow merchants to customize results which is useful for top search queries. Merchants with a strong grasp of the basics can improve their site search performance dramatically.
Discovery is a big part of value that site search provides shoppers. As shoppers explore an online store's merchandise they often find it useful to explore by searching. Providing relevant search suggestions as customers type helps guide them in the right direction. Search query autocomplete displays related search queries and sometimes even top product results, is useful to customers.
5. Make sure customers can find items by SKU
Comparison shopping customers and those in automotive or office supply markets frequently search for products using the MPN or similar universal product code. Merchants should ensure that customers can enter all or part of the product code to find the appropriate items.
6. Leverage Historical Search Trends in the Ranking Algorithm
Correlations between individual query terms and the products that are clicked on and purchased is valuable historical data for an E-
Commerce site search engine. These correlations can be automatically incorporated into ranking algorithms to promote relevant best sellers higher in the results list, minimizing the risk that shoppers will miss the product that they are most likely to purchase.