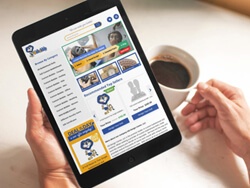 Times are changing and online businesses are finding new ways to standout in crowded and competitive markets. One design element that is experiencing a transition from trend to industry standard is the ability to view websites on any mobile device. If you are still convinced that having your site show up well on a desktop is enough, you might want to take a moment and consider these 5 reasons a responsive website is in your best interest:
Increases Customer Base
Over 50% of shoppers browse on mobile devices. Whether they are sitting on the couch watching TV and scrolling through their phone or trying to kill time while they wait in line, the majority of online shoppers use mobile devices to browse products and make purchases. That means that without a responsive design, you could essentially be cutting your customer base in half.
Customers aren't going to waste their time trying to navigate a website that looks distorted on their mobile device. The more difficult it is to click on links, zoom in on product images and enter their payment information, the less likely they will be to give your their business. Simply updating your website and making sure that it can be easily viewed on any size device has the potential to double the number of visitors and amount of profits your business brings in.
Complies with Major Search Engine Updates
Search engine results and rankings have the power to make or break any online business. The top ten search results that make the first cut inevitably receive the vast majority of traffic. In fact, on average, the number one ranked site for any given search term on Google gets 34% of the total traffic. Compare that to the eleventh spot when click through rates can drop into the 1% range.
While webmasters only have a general idea of the different factors that go into search engine algorithms and how heavily each variable is weighted, what we do know for sure is that both Google and Bing will be rewarding sites that provide mobile friendly designs. In fact, Google has already launched an update that analyzes every page on your site and boosts rankings for those with responsive designs.
Bing is taking a more measured approach to rolling out their update, but they have made it very clear that they will also be looking at responsive design as an increasingly important factor in their rankings. With the top two search engines leading the way, others are sure to follow suit and non-compliance is sure to affect not only your rankings, but your overall sales and profits.
Only Have to Maintain One Website
The alternative to simply creating a responsive website is to design a mobile friendly version of your original site. Essentially, this means having a duplicate of your original site that can be easily viewed on any size screen. While this is one solution to addressing the popularity of mobile devices and their influence on online shopping, ultimately, this means having to maintain two websites for one business.
For most businesses, one website provides more than enough work, which is why incorporating a responsive design makes perfect sense. All the same information is sent to a variety of devices and CSS will take care of customizing the appearance on each device. Automating this process means that you only have to track and maintain one fully responsive site.
Helps Avoid Publishing Duplicate Content
Creating a separate mobile friendly version of your site also means that you run the risk of publishing duplicate content and URLs. Despite the fact that you aren't intentionally spamming the internet with duplicate information, search engine bots may have a hard time differentiating between the original site and the mobile version. Canonical tags are typically added to the mobile site to serve as signals to bots, but they can be missed and result in your site being penalized for duplicate content.
You can easily avoid any penalties and the additional problem of winding up with two of your URLs competing for the same ranking by using a responsive design. This way, you won't have to worry about compromising any of the link equity that you have worked to build up for your site.
Requires Less Long-Term Maintenance
In general, responsive designs tend to be forward thinking. The universal code that powers responsive designs will continue to work on newer mobile devices as they are released onto the market. You don't have to worry about reconfiguring your site every time a new piece of technology comes out.
The same can't be said of mobile friendly sites, which will continue to need adjustments down the road. Again, a responsive design means less work for you and more time to focus on the other demanding tasks associated with running your business.
If that wasn't enough to convince you that you should update your site so that it is fully responsive, then you might want to take notice of the fact that Google recommends a responsive design over creating a mobile friendly website. Not catering your website towards mobile devices can sabotage your business. The easiest and most practical approach to cornering the mobile segment of your market is to opt for a responsive design solution.