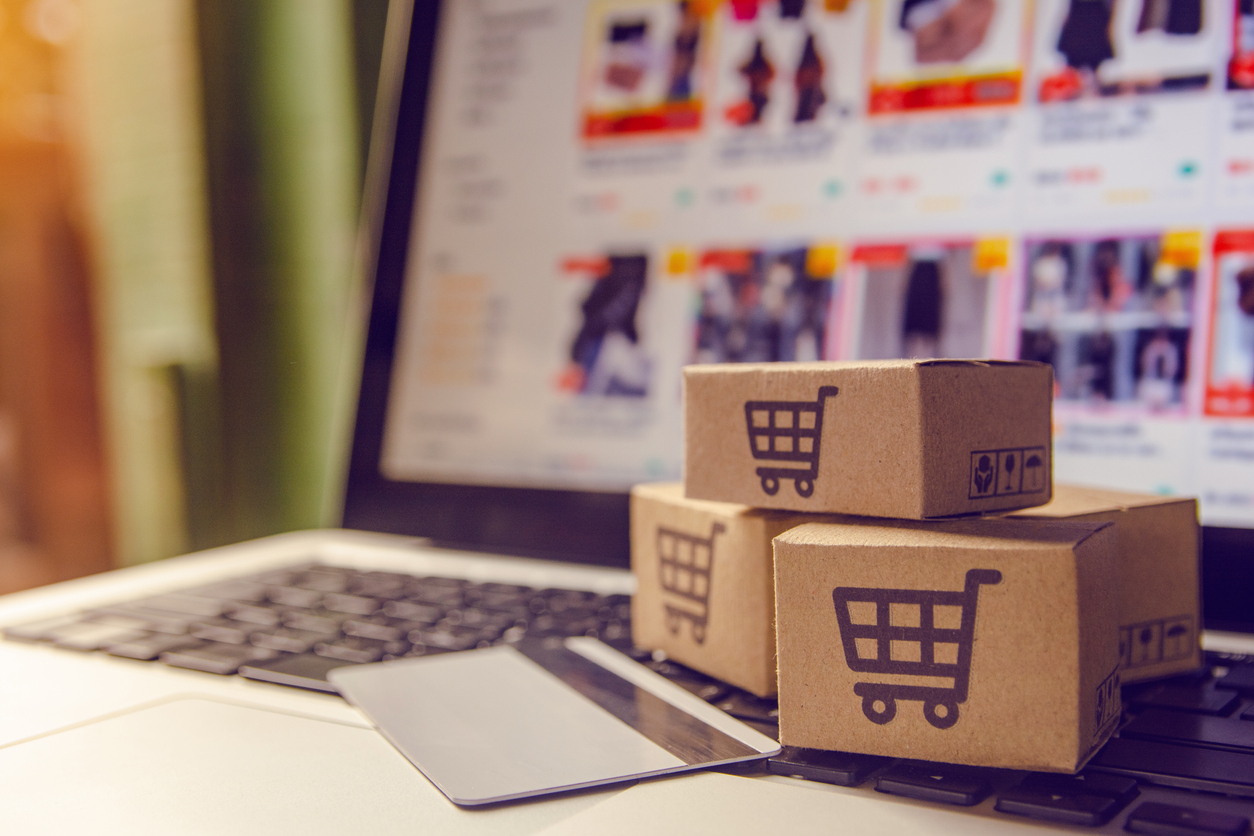 B2B, or business to business, is a form of commerce that involves businesses directly selling to other businesses, rather than a business selling direct to consumer. This key difference calls for a different approach to traditional eCommerce, with more advanced functionality necessary to keep things running. B2B customers simply have different needs than B2C, or business to consumer, customers do when it comes to shopping online. Often, B2B customers are employees shopping for equipment or wholesale products in the name of their company through an outlined catalog, which looks a lot different than a typical online shopper browsing for products.
Many eCommerce platforms have entered the B2B market, claiming that their traditionally-B2C platform has all the functionality required of a B2B business. So, let's compare the most popular B2B eCommerce solutions side-by-side and see who comes out on top.
What to Look for in a B2B eCommerce Solution
If you're a B2B company, then you know that you have specific requirements in order to function. Let's go through the features you should be looking out for as you determine the eCommerce solution for you.
Customer Groups
As a B2B eCommerce business owner, the ability to highly segment customers is a necessary feature. An effective B2B eCommerce solution won't get in the way of your business processes, giving you the freedom to make as many specific customer groups as you need. You should be able to control what your specific customers can shop for and how much they should be paying – especially when you're working with both B2B and B2C audiences. Order requirements, pricing, payment options, shipping, promotions and more should all be available to control via customer groups.
Access Restriction
If you're running a B2B online store, you may need to hide or protect parts of your website from unregistered users. This could be because you want to sell both B2B and B2C on the same website, or because you only want approved and registered customers browsing and shopping your catalog. Whatever the reason, your B2B eCommerce solution should allow you to implement password protection on any part of your site, or even the entire site itself. Hiding pricing, products, categories and catalogs from either unregistered users or specific customer groups is necessary functionality for your B2B store.
Discounts & Custom Pricing
Different customers need to see different pricing or have specific discounts applied to their orders, especially when it comes to buying in bulk. As a B2B seller, you'll need access to advanced discount creation based on a tiered system of your design that fits your specific business needs. This means having the ability to work with minimum and maximum order quantities, percentage discounts, and several other flexible custom pricing features that applies to your customer base. The best B2B eCommerce solutions will have this functionality built-into the platform, meaning you won't need to go hunting for a separate app or program that can do it for you.
Ordering & Shipping Features
It goes without saying that the B2B ordering experience is unique compared to a typical B2C customer. B2B buyers have specific needs that your online store needs to meet, including functionality that allows for quick and easy re-ordering that works with part numbers and quantities. Shipping is no different, because B2B eCommerce requires platforms to handle specialized deliveries via freight and LTL while providing the same real-time calculated shipping rates that B2C customers also crave.
Top 4 B2B eCommerce Solutions: Which is Best?
Shift4Shop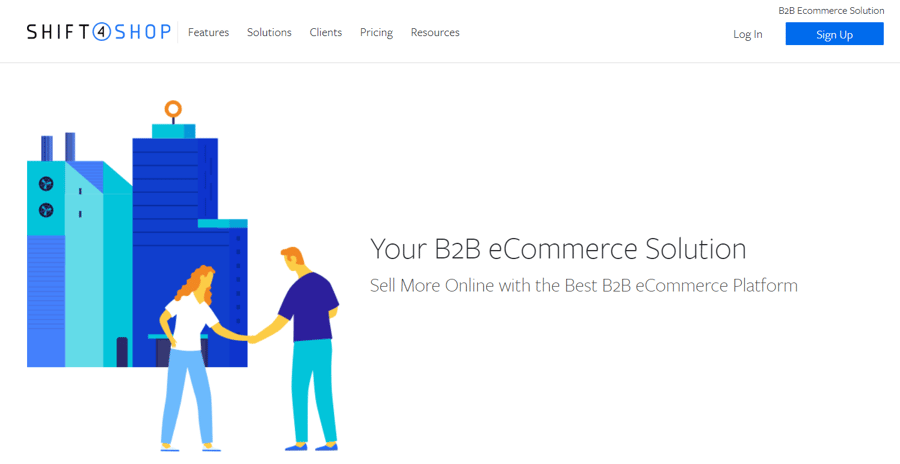 Shift4Shop is an all-in-one eCommerce platform designed for any sized business, whether you're at the startup level or the enterprise level. Unlike most eCommerce solutions, Shift4Shop offers a free enterprise-grade plan if merchants use Shift4 as their payment processor. For users who don't use Shift4 Payments, they also offer plan specifically designed for B2B sellers called Shift4Shop B2B eCommerce. This plan comes with all of the same features as the Shift4Shop Pro plan with added functionality designed for B2B merchants. Let's dive into the details of what this plan, and platform as a whole, has to offer.
Pricing: $379/month

Products: Unlimited

API Access: Included

Online Sales: Up to $2 million online sales per year.

Customer Support: 24/7/365 Priority Support via phone, live chat, and tickets.

Payment Providers: Over 100, including Shift4 Payments and PayPal.
Shift4Shop B2B Features
Customer Group Segmentation
Shift4Shop's B2B plan allows merchants to hyper-segment their customers based on order volume, products ordered, reorder frequency, industry, location and more. Using customer groups, you have full control over what customers can see and buy on your online store. Shift4Shop prioritizes flexibility and freedom, putting the power in your hands to sell to B2C customers and B2B customers on the same storefront.
Pricing levels and catalogs can be customer-specific too, ensuring that only the right customers see the prices and products that they should. Using this functionality, merchants can build entire areas of your online store that are tailored specifically to certain clients and their needs. Customer groups are essential to boosting the efficiency of your store's product management – you won't need to define pricing differences per product listing, because it can all be done with customer groups.
Restricted Site Access
Access restrictions on your online store are built-in features with Shift4Shop's B2B plan. Any part of your online store can be password protected from unregistered users, even down to the individual product level. Merchants can hide pricing, products, categories and entire catalogs from specific users – even your storefront itself can be password protected. This versatile feature gives you the freedom to leave your site visible while preventing unregistered users from purchasing products, allowing new potential customers to see what you have to offer without being able to make a purchase.
For added versatility, site access can be restricted on the customer group level, rather than just for unregistered users. Whichever works best for your store and customers, you can do it with Shift4Shop.
Tiered Bulk Price Discounts
If you're selling products B2B, especially as a wholesale retailer, then easily creating and managing discounts is a priority. With Shift4Shop's bulk discount tiers, you can set pricing discounts based on several variables including minimum order quantity, maximum order quantity, duplicate product requirements, and more. Tiered bulk price discounts can be combined with any other pricing options you've created on your online store as well, so you won't have to worry about conflicting promotions.
Quick & Easy B2B Ordering
To better serve your B2B customers, Shift4Shop includes several features that make ordering and re-ordering easy. Built-in, your customers will have access to their account's order history, where they can simply one-click reorder everything they need. Ordering in the first place will be simple too through the Quick Order Pad, which allows customers to fill in part numbers and quantities to place their order fast.
Advanced Shipping Features
Just like everything else, B2B customers have their own specific needs when it comes to shipping. To meet those needs, Shift4Shop comes with advanced shipping features out-of-the-box so you can manage shipping easily. For heavy-freight management and LTL shipping rates, merchants can utilize the native ReTrans Freight Integration. If you need to define a list of locations for your different customer groups to select from at checkout, rather than allowing them to enter their own shipping address, then the B2B Cost Center Locations module is right there at your fingertips.
Shift4Shop comes built in with essential shipping features too, giving you the ability to print shipping labels, calculate shipping rates in real time and define shipping rates by customer group.
Zoey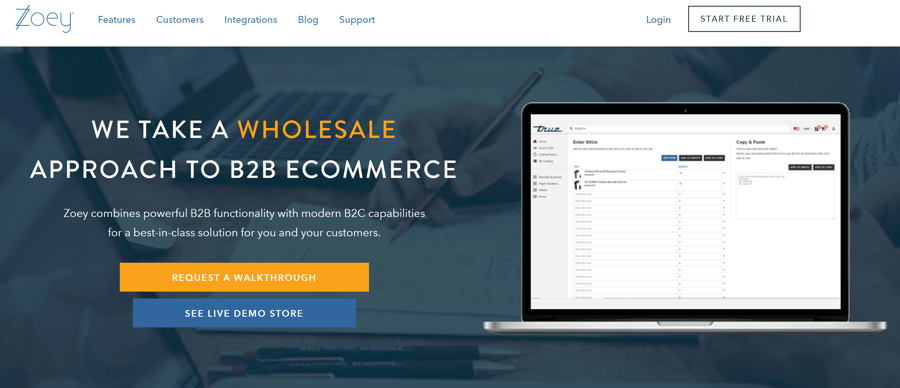 Zoey is a SaaS eCommerce platform built on the framework of Magento, which is an open-source eCommerce platform. Feature sets are split between three plans, called Entry, Power and Advanced. Marketed more towards larger, enterprise-level businesses (especially with the high price tag), Zoey has become quite the contender as a B2B eCommerce solution. However, its main drawbacks appear to be its expensive plans, lack of technical support and unexpected limitations. Let's get into the specifics.
Pricing: $299/month for Entry Plan, $499/month for Power Plan, $699/month for Advanced Plan.

Products: Limits range from 25,000 to 75,000 SKUs.

API Access: Included

Customer Support: Email ticket support within office hours, priority with Advanced plan.

Payment Providers: Over 50, including PayPal, Authorize.Net, and Stripe.
Zoey B2B Features
Customer Groups
Like Shift4Shop, Zoey offers customer grouping features that merchants can use to segment their customers. You'll be able to customize payment, shipping, and ordering based on the groups you create so that each customer is buying and paying correctly. You can use Zoey to establish different discount and promotion rules for each group, allow certain groups to access different shipping and payment methods, tier pricing and quantity increments by groups, and more.
However, Zoey's major drawback with customer groups is the limit that they impose on merchants. With the Entry Plan, you'll only be able to create 5 different customer groups. The Power Plan increases that to 10, and the Advanced Plan tops out at 20. Shift4Shop, on the other hand, allows you to create unlimited customer groups without having to upgrade.
Site Access Restrictions
Zoey allows for similar site access restrictions, allowing merchants to show or hide pricing, payment, products, categories and any other content depending on whether the user is registered or not. Merchants can also restrict site access based on registration or customer groups, enabling the creation of a private site for customers. One unique aspect of Zoey's platform is their advanced account registration and approval feature, which gives merchants a significant amount of freedom in the way they choose to approve and deny users.
Custom Pricing Features
Compared to other B2B solutions, Zoey seems to be lacking when it comes to setting discounts and custom pricing. Merchants can set up tiered pricing and minimum order quantities, in combination with flexible discounts and promotion pricing. However, Zoey's platform is lacking advanced functionality that unique B2B use cases may require, such as duplicate product requirements for discounts.
Quick Order Features
Zoey has two types of quick order forms; the basic quick order form with the Entry Plan and the advanced quick order form with the Power and Advanced plans. The basic quick order form is just as the name entails – it provides a simple and easy way to assemble non-complex orders. But, for the purposes of a B2B online store, you'll need all the features that come with the advanced quick order form; these include:
Using SKU and quantity to add products to the cart

Offer multiple forms with pre-populated entries

Visual design editor integration

Control access at the form level
Shipping Features & Add-Ons
Merchants using Zoey will have access to a decent number of shipping features, including customer group-specific shipping rules and minimum order amounts. However, Zoey mainly relies on their integrations with ShipperHQ and ShipStation to provide merchants with important shipping features like printing labels and real-time rate calculation. More advanced features, like LTL freight shipping, are available with these integrations – however, this comes built-in with Shift4Shop's plan through ReTrans Freight.
Shopify Plus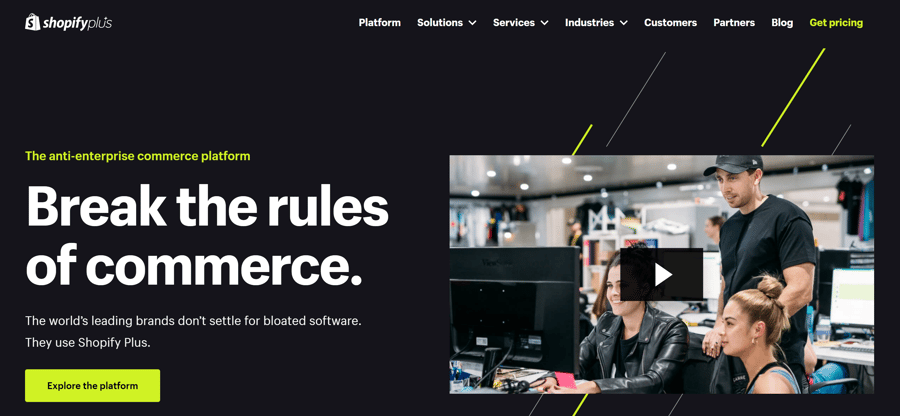 While Shopify is a SaaS eCommerce platform designed for small to medium-sized businesses, Shopify Plus is its more advanced counterpart that's geared towards larger enterprise-level businesses making more than $1 million in yearly revenue. For this reason, we'll be using Shopify Plus in this comparison – the normal Shopify platform doesn't come with the proper functionality that B2B businesses need. However, even with the higher price tag, you may run into the same problems that you're used to with Shopify's base eCommerce platform – an overly simple platform with a dependence on add-ons. Let's dive into the platform.
Pricing: $2,000/month or 0.25% of eligible platform transactions (whichever is higher).

Products: Unlimited

API Access: Included, plus the Multipass API (for managing customers across multiple applications).

Customer Support: 24/7 technical support via phone or email; personal Merchant Success Manager.

Payment Providers: Over 100, including PayPal, Authorize.Net, and Shopify Payments.
Shopify Plus B2B Features
Customer Groups
Shopify Plus comes with the ability to create customer groups and apply discounts to them – that's it. If you'd like to apply specific pricing, payments, shipping or any other rule to those customer groups, then you'll need to find and enable a separate app.
Restricted Site Access
As a built-in feature, Shopify Plus allows merchants to enable password access to see your storefront. However, this is the only built-in feature that resembles restricted site access. Because of this lapse in necessary functionality, you may need one of the following add-ons to match the feature set of Shif4Shop or Zoey:
Locksmith ($199/month)

Customer Pricing ($29.99/month to $49.99/month)

Wholesaler ($19.99/month)
Discounts & Custom Pricing
One of the more notable aspects of Shopify Plus is the advanced custom pricing features they offer that could be useful to B2B merchants. Create fixed price lists, volume-based discounts, minimum and maximum quantity requirements, and percentage discounts for your customers using Shopify Plus's features.
Ordering Features
Shopify Plus claims that B2B merchants can purchase, track and reorder products with their service. However, it appears to be that you need a separate app in order to give customers access to re-ordering, including:
Reorder Master App

Advance Reorder App
In addition, Shopify Plus doesn't give merchants access to order editing – a basic feature that's available on every Shift4Shop plan and has been recently added to Shopify's lower-tiered plans.
Shipping Features
Shopify Plus comes built-in with the ability to calculate real-time shipping rates and print shipping labels with Shopify Shipping. However, like most other aspects of their service, you'll need to supplement your store with add-ons like ShipperHQ that give you access to more advanced functionality.
BigCommerce Enterprise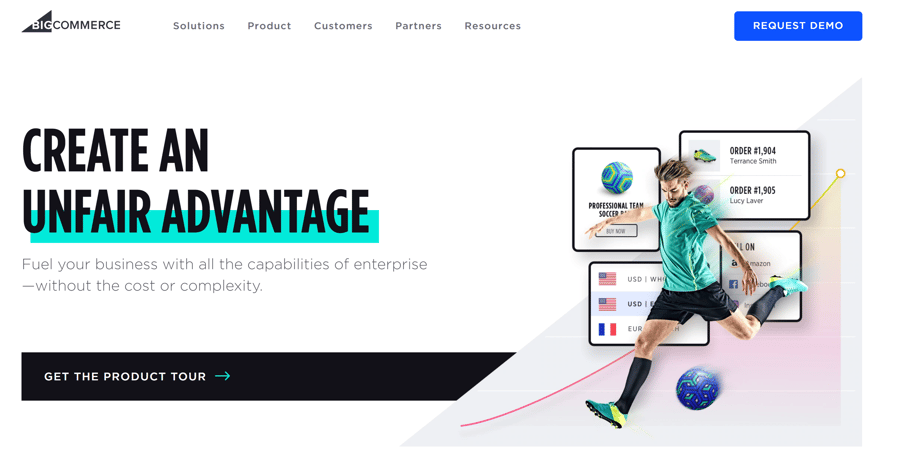 BigCommerce Enterprise is the version of the BigCommerce SaaS eCommerce platform that's geared towards larger businesses, hence the name "Enterprise." For the same reason that we used Shopify Plus, we'll be using BigCommerce Enterprise in this comparison – the service simply has more features geared towards B2B merchants. Unfortunately, BigCommerce Enterprise seems to suffer from many of the same issues that Shopify Plus does regarding B2B: the price is high, but the built-in feature set is low. Let's take a look.
Pricing: $400/month to $15,000/month (depending on your business size).

Products: Unlimited

API Access: Included

Customer Support: 24/7 Priority Level Express Routed Support via phone, live chat, email and tickets.

Payment Providers: Over 40, including PayPal, Authorize.Net, Stripe and Square.
BigCommerce B2B Features
Customer Groups
BigCommerce Enterprise comes built-in with the ability to create customer groups, like most other eCommerce platforms. However, you're relatively limited in what you can do with them:
Customer Group Discounts can be enabled to provide reduced pricing to certain customers, and ca be applied to any category, specific products or the entire store.

Price Lists are made to specific customer group pricing and advanced variant-level price overrides (which overrides catalog price). However, your BigCommerce store needs to be using a theme built on their proprietary Stencil code language to enable this feature.
Discounts & Custom Pricing
With BigCommerce Enterprise, you'll get a basic level of custom pricing and discount features, but they're mostly limited to the customer group settings we mentioned previously. Aside from customer group discounts and price lists, merchants can automatically apply volume discounts and break down bulk pricing to the SKU level. If you want anything more advanced than that, then you'll have to look through their app store for an add-on.
Ordering Features
The B2B area that BigCommerce Enterprise seems to be most lacking in is its selection of ordering features. Aside from basic features like purchase orders and credit authorization, you're not able to customize much about the ordering experience for your customers. Re-ordering isn't even built-in, meaning you'll have to find an add-on like the Reorder Button App from IntuitSolutions for $1,995 extra.
Shipping Features
BigCommerce Enterprise has even less available in the way of shipping features than Shopify Plus. While you can print shipping labels through their free BigCommerce Shipping feature, you'll need to resort to add-ons like ShipperHQ for anything more advanced. Thankfully, the native ShipperHQ integration does give you the ability to customize shipping rates for B2B customers – at an extra service fee, of course.
"BigCommerce for B2B" Application Suite
In an effort to push their B2B functionality, BigCommerce announced their comprehensive suite of applications that they say are tailored specifically for B2B merchants. This suite of applications, which are paid services, includes:
Nextopia: Advanced on-site search and custom fields for refined searching.

ShipperHQ: Advanced shipping features, such as customized shipping rates.

Bundle B2B: Integrated B2B platform built on BigCommerce API.

Apruve: End-to-end credit solution.

Punchout2Go: Integrate B2B catalog with procurement software.

BrightPearl: Omnichannel retail operations management platform.
Aside from ShipperHQ and Bundle B2B, which is built-in using BigCommerce, Shift4Shop also offers integration with this selection of applications. Rather than integrating built-in features for their B2B customers, it seems that BigCommerce is relying on third-party add-ons to give merchants what they need.
Final Verdict
Compared side by side, it's clear that not all B2B eCommerce solutions are made equal. From our analysis, BigCommerce Enterprise and Shopify Plus's B2B solutions feel more like afterthoughts, with many B2B key features missing without the supplement of expensive add-ons. Zoey's platform, on the other hand, does make strides to better serve B2B merchant's unique wants and needs when it comes to eCommerce. However, even their platform is lacking in a few features while managing to get expensive quickly – especially since their Entry plan doesn't come with necessary B2B functionality.
With Shift4Shop B2B eCommerce, resorting to third-party add-ons at an extra cost isn't something you need to worry about. An unprecedented number of features are built-in at an affordable price that you'll be hard pressed to find with any other platform that claims to cater to B2B stores. Don't sell you, or your customers, short by choosing a B2B eCommerce solution that doesn't come with everything you need to succeed.