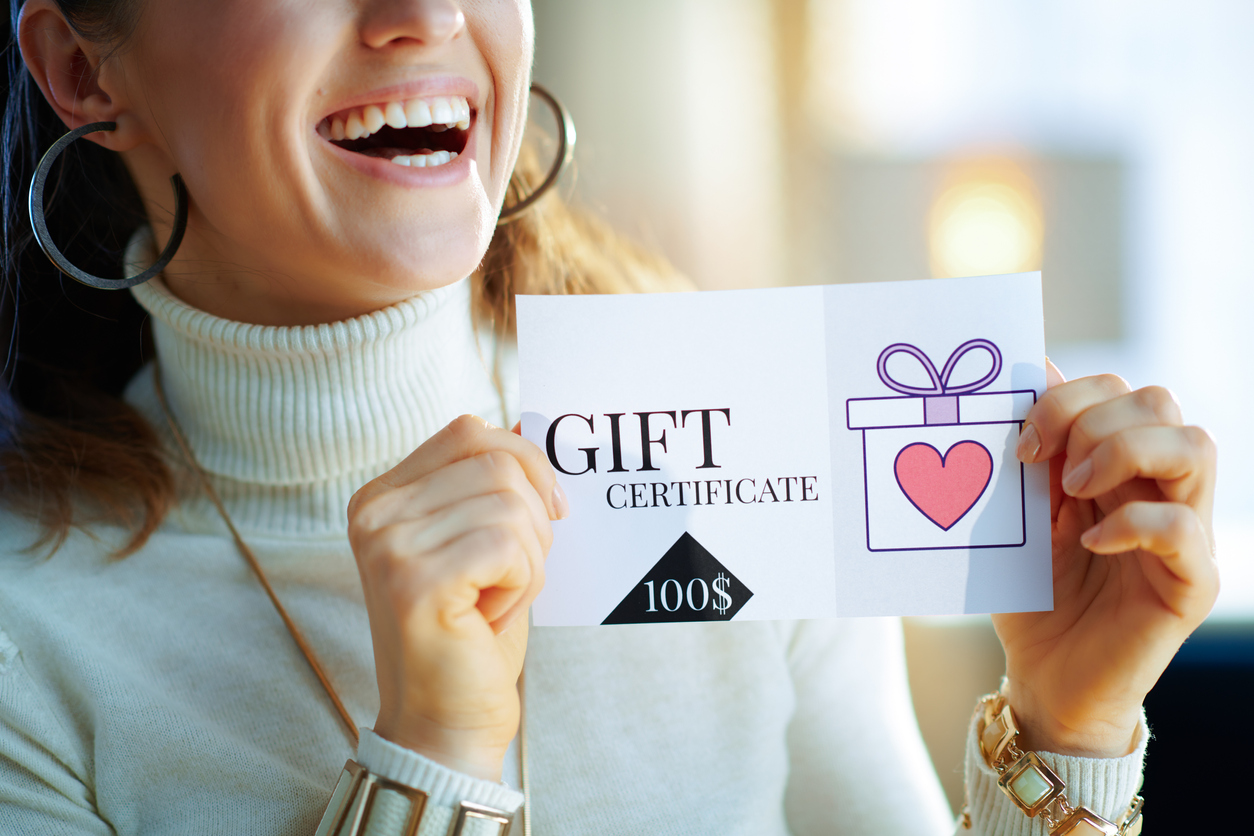 Every business owner wants to earn more customers and make more sales. Sometimes, though, this can seem like an impossible task. It can even be discouraging, especially if you're not growing at the rate you want. If you're already using the most well-known marketing tactics, and your SEO is on point, what else can you do? Are there any eCommerce tools you haven't taken advantage of?
Gift cards, or gift certificates, are something everyone knows about. But they're often not used to their full potential. Some online store owners don't think gift certificates fit their business. Others want to use them but don't see an easy way to start. Some are already using them, but want ways to improve their gift card strategy.
We'll cover all these topics in this article, so you can make the most of gift cards for your business.
What is a Gift Card or Gift Certificate?
The idea is simple: a gift card or certificate is a digital or physical item that acts as credit for your store.
Some online businesses use "gift certificate" to clarify that it's not a plastic card. But many people use "gift certificate" and "gift card" interchangeably. Since this is becoming more popular, we use both terms this way in this article.
They both work the same way: by including a code the customer can use to cover part or all of their purchase. If the total purchase is less than the amount on the gift card, the remaining amount can be used later. Customers buy gift cards or certificates to give to friends, family members, or others. They have basically made an investment in a later purchase that can be redeemed at any time.
Gift cards are a proven method for increasing sales. According to a study in 2018:
44% of consumers say they visited a new business because they had a gift card.
80% of consumers who buy gift cards expect to buy more than one at a time.
Gift cards are the most commonly requested gift.
It's easy to see why gift cards can increase your sales. They become even more important during the off season when business slows down. Since they're used so often for birthdays, gift cards can mean sales for your business at any time of the year.
How Do Gift Cards Work for Online Stores?
Online stores mainly use digital gift certificates that recipients get through email. When a customer buys one, they can enter the recipient's name, email address, and a short message. The recipient receives a gift certificate code they can use while they shop.
Some online stores let the customer enter the gift certificate code at any time. Others only allow the customer to enter it during checkout. This depends on the eCommerce software that powers the online store.
As we said, some eCommerce businesses use "gift certificate" to clarify that it is not a physical card. But in many industries, customers already understand that gift cards can be digital. For example, the PC game service Steam uses "gift cards" to refer to both physical and digital versions.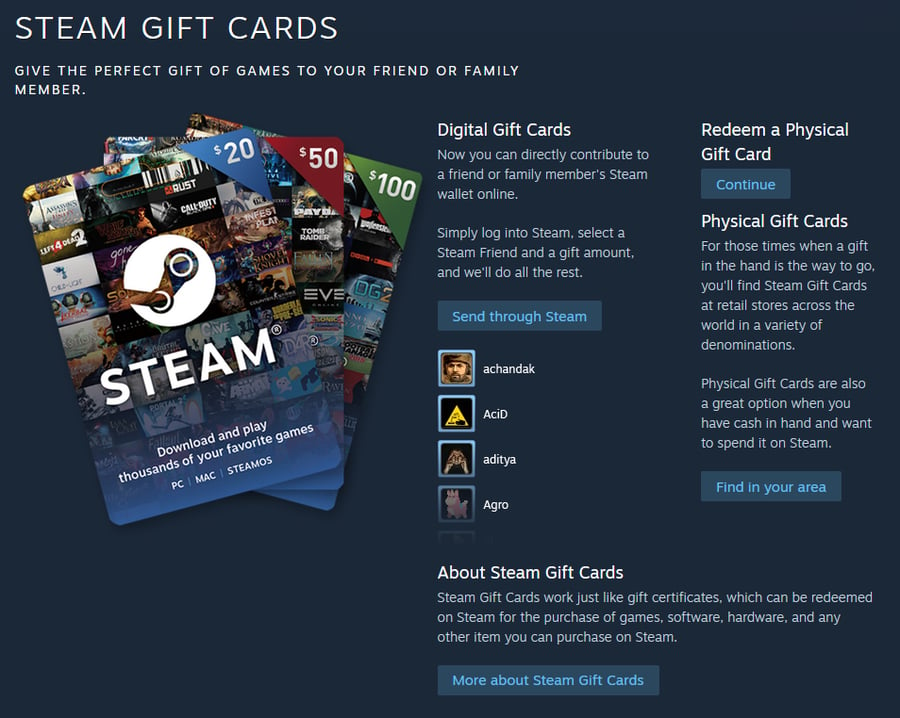 Some online stores do sell physical gift cards for the times when a customer wants to give a physical gift. These can be paper certificates or plastic cards. Services like Factor4 can print plastic gift cards and mail them to customers.
If you decide to sell physical gift cards, you can increase your income a bit by also offering small gift boxes. It's your choice whether you offer these for free or at a price. Charging for them will earn a little extra income when customers add one to their order. Offering them for free can help convince customers to buy a gift card in the first place. Either way, they will improve your gift card sales.
Why Customers Buy Gift Cards
Customers buy gift cards when they want to give a gift, but don't know the exact items that would be most preferred by the recipient. Sometimes it's hard to guess what someone wants or needs most. Giving cash feels impersonal. A gift card is the perfect balance between "I don't know what you want," and "I do know what you like!"
Some people specifically ask for gift cards for their birthday or other holidays. They want to be able to shop at their convenience, without needing to decide ahead of time what to ask for. Gift cards make it much easier for both givers and recipients.
Gift cards are also great last-minute gifts, especially when they're sent digitally. A customer can buy the online gift card on the same day as it's meant to arrive, without having to leave their home to shop.
How Gift Cards Help Attract More Customers
Gift cards aren't only for increasing sales to existing customers. They can draw attention to your business and attract new shoppers. There are two main ways this happens.
When a gift-giving occasion comes up, a person asks others for gift cards from your store. They could be an existing customer, or someone who just discovered your store and wants to buy from you. Either way, this exposes your store to the customer's friends and family. They might see something they like, and become customers themselves.
A person who knows about your store could give a gift card to someone else who they know would like your products. This also introduces a new customer to your store, who might buy something else later.
Both of these scenarios spread the word about your business and can lead to more customers. Gift cards also increase customer retention by encouraging repeat purchases. If a gift card was well-received, a customer is likely to buy another as a future gift. And if a new customer had a good experience using their gift card on your store, they're likely to remember you.
How to Add Gift Certificates to Your Online Store
How you can add gift cards to your online store depends on your eCommerce software. Some eCommerce platforms have a built-in gift certificate feature. Others require you to install an app. Shift4Shop includes an easy-to-use, built-in gift certificate module.
Setting Up Gift Certificates in Shift4Shop
In Shift4Shop, you can create as many gift certificates as you want. The Gift Certificate module uses your pre-set amounts. Consider making several gift certificates of different values. This will let customers buy gift certificates at different amounts even though they can't set custom values. Most customers are used to gift certificates only coming in specific amounts, so this doesn't cause problems.
Don't want to clutter your products with many gift certificates? You can also create a single gift certificate product and let the customer choose the amount from a menu. Both methods are simple.
First, since these are going to be digital gift certificates, make sure they don't get added to your shipping calculations. Go to Settings > Shipping > Shipping Settings and look for the Exclude Gift Certificate from Shipping box in the General Settings section. Make sure it's checked. If you changed anything, click Save in the upper right corner.

Go to Products > Product List in your Shift4Shop Online Store Manager. Click the Add a Product button at the top right to create a new product.

Fill out the product information just as you would for any other item, including an image. In the Product Type menu, choose Gift Certificate. Add a Price and make sure to save your work!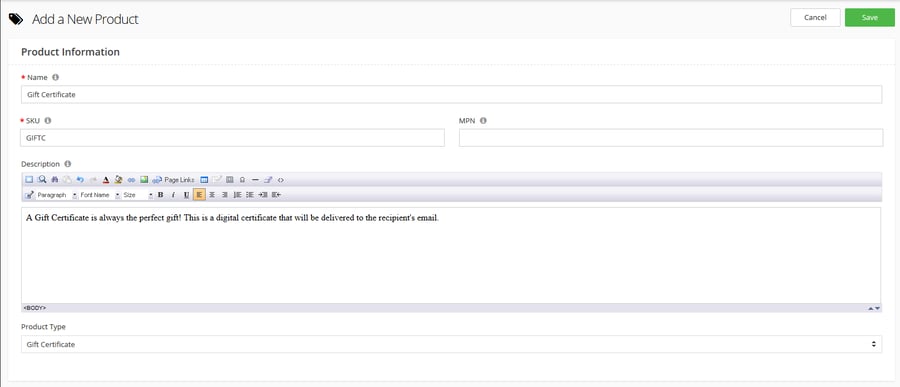 If you're using Inventory Control, enter a huge number in the Stock level, like 99999999. This ensures you won't get alerts about running low on the gift certificate, since it's a virtual product. It will also prevent "Out of Stock" messages from appearing on the Product Page. Or, choose Don't track this product's inventory from the menu.
The price of the gift certificate will be the same as its value to the customer. To keep your accounting consistent, add the same amount to the Cost of the gift certificate product. This will ensure that your store doesn't record the sale of the gift certificate, and the sale of the items eventually bought with the gift certificate, as separate income.

Congratulations, you've made a basic gift certificate!
Now, if you want to create other gift certificate amounts as separate products, simply follow the same procedure. If you want to have all your gift certificate amounts available from the same product page, the process is just a little different. You only need one Gift Certificate product to work with, so don't create any others.
Making Multiple Amounts on One Gift Certificate Product
To display all your gift certificates as a single product, follow the above instructions, but enter "0" (zero) as the price and cost of the gift certificate.
Click the Options tab in the product information screen, and then click the Add New button. Name the option "Gift Certificate Amount" or something similar.
Choose either Drop Down or Radio for the Option Type. These are the types of option menu that only allow the customer to make a single selection. Then check the Required box so the customer has to choose a value before they can buy the gift certificate. Then click Add to add the option to the product.

Now we're going to create the different gift certificate values that the customer can select. After creating the "Gift Certificate Amount" option and clicking Add, it will appear in the Options tab for the product. Click Add Gift Certificate Amount, which is a small link to the right. (The exact name of this link depends on the name you gave the product option.)

A small box will appear where you can enter the Description, Part Number, and Value of the new Gift Certificate Amount. The important fields here are Description and Value.
Description is the name of the option as it will appear in the menu for the customer.
Value is how much this option adds to the product's base price. Since our base gift certificate product costs $0, the Value field is what determines the price (and therefore, amount) of the gift certificate.
So, let's create a $10 gift certificate. Enter "10" in the Value field, and "$10" in the Description field, and then click Add.

Create as many denominations of gift certificate as you want. Make sure to Save your work with the button in the upper right corner before you leave your product information page!
Now let's make sure the Cost and Stock of each gift certificate amount is set to the right amount (like we talked about earlier). In the upper right of the product information screen, you'll see an Actions button. Click it and select Advanced Options.

On this page, you'll see all the gift certificate amounts you've created. Enter the Cost (same as the amount) and the Stock (a big number like 99999999) for each of them. Then click Save.

By following this method, you've created a single Gift Certificate product for your store, and given the customer the ability to select its amount from a menu.
How Shift4Shop Gift Certificates Look to the Customer
No matter which method you've used to create your gift certificates, a box will automatically appear on the product page where the customer can fill out the gift information. These include To and From fields, the recipient's email address, and a brief message.
If you have multiple gift certificate amounts available on the same product page, the customer will see a menu where they can choose the amount. Since you made it a required option, they'll have to choose one before they can proceed.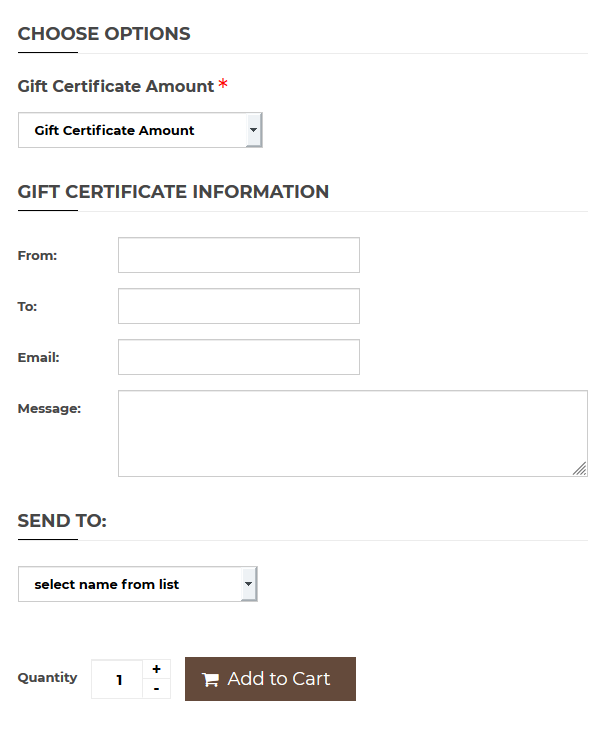 The recipient of the gift certificate will receive it in their email, with the buyer's message and a code they can redeem to apply the gift certificate to their purchase. This email is created based on a template, which you can edit by going to Settings > Design > Emails in your Shift4Shop Online Store Manager. The gift certificate email template is found in the Products section.
The gift certificate recipient can apply the certificate to their purchase using the Coupon Code field, in either their "View Cart" page or at checkout.
More Tools for Managing Gift Certificates
You can see a full list of your site's gift certificates by going to Settings > Payment > Gift Certificates. The list includes all purchased gift certificates, their codes, which ones have been redeemed, and any remaining balance. You can also click Edit to see the orders on which they were used.
You can also generate gift certificate codes yourself by clicking Create Gift Certificates in Settings > Payment. This means you can create a gift certificate code at any time, which can be handy for customer service.
Want to set your gift certificates to expire? You can do so with the Gift Certificate Expiration module. It includes all the options to set expiration dates and inform your customers about them.
Expanding on Gift Certificates with REST API
REST API is the software architecture that Shift4Shop uses to let developers build apps to work with our platform. This includes a flexible Gift Certificates API that opens up tons of possibilities for developers to create apps that change and expand on Shift4Shop's gift certificate features.
Since every business is different, it's important to have the right tools to build and improve their favorite customer engagement strategies. The Shift4Shop Gift Certificates API means more potential for apps that customize how your business can work gift cards into these tactics.
Ways to Use Shift4Shop's REST API with Gift Certificates
The Gift Certificates API is versatile enough to enhance gift certificates in many ways, including both digital and physical gift cards. Some of these methods can build upon existing Shift4Shop functions, while others can completely replace them. The point is that the possibilities are endless!
Here are some examples.
Use an App to Generate Gift Certificates as Rewards
While you can create gift certificate loyalty rewards with built-in Shift4Shop modules, an app could make it much smoother. A customer who spends a certain amount on your website could be rewarded with a gift card they can use themselves or give to a friend. You could base this on a one-time purchase amount, or the total amount the customer has spent over time.
Offer Discounts on Gift Cards
This relates to using gift certificates as rewards — perhaps, instead of giving a customer a free gift card, the reward could be a discount on the next gift card they buy. The customer is still getting something for free, whether they decide to keep the gift card for themselves or not. For example, a $50 gift card could be available for $35. That's $15 of free merchandise!
Connect an External Gift Card Service to Your Store
Since gift cards are so important in both online and offline commerce, some services focus on gift card features for businesses. An app could connect to your store through the API to fully handle all gift card functions. The app could load the certificates, adjust their balance when used, and even mail plastic gift cards for you. Factor4 is an example of this type of service. They even refill existing gift cards and allow them to be used as loyalty cards as well.
Custom Branding for Gift Cards
An external gift card service could also let customers choose a design for a plastic card. People love receiving gift cards that match their personality, especially if it can be reloaded and reused. This is much like credit cards being available in different designs. It's also a great way for a customer to show a recipient that they care by choosing a design they'll love. Of course, designs can also be a bit more generic and represent holidays and birthdays.
Scheduling Gift Cards
Earlier we talked about gift cards as a last-minute gift, that customers can buy on the same day it's meant to be received. Sometimes, though, a customer will want to buy one ahead of time and have it sent to the recipient on a certain date — not the day it was purchased. An app could handle this by allowing customers to schedule the date. It could also optionally delay collecting payment from the customer until the card is actually sent.
Better Digital Gift Certificates
Shift4Shop gift certificates already allow the customer to add names in the "To" and "From" fields and add a message of up to 500 characters. But an app could make this even better by letting the customer write a longer message. It could include images, video, or other improvements to make the email more like a virtual greeting card. This makes giving a digital gift certificate more meaningful, and recipients feel more special.
Mobile Gift Cards
This is best for businesses that also have a brick-and-mortar store alongside their eCommerce store. A mobile gift card is an app the customer can install on their smartphone, so they're always sure to have their gift card with them when they shop. The app can use a code that is scanned at checkout, or could be contactless like many digital payment methods.
Key Points
If you're looking for ways to increase your sales, build customer loyalty, and attract new customers to your store, gift cards are hard to beat. There are also tons of creative ways they can be used. Let's sum up:
Gift cards and certificates can be redeemed toward a purchase.
They can be physical or digital.
They are extremely popular among customers.
They can spread the word about your business.
Shift4Shop has an easy-to-use Gift Certificate module that can be set up quickly.
REST API provides a way to expand gift certificates with third-party apps.
Whether you're a business owner or an app developer, gift certificates offer tons of possibilities. Are you ready to unlock that potential? Are you willing to share your own strategies? Let us know!