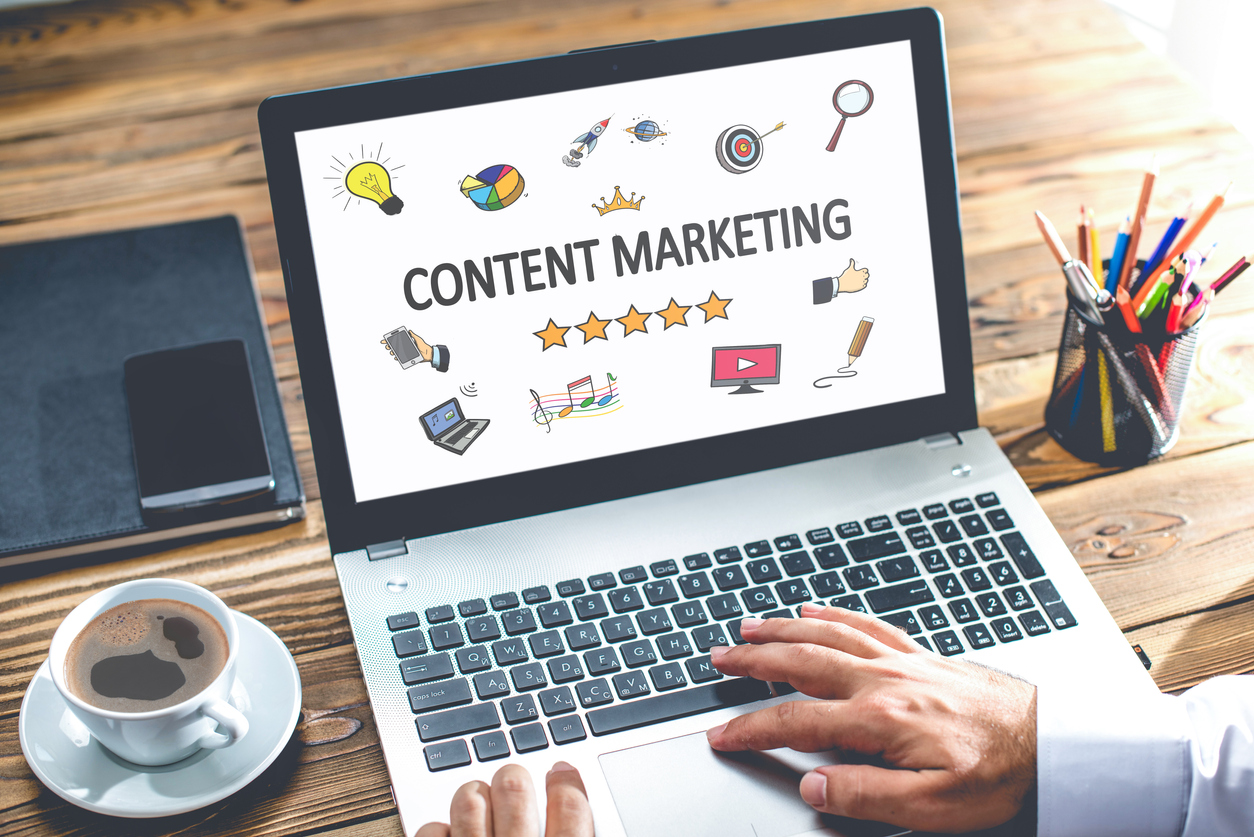 What is content marketing?
Content marketing is the creation and distribution of creative, relevant content designed to attract your target audience. It involves creating and running an ongoing blog for the purpose of engaging with people and promoting your business's goods and services. You can use this medium to speak to potential customers, address their needs, and show them how your product can be the solution to their problems.
Many businesses, especially smaller ones, are hesitant to try it out. They may believe that the heyday of blogging is long past, or that other forms of marketing are more likely to produce results. However, content marketing can be a great way to draw attention (and customers) to your online store. You just need to know how to do it right, and we can help with our own piece of content. Here is some information on the benefits of and best practices for content marketing.
Reasons to Use Content Marketing
No matter what type of business you own, content can play a pivotal role in your Internet marketing strategy. Providing relevant and valuable contents is nonnegotiable for any niche market. You could be a steel manufacturer, a veterinarian, a health supplement supplier, or something else entirely. Regardless, your customers want valuable content — and you should give it to them. Here are some reasons why.
Get Yourself Noticed
Consistently publishing fresh blog content will get you noticed in the eyes of Google to improve your search engine rankings. If you regularly publish blog posts that are search engine optimized, it will make it easier for your blog and website to rank naturally for those keywords. For more information, Brafton provides an excellent, annually-updated series of infographics that illustrate the connection and prove it with statistics.
Make Yourself Newsworthy
Your new blog posts are likely to shoot to the top of the search engine rankings because Google's algorithm views blogs as hot, newsworthy content. This surge in rankings is only temporary, but if you publish blogs regularly, the odds are that you will be much more visible to customers searching for keywords related to your brand.
Offer Value to Your Customers (It's Free)
Content is a great way to offer customers something of value, totally free of charge. Nowadays, there are hardly any e-commerce markets that are completely unsaturated. Go the extra mile to give your customers something of value in the form of blog posts, articles, tutorials, and even free downloadable reports.
Establish Yourself as a Social Leader
Once you have the content, maximize your exposure by posting links on you social media profiles and adding your posts to social bookmarking sites. Content creators share social conversations. Sharing quality content on Twitter and Facebook establishes you as an industry leader and promotes peer-to-peer sharing. With some skill and luck, your website could go viral.
Build Trust with Your Customers
Users visiting your website with specific purchase intent are likely to leave right away if they don't find what they are specifically looking for. On the other hand, users interested in perusing your quality content likely will stay and read through your pages. This allows the readers to establish familiarity and trust with your brand. Coupled with quality products, that trust can turn your interested readers into engaged and loyal customers.
Why Content Marketing and eCommerce Are a Perfect Match
According to Matt Janaway, founder of Marketing Labs, "With a carefully crafted content marketing strategy, you won't have to wait months to start generating sales. Depending on how you run your campaigns, you can immediately see results even in a matter of days."
Over the past few years, incorporating visuals into content marketing has also been an effective strategy for brands. In fact, 74% of brands say that 71% to 100% of their content contains visuals. It's advantageous to include visuals as part of your content marketing strategy, even more so in eCommerce where customers depend on visuals before experiencing the product themselves.
Here are 5 reasons why content marketing is a perfect match for ecommerce seo.
1. It's perfect for educating your customers.
If you want to educate your would-be customers about the features and benefits of your product, publishing truckloads of content can be your go-to strategy.
By publishing informative and helpful content about your products, it'll be easier for your prospective customers to click your "Buy Now" buttons.
There are several content types you can use to educate your customers about your brand and your products.
Here are some of them:
Instructional videos
Case studies
White papers
Ebooks
Social media posts
Checklists
Memes
Blog posts
Here's a tip: While text-based content is good, it'll be easier for you to catch your audience's attention if you used graphics.
To help you with that, you can use a free online tool like Canva.
Just sign into the platform, and from their dashboard, you can view several templates to choose from to create your graphic design.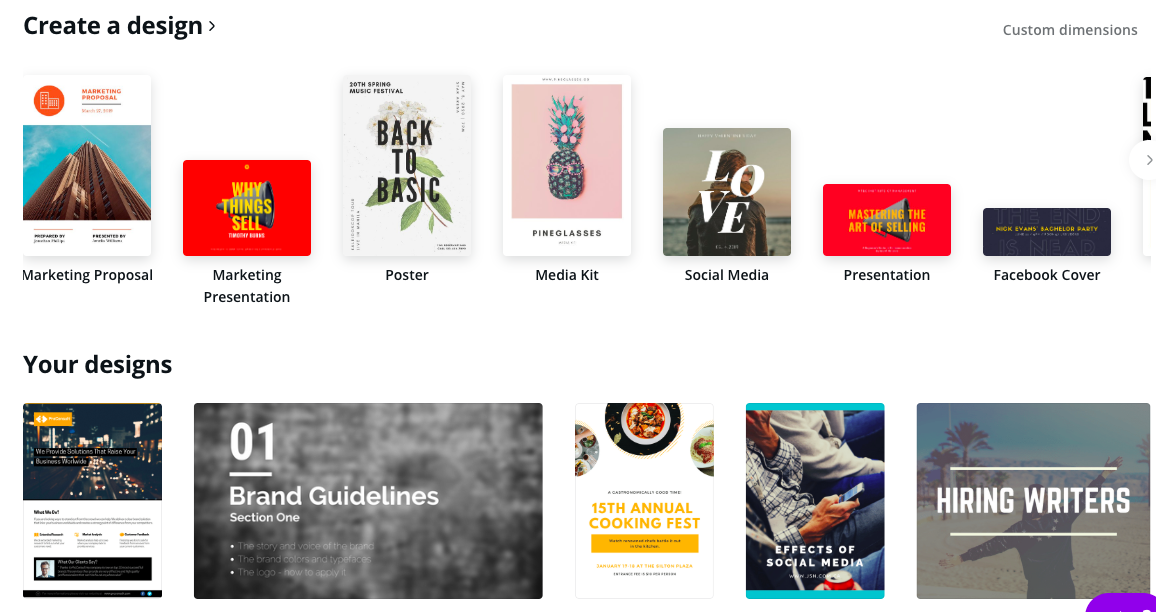 Notice how Canva makes it dead-easy for its users to understand how the tool works.
Just click a template, customize, and you're pretty much good to go. (You can also create your content from scratch.)
2. Establish your brand awareness.
Creating a content strategy is crucial for businesses. After all, studies have shown consistently that customers are likely to feel a positive connection with companies that produce personalized content.
In fact, if you succeed in your content marketing endeavors, your customers will often make positive associations with your company.
Imagine this.
Let's say you're into selling laptops and you're looking to build brand awareness for your business.
What you can do is create a content strategy revolving around "How to Clean and Maintain Laptops."
From there, you can add truckloads of insights about laptop maintenance, which will blow the minds of your readers, making you their go-to company for laptops.
In your guide, you can add call-to-actions selling your laptops or, perhaps, laptop accessories.
If you do that, since your readers found value on your laptop maintenance guide, there's a good chance they'll purchase your laptops (in the event they'll need a new one).
With this strategy, not only will you be able to establish your brand as an authority in your industry, but you'll also manage to sell your products.
3. Rank your pages in the search engines.
One of the biggest benefits of content marketing is the SEO value it brings.
By creating content optimized for the search engines, you can rank your pages at the top of the search engine results pages (SERPs).
To figure out what kind of keywords you ought to be targeting for your pages, you can use online tools like Wordtracker.
Simply type in your seed keyword, and Wordtracker will load data such as shown below: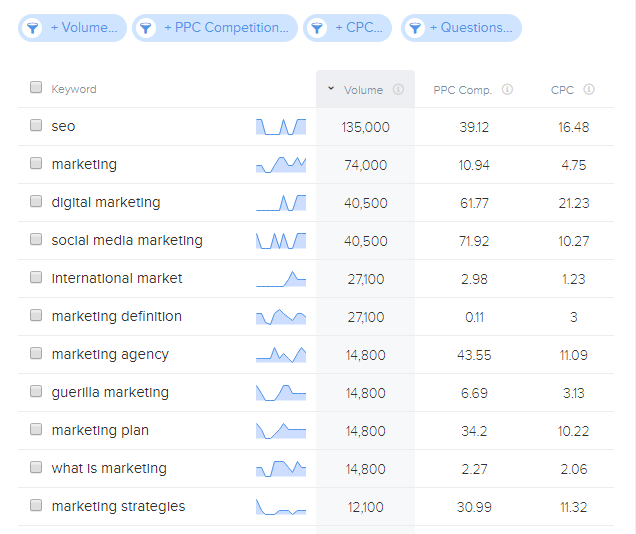 Here you can find suggested keywords with their corresponding figures: The keyword phrases' search volume and PPC competition, etc.
Ideally, you would want to aim for keywords with a decent amount of monthly searches that are fairly easy to rank.
By optimizing your website to make it mobile-friendly and pursuing the right keywords, you'll have better chances of ranking your ecommerce store in the search engines
This brings you a lot of traffic, and, ultimately, more sales.
4. Get a boost in conversions and revenue.
If you want to strengthen your content marketing strategy, publishing compelling content can be one crucial factor for your success.
Compelling content will persuade your readers from merely consuming your content, into taking your desired action.
It will, in other words, "convert" them.
So, the question now is, how do you influence your readers to take action?
One of the ways to convert your readers through compelling content is by making your web site visitors emotional.
To do this, simply highlight how they can benefit from your product, all while talking about the problems they're facing and how frustrating their situation is.
If you do that, your readers are reminded of how much of a hassle their challenges are, so they're going to look for a product that can address their problems — and that's where your product comes in.
Make sure your product description is not too long so that it bores your readers or tires them of reading. Nor should your content be too short that you miss out on the important elements.
It should contain just enough of the essentials.
Within your copy, invite your readers to take action, like buying your products or subscribing to your updates.
While there are several other ways to make your content more compelling, if you follow the points I shared, you are well on your way to driving more website conversions and consequently, more revenue into your ecommerce business.
5. Build strategic relationships.
Content marketing enables you to create and foster relationships with your target market.
By consistently publishing value-packed content, you will gain people's trust as an authority in your niche.
Not only that, depending on how your write your content, you can easily build strategic relationships with the influencers in your industry, as well.
That bit is crucial; after all, if an industry expert mentions your business to their followers, you gain instant brand visibility to hundreds, if not thousands, of people.
Not only that, but you might even be able to see a huge spike in your ecommerce store's sales or sign-ups, depending on how the industry expert mentioned your brand.
And so the question becomes, "How do you know which industry expert to build a relationship with?"
For one thing, you can check out their website to see if they get an ample amount of traffic.
You can use an online tool like Similarweb to do just that.
Just enter the industry expert's website in Similarweb's search box, click the search button, and let the tool do its magic.
Here's an example.
I typed in "edition.cnn.com." This is what Similarweb came up with.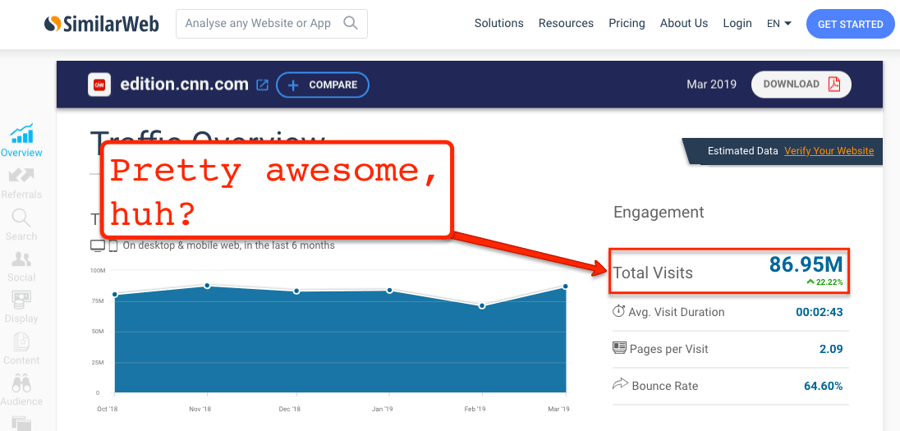 As you can see, the tool can show you an estimated traffic a website is getting.
The idea is, you ought to look for people in your industry that have a decent amount of traffic. That way, when they talk about your ecommerce store, a lot of people can hear about it.
Remember, when building relationships, you shouldn't just go about it blindly.
Be strategic.
Look for people who have "real" influence in your industry.
Tips for Content Marketing
Now that you know the many benefits that content marketing has to offer, you may be interested in trying it yourself. However, it is not as simple as typing a few paragraphs, hitting the publish button, and waiting for customers to roll in. Like any marketing campaign, this type requires a great deal of thought and preparation. Here are some tips for improving your content marketing strategy.
Set Your Goal
What is it that you hope to achieve? Would you like to increase sales or brand awareness? Would you like to convert more visitors into buyers? Knowing what you hope to achieve will drive the creation of your content. A goal gives you a measure of success once you have something published.
Speak to Your Audience
When you create an online store, you typically pick your target demographics at the beginning. You should know (or find out) what they are looking for — a tip that applies to any kind of marketing. Generally, marketing strategies warn against assuming that all your customers think alike. In content marketing, however, you cannot write different versions of the same blog post for different groups. You will have to speak with all of them at once. You can speak broadly, or you can target your largest or most important audiences.
Always Include a Call to Action
Don't think of your content as an advertisement. Instead, give your customers something to do within your content. A call-to-action is a command that people can follow, such as "Sign up for our latest newsletters here" or "Check out our new products first here." These directives can help drive your goal and boost conversions.
Be Consistent and Integrate
Don't feel the need to create different content for different platforms. In addition to wasting a considerable amount of time, you dilute your message in the process. The goal is to create high quality content that all of your customers need to read. So no matter how they access your content, they receive a clear message and their call to action.
Share Your Content on Your Social Media
People may not always be interested in sharing product pages or advertisements. However, they will share a blog post if it speaks to them. Encourage this by sharing the blog posts yourself on your business's social media pages, including Facebook, Twitter, Pinterest, Google +, and other platforms. Creating strong content is critical to increasing your chances of spreading throughout these channels, as customers are driven to share your message.
Find a Partner (Or More!)
A major benefit of content marketing is that everyone with a blog is looking for people to share it — and they may be willing to make trades. If you share an article from another company in your industry, they may return the favor and share something from you.
Working with online partners plays a key role in optimizing your content. Partners share your content and help broaden your audience. Also, partners help generate backlinks to your site, which boosts your SEO. So find a relevant online partner and start sharing.
What's Next for your Content Marketing Strategy
"Content is king" is not simply a catchphrase invented by blog writers to justify their existence. Content marketing can do so much good for your store and its brand. The blog can help you create lasting relationships within your industry. It can increase the SEO value and domain authority of the website. It can help you reach your customers in ways that are much more difficult, if not impossible, with other forms of marketing.
Of course, if you want to drive interest and persuade potential customers with your blog, you need to give it the time and attention and care that it deserves. Take your time in targeting, creating, and properly distributing your work. Make sure that you have capable and knowledgeable minds behind the wheel. Most of all, understand that half-formed blog posts can do something, but well-written and thoughtful content can make your site an indispensable resource. Hopefully, our advice will help you in firing up that blog module and starting your campaign.