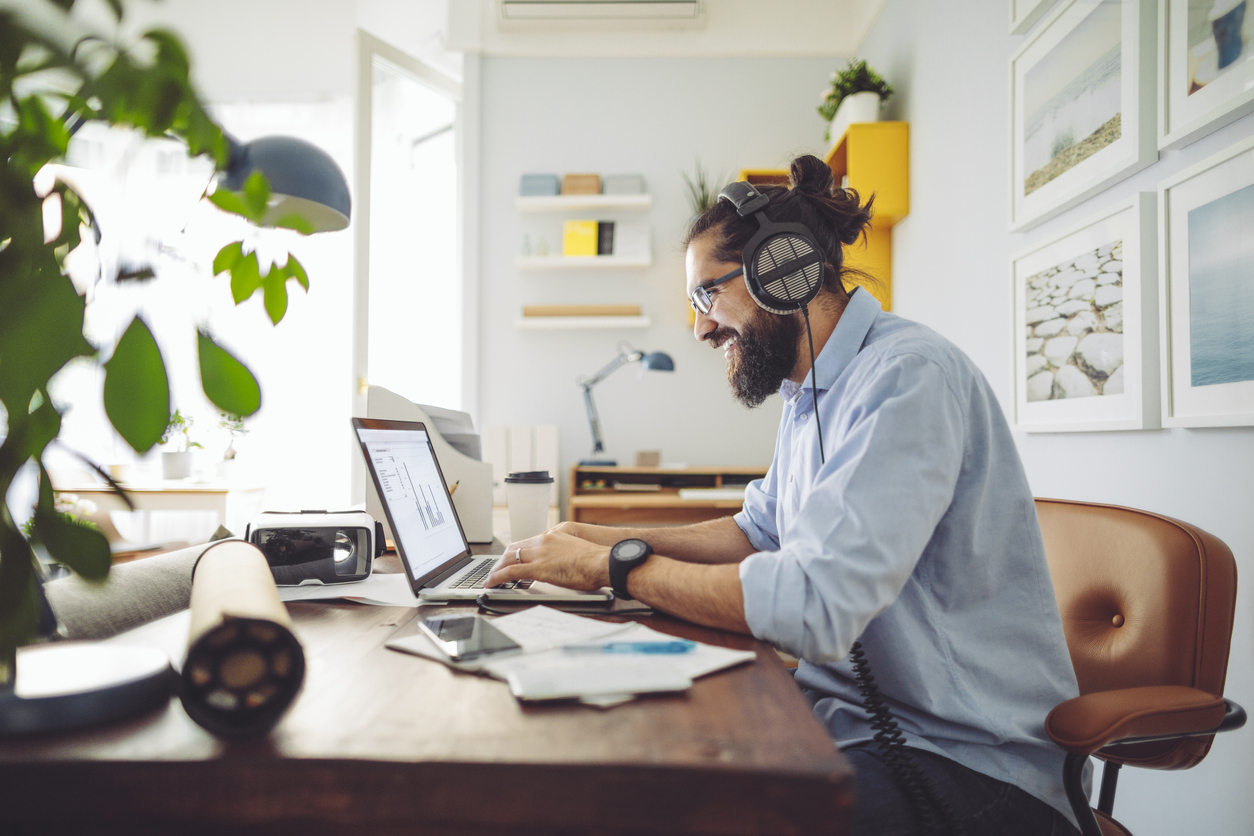 Whether you're looking for a way out of the 9-to-5 grind, trying to get back on your feet, or are just looking for a new adventure, more and more people are realizing both the potential and practicality of working from home.
Not only does today's digital world better support work-from-home options, but the current state we're finding ourselves in throughout 2020 is making working from home an increasingly valid, if not the best possible, option for a huge percentage of workers.
While transitioning from a more traditional workplace to a work-from-home environment can feel daunting, the benefits of working from home are huge. For example, things like morning traffic or long commute times are officially a thing of the past when your office is in your own home.
But it's not just convenience you get when you work from home. Today, many of the best digital online jobs are incredibly lucrative, too. That means you can save time, lower your stress, live where you want, and still make more money than you would at a traditional job.
Working from home no longer is synonymous with a side hustle or just a way to make extra spending money each month. When you find the right niche, working from home in a digital position can give you the paycheck and the freedom you've been looking for — compromising is no longer necessary.
The 3 Best Digital Online Jobs & Tips for Making the Most Money
If you're looking for a lucrative online job you can do from home, these three ideas have proven to be the highest paying, most rewarding positions over the past five years. And, regardless of your current job, your skillset, or even your work or education experience, you can absolutely succeed with each of these digital, work-from-home jobs.
Online Job Idea #1: Professional Freelancing
Professional freelancing allows you to leverage your current skillset, whether that's writing or illustration, accounting or coding, and then enjoy the benefits of making money from a job that's tailor-made for you. And, the best part? You get to choose when you work, how much you charge, and who you work with.
Of course, in order to be successful as a full-time freelancer, you have to find clients. This means that, in most cases, you need to create great seller profiles on several freelancing websites. Thankfully, there are a lot of excellent freelancing platforms to choose from today. You can also build and host your own website to sell your services from.
Once you start building a reputation online (doing work and getting reviews), you'd be amazed at how much money you can actually make. According to the freelance website Upwork, more than $1.4 trillion is generated each year by people who freelance. And, if you've chosen your niche well, you'll actually enjoy doing the work you do!
In order to be successful professionally freelancing, consider these tips below.
1. Be proactive.
Just like you can't set up a website and expect people to visit (let alone buy anything), you can't create a freelancer profile and then expect that sales are just going to roll in. In order to gain momentum, you have to do quite a bit of legwork upfront. This means that you should set up profiles on more than just one freelance site.
You should also reach out to prospective buyers as much as possible. And, when they do reach out to you, make sure you get back to them as quickly and professionally as possible.
2. Build a portfolio.
In order to get people interested in the work you're doing, you need to show them what it is you can actually do. Create a portfolio that you can include with your freelancing profiles so that prospective buyers can get a taste of your work. If you've worked with clients in the past, ask them for reviews so that you can include those in your portfolio, too.
3. Get seen.
The more active you can be online promoting your freelancing work, the more customers you'll get. So, whether you keep a blog on your website, publish articles, or just send out emails to people and businesses you know, remember that the more effort you put in, the more you'll get out.
Updating your social media profiles to include links to your freelancing sites, as well as to state the kind of work you're doing online, will also help you become more visible in the freelancing space.
Online Job Idea #2: Dropshipping Store
There's no need to convince you that online shopping is big business. In fact, it is the business to be in right now. However, most people don't realize that they can create their own online store — and without needing a ton of money to invest in inventory.
Many of successful online stores not only invest nothing in inventory, but they also don't have a warehouse. And, what may be even more surprising is that these online store owners never even touch the products they're selling. Known as dropshipping, this method of creating an online store has grown significantly over the last decade. So, if you're looking for a great digital online job option, dropshipping might just be the right move.
Although getting started with dropshipping is simple and straightforward, as all you need is an online store you can advertise and use to receive and track orders, there are a couple of downsides you need to consider before you jump in with both feet.
Dropshipping won't make you super rich in thirty days. It takes time to find the right products, build a relationship with your dropshipper (the entity that makes your product and fulfills your order), design a stellar website, and then zero in on the most effective marketing strategies.
Dropshipping requires volume. Because there's rarely a huge profit margin with drop-shipped products, the money you make comes from the volume of orders you get. That means that advertising really is key. In order to succeed with a dropshipping store, you need to learn how to market online effectively.
If dropshipping still seems like the right fit for you, then use the following tips to get a head start on the competition:
1. Select a niche you love.
While there are a million different products that can be drop shipped, the best idea is to pick a market that you understand and love. If you're an avid yogi, for example, then having an online yoga store that carries drop shipped yoga accessories is a great idea. Into gardening? Consider an online store that carries tools gardeners need, like watering cans, kneeling pads, and sun hats. The more you love your products, and understand who your customers are, the better chance you'll have at succeeding.
2. Research your suppliers.
There are a lot of dropshipping suppliers out there, but not all will offer what you're looking for. Not only do you want a reliable supplier, but you also want one that will meet your needs. Whether you want custom packaging or the ability to make small changes to the product, like unique logos or different materials, it's important to pick the supplier that best fits your business model.
3. Build a great website.
One of the ways you'll set yourself apart from the competition is a professional, easy-to-use website. If you don't know how to build one, don't worry — there are plenty of online store templates you can use to get started. And, of course, you can hire someone to help you from the very beginning.
Online Job Idea #3: Consulting, Courses, Coaching
The lucrative "Triple C" of online education is exploding right now, which means that, if you can carve out a name for yourself as a consultant, coach, or course instructor, you can start a lucrative business. Like freelancing, education niches like online consulting, digital courses, and personal coaching leverage your current skillset and knowledge to help you make money while working from home. They do work a bit differently than freelancing, however, which will either make them more, or less, interesting to you.
1. Consulting
Consulting requires an expert level of knowledge in a specific niche. Unlike freelancing, consulting typically requires longer term relationships, rather than just one-time work. This can be a great thing, however, because it means you need fewer customers in order to make a great living.
2. Courses
The beauty of digital courses is that you only have to do the work one time. Once your course is created, you can sell them indefinitely, which means you can make passive income while keeping up with customer service. In order to be successful in the online education niche, you need to have an expert level of knowledge in a specific niche. It also doesn't hurt if you're personable and enjoy being in front of a camera. However, not every online course requires videos that show your face – it all depends on your subject.
3. Coaching
Similar to consulting, coaching is slightly more ambiguous, although just as lucrative. Rather than focusing on one specific area of knowledge, coaches tend to have more well-rounded experience that they use to help clients improve general areas of life, like relationships, parenting, or business.
If you want to succeed in any of these three digital online jobs, the key is to make sure that people know why you're an expert in the field you're working in. That means content creation and marketing are essential. The more you're able to be known as a leader in your respective industry, the more money you'll be able to charge for your services.
It's also essential to bring your personality to the work you do so that you stand out from others who are offering the same type of courses or coaching. Build on what makes you unique in order to attract the right people to your business. Rather than trying to be like others who are successful in your niche, do your best to come across as unique and different, leveraging your voice and your own unique experiences.
Conclusion
The advent of new technology has made it easier than ever to start a career while working from home. Whether you're interested in starting an online store, selling your services, or helping people learn new things, you can apply yourself in digital spaces to make money. If any of these digital online job ideas piqued your interest, continue to do further research into the ins and outs of that industry. With knowledge on your side, your work-from-home venture is sure to lift off.